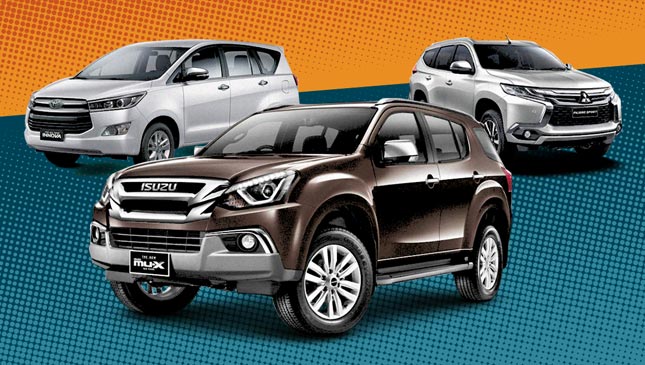 Hi, Top Gear PH. I'm a big fan, and I check your website daily for auto-related updates. Anyway, I'm writing to seek for advice on which car to buy for our family. This is our first time to buy a brand-new car and your input will really go a long way.
ADVERTISEMENT - CONTINUE READING BELOW ↓
We are a family of five (working-class), and our shortlist includes the Toyota Innova G automatic (because the interior is much nicer than the E variant), the Isuzu MU-X AT 1.9 (the new engine), and the Mitsubishi Montero Sport AT.
Here are the things that we are considering:
* Ride comfort for our impromptu out-of-town trips and for our Pampanga-Manila weekly route
* Fuel efficiency
* Serviceability (after-sales support)
* Value for money
* Maintenance cost and operational cost (we intend to keep it for a very long time)
* Reliability
We are hoping to hear from you soon (I know you receive tons of emails). More power and God bless!
Regards,
Marlon
Hi, Marlon. Thanks for sending us an email!
Common sense would dictate that you should get an SUV as your next new car, because it will be far more versatile in terms of road and driving conditions. However, most people don't realize that an SUV, even if it is diesel, will be noticeably less fuel-efficient, especially on the highway because of its poor aerodynamics (versus a lower car). SUVs are also a tad more tiring to drive because their raised ride height makes them more susceptible to headwinds, tailwinds and crosswinds, which means you are constantly making small steering corrections on the road. And SUVs have slower, more sluggish steering/cornering and braking response versus a smaller, lighter and lower car.
ADVERTISEMENT - CONTINUE READING BELOW ↓
Recommended Videos
If you are fine with all of the compromises I mentioned above, the Isuzu MU-X is a safe, solid choice. I haven't tried the 1.9-liter variant yet, so I can't specifically comment on that model. I haven't owned an Isuzu too, so I can't speak about after-sales service and parts availability, but generally, I don't hear any serious complaints about this Japanese brand, unlike other marques.
The Toyota Innova is an excellent alternative. We own one, and my mom uses it every day and travels to the south two to three times a week. She finds it very comfortable, tall enough that she feels safe and secure on poor road and different weather conditions, but not too high that it puts a strain on her knees and legs when getting in and out. She likes the roomy second row seats, which, she says, she finds roomier than my dad's Fortuner (both current models).
ADVERTISEMENT - CONTINUE READING BELOW ↓
I'd normally recommend checking out the Mitsubishi Montero Sport, but I feel the interior won't be roomy or comfortable enough for five adults even on a moderately long drive from Metro Manila to Pampanga (traffic can get crazy on NLEX). The Fortuner is also a good alternative if you're looking at SUVs. Lastly, check out the Nissan Terra, which was recently unveiled.
For a completely left-field choice, why not check out a crossover SUV? I love the Mazda CX-5, and its fuel economy on the highway is amazing. The interior is surprisingly roomy despite occupying a smaller footprint. I'd even wager to say that the CX-5's interior is roomier than the Montero Sport, for five adults at least. Another option would be the Honda CR-V. It has an equally roomy, if not roomier, interior for a crossover.
In closing, I suggest that you keep trying and driving all these vehicles you are considering. We might say a particular car is good, but it might not be the case for you. So it's best if you arrive at your own decision after experiencing the vehicle, rather than simply going by what others will say.
ADVERTISEMENT - CONTINUE READING BELOW ↓
Good luck, and happy car shopping!
Botchi Santos
Consumer Editor