What is it?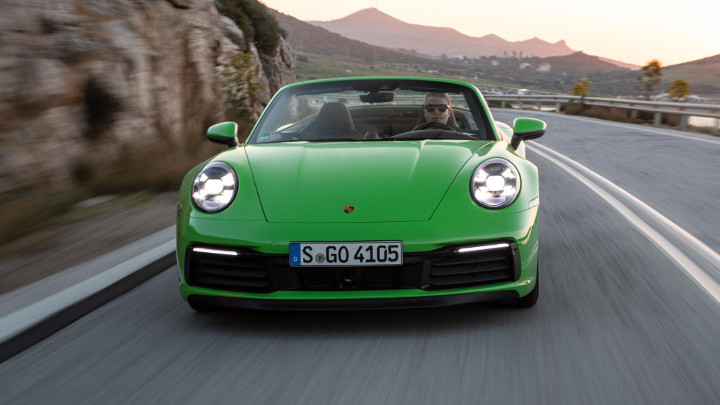 The new 992-generation Porsche 911, with a folding fabric roof that retracts in 12sec. It is, to be honest, a pretty known quantity in the car world. Porsche builds eleventy thousand versions of each 911—roofless ones, lighter ones, faster ones. The Carrera Cabrio is a pretty heartland, predictable stalwart of the range. As you'd expect, it copies the Carrera coupe's specs to the letter. At launch, there's only an 'S' variant, using a 3.0-liter twin-turbo flat-six to generate 444hp and 530Nm.
ADVERTISEMENT - CONTINUE READING BELOW ↓
A seven-speed manual gearbox will come in time, but for now the more popular eight-speed PDK paddle-shift gearbox is the only option. You can have a Carrera, with rear-wheel drive, or a Carrera 4, with four-wheel drive. And as per usual, a whole array of items and gadgets to make the car faster, more complicated, and more expensive are waiting on the options list. Things like four-wheel steering, carbon-ceramic brakes, and the stopwatch-tastic Sport Chrono package, with launch control and multiple driving modes.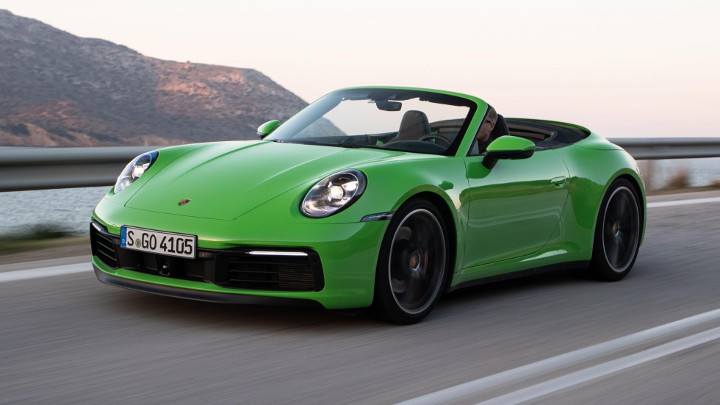 ADVERTISEMENT - CONTINUE READING BELOW ↓
Recommended Videos
That's the way of the Porsche world these days—even the least focused, most boulevard 911 has the power of a full-blooded supercar from a generation ago, will quite literally dry your eyeballs with its straight-line pace, and can be optioned up with more computing power than the Apollo space program, so it'll embarrass supposedly more focused cars with its lap times. Should you ever take it to a racetrack. We suspect you won't.
A 911 Cab's natural habitat is slower-paced. Maybe it's in town. A highway schlep. The 911 prides itself on everyday Swiss Army knife user-friendliness, and the Cabrio is ready for all of that, while giving you a suntan. Of course, because it's a 911 drop-top, it's not the most elegant of cabrios. It's not just physically weighty at the rear—there's a lot of visual mass, and with the 992's full-width rear lightsaber and fillets of plastic around the diffuser, it's a slightly lumpy looker with the top down. Angry robot frog from the front, Kim Kardashian meets Robocop from behind.
ADVERTISEMENT - CONTINUE READING BELOW ↓
It's arguably prettier with the roof motored swiftly into place. The polymer fabric sandwiches four magnesium panels, so it's actually a sort of lightweight folding hardtop without the panels gaps. Good for security, refinement, and avoiding the ribbed 'hungry horse' look of a saggy soft-top. That classic 911 teardrop shape stays just about intact.
What is it like on the road?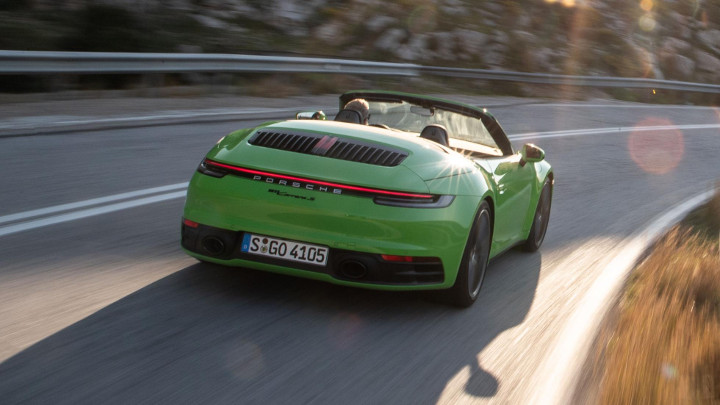 ADVERTISEMENT - CONTINUE READING BELOW ↓
A modern cabrio has to do two things to be taken seriously: not flop about on a challenging road like the chassis is made of waterlogged kitchen roll, and insulate its occupants so they're not subjected to storm-force winds while enjoying the great outdoors. If we're getting greedy, being exposed to a decent soundtrack wouldn't go amiss, either.
The 911 gets off to a flier. Its mostly aluminum body is lighter than before, but stiffer, too. The stronger body and the new super-rigid engine mounts mean the car feels superbly stiff. Even bounding along rough roads with the suspension in its harder Sport mode, the rearview mirror doesn't wobble off the windshield surround and you don't feel the steering wheel lolling from its mountings in your hands. Everything feels completely solid and utterly harmonious, and while you know you're carrying 70kg extra weight versus the coupe, with so much power on tap, you'd struggle to ever notice it.
ADVERTISEMENT - CONTINUE READING BELOW ↓
The 3.0-liter bi-turbo flat-six is a tower of power, with a delivery that's so smooth and uniform, you could serve dinner on the torque curve. Left to its own devices, it's a very civilized powertrain, doing polite business with the gearbox. Put your foot down and, bar a slightly over-excited kickdown in the sportier modes, it's a responsive and very fast car. Take control manually with the paddles and it's absurdly, brutally quick. Nil to 100kph happens in 3.7sec, or 3.5sec if you tick the Sport Chrono box. That's unbelievable pace.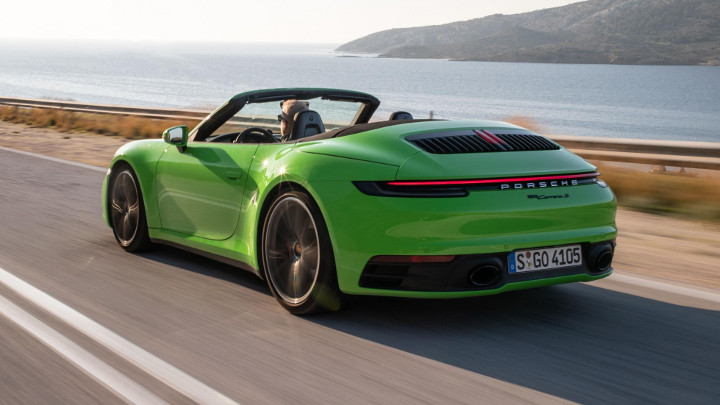 ADVERTISEMENT - CONTINUE READING BELOW ↓
Traction is so absolute, the four-wheel-drive C4S version is only a tenth of a second quicker to 100kph. And now that there's a new Wet mode that can literally listen out for rain coming off the tires and suggest a nigh-on uncrashable driving mode that limits power and amps up the driver assistance, you'd have to really question the need to shell out for the Carrera 4S. You get 21-inch rear tires, for goodness' sake. How much more traction could you possibly need?
During that fierce acceleration, the noise builds over your head from a fairly dull clatter to a much crisper bark as the revs max out. It's a better, more authentic sound than the slightly boomy coupe, though we'd not bother to shell out for the sports exhaust—these days, there's not enough differentiation between the voices of the two systems.
On part throttle, the Cabrio really comes into its own. You can start to enjoy the Carrera's turbocharged whooshes and chunters, pretending you're in one of Porsche's phenomenally successful and scary '70s Le Mans specials—only you've got a heated steering wheel, pop-out cupholders, and one of the best in-car stereos known to mankind, if you spec the Burmester hi-fi.
ADVERTISEMENT - CONTINUE READING BELOW ↓
So far, we've only tested cars with the 10mm lower sports chassis, and there's no 'non-S' variant to judge. But as a package, the rear-drive S with PDK is sensationally complete. The front end's faithful, the steering is weighted with beautiful precision that laughs in the face of modern BMW's doughy heft and the overly quick, undetailed watering of, say, a Jaguar F-type. Lovely steering wheel, too, though the thumb hooks and stitching are a bit sharp on the smaller 'GT' steering wheel. Yep, that's how nitpicky we're getting here.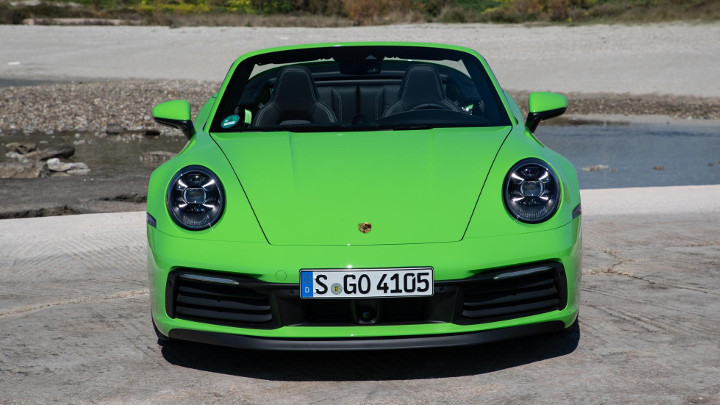 ADVERTISEMENT - CONTINUE READING BELOW ↓
You need trust in the front end and have confidence in the reaction and collosal grip, because boy, does the new 911 feel big. It's a one-size-fits-all body shell now, as wide as the old GTS, and on city roads, you're breathing in when anything bigger than a bicycle comes the other way.
Because the car's so deft and responds so accurately, it's easier to place than an aloof F-Type or 8-Series, and the buxom front wings and wide hips give you a better idea of where the extremities lie than when you're tanking along in the Aston Martin Vantage. But be in no doubt, the days of the lithe little 911 having more road to play with than its rivals are over. That's a shame, a lovely trait lost in the pursuit of cabin space, crumple zones, and more and more grip.
Get the thing on-boost on a corner exit and you can meter out the power remarkably accurately for such a hefty, brutally quick car. There's very little between the AWD and the 2WD cars on the road, but we'd go 2WD to save a micron of fuel, a smidge of weight, a chunk of cash, and know the car's ever so slightly more throttle-adjustable in the corners, even if it's a trait you'll rarely unlock, like a chronograph's water diving depth.
ADVERTISEMENT - CONTINUE READING BELOW ↓
More relevant is the Cabrio's top-down manner, which is pretty impeccable. The roof's quiet and swift to retract at up to 50kph. Blustering in the cabin is minimal, and though the pop-out wind deflector is a great piece of packaging and theater, what it removes in extra buffeting it adds in wind noise. To go fast enough to really feel the benefit, well, you'd rather have the top in place, really.
Layout, finish and space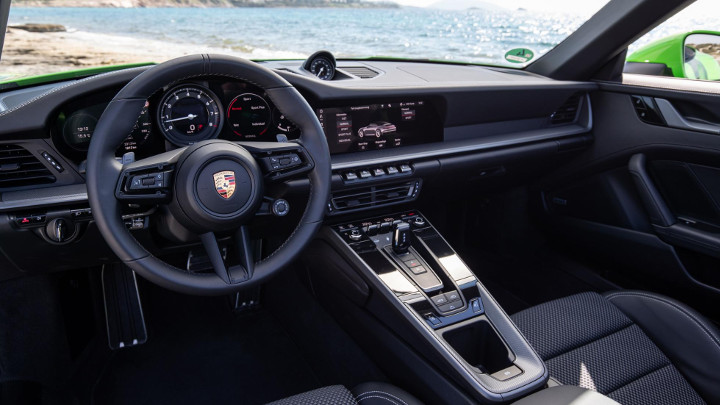 ADVERTISEMENT - CONTINUE READING BELOW ↓
Roof up, it's not quite cocooning enough to roll out the old "you'd think you were in a coupe" cliché, but the soft-top never flutters or ripples. It all seals beautifully, and to be honest, all aluminum-body 911s suffer for road noise. It's got tires like lawn rollers, so of course there are quieter sporting GT cars. Not much will match the 911's all-round talent, though.
Inside, everything's as per the 992 coupe, so head over to that review for a fuller picture. What's different here? Well, the roof controls live at the base of the center console and operate with the usual satisfying click. They sandwich the automatic wind deflector button. The cabin is impeccably made, and feature an endearing mix of retro touches (rev counter, toggle switches, open-pore wood trim, which you should spec) and the arch modern (twin digital instrument panels, a 12.3-inch main media touchscreen from the Panamera and Cayenne, umpteen-way motorized seats that'll warm and cool your backside, and so on).
ADVERTISEMENT - CONTINUE READING BELOW ↓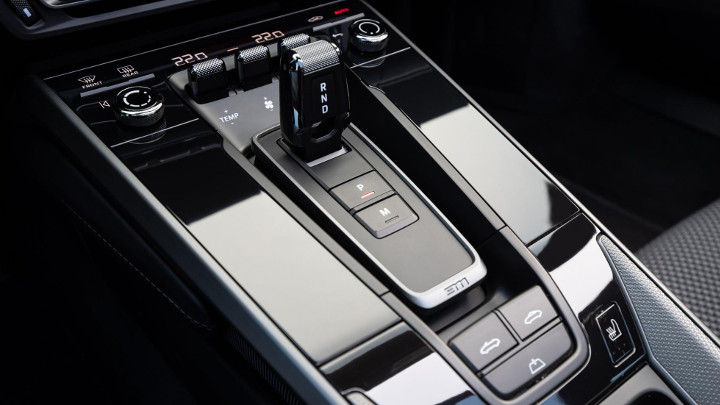 The pop-out cupholder count is down from two to one, mind, so another can fit on the center console, where your arm is more likely to knock it. Porsche design drops the ball—there's a collector's item. Maybe it was the same committee that signed off a rather fiddly (if beautifully rendered) touchscreen, fussy steering-wheel controls, and the clicky levers for temperature management next to rotary knobs for the infotainment. It all becomes familiar fairly quickly, but as a first impression, you might find yourself patting your head and rubbing your stomach while trying to set the aircon and navigate home.
ADVERTISEMENT - CONTINUE READING BELOW ↓
There are rear seats, but the backrests are bolt-upright to accommodate the roof's lair, and legroom is at a premium. They're basically luggage shelves with seatbelts to keep the takeaway buffet upright. Cargo space is deep and square. Door and glovebox stowage is generous, too. And the driving position is spot-on, with great pedal placement and a lovely tiller shape and size.
The new shaver-esque gear selector is less cumbersome than the old PDK lever when you're parking, but we question the logic of putting the Manual mode button right next to the Park button. Knocking the old lever laterally across to select Manual mode was way more evocative, and less tricky.
Running costs and reliability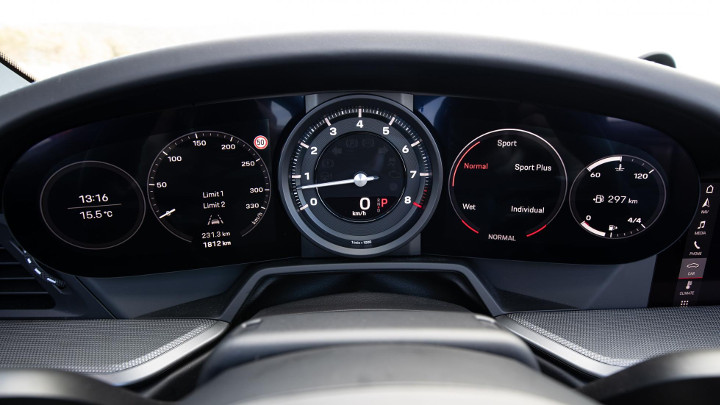 ADVERTISEMENT - CONTINUE READING BELOW ↓
Fitting Carreras with downsized turbocharged engines has made them savagely fast, but not noticeably more economical. Porsche claims 13.2km/L and 207g/km for the C4S, which is superb for a 306kph drop-top, and relatively achievable if you're careful, though 12km/L is a more realistic average.
Like all 911s, the Cabrio feels built to last. And as standard, you get plenty, at last: adaptive dampers, Internet-enabled nav, the semi-digital cockpit, LED lights front and rear (though you can select techier 'matrix' full beam versions if you like), and front/rear parking sensors. You can add many driver assists—the radar cruise control is worth having, the night vision less so. Four-wheel steering is very welcome for helming this big old boat in town. But as for the nose-lift, 911s are very good at looking after their chins compared to other sports cars. The Sport Chrono pack is very tempting, too, with its centerpiece stopwatch and addictive driver-mode switch dangling tantalizingly from the steering wheel.
ADVERTISEMENT - CONTINUE READING BELOW ↓
Final thoughts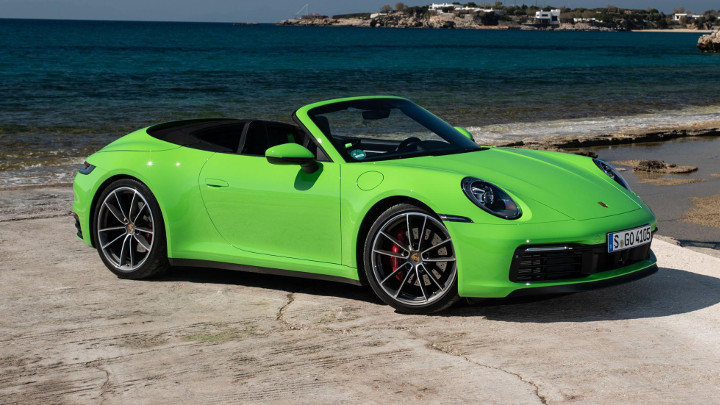 No, it's not the 911 that hardcore Nürburgring addicts and classic Porschephiles lust after, but there's no getting away from the fact that the 992's Cabriolet offering is spectacularly well-engineered. The aerodynamics, the refinement, the pace and poise, and the everyday fuss-free aplomb it offers...it's a sublime all-rounder.
ADVERTISEMENT - CONTINUE READING BELOW ↓
Perhaps it doesn't tug at the ol' emotional heartstrings as hard as the AMG Roadster, but other than that, it's in a class of few rivals. An F-Type Jag feels medieval inside and on the road in comparison, there's no drop-top Aston Vantage yet (which will cost 50% more), and nothing else with 450hp and no roof is either as usable or as laser-sighted on a winding road. So it's not the most endearing of Porsche 911s, perhaps, but it's an undisputably brilliant luxury sports car. Honestly now, were you expecting anything else?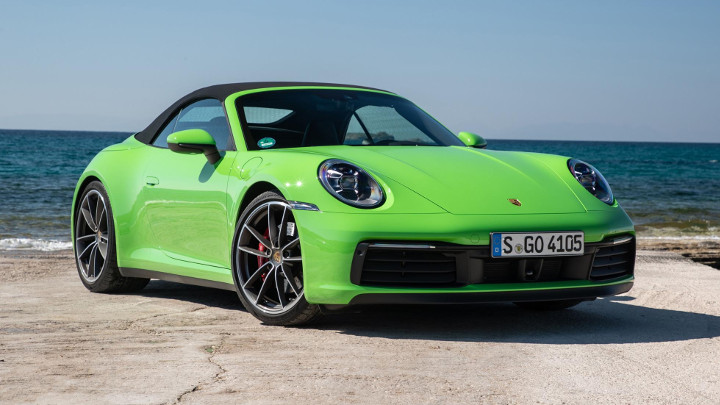 ADVERTISEMENT - CONTINUE READING BELOW ↓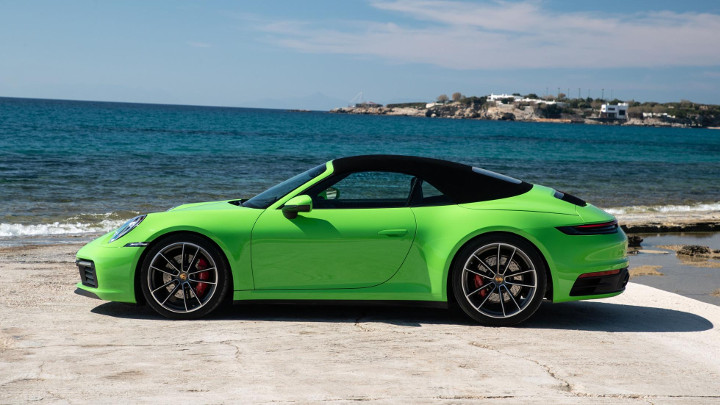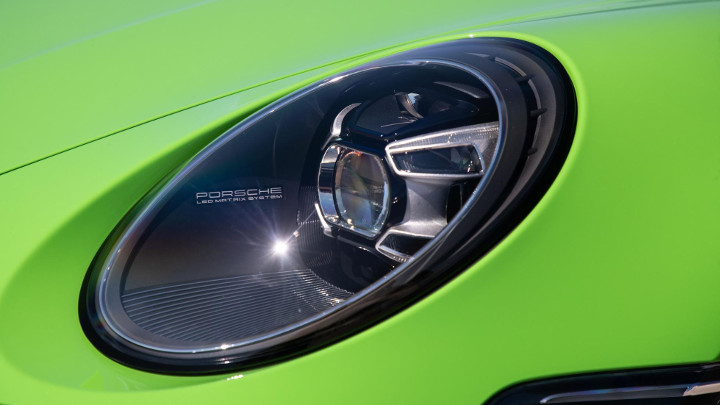 ADVERTISEMENT - CONTINUE READING BELOW ↓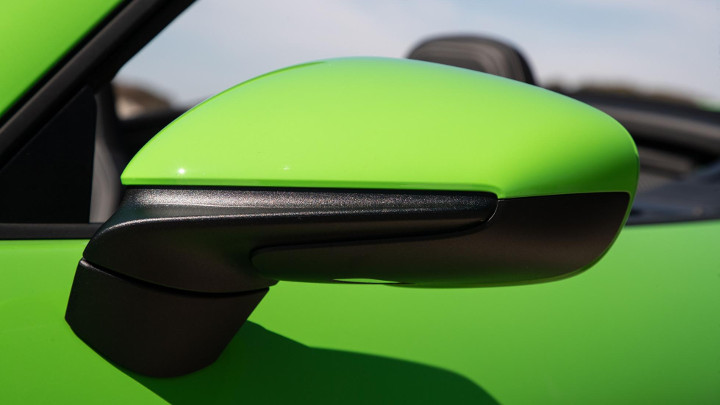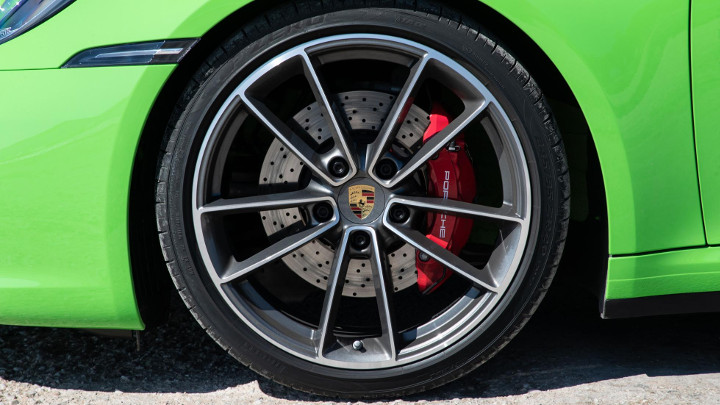 ADVERTISEMENT - CONTINUE READING BELOW ↓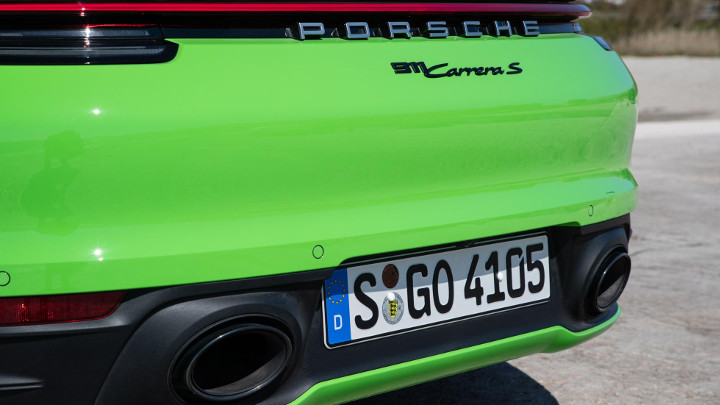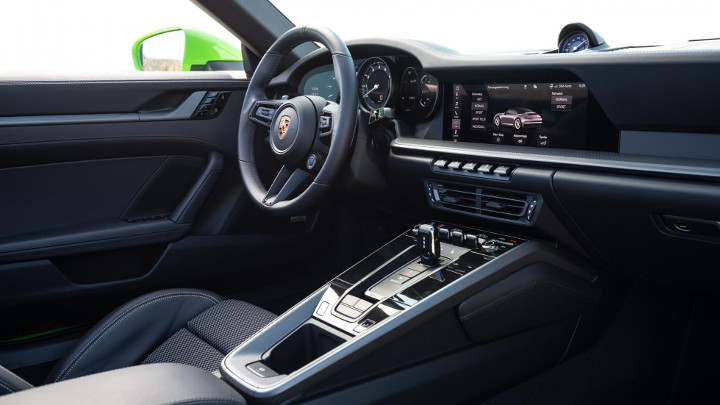 ADVERTISEMENT - CONTINUE READING BELOW ↓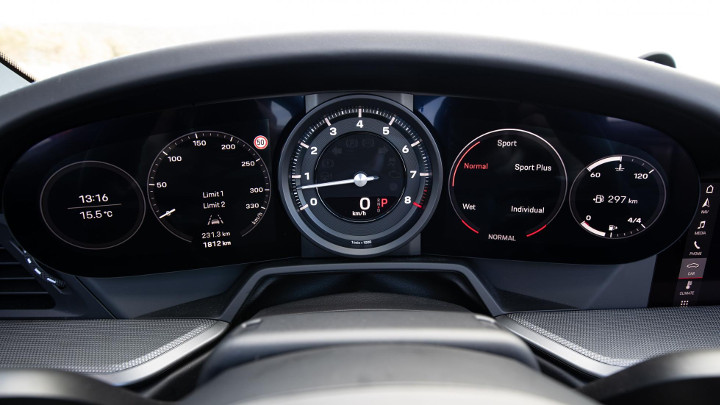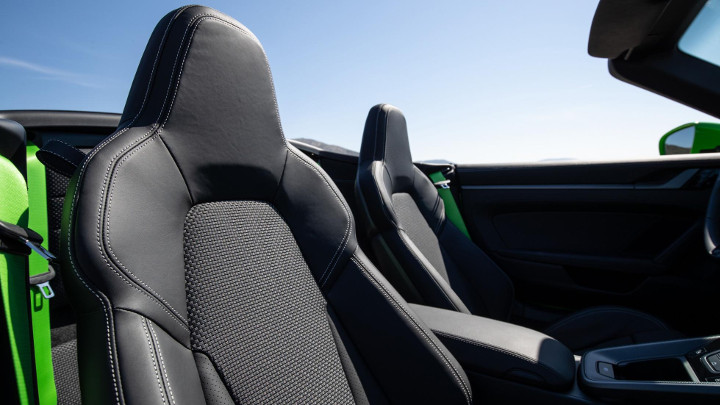 ADVERTISEMENT - CONTINUE READING BELOW ↓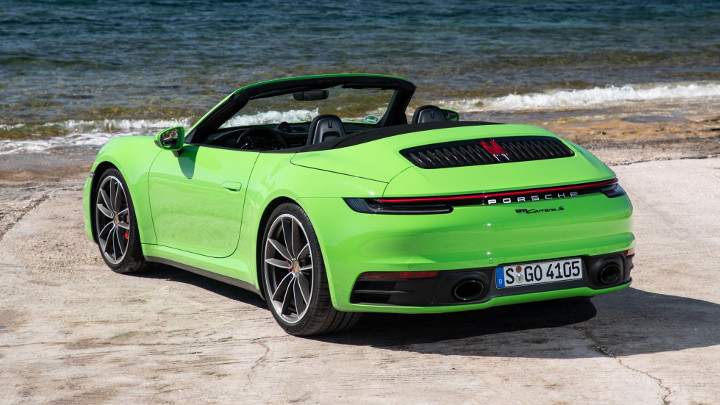 NOTE: This article first appeared on TopGear.com. Minor edits have been made.