Don't tell me, another Taycan prototype passenger ride?
Aha! Wrong! This time, we've actually driven the first all-electric Porsche on public roads. Full disclosure—it was around 30 minutes behind the wheel, on some semi-decent but not particularly fast roads near Porsche's Weissach test track. Followed by a couple of hot laps on the track itself...in the passenger seat. Of a prototype.
Look, we're as frustrated as you by the endless teasing leading up to the launch of the new Taycan (that's 'tie', the thing you wear around your neck for job interviews, 'can') but in a few days, we'll get to see and learn about it in all its glory. For now, you've got me in a stickered up test mule. Cynicism aside for one moment, there's much to learn, and good news to report.
Go on then, let's have all the details...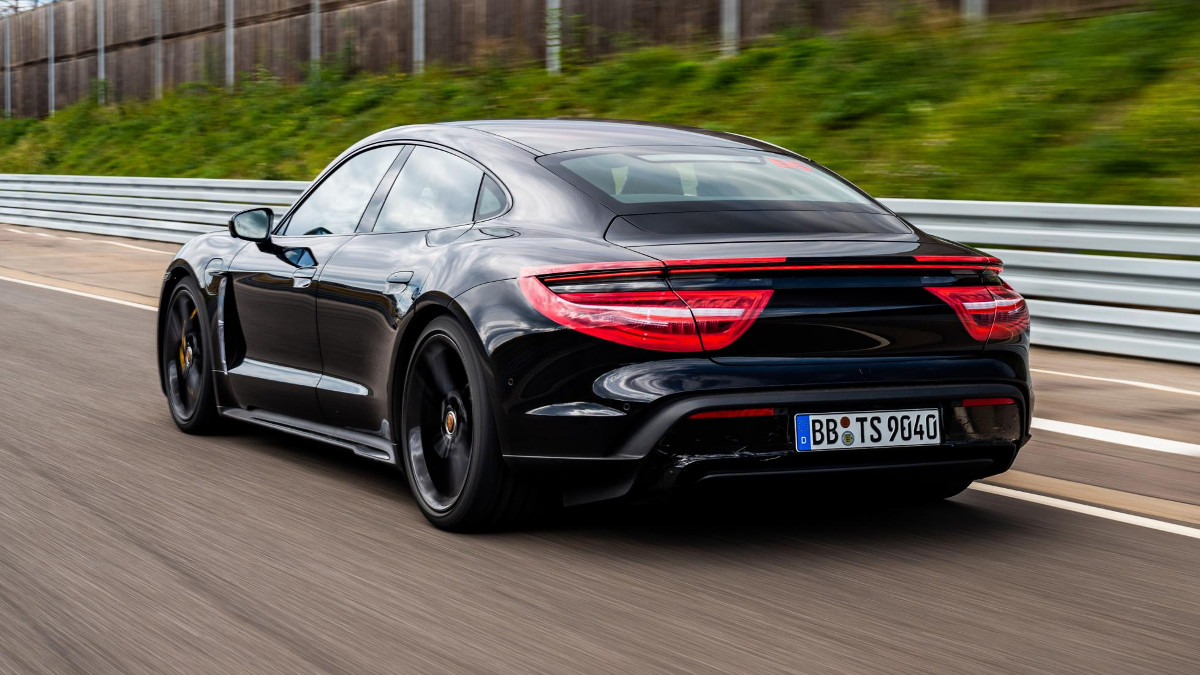 Continue reading below ↓
Recommended Videos
You can't, yet. Porsche is holding most of the specifics back for its big reveal, but we've got everything bar the numbers. There will be the usual spread of performance levels available, but the car we were driving and riding in was the top of the range, the fastest, the best-equipped, the ultimate.
Rumors are it'll be called the Taycan Turbo S, which seems absurd—why use combustion-engine terminology on a car that's so clearly a fresh start for Porsche? If true, somebody has decided Turbo S is the only way to tell its most loyal (read: wealthiest) customers to forget the rest, this is the one you want.
That means ceramic brakes (420mm discs at the front), four-wheel drive, 21-inch wheels, three-chamber air suspension, electronic dampers, an electronic rear differential, rear-wheel steering and a price somewhere north of £130,000 (around P8.24 million). Lesser versions will follow, including an entry-level rear-wheel-drive version, but this is the Taycan living its best life.
Performance figures?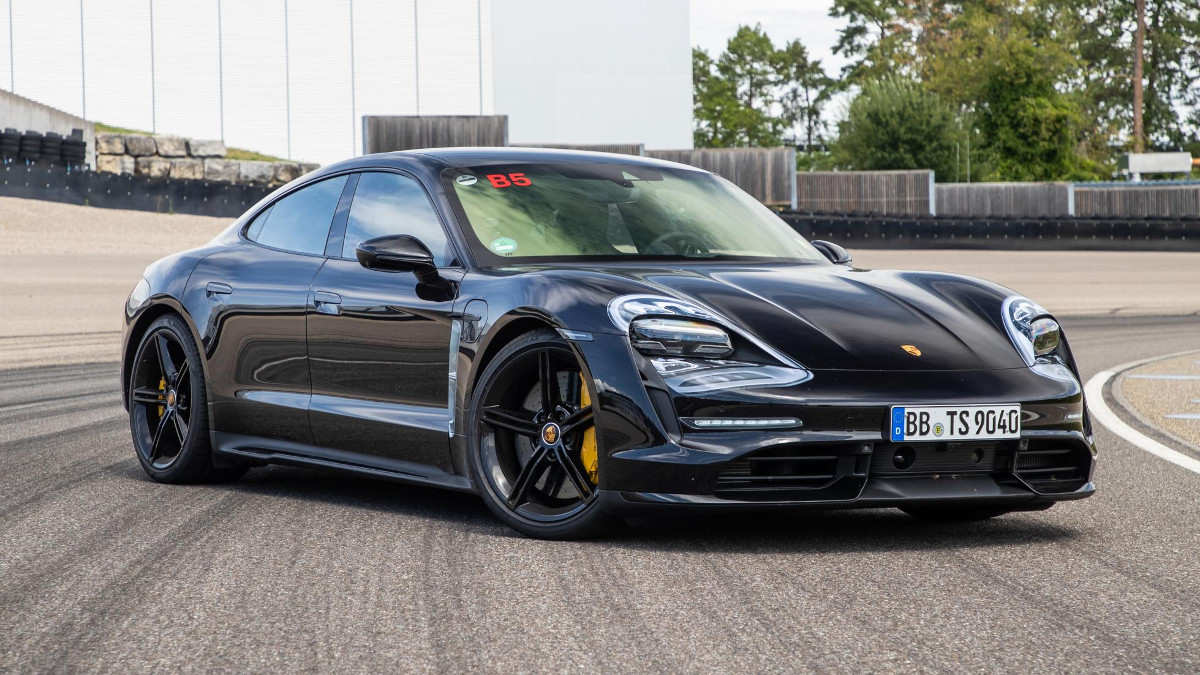 This is where it gets a little vague. Over 600hp from a pair of electric motors (roughly 400hp-odd to the rear, 200hp to the front), with possibly an overboost mode giving over 700hp for short bursts. A curb weight of over 2.2 tons, but still 0-100kph in under 3sec, 0-200kph in under 10sec, and a top speed of 250kph.
Whispers of a two-speed gearbox, too, that unlocks maximum acceleration when you need it while allowing more efficient cruising at highway speeds. WLTP range is expected to be somewhere between 400km and 485km.
But performance isn't all about acceleration in an EV. The Taycan's real differentiator is its 800V architecture, which makes its performance consistent and repeatable because there's less heat in the motors and wires, and unlocks properly swift public charging. Porsche's original aim with the Mission E concept was zero to 80% charge in 15min; we'll find out soon how close it's got, and whether the patchy rapid charger infrastructure can support it.
You mentioned you drove it?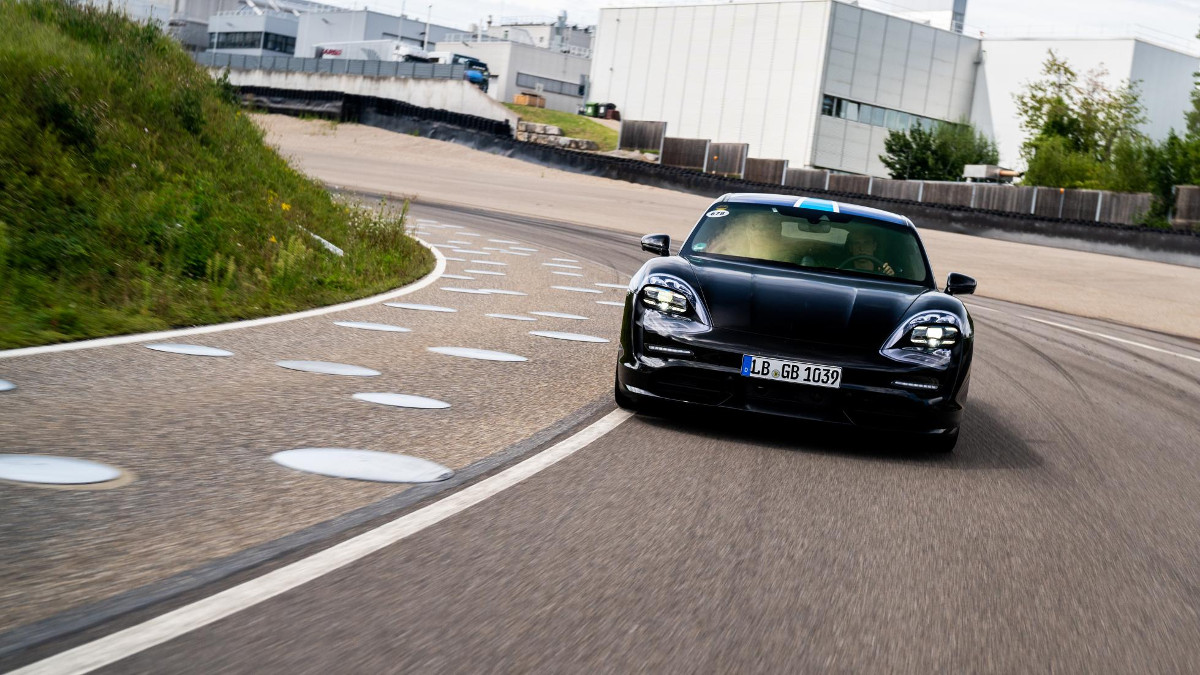 Ah, yes. A sense of tightly-coiled energy under your right foot, a car that wants to leap forward with the merest brush of the throttle, but typically well-sorted to deal with low-speed driving.
The ride isn't Bentley-plush, but this is a so-called sports car still capable of oozing itself down the road at normal speeds, utterly silently, a whine from the motors only apparent when you really slam the throttle. Weirdly, it's not the Taycan's instant throttle response—its ability to deploy jowl-flapping forward force at the precise point you want it in a corner—that leaves the lasting impression. It's the braking that scrambled my mind.
By default, lift off the throttle and you'll coast along—the most natural sensation for keen drivers says Porsche—because only when you touch the middle pedal does the regen begin. A dial in front of you shows the point when regen hands over to mechanical friction, pads on discs, and you have to really stomp on them to get there. That means 90% of the time, the feedback you're feeling from the brake pedal is synthetic, designed to mimic the resistance we're accustomed to.
There's room for improvement, but in a typically Porsche way, it's brilliantly calibrated and better blended than anything similar we've tried. Plus, really stand on them and the regen system can deliver up to 265kW of charging power back to battery. On the other hand, use your Taycan exclusively for pootling around town and you could realistically not call on the physical braking system at all—the reason the standard steel rotors have a special tungsten coating to prevent them rusting through lack of use.
Bet it handles like a bus with all those batteries...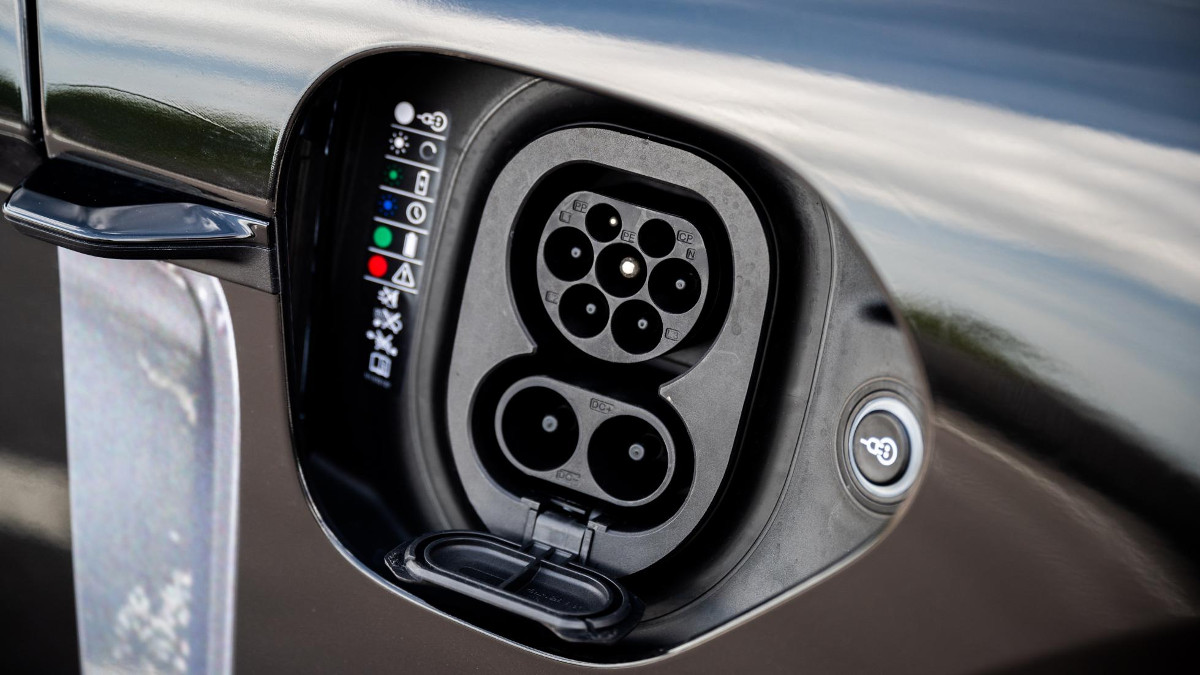 Not a bit of it. There's a sense of mass, that you're driving something substantial and sudden changes of direction could wrong-foot it, but because the center of gravity is lower than in a 911, and because the suspension is mostly Panamera with the full suite of electronics thrown at it, it stays eerily flat in the corners, tucking in smartly thanks to four-wheel steer and generally feeling half a tonne lighter than it should.
And as if to back up my point perfectly, Porsche put it around the Nürburgring a few days ago...in 7min 42 sec. Don't know many buses that can do that.
Did you get a chance to launch it? Will it drift?
Not me, but my predictably handy taxi driver for our Weissach hot laps did, and I can report that it feels significantly quicker than 0-100kph in three seconds. My testicles are still finding their way back down and the blood has only just returned to the front half of my body. My word, it's quick—a proper fairground slug of G-force, not a chirp from the wheels, no gear changes to give your organs a breather.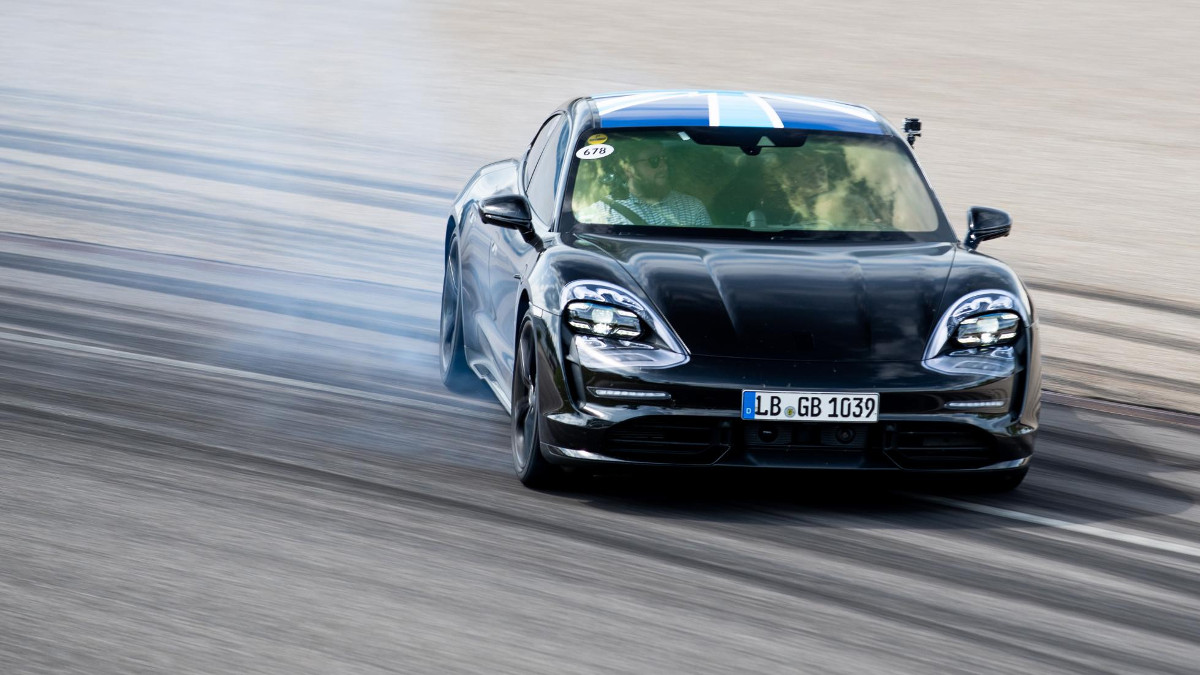 It's impressive, no doubt, but does it feel any different in a straight line to a Tesla Model S P100D? Nope. And right there is the challenge for makers of fast EVs: For now, extreme speed on tap is a novelty, but in the future, differentiating your wares has to be a priority.
And yes, I can confirm that it will hang its back end out if you turn in on the brakes, wait for it to rotate, then give it the berries. Handy when you're after some gratuitous slidey photos to illustrate your story with, but patently not what the car's designed for.
What is it designed for then?
To be the sportiest, best-handling EV available. And it succeeds. Porsche is pushing the idea that this is a sports car with four doors, but really, it's a GT—a rapid, refined sedan with proper space for passengers and their things that just happens to run on electricity.
Hats off to Porsche for proving, through thorough engineering, that EVs needn't be the compromise most of use assume they are. Yes, some character has been lost along the journey, but it's startling in new and interesting ways. Ways that are more likely to entice the next tech-driven generation of car buyers.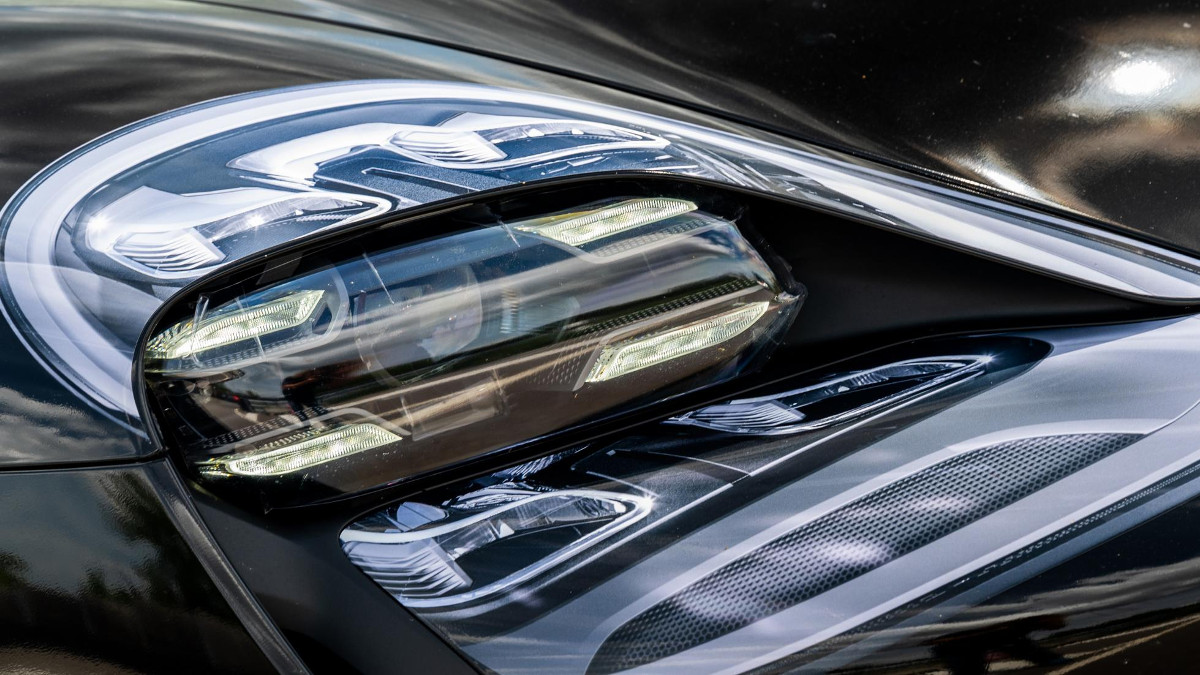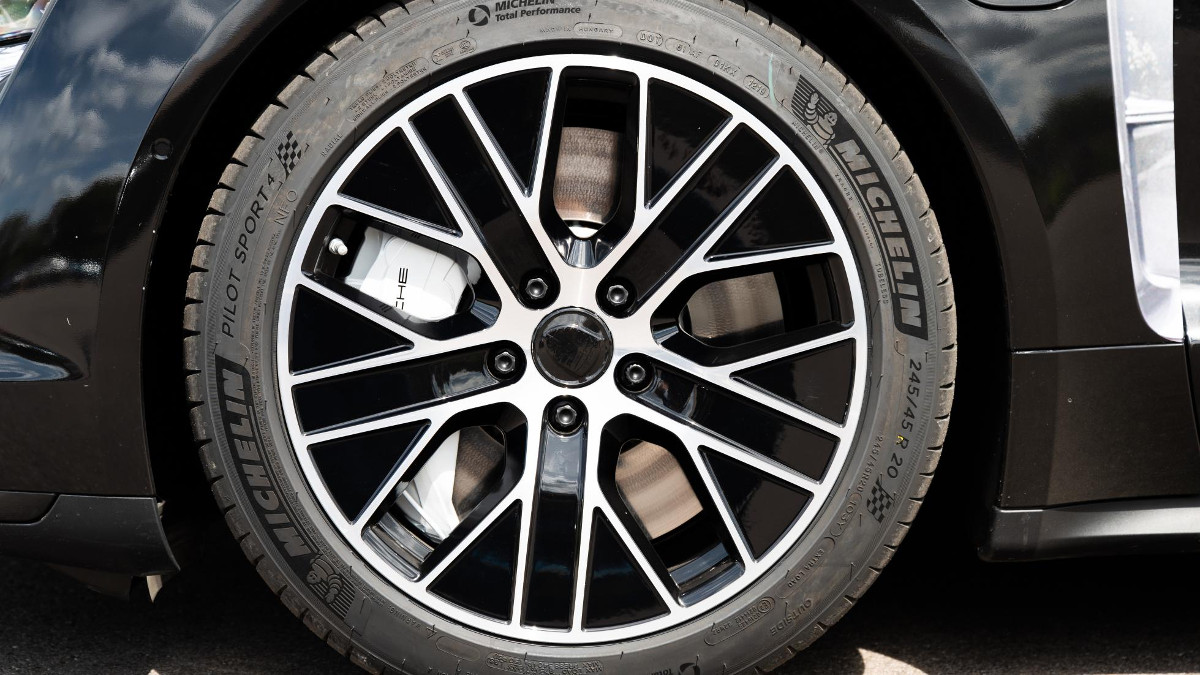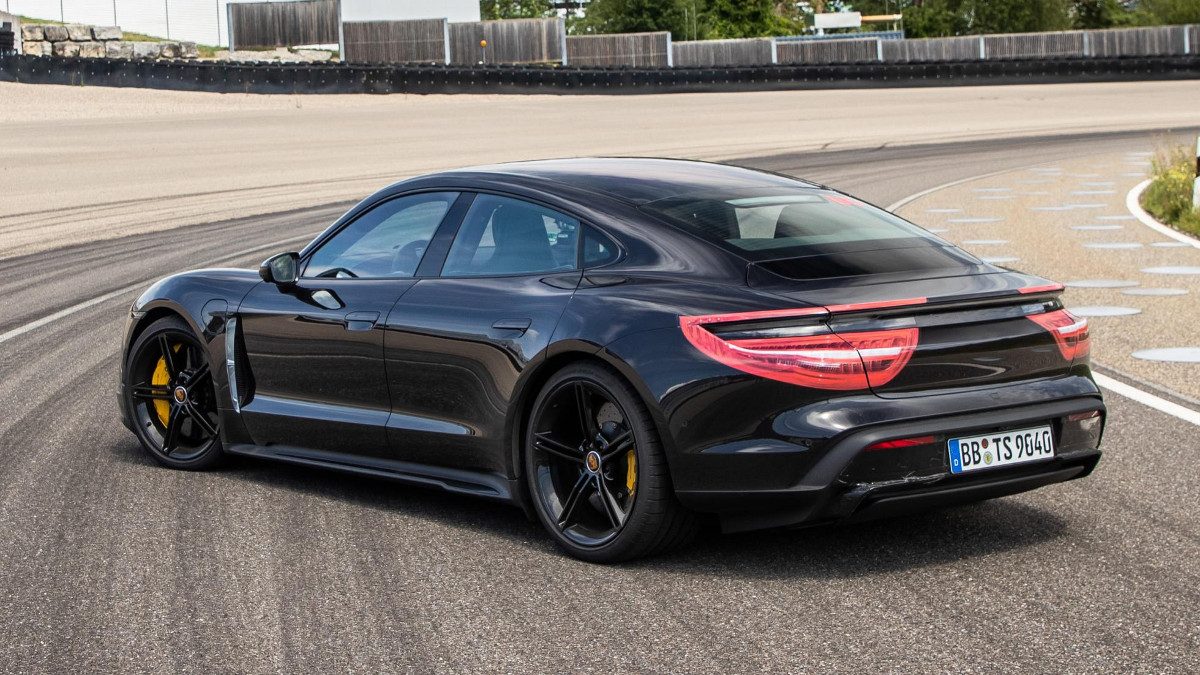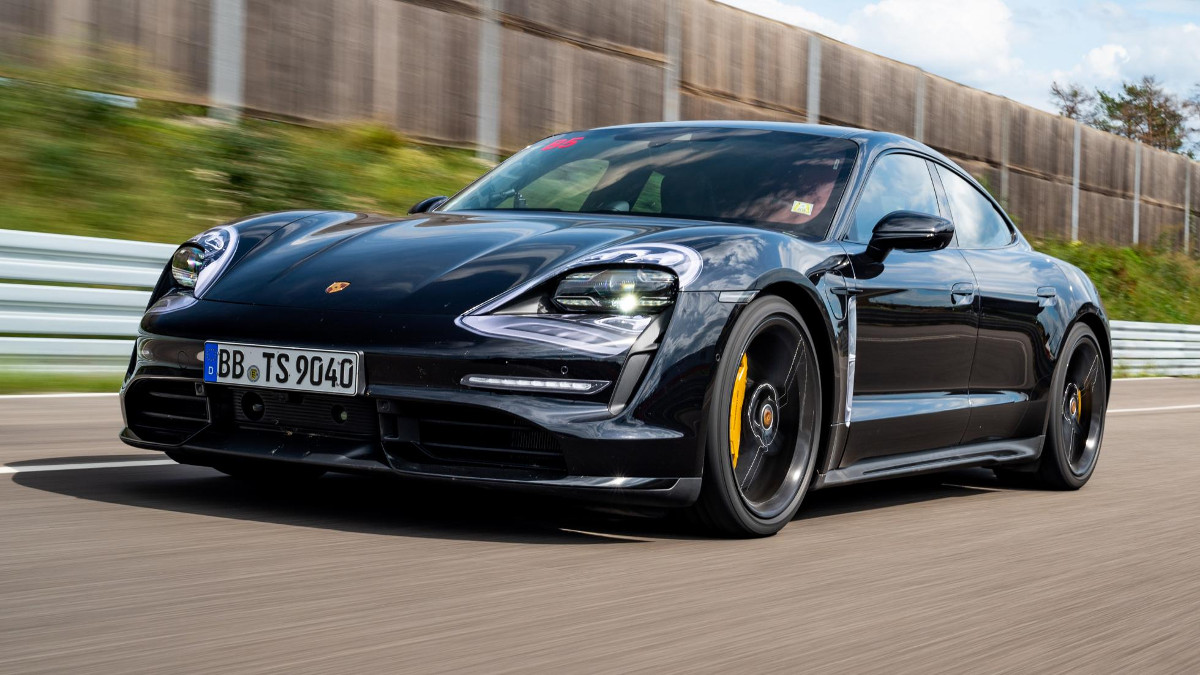 NOTE: This article first appeared on TopGear.com. Minor edits have been made.