When all's said and done, this is Ford's first fully-fledged electric car and that makes it very important indeed. Yes, it's pricey for a Ford, and no, you won't find a Ford badge on it anywhere—we'll come on to discuss what that means further on. For now, let's dig into it a bit.
First, some facts. Built on an all-new platform, the Mustang Mach-E is available with either a 76kWh or 99kWh battery, and with either a single motor (rear-wheel drive) or twin motors (all-wheel drive). Claimed range is up to 595km, making it one of the longest-haul electric cars around. The entry-level car weighs just under two tons and has 254hp, the most potent available at the moment has 332hp. In due course, there will be a GT version with upwards of 480hp, targeting 0-100kph in 3.5sec. Expect that in late 2021, with a price tag of around £75,000 (P4.85 million).
ADVERTISEMENT - CONTINUE READING BELOW ↓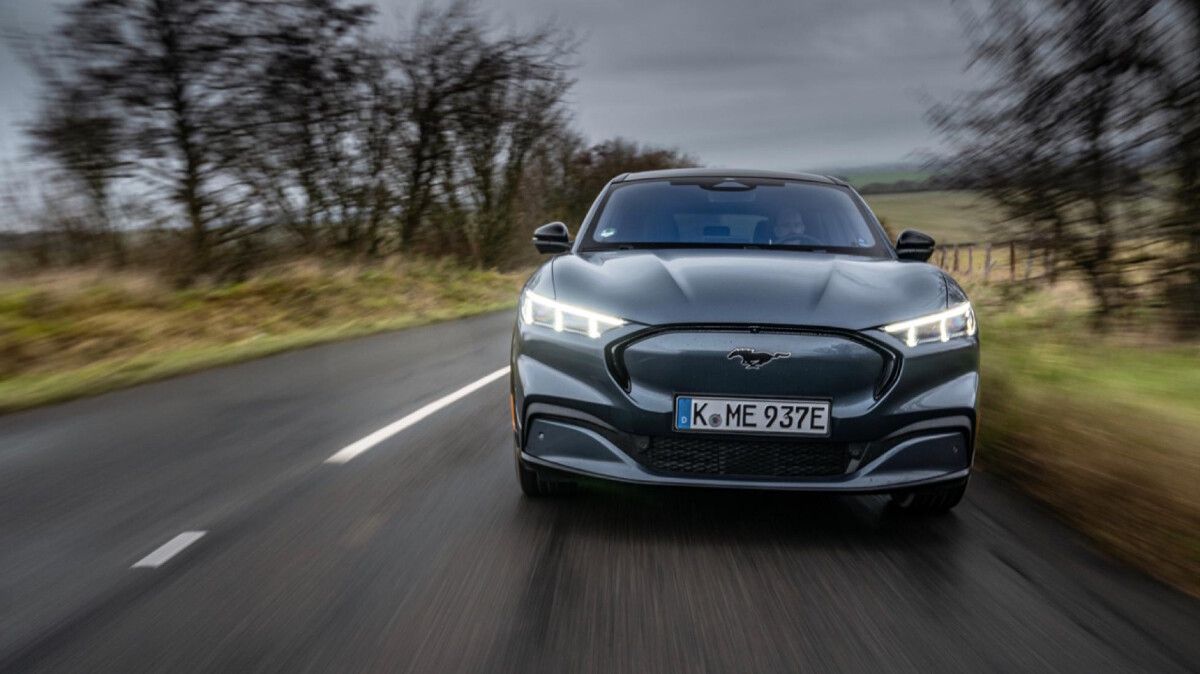 The most affordable variant is the plain Mach-E: 254hp and £40,350 (P2.61 million). One step up is the rear-drive 281hp Extended Range at £49,980 (P3.23 million). That's the one that can travel farthest between charges. The extra power is needed to ensure it's not slower than the 120kg lighter base variant. Then we have the two dual-motor cars, the 245hp smaller-battery version costing £46,650 (P3.02 million), the flagship with 332hp at £57,030 (P3.69 million). All versions are limited to 180kph, the slowest hitting 100kph in 6.1sec, and the fastest in 5.1sec. Which makes it as quick as a 5.0-liter Mustang coupe.
ADVERTISEMENT - CONTINUE READING BELOW ↓
Recommended Videos
Inside, they all seat five, have a hatchback cargo area, and a 100-liter 'frunk' in the nose. But the bigger story is up front, where you'll find a Tesla-aping 15.5-inch portrait touchscreen and many claims about connectivity, phone mirroring, apps, and self-driving.
Is it a Mustang, though? It certainly hints hard at it with the thrusting hood and the light signatures. But this is badge engineering—it doesn't feel or drive like a V8 Mustang in any way. We understand the reasoning and positioning—it's a cool brand and helps Ford justify the money it needs to charge to turn a profit.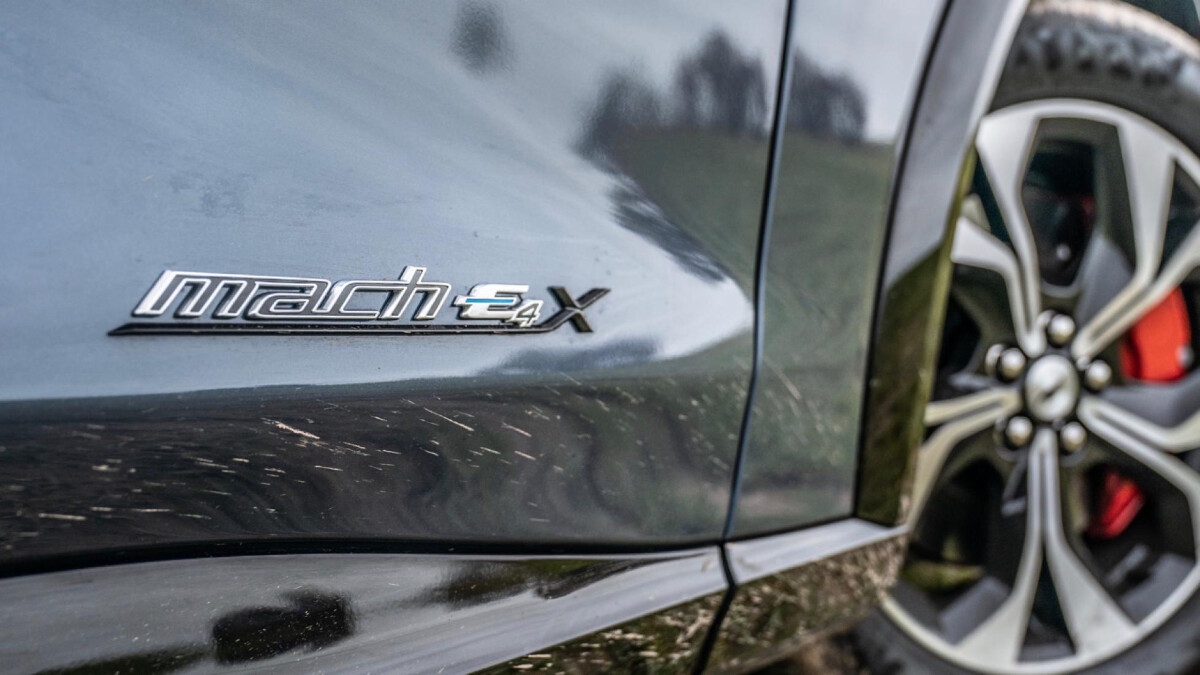 ADVERTISEMENT - CONTINUE READING BELOW ↓
But it also puts Ford in a dangerous position for the future. The firm says it will have 17 electrified vehicles along by the end of next year, but actually, they're mostly mild hybrids and a few plug-ins. The next full BEV doesn't arrive until 2022, and it's a Transit. When it does announce other BEVs, how are they going to tie in to the Mach-E and benefit from its market positioning as brand's halo electric car? Ford has potentially made a rod for its own back. And come to think of it, in places like the UK, the perception of Mustang is of a relatively low-tech muscle car...
That's all further down the line. What you need to know now is that Ford's pure electric SUV is here, rivaling cars such as the Polestar 2 and the upcoming Tesla Model Y, and could kidnap sales from the Jaguar I-Pace and the Audi e-tron. How does it shape up?
ADVERTISEMENT - CONTINUE READING BELOW ↓
On the road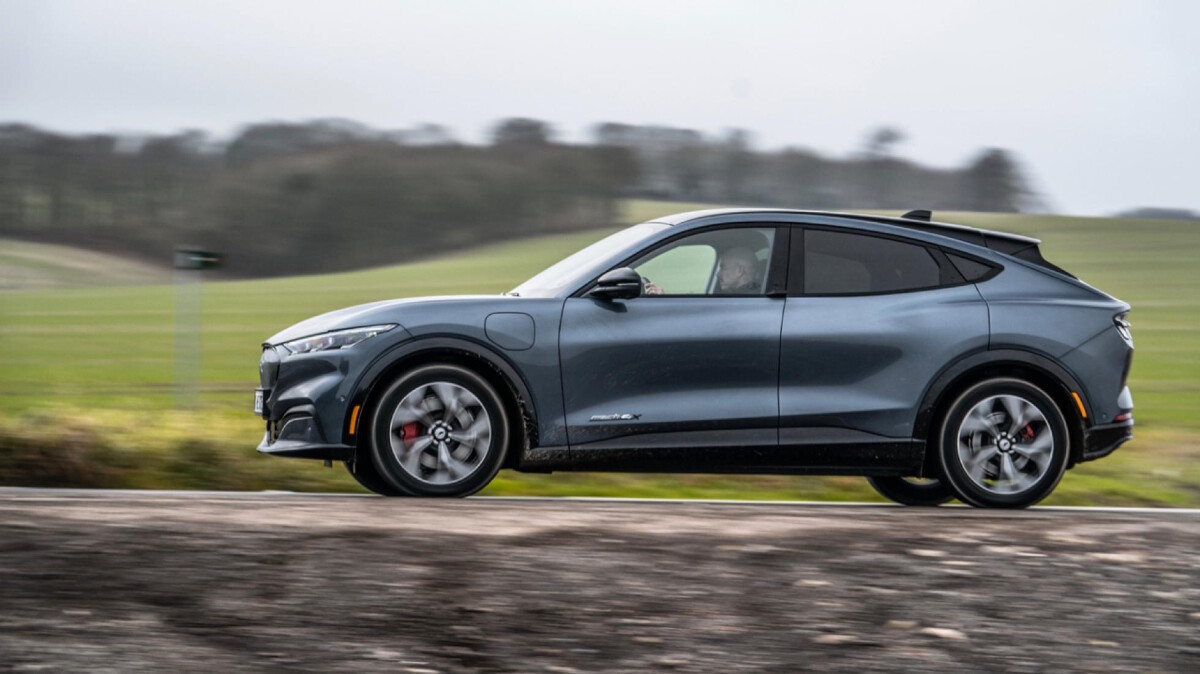 Good news and bad news here. More good than bad, thankfully. And actually, the bad has more to do with your expectations than any deficiencies on the car's part. It doesn't drive like a Mustang. Of course it doesn't—it's a 2.2-ton SUV. So, put any thoughts of smoking, roaring muscle cars out of your mind now. This is not going to grab you in anything like the same way.
ADVERTISEMENT - CONTINUE READING BELOW ↓
Especially not initially. You get in and the seats are flat, lacking bolstering and support. The driving position is good, more reached out than sit-up-and-beg, so at least it doesn't feel like a car for the school run, and that dipping roofline and the darkened rear cabin limits visibility out the back—more coupe-ish.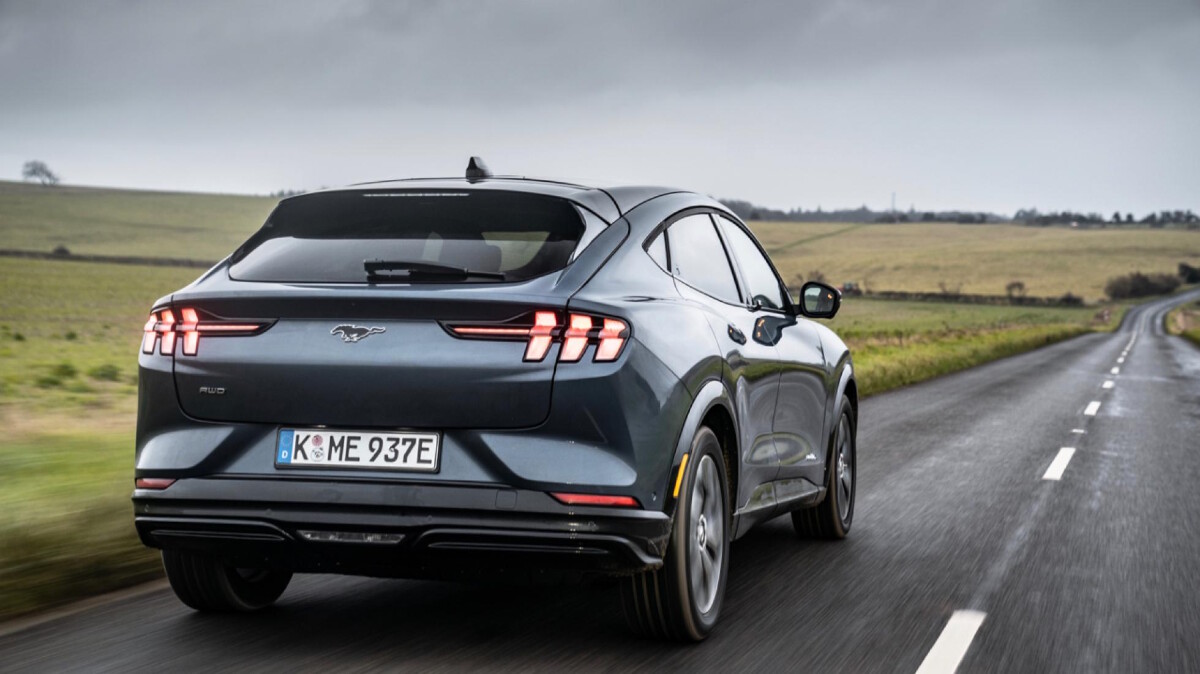 ADVERTISEMENT - CONTINUE READING BELOW ↓
It's a cinch to drive. All electric cars are. Twist the PRND gear knob (ignore the L button—it's meant to mimic low gear, but it merely increases regen braking on steep slopes), turn the steering, and away you go. At low speeds, it's not the most sophisticated-riding car. No air springs or adaptive dampers here (the latter will be fitted to the GT version), and the big wheels thump along rough surfaces. You only really notice this because there's little else to draw your attention. Unlike with the Tesla Model X for instance, the bodyshell is free from creaks. The Mach-E feels robust, steers cleanly, and predictably.
Just be wary of the modes. Active, Whisper, and Untamed are the choices. They don't fundamentally change handling, ride, or power at all, but instead electronically adjust throttle, brakes, sound generator, steering, and—I kid you not—interior ambient lighting.
ADVERTISEMENT - CONTINUE READING BELOW ↓
So Whisper, although no quieter than any other mode, means the pedals need more of a push before anything happens, the steering is lighter, and the 'Propulsion Sound'—if you choose to have it on—is quieter. The issue here is that the integration of the brakes isn't perfect. Initially, you don't get much, then a sudden bite. Switch on the 'one-pedal' mode for extra regen and once you get used to it, you'll probably make smoother progress.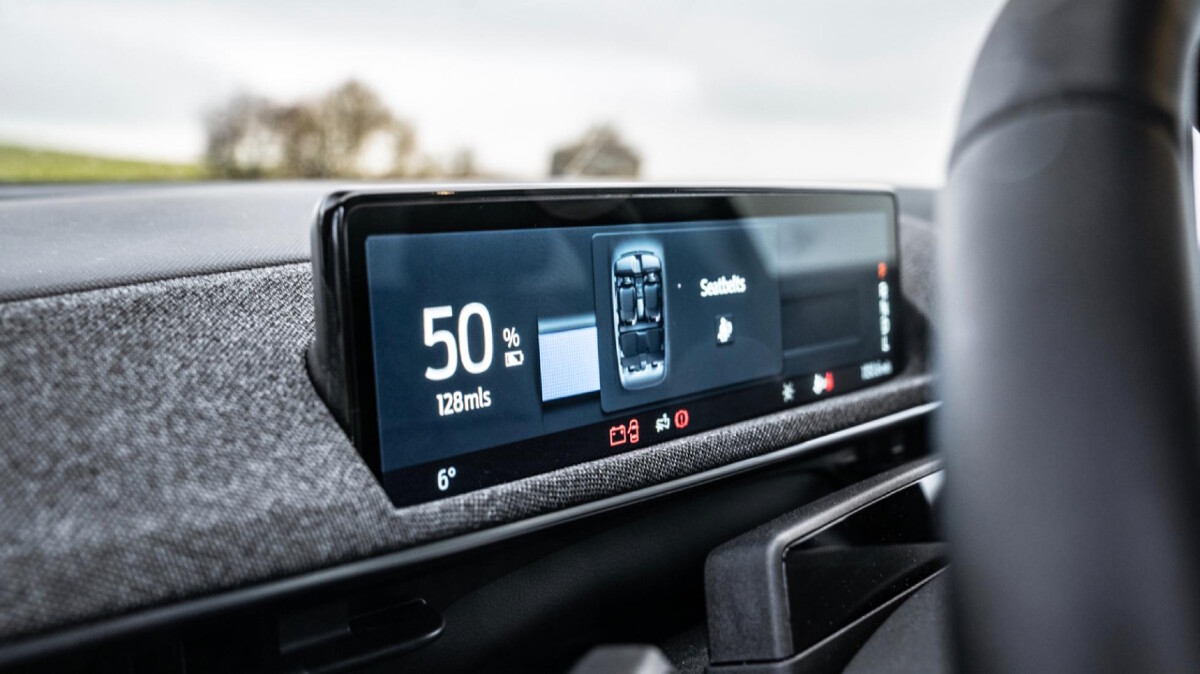 ADVERTISEMENT - CONTINUE READING BELOW ↓
Pick up speed and the ride evens out. We like Ford's decision to equip the Mach-E with high-profile tires (225/55 R19s on the long-range AWD), meaning there's plenty of cushioning in the sidewall. On the whole, the Mach-E rides with reasonable dexterity. It's a bit springy at the rear if we're being picky, and not exactly soft, but then it needs to be taut enough to maintain control through corners, and has to give at least a passing nod to the Mustang badge.
And that means the handling has a little bit of an edge to it as well. There's no steering feel whatsoever, but that passive suspension does a decent job of not only communicating what's happening at road level, but also supporting the car through corners. The Mach-E doesn't heave over and give up—it actually keeps itself level and in control.
ADVERTISEMENT - CONTINUE READING BELOW ↓
Just don't go in too hard. Those high-profile tires do nothing for front-end bite and precision. Coming out the other side, however...stand on the power and—in the 4WD version, at least—more torque arrives at the rear wheels, so you exit quickly and neutrally. Have it in Untamed mode for the sharper throttle and you'll also enjoy the sound of...well, Ford says it was inspired by "'80s sci-fi cinema." We say it sounds more like a rather plain, humming V6. It's quite internal-combustion-y.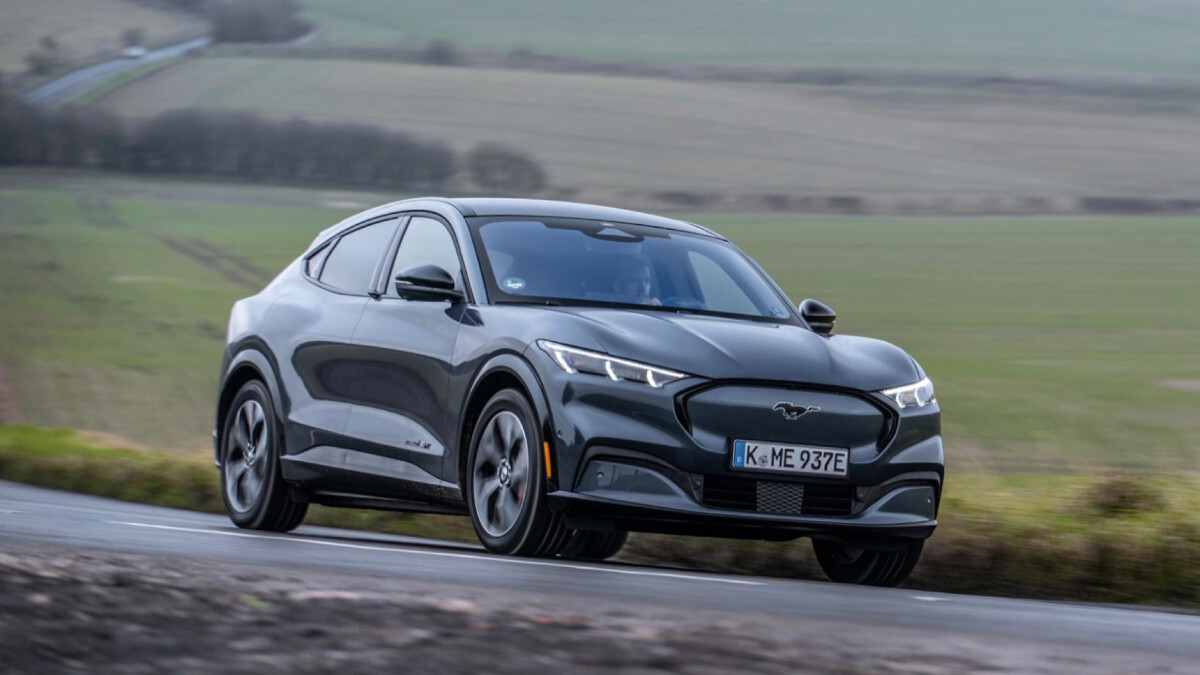 ADVERTISEMENT - CONTINUE READING BELOW ↓
And it's rapid. For everyday driving, I don't think you need a faster crossover than this. The chassis can cope with the power, but it's well-balanced, enough to make things interesting. We haven't driven any other version, but there's not a great deal in it for power-to-weight ratios between this (150hp/ton and the entry-level version, 127hp/ton), and it might be that the base car drives with a hint more agility.
Look, it's not a thrill-a-minute, but there's definitely more to the Mach-E experience than there is to most other electric crossovers, including the Tesla Model X, the Audi e-tron, and the Merc EQC. The Polestar 2 is sharper, but less forgiving; the Jaguar I-Pace is the one that has similar approach to comfort, and control and delivers some interest for the driver, involves them in the process. Ford has done a good job with the Mach-E.
ADVERTISEMENT - CONTINUE READING BELOW ↓
The American carmaker is part of the Ionity network, so the Mach-E claims to be able to take 92km of charge in 10 minutes at a 150kW fast charger. Or do 10-80% in 38 minutes. In practice, you're more likely to be charging at home, where even with a wallbox, you'll need a full 12 hours to recharge from empty. But as we've always said, the problem for electric cars isn't range anxiety, but infrastructure anxiety.
On the inside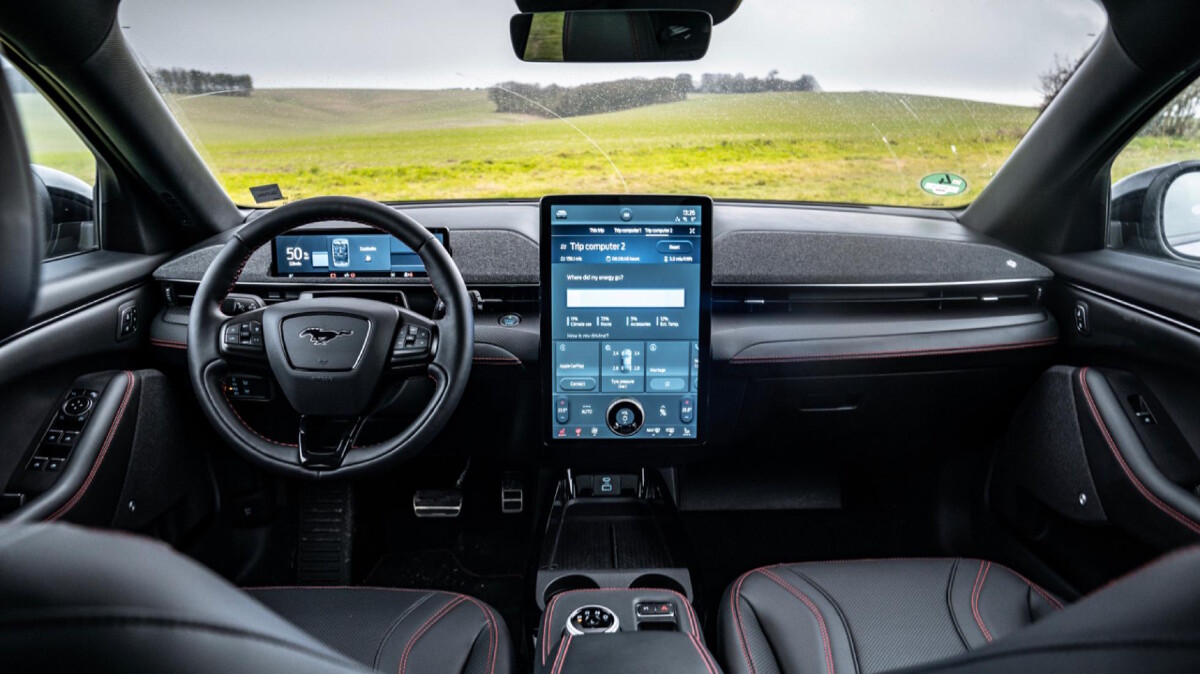 ADVERTISEMENT - CONTINUE READING BELOW ↓
It's clear Ford was treading a narrow path. It wanted the Mach-E to be as sleek as possible to get across maximum Mustang vibes, yet carve out enough space inside to convince as a family wagon. It just about does that. Outwardly, the sloping tailgate and the long hood ensure it's a car you won't mind being seen solo in, but inside, you will fit five people and a load of kit.
The 402-liter cargo area may not sound that generous, but floor space is good, and if you pack around the cables, there's a bit more space underneath. Seats folded, that expands to 1,420 liters. And there's another 100 liters or more in the frunk. Quite frankly, given the length of the hood, you'd have thought they'd have been able to make more of that space. There's a lot of plastic under there.
ADVERTISEMENT - CONTINUE READING BELOW ↓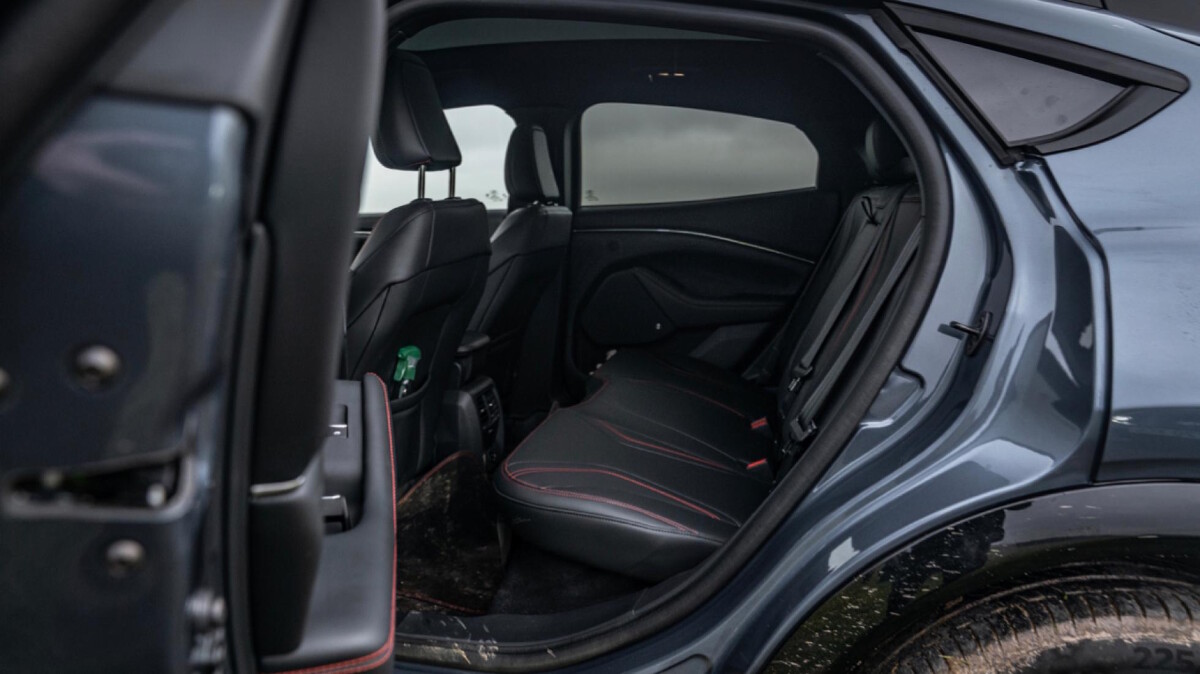 The dipping roofline means you need to watch your head on the rear doors, but once inside, there's decent headroom. The floor is flat, so the central passenger doesn't have much to complain about and legroom is fine. But it's hardly an exciting environment. The leather throughout is plasticky and there's little to keep occupants, er, occupied. No attractive design or neat features.
ADVERTISEMENT - CONTINUE READING BELOW ↓
The front is better: There's more sense of design, but the materials and quality are Tesla-level rather than Audi-level. For the £57,000 that this car costs, they're not really good enough. The switchgear is mostly lifted from lesser Fords, and there's quite a bit of it—they haven't stripped it down to the bare minimum, so you still have conventional column stalks and steering-wheel buttons.
There's a useful screen in front of the driver for essential information (speed, nav directions, warnings), but if you want more than that, you're interacting with the giant, upright central screen. On the whole, it's logical. There's a row of frequently used apps (nav, media, phone, settings) across the bottom, and pressing one of them makes it fill the top half of the screen.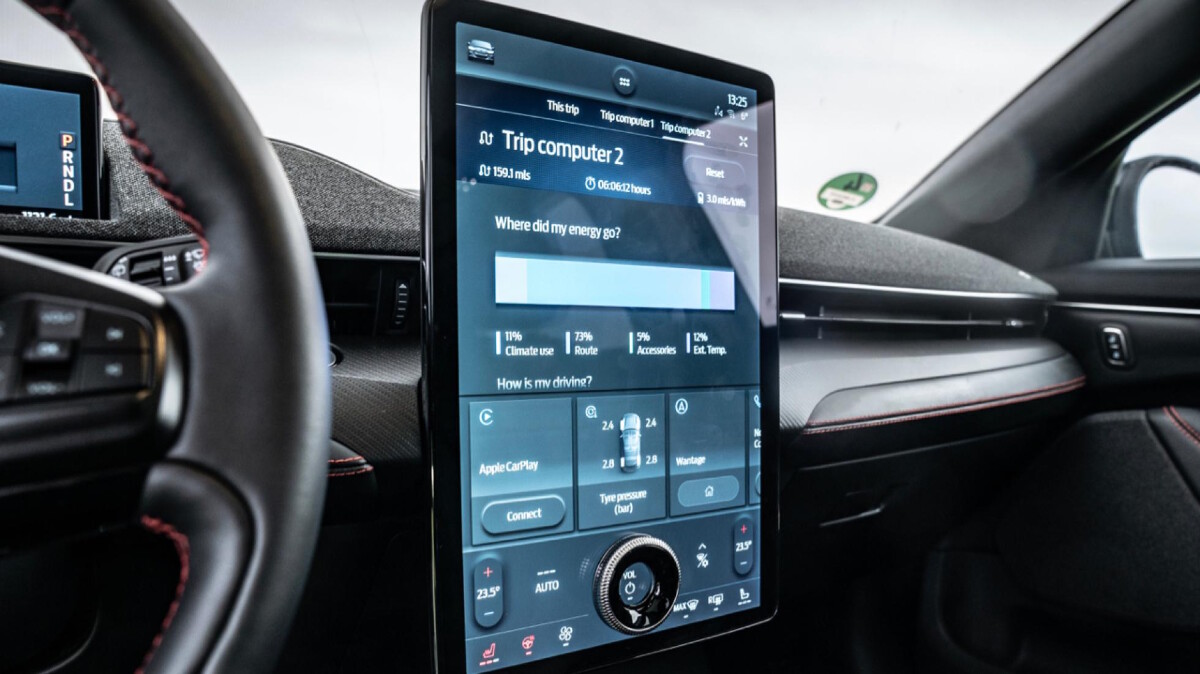 ADVERTISEMENT - CONTINUE READING BELOW ↓
This means Apple CarPlay or Android Auto don't take over the whole screen, so you could have Waze and the in-car nav working simultaneously. Which might be handy. The nav, like with most other electric cars, will direct you to charging stations if they're needed en route (unlike in Teslas, it can't tell you if they're working or unoccupied), but the mapping is fairly rudimentary. The whole system is reasonable, but it's just as well it accepts over-the-air updates for future improvements. You tend to spend a lot of time scanning through menus, and the whole touch, pinch, and swipe, while cool, isn't easy on the move.
The FordPass phone app links to the car to give you some elements of remote control and the ability to use your phone as the key, but the one thing worth getting excited about is the B&O sound system, which has a row of speakers behind the mesh on the dash. On a more practical note, the storage is really well-thought-out and extensive—two level central trays, a deep bin, cupholders, and all the rest.
ADVERTISEMENT - CONTINUE READING BELOW ↓
Final thoughts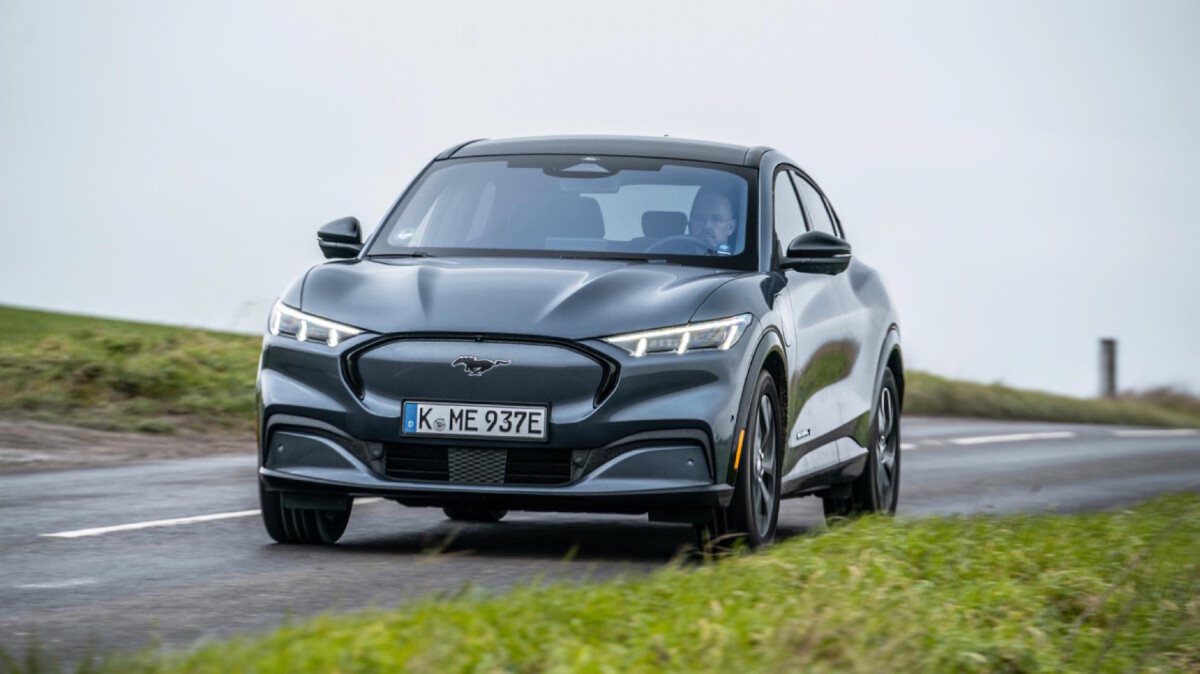 The most important Ford since the Mondeo? The Model T? Probably somewhere between the two in terms of what it means to the brand and its future. As crucial as the original Mustang, then—another car that kick-started the blue oval and launched it into a new and exciting future.
ADVERTISEMENT - CONTINUE READING BELOW ↓
Leaving any trace of Ford badging off the Mach-E is probably a short-term gain, but as mentioned at the start, it could prove a long-term loss. But that's not what we're here to discuss. Make up your own mind about the look of the car and what it says about you, but be in no doubt that underneath, this is a fundamentally very well-executed machine. It treads the fine line between lifestyle and family versatility as deftly as either the Polestar 2 or the Jaguar I-Pace, and like them has a bit about it dynamically. Put simply, for an electric car, it's engaging to drive.
Just don't be misled by the badge. This is not a Mustang, and to think of it as one is misleading. It's an electric crossover. And it's a good one.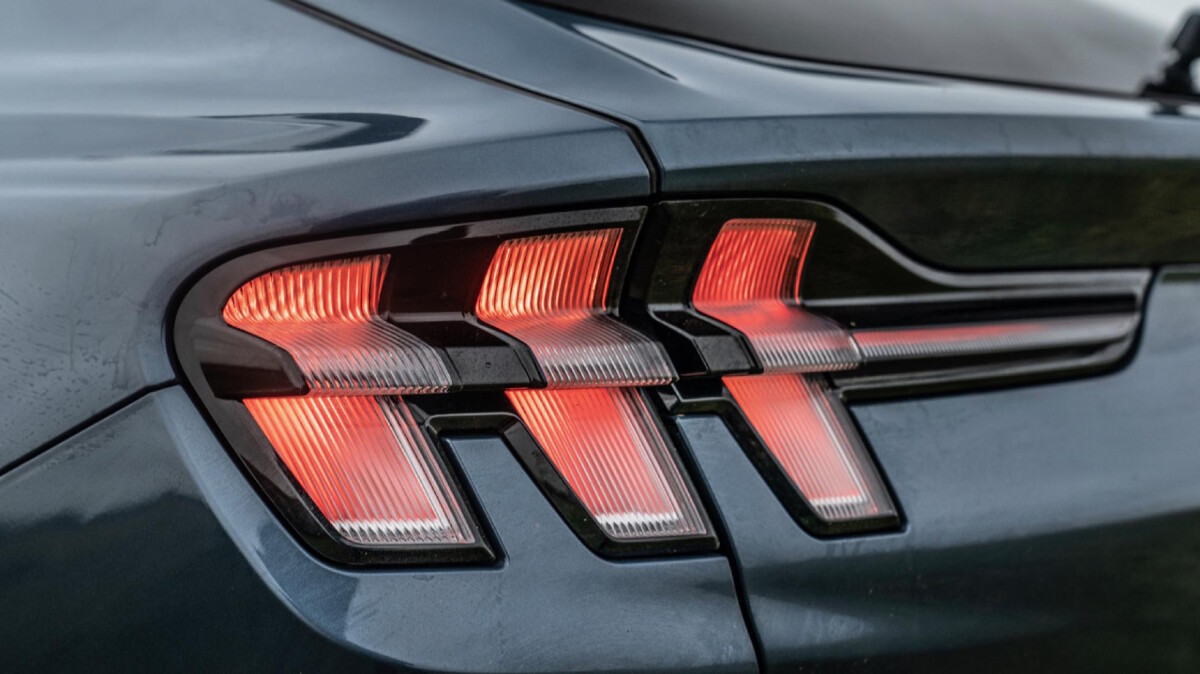 ADVERTISEMENT - CONTINUE READING BELOW ↓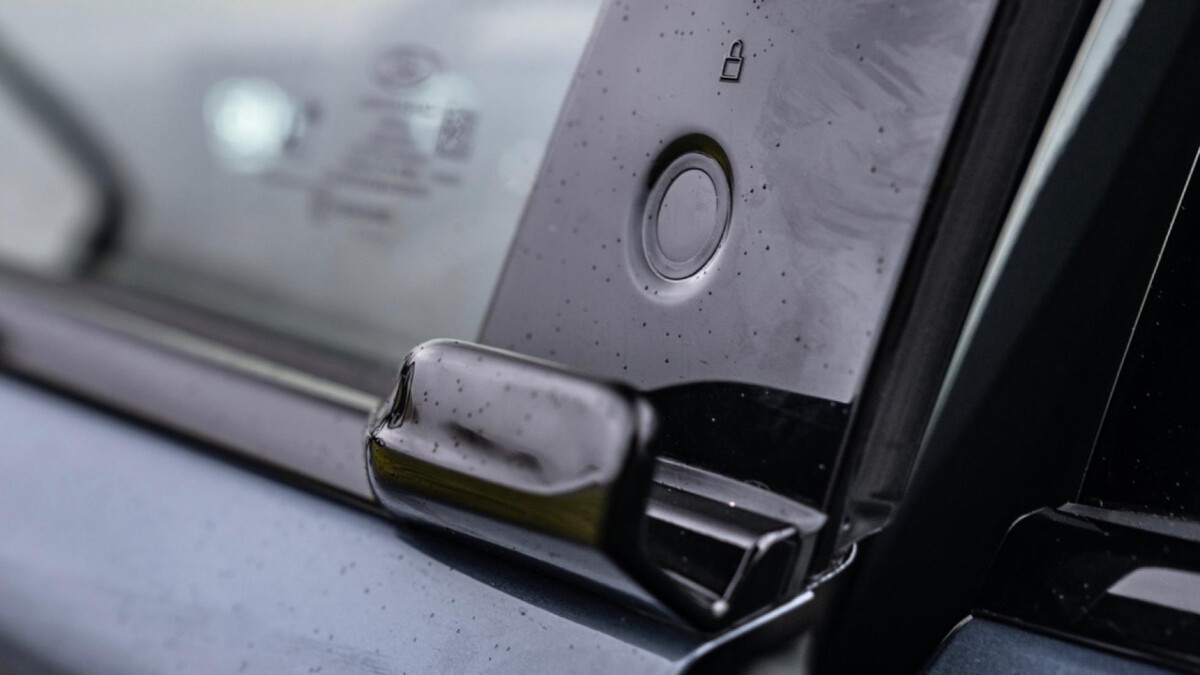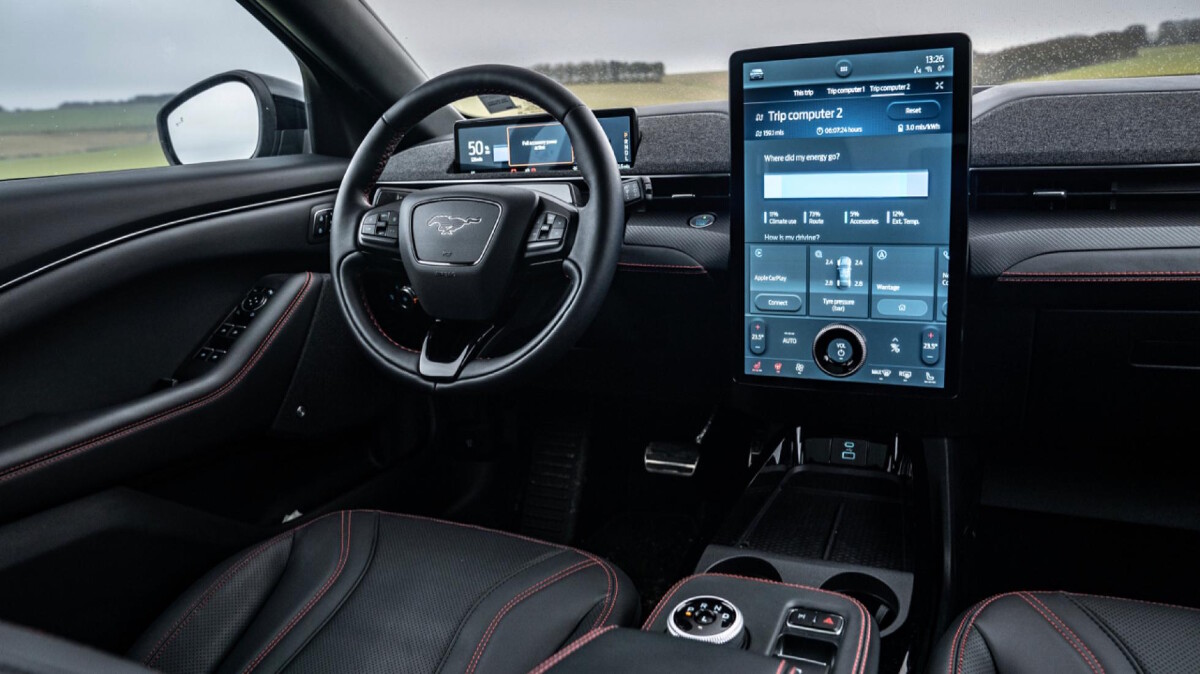 ADVERTISEMENT - CONTINUE READING BELOW ↓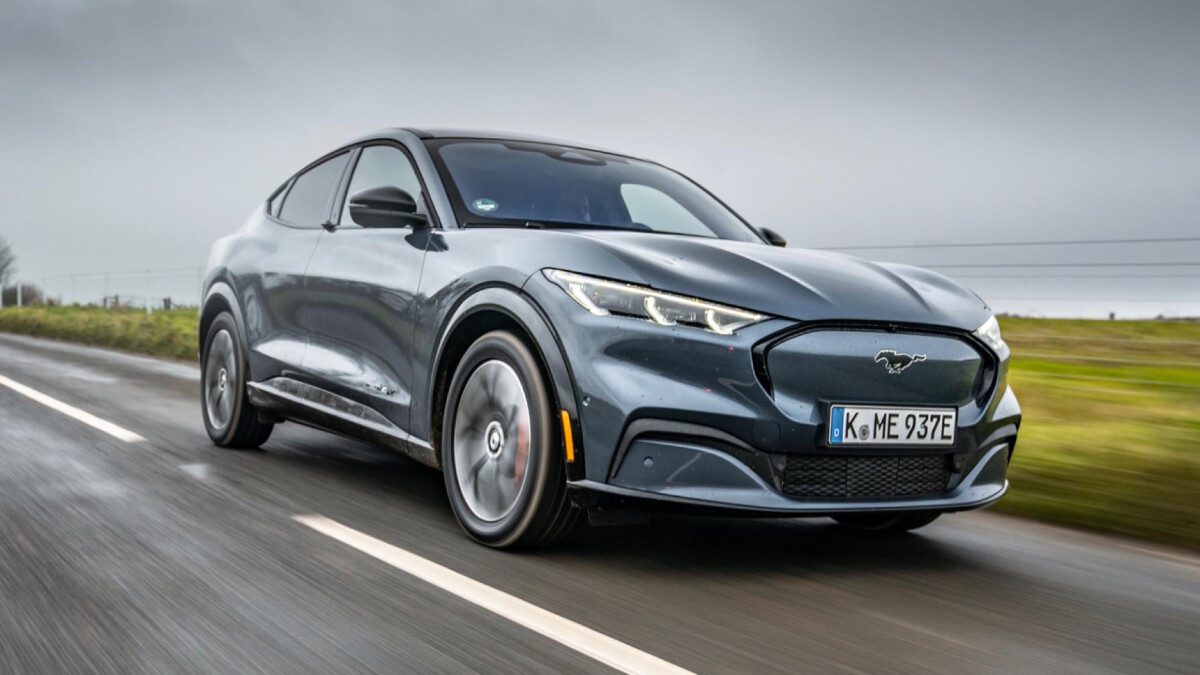 NOTE: This article first appeared on TopGear.com. Minor edits have been made.