This is the Urban EV Concept that became a legend, the legend that became a prototype, and the prototype that became the dinkiest, most desirable car since the Suzuki Jimny. It's the Honda e, the Japanese carmaker's first mass-market, pure-electric car (yes, Honda dabbled with the EV Plus in 1997, but only around 350 of those were ever built), and we want one.
Honda clearly isn't going Tesla-chasing with this one—the dimensions are Fiat 500-plus-a-bit, wider than a Jazz but actually narrower when you take into account that there are no wing mirrors. This is very much an urban runabout. A range of 220km means you won't want to stray too far from town, but a choice of 134hp and 152hp versions, both with decent performance especially up to around 50kph, a chassis that's been shown some of Honda's handling love, and a configurable driving experience mean it's not out of its depth if you fancy a 'proper' drive...and have the battery to spare.
ADVERTISEMENT - CONTINUE READING BELOW ↓
But cheap this car isn't. While Honda has kept the dimensions in check and battery to a compact 35.5kWh, the price starts at a notably juicy £26,160 (around P1.74 million) for the base car, rising to £28,660 (roughly P1.9 million) for the higher-powered, higher-spec Advance variant. So, to justify prices that eclipse the much larger Volkswagen ID.3, Honda hasn't held back with the technology.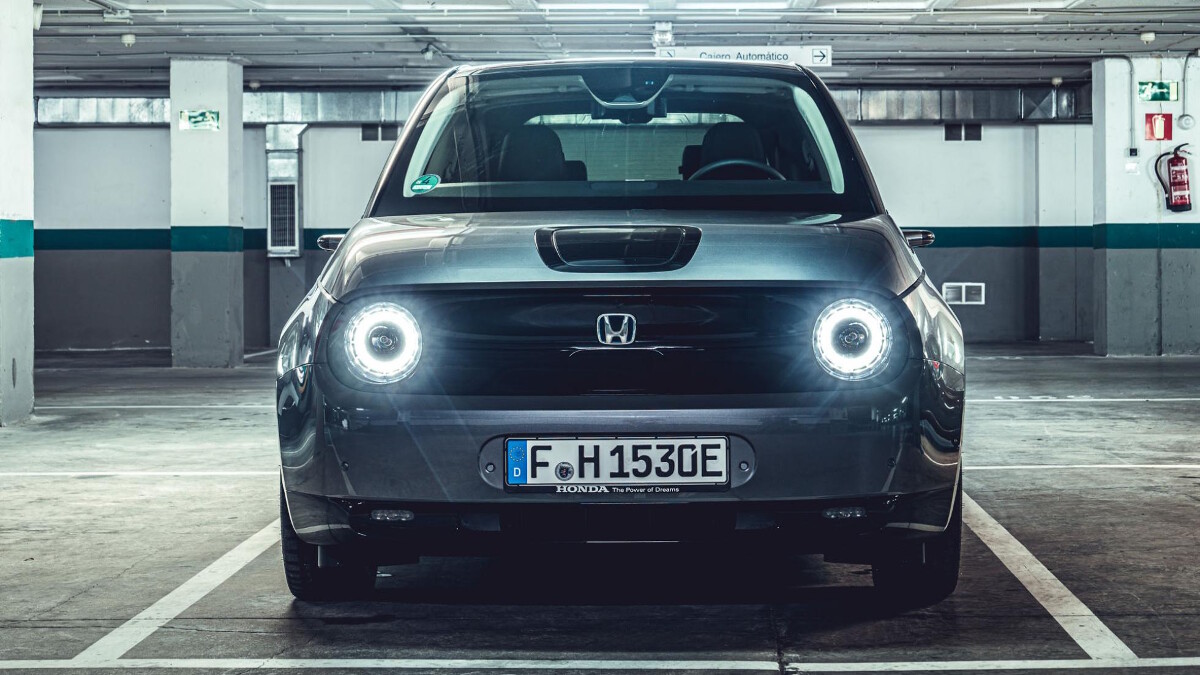 ADVERTISEMENT - CONTINUE READING BELOW ↓
Recommended Videos
As standard, you get cameras for wing mirrors and the rearview mirror, 100kw DC rapid-charging capability in 30 minutes, an app to precondition the car and babysit it while it charges, many crash-avoidance systems (including auto braking, adaptive cruise, lane-keep assist, auto high-beam headlights), and several acres of screen. And all this wrapped in a subtly retro color and material pallet designed to chime with the cheeky exterior—available in white, black, gray, blue, and highlighter yellow paint.
The Honda e arrives riding a wave of new small, affordable EVs, at last broadening the choice beyond the longer-range but more premium and pricey stuff like Teslas, the Jaguar I-Pace, and the Audi e-tron. Honda is up against the likes of the new Peugeot e-208 and the Mini Electric, and banking on customers seeing past its chunky price and skinny range, and buying with their hearts instead of their heads.
On the road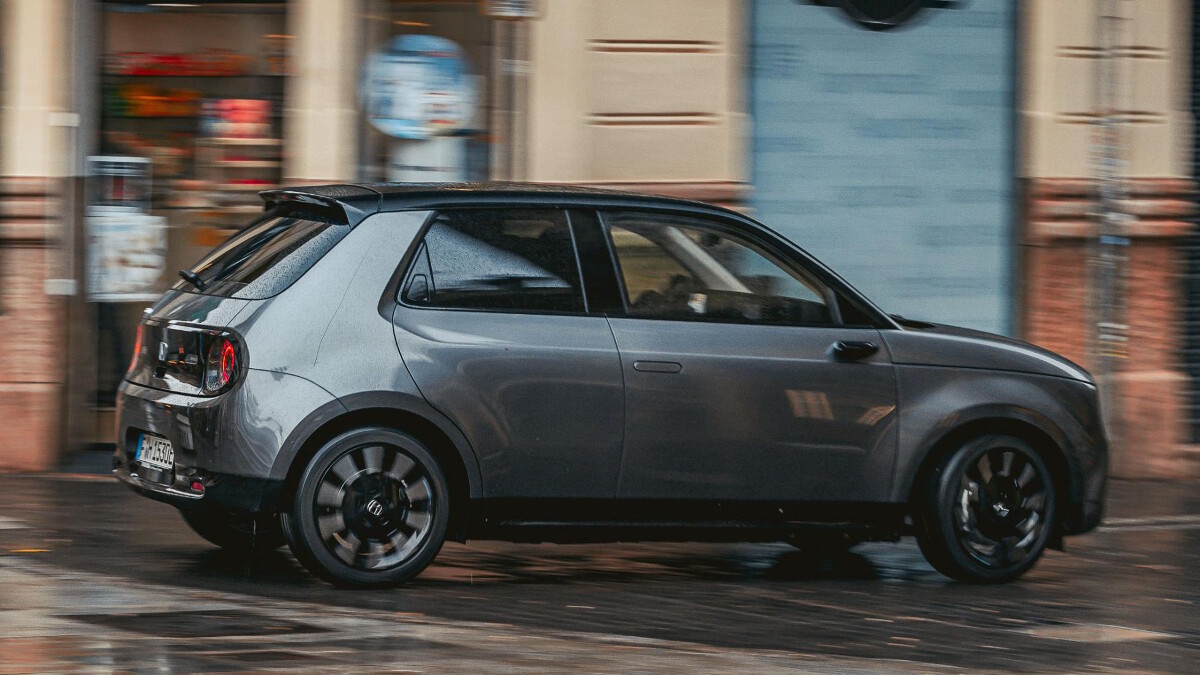 ADVERTISEMENT - CONTINUE READING BELOW ↓
Let's tackle your choices first—134hp or 152hp, but both have the same 220km range and the same amount of torque—314Nm (more than a BAC Mono, fellow nerds), so the 0-100kph difference isn't stark: 9sec vs 8.3sec. But seeing as most of these will spend their lives shuttling around built-up areas, 100kph could be a distant dream. More useful is 0-50kph for which I have no official numbers, so I shall describe as 'pleasingly nippy.'
It really zips away from a standstill, and hats off to Honda for the throttle tuning because it never lurches or jerks, delivering only smooth, urgent progress however binary your right foot is. The fact that it's rear-wheel drive (key to its 50:50 weight distribution and driving dynamics, says Honda) will please the Ari Vatanens among you, and I can confirm a prod of the throttle on a very wet cobbled roundabout in Valencia will result in lurid oversteer and lightly soiled underpants. And that's with the traction control on.
ADVERTISEMENT - CONTINUE READING BELOW ↓
Back to what the Honda e was designed to do, carve effortlessly and peacefully through city traffic, and it nails that, too. The variable ratio steering (3.1 turns lock to lock) is light and direct with just a hint of feedback. Its party trick is ludicrous amounts of lock and a 8.6-meter turning circle, which is endlessly useful for sliding through impossible gaps or pulling audacious U-turns when Waze changes its mind.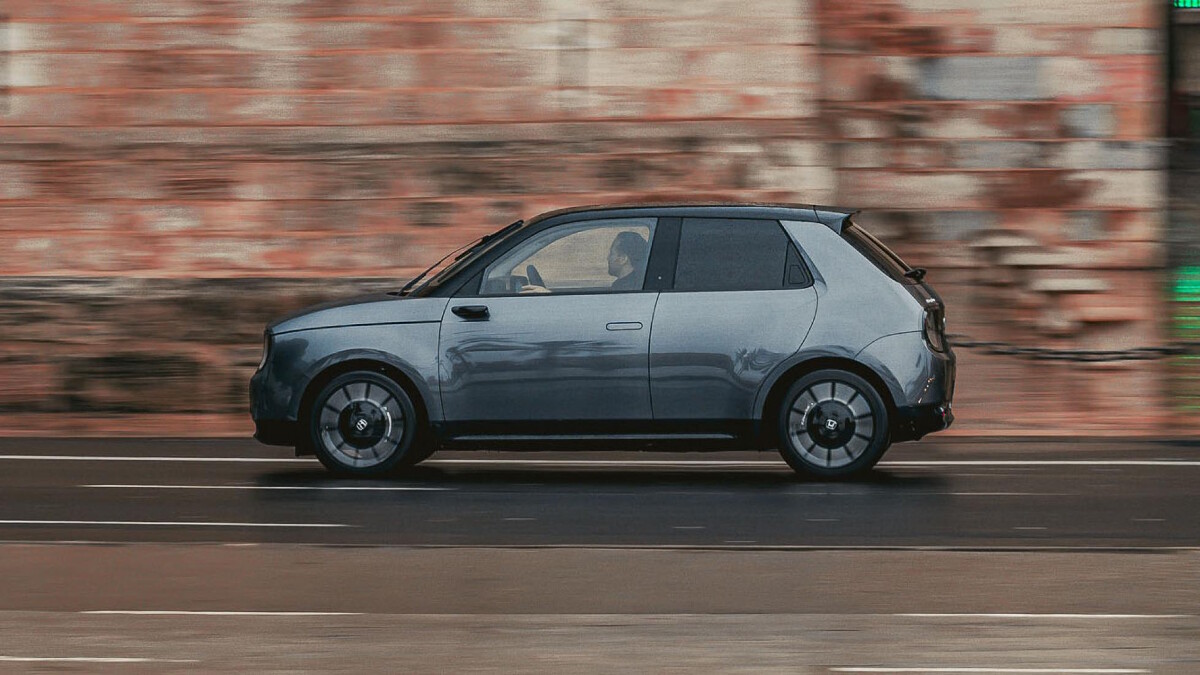 ADVERTISEMENT - CONTINUE READING BELOW ↓
For such a compact package, it's a heavy car—over 1,500kg—but you'd never guess it. All that torque provides instant momentum, and the low center of gravity means it doesn't roll comically in corners, but merely leans gently side to side. There's a sense of agility and enthusiasm that—let's be honest—we were expecting, but a refinement and maturity that perhaps we weren't.
The fully-independent suspension smothers the road like something a lot bigger, and the silence in the cabin, even when you get up to and beyond 100kph, is remarkable. There's a sense that, like in all cars that really lodge in your memory, it's been properly over-engineered, that Honda knew it had a clean sheet of paper and the world was watching.
In the name of good road-testing, we found some decent B-roads outside Valencia and deployed an unsympathetic right foot...and the e refused to feel out of its depth, clinging on in corners, offering that addictive instant thrust. It even coped admirably on the highway...so admirably that we managed to drain 80% of the battery in around 100km. In a little over an hour. But that's an extreme case—we do the risky range-sapping hooning so you don't have to—and our gentler morning stint suggests a real-world range of 160km is easily achievable, and rises higher if your prepare to switch off the air-con. We did and our range instantly jumped by 25%.
ADVERTISEMENT - CONTINUE READING BELOW ↓
There are some buttons to play with—notably a choice of Normal or Sport driving modes. The latter simply sharpens the throttle and is largely redundant. More useful is a one-pedal mode that dials up the regen when you lift off to make it possible to stop without touching the brake. You can pick from three levels of increasingly aggressive regen using the plus and minus paddles behind the wheel.
ADVERTISEMENT - CONTINUE READING BELOW ↓
But it's not all champagne and back slaps. The cameras instead of wing mirrors are a great idea on paper—decreasing the car's width, reducing overall drag by nearly 4%, stretching the range, and delivering all-weather visibility—but in practice, they're not ideal. For starters, they're mounted low and angled too far down (we couldn't find any way to adjust them), so you get a wonderful view of the rear wheel arch, but not necessarily of the traffic following behind. You can switch between normal and wide view, the latter distorting the outer third of the screen to give you a wider field of vision, but it doesn't improve things much.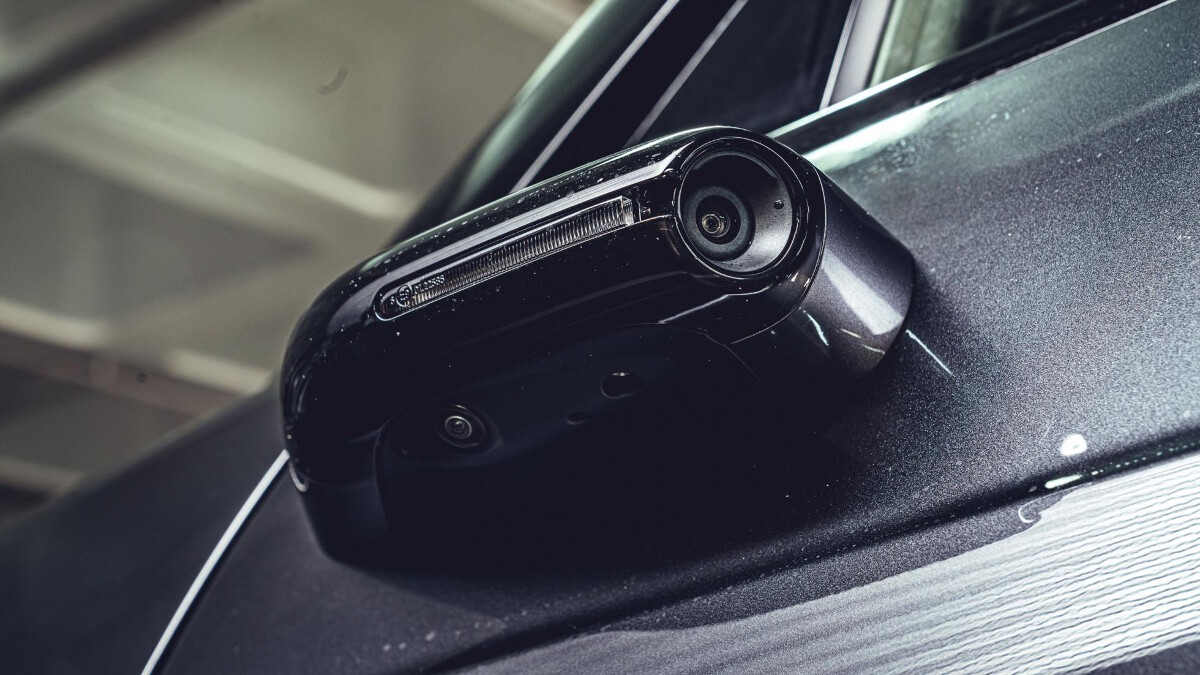 ADVERTISEMENT - CONTINUE READING BELOW ↓
Our other gripe is a screen and camera instead of a rearview mirror. To be fair, you can flip a switch, turn off the screen, and use it as a normal reflective surface, but it's not a proper mirror. Keep it as a screen and it take your eyes precious seconds to adjust from looking 20 meters down the road to a digital display 12 inches from your face. Plus, every car looks like its aggressively tailgating you. Beware, buying a Honda e may increase your road rage.
Actually, I refuse to accept anyone could be angry within a 100-meter radius of this car. We drove it through the narrow lanes of Valencia's old town, mostly legally, and all we got were smiles, waves, and camera lenses. It's quiet, cute, clean, and unimposing—the friendly face of modern motoring.
On the inside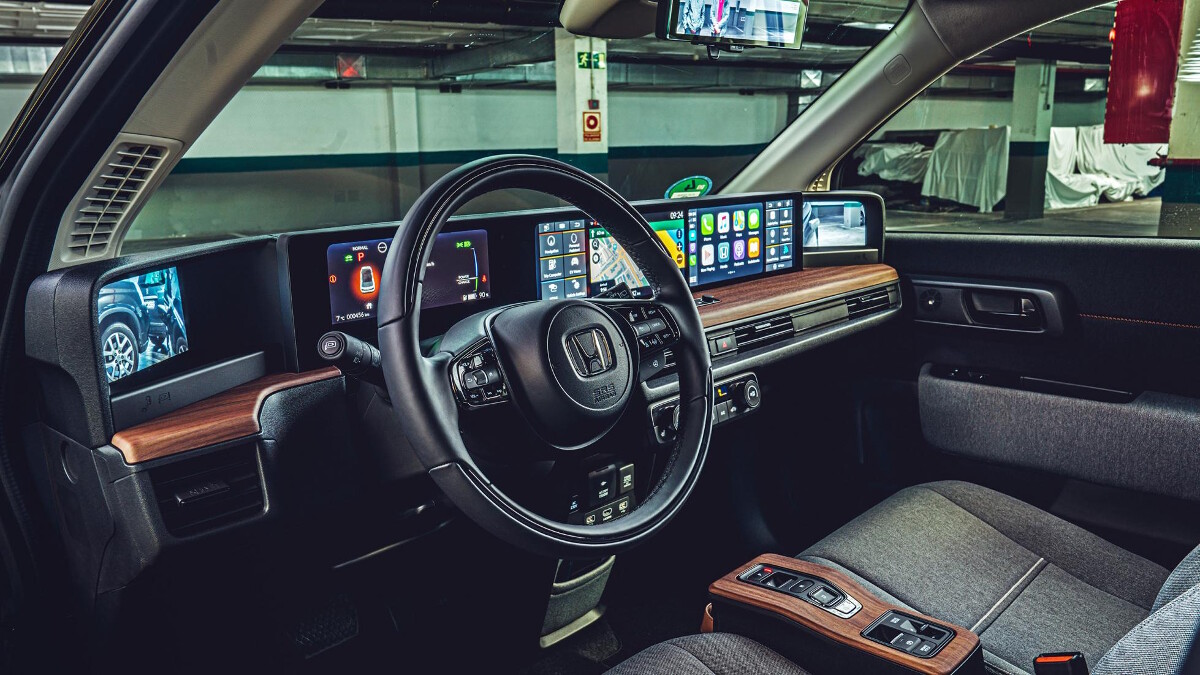 ADVERTISEMENT - CONTINUE READING BELOW ↓
Prepare yourself, this is where it all gets a bit mad—where you'll either find yourself putting down a deposit immediately, or branding the e distracting and dangerous. Approach the car and it senses the key, pops the door handles out, and has the headlights put on a display. But that's just the beginning...
Honda calls it a lounge-style interior, and I agree—if my lounge had much nicer furniture and six TVs. We'll come to the screens in a minute. First, let's focus on the overall vibe, because with the squishy fabric seats in the front, the bench seat in the back, and slabs of fake wood trim (nicer than it sounds, trust me), Honda has pulled off a modern, retro-infused, architect-designed atmosphere that just feels different to anything else it makes. Different to anything anyone else makes, for that matter.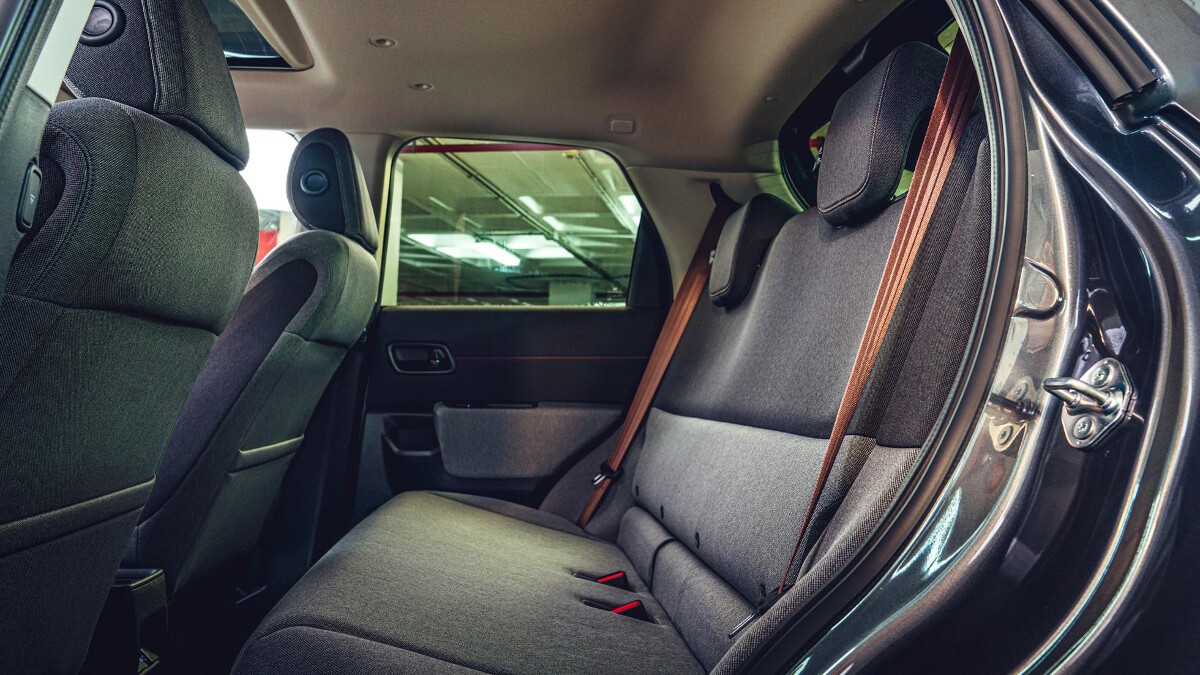 ADVERTISEMENT - CONTINUE READING BELOW ↓
The screens, then: two six-inch angled displays for the wing mirrors, an 8.8-inch instrument cluster behind the wheel, the rearview display, and two side-by-side 12.3-inch screens as the centerpiece, one for the driver and one for the passenger. Each features six shortcuts on the outer edge and can run separate apps at the same time, and those apps can be swapped over at the touch of a button.
For example, enable wireless CarPlay on your iPhone and that can be running on one screen, while Honda's navigation—or the radio, or information on the range and regen—is running on the other. Say "OK Honda" and a poorly sketched face bounces onto the screen to answer your commands. It's fun for the first five minutes, until you realize those commands have to be so specific that you might as well prod the screen to get what you want. Whether it learns your voice and improves over time as Honda claims remains to be seen. And there's more—park up and you can turn both screens into an aquarium. Poke it and food appears for the fish. Eat your heart out, Elon...
ADVERTISEMENT - CONTINUE READING BELOW ↓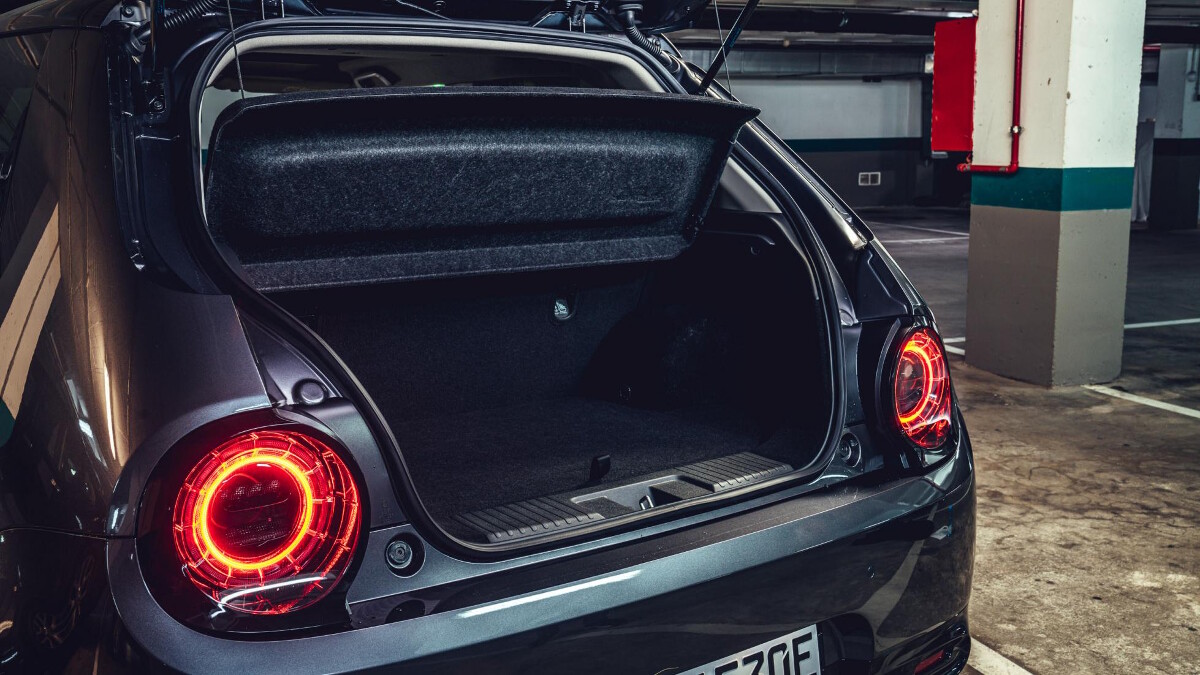 You'll find USB sockets everywhere—two in the front, two in the rear—a 12V socket, a 230V AC power outlet, and an HDMI input. In theory, this means you power up and plug in your Xbox, and play it on the central screen. Connect it to the on-board Wi-Fi hotspot (free for the first year, subscription required after that) and online gaming is yours while you wait for the kids to emerge from the school gates.
ADVERTISEMENT - CONTINUE READING BELOW ↓
When it comes to space, you need to be realistic about how it's going to be used and who's going to be using it. The rear is big enough for me to sit behind me, but me is 5'8". The trunk is small—171 liters with the rear seats up, but 861 liters with them down, which is a decent amount if you can occasionally use the e as a two-seater. Basically, it's a second car that you can use to cart the kids around in the back, or modestly sized adults at a push. In other words, it's just useful enough to justify if you really, really want one.
Running costs and reliability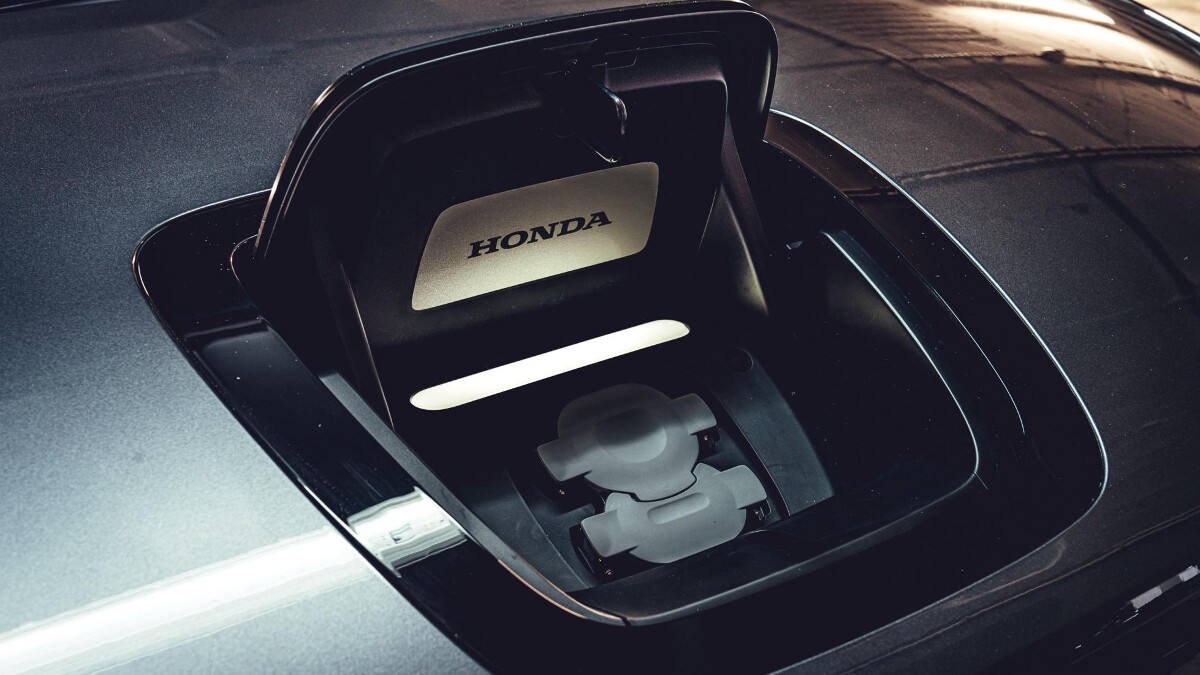 ADVERTISEMENT - CONTINUE READING BELOW ↓
Owning an electric car is something we're all still figuring out—how we charge it, where we charge it, whether it has enough range to rarely inconvenience us. Every case study is different, so let's stick to the facts. Plug into a normal domestic socket and the Honda e will take around 19 hours to charge up. Not great. Better to get a 7.4kW charging box installed at your house (assuming you have off-street parking), in which case a full charge-up takes around four hours. However, find a 50kW or a 100kW DC public rapid charger and it can charge up to 80% in just 30 minutes. The choice is yours.
One thing to bear in mind is that the higher-grade 'Advance' variant fitted with 17-inch wheels (you can stick with the lower-grade 16-inchers at no extra cost) has a lower WLTP range of 200km. Apart from the 18hp boost and option of 17-inch wheels, Advance adds automated parking assist, the digital rearview mirror, and an upgraded sound system.
ADVERTISEMENT - CONTINUE READING BELOW ↓
Although not ready for us to have a play with on the launch, a My Honda+ app will be available when first deliveries start in summer of 2020 in the UK. It'll enable all the usual stuff—keeping tabs in your charging status, working out a route on your phone then sending it to your car, preconditioning the car on a freezing cold or unbearably sweaty day—but it can also be used as a key to open the car, and lets you send said key digitally so someone else can pop the locks when you're not around.
Final thoughts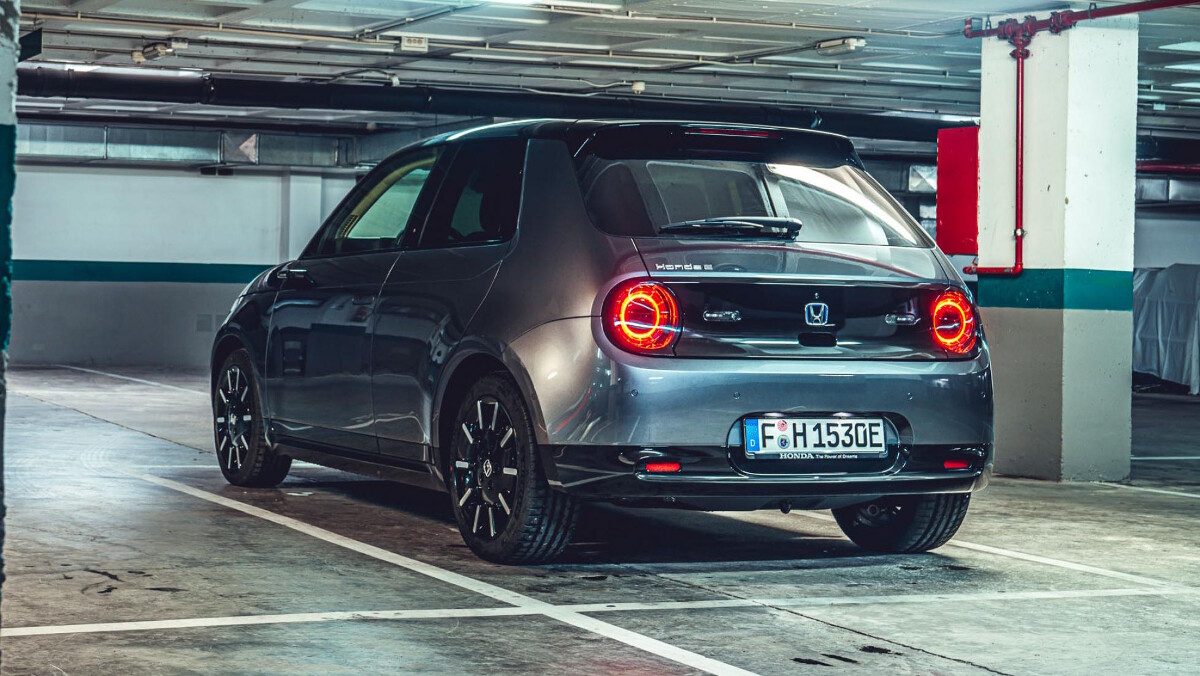 ADVERTISEMENT - CONTINUE READING BELOW ↓
Far be it for Top Gear not to recommend the most powerful model available, but here we'd be inclined to go for the entry-level car. Not only are the performance gains negligible, but so much of the kit—the interior screens, the wing mirrors, the seat trim—is standard that we'd do without the rearview display, parking assist (honestly, how crap is your parking if you can't safely navigate a car this size into a gap), and sound-system upgrade.
Whichever version you pick, the Honda e has two rather glaring drawbacks—the limited range and the chunky price tag. Honda is rolling the dice here, that customers will get what I'm going to call 'Suzuki Jimny syndrome' and fall so deeply in love with the car that they'll see past its pitfalls. In fairness, Honda isn't shying away from the 220km range—calling it a conscious decision to spend money on the tech and only fitting it with a battery suited to a car of this size. As one engineer eloquently put it: "If you want to make an iPhone, why would you design an iPad just to get a bigger battery in there?"
ADVERTISEMENT - CONTINUE READING BELOW ↓
Truth is, we all want greater range from our EVs, but let's be realistic: Do we need it? Would we rather pay the same money for a car that's less exciting and less well-equipped, but with another 80km of range? No, I probably wouldn't. It's an urban car, you need to plan to use it as such, and if you did need to get somewhere 500km away in a hurry, then you either need to rent something suitable or treat that journey like the anomaly it is and plan a two-stop rapid-charge strategy.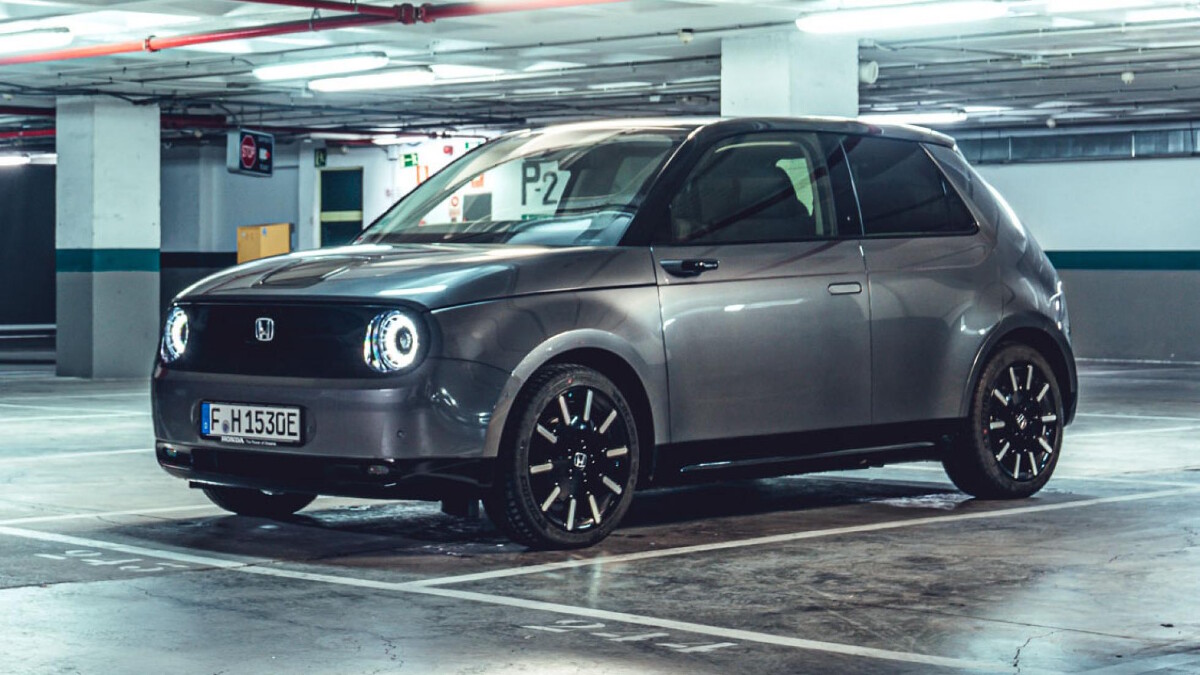 ADVERTISEMENT - CONTINUE READING BELOW ↓
NOTE: This article first appeared on TopGear.com. Minor edits have been made.