This is Lexus's first attempt at a pure electric car, based on the urban crossover/soft SUV, the UX. It's all traditional electric architecture under there, meaning a 54.35kWh slab of battery mounted low, with a 150kW permanent magnet motor up front where the internal combustion engine usually lives, driving the front wheels only.
That translates to 201hp and 299Nm of torque, 0-100kph in 7.5sec, and a top speed of 160kph. All healthy if not startling numbers. According to official cycles, the UX300e should manage 315km of range on a full charge if you run the smaller 17-inch wheels, and around 305km if you go for the optional 18-inchers, rolling resistance for larger, wider wheels being a bit grabby on efficiency.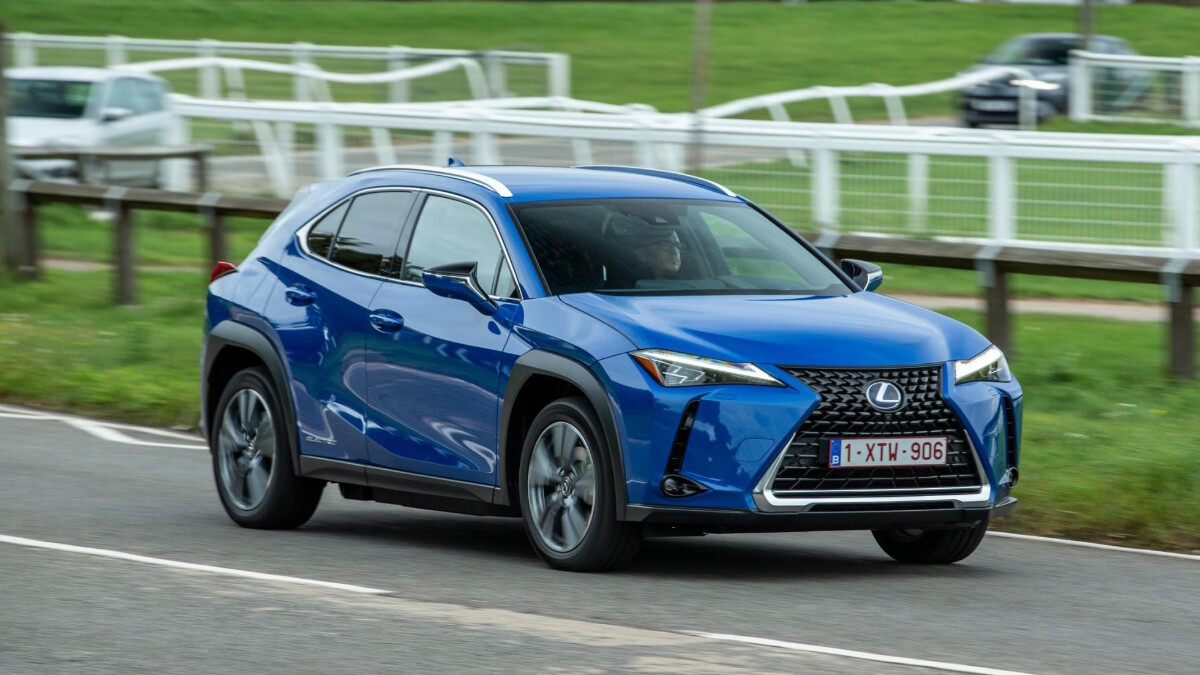 ADVERTISEMENT - CONTINUE READING BELOW ↓
So far, so legacy manufacturer having a good go at electrification. The rest is pretty much as per the standard UX, so you get a low-riding, quirky-looking urban SUV that sits below the NX and the RX, aimed at 30-something townies that are, and we're quoting here, "creative urban explorers." Whatever, you won't miss it in a car park, what with the chunky, angular plastic arches and slash-cut bodywork.
There's a lot going on, and bizarrely, it looks better the brighter the paint. It's not a subtle design, so it suits less subtle paintwork. Go dayglo or go home.
Now, some might balk at a mildly expensive pure EV with sub-320km range, but as ever, Lexus has an answer, and there's been a fair bit of thought that's gone into it. Lexus boffins identified the uptake of urban EV was most suited to the urban-crossovery-ness of the UX, and that most Lexus owners were traveling under 50km a day—hence the range.
ADVERTISEMENT - CONTINUE READING BELOW ↓
Recommended Videos
Sticking a whacking great big battery to up the range might be psychologically appealing, but it would add considerable physical weight—compromising the handling and efficiency—as well as jacking up the price significantly. This is what Lexus considers to be a balanced approach, leaving a bit of squish in the numbers after a week's worth of commuting.
ADVERTISEMENT - CONTINUE READING BELOW ↓
Is it enough? There's a lot of talk about 'rightsizing' in the EV market at the moment, but customer attitude and behavior would be hard to challenge, so we'll see what the market thinks.
On the road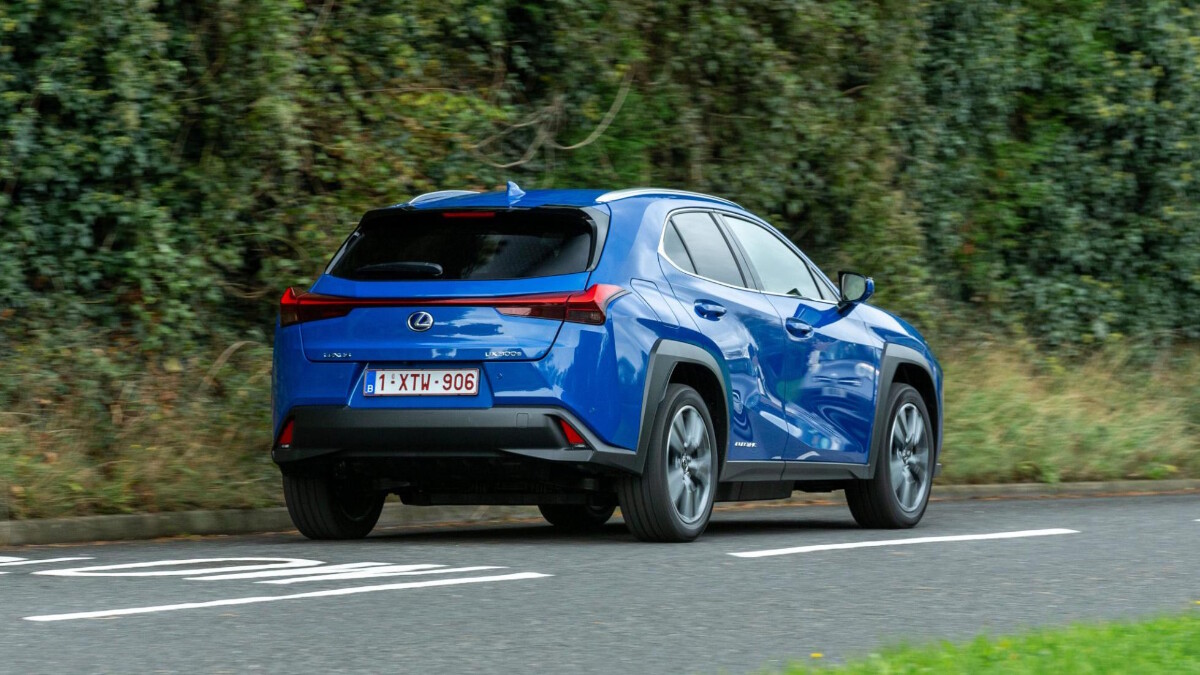 As ever with anything electric, there's a perky amount of torque from rest, bundling up to 50kphph with instant response, maintaining a good slug all the way up to highway speeds where the single-speed starts to tail off acceleration. If it's wet—or even damp—you'll find yourself butting up against the traction control more than in a traditional internal combustion-engined car, but that's true of pretty much all pure EVs and nothing to worry about in particular.
ADVERTISEMENT - CONTINUE READING BELOW ↓
Other than that, the ride is firm but well-damped, the body control is good, the steering is acceptable. You never quite escape the idea of below-the-belt mass—a phenomenon accentuated in the wet—because it brings with it the tendency to understeer if you drive too fast, but most of the car's excesses are tidied up by the electronics, so again, not a huge issue. It's also not really that kind of car, much more suited to cruising and playing at being a very relaxed mode of transport.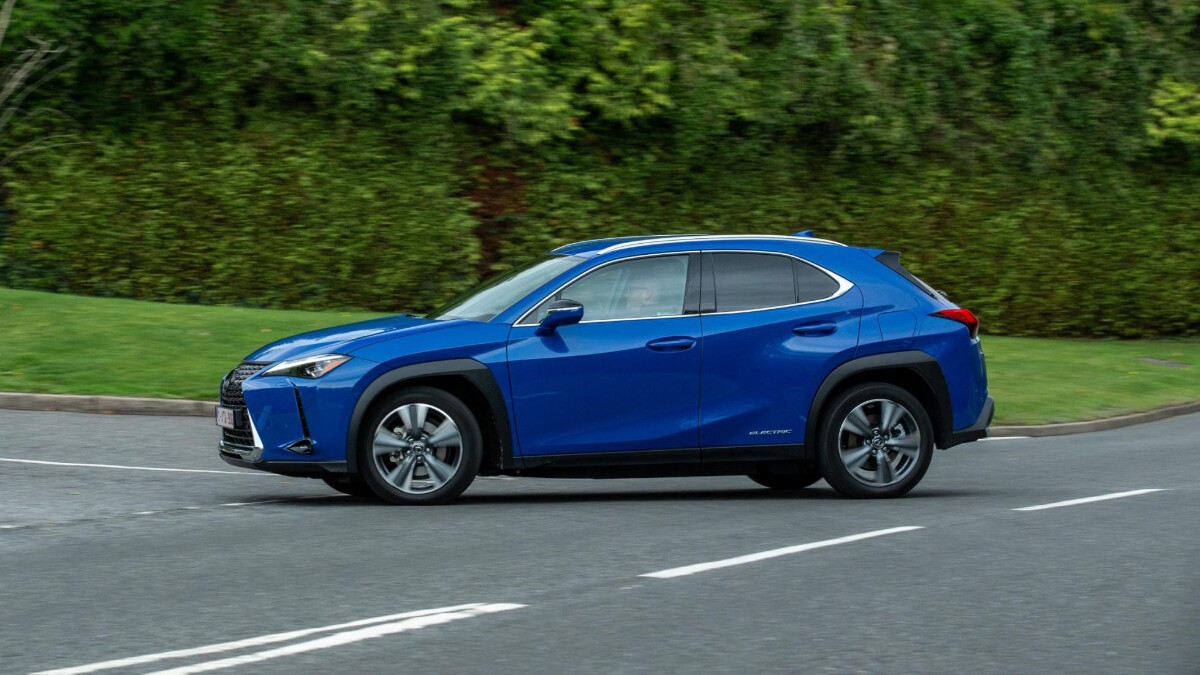 ADVERTISEMENT - CONTINUE READING BELOW ↓
The UX300e is extremely quiet, even for a pure EV, with the tires, the glass, and the wheel-arch liners having been tweaked to damp out excess unwanted noise. The three driving modes—Eco, Normal, Sport—do what they say, but you'll probably find yourself just leaving it in Normal for 99% of the time unless you're frantic about a charge. And while it doesn't have the commanding driving position of some small SUVs, it's a useful size for pottering about, so there's an easy familiarity about the way it just gets on with it without fuss.
Issues? One thing that's slightly out of whack is the four-stage brake regeneration. You can access it via the paddles on the back of the steering wheel, but it suffers from two things. First, it's simply not strong enough, only offering a half-gear of gentle deceleration when engaged, and two, it defaults back off as soon as you continue, meaning that you have to remember to flick the paddle again when coasting. There's regen on the decently weighted physical brake pedal as well, but in the age of one-pedal—and therefore maximum energy harvesting—electric cars, this feels like a bit of a miss.
ADVERTISEMENT - CONTINUE READING BELOW ↓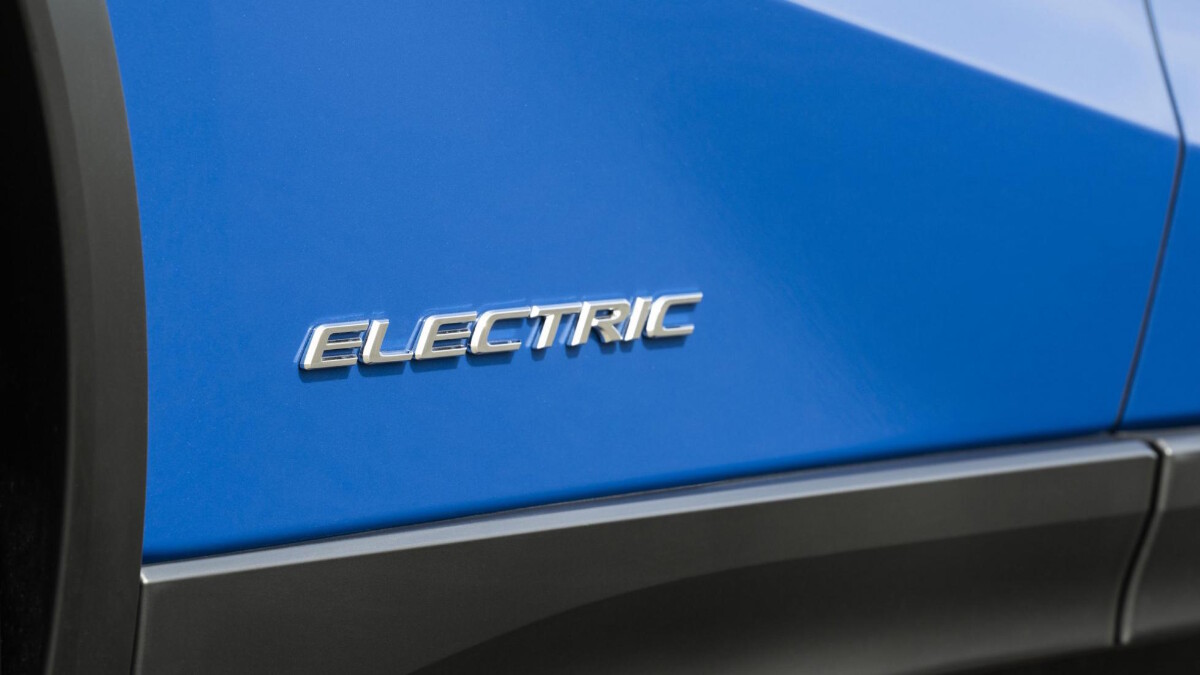 As far as charging goes, there's an AC port on the right-hand side rear wing, and a DC port on the left. Hit up a public rapid charger and you can hoover up zero to 80% charge in about 50 minutes, or more likely an 8.5-hour charge on a regular 32A home wall box. If you get stuck, then you can charge on a three-pin plug, but that's really just for emergencies—it'll take 19 hours to get a full charge into the heated/cooled battery.
ADVERTISEMENT - CONTINUE READING BELOW ↓
On the inside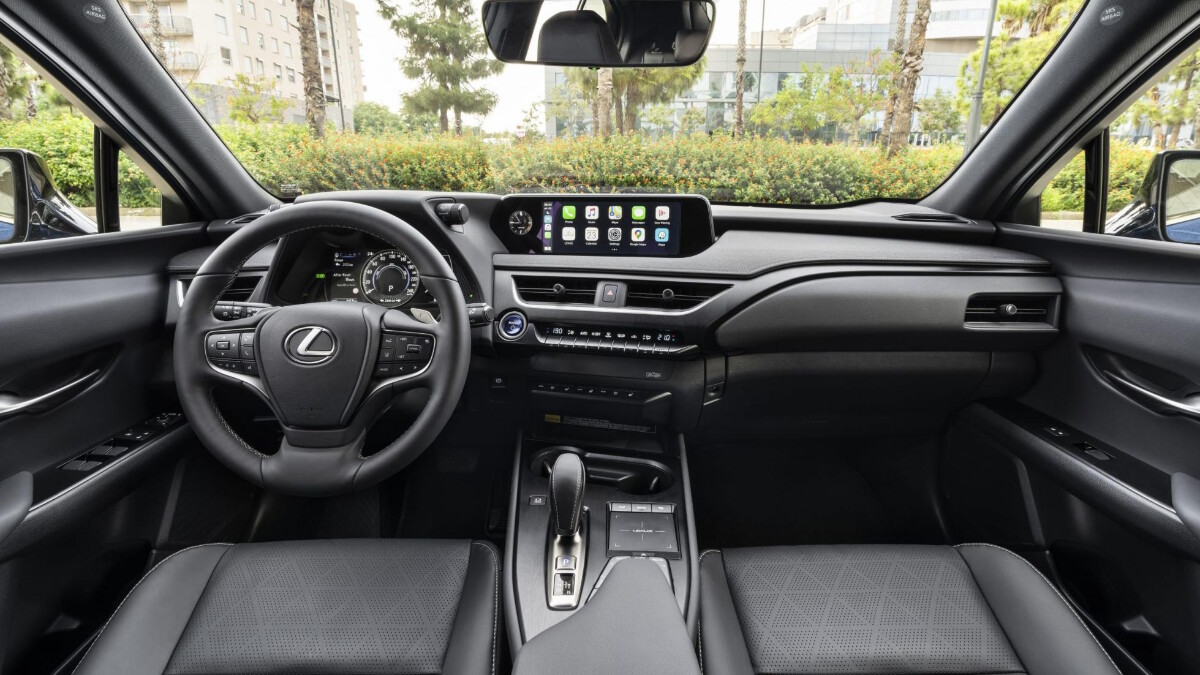 As with the exterior aesthetic, the interior of the UX300e is...busy. There's a mix of interior textures, a whole geometry's worth of angles, and a slightly confusing array of buttons. As basic, the UX gets a seven-inch display in the center console (or 10.3 inches in the more expensive model), a touchpad (a feature that is confusing at first, but soon resolves with a bit of exposure), cloth seats (with power only for the driver's seat), and the full suite of Lexus safety gear.
ADVERTISEMENT - CONTINUE READING BELOW ↓
Top Gear has only tested the top-of-the-range Takumi Pack-equipped car, so a verdict will have to wait on exactly how well a basic UX fares—though Lexus believes that most will plump for the midrange Premium Plus Pack, anyway, with which comes a raft more luxury (leather, heated everything, privacy glass, keyless entry, and the like).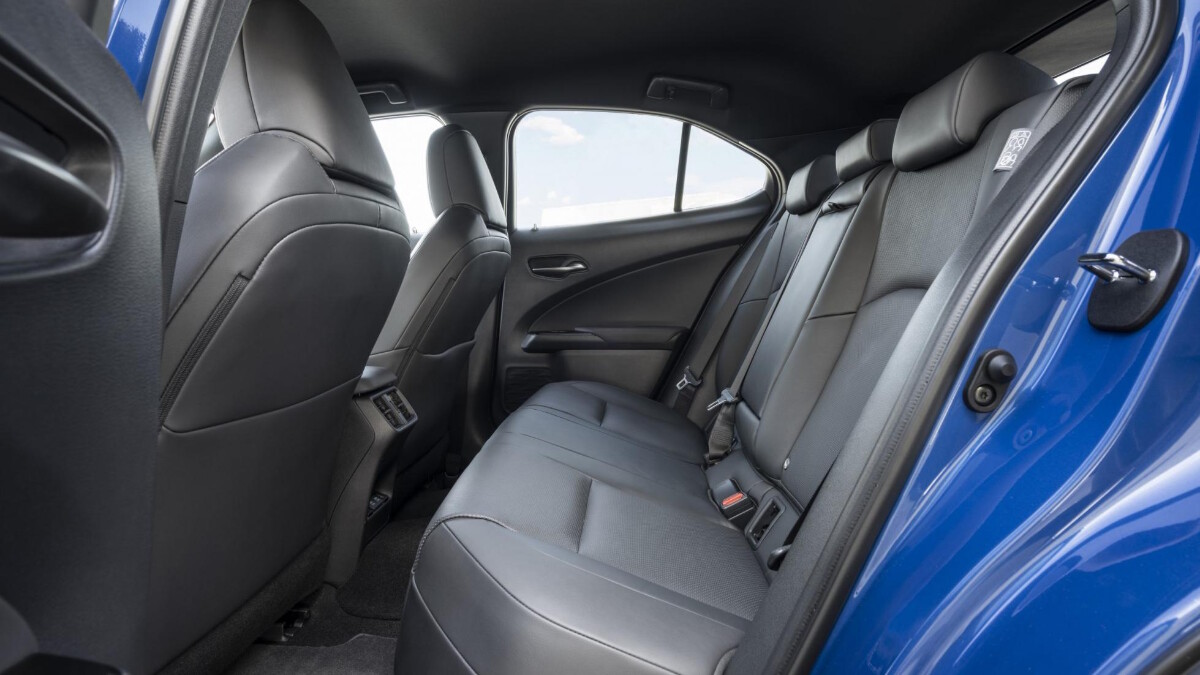 ADVERTISEMENT - CONTINUE READING BELOW ↓
It's a bit gloomy in the rear, too, so be aware if you're regularly toting children around—the high waistline and relatively small windows aren't great for small ones. Saying that, it's pleasant to be in the front two seats, with decent vision, high quality, and interesting spaces. It feels nicely Japanese—and that's a compliment.
Final thoughts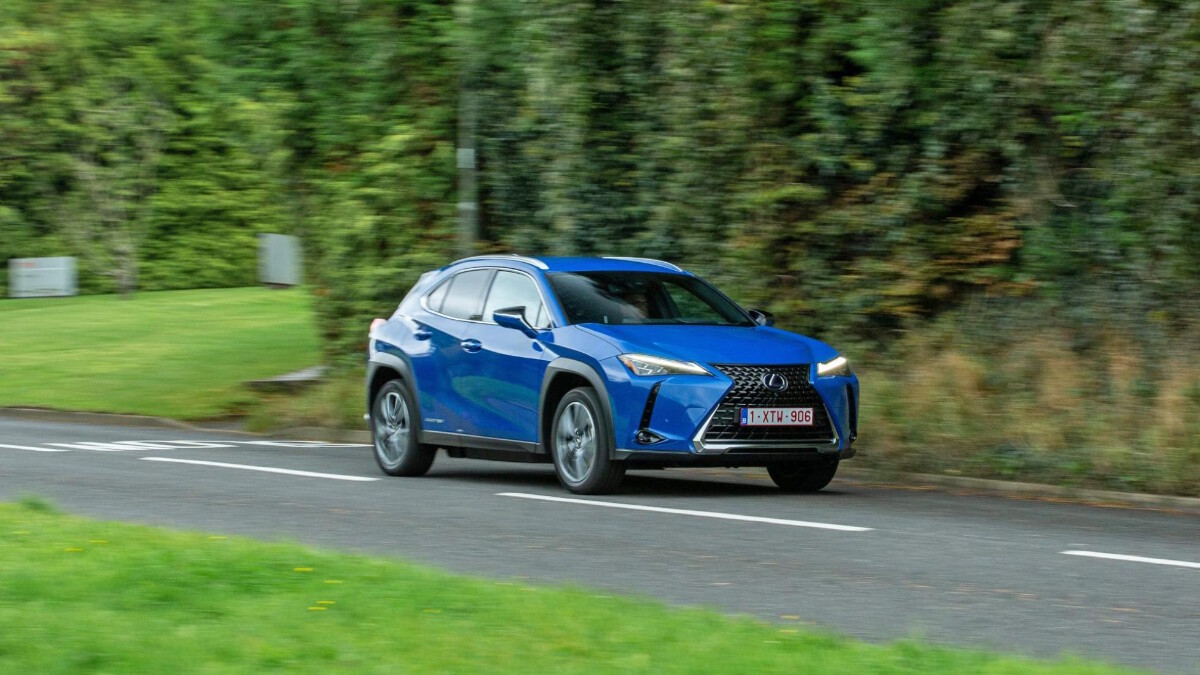 ADVERTISEMENT - CONTINUE READING BELOW ↓
The UX300e is solid effort at a full pure electric vehicle from Lexus. It's quiet, efficient enough, makes good use of the advantages of the drivetrain, and is a relaxing car to drive. There's not a huge amount of surprise and delight—it feels like 'just' an electric UX, and you wonder what Lexus might be able to do with a bespoke EV platform given the opportunity. Which it likely will have in the not-too-distant future.
Interestingly, the carmaker's offerings have always suited slick and quiet motivation, so the application of electric feels entirely in keeping with its brand—it feels very natural to be piloting a Lexus BEV. It's not particularly cheap, and there's a lot of competition on the horizon, but for now, it's a decent effort.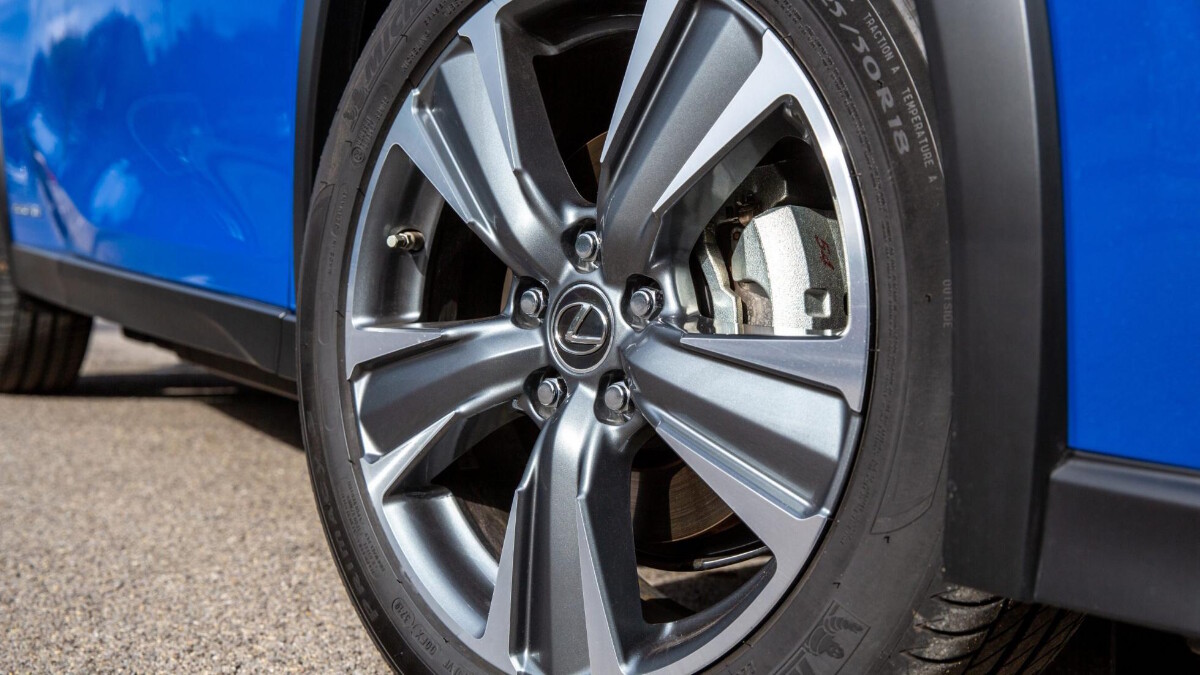 ADVERTISEMENT - CONTINUE READING BELOW ↓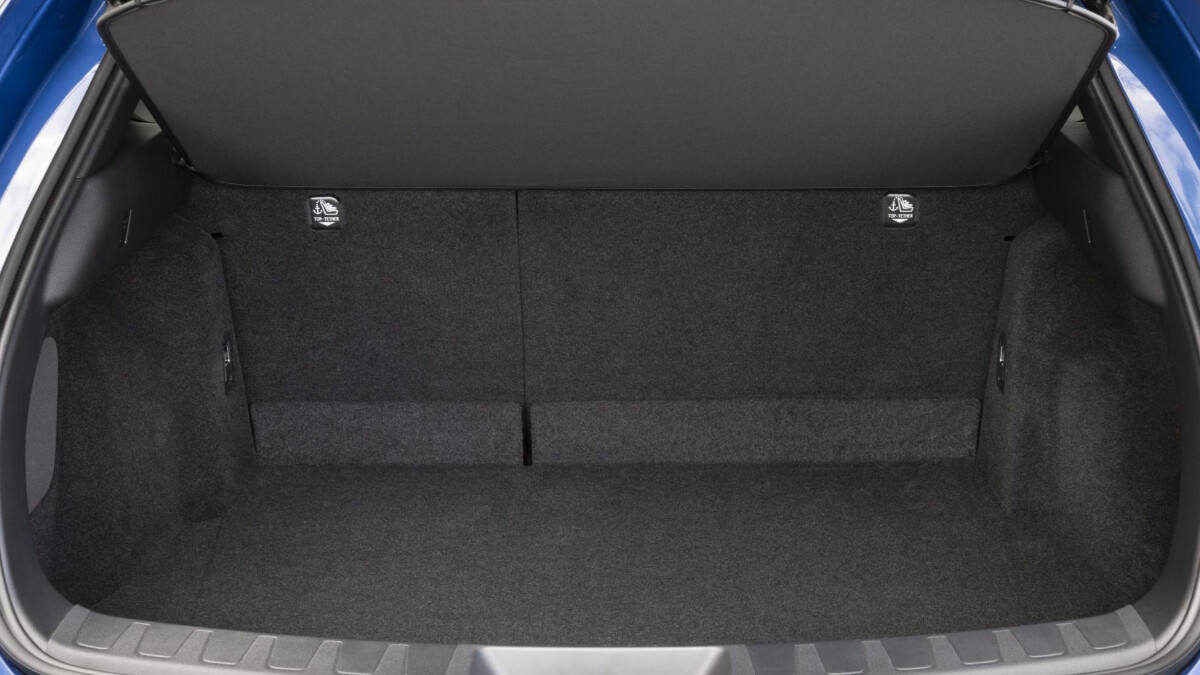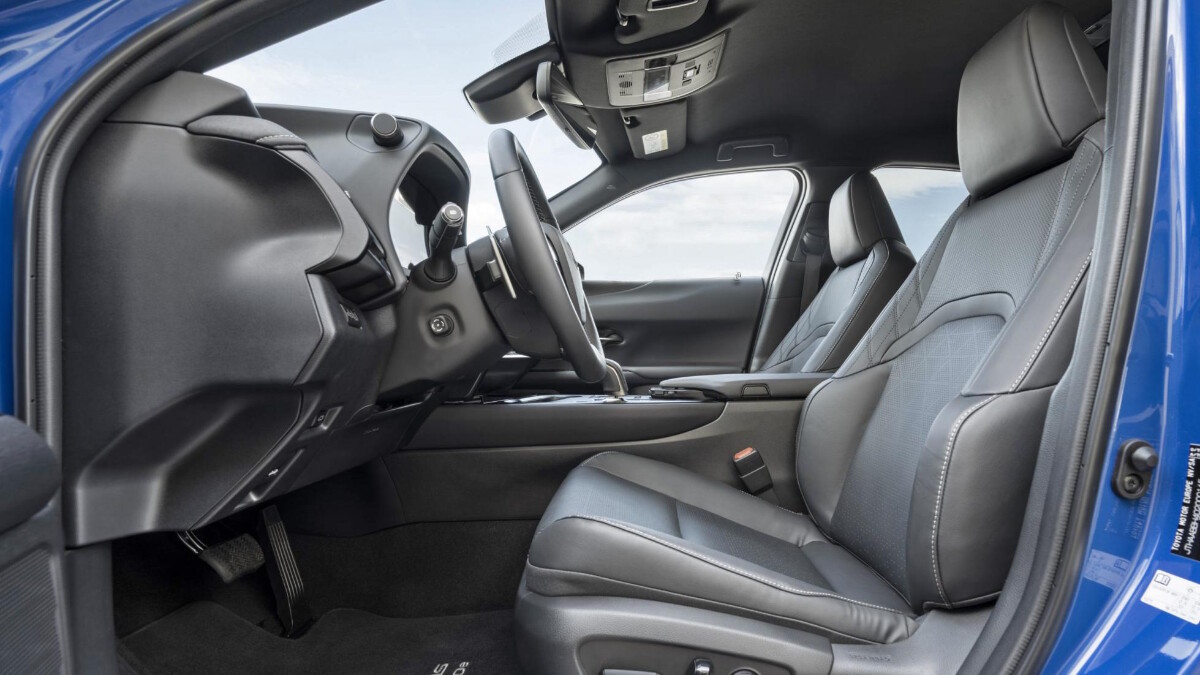 ADVERTISEMENT - CONTINUE READING BELOW ↓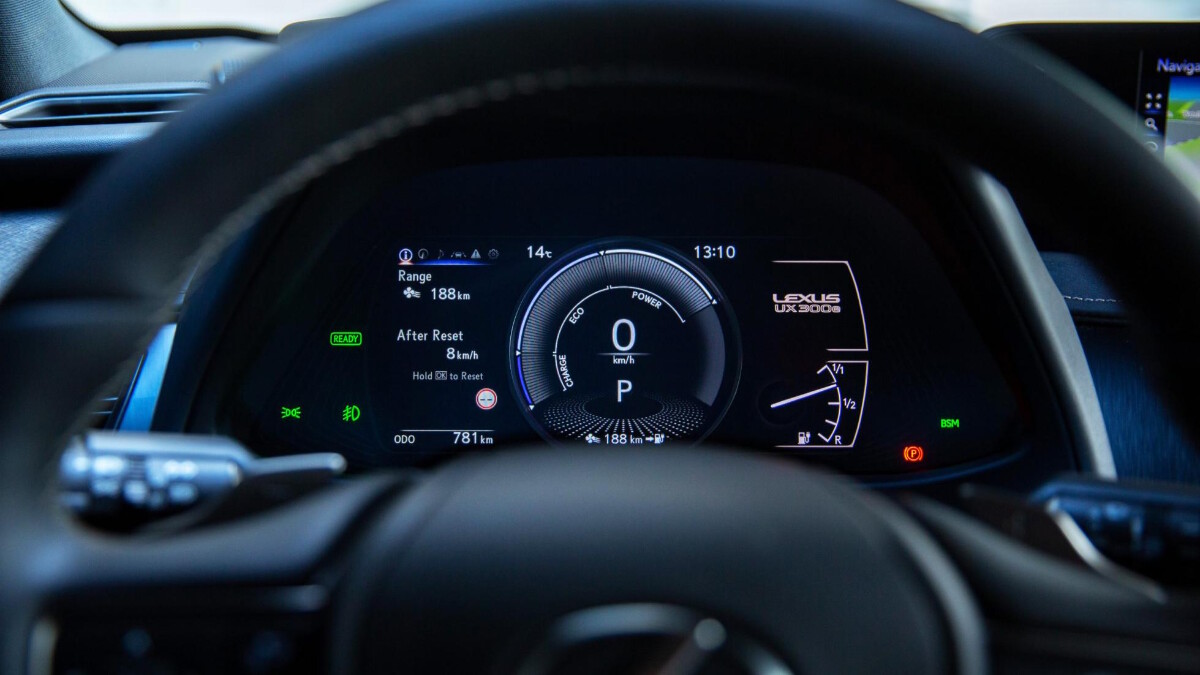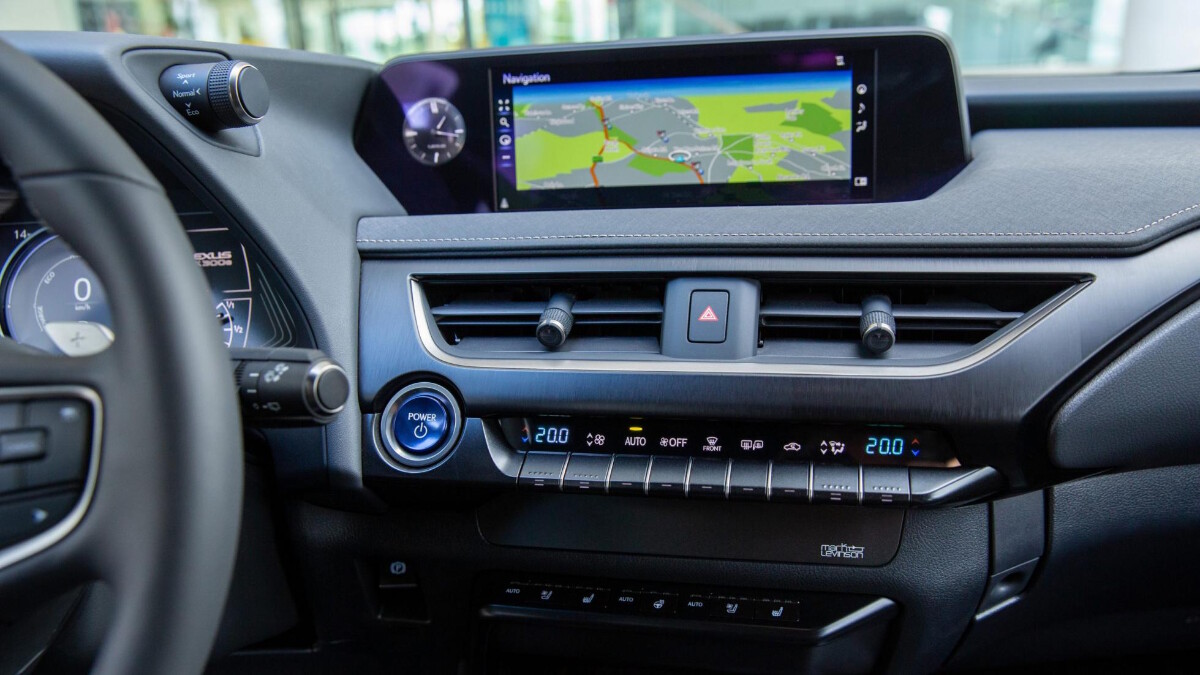 ADVERTISEMENT - CONTINUE READING BELOW ↓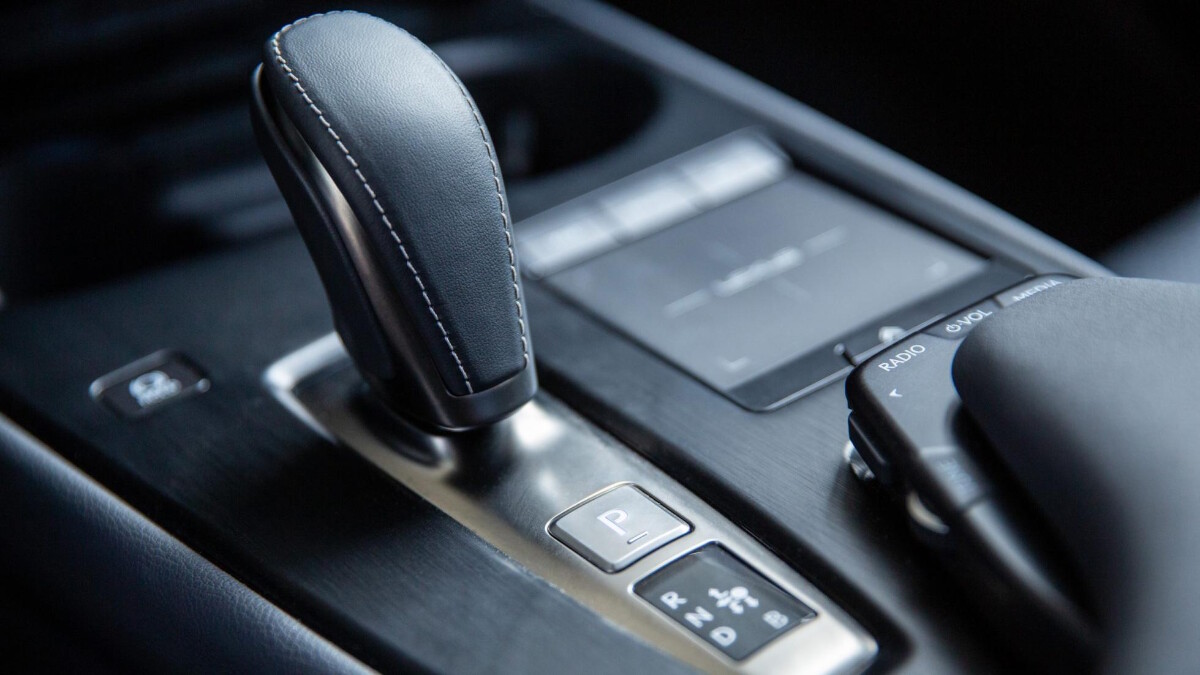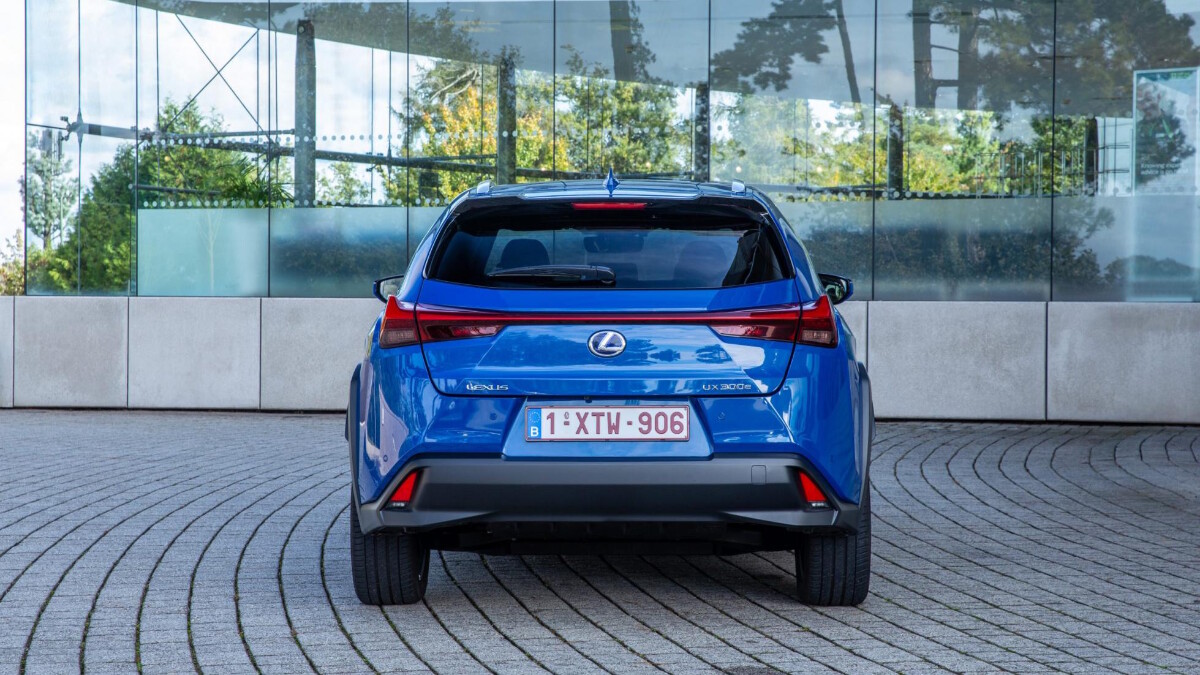 ADVERTISEMENT - CONTINUE READING BELOW ↓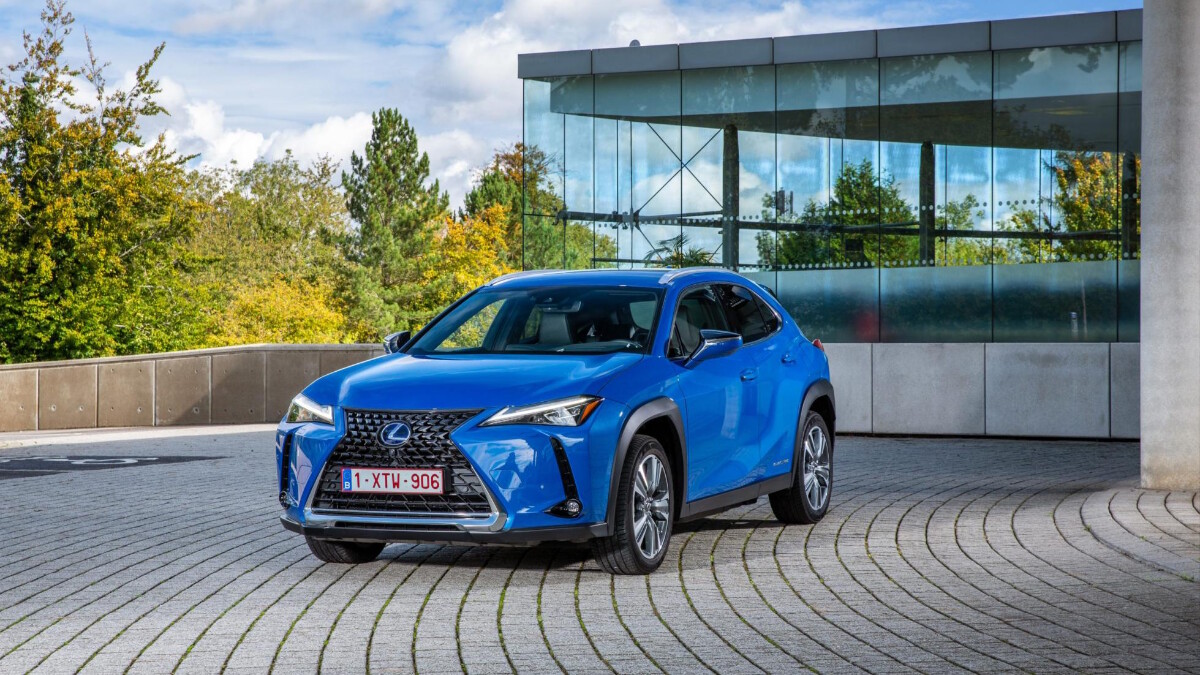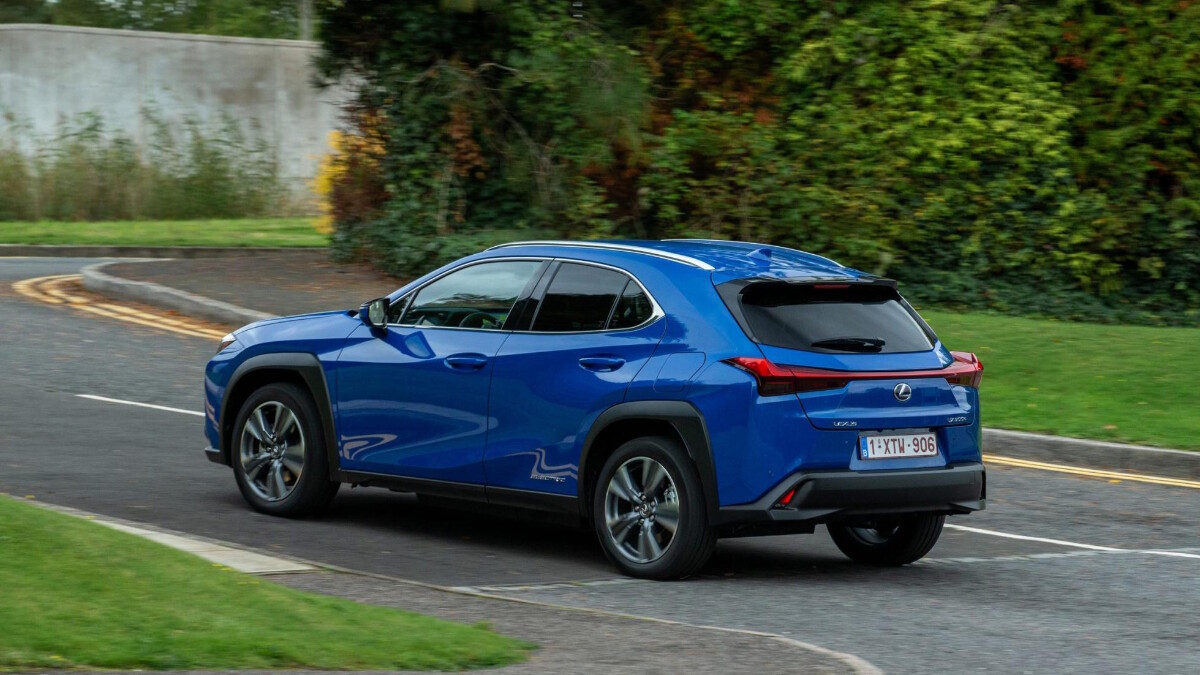 ADVERTISEMENT - CONTINUE READING BELOW ↓
NOTE: This article first appeared on TopGear.com. Minor edits have been made.