This isn't Mazda's first electric vehicle per se—the Japanese carmaker has made several prototypes, including the absurd, Kinder-Egg-on-wheels EX-005 concept of 1970—but this is Mazda's first production EV.
Careering straight down the plug-in crossover route seems like a safe bet for pulling in buyers, but there are plentiful clues that Mazda is doing things differently. The name, for starters: MX is usually the prefix of coupes and roadsters, most notably the MX-5, so the name MX-30, instead of more explicit EV badging, draws a real line in the sand that we should think of this as sporty.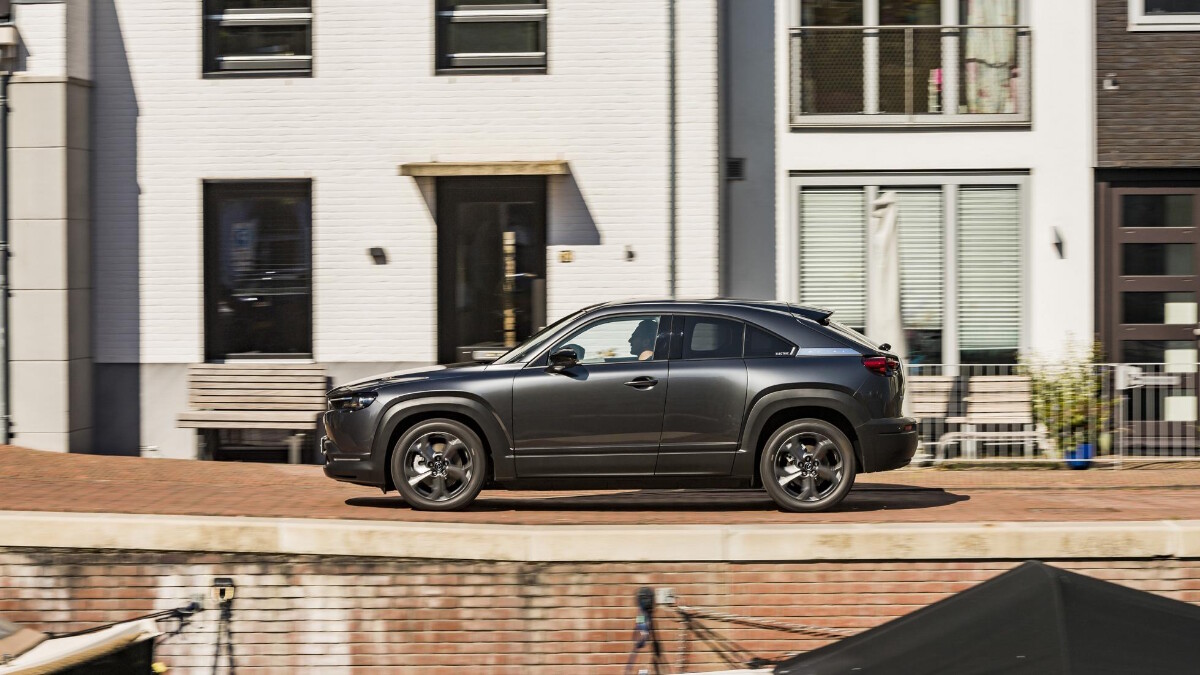 ADVERTISEMENT - CONTINUE READING BELOW ↓
Then there's the 'freestyle door' layout, which apes the RX-8 coupe of the mid-2000s. An odd choice, you might suggest, given that car's unfashionable thirst for fuel and oil, but much like the retro styling of the Honda e, it's an immediate talking point whenever somebody stops to poke around your MX-30.
In fact, the dinky Honda is arguably this car's closest rival. Their prices align quite neatly, as do their range figures, with Mazda claiming 200km on the WLTP cycle. Or a smidge more if you predominantly drive in town.
Only 200km? Yup. Mazda has done the sums and worked out that smaller batteries have a significantly friendlier CO2 emissions footprint over their lifetime than larger batteries, and 'break even' with an internal combustion engine—as in counterbalance the high CO2 output of their manufacture with their lack of tailpipe emissions—after far fewer kilometers run. It has also researched its target buyers and concluded they don't need any more distance from a full charge.
ADVERTISEMENT - CONTINUE READING BELOW ↓
Recommended Videos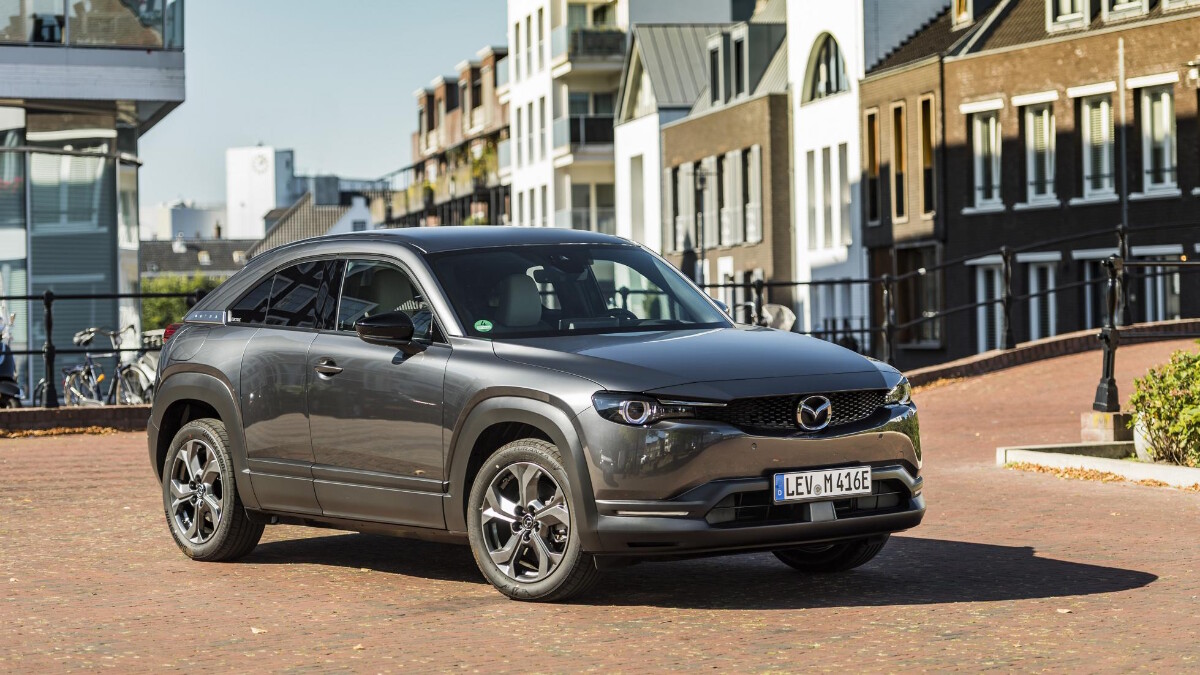 So, we're told there'll never be a bigger battery than the 35.5kWh item the MX-30 launches with. Instead, larger range figures will be yielded by the addition of a rotary range-extender unit, the constant rpm needed for the job ensuring it'll be a heck of a lot lighter on fuel than Mazda's last rotary-powered car, that voracious RX-8.
ADVERTISEMENT - CONTINUE READING BELOW ↓
This is a five-seater, but the rear is probably best reserved for little ones, while the interior itself keeps it firmly in Honda e hunting ground. While not quite as revolutionary in its layout, its mix of vegan seat materials, plastic bits made from recycled PET bottles, and actual cork trim give it a firm hipster-brunch-spot vibe.
On the road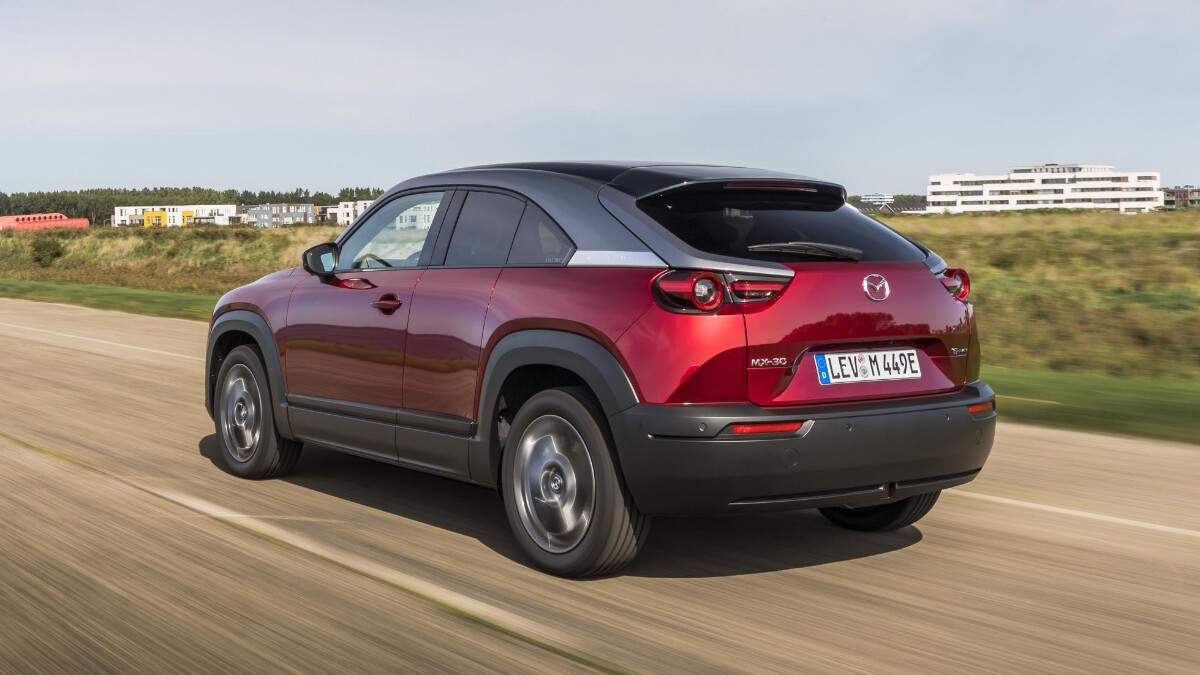 ADVERTISEMENT - CONTINUE READING BELOW ↓
Mazdas are usually among the sweetest-driving cars in their class owing to a combination of supple ride, light weight, and a lovely manual gearshift. The MX-30, with its low-slung 310kg battery, 1,645kg curb weight, and single-speed transmission, can't offer those selling points. It is, somewhat inevitably, lacking the sparkle that emanates from something like a Mazda 3 or CX-3.
It's still a decent thing to drive, and Mazda has fitted the same torque-vectoring tech used elsewhere in its range, but given it a bit of pep to work with the electric motor on the front axle. The result is neat, tidy, fuss-free cornering, and an amusing chirrup of wheelspin if you're especially enthusiastic out of a corner. It's not fun like an MX-5 is, but in the slightly homogenized world of EV handling, it's one of the neater cars on offer.
But you pay for it in ride quality, or lack thereof at low speed; there's little subtlety to the way it deals with speed bumps. It's hardly alone in this regard, however, and it's only really the Honda e that has managed to fully evade the skateboard-like rigidity that small cars with a bank of batteries in their belly usually exhibit.
ADVERTISEMENT - CONTINUE READING BELOW ↓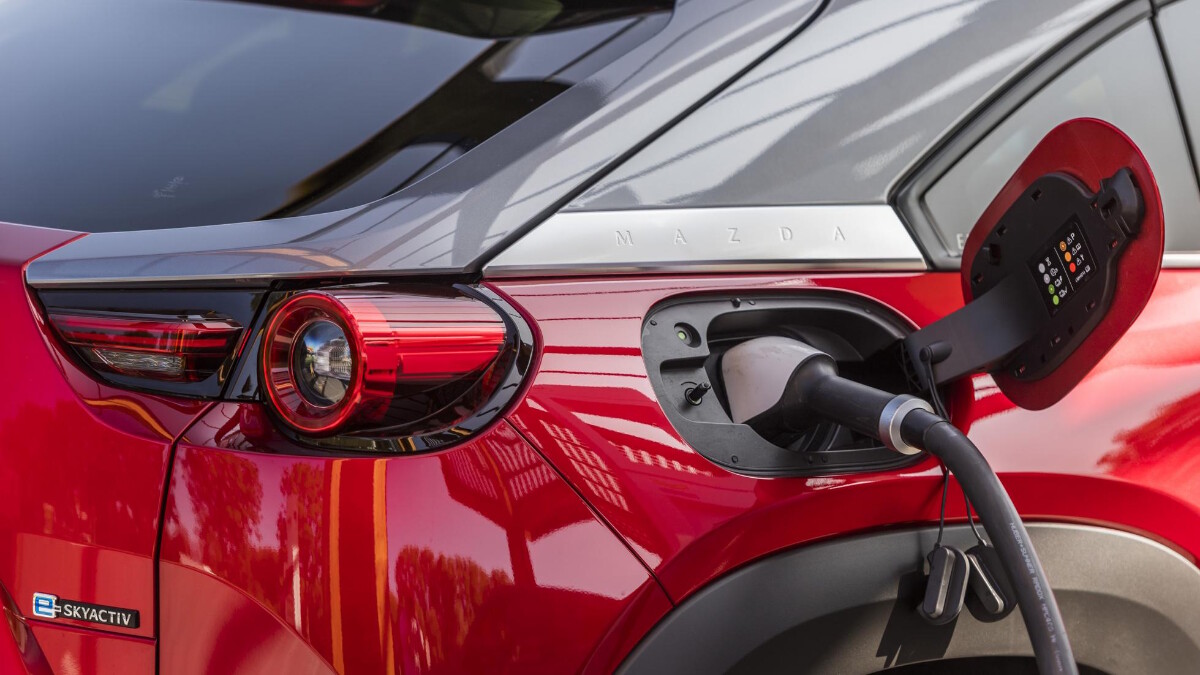 Performance is fairly sober. With 143hp moving 1.6 tons, the 9.7sec 0-100kph time and 140kph top speed are to be expected, but at least they'll stop you from sapping the battery too briskly. And as always in an EV, it's 0-65kph where it majors, anyway. There's more than enough instant go to keep you happy at urban speeds.
ADVERTISEMENT - CONTINUE READING BELOW ↓
There's also smart brake regen on offer, with five levels to choose from via a pair of steering-wheel paddles. Set at its strongest, this becomes a one-pedal car for all but reaching a standstill. It's way more intuitively set up than some rivals, too, so we'd wager you might actually use it as opposed to trying it once and reverting back to driving more conventionally.
One thing you can't alter is the false engine noise that accompanies acceleration and braking. But it actually sounds quite sweet—like a dinky three-cylinder gasoline engine singing through autotune—and only pipes up under harder throttle or brake use. The car is as spookily serene as any other EV as you cruise through town or along a highway.
On the inside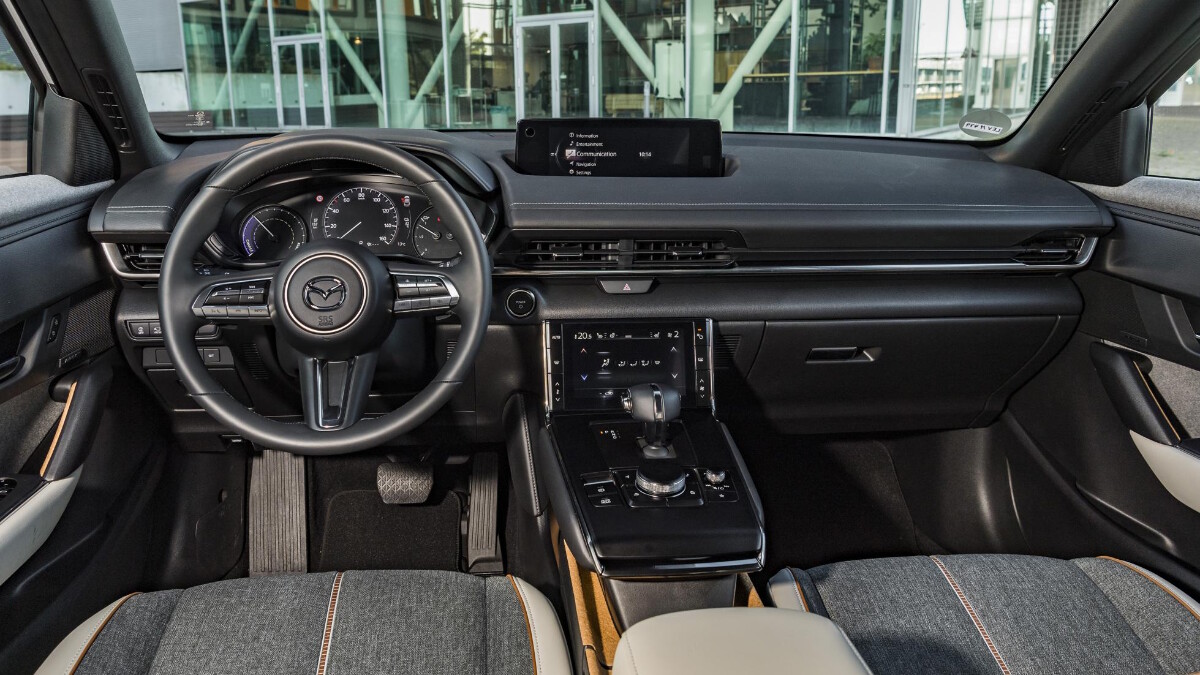 ADVERTISEMENT - CONTINUE READING BELOW ↓
Mazda has played things very well in here. Vegan materials and cork-covered cupholders may scream modern (though Mazda marks 100 years in business in 2020, and it started out making cork), but all the major controls have been kept safe and approachable.
The MX-30's engineers have seen everyone else mess with the gear-selector formula and taken a chance to fit something that physically clicks between Park, Reverse, Neutral, and Drive, reassuring any first-time EV drivers right from the off that the brave new world doesn't actually require much bravery. Another reassuring touch is its traditional, analog fuel-level gauge displaying how much battery's left. No hard-to-fathom digital nonsense here.
That said, every MX-30 gets a head-up display and a pair of seven-inch screens as standard, one up top to display media, nav, or your smartphone interface, the other down by the gear lever for the climate control. But—hurrah—the latter is lined with physical buttons as well as a touchscreen, though we'd argue that the fact it only displays climate and doesn't cycle between other functions is a missed opportunity given how much room the screen takes up.
ADVERTISEMENT - CONTINUE READING BELOW ↓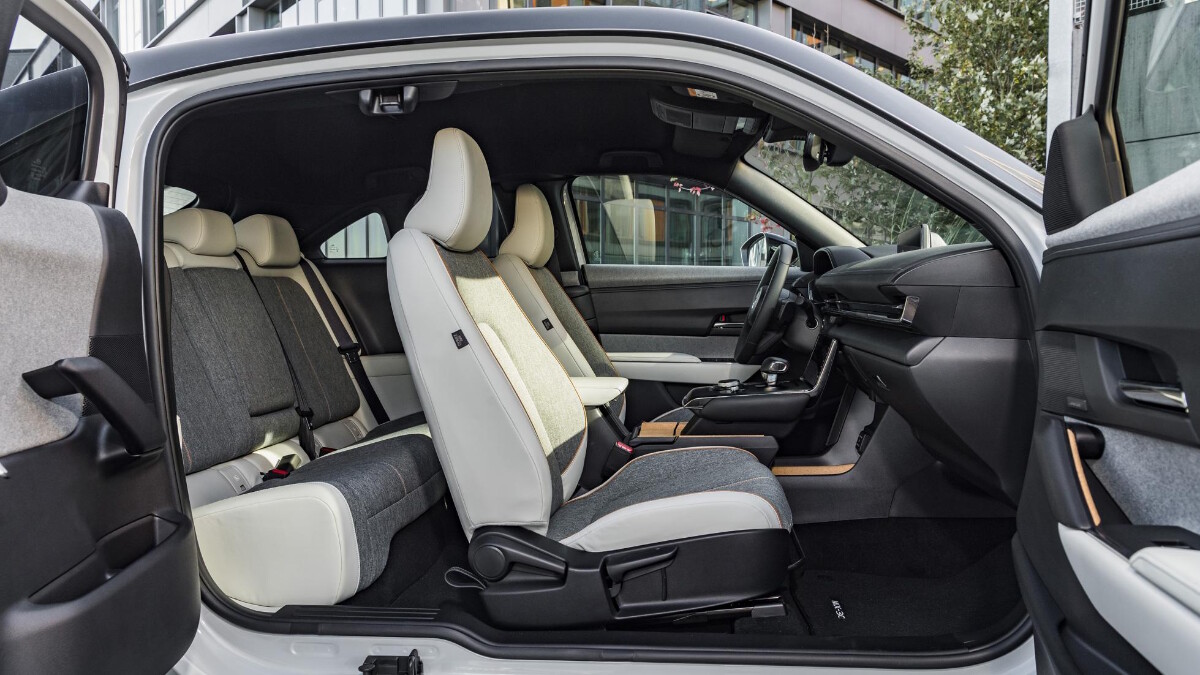 In the back, things will be a bit of a squeeze for adults, though manageable over short distances. Which, given the range figure, is probably fine. It's worth having a poke around one of these before committing your kids to frequent journeys in the back, though—cool as those rear-hinged back doors are, they lead to pretty poor visibility for passengers owing to a pillar separating two tiny windows, hidden by the exterior tints.
ADVERTISEMENT - CONTINUE READING BELOW ↓
The rear cargo area is reasonably sized at 366 liters, but thanks to the powertrain beneath, it's a tad shallow.
Final thoughts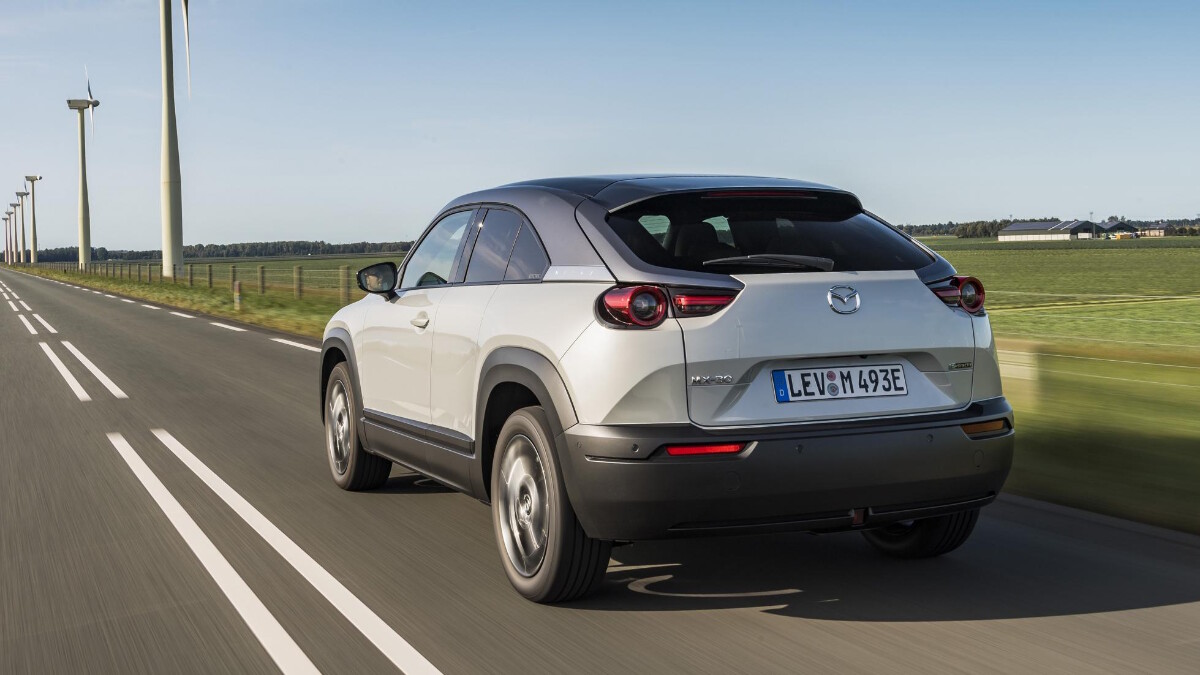 The dinky electric crossover is becoming a competitive corner of the car market. The MX-30 doesn't quite offer the sportiness its name suggests: The nature of its powertrain stymies any chance of Mazda's usual USPs—a deft touch and a delightful gearbox—giving it a head start over its key rivals.
ADVERTISEMENT - CONTINUE READING BELOW ↓
But there's a smart interior behind those wacky doors to make up for this, and it still drives as neatly as you could ever hope for from a 1.6-ton SUV with modest power. Mazda has been clever in how much regularity it has built into the process of operating the car, too. Analog readouts and physical gear selection mean it's a lot less daunting clambering in here than in some competitors, going some way to counteract the poorer range figure. Let's hope that doesn't put people off a genuinely interesting take on the EV.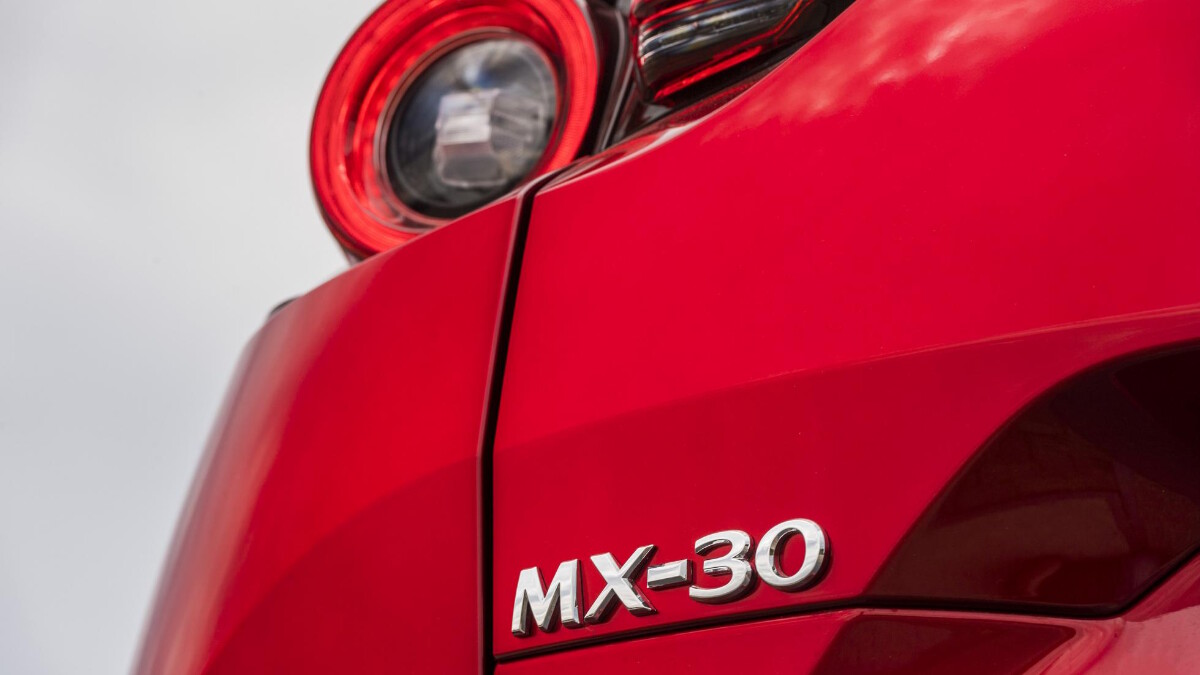 ADVERTISEMENT - CONTINUE READING BELOW ↓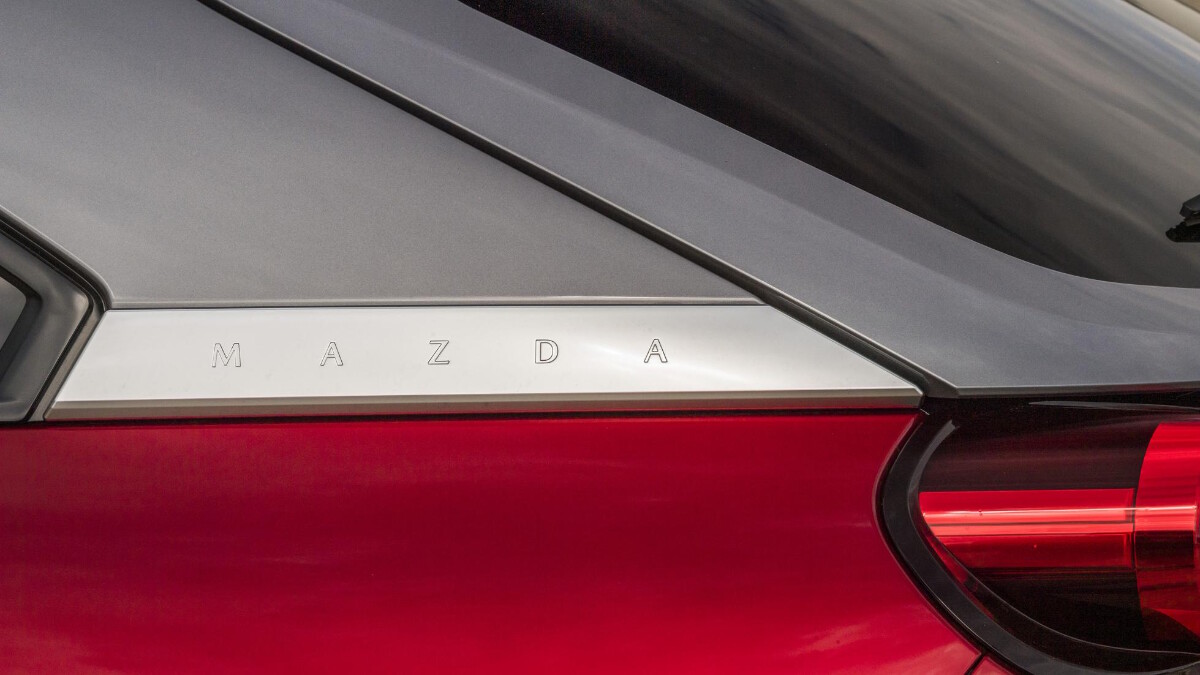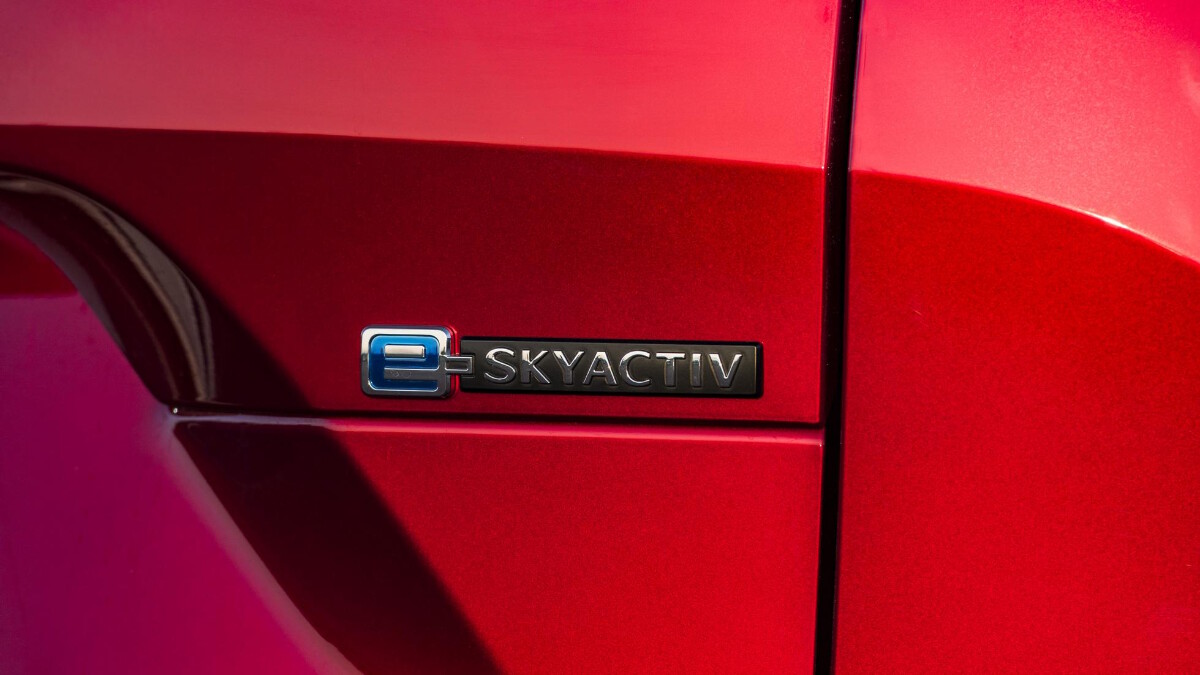 ADVERTISEMENT - CONTINUE READING BELOW ↓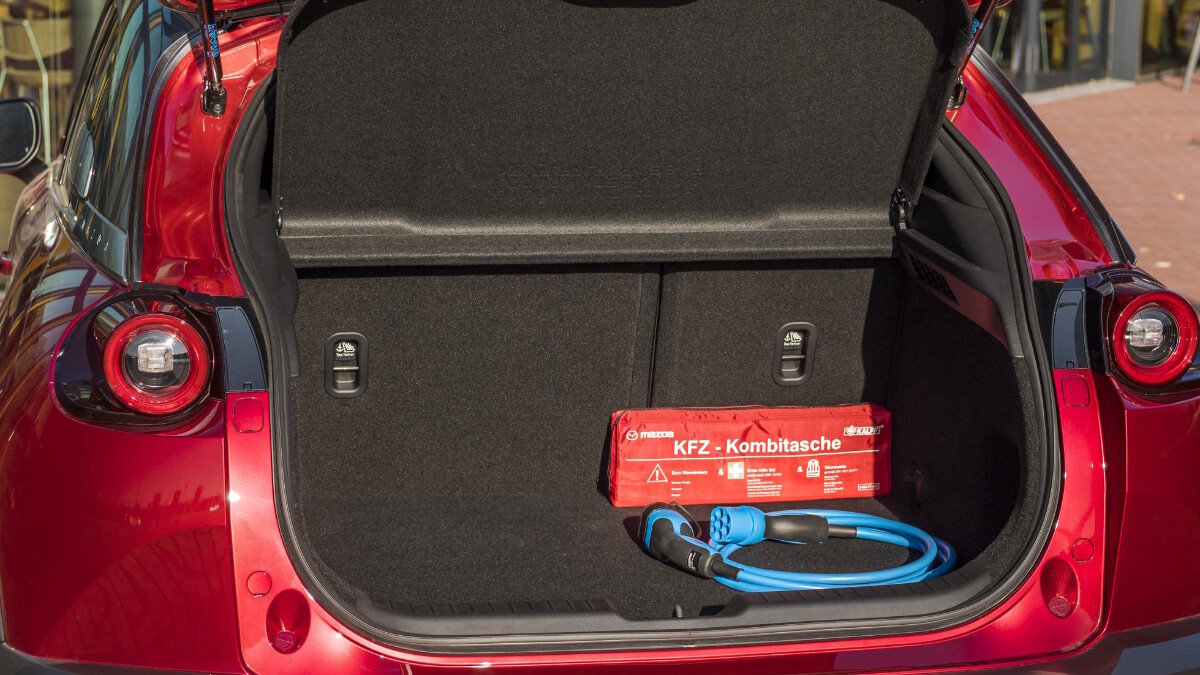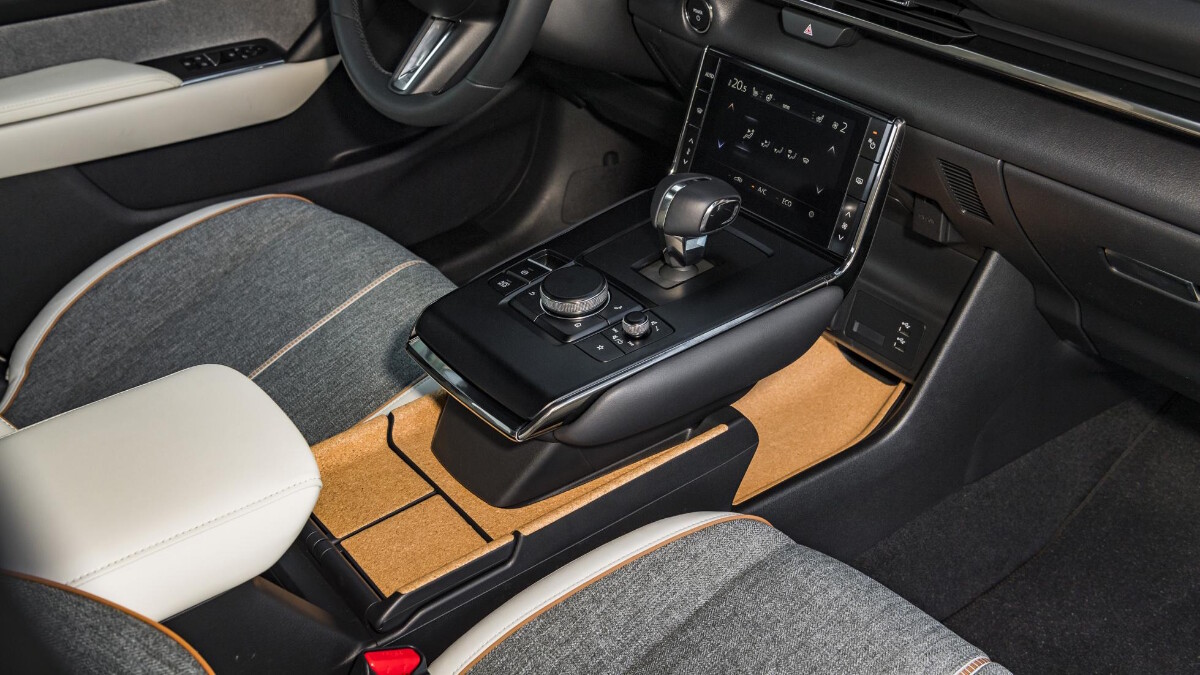 ADVERTISEMENT - CONTINUE READING BELOW ↓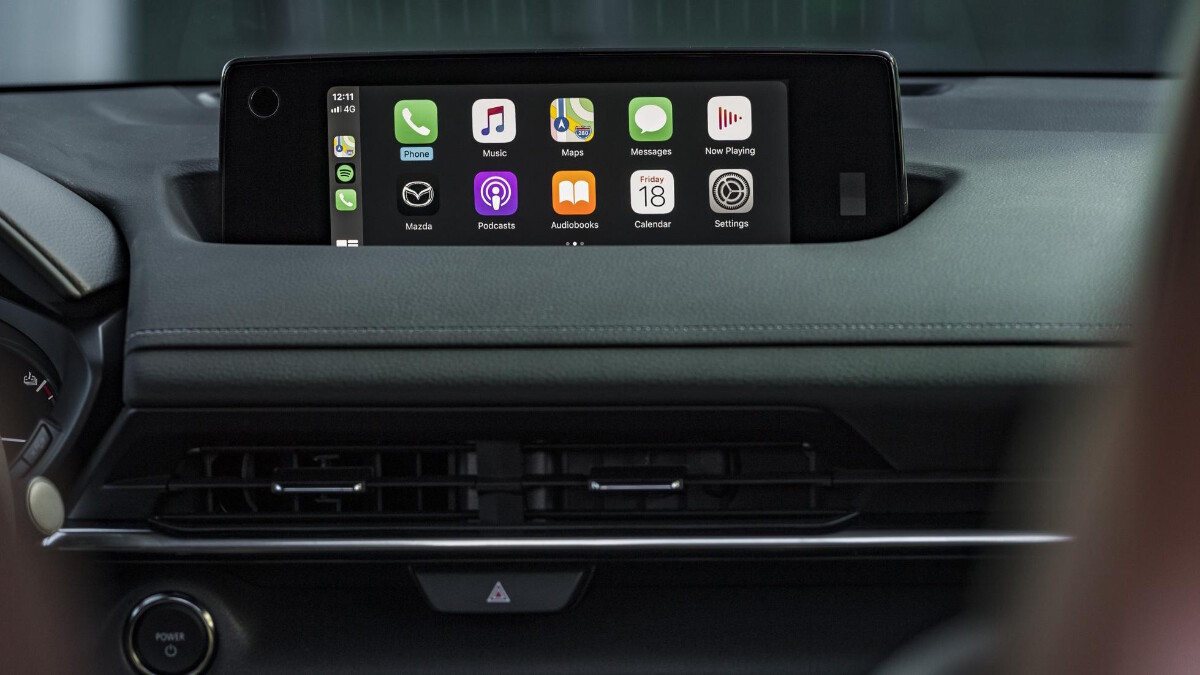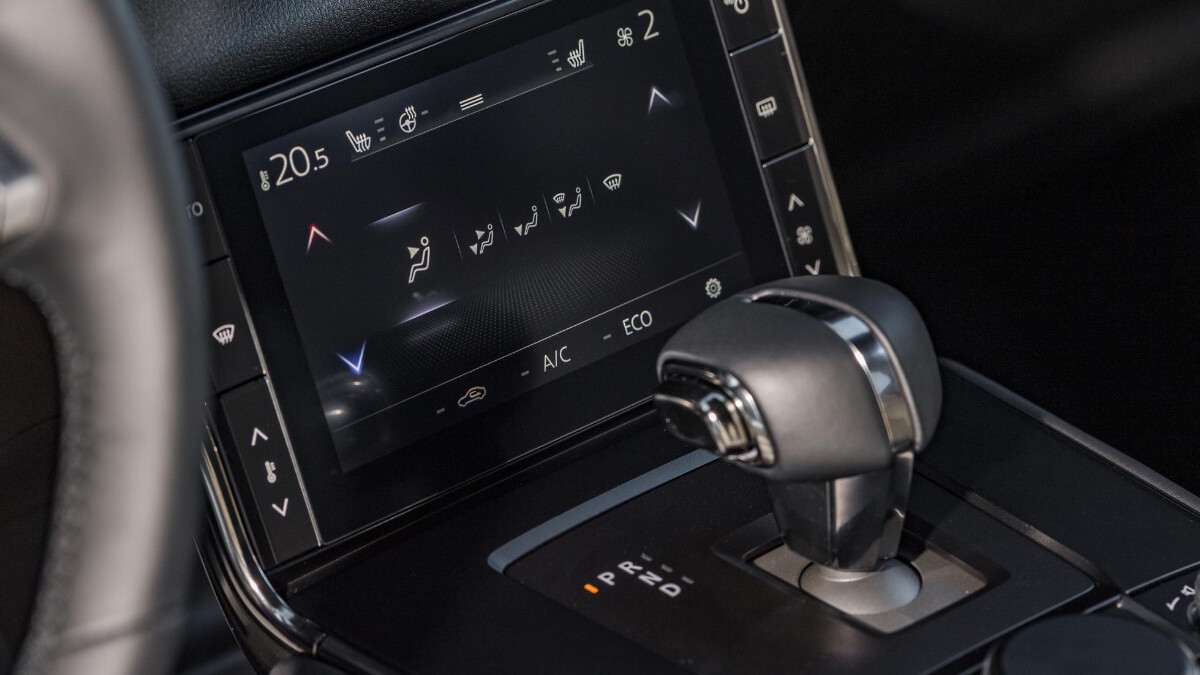 ADVERTISEMENT - CONTINUE READING BELOW ↓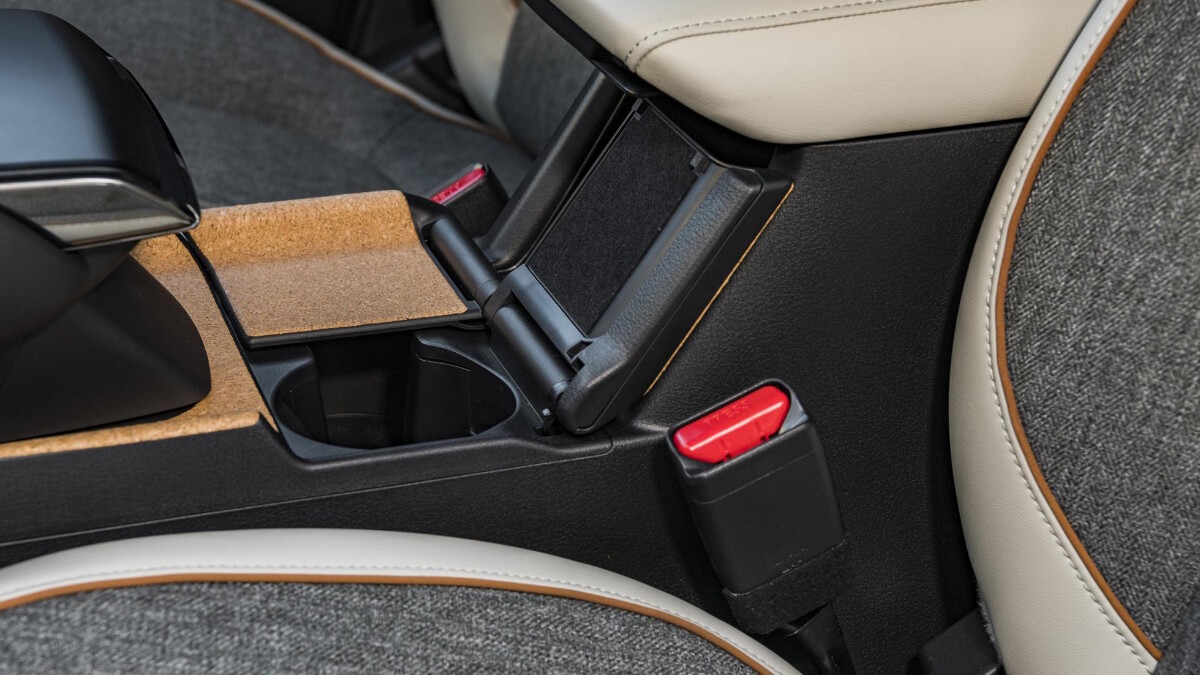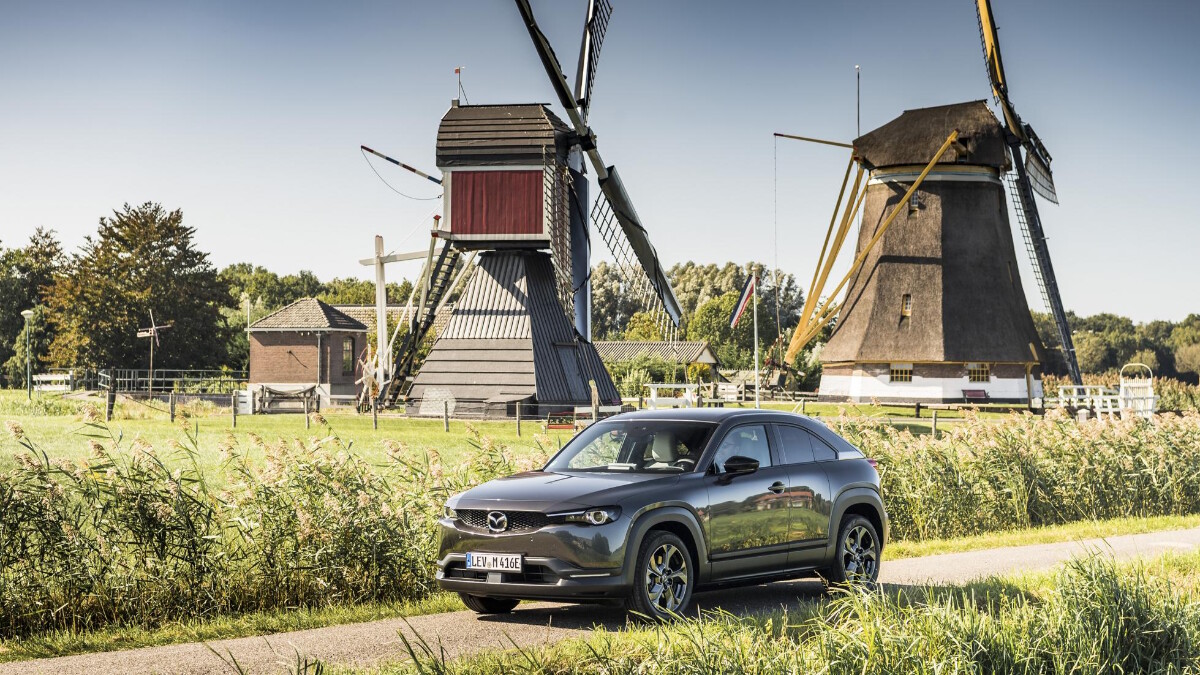 ADVERTISEMENT - CONTINUE READING BELOW ↓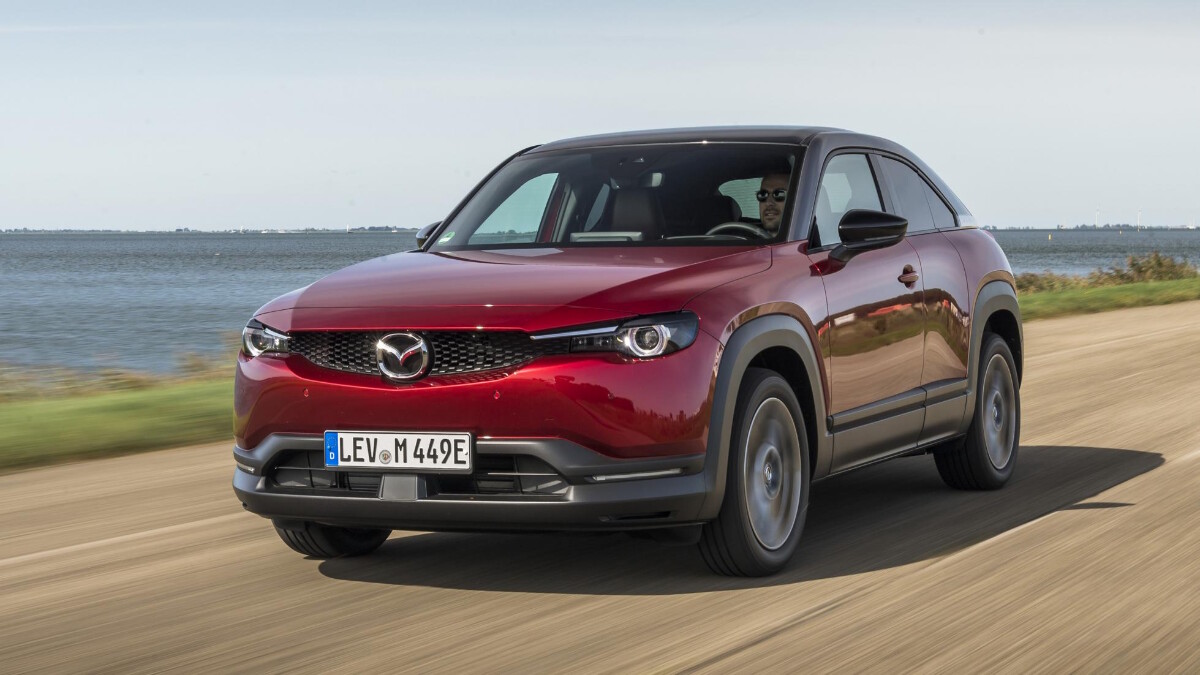 NOTE: This article first appeared on TopGear.com. Minor edits have been made.