A Black Series. A tag only worn five times before, and even though the first time it appeared was on an SLK, don't let that detract from what it stands for. A Black Series Merc is a wild thing—lighter, faster, and harder as the standard recipe goes, but somehow very much its own car. No one else builds anything quite like a Black Series.
It's taken AMG a while to build up to this. The first AMG GT arrived back in 2015. It was followed by a faster, better-controlled GT C, then an even faster and much better-controlled GT R. Merc had made a lot of changes for the GT R, and you could tell it was a huge step forward, a car to take the fight to the Porsche 911 GT3. To make sure about that, they then did a GT R Pro with an integrated roll cage and manually adjustable suspension—much like a GT3 RS.
ADVERTISEMENT - CONTINUE READING BELOW ↓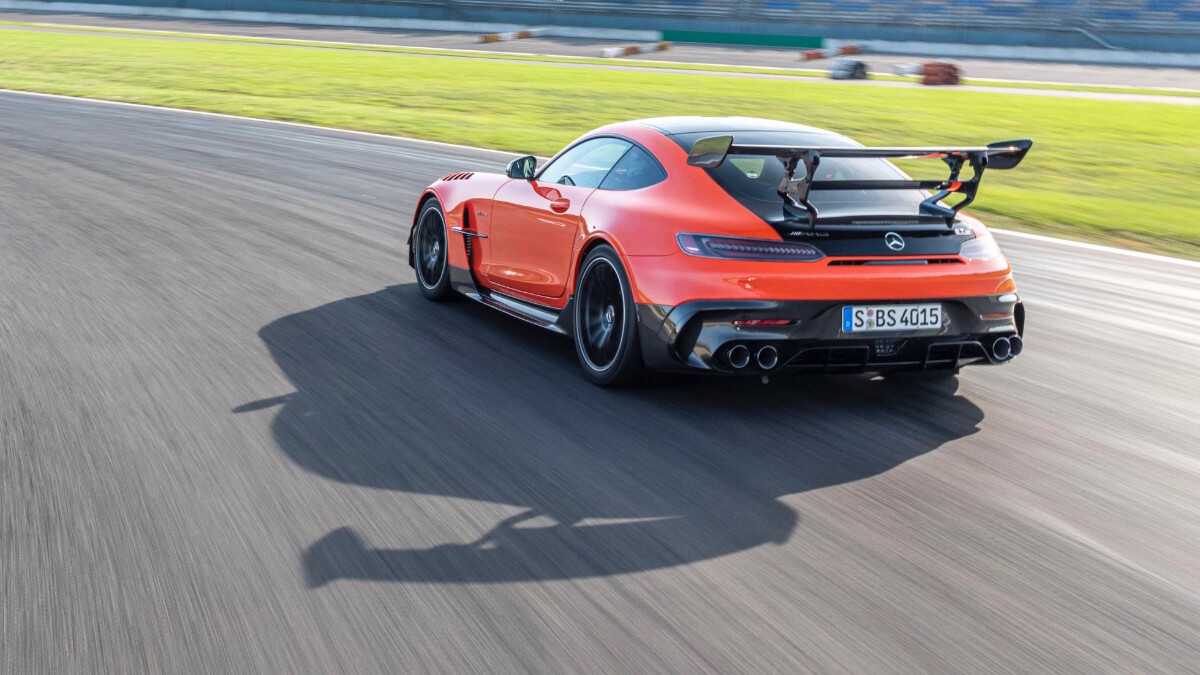 Now AMG has added another 160hp to the mix, and the only rival it speaks about is the Porsche 911 GT2 RS. There's much, much more to the Black Series than the extra power, but it's a good place to start. Still a 4.0-liter twin-turbo V8, but now so fundamentally updated that it uses a flat-plane crankshaft instead of a cross-plane. Traditionally, flat-planes don't sound as good as cross-planes, but they are more efficient and potent—engineers talk about more uniform pressure in the intake and exhaust tracts, making it easier to boost power. Which they have by fitting the turbos from the AMG GT 4-door, which have an 18% higher maximum flow rate than the GT R's. So there you go.
ADVERTISEMENT - CONTINUE READING BELOW ↓
Recommended Videos
Whipping through the rest of it: same seven-speed twin clutch transaxle gearbox, but with shorter ratios, a carbon-fiber hood, roof, and trunk, thinner glass front and rear, ball-joint bearings for the rear wishbones, preload-adjustable coilover suspension (adaptive dampers are also fitted) with a 10mm ride height drop, adjustable torsion bars front and rear, additional underbody strengthening, soft compound Michelin Pilot Sport Cup 2R tires, and manually adjustable aerodynamics.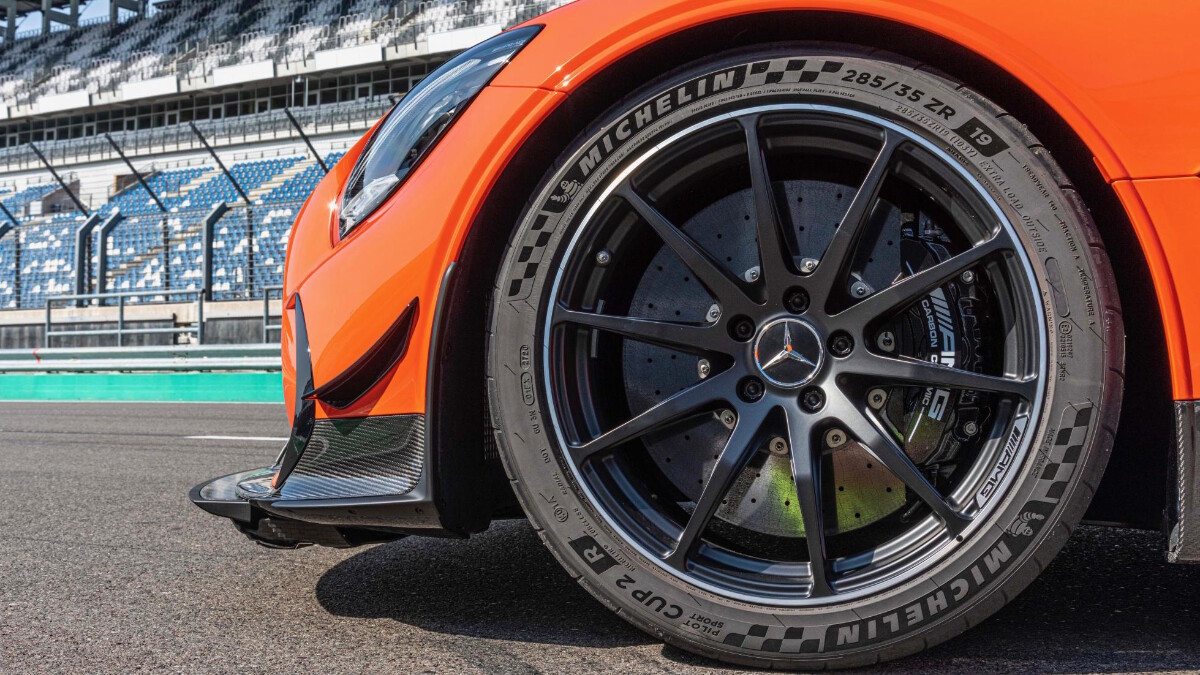 ADVERTISEMENT - CONTINUE READING BELOW ↓
Yes, manually adjustable. At the front, you have to pull out the carbon splitter (it extends about 80mm), which has a huge effect on speeding up air underneath the car, increasing downforce, while at the back, both upper and lower wings have three different positions. Maximum downforce is 400kg at 250kph, or 800kg at Vmax (325kph). The upper wing also has an electronically controlled flip-up center section to maximize stability under heavy braking.
Overall, it's 1,520kg (some 50kg heavier than the GT2 RS, not to mention over 180kg meatier than the super-svelte McLaren 765LT, meaning it's only 35kg lighter than the GT R), although think of the weight inserted (roll cage, wings, and so on) to realize that a lot has been taken out. Favorite bit of weight saving? Undoubtedly the world's first carbon-fiber transmission mount, half the weight of aluminum and made from a single strand of carbon wound around a series of aluminum posts up to 40 times. You have to see it to believe its fibrous structure.
ADVERTISEMENT - CONTINUE READING BELOW ↓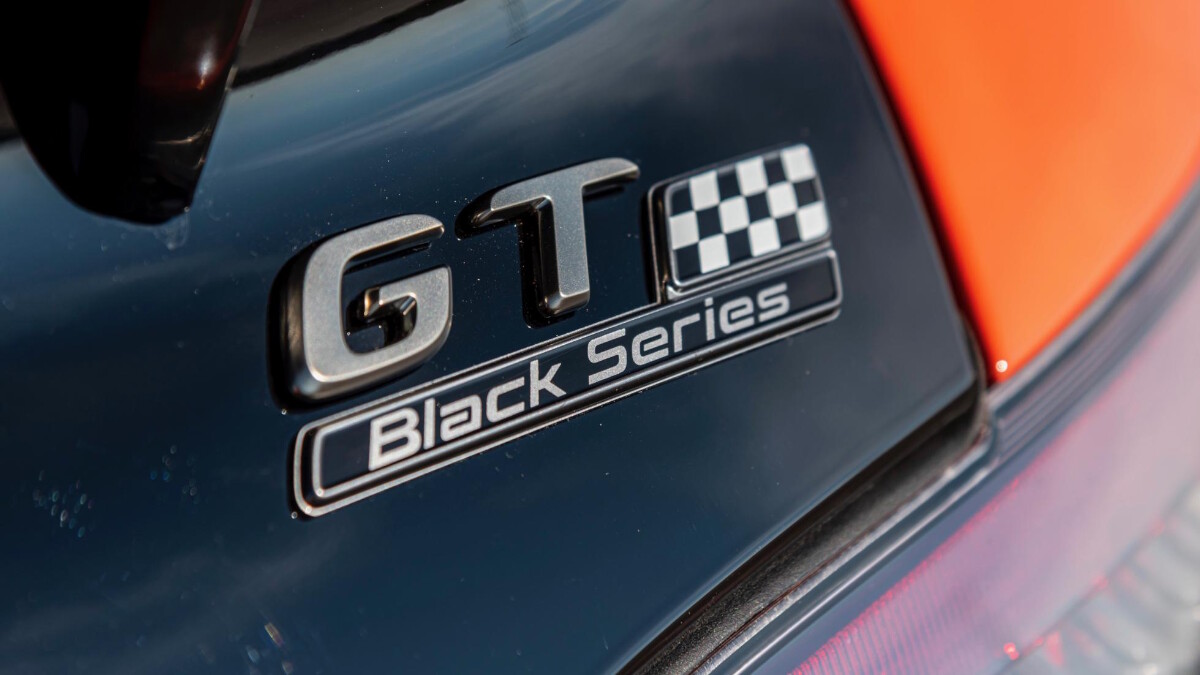 First cars arrive this autumn, having set their owners back £335,000 (almost P21 million) plus options. That's a whopping figure, especially since it's not a limited-series car. Instead, AMG says it will make as many as people want over the course of the next year.
ADVERTISEMENT - CONTINUE READING BELOW ↓
The Black Series is special—we haven't seen one since the mighty 1,550kg SLS Black back in 2013. It was epic and claimed inspiration from the GT3 race car. And so does the latest one. But in its wildest dreams, the SLS would never have been able to get round a racetrack just five seconds behind a GT3 car. That's the claim for the GT R Black Series and as we shall see, I don't think it's wide of the mark.
On the road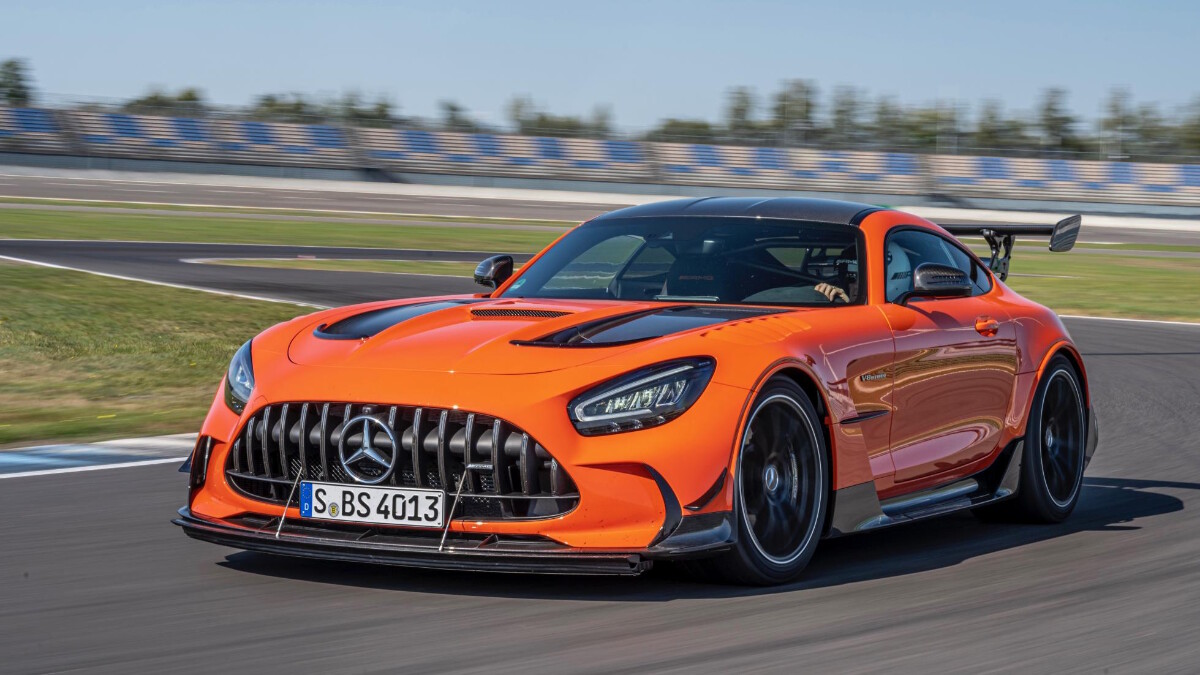 ADVERTISEMENT - CONTINUE READING BELOW ↓
Previous Black Series cars have been performers—gregarious, big-noise, big-character cars. This is different. It's more focused, more track-ready. Because that's what rivals, specifically the GT2 RS, are. It's hard to escape the impression that Merc has decided to go all in on the Black Series, intent on taking it one step beyond where Porsche has gone. Start to pick it apart—the aero complexity, the cooling, the bespoke componentry, the hidden world beneath the outer intimidation, and it's clear Merc is out to prove that anything Porsche can do, it can do...more.
None of which is telling you what it's like to drive, but hopefully is giving you some context. Which can be condensed into one takeaway: See that rear wing? It's not there for show. It's hard to ignore, though—it's there obstructing your view rearwards and making the GT's otherwise soft and rounded rear end look anything but.
ADVERTISEMENT - CONTINUE READING BELOW ↓
Distracting though that panorama is, the view forward is the one you need to concentrate on. Endless hood, yanked tight into the belly of the beast, corners thrapping past, curbs rattling the suspension, punch the power, punch the brakes, attack, attack, attack. It's all-consuming, the Black Series.
ADVERTISEMENT - CONTINUE READING BELOW ↓
It starts with the engine. It doesn't throb and burble any more, instead seeming to channel all that energy into forward motion. Still sounds spicy, but the noise is less playful now, harder, more monotone, more race car. And obviously, you get pushed along pretty hard. But it doesn't feel like it, at least on track, because this is a car in harmony with itself. Unlike the (markedly faster and more threatening) McLaren 765LT, the torque is more available here, less spiky in its delivery. AMG claims 799Nm is available everywhere between 2,000rpm and 6,000rpm. In practice, you need to keep it over 4,000, but from there the acceleration builds beautifully.
But it never overwhelms the chassis. Of course it would if you wound the traction control full off (and you do need to slacken it significantly, as it gets distracted by bumps and surface changes) and buried the throttle in second gear, but the engine is responsive and plenty powerful.
ADVERTISEMENT - CONTINUE READING BELOW ↓
The brakes—no quibbles about stopping power, but a little less travel down the footwell would help confidence, as would some more weight in the steering. Through medium-speed turns, the steering is too light to give you a proper sense of the forces the car is having to cope with. And there are a lot of forces involved here. The Michelin Cup 2 R tires provide astonishing grip, and above 160kph, you can feel the extra air pressure stabilizing the car in a straight line and into corners.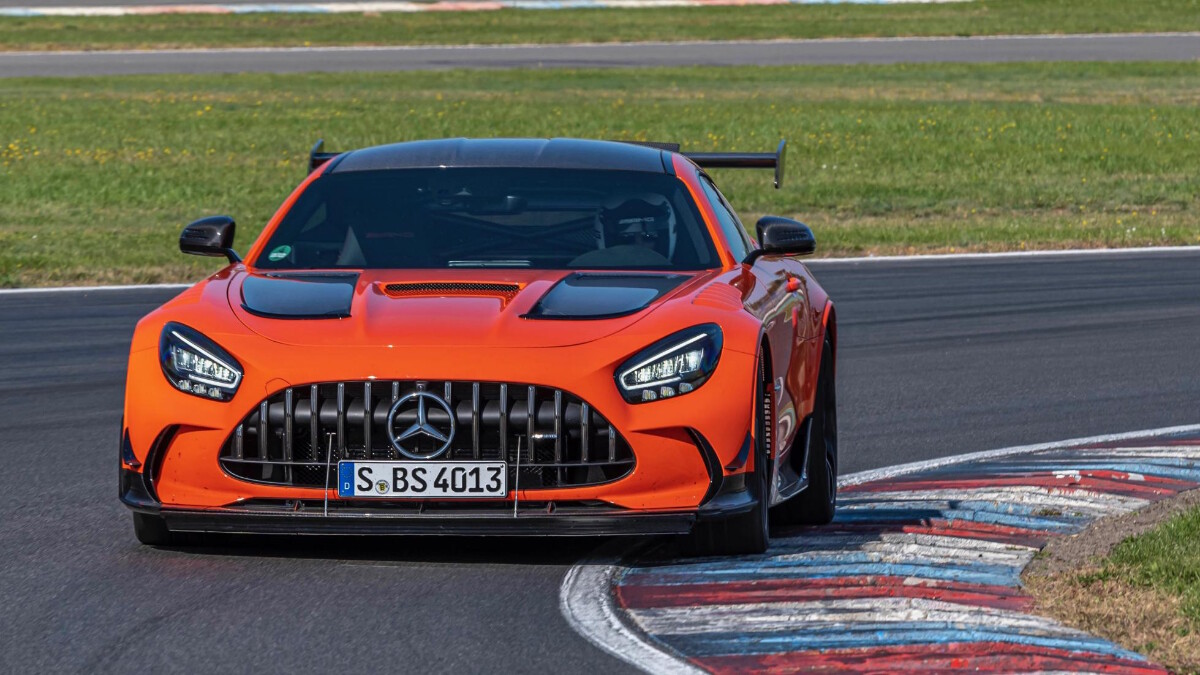 ADVERTISEMENT - CONTINUE READING BELOW ↓
The chassis is set up toward a little understeer initially, but it's easily managed and the limits are high. It pays to be patient with the throttle, let the car come further out of the corner so you can get to full throttle sooner, but there's plenty of information coming back to let you play with the balance mid-corner. Quick changes of direction challenge it more, and if it does let go at the back, it goes quickly. It's best if you drive it as it wants to be driven—be calm and progressive, and reap the benefits. There's no slack in the system, so inputs are obediently, immediately responded to and that gives you confidence.
Body control is reassuringly solid, and damping is of a quality that makes me think it'll actually be just fine on the road. I did keep thinking the steering was over-assisted and wanting a shorter brake pedal, but fundamentally, I was having a ball. There's something about this Black Series over and above other cars of this type—the GT2 RS, the 765LT—that's more of an event. It could be something as simple as the fact that you sit so far back and view the world through a letterbox slot, but the experience is very motorsport, very GT3.
ADVERTISEMENT - CONTINUE READING BELOW ↓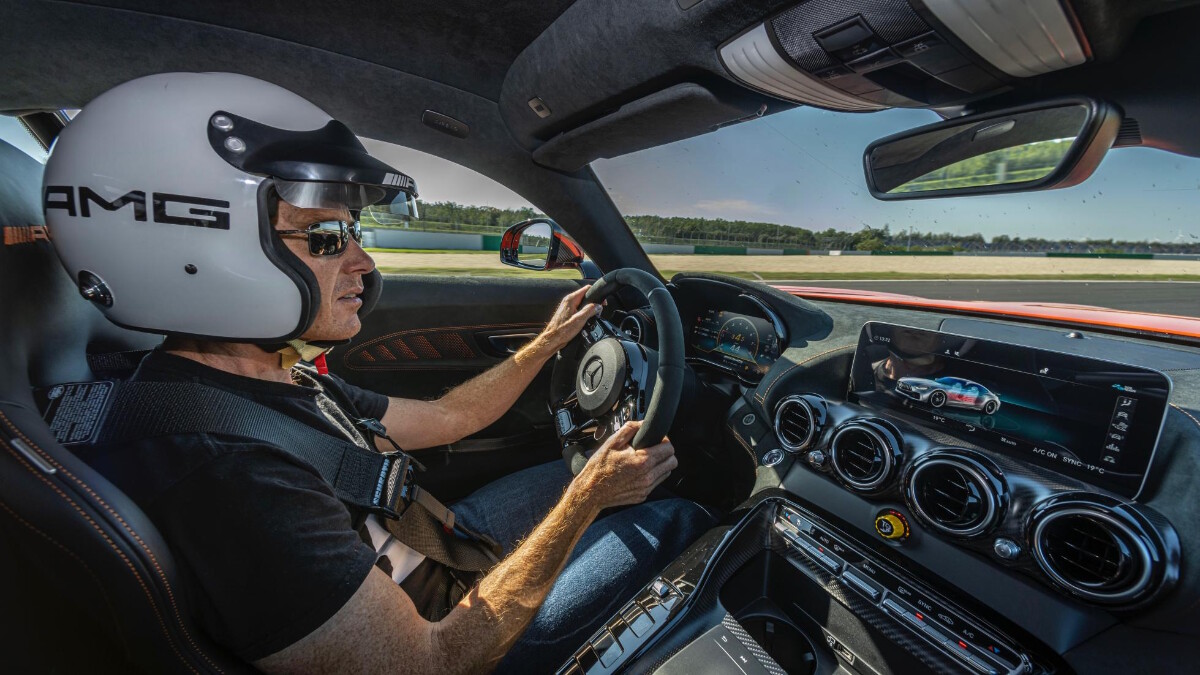 I suspect the 765LT would be faster around most tracks (it's almost two seconds faster from 0-200kph), although in an unguarded moment, one of the test drivers told me the Black Series is only five seconds slower than a GT3 car around the Lausitzring—and from memory, I think in a similarly unguarded moment a couple of years ago, I was told the lap time difference between a 789hp, 800kg of downforce McLaren Senna and a race GT3 at Estoril was about the same, which would make the Black Series even more formidable than I thought.
ADVERTISEMENT - CONTINUE READING BELOW ↓
But that's all smoke and mirrors, and not really what the Black Series is about. The point is it's race-car fast, but you don't have to be a racer to have a great time in it. It looks crazy, recreates the racing experience better than pretty much anything else out there and flatters the driver.
On the inside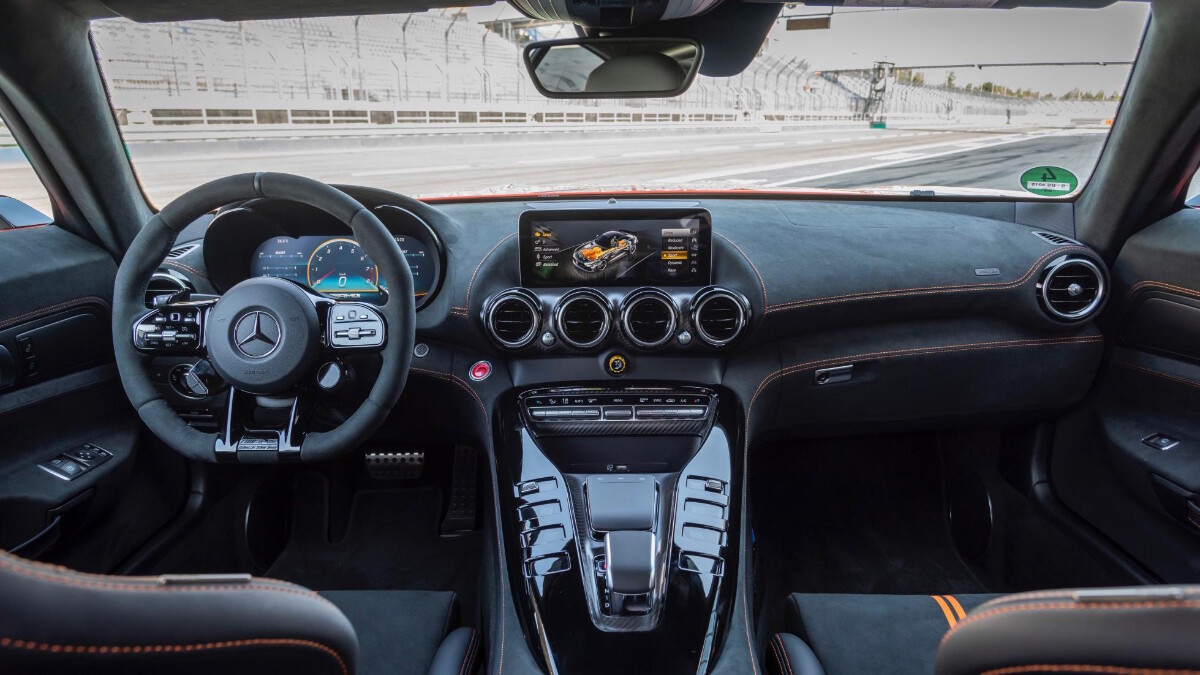 ADVERTISEMENT - CONTINUE READING BELOW ↓
The cabin is perhaps the most intimidating thing about the GT R Black. You sit deep and low, and the controls on the centre console are awkward to operate, mounted too far back for comfort when your arm movement is restricted by a carbon-fiber bucket seat. No matter. Most of the switchgear is repeated on the steering wheel and the driving position is great.
Weight has been lost from the doors with the adoption of a fabric door pull, but in essence, others go further inside (the Black still has metal door handles in addition to the pulls). If you want to make it feel more race-ish, have the Track Package (more extensive titanium tube roll cage, fire extinguisher, and harnesses).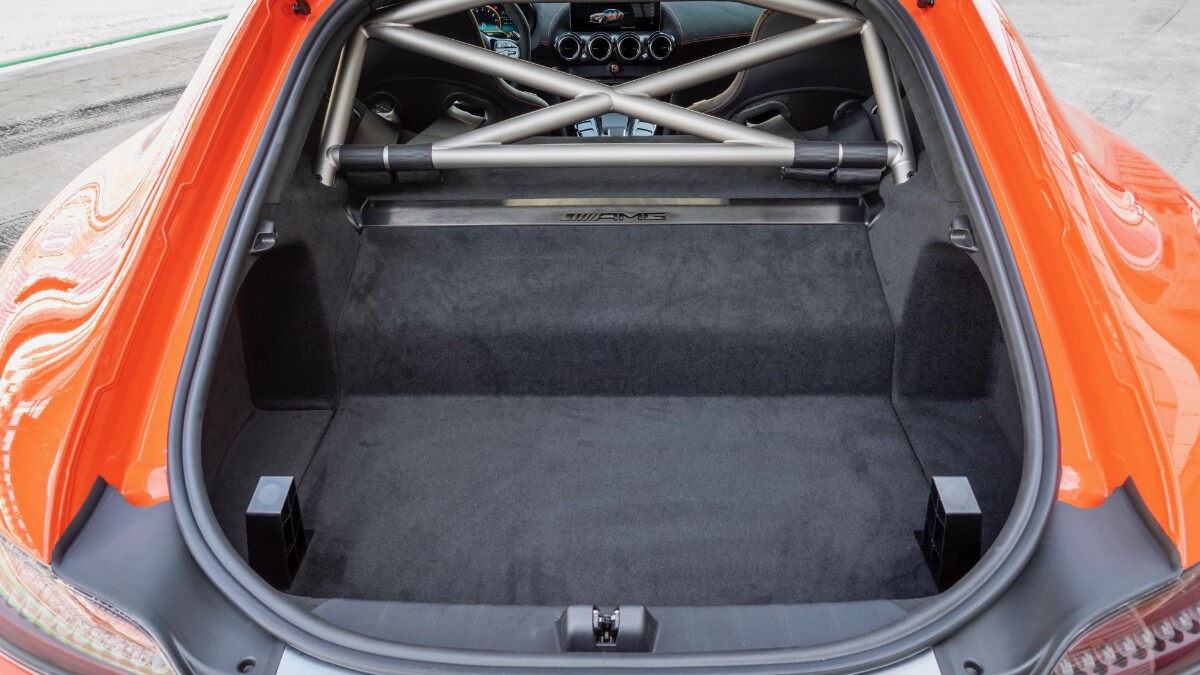 ADVERTISEMENT - CONTINUE READING BELOW ↓
You still get cargo space at the back, and it's still lined with carpet and still big enough to swallow decent amounts of kit. Even if that kit isn't racing suits, boots, and helmets. Rear visibility is obviously compromised—you find yourself trying to peer past roll cage and spoiler scaffolding—and we've already talked about the limitations of the narrow windshield and the long hood.
Final thoughts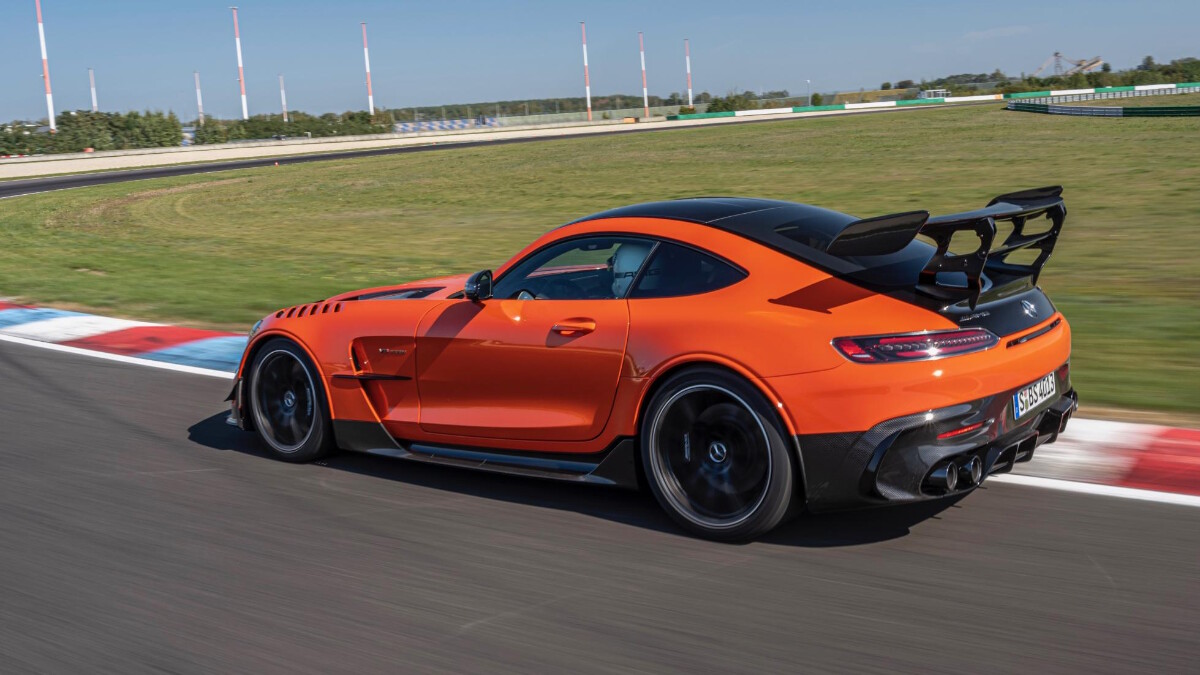 ADVERTISEMENT - CONTINUE READING BELOW ↓
This is a new kind of Black Series. Previous cars—up to and including the last, the SLS Black—were always more road cars than track cars. No longer. With the AMG GT R Black, the meatiness of previous Black Series cars has been pared away, as has the more generous nature of the standard GT R supercar. In its place is a much more determined machine—one that has gained focus and energy, found a more defined role for itself, and executed it with aplomb.
At significantly over twice the price of the regular GT R, a comparison with that is pointless. The machines it competes with are the McLaren 765LT and the now-discontinued Porsche 911 GT2 RS. It's friendlier than either at the limit, and does a better job of making its driver feel like a hero, even if it can't match the ferocious speed of the McLaren or the overall tactility of the Porsche. Still, it's a very, very good effort—but then so it should be for its asking price.
ADVERTISEMENT - CONTINUE READING BELOW ↓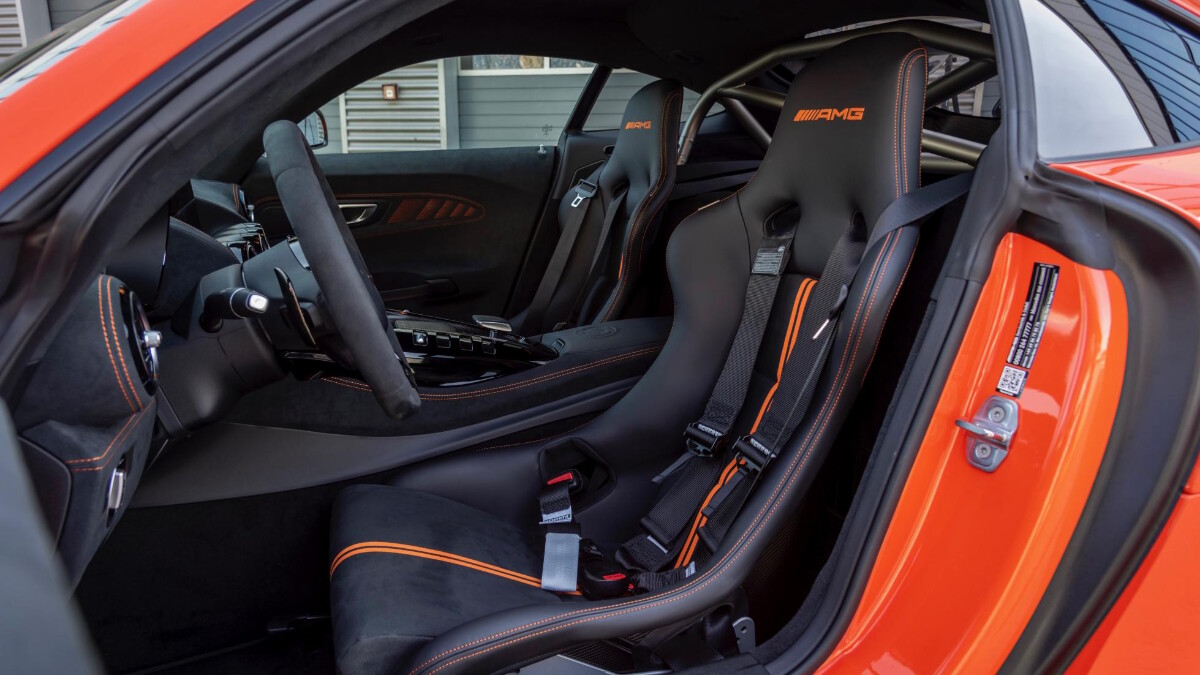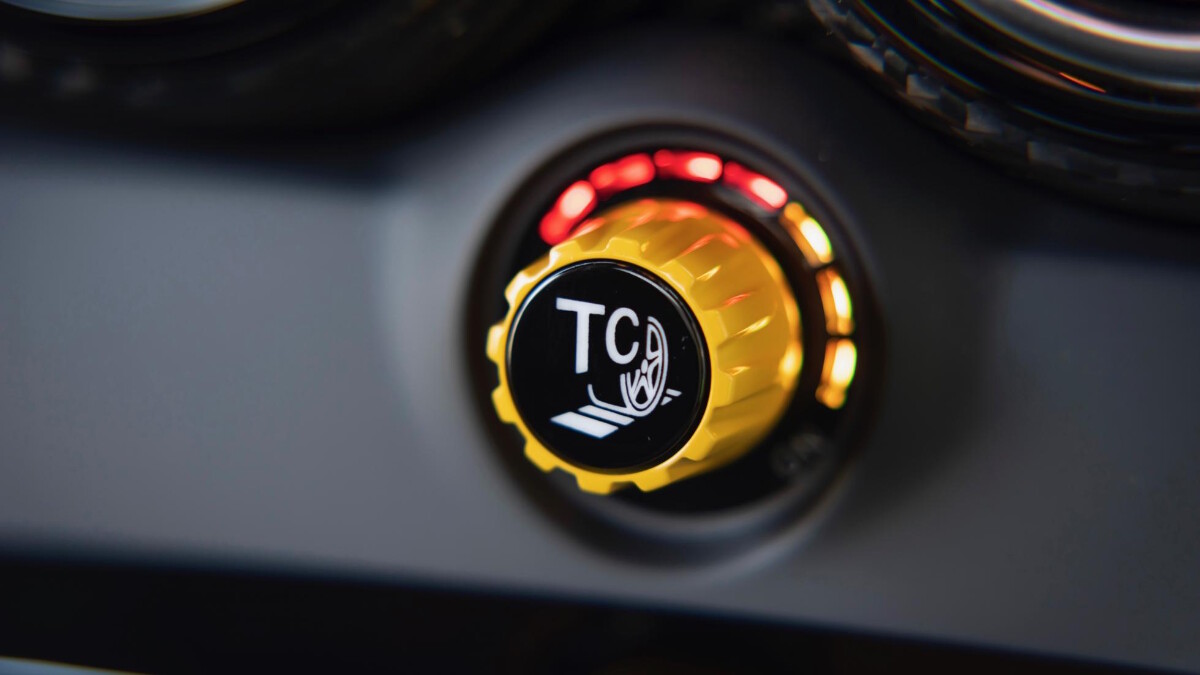 ADVERTISEMENT - CONTINUE READING BELOW ↓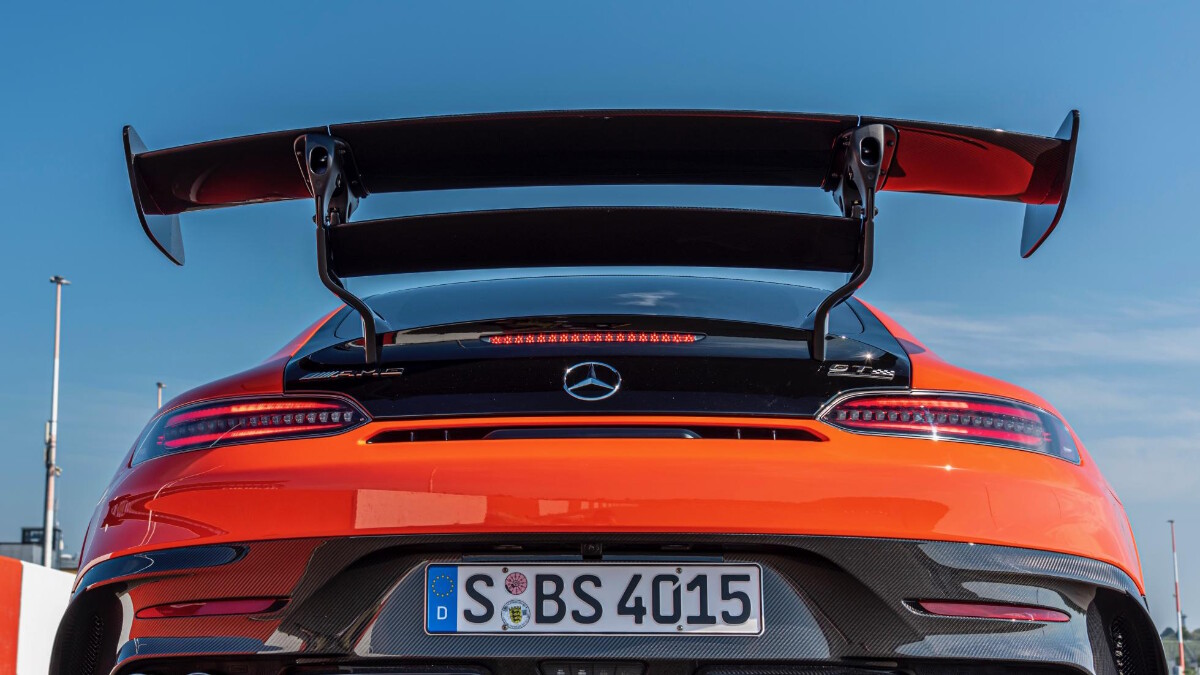 ADVERTISEMENT - CONTINUE READING BELOW ↓
NOTE: This article first appeared on TopGear.com. Minor edits have been made.