Given the hype around it, you'd expect the new Ford Bronco to be an updated version of one of Ford's biggest sellers. But no, this is the first new Bronco since 1977. That's a 44-year hiatus.
It does plug a gap in Ford's lineup, though. Until now they haven't had an off-road adventure truck to directly compete with the Jeep Wrangler. Don't assume, because of its terrifically well-resolved retro styling (taking inspiration from the 1965 original), that this is an all-mouth, no-trousers machine. It's not.
In terms of its mechanicals, it sits midway between the Wrangler and its other close rival, the Land Rover Defender. In days gone by, the toughest, most rugged off-roaders had a separate ladder-frame chassis with beam axles at either end and a body on top. That's the current Jeep Wrangler. The new Defender was a radical shift, using a monocoque chassis and fully-independent suspension at each corner. The Bronco is more aligned with the Jeep (its separate chassis is similar to the Ranger pickup's), but it has independent double-wishbone front suspension.
Does that make a difference to the way the Bronco drives?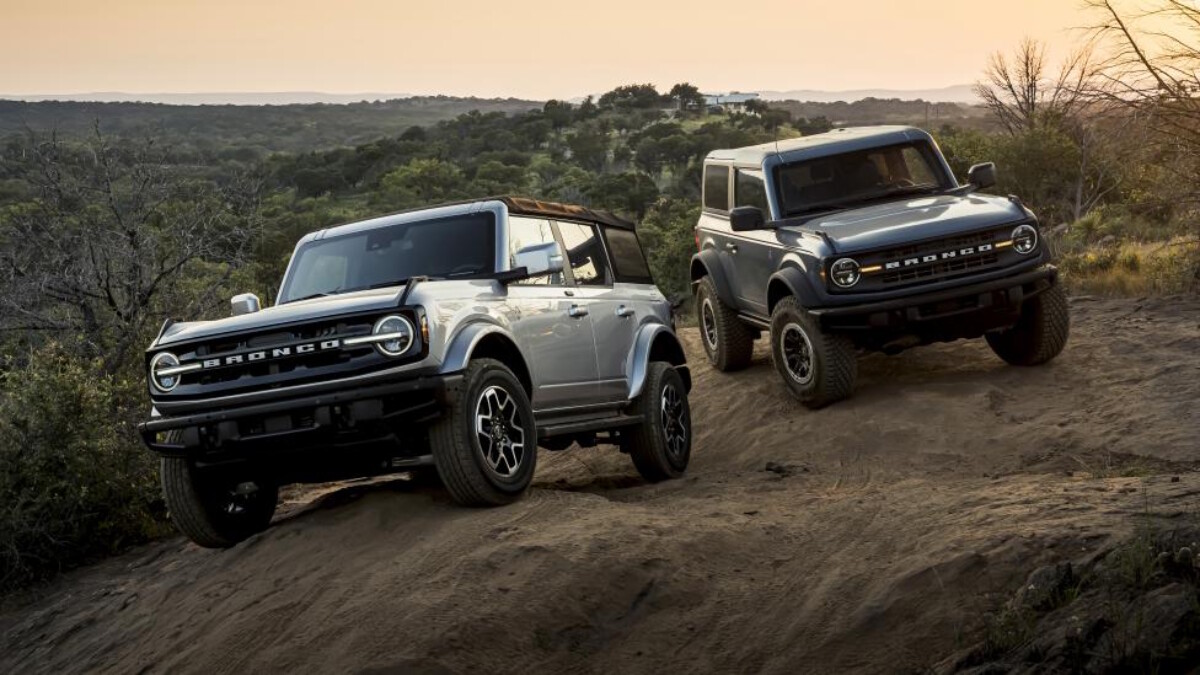 Continue reading below ↓
Recommended Videos
Absolutely. The independent front end gives it decent stability and accuracy, and makes this a car that can cope with long journeys and get around a corner without stumbling. It's not as refined and comfortable as the new Defender, but most chassis shudder has been eradicated, and it feels markedly more sophisticated and capable on-road than the Wrangler.
Off-road, it's deeply, deeply impressive. A rotary selector on the console gives you access to the G.O.A.T. modes (Goes Over Any Type of Terrain, rather than Greatest Of All Time, although we're sure Ford wouldn't mind you getting that wrong), while buttons on the dash allow you to lock the front and rear differentials and perform a couple of extra tricks. One allows you to hydraulically disconnect the front anti-roll car to improve axle articulation, while another locks the inside rear wheel to enable you to turn more tightly off-road. The best mode is the one-pedal system. Much like in an electric car, lifting the throttle applies the brakes—very handy for precisely controlling your speed off-road in rock sections. That, in particular, works very well indeed.
Talking of electric, is there a hybrid version?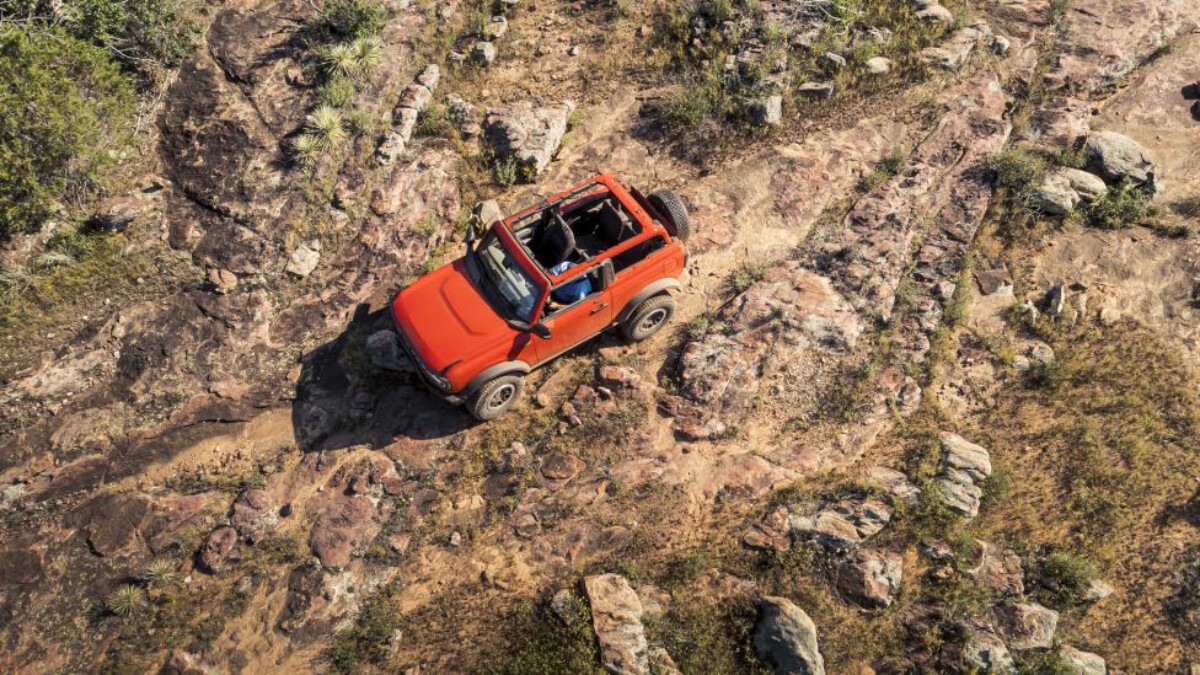 At launch, the choice is between two pure gasoline engines—no diesel, no hybrid (yet), no electric version (probably ever). The 2.3-liter four-cylinder Ecoboost we're already familiar with from the Mustang and the Focus RS, although in the Bronco, it develops 300hp and 440Nm. Above that, there's the engine we drove, a 2.7-liter twin-turbo Ecoboost V6. Not much more power (330hp), but at 562Nm, a chunk more torque.
It's a smooth, unobtrusive engine, with enough muscle to make the top-spec Bronco feel significantly lighter than its 2,321kg curb weight. A curb weight you can easily lighten further yourself.
Like the Defender, the Bronco can be had as either a three- or five-door. All of them come with removable doors. The three-door comes as standard as a hardtop with lift-out roof panels, while the five-door has a canvas lid as standard, but it can be had with a hardtop that has removable panels over the two rows of seats, allowing you to fundamentally change the look and feel of the car. The panels remove neatly and easily via mechanical latches, and fit well enough that wind noise isn't an issue.
Talk about prices.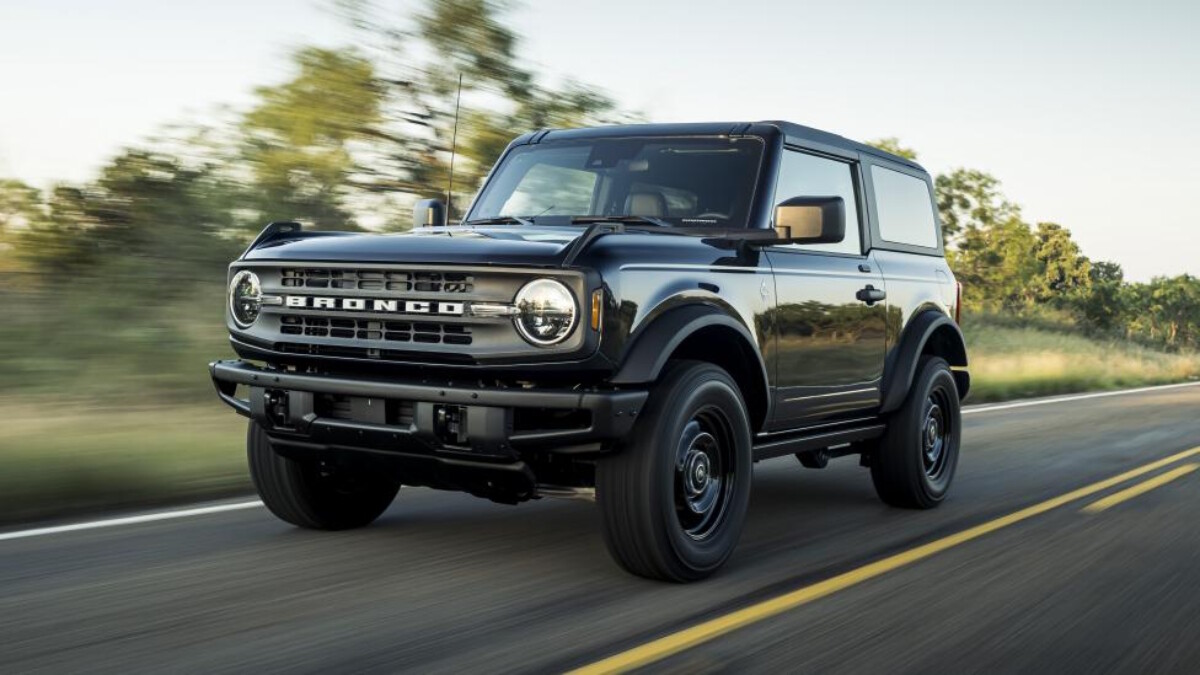 In America the Bronco starts at start at $29,995 (P1.46 million) for the three-door and $34,695 (P1.69 million) for the five-door. The trouble is that across seven separate trim levels, plus five separate packages, that list cost steps up quite a bit. Our fully loaded First Edition, which included the optional Sasquatch pack, was over $63,000 (P3.06 million).
With the what pack?!
Sasquatch. Americans do the best names. That gets you 35-inch tires, those electronic diff locks, Bilstein shocks, raised suspension, and more. And let's face it, you can barely get a base Defender for the same money as a fully-loaded Bronco.
The options list runs to over 200 items, and in addition, Ford has worked closely with aftermarket suppliers to allow owners to fit lightbars, roof racks, winches, and so on. Any extra electronics can then be controlled via roof-mounted auxiliary switches (and supplementary wiring) that Ford has thoughtfully included up front.
On the road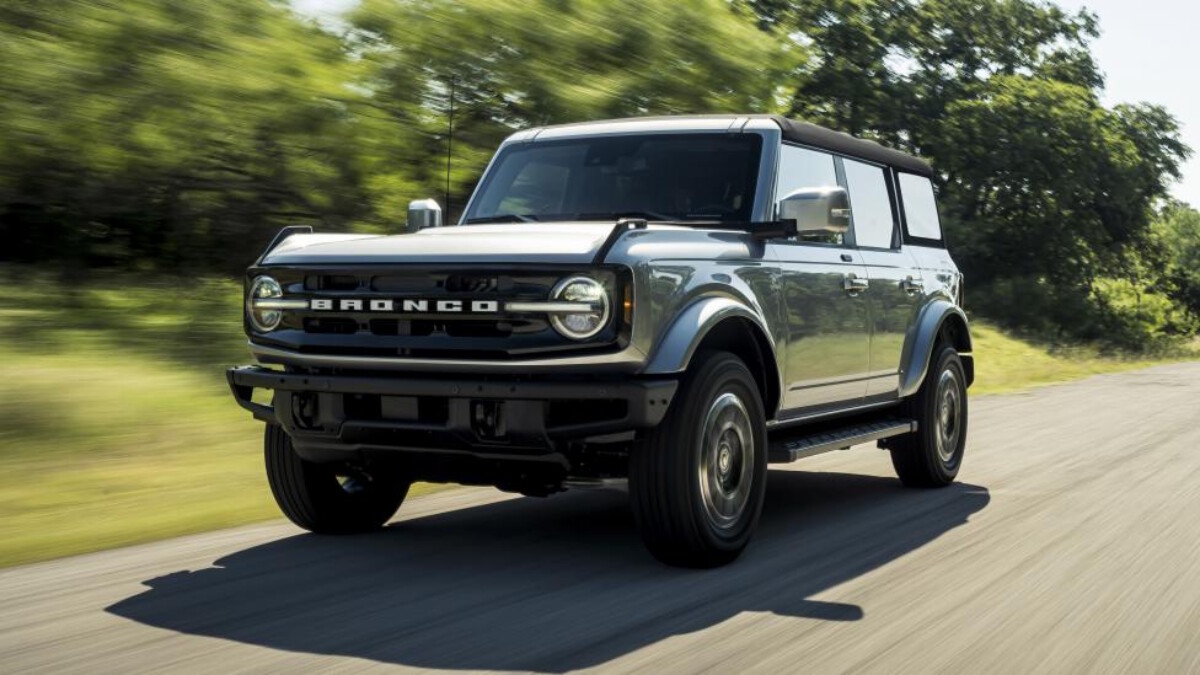 Admittedly the Bronco isn't great around corners, but it's not bad, either. The independent front suspension allows you to place the car and steer accurately without having to take second bites at the steering through corners, or make constant corrections at highway speeds. It's really not that wearing to do distance in. And we did do distance in the Bronco—over 1,900km in two days.
And that's in a car equipped with the big tires. Which, incidentally, roll more smoothly and quietly than you'd ever expect, and grip harder on tarmac, too. They don't even have too much squidge in them. The brakes had better power and bite than we expected, and although it does roll, the top-line Bilstein dampers manage that rather well, and there's enough feel through steering and seat of your pants to give you information about the approaching limits.
But isn't the ride a bit crude?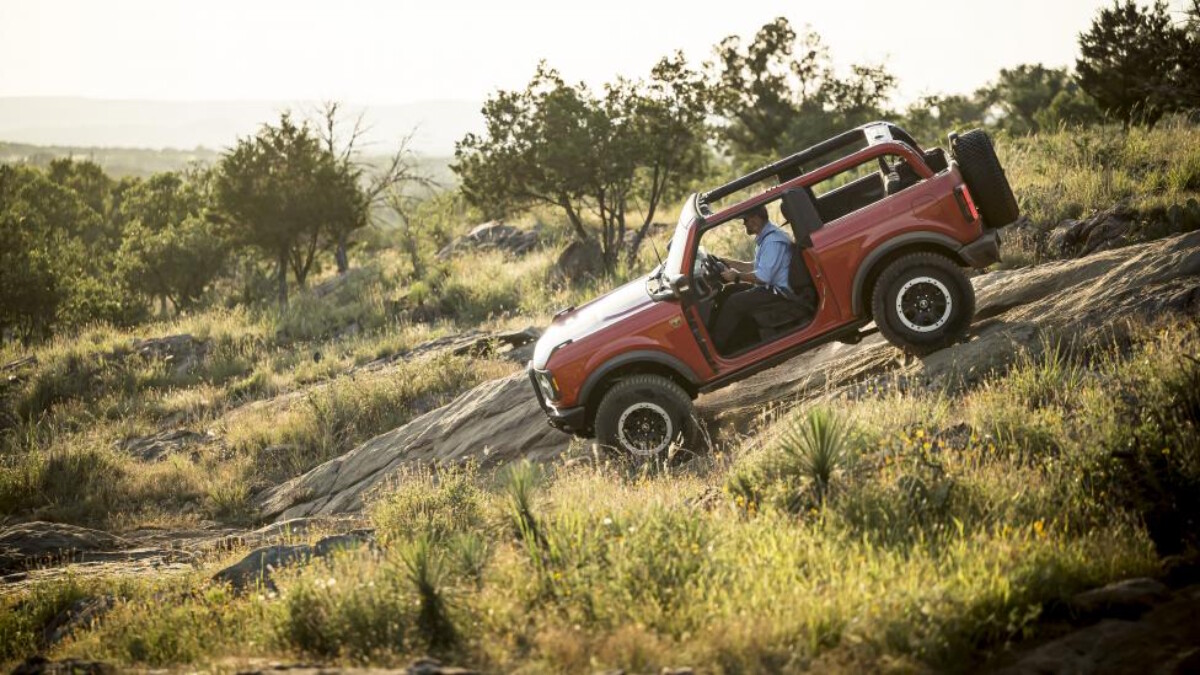 The solid axle at the back does have its drawbacks. It patters on most surfaces and big hits to the rear wheels are transmitted into the heavy back axle and that does in turn send slight shudders into the car. It helps that it's coil-sprung at the back, rather than the leaf springs you still get in many pickups. Unlike in the Defender, there's no air suspension for the Bronco.
How fast is it?
That's not really the point, although Ford does claim a 0-60mph (97kph) time of 5.9sec for the three-door Bronco equipped with the twin-turbo V6. It's a good engine to use, even though it doesn't particularly like to rev. Decent midrange, just loses its composure a bit if you do extend it. Also, the throttle is a bit too sensitive at the top of its travel in Normal mode during general driving.
The bigger barrier to accessing the performance is the gearbox. The smaller engine can be had with a seven-speed manual, but most Broncos will be fitted with the 10-speed auto from the Ranger. It's fine as long as you don't ask much of it, but quick kickdowns or seamless upshifts at speed are beyond it. And if you want to control it manually, the shifts, done by an awkward switch on the side of the gear lever, are heavily delayed. It's much better behaving itself when crawling around off-road.
What about fuel economy?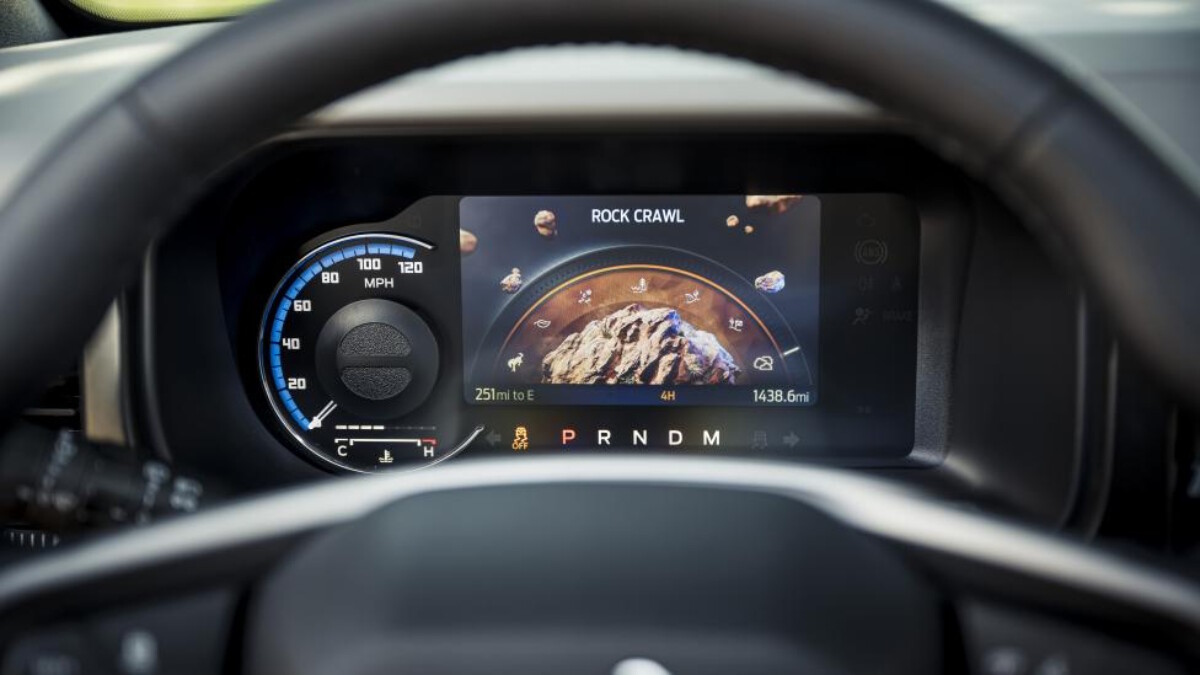 Don't expect great feats, since Ford doesn't make great claims. The most efficient versions return about 9.8-10.2km/L on the US test cycle, the worst about 8km/L. We got 8.8km/L overall.
Tell me more about how it behaves in the rough.
There are seven modes in the Land Rover-esque mode dial: Normal, Eco, Slippery, Sand, Baja, Mud/Ruts and Rock Crawl. Just turn for the sort of driving you want and the car will do the rest. As well as the front and rear diff locks, there's a low-ratio gearbox and the chassis tricks mentioned earlier.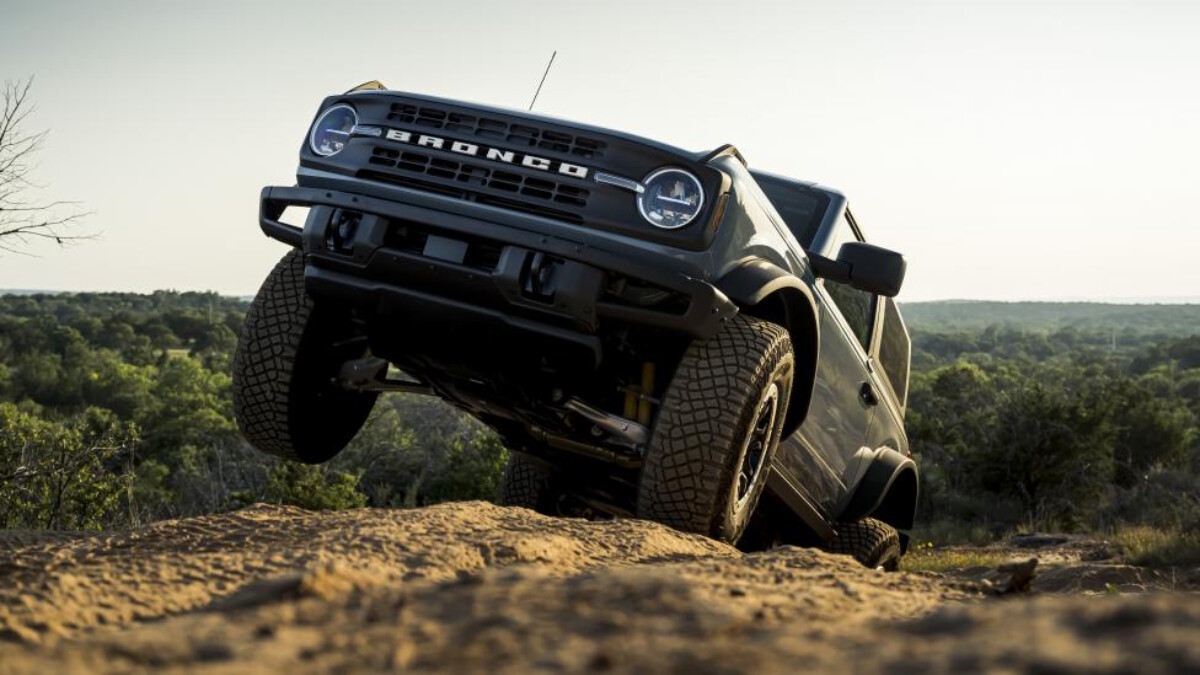 It's logical to use and makes mincemeat of every surface we could find to test it on, from sand and gravel to chunky boulders, mud, and steep slopes. Depending on the mode you're in, the car will ask if you want to engage low ratio or diff locks, and can put camera views on the 12-inch center screen—useful if you're tipping over an edge and can't see what's in front of you.
Best of all, the Bronco, although heavy and high to get up into, isn't actually that big (about 4.5 meters long) and has reasonable steering lock (albeit with a lot of turns between locks), so it's surprisingly maneuverable. The Trail Turn system might be useful in some situations, but it's fairly crude, just locking the inside rear wheel to act as a pivot, with the rest of the wheels skipping and jumping to turn the car around.
On the inside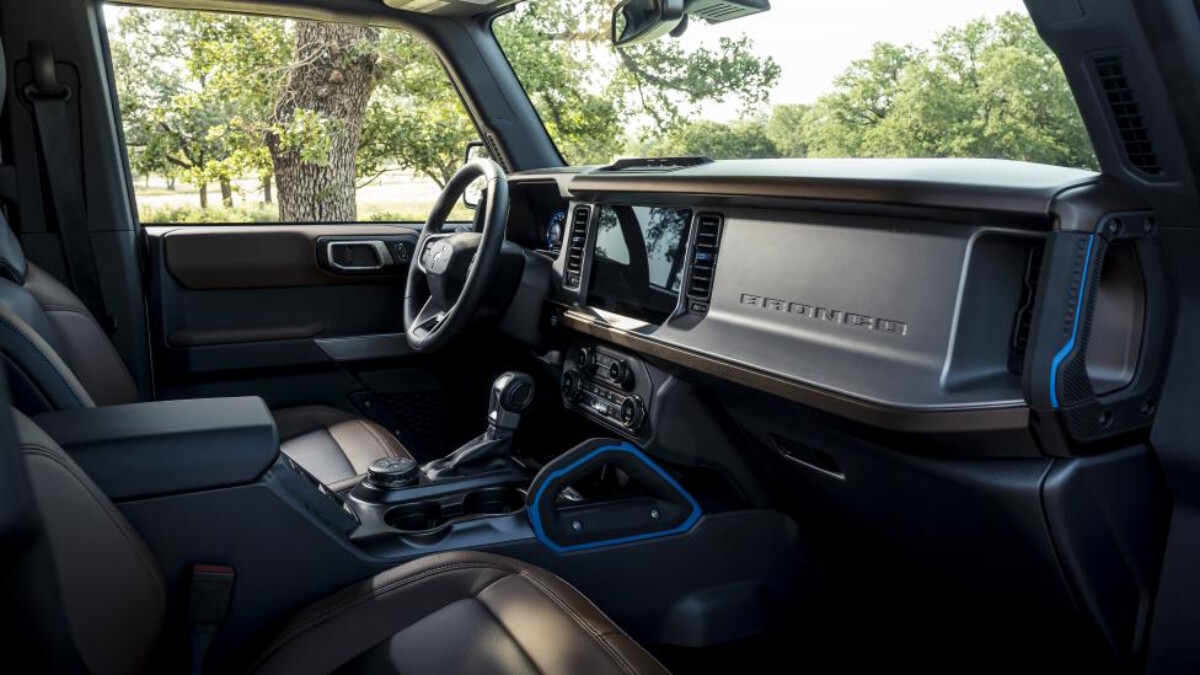 Four people can fit in the three-door, and five in the five-door. The rear seats fold flat and the cargo area is big. It's not that easy to load, since you have to swing the lower part of the tailgate open sideways and then lift the glass vertically. That's because the whole back section can be lifted off as part of the full al fresco experience. It also explains why a lot of the cabin switchgear is rubberized and weatherproof—the cockpit is designed to be hosed down.
Up front, once you've hoisted yourself high up into the cabin past the frameless doors, you'll find seats that aren't that supportive, but are comfortable and have a massive range of adjustment. The center touchscreen is good and there's full phone integration and good functionality, but the instrument pack ahead of the driver—inspired by the original apparently—is much less impressive. There's only a small bar view of the revs, while most of the useful information is contained in a narrow column on the right hand side. It's awkward to use and poorly laid out.
Is it well-built?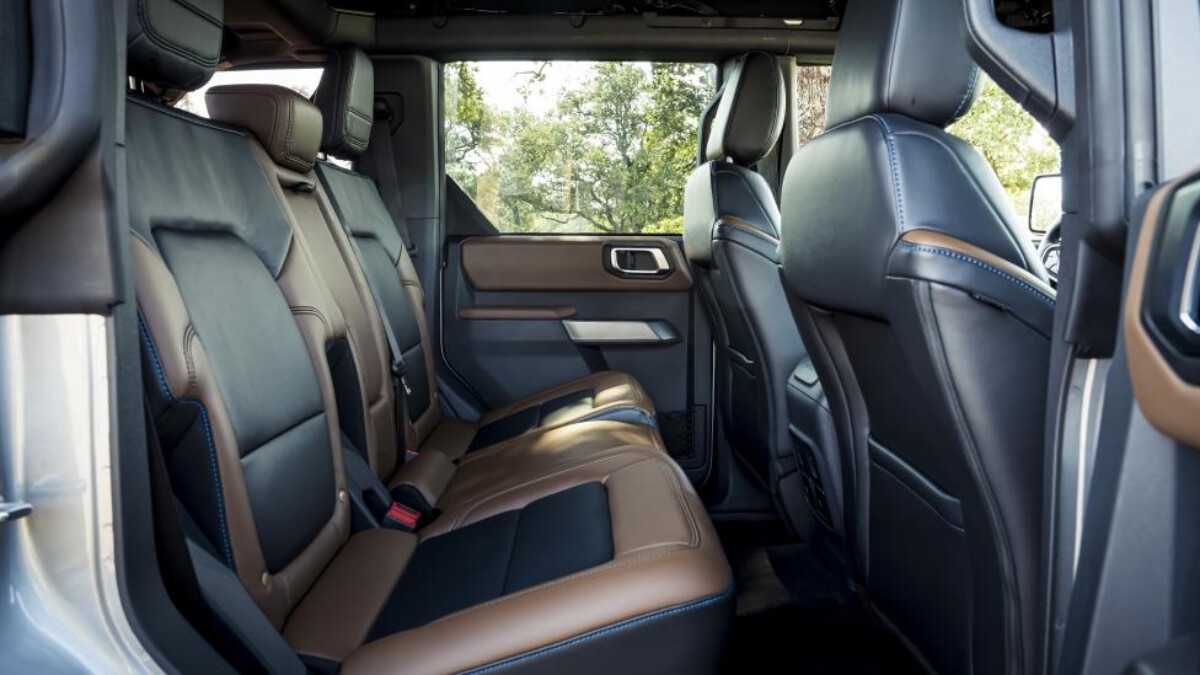 Quality isn't in the Land Rover league, if that's what you mean. No issues with how well things are screwed together, but the quality of the plastic bits isn't great. The design more than makes up for that. You sit with a commanding view out through an upright windshield, the perimeter of the hood easily visible thanks to the tie-down hooks mounted at the leading edges, while there's a pleasing robust chunkiness to the design.
Yes, it's unusual having the mirror and the window switches on the transmission tunnel, but they're there because with a supplied spanner you can remove the doors. Two doors and the front two roof panels can store in the cargo area—remove more than that and they'll have to be left behind. The roof panels are simple, rugged, and easy to latch in and out. The back section over the cargo area will need at least two of you. But when's it all done, you have a surf truck ready for action.
Final thoughts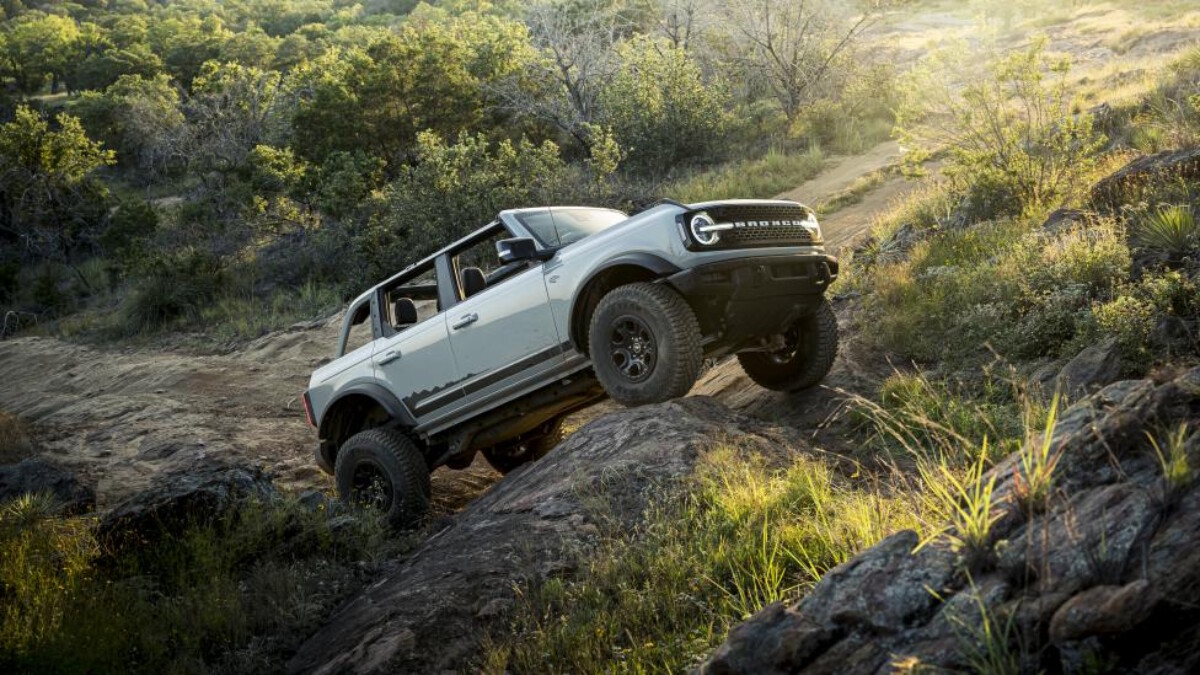 Ford's strap line is that the Bronco offers the "toughness of an F-Series, with the attitude of a Mustang." And it emphatically achieves that. This is a tough, very capable machine, but one that comes across as accessible, fun, and easy to drive both on and off-road. It doesn't take itself seriously, looks fantastic, and wants to get out there and get stuck in. Yes, it's less cultured than a Defender, but Top Gear wants one very badly indeed.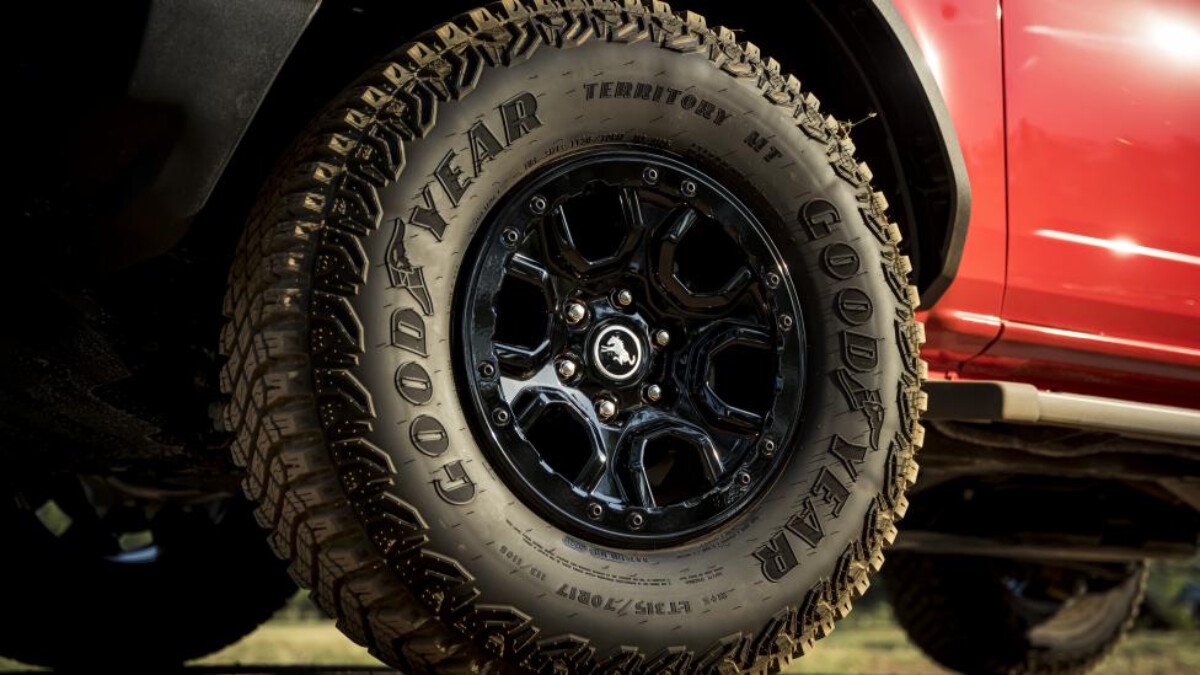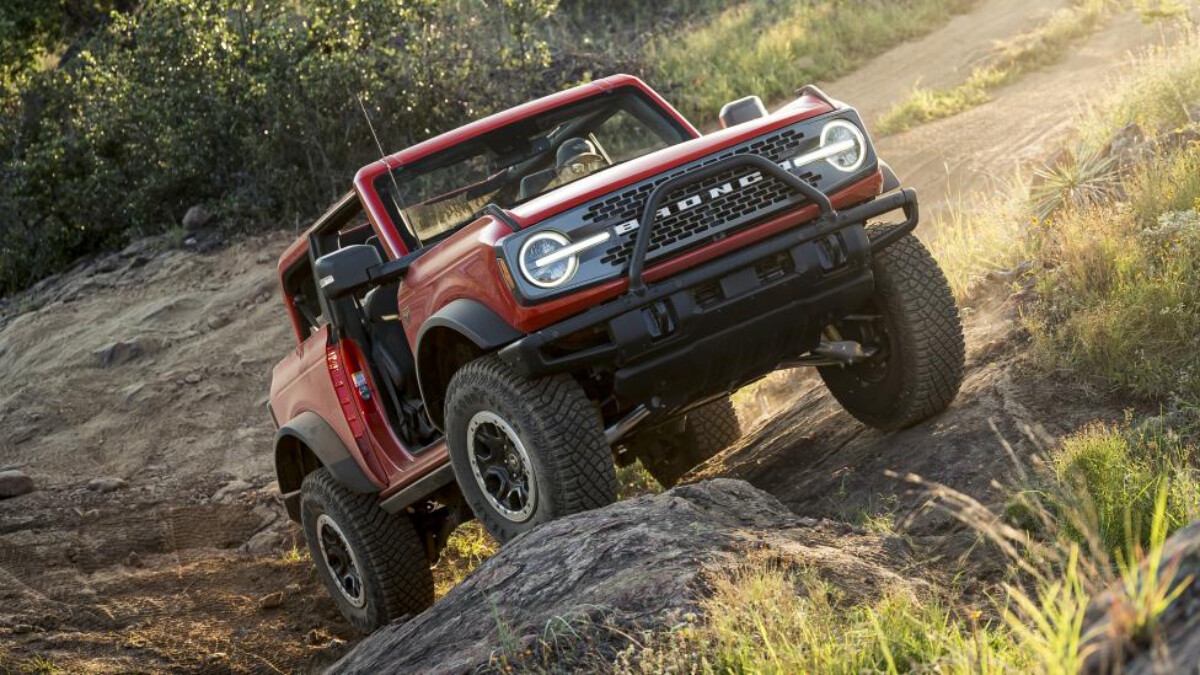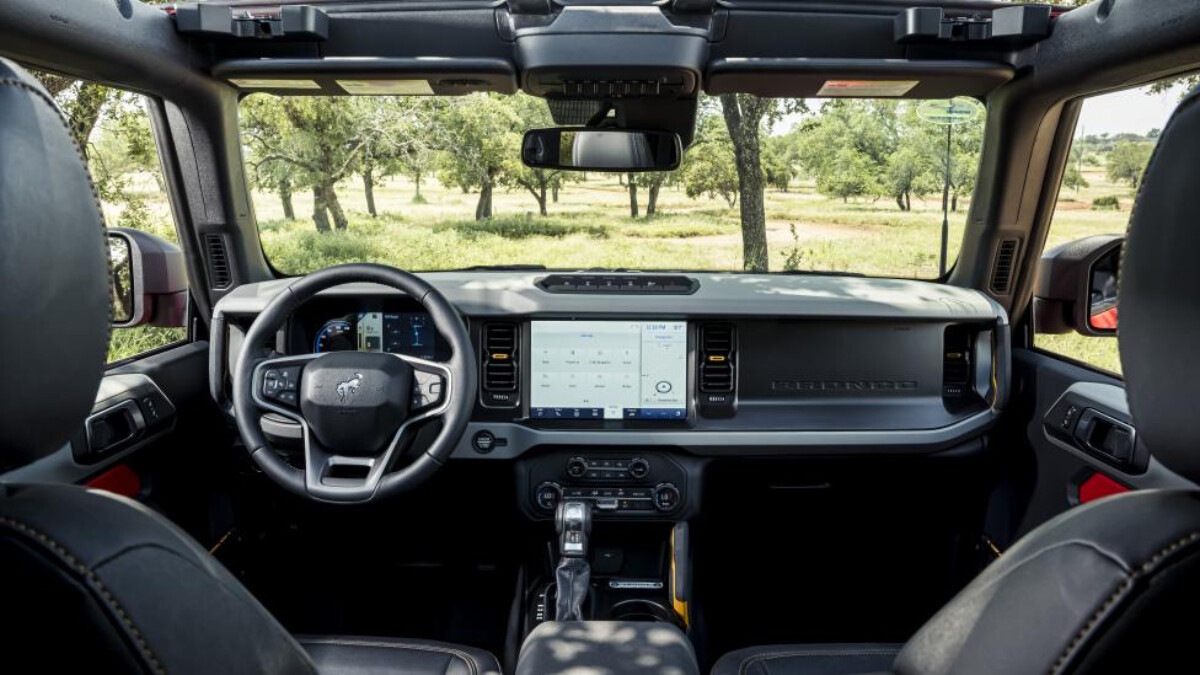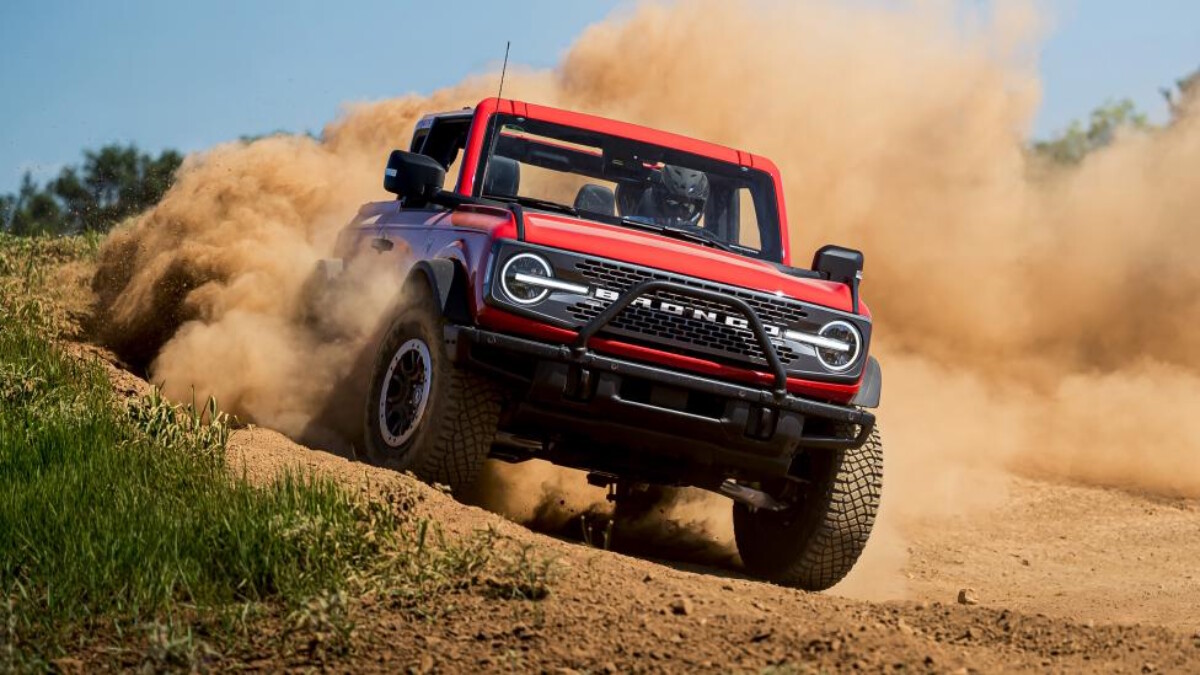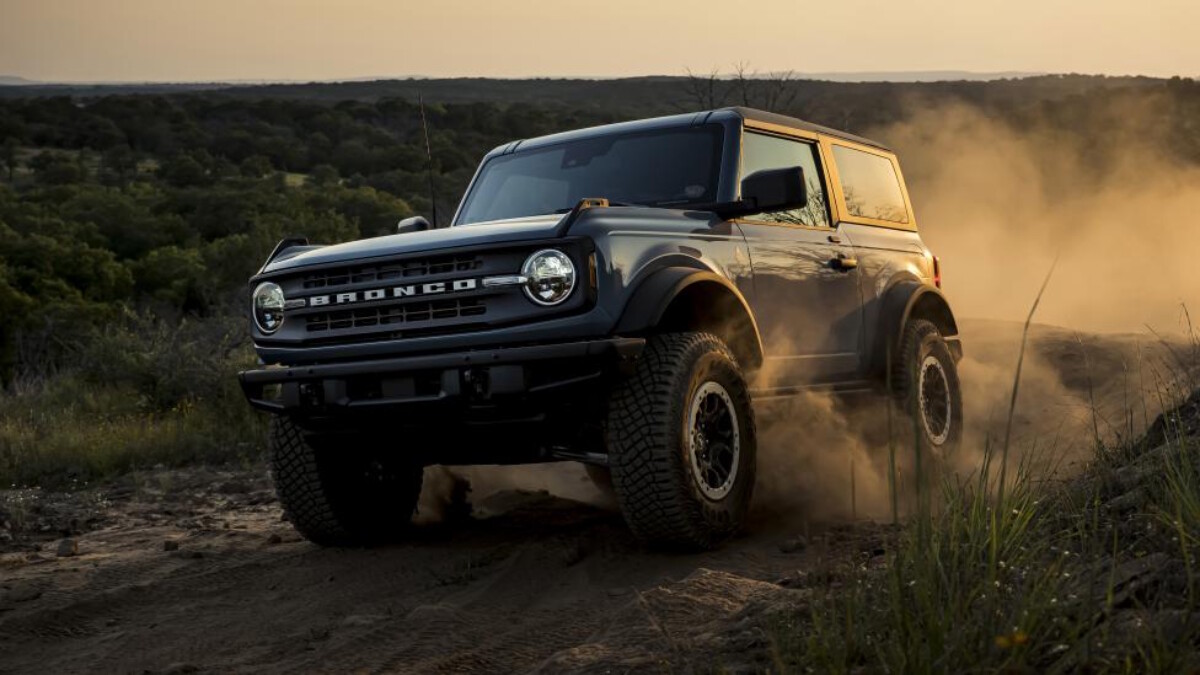 NOTE: This article first appeared on TopGear.com. Minor edits have been made.
Top Gear Philippines is now on Quento! Click here to download the app and enjoy more articles and videos from Top Gear Philippines and your favorite websites.