We'll only be able to compare the new Ford Bronco with other 4x4s—to say whether it's better or worse—when we get to drive one. Numbers don't tell the whole story, but they're as good a place as any to start. So, we're looking at how the recently launched Bronco (click here for the launch story) compares to some of the world's most capable off-roaders when you've got nothing but a spreadsheet to go on.
To keep things consistent, unless otherwise stated, we're talking about the most serious off-road-ready version of any 4x4 we mention. The best numbers quoted. For the Bronco, that's the either the Badlands or the Wildtrak. They're the ones you've seen in all the pictures, usually with the 'Sasquatch Package' (standard on Wildtrak, optional on Badlands) giving 35-inch tires and all the sexy hardware you've read about. For the Jeep Wrangler, it's the Rubicon, while the Land Rover Defender is just as capable whatever spec you go for.
Size
Continue reading below ↓
Recommended Videos
The new Bronco is big, yes, but not outrageously big. In most respects, it's a bit bigger than a Wrangler, but surprisingly, a bit smaller than a Defender. In Badlands trim, the two-door is 4,440mm long, 1,874mm tall, and 1,938mm wide (with the mirrors folded). A Bronco Wildtrak is a fair bit wider and taller because of those 35-inch tires you absolutely must spec. Badlands gets 33-inch diameter tires as standard.
A two-door Wrangler Rubicon, meanwhile, is 4,237mm long, 1,868mm, tall and 1,875mm wide, while a Defender 90 (with the optional air suspension) is 4,583mm long, 1,969mm tall and 2,008mm wide. Same story with the four-door versions—the Wrangler is a tiny bit smaller, and the Defender is mostly bigger.
Engines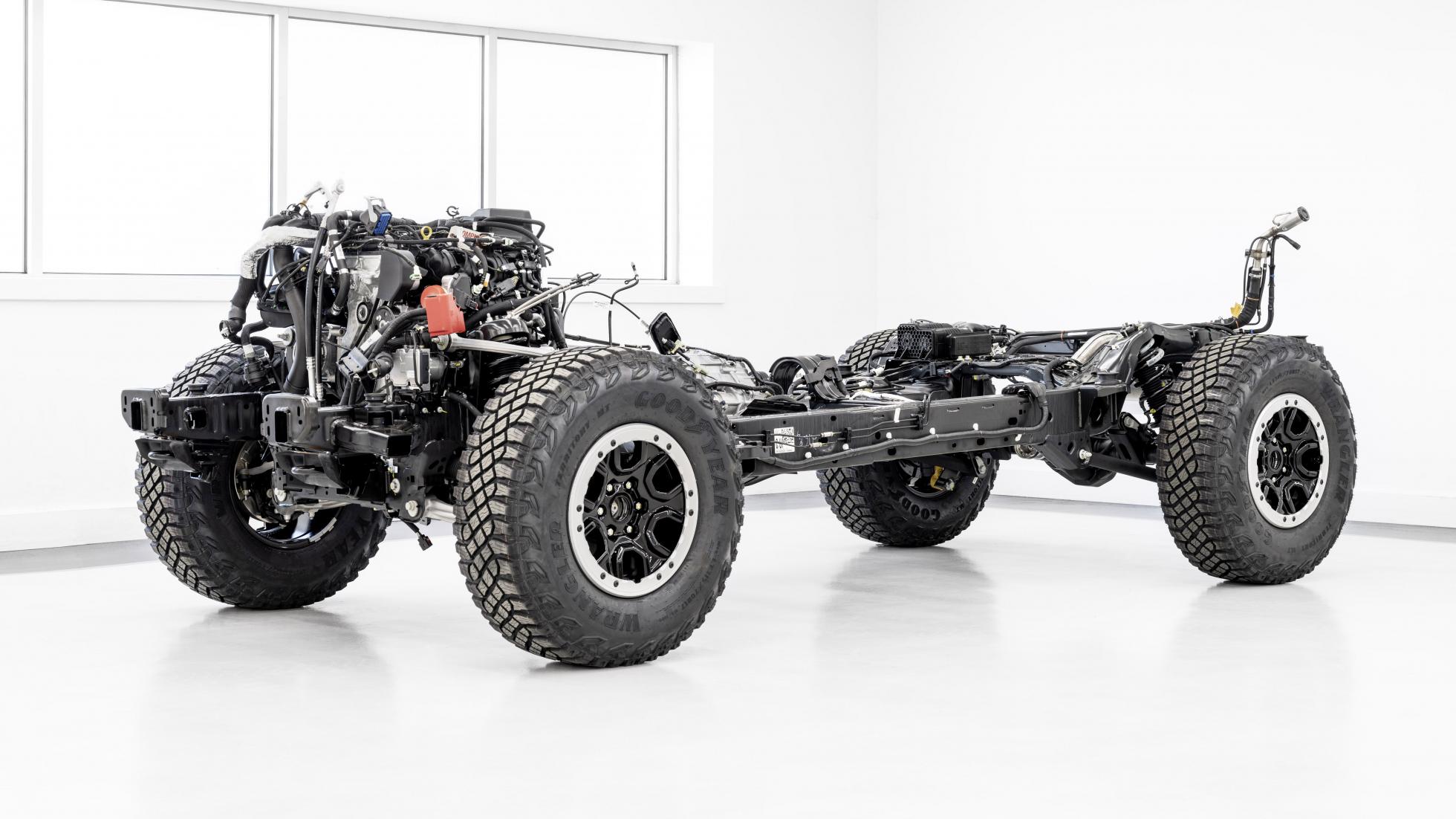 From the get-go, the Bronco is available with either a 2.3-liter four-cylinder or a 2.7-liter six-cylinder turbocharged gasoline engine. The former makes 270hp and 420Nm, while the latter (which is actually twin-turbocharged) gets 310hp and 542Nm.
In some markets, the Wrangler comes with a 2.0-liter gasoline (270hp, 400Nm) or a 2.2-liter turbodiesel (197hp, 450Nm). In others, you can have the little gasoline, but the diesel option is an altogether meatier 3.0-liter V6 making 260hp and 599Nm, plus there's a 3.6-liter gasoline V6 with 285hp and 352Nm ft. A V8 might be coming, too.
Both the 2.0-liter and 2.6-liter gasolines get optional mild-hybrid tech, while the Bronco makes do without any kind of electrification (at least for now).
The Defender, meanwhile, gets a 296hp 2.0-liter gasoline and a 395hp mild-hybrid 3.0-liter gasoline, plus in Europe, a couple of popular 2.0-liter diesels.
Transmissions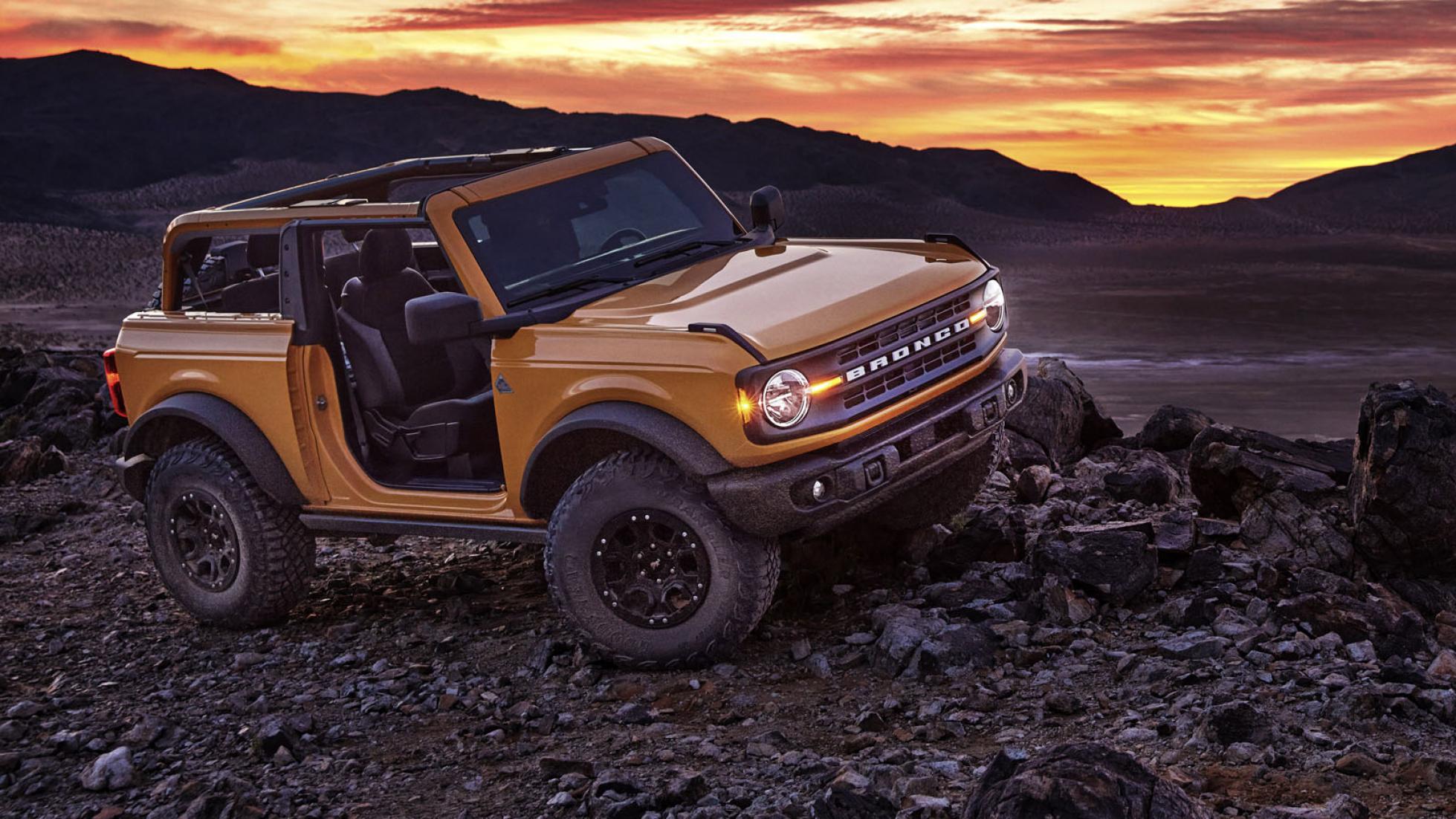 The Defender gets an eight-speed auto whatever engine you go for. With low-range, naturally. The Jeep is available with a six-speed manual or an eight-speed auto, while the Bronco gets a seven-speed manual (six normal ratios, plus a special 'crawler' gear) or a 10-speed automatic.
Wading depth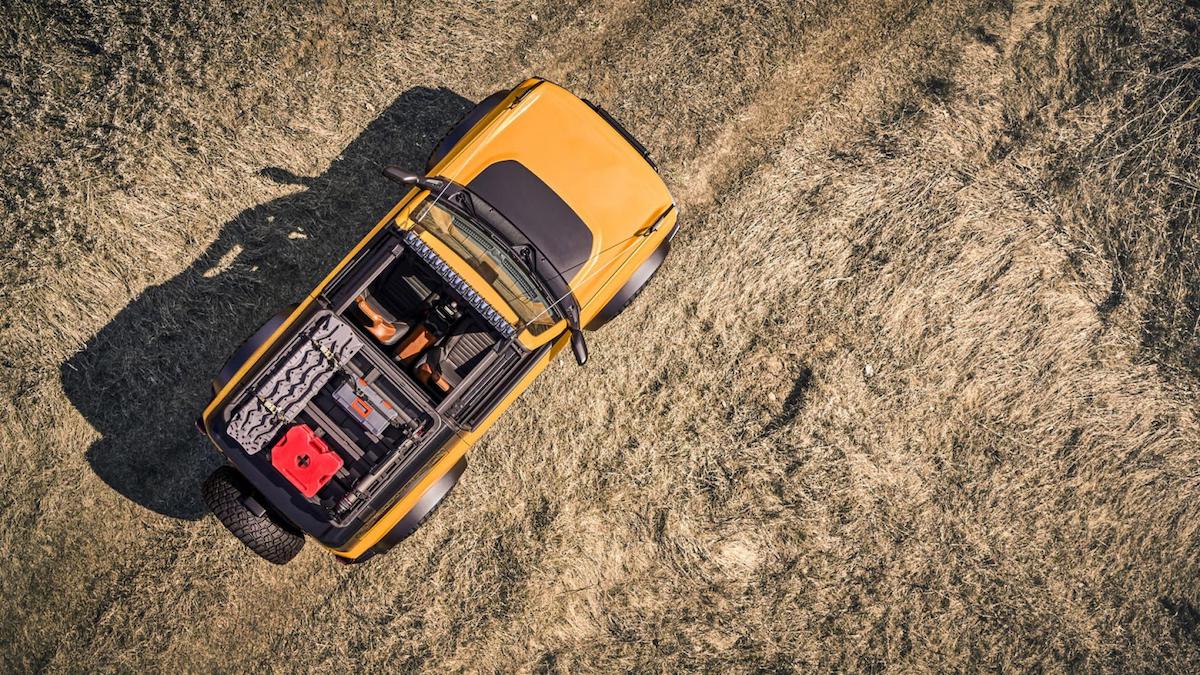 A Bronco with 35-inch tires can wade through 851mm of water. We'd suggest keeping the doors attached if you're planning on trying out Ford's claims. The Defender is the daddy here—height-adjustable air suspension helps it swim through up to 900mm of water. Meanwhile, Jeep claims the Wrangler can ford a 760mm-deep river.
Ground clearance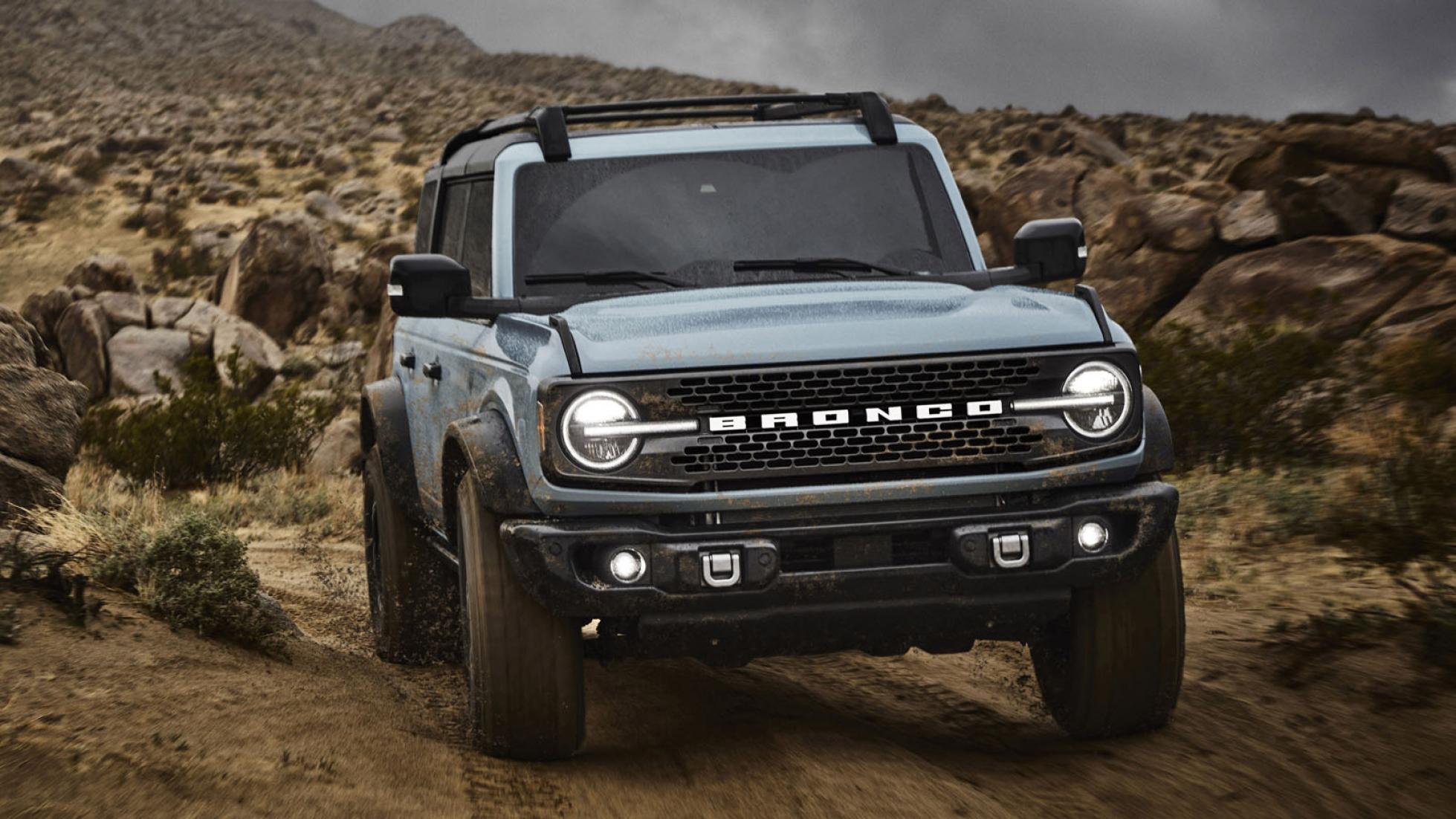 More ground clearance is usually better. The Bronco offers up to 295mm—more than the Wrangler (267mm at most) and the Defender (291mm with the air suspension in off-road mode). Take away the Bronco's 35-inch tires, though, and you only get 213mm.
Attack/departure/break-over angles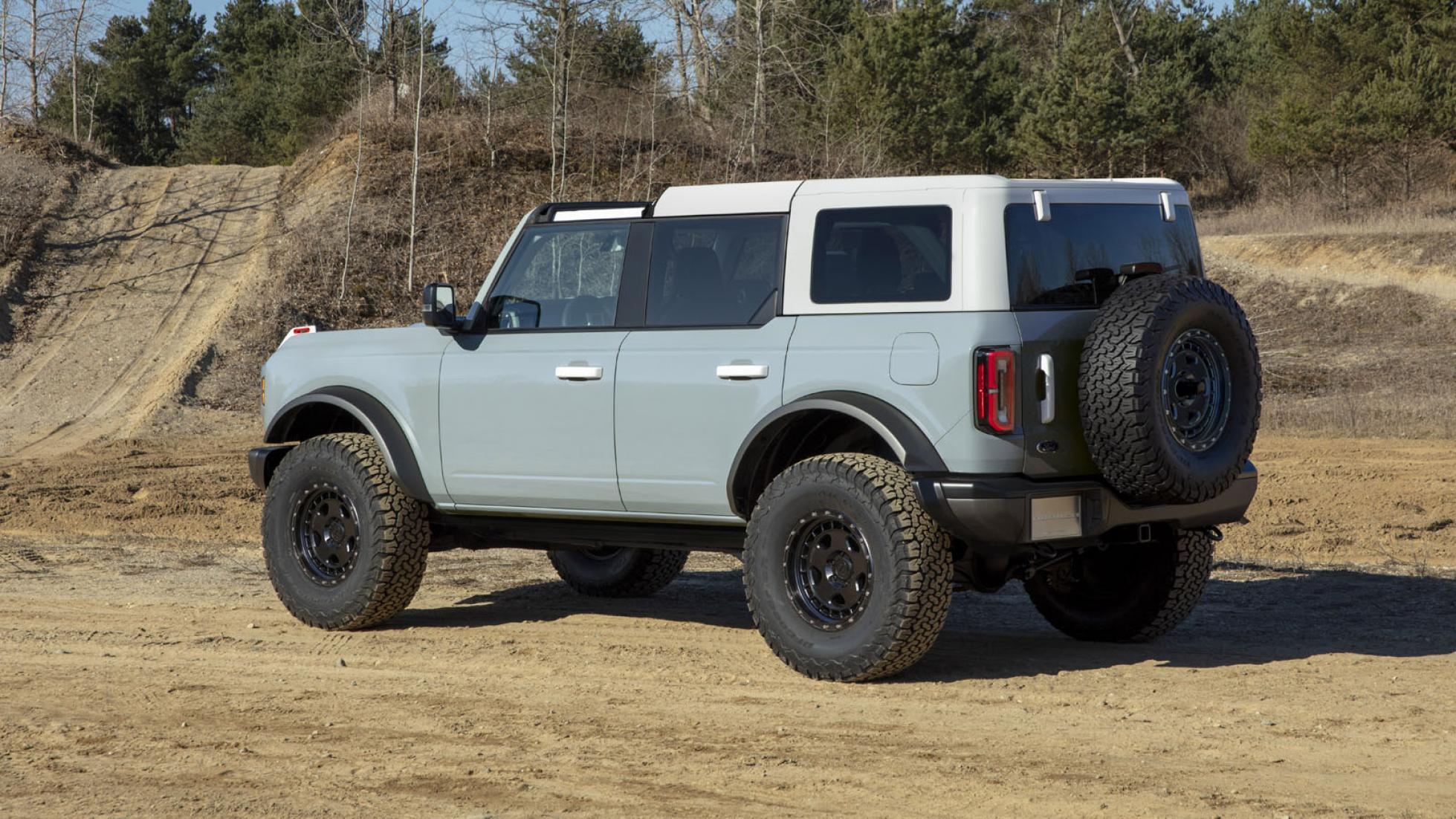 You lot probably know this, but for those that don't, allow us to explain exactly what these measurements mean. Attack angle is how steep an angle a car can tackle without scraping its nose on the ground. Supercars have tiny attack angles, which is why nose lift is a thing. Departure angle is the exact opposite—how steep a slope you can descend without catching your back bumper on the ground as you level out. Breakover angle, meanwhile, is how much of a hump you can drive over without bottoming out.
Anyway—despite the Bronco's massive 35-inch tires, the Defender wins round one, with a break-over angle of 28 degrees for the 110 and 31 degrees for the 90 (Bronco: 26.3 and 29 degrees, respectively; Wrangler: 22.6 and 27.8 degrees, respectively). And round two, with a departure angle of 40 degrees (37.2 degrees for the Bronco, 37 degrees for the Wrangler).
The Wrangler narrowly takes round three—its 44-degree attack angle beats both the Bronco's (43.2 degrees) and the Defender's (38 degrees).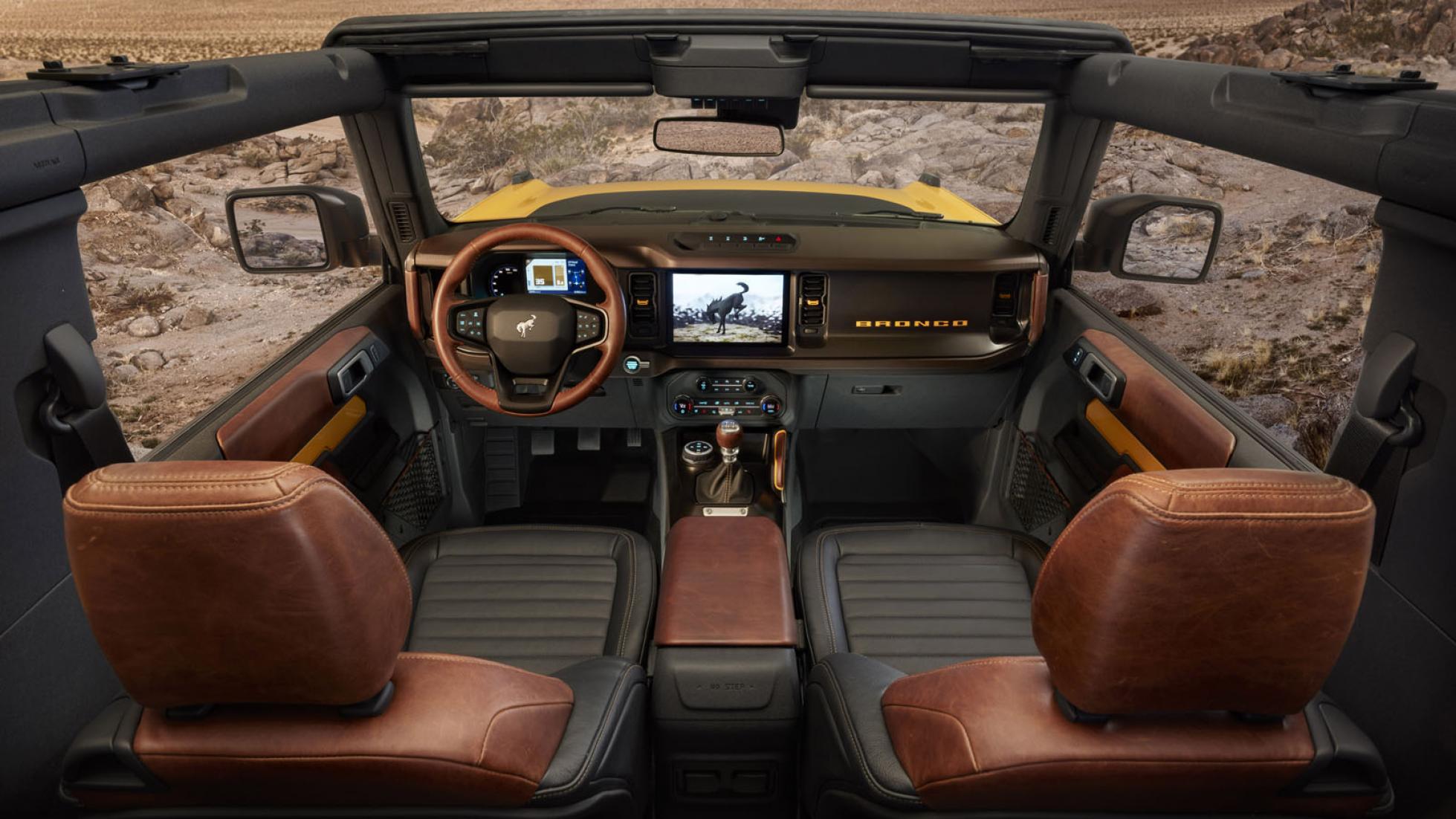 You can buy a Defender or Wrangler locally. But you cannot buy a Bronco—not yet, at least. In the US, prices start at $28,500 (around P1.41 million), but the kitted-out Badlands and Wildtrak are $42,095 (P2.08 million) and $48,875 (P2.42 million), respectively.
In the US, the Wrangler starts at $28,295 (P1.4 million) to $38,695 (P1.91 million) for a Rubicon. Locally, the price of entry is P3.39 million, and goes all the way up to P4.49 million.
The Defender? In the States, it starts at $49,900 (P2.47 million). According to local Land Rover distributor Coventry Motors last year, pricing for the Defender 110 will start at P6.09 million in our market.
NOTE: This article first appeared on TopGear.com. Minor edits have been made.