1) Obviously, it's good at carrying stuff.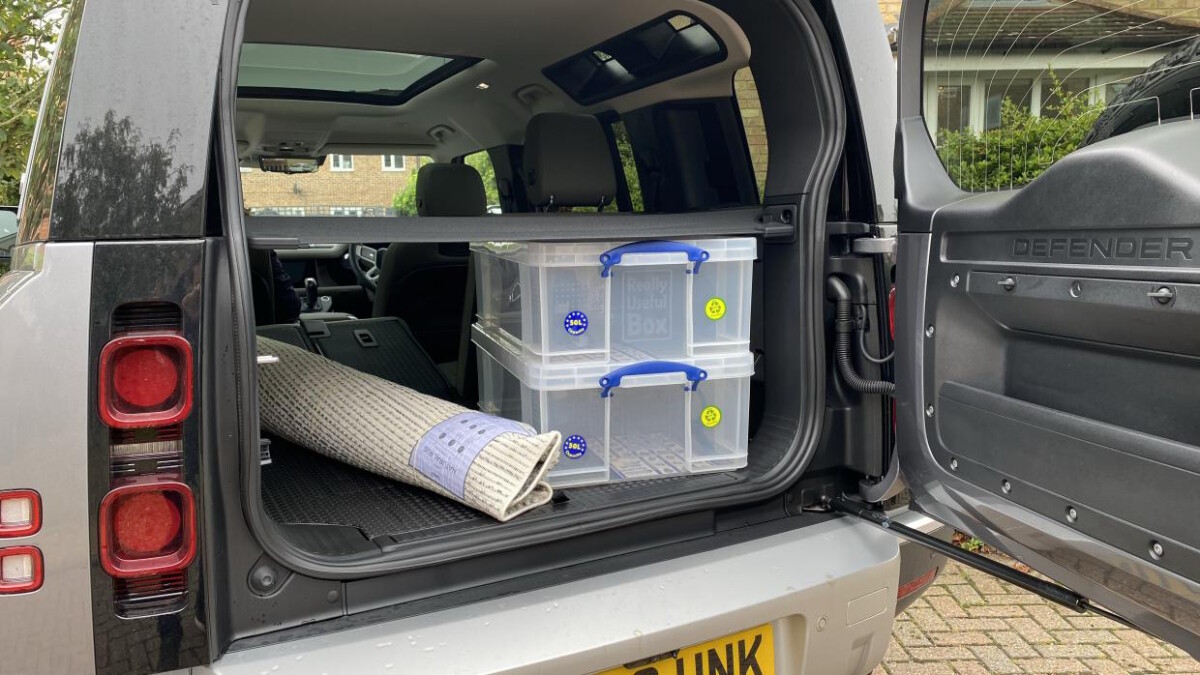 I'm moving house in a couple of days, so this weekend was the perfect time to head off to the shops and buy a load of those plastic stackable storage crates. You know what else is useful when you're packing all of your worldly possessions into a van? That's right, a brand-new and rather large lounge floor rug. As you can see, my moving-house priorities differ ever-so-slightly from those of my other half.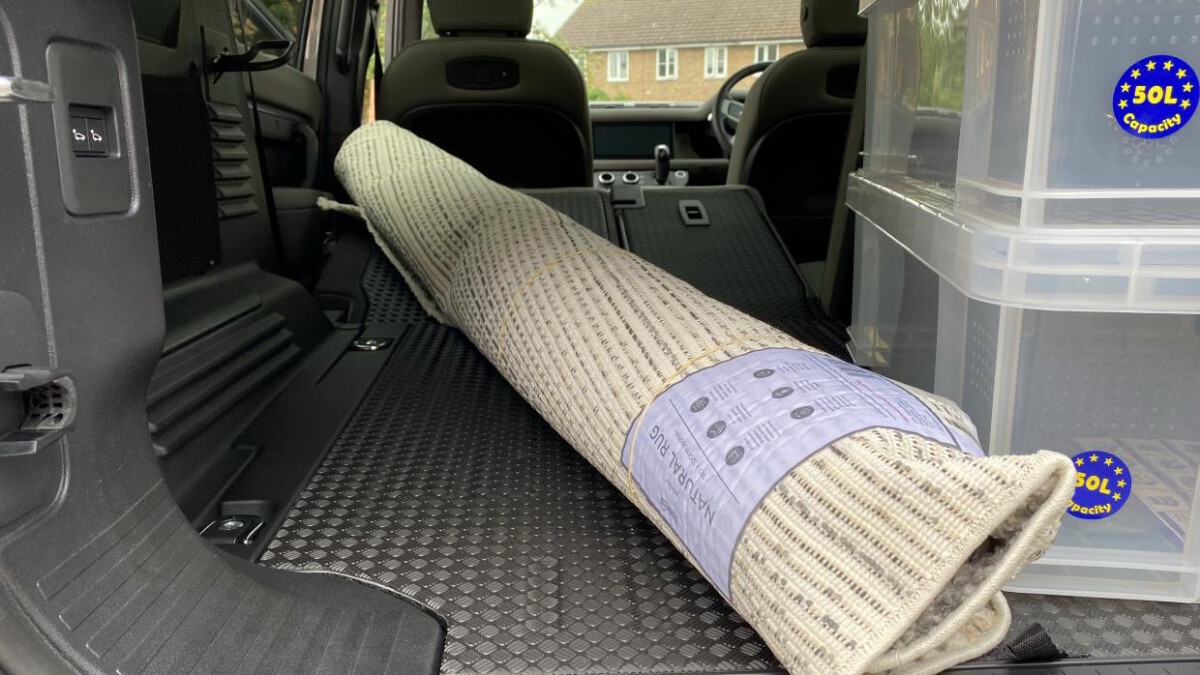 ADVERTISEMENT - CONTINUE READING BELOW ↓
Still, the great thing about a car like the Defender is that, if you happen to buy a giant woven rectangle on a whim, you can be sure the cargo area will swallow it. The Defender couldn't quite manage the rug with all five seats in place (it was close, though), but the rear backrests fold down easily with one lift of a pleasingly chunky-feeling plastic lever, liberating space for a whole Marrakeshian souk's worth of floor tapestries.
2) You'll need a fairly agile dog.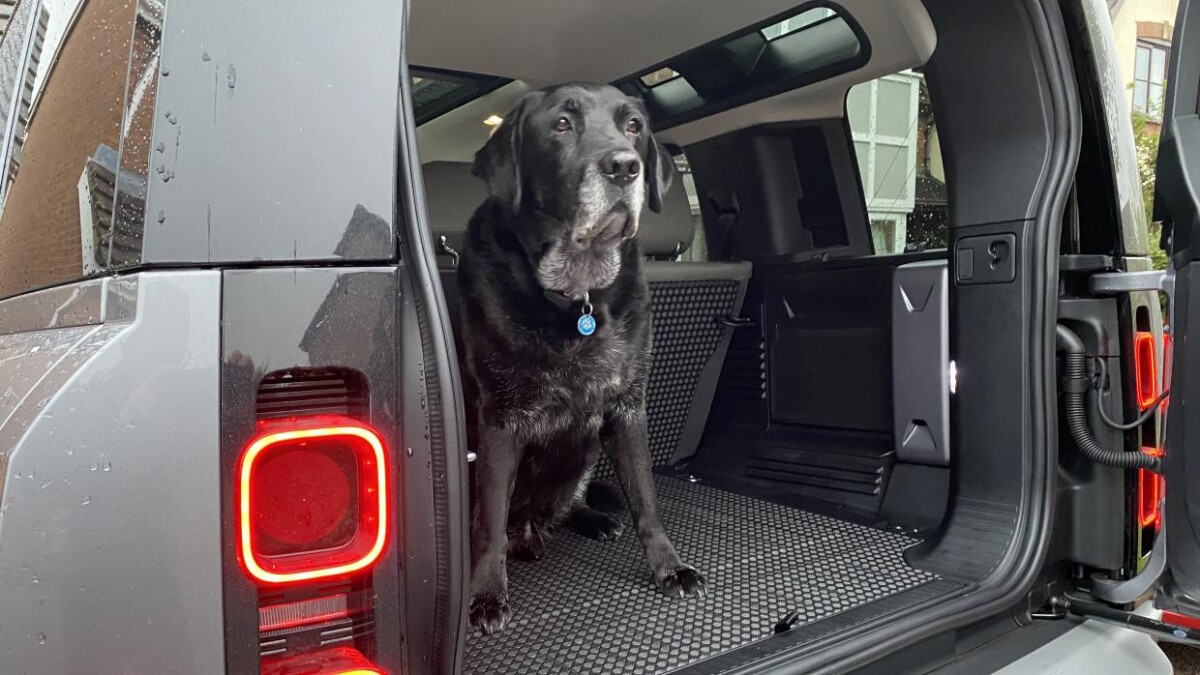 Meet Oakley. Our faithful family Labrador is 12 years old, and though he possesses the ambitiously energetic mind of a puppy, he no longer has the back legs of one. So, when he boards the family car, he usually has a special ramp to walk up and down, which he does with considerably more elegance than the current President of the United States.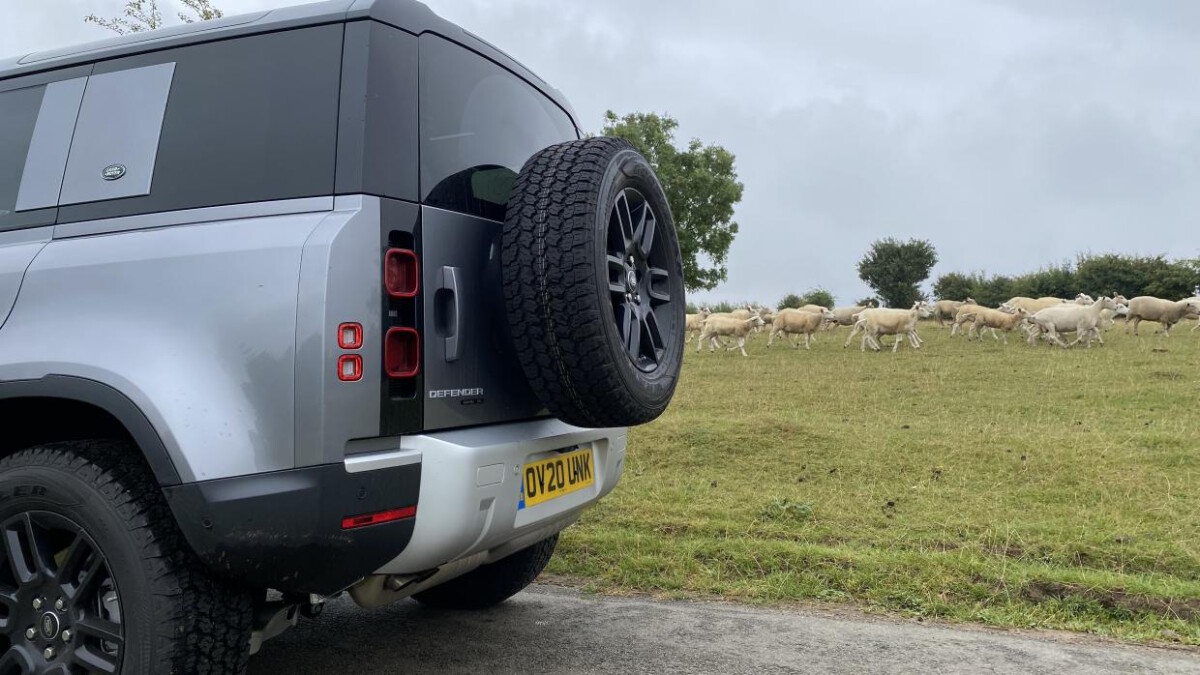 The Defender will helpfully squat down on its air suspension even when the engine is off, to aid loading heavy cargo—and elderly canines—into its 499-liter cargo area, and it's easily done: Just push a handy button on the inside of the tailgate. Even so, the leap from floor to sill is a couple of feet, so be prepared to lift your furry friend into the back if they're a bit tired after walkies. Or a hard-day grazing the fields.
The hard-wearing checkerboard surface in the cargo area feels pretty dog-proof, but it's so big back there that your best bet is buying a dog bed and slinging it in. Oakley also reported that the spare wheel blocked a disappointing amount of his view from the rear window, but he appreciated the illumination provided by the roof-mounted 'safari windows.'
3) It's annoyingly good off-road.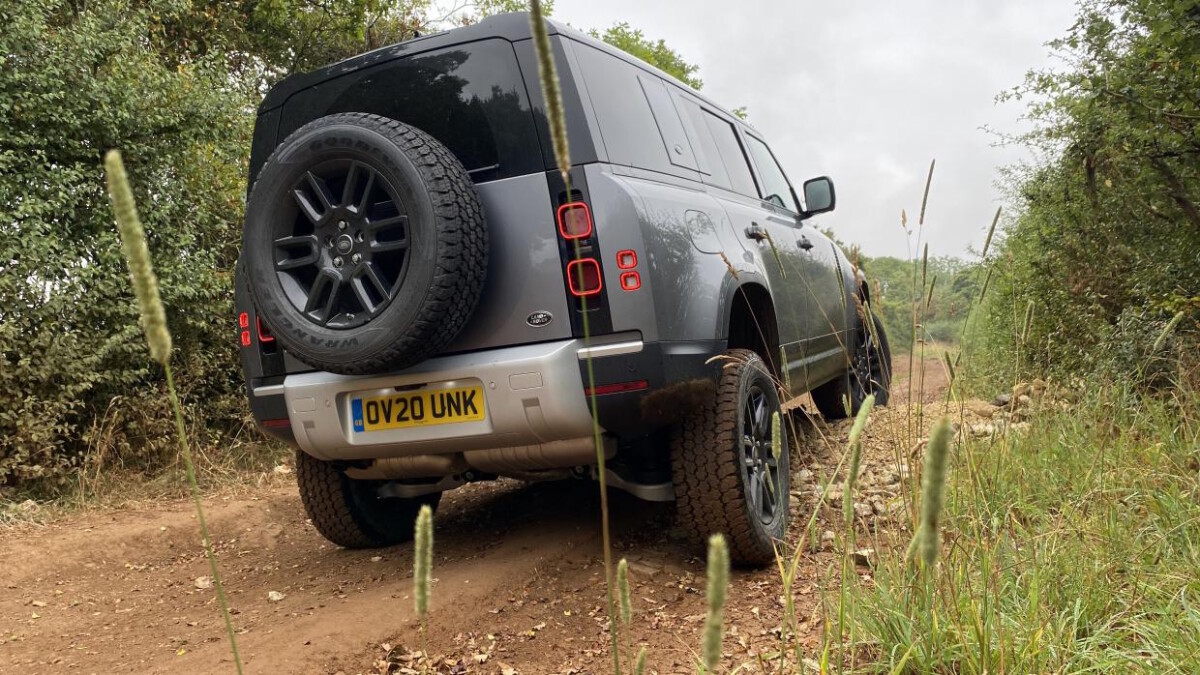 ADVERTISEMENT - CONTINUE READING BELOW ↓
Not a criticism, but just be prepared for your mates to be less impressed by your gnarly in-the-bush driving prowess and more awed by how easily the Defender just adapts to its surroundings and gets on with life.
Given we've already conquered Namibia in the new Defender, rural Lincolnshire—famed for its almost tedious snooker-table flatness—was hardly going to present a challenge to Land Rover's most capable off-roader ever, but it did prove just how fuss-free the whole process is. Frankly, it feels like cheating.
Even if you override the automatic 'Terrain Response' and lie to the car, twisting the dial to tell the computer it's traversing sandy dunes or snow-capped peaks instead of a muddy farmyard rutted track, the diffs and the drivetrain simply crack on undeterred. It's even comfortable—much less side-to-side head-toss than there was when the going got rough in the old Defender.
If you take one of these on a green-laning weekend, your mates are going to insist you tow along a caravan just to even up the stakes, while the Defender's heated steering wheel and refrigerated armrest cubby keep the right things warm and cool inside.
4) The door mirrors are ambitiously aerodynamic.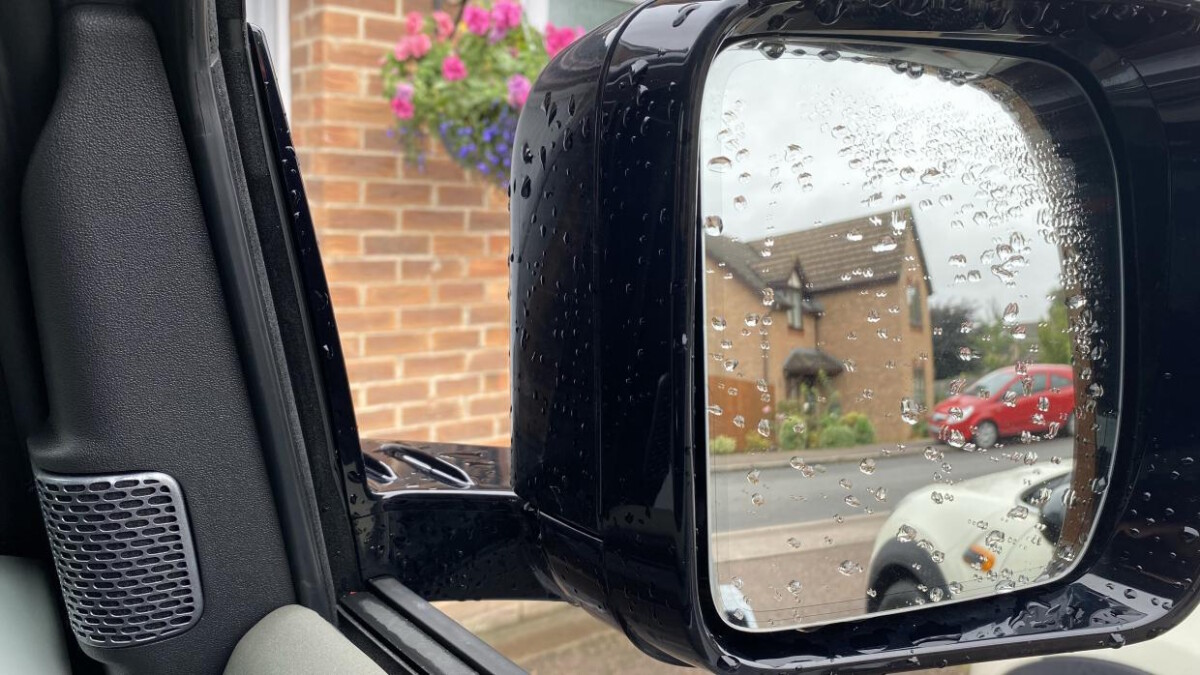 Thought this was amusing. The door mirrors stick out like a scarecrow's arms and look about as wind-tunnel-honed as a garden gate, but look closely and you'll see there are small strakes molded into the stem to seemingly massage airflow around the casing. Impressively, the Defender doesn't suffer unduly from wind noise buffeting the cabin at highway speed, so they most be doing the business. But they're not the best mirror-related party trick in the new Defender. Oh, no.
5) The rearview camera is very clever.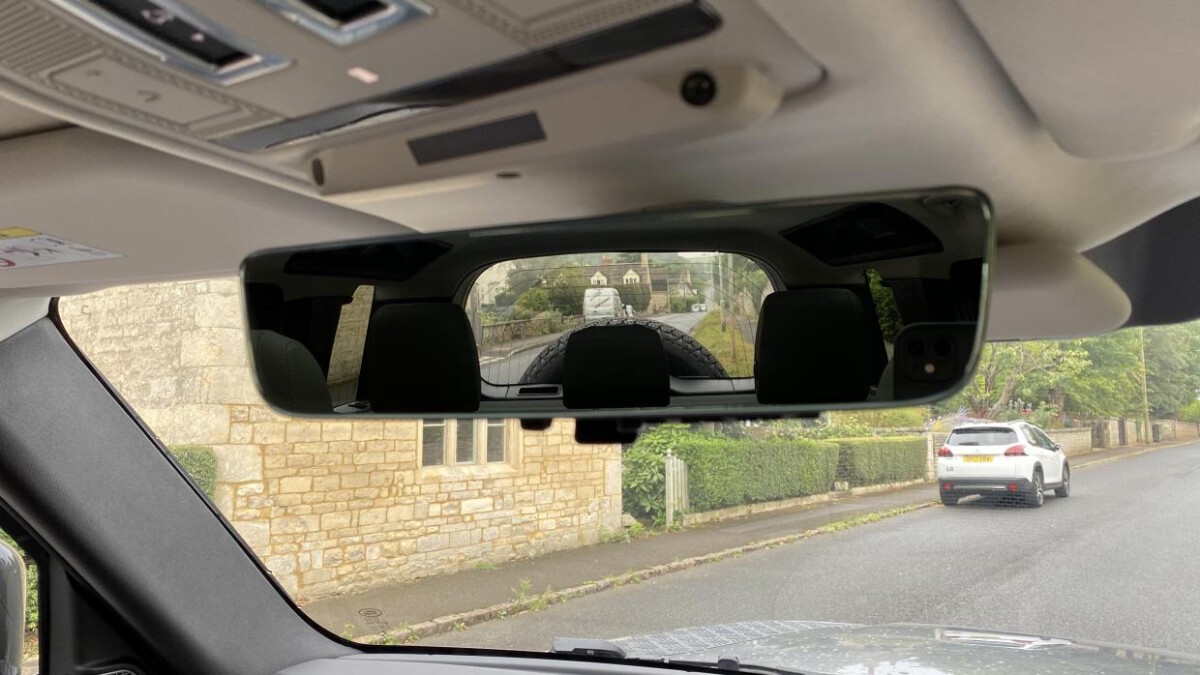 ADVERTISEMENT - CONTINUE READING BELOW ↓
You get the 'Clearsight' rearview mirror on every variant expect the most basic Defenders. It's genius. Car tech often gets a kicking—deserved, when we're talking about needlessly touchscreen-dependent interiors or dodgy voice activation—but credit where it's due, this is a real win.
Pictured above is the view offered in a Defender 110 when using the rearview mirror as a mirror. It's mostly rear headrests (or the passengers using them) and spare tire...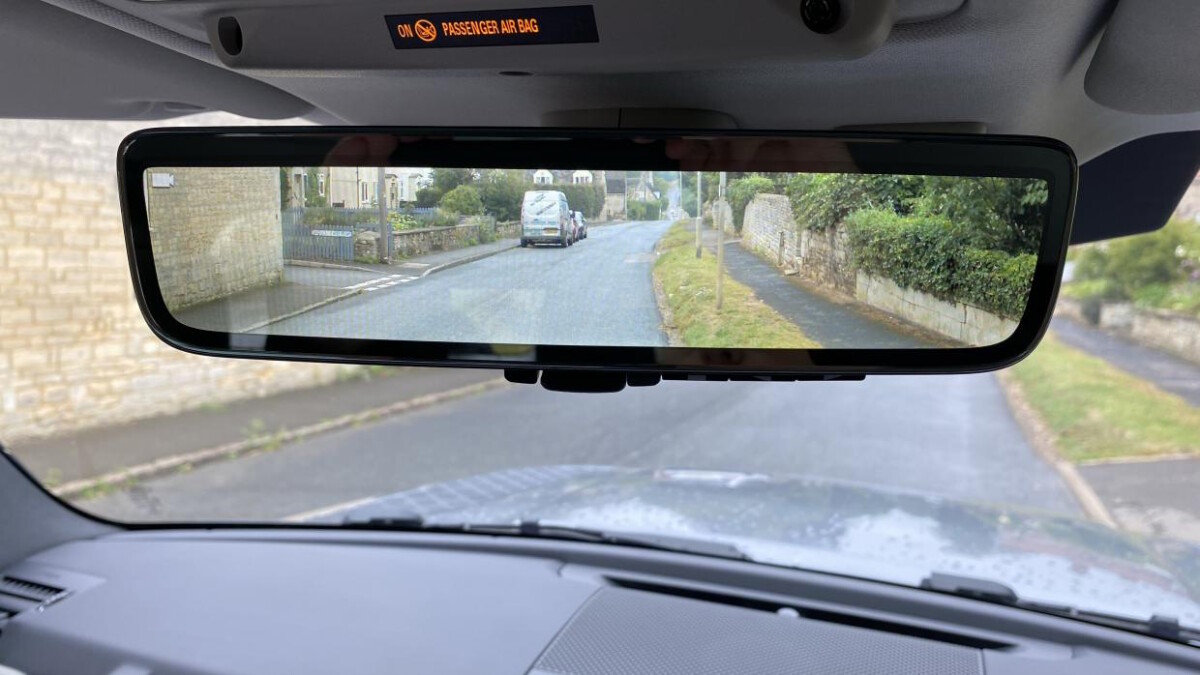 And now here's the view when you flick the lever to activate the roof-mounted camera, turning the mirror into a screen. It takes a few minutes to get used to the new perspective, but once you're attuned to the field of view, the peace of mind it offers is lovely. There's a slight glare to the image if the camera gets wet, but even after dark, the image is much clearer than you'd get with a conventional mirror.
This could prove to be one of those game-changing pieces of innovation, like Ford's quick-clearing heated windscreen. Luckily, the Defender has one of those too.
6) It'll average about 12.8km/L.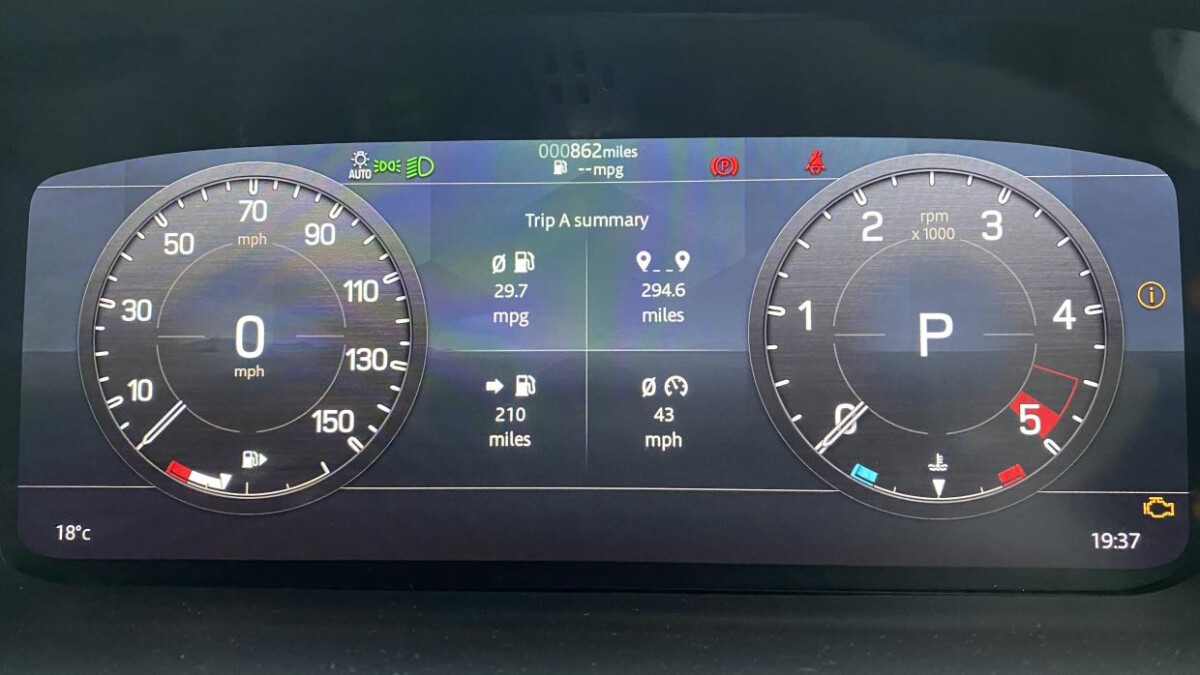 ADVERTISEMENT - CONTINUE READING BELOW ↓
The scores then, from around 480km in the new Defender, sometimes with just the driver on board, sometimes four up, sometimes going gently with dog on board, sometimes charging headlong down the outside lane of the A1 at Her Majesty's national speed limit.
This example was a Defender D240, and thanks to Land Rover's refreshingly logical badging, we know this to be a 240hp diesel engine—a 2.0-liter four-cylinder with 500Nm.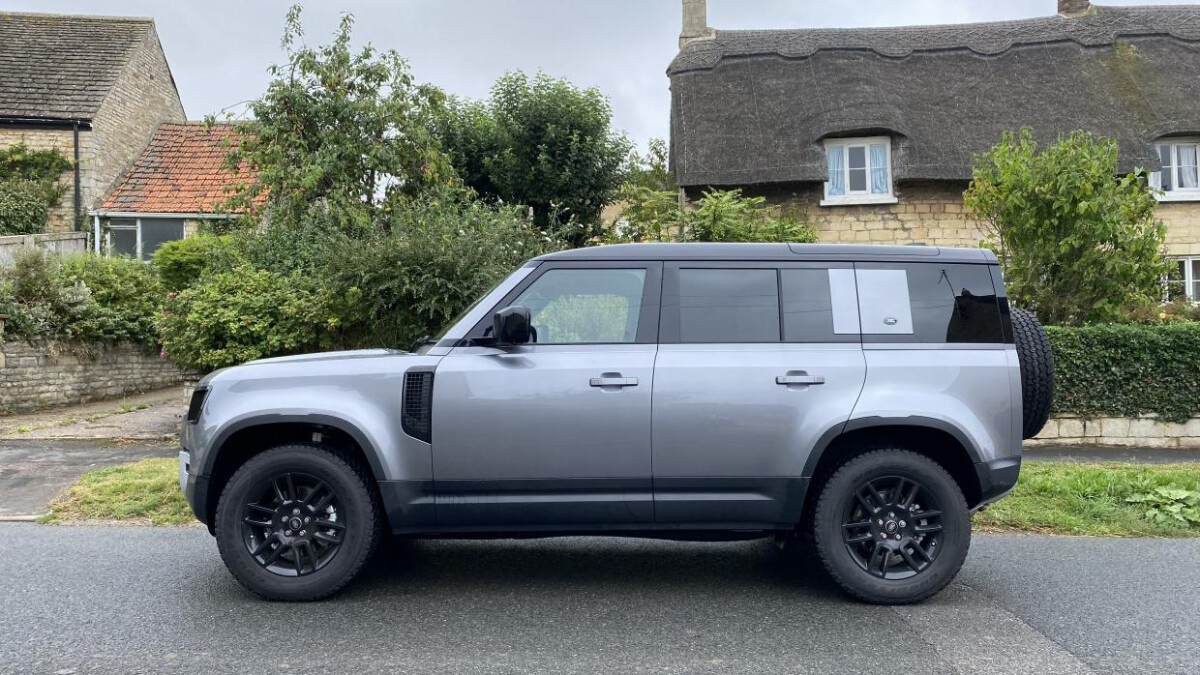 Averaging 12.8km/L, you're looking at between 800km and 960km miles per tank, depending how leaden your right foot is feeling. It's by no means a quick car—we're talking 0-100kph in 8.7sec—but a Defender needs no more performance than what's adequate for its jobs, and the D240 is just that. The idea of an SVO-prepped V8 one does not, I have to say, fill me with glee.
8) Be prepared to be judged by old Defenders.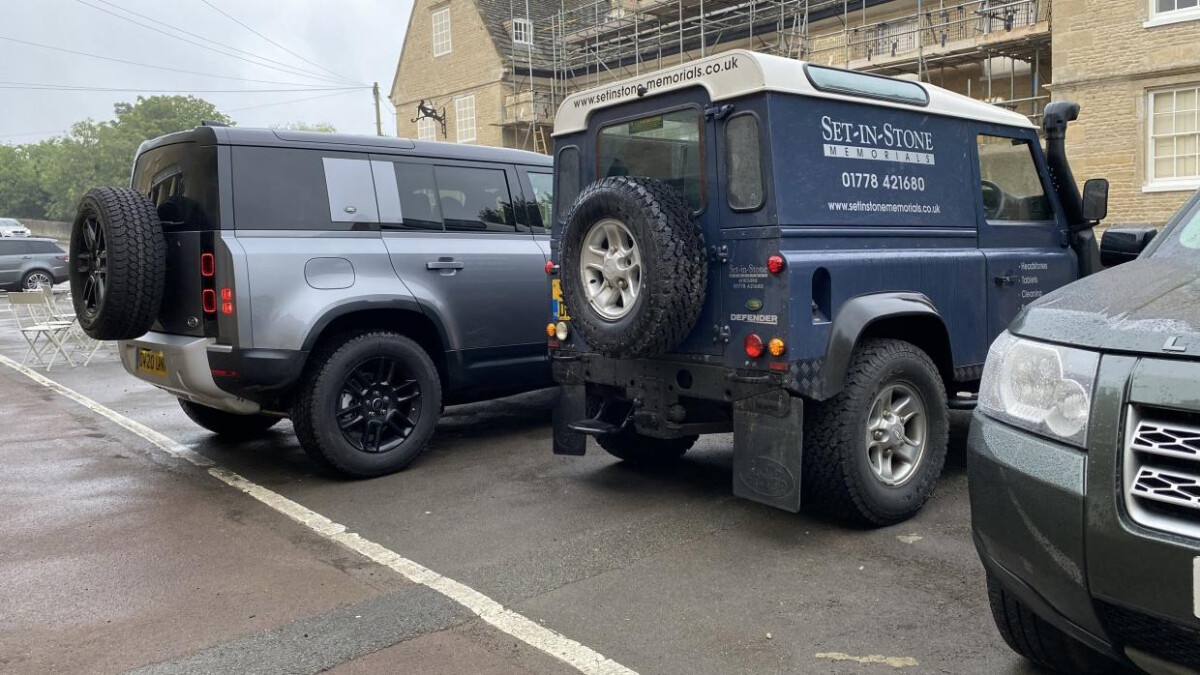 Some pointed. One raised a hand of goodwill. Others sat bolt upright, looked straight ahead as if they were on parade in front of the Queen, and steely refused to acknowledge the presence of the new Defender. Yes, the body language of 'old Defender' drivers was rather fascinating to observe.
Hopefully, the spec of this one didn't scream 'I've got no idea how to conquer the great outdoors or milk a cow, and I couldn't tell a spanner from a spork' too loudly. Though the 20-inch black wheels and tinted glass did look a tad overstated, there are much worse ways to spec a Defender. And without the accessory packs cladding it in snorkels and storage boxes and ladders, there was something pleasingly simple about this particular example.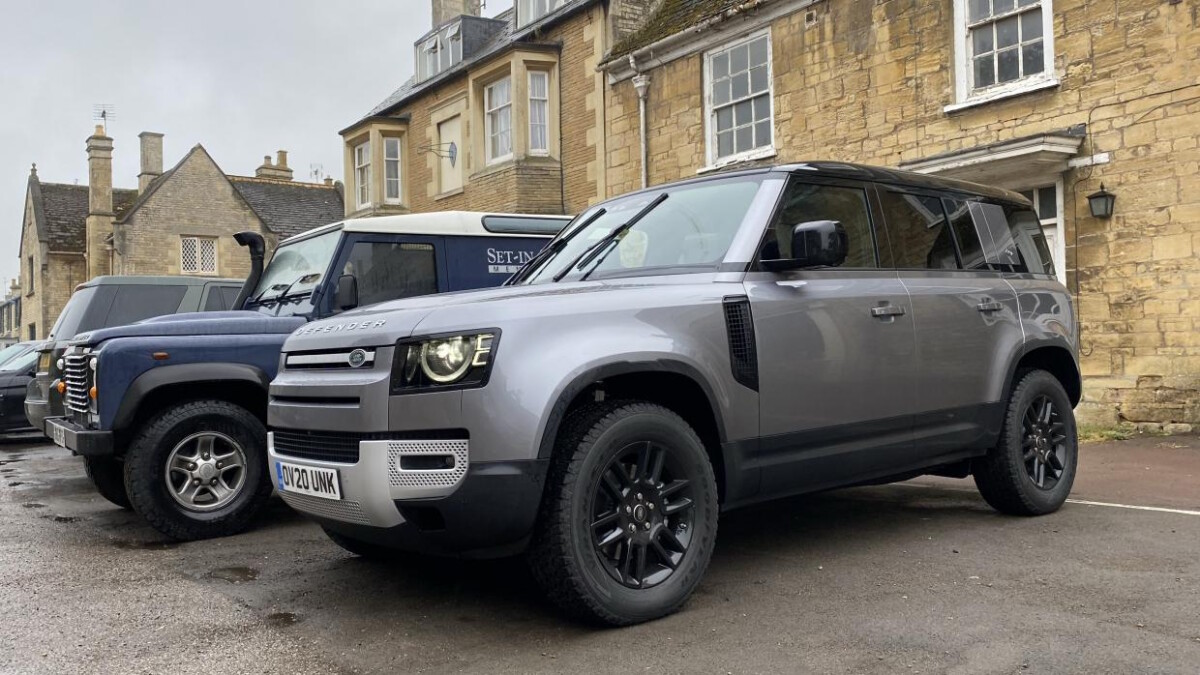 ADVERTISEMENT - CONTINUE READING BELOW ↓
I liked the driver it brought out in me, politely ramping up onto verges when hapless hatchbacks appeared ahead, freezing in the headlights, terrified of their precious paintwork getting scratched by the big British brute.
The big steering wheel and the hefty gear selector feel nicely oversized, like you're sat on your father's lap, driving his grownup's car for a bit of a treat. I thought the exposed screw heads and the spartan cabin layout with the many 'Jesus handles' would feel contrived and overdone, like one of those Mount Everest-ready winter coats you see people wearing to take their recycling to the wheelie bin. But it didn't.
In fact, after a weekend in the Defender, I found myself experiencing a curious new sensation I've never, ever felt for a 4x4 before. I think I might actually want one.
NOTE: This article first appeared on TopGear.com. Minor edits have been made.