To say that 2020 has been tumultuous would be like living with the fact that our politicians might not always have our best interests at heart. Some things, sadly, are just a given.
Now, if you feel as if your life suddenly turned topsy-turvy when the COVID-19 pandemic struck, imagine for a second how the local car industry felt. Over the last few years—save for that time when sales dipped due to the Tax Reform for Acceleration and Inclusion (TRAIN) law—the automotive business has largely gone from strength to strength. Each year, more models were introduced, more cars were sold, more sales graphs moved skyward, and more celebratory toasts were had at Christmas parties.
Then COVID-19 came careening along like a bowling ball, taking no prisoners and knocking down every conceivable industry pin before our very eyes. With all of us stuck at home, businesses suddenly scrambled to get by. The key words here, at least as far as cars are concerned, are 'stuck at home.' Given our drastically reduced need for mobility and a sudden demand for survival, buying a brand-new car shifted pretty low on most people's priority lists.
Since the economy has slowly opened back up, carmakers have been trying to recoup their losses and cement their positions in a volatile market. So far, we've seen online showrooms, at-home test drives, sales promos that border on ludicrous, and of course, new models meant to entice more buyers. 
Continue reading below ↓
Recommended Videos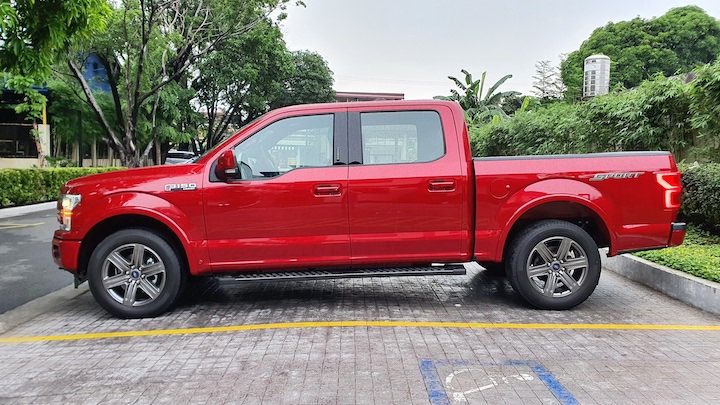 It's unclear at what point Ford Philippines decided to bring in the F-150, but we do know that the American brand's truck lineup has long been a strong performer. In 2018, when TRAIN removed the excise tax on pickups, Ford sold 11,604 Rangers, taking up 20% segment share in the country. Last year, Ranger sales improved to the tune of 14,759 units. To put that in perspective, Ford's total sales in 2019 amounted to 21,900 units—67% of those were Rangers.
"The F-150 is packed with segment-defining features and capabilities that have made it the truck of choice across America and the world," Ford Philippines managing director PK Umashankar said upon the pickup's launch. "We are excited to bring back this legendary Ford truck to Filipino customers who seek next-level power and refinement in their pickup."
Purchasing this F-150 is no small feat. The 4x2 Lariat variant you see here retails for P2,698,000. That's P700,000 more than the P1,998,000 Ranger Raptor, but significantly less than the Dodge Ram, which retails for upwards of P3 million. In a way, this means the F-150 sits in its own little sphere as a full-size pickup in the Philippines. But we had to wonder whether or not this bigger truck would cannibalize the sales of its smaller brothers.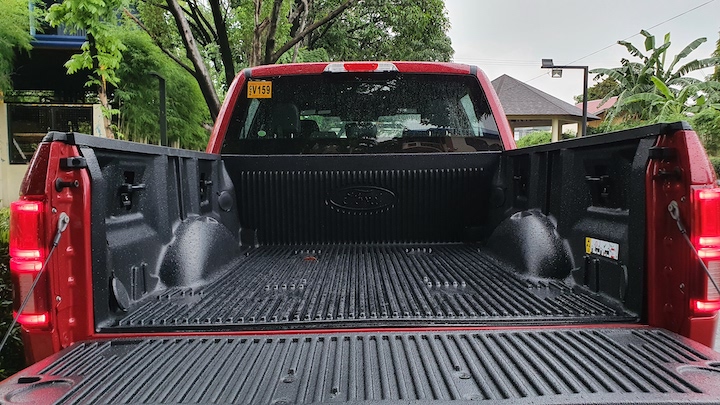 Not so, according to Ford: The price gap is big enough that those who want and can afford the F-150 won't have too much of a dilemma choosing between that and the Raptor. And if there is a dilemma, Umashankar says, it's still a win-win for the brand whichever way the buyer goes. Fair enough.
The next question on our minds was whether or not such a big pickup would fare well on Philippine roads. For that, we needed to drive it. Worth noting is that this model was already considered old a day following its Philippine launch. A mere 24 hours after Ford Philippines virtually pulled the covers off, the Michigan headquarters unveiled the all-new, 14th-generation model, meaning our brand-new units have already reached the end of their generational lifespan.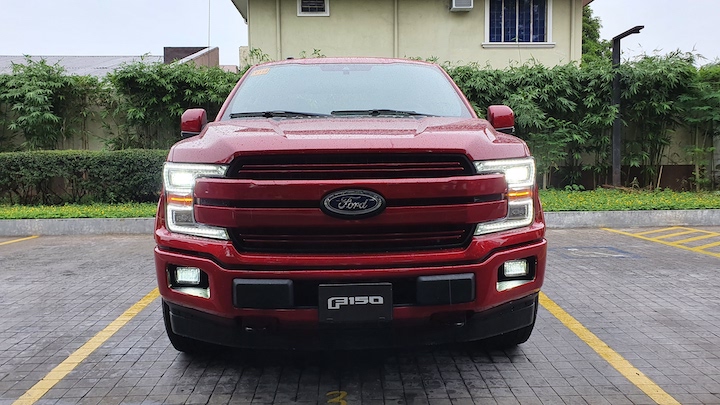 Still, you wouldn't think so at first glance. Our F-150's squarish design isn't so modern, but it'd be unfair to call it dated. Up front, you get a massive mesh grille adorned by a pair of big, body-colored horizontal bars. Prominent hood strakes and strongly defined haunches give the pickup its signature muscular look. Underneath, you get beefy 20-inch rubber with dark alloy-painted aluminum wheels.
Make no mistake, the F-150 is big. At 5,890mm long, it'll challenge some mall parking slots, while its 1,920mm height is worth remembering lest you hit a metal overhead barrier or two. But it's surprisingly not that wide. Minus the hefty side mirrors, the F-150 is only 101mm wider than a standard Ranger. So, while maneuvering its length does take an extra degree of caution, its width won't give you too much trouble.
The interior, on the other hand, is where the F-150 shows signs of age. That's not to say it's lacking in features—the amenities here include an auto-dimming rearview mirror, a power-adjustable steering wheel and pedals, push-button start, climate-controlled seats, Active Park Assist, and an eight-inch infotainment display with SYNC 3 capability. But the execution is a style that we've seen time and again in Ford's older models. The blocky dashboard buttons, the huge aircon knobs, and the bulging tiller-mounted controls take me back to the previous-gen Expedition. The updated Rangers have a more streamlined look to their dashboards, while the all-new F-150 has a cleaner design with a much bigger touchscreen to boot. Ouch.
On the road, the F-150 follows Ford's tried-and-tested pickup formula where the speed and agility of the vehicle make you forget about its size. With the bed empty, the 4x2 glides on city streets with nary a worry about any bumps you might encounter, coupled with a surprising level of comfort you don't usually get in this segment. The 3.5-liter EcoBoost V6 engine, capable of 375hp and 637Nm, propels the pickup with ease regardless if you're in Comfort, Normal, or Sport mode. 
Driving the F-150 isn't without its hitches, though. First on the list is its fuel economy—our test averaged just 4.7km/L on relatively quiet general community quarantine roads. On top of that, the front bumper is deceptively low, and we found this to be a struggle on a particularly steep incline. This shouldn't be a big issue for regular driving, but you have to wonder how the truck fares off-road with that design.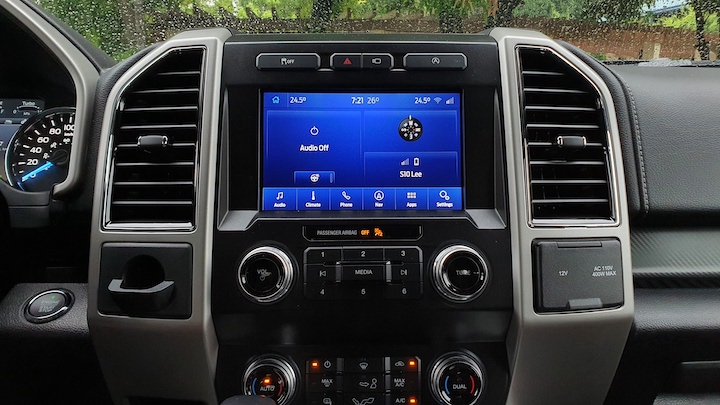 So, in this climate where our economy is declining and the pandemic remains rampant, was it smart for Ford to bring in the F-150? On paper, no, if only because such an extravagant purchase seems foolish these days. But the numbers show that there is a big market for pickups, and there's obviously enough demand for Ford to make the leap. 
The F-150 will sit as a lone novelty above the Ranger lineup. It won't sell in droves like its little brother, nor will it impact Ford's sales drastically, but we reckon it will do one good thing for the carmaker: strengthen its brand.
When a carmaker brings in a unique vehicle that will only ever be bought in small numbers, it signals to the market that it's important enough to warrant such a big move. Remember the clamor a few years ago when Nissan brought in the GT-R? Or what about last year when Toyota hyped up the Supra's arrival? It's doubtful those units affected either brand's bottom line in a big way, but they definitely got some people's attention.
For Ford, a brand that's been mired with its fair share of controversy in the Philippines, the F-150 represents its willingness to bring in some big guns to bolster its presence in our market. And for that reason alone, then perhaps, America's so-called truck of choice deserves a spot on our roads. 
Now, when can we expect the all-new one?