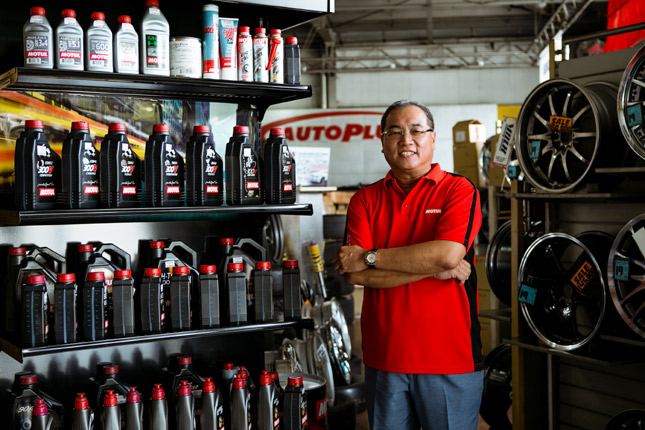 If you've been following the Toyota Vios Cup or the Hyundai Lateral Drift Series, the name "Luis Gono" should ring a bell. This teenager, the 2014 Vios Cup champion and a podium finisher in the drifting event, learned how to drift and perform donuts before he could master the art of parallel-parking.
And while Luis is truly gifted behind the wheel of any car, what many people do not know is that behind this adolescent is a supportive father who knows the value of hard work.
"I think he was born with a passion for cars," Carlos Gono, Luis's father and the founder of the AutoPlus Sportzentrium car shop, tells TopGear.com.ph in this exclusive interview. The elder Gono, also a car lover since he was a boy, nurtured his son's interest by introducing him to karting and drifting.
"On the karting track, I was driving slowly and carefully with him following me, but he couldn't catch up," Carlos recalls, referring to his son's early days learning how to race. "On the second lap, I let him drive on his own and he was hitting everything--the wall and the tires. So I thought, no, this isn't for him."
Carlos then introduced Luis to drifting, which Luis thoroughly enjoyed. His first drifting lesson started with an introduction to driving a manual-transmission car, and the session ended with Luis perfecting the donut. Luis's reintroduction to karting showed promise, and Carlos knew what he had to do: Be the encouraging petrolhead dad to his son.
Continue reading below ↓
Recommended Videos
To all the kids who have supportive parents, Carlos has this message: "The only thing you can return to your parents is to do well in school, and don't go out with not-so-nice crowds. You have everything. Don't waste it."
In the video below, Carlos also shares how he worked for his first car, as well as his advice to fellow fathers who have car-crazy kids. Watch it.
Photo by Mark Jesalva
If you're viewing this on a mobile device and can't see the video, please click here.