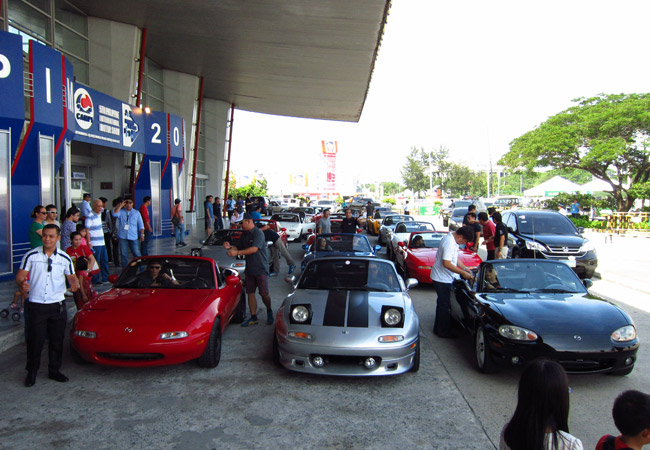 "The enthusiasts are like the soul of the brand," said Steven Tan, CEO of Berjaya Auto Philippines, local distributor of Mazda. "They are the ones who live for it."
We couldn't agree more as the last day of the Philippine International Motor Show was proof of that. At 9am, a fleet of 20 Miatas arrived at the World Trade Center to brighten up the front parking lot. When a manufacturer fully supports enthusiasts and their car club--in this case the Miata Club Philippines--that can only strengthen the relationship. And this passion does get quite infectious.
It was quite a scene seeing all of these Miatas parked in one place, and the numerous onlookers who couldn't help but come over to get a closer look.
"The club members are very excited to show off their cars because they are very proud," added Steven. "You know, the Miata turns 25 years old this year."
And speaking of which, there were three 25th Anniversary special editions in the convoy.
"There's something about the car that brings people together," pointed out Chito Frondoso, one of the owners of the limited-edition model. "The car is so well-designed, so everyone feels happy when driving it and owning it."
Continue reading below ↓
Recommended Videos
Chito flew to the US to be part of the huge anniversary event in Monterey, California. "There were 1,900 Miatas at the Monterey event, and over 2,000 people," he recounted. "Everyone there was speaking the same language. It was one big Mazda Miata family."
Ven Rojas, another fella who owns a 25th Anniversary edition, told us: "The Miata is an icon in the industry. The one I'm driving is special. Only 25 were available here from the 1,000 made."
Ven has owned five Miatas already. In his garage now are three. "I have the NA, the NB and the NC--each generation. So I have a problem: When the ND is launched, I have to work very hard to complete my collection."
This is passion. What a memorable club meet. Do check out the photos below for an idea of why the lovable Miata is here to stay.
Photos by Paulo Rafael Subido