Visit Stuttgart and you've two of the world's most famous car museums to visit. They belong to Porsche and Mercedes, companies with vast histories rich in exotic cars and engineering prowess.
You're missing a trick if you stop at those two, though. Hire a car and head an hour or so southeast, to Augsburg, and you'll discover a museum with even rarer and cleverer cars tucked into a more modest building. An old tram shed, in fact. This is the Mazda Classic Automobile Museum, and it's fabulous.
Rather than being run by the company as a glorified showroom, it's a more endearing and intimate building operated by Walter Frey and his sons. Walter's family-run Mazda dealer has been a staple in Augsburg for decades, and when his personal collection of classic models spilled into uncontrollable territory, he decided it was finally time to do something about it.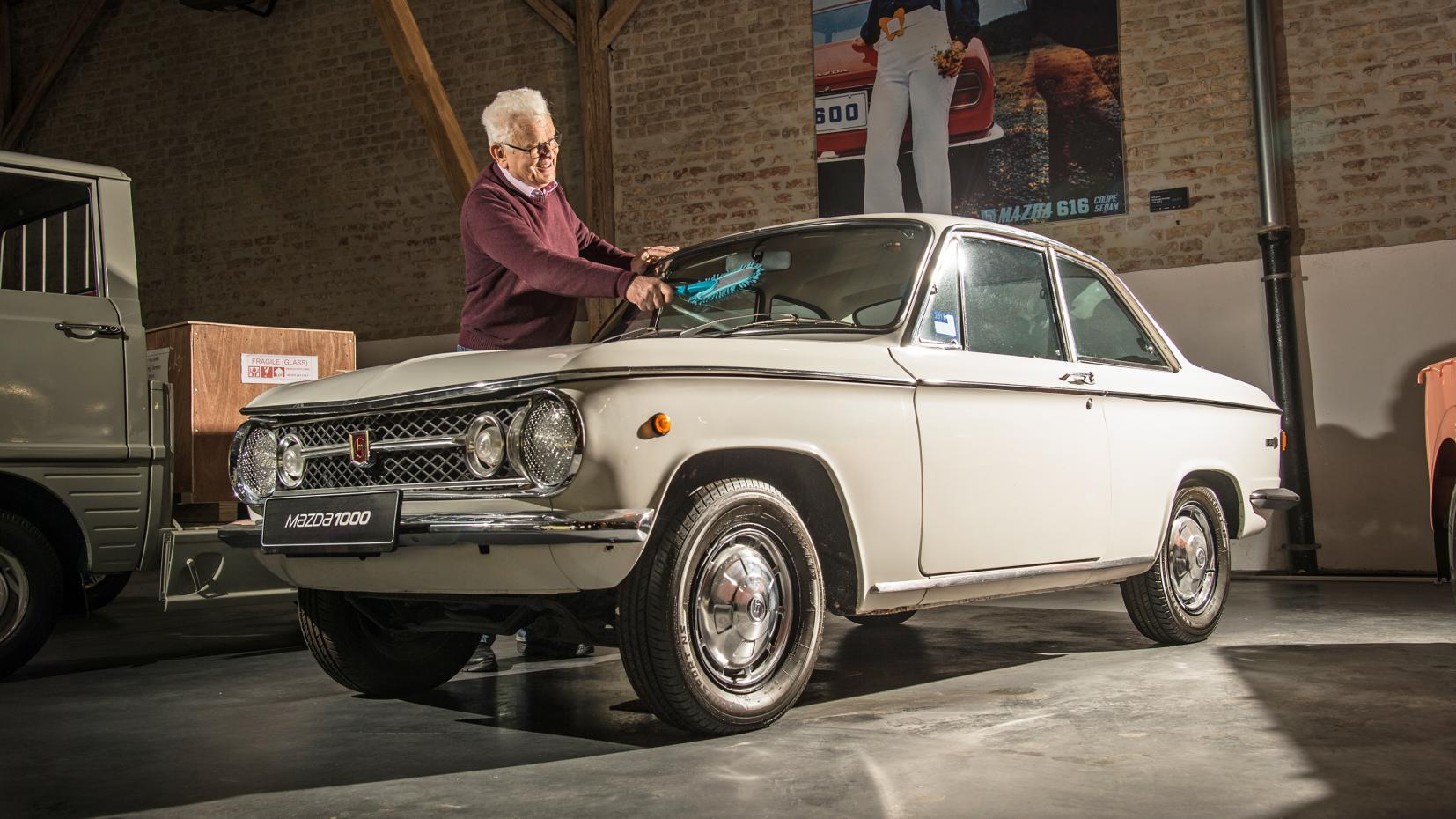 "We first had the museum idea about 10 years ago," says Walter, pictured. "We had so many cars—about 120 Mazdas—it seemed a pity if they were just in a shed, all dirty. So we asked the Augsburg Burgermeister if there was a place we could put a museum. He showed us this place and we said 'it's in bad condition, it's not worth doing.' There was no roof!
"Then he said 'you don't know how much we're asking for.' He told us the price and I said to my son Markus 'we have to buy it!' It was very cheap, but we weren't actually allowed inside for a while, as it all could have caved in."
Humble beginnings, but it's had a big effect. Frey's endeavors inadvertently convinced Toyota to build their own, far shinier museum elsewhere in Germany. "Toyota told the guy behind it that if Mazda, who are small, have a museum, that's just impossible, we need one!" says Walter. "So they arranged a museum in Cologne, bigger than this. But inspired by it."
If that's not a sign of success, we don't know what is. Time for a whistle-stop tour…
The Frey family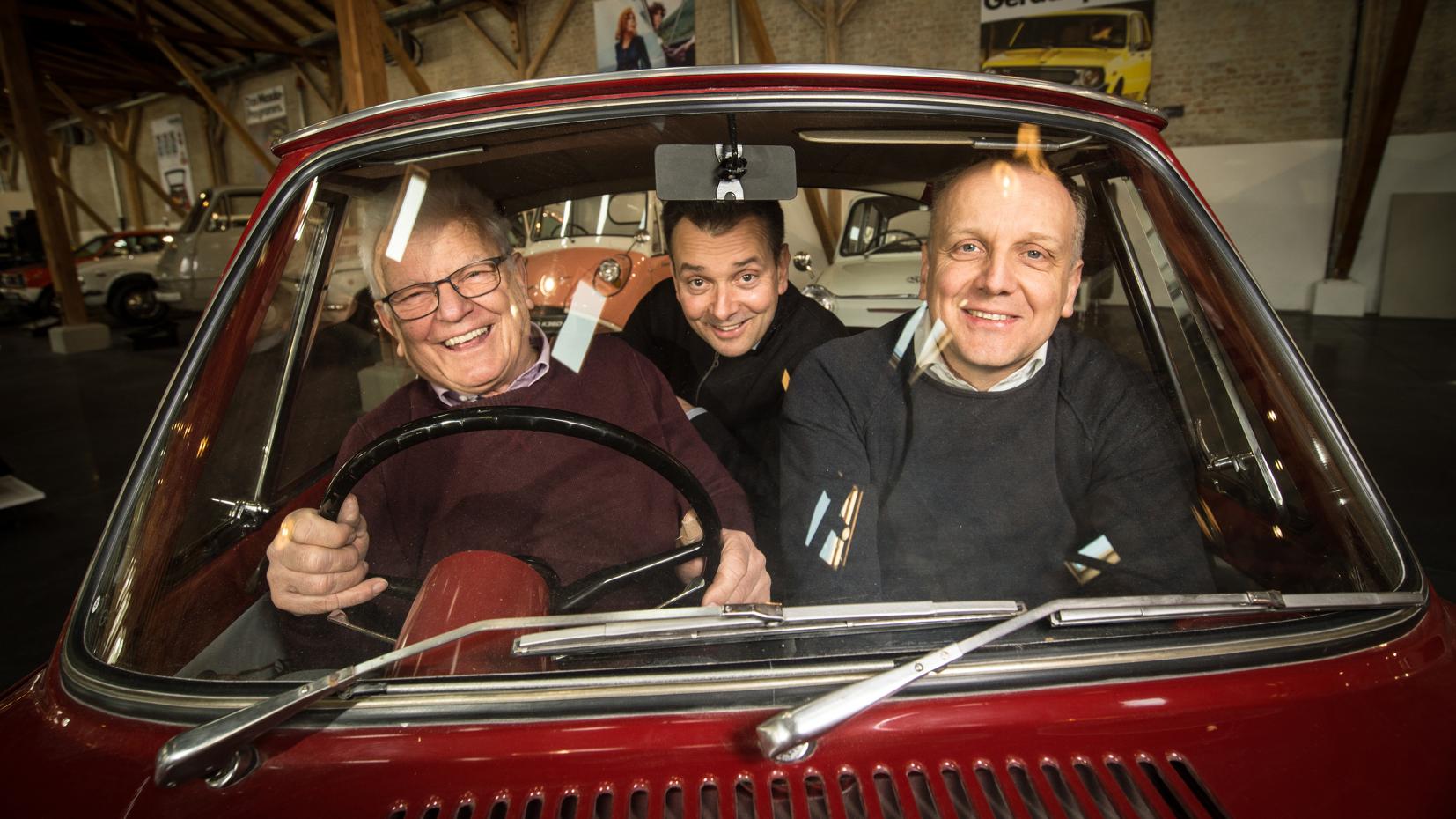 Dad Walter and his sons Joachim and Markus, all squeezed into Mazda's first ever car, the comically tiny R360 Coupe. The three men behind Mazda's wonderful little museum are only too happy to stand by their dinkiest car's interior space, though.
1962 Mazda R360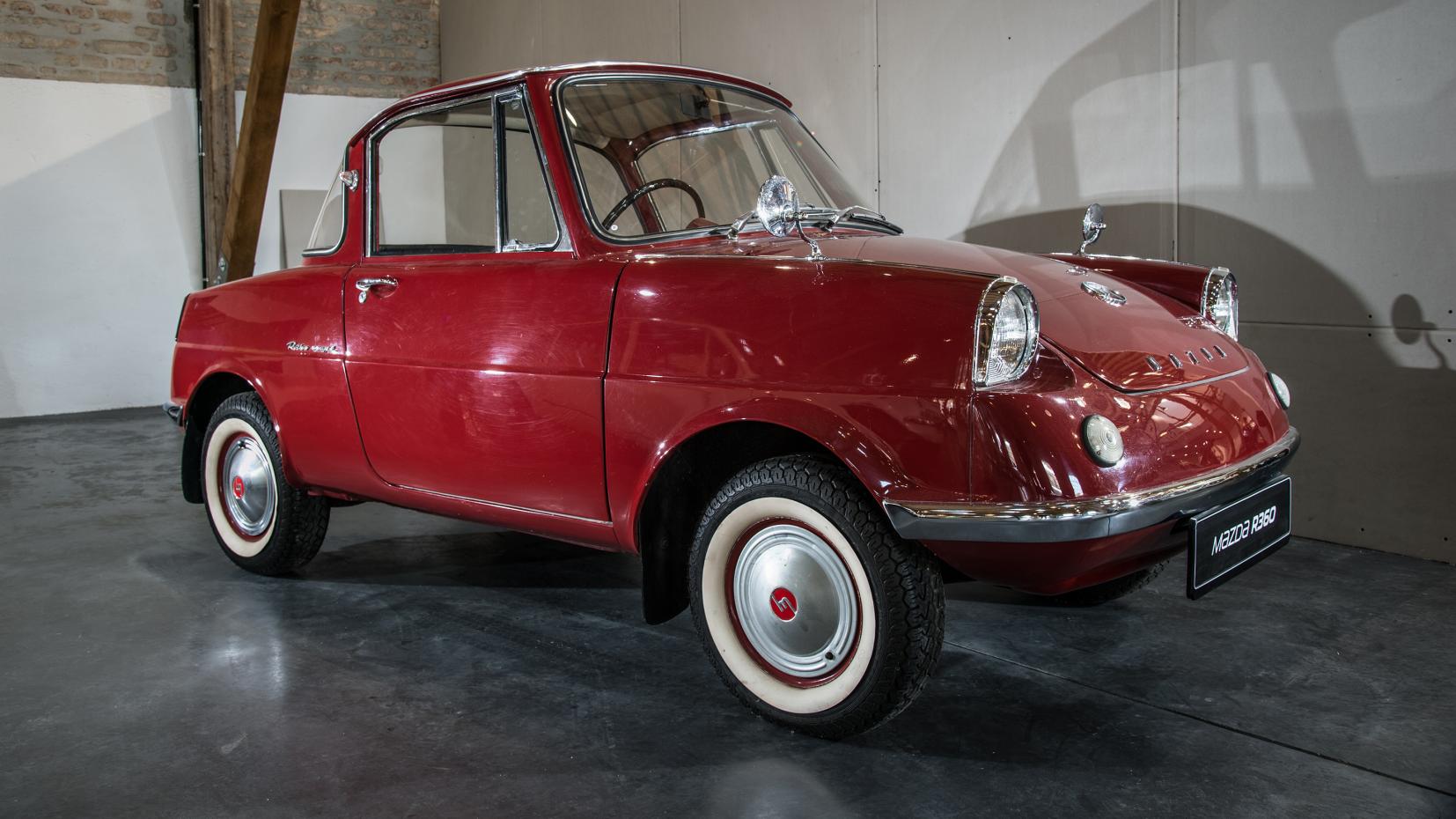 Here's the R360 itself. Production started in 1960, and it quickly achieved a 65% market share in Japan's kei-car segment. At just 380kg, Mazda claims it's the lightest car ever made in Japan. It's a 2+2 with a tiddly 16hp V2 engine at the back.
1950 Mazda Dreirad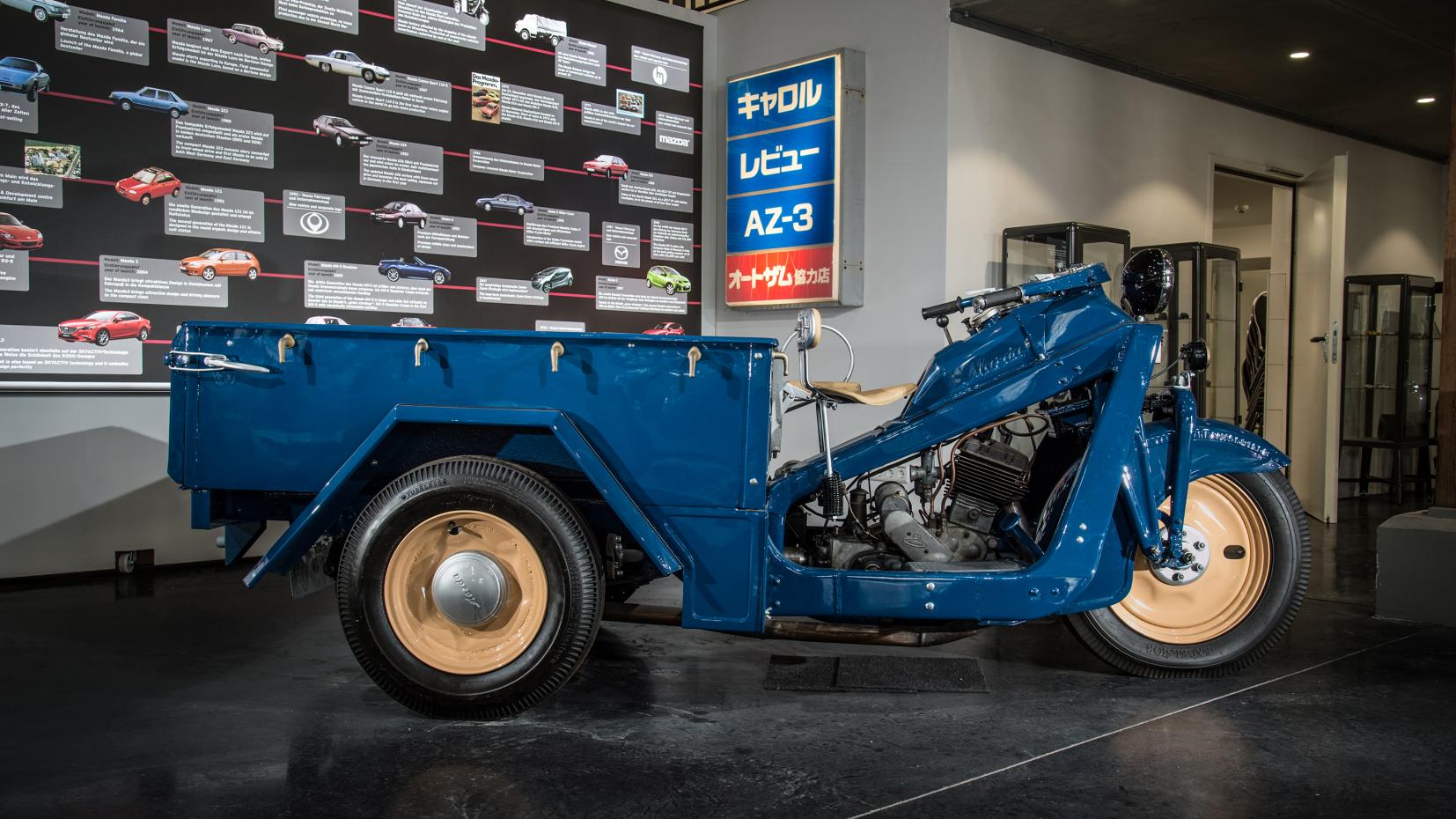 The company produced a line of three-wheeled pickups from 1931. Thirty different variants offered payloads of up to two tons. This one has a 15hp engine and a tremendously modest 45kph top speed.
1962 Mazda K360
Another three-wheeled pickup. It's mid-engined, just like a supercar—spot where the engine is from the air vents on the side—but its 11hp two-cylinder engine ensures it's not supercar-quick. It was also produced under license by Kia.
1968 Mazda Cosmo Sport 110S
This is the first of the museum's displays that Walter bought, 40 years ago. Back then he was running his dealership with his wife.
"My wife washed the cars and I made the oil changes, it was just us two, we had no money at all. So when I bought the Cosmo she said 'is it so important to have a car like that?'"
Four decades later, it heads Walter's near-300 strong car collection and greets you as you first enter the hall of his Mazda museum, which contains about 50 of those.
2009 Mazda MX-5 Superlight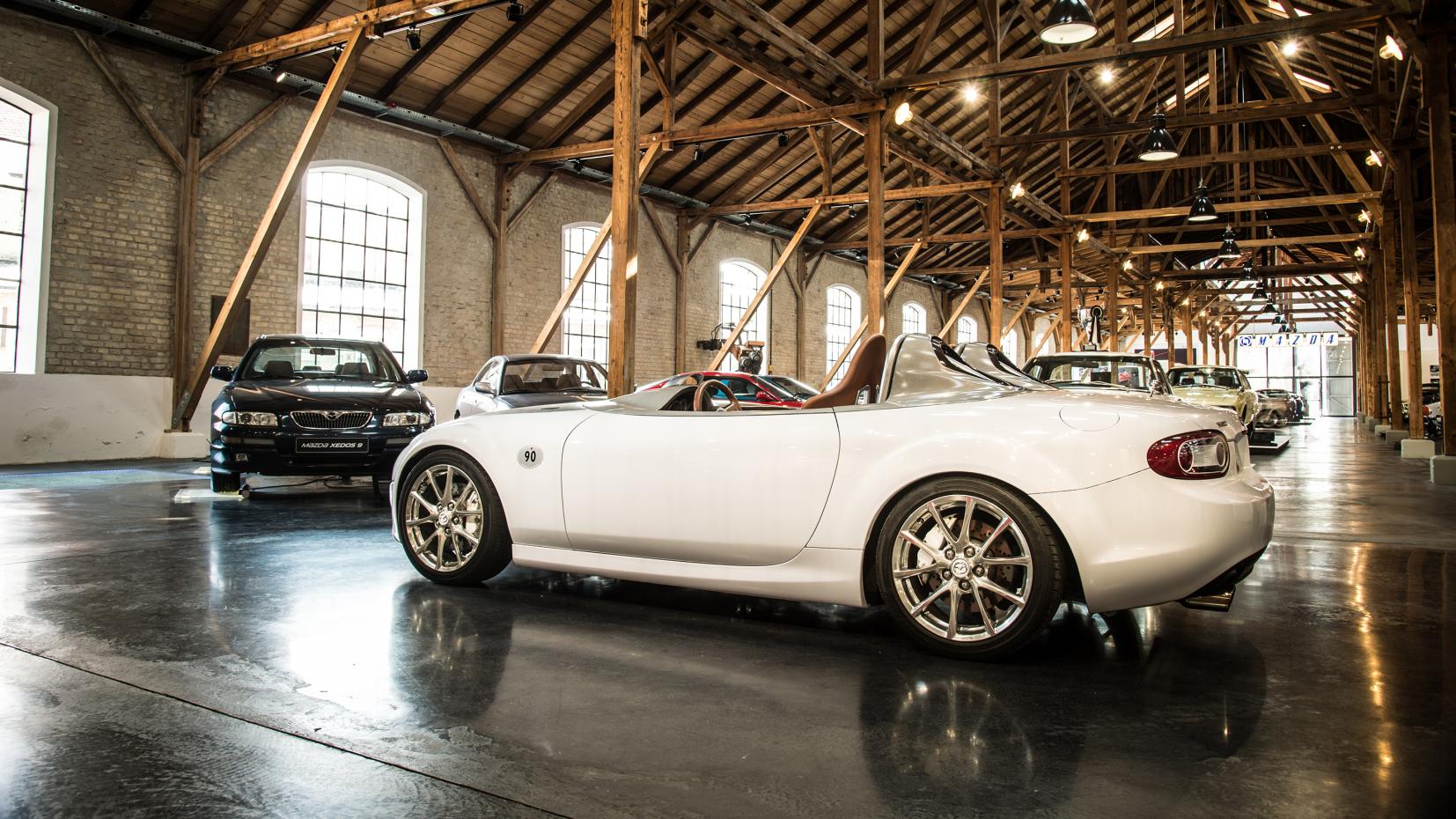 A far more recent addition is this MX-5 Superlight concept from 2009. Based on a Mk3 MX-5, It very visually previewed the weight-saving measures that would be applied to the Mk4, over five years later.
"We are borrowing it from Mazda," says Walter, "they're not allowed to sell it to us. But who else wants to have it? Maybe they need it one of these days in Hiroshima but it's the old shape, they have concept versions of the new generation, maybe they'll forget about it!"
Spot the sticker from its run up the Goodwood Festival of Speed hill climb in 2010…
2003 Mazda MX-5 Coupe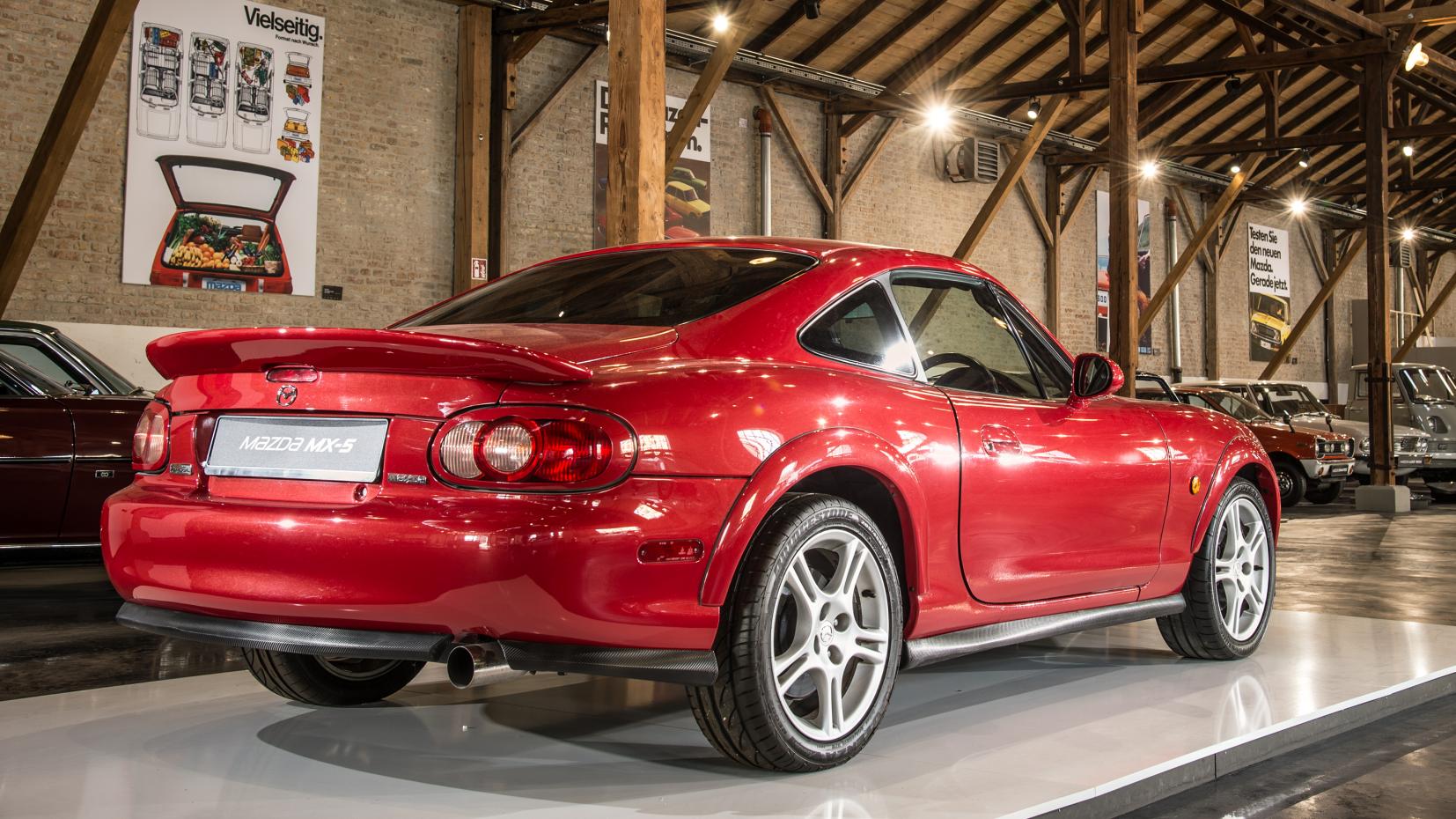 Pretty, huh? This is one of 200 MX-5 Coupes produced for the Japanese market in the early 2000s. No clip on hard-top nonsense here; it's a proper fixed roof that, to our eyes, looks utterly terrific. Amusingly, there's still a 'Roadster' badge on the back. Reckon they should do another? It'd be a great Toyota 86 rival...
1992 Autozam AZ-1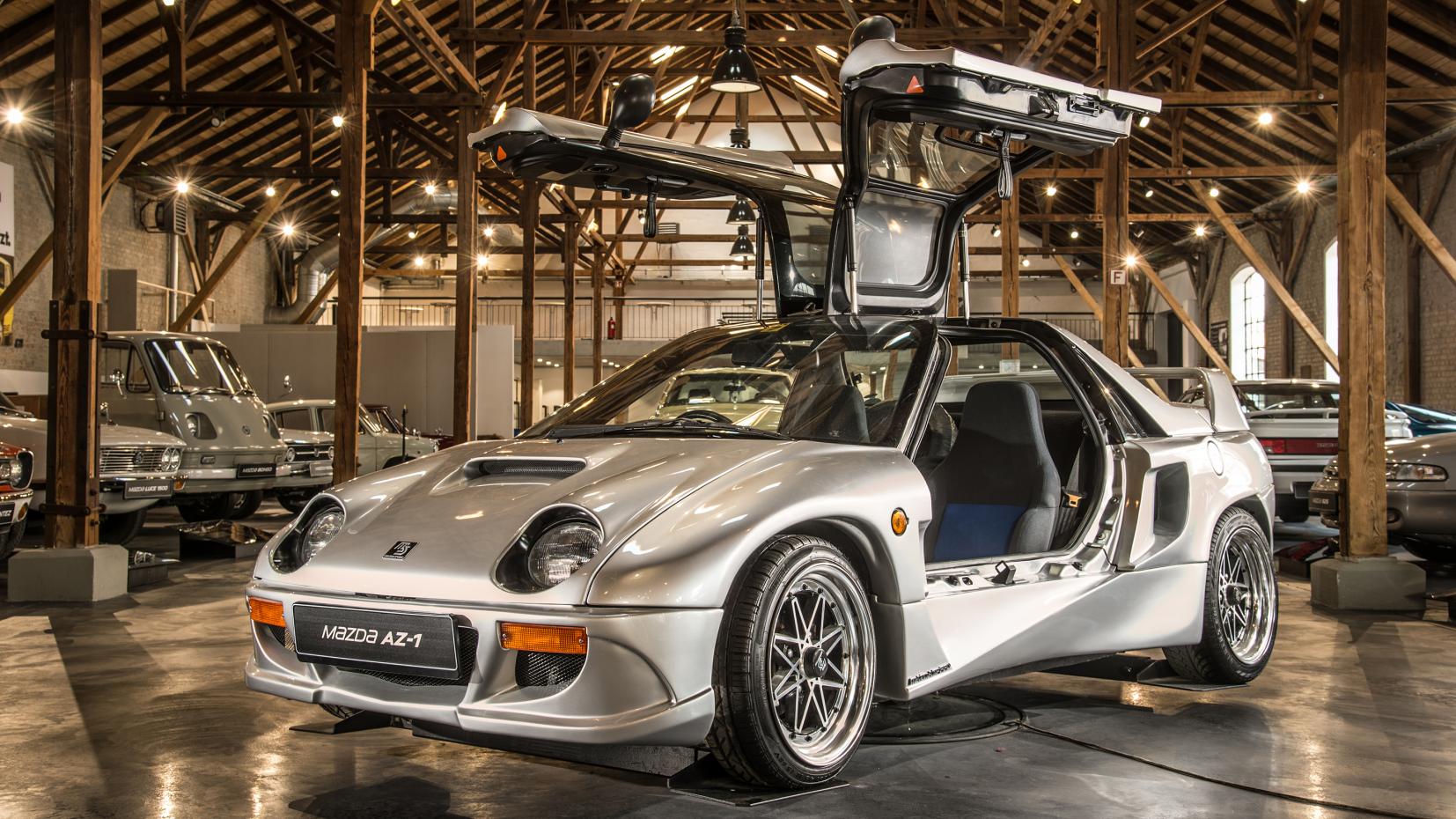 The Mazda that isn't officially a Mazda. We've done a more in-depth rundown of what the heck an AZ-1 is, but to the 63hp kei-supercar recipe, this example adds a MazdaSpeed bodykit with extra sculpting and some very intricately designed alloys. It spins around via a brilliantly simple 'turntable' but, sadly, you're not allowed to climb in.
1984 Mazda RX-7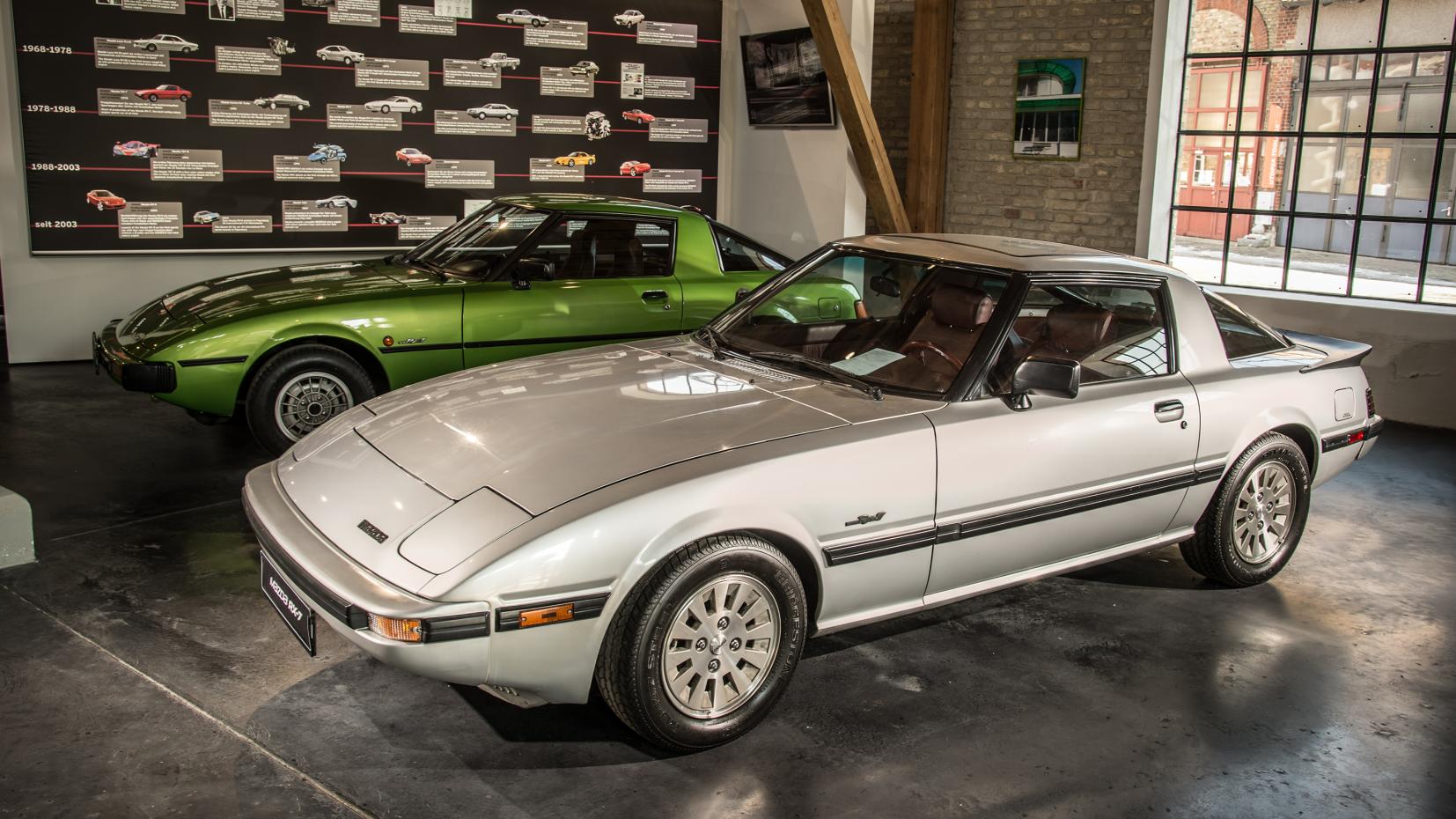 The Mazda RX-7 you probably know. It's the finest example of rotary sports cars. This particular example was given to the creator of the engine—Dr. Felix Wankel—by Mazda, presumably as a kind gift for his fine inventing skills. Just one problem: Dr. Wankel didn't have a driving license. It made a very pretty paperweight in his office, though, we imagine.
1985 Mazda RX-7 Group B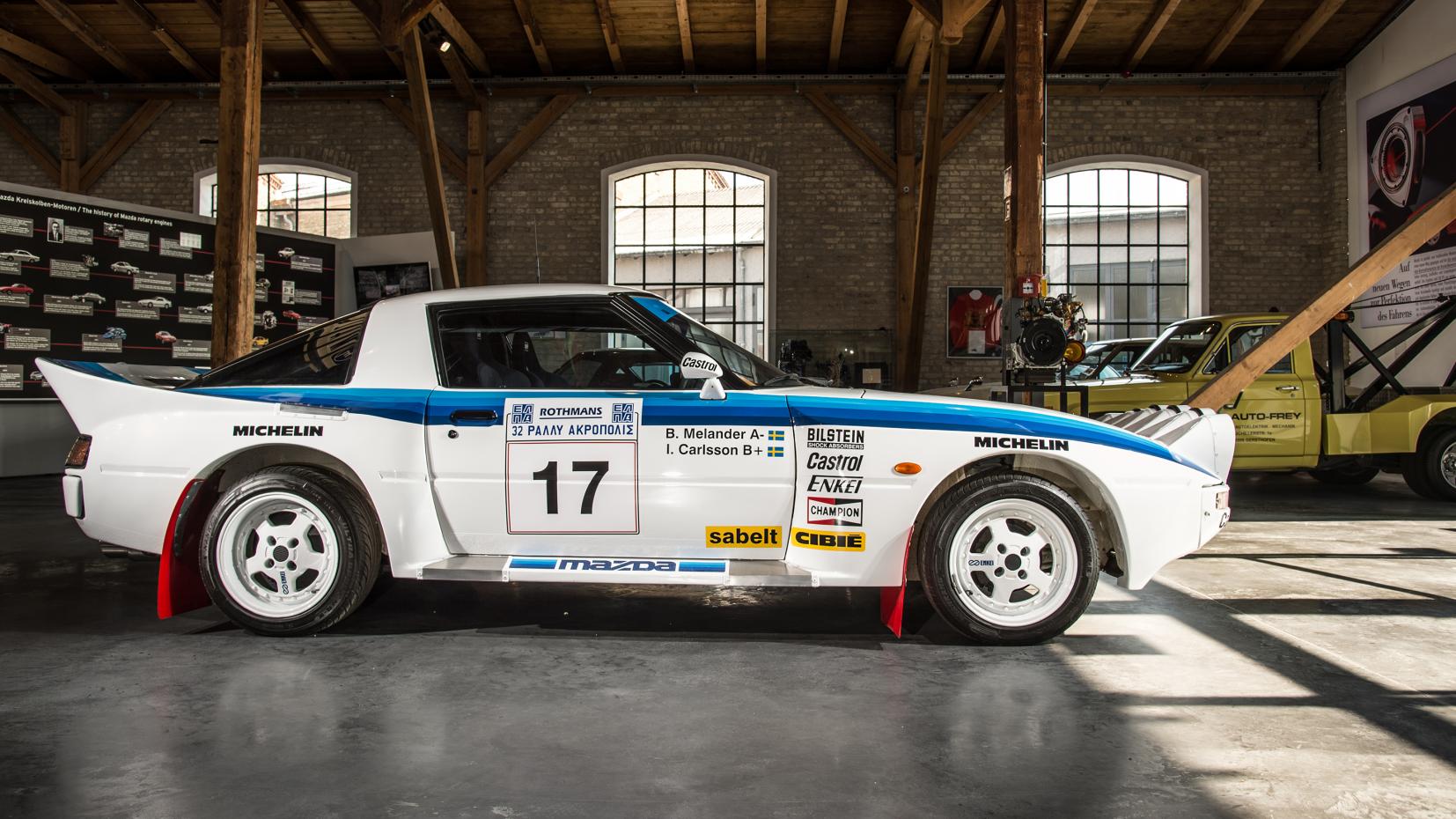 An even prettier paperweight. This is an RX-7 Group B rally car, wearing stickers from the 1985 Acropolis Rally, where Ingvar Carlsson finished third. For a certain type of bobble-hatted car nerd, It's the absolute showstopper of the Frey family's museum.
1977 Mazda RX-5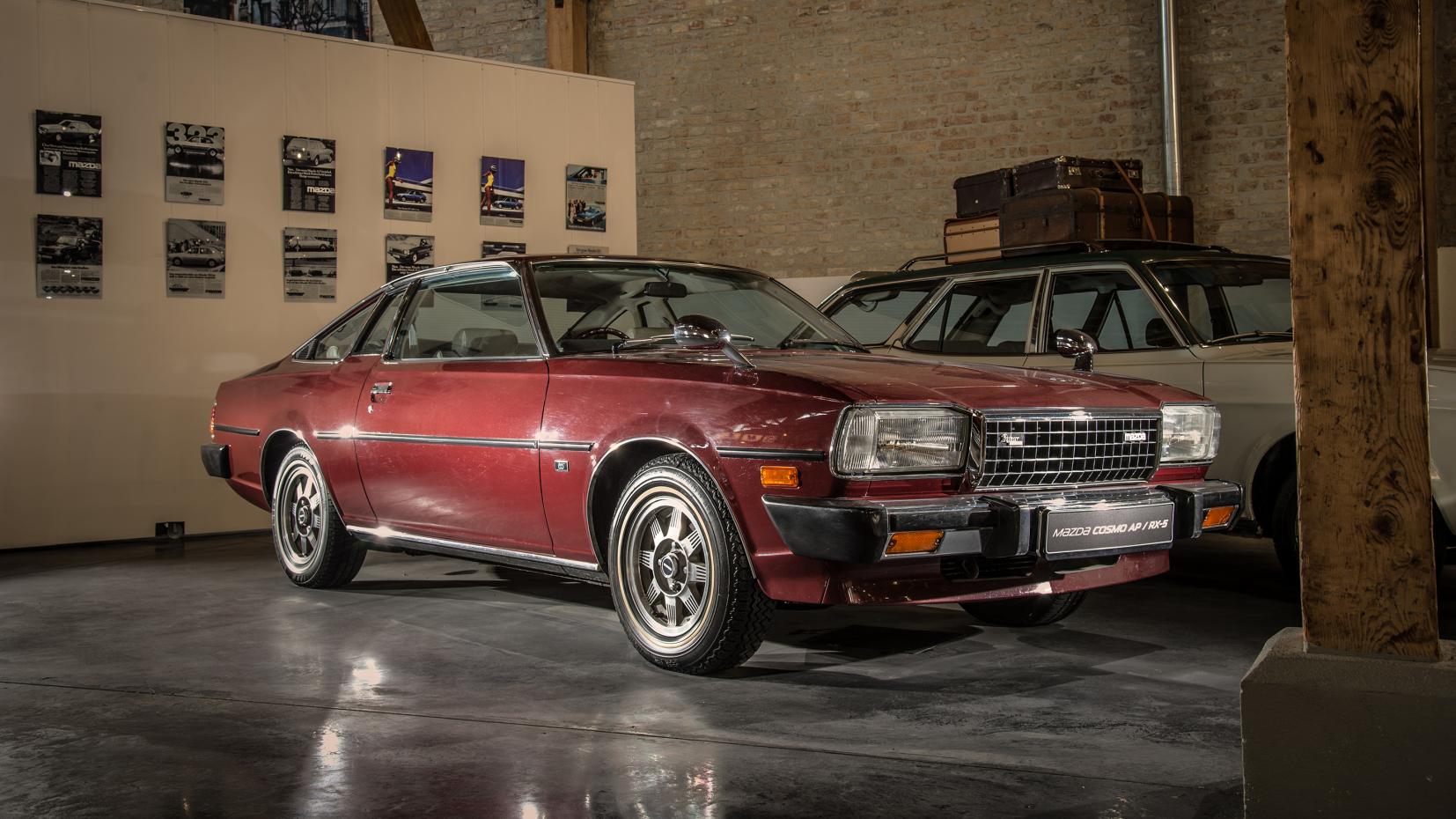 For another type of car nerd, though, this is the showstopper. Walter tells us many people come to the museum just to see this particular car. We presume they stay and look at the rest, though.
What's so special about it? It's a European version of the rotary-powered RX-5 coupe, with different styling to Japanese cars. The Freys bought it from Britain, with Markus traveling over and road-tripping around Cornwall before bringing it back. Check out the glorious 'opera' windows where you'd normally find an obstructive B-pillar.
"It looks like something out of Kojak," says our photographer, Tom...
1975 Mazda RX-3 and RX-4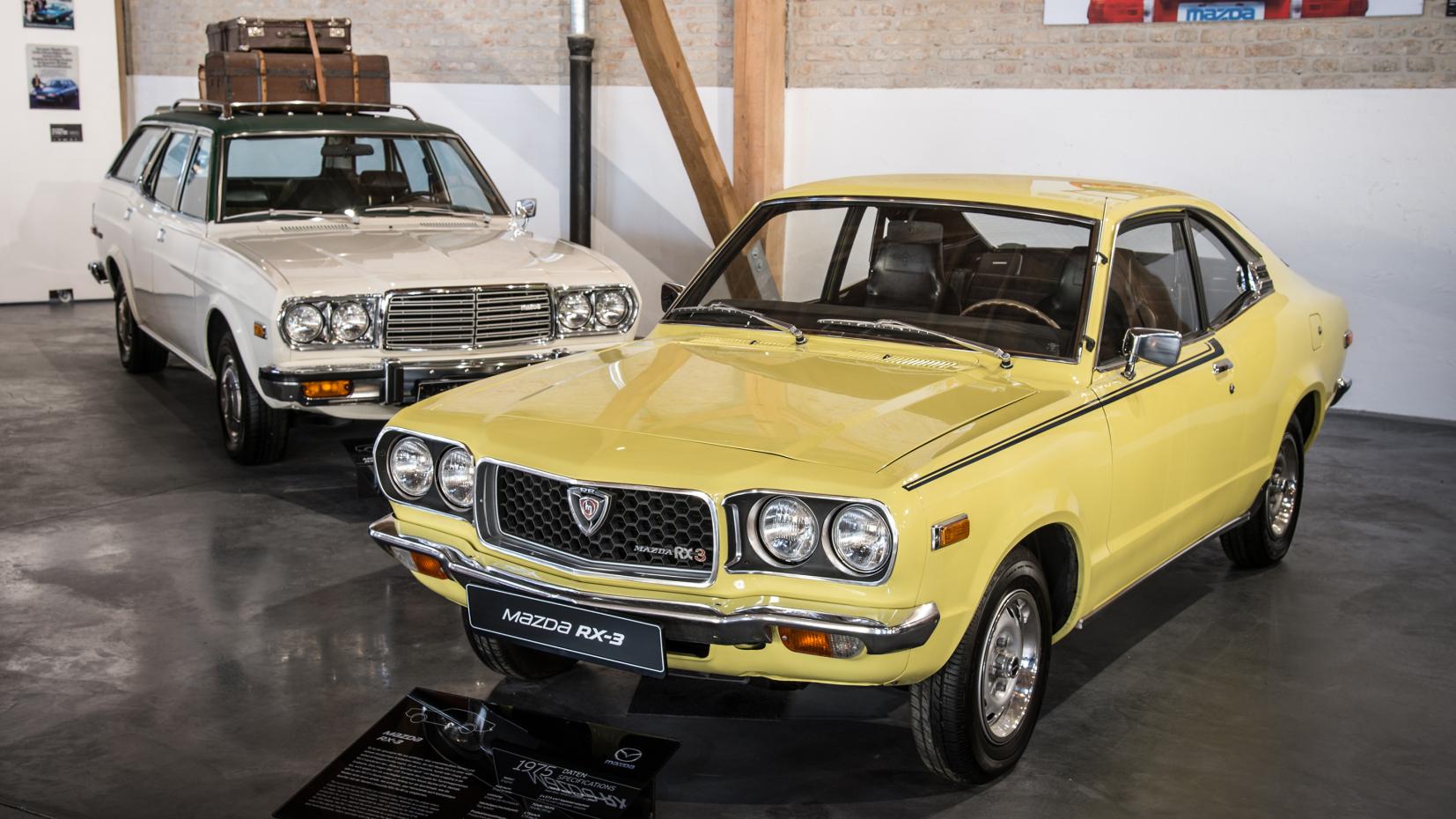 More rotary-powered wonder, and proof the Wankel engine didn't just make it under the hood of performance cars. While the RX-3 name is attached to over 100 touring car victories, the RX-4 in the background shows rotaries can be practical, too.
The RX-4 was also designed to meet some very stringent emissions regulations in Japan and America in the mid-seventies. Whether it would still pass with those very un-aerodynamic boxes on the roof is undisclosed.
1975 Mazda Road Pacer AP and 1974 Mazda Rotary Pickup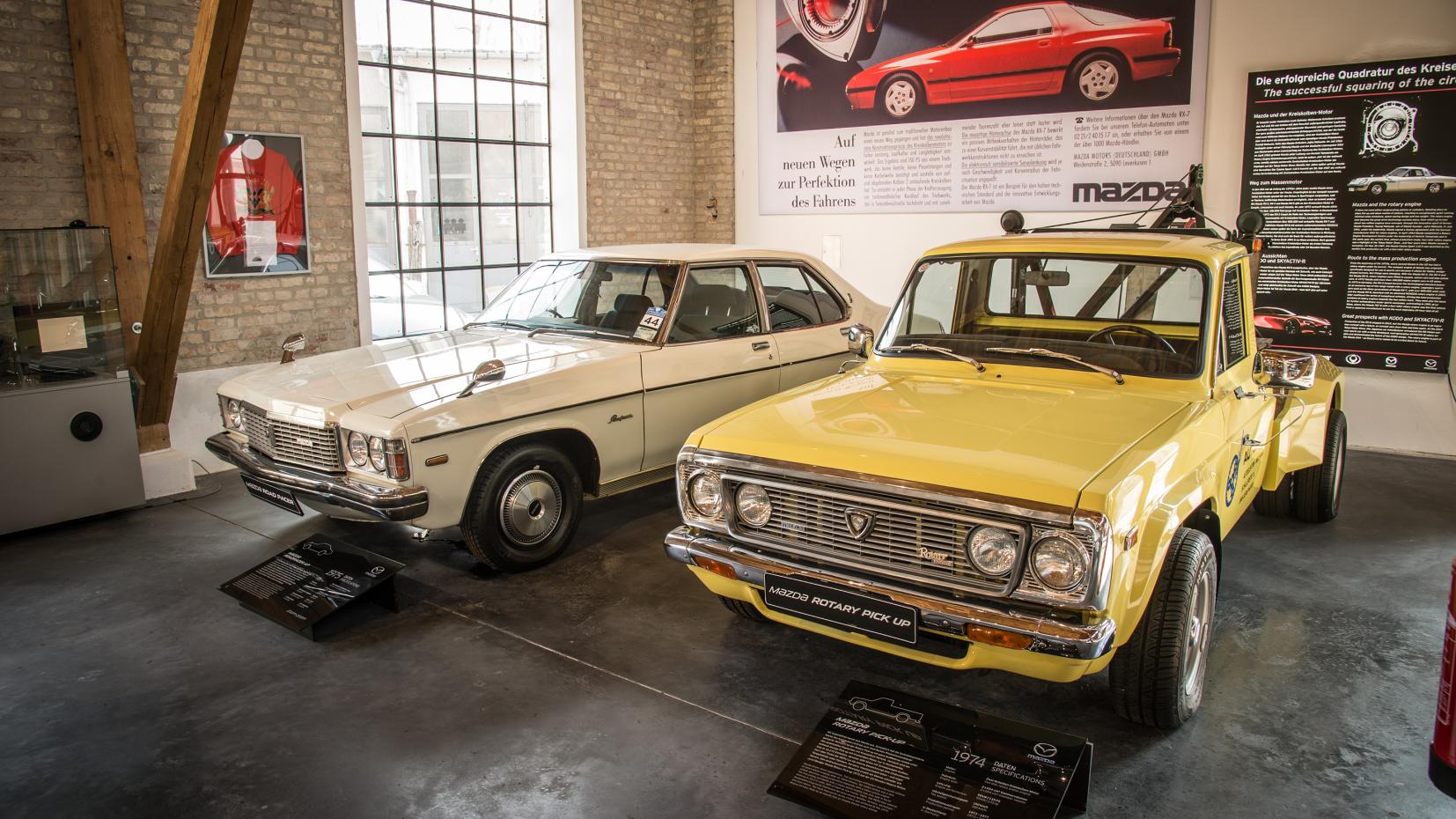 Yet more rotary oddness. On the left, an Australian Holden sedan that's had a Wankel engine stuck under the bonnet and some Mazda badges stuck on the boot. It made its way from Australasia and into the Frey collection after some arduous online auction bidding.
On the right, one of 16,000 rotary-powered pickups, only 600 of them being tow trucks like this. Other versions did well in off-road rallies, specifically the Mojave 24 Hours.
1976 Mazda Parkway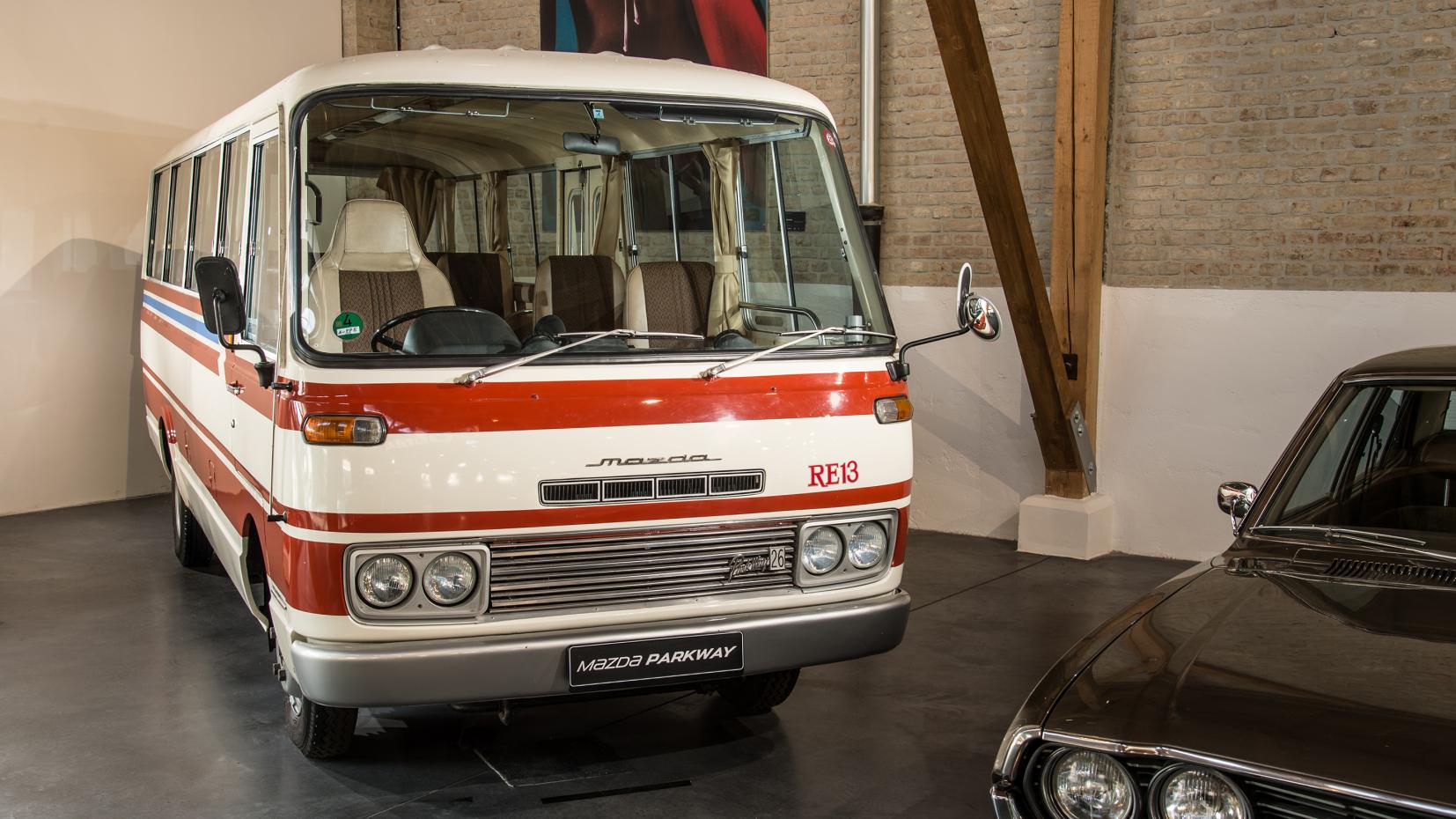 Odder yet, this is—genuinely—a rotary-powered bus. It came as either a posh 13-seater or a more prosaic 26-seater, and at the time, was one of the fastest buses in the world thanks to its 135hp peak power and 120kph top speed.
With an engine directly related to the one you'll find in a late '90s RX-7, though, it'd be disappointing if it wasn't one of the fastest buses in the world. One of the thirstiest, too, we'd bet.
1972 Mazda Chantez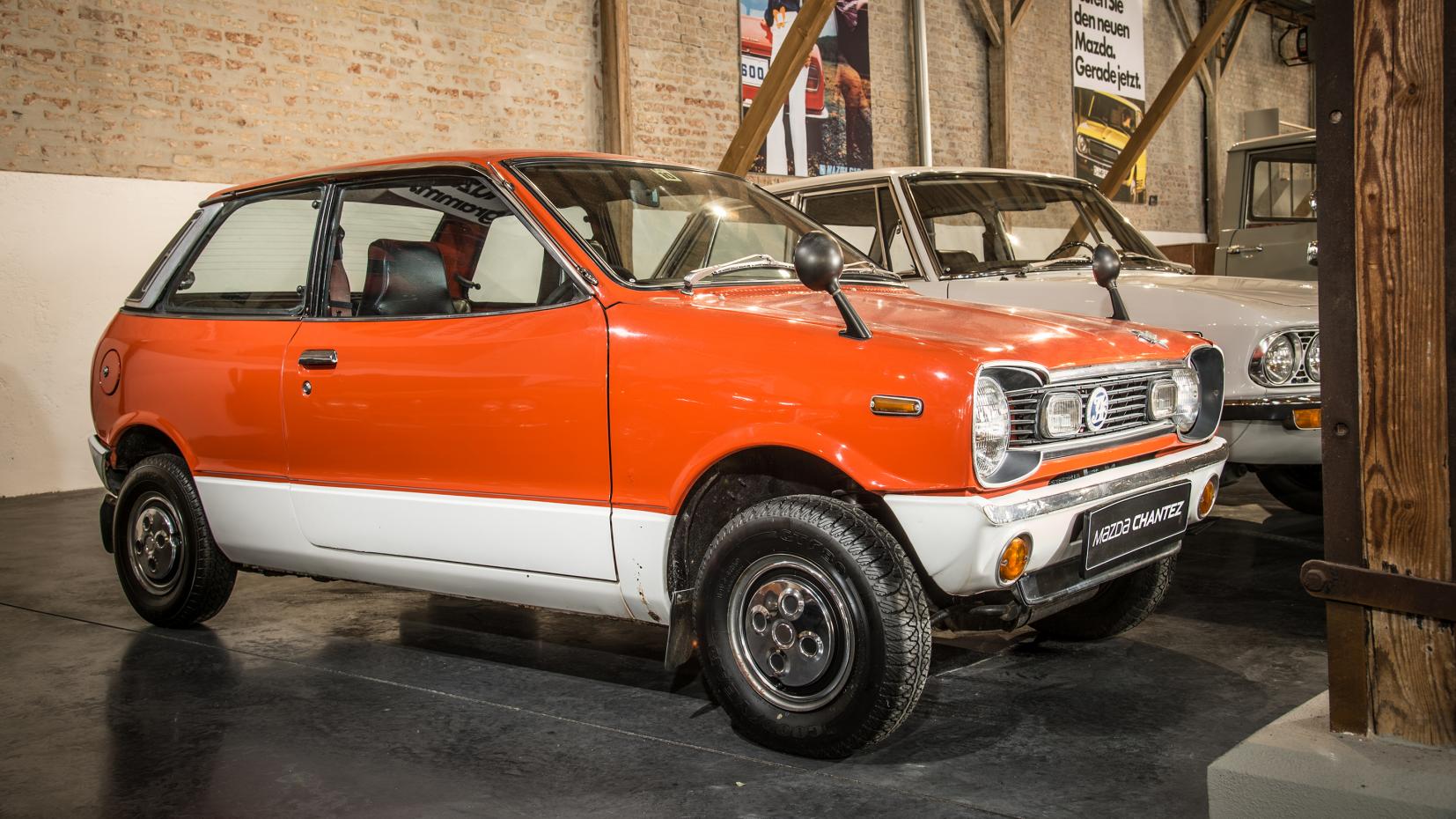 Possibly our favorite car in the museum: a glorious, two-tone kei-sized hot hatch. Unable to help itself, Mazda wanted to slot a rotary engine into this, too. But its competitors protested and the Chantez ended up with a two-cylinder engine to meet kei regulations of the time. It still looks like an utter riot to drive, though.
1993 Mazda 323 GT-R 4WD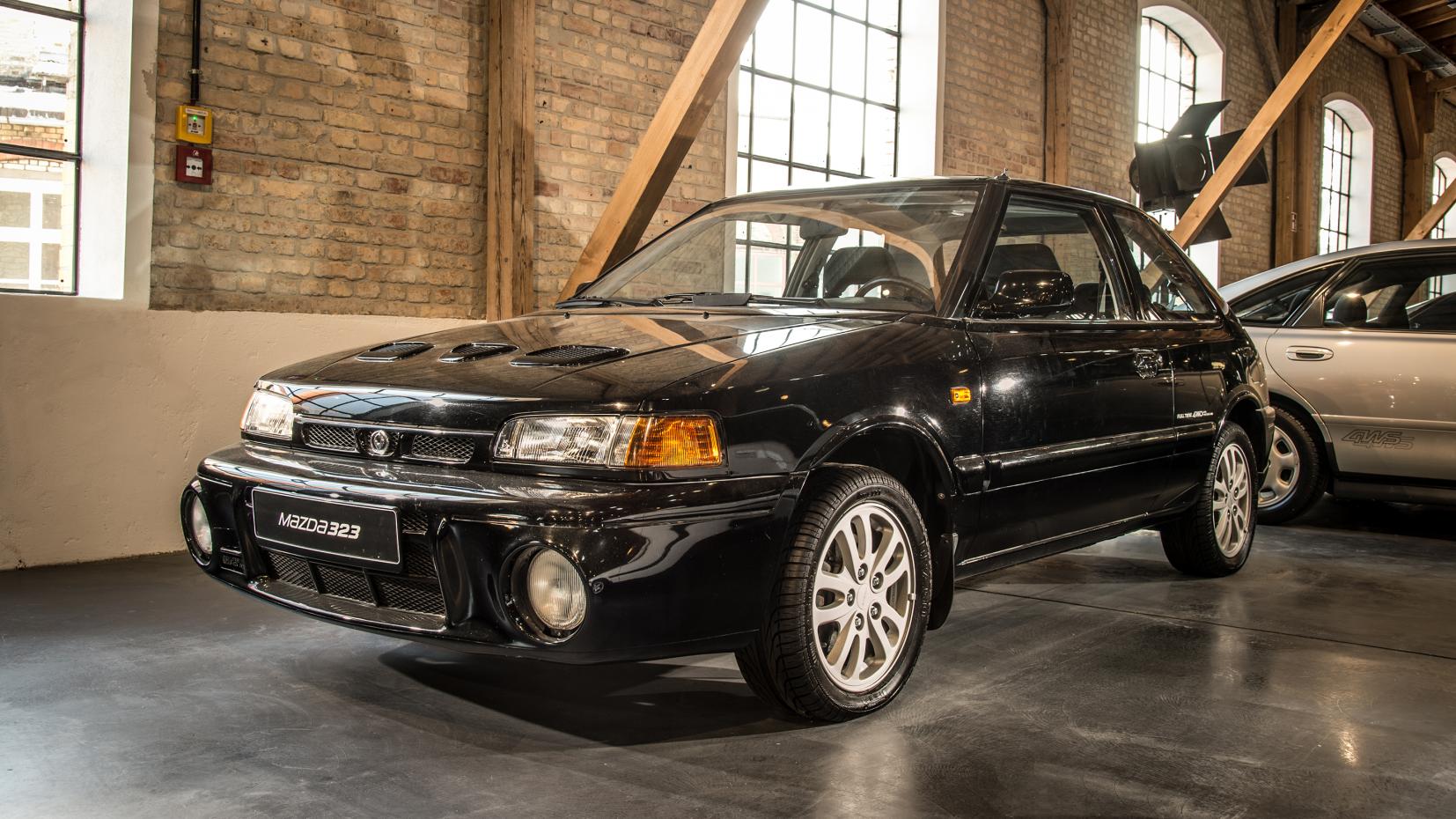 Possibly our second favorite car in the museum. The Lancia Delta Integrale and Ford Escort Cosworth weren't the only four-wheel-drive hot hatches of the '90s; meet the 323 GT-R, a rally homologation special with clever differentials and 185hp. It'd be reasonably subtle, too, if it wasn't for those special stage-friendly foglamps. We want a go. Badly.
1993 Mazda 626 4WS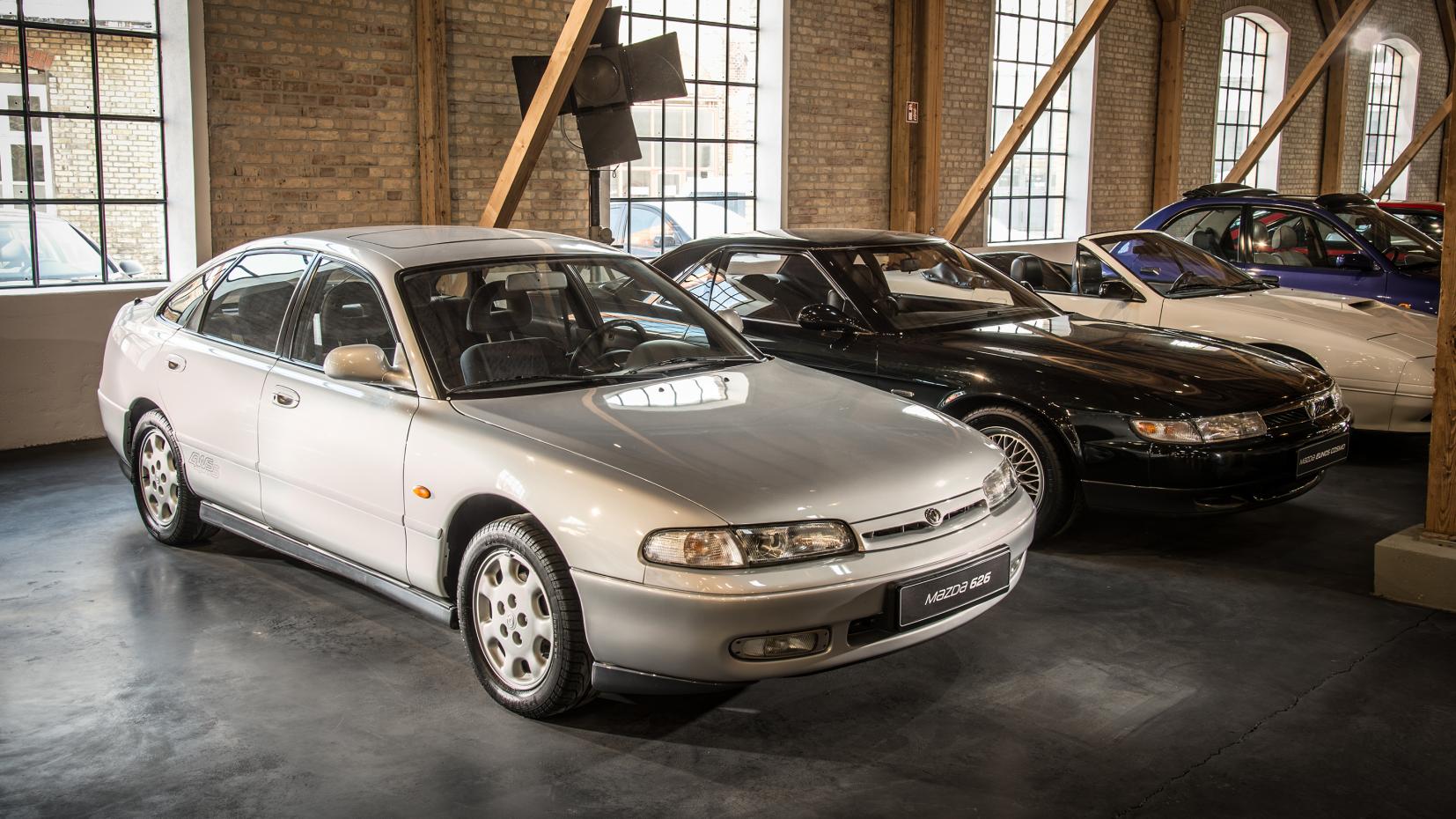 Staying in that era, and proof that the Frey collection doesn't just go for the headline glamour cars. There's a whole row of more mundane stuff, but this being Mazda, nearly all of it has interesting tech nestled beneath the surface.
Like this humble Mondeo rival with four-wheel steering, which has only really started appearing in big-boy sports cars like 911 GT3s, AMG GT Rs and F12 tdfs. This one just happens to have a 165hp V6, too. A proper sleeper.
1962 Mazda Carol P360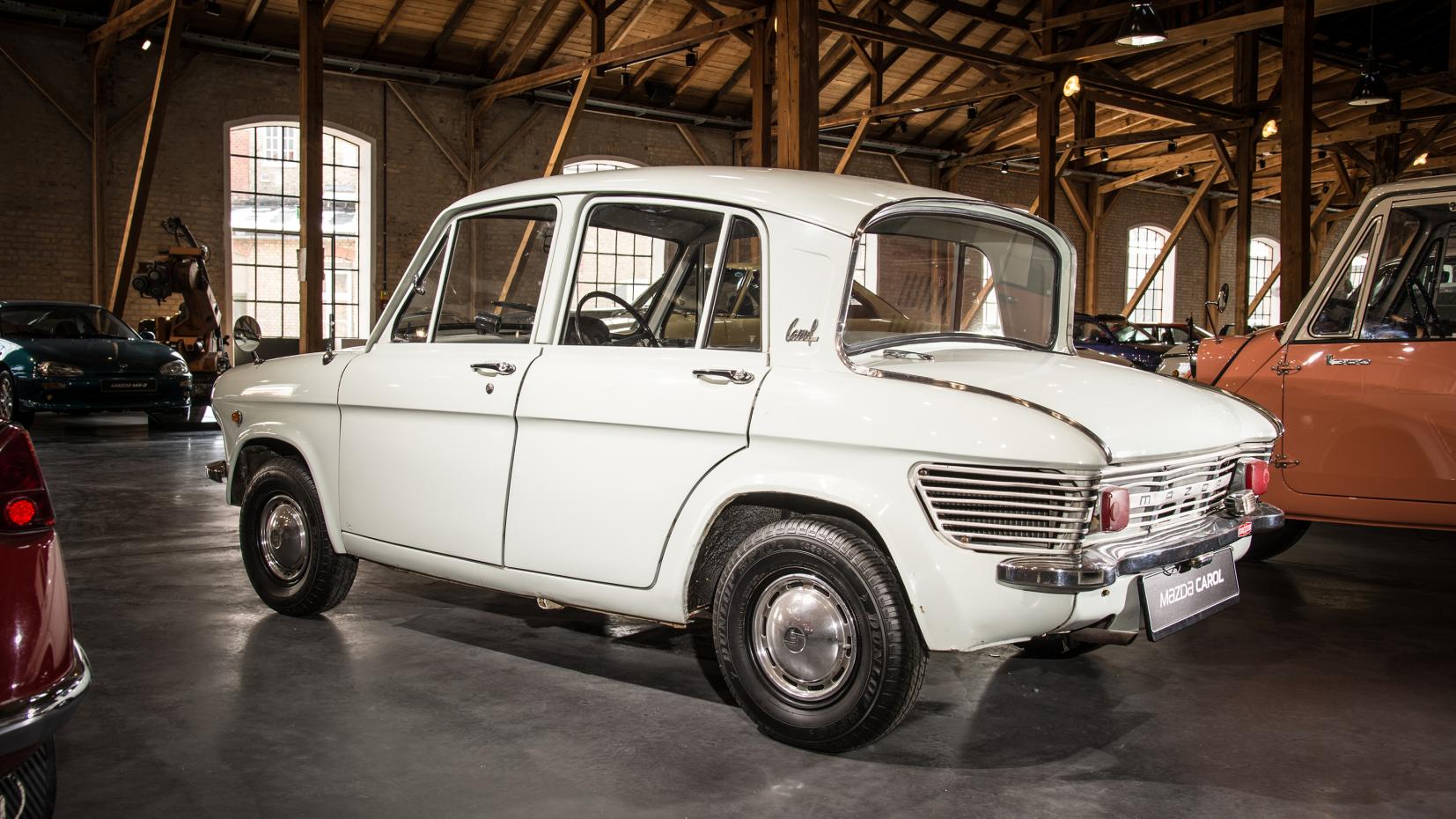 A four-seat, four-door take on the kei-car regulations. Its four-cylinder engine is a mere 358cc in size and is only beaten to the glamorous title of 'world's smallest four-cylinder' by a 356cc Honda unit. Nonetheless, we still want one. It's adorable.
1972 Mazda Pathfinder XV-1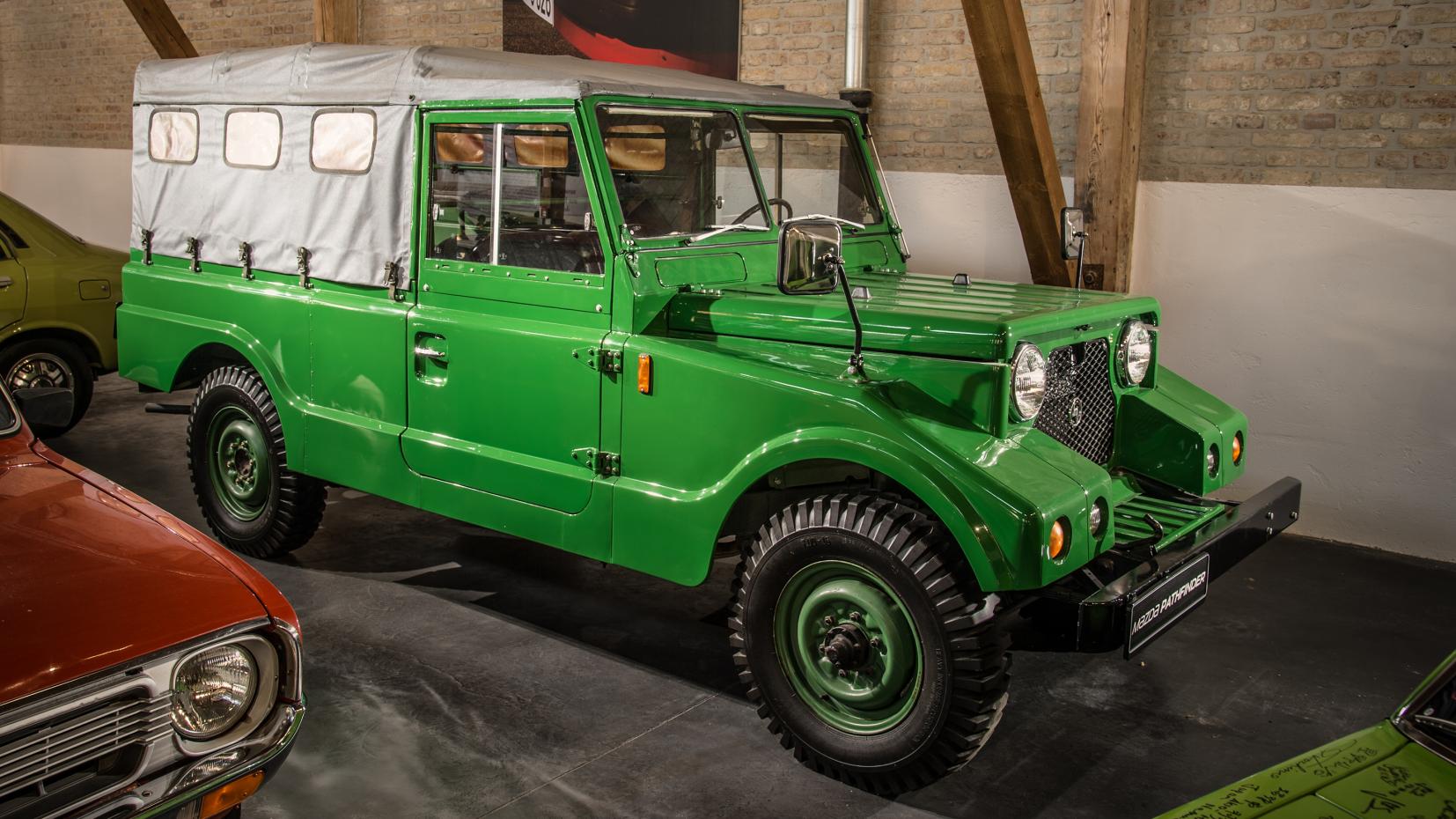 Mazda built these in Myanmar—formerly Burma—and it follows the same story as the Land Rovers and Jeeps it looks so alike; designed for the police and military, but sold to the public when they saw how useful it could be.
It's a car the Freys worked very hard to get in the museum. "The engine was bad and we couldn't get any parts for it, we called Mazda in Japan and they said 'we have never built a car like that,'" says Walter. "Five cars came to Germany, with no antifreeze in them—you don't need it in Myanmar—and they broke. Brand new cars. It took five years to sort this one out."
1990 Mazda MX-5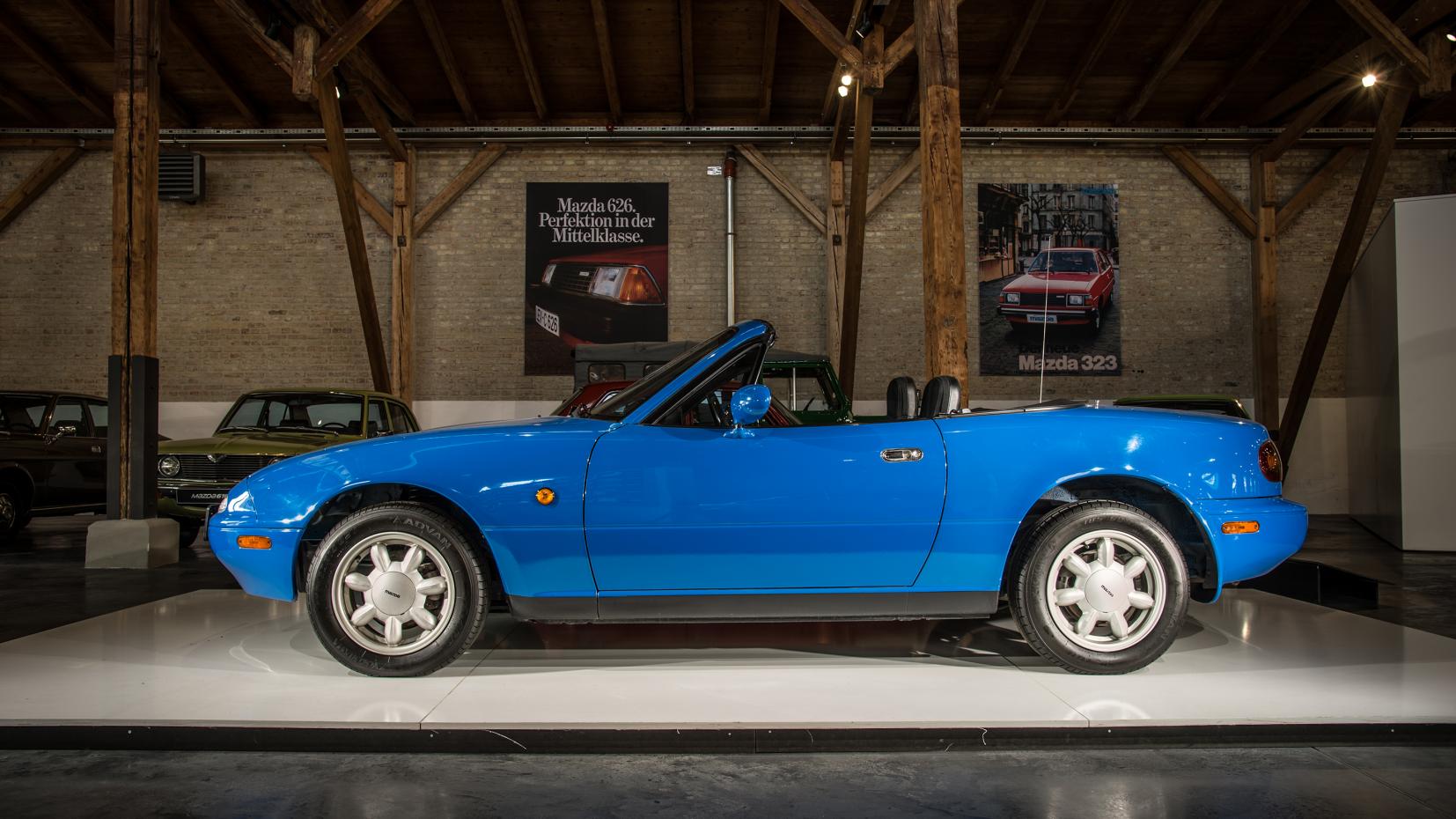 Over a million have sold, making it the world's best-selling sports car. It democratized rear-wheel-drive roadsters, bringing affordable prices and reliability to a part of the market that was previously pretty specialized. It's four generations strong and still the sports car benchmark below £30,000. And, most likely, it's the car most people will recognize as a Mazda. Safe to say the MX-5's a classic, and this is where it began.
1977 Mazda 323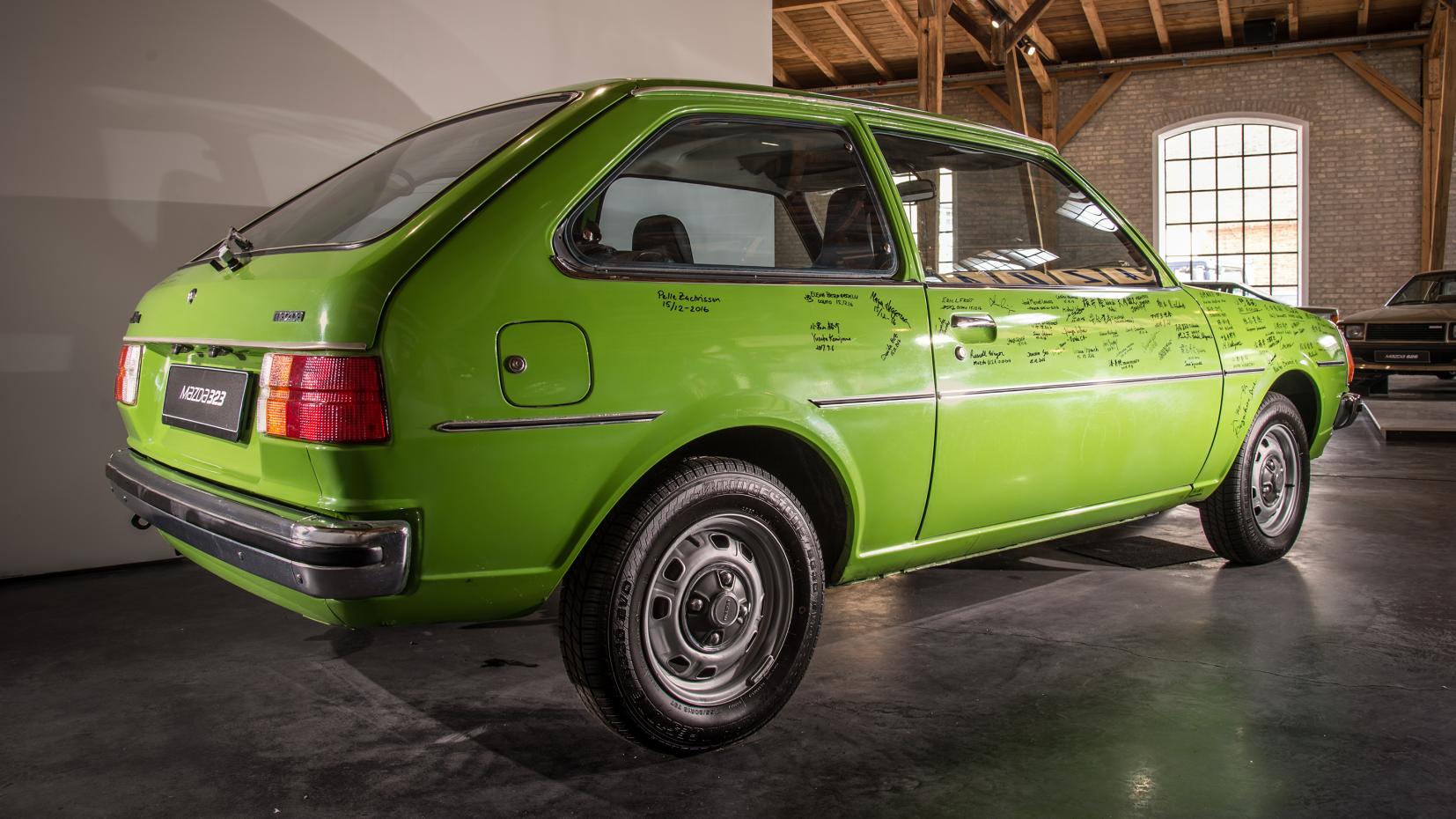 But this one's pretty important, too. Yeah, the MX-5s and RX-7s take all of the glory, but if it wasn't for the success of this car, Europeans may never have got to experience a Mazda sports car.
In 1977, this 323 was driven over 14,000km from Hiroshima to the Frankfurt Motor Show, ready to take on the VW Golf. That we can still buy a Mazda3, 41 years later, suggests it was a wise move.
1979 Mazda 323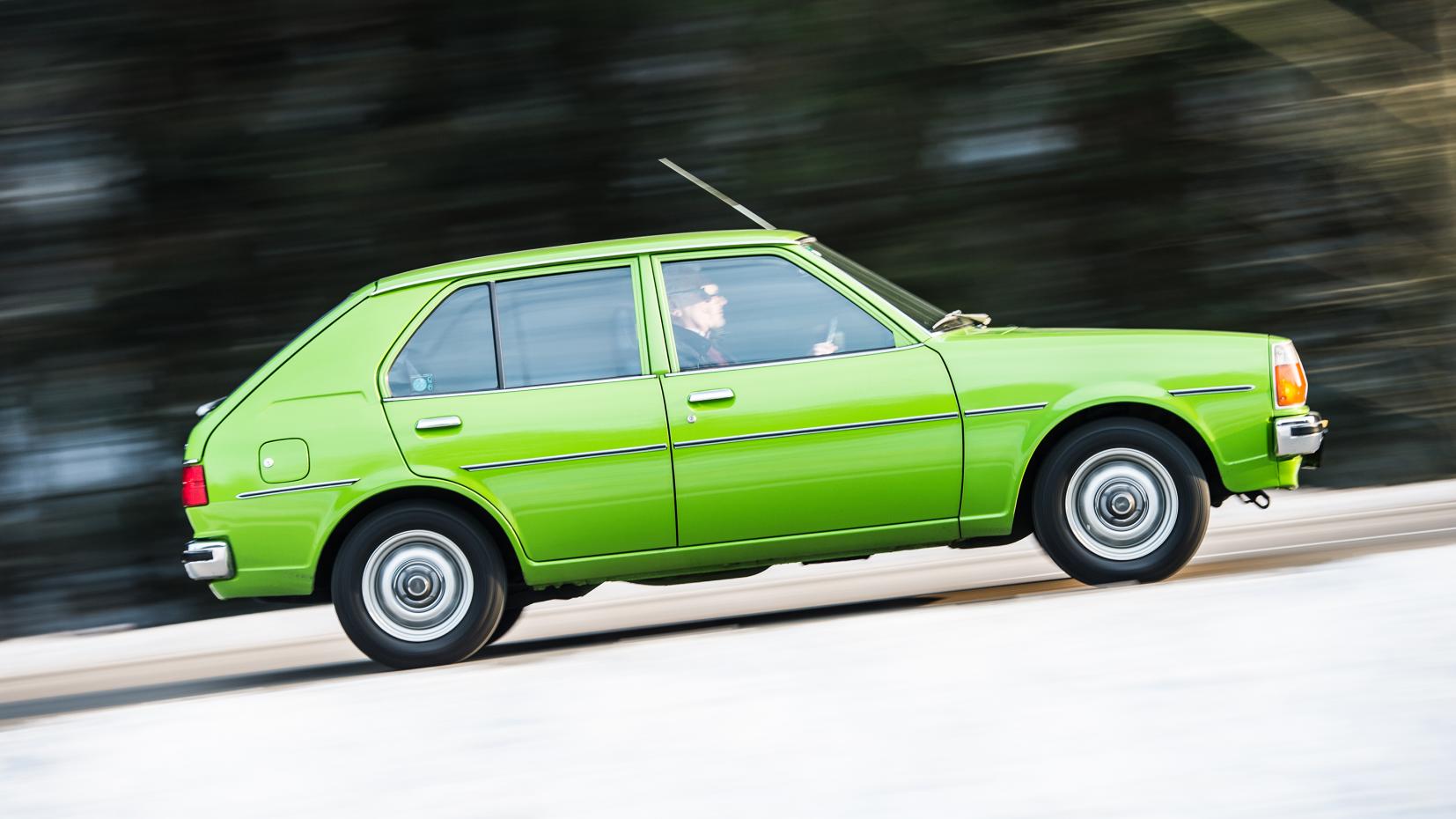 It's such an important car, we thought we'd sneak one out for a go. Walter Frey's collection spans every nook and cranny of Mazda history, and there was more than one example of a lot of models. A great excuse to take out another of his 323s, to see how it feels 40 years on. Well, we wouldn't want to disturb the display.
Really slow, is the short and quite irrelevant answer. With a claimed 60hp from the 323's 1.3-liter engine, our Ford Focus 1.0 hire car felt like a Bugatti Chiron in comparison. Everything else is tangibly modern, though; strong brakes, direct steering, and a taut gearchange. Today's Mazda 3 feels very deeply engineered, and this 323 is no different.
Mind, with tasteful wood and flashes of lime green throughout, the interior is jollier than today's current crop of mainstream hatches. It's always nice when you've arrived wearing the right pair of sneakers to match, too.
Visiting the Frey collection was already a very good day out. But museums are so much more fun when you get to properly play with the exhibits…
NOTE: This article first appeared on TopGear.com. Minor edits have been made.