We've seen some interesting concept cars as of late—remember Esa Mustonen's Koenigsegg render? Maybe we can file those under the good things that come out of quarantine.
Another render under that same category is this Mazda RX-10 Vision Longtail by Max Schneider. It's a sleek, long-tailed hypercar which the designer himself said inherits Mazda's Kodo design language. We can't argue otherwise, because this does look like something Mazda would build if it were to make a hypercar.
Max said that the concept packs a 2.3-liter turbocharged three-rotor that generates 780hp—this power is sent to the rear wheels. In addition, there are two electric motors on the front wheels that add 125hp each, resulting in a total system output of 1,030hp. It weighs 1,450kg and does 0-100kph in just 2.5sec, with a top speed of 427kph.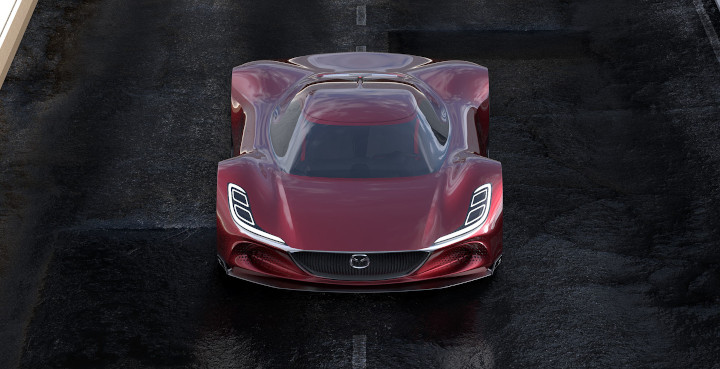 Continue reading below ↓
Recommended Videos

"But wait, a rotary engine? Out of all the possible setups, why'd he pick that?" Good question. Well, simply put, the guy's a fan of the technology. Before Max got his stint as an exterior designer at Mitsubishi Motors Corporation in Japan, he used to compete in various amateur races including autocross and Rallyesprint events—including Mazda's 'Race of Your Life' challenge in 2016.
Max won the German national qualifiers, eventually earning the chance to race in the European finals. That's where he developed a soft spot for Mazda's famous rotaries which eventually inspired him to create this project. And while he understands that rotary engines are linked with certain emission issues, there's a catch here: This RX-10 Vision Longtail is, potentially, hydrogen-powered.
"While hydrogen could cause a lot of problems with knock on normal combustion engines, on a rotary you don't have that problem, which mitigates misfiring. Additionally, you create more power and use the engine more efficiently when the rotary is powered by hydrogen," said Max.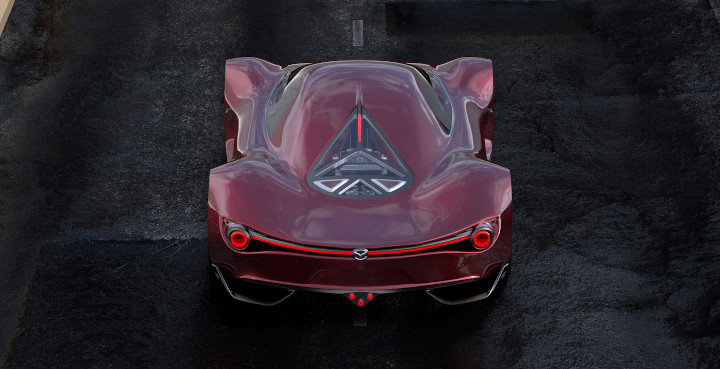 "The most important one, though, is that with hydrogen, you don't have any carbon emissions—no carbon dioxide, no carbon monoxide. Although not completely free of NOx emissions, this makes the rotary a viable competitor to even electric engines. Unfortunately, because of the tanks needing a lot of space, the range is not that great, which is why an added system of electric power makes it a perfect match for an efficient, new-technology hybrid," he added.
He sees this concept of his as a possible halo car for Mazda which it can use to introduce the hydrogen-powered rotary engine, and he said that the perfect stage would be at Le Mans.
"I strongly believe that Mazda should pursue this technological direction to keep the special treasure that is the rotary alive," Max added.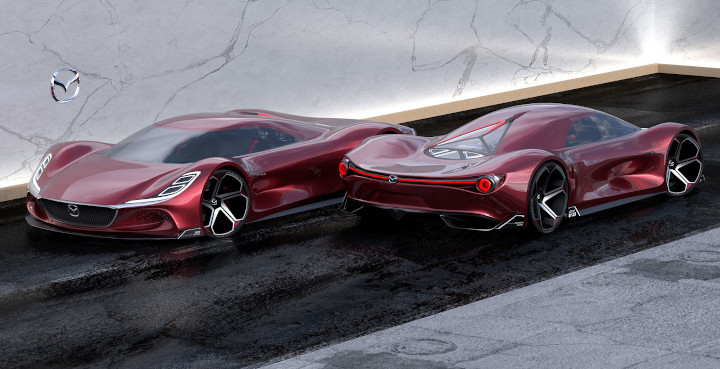 What do you think of this concept? You think Mazda should give it a shot? Check out more photos of it below, and share your two cents about it in the comments.