Nope, Gordon Murray hasn't fully revealed the T.50, his long-awaited successor to the McLaren F1...yet. We're going to have to hang on for another few months before we get a look at the design and a proper poke around one (and another 18 months before it goes into production), but to keep the excitement bubbling, he's released details on the witchcraft that allows a three-seater, V12 supercar to weigh just 980kg—less than your average supermini.
We've already picked Murray's brains on the T.50 and managed to wheedle out a surprising amount of detail, which you can read about here. Clearly, mass—or lack of it—is his obsession. "Designing a lightweight sports car does not come from specifying exotic materials alone," he says. "It comes from a state of mind, from absolute focus and control, and from a deep understanding of lightweight, optimized design."
ADVERTISEMENT - CONTINUE READING BELOW ↓
Translated into English, that means designing every component to be as light as possible from the outset, rather than resorting to retrospective stripping out at the end. Murray refers to the T.50 as a "supercar with GT capability," not some pared-back track special. Its footprint is smaller than that of the current Porsche 911, but it "offers comfortable space for three passengers and luggage."
This is a car that weighs a couple of suitcases more than a 930kg Lotus Elise, but is powered by a 641hp V12. To hit the same 654hp/ton power to weight ratio, Murray helpfully points out that a typical 1,450kg supercar would need another 300hp-ish for a total of around 950hp, but with that comes extra cost, complexity, and larger, heavier components to handle the extra power.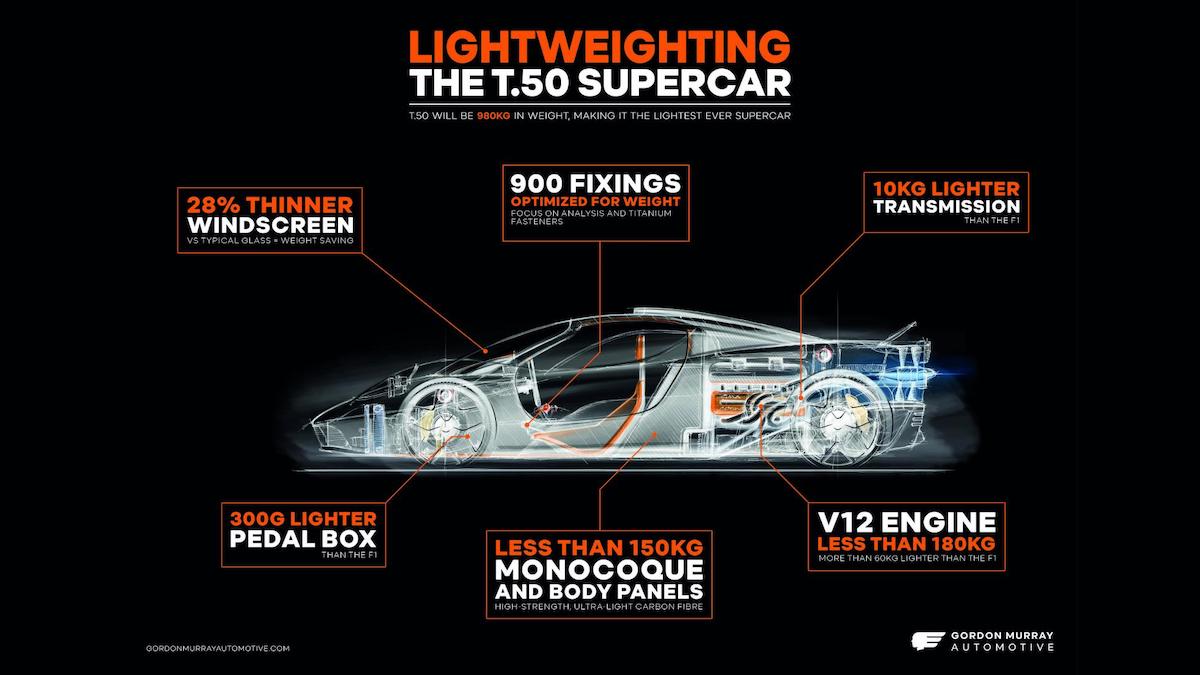 ADVERTISEMENT - CONTINUE READING BELOW ↓
Recommended Videos
As the infographic above shows, the weight-saving headlines are a carbon-fiber monocoque and body panels weighing less than 150kg in total. Then there's the three carbon-fiber seats—the driver's weighing 7kg, and the outer two 3kg a piece—a pedal box that's 300g lighter than the F1's, and glazing that's 28% thinner.
The Cosworth engine—a 4.0-liter naturally aspirated V12 revving to an Aston Valkyrie-beating 12,100rpm—weighs just 180kg, or 60kg less than the BMW V12 in the McLaren F1, despite producing more power. The six-speed manual gearbox is 10% lighter.
By far the most amusing revelation is that Gordon Murray Automotive's senior design and engineering teams hold a weekly 'weight watchers' meeting. Not to compare waistlines and scoff cake in the car park afterwards, but to keep regular tabs on the weight of every component—down to the nuts, bolts, and washers: "On many cars, these fixings are generic and far larger than they need to be. For the T.50, the diameter and length of each fixing (around 900 in total) was optimized by calculating the forces to which each would be exposed."
ADVERTISEMENT - CONTINUE READING BELOW ↓
And you thought designing supercars was glamorous...
NOTE: This article first appeared on TopGear.com. Minor edits have been made.