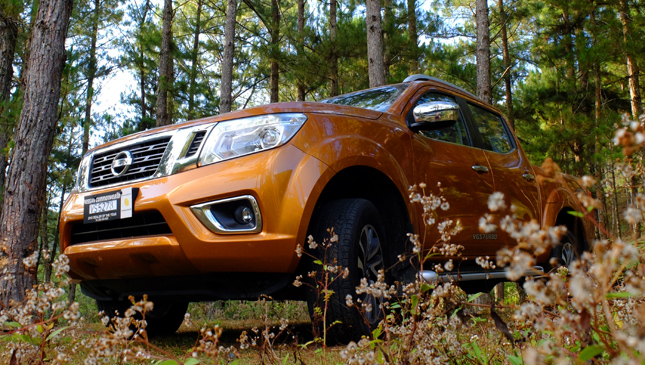 A little over a year ago, the Philippines was introduced to the new Navara--Nissan's burly entry into the pickup wars. Yes, it's been that long already. In celebration of the milestone, Nissan Philippines invited us to join an epic drive to the mystical mountains of Sagada.
A 12-hour drive through open highways, Kennon Road and the dreaded Halsema? Of course we were excited. Hell, maybe we'd even get a glimpse of the fabled Carrot Man somewhere along the way. Granted, neither Kennon nor Halsema are as intimidating now as they were a decade ago, but still, we couldn't have thought of a better route on which to test the Navara's mettle.
We departed from Nissan North EDSA at exactly 3am, opting to spend the first leg of the journey as rear passengers. We had told you about this pickup truck's cabin before--especially regarding its Zero-G seats--but had yet to experience it on a trip of this length. Lo and behold, we slept comfortably right through Kennon Road. Also of note is the cabin's size. Loading several bags and camera equipment? No problem.
After a hearty breakfast at Café By The Ruins, we got behind the wheel for a crack at the twists and turns of Halsema Highway. We kidded our hosts that we were looking forward to abusing the pickups along the famed route, to which they laughed--with a slight hint of anxiety. As tempting as it was to tackle those beautiful curves with the full force of the Navara, we knew we had to restrain ourselves. This is one stretch of road you don't want to take lightly.
Continue reading below ↓
Recommended Videos
With safety in mind the entire way, we maintained our convoy and observed the speed limit. Despite these limitations, the Navara proved to be a fairly fun vehicle to drive. Handling and steering response were superb, as was its power that made overtaking slow trucks and bikes a breeze. Take into consideration the breathtaking scenery of the highest point in the country's highway system, and you've got the makings of a dream road trip.
We arrived in Sagada well ahead of schedule, meaning we would have to wait a short while before our hosts could finish setting up our Kiltepan campsite. Nissan really went out of its way in this regard, preparing for us a small town of tents complete with lighting, charging stations and, of course, a blazing campfire to keep us toasty for the duration of the night. After a steak dinner and a short performance by the locals, we hopped into our sleeping bags, excited for the sunrise viewing the following morning.
We were in the same spot during our annual planning last year (remember?)--sitting in the freezing cold, eagerly waiting for a glimpse of the majestic sea of clouds the area is known for. Unfortunately for us then, the weather refused to cooperate. Would our second trip to Kiltepan be any different? Sadly, no. The peak was enveloped in a sheet of fog faster than one could say "Nismo." Oh well, maybe next time again.
After a short trek through Echo Valley and a trip to the world-renowned Hanging Coffins, we decided to opt out of the optional spelunking to spend a little alone time with the Navara along the nearby roads. Paul, our guide, directed us toward a local patch of rough road on which we could try out the pickup's 4WD capability. With a turn of a dial, we unleashed the vehicle's 4WD mode upon the rocks and dust of Mountain Province.
One neat feature of the Navara is the hill descent control. Essentially, the system allows the pickup to make its way down steep inclines gradually, without requiring the driver to apply the brakes. It takes a little getting used to, and 4WD purists might label it as unnecessary, but it's still impressive technology nonetheless. As our shadows grew long and the sky turned orange, we headed back for our final night of the trip.
It might sound cliché, but we spent the last part of our three-day trip roasting marshmallows and hotdogs over an open bonfire. After all, nothing beats trading hotdog jokes in the middle of the woods. We got into our trucks for our return journey, our sights once again glued to the beautiful scenery along Halsema as we sped by, headed home with a breath of Sagada in our hearts and a newfound love for Nissan's mighty Navara.
Photos by Drei Laurel