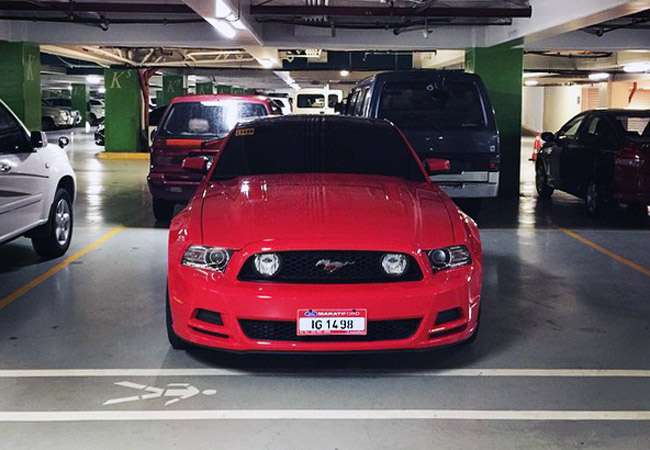 Today, FHM babe Paulene So posted the above photo on her Facebook fan page. The picture was accompanied by the following caption:
Sorry, hindi ko sha ma-park sa single parking!! Hindi ko pa ma-tancha!! Buti na lang madami naman parking slots pa so medyo okay lang siguro.
For good measure, she included the following hashtags:
#needmorepractice
#feelingtruckangdala
#takotmatamaan
We're assuming the new Ford Mustang is hers, and that she started driving it only recently. The above photo obviously shows that the pretty model occupied two parking slots.
As expected, we received screenshots of her post from "concerned" individuals. We even replied to one such sender with this message: "She'd get cyber-bullied if we posted this." We honestly felt Paulene's caption was endearing, and that at least she admitted she needed more practice with her parking skills.
Someone then commented on her post: "Rule #1: Don't let your car become viral especially on Top Gear Philippines."
We really had no plans of posting the photo on our Facebook page, because to our mind, her misdemeanor didn't carry the same weight as that of another FHM babe who flashed a police officer's calling card when she got flagged down by a traffic officer for a number-coding violation.
Continue reading below ↓
Recommended Videos
But then Paulene did the cutest thing: She posted another photo of her now properly parked Mustang. She captioned it with the following message:
Ayan na, ayos na sha!
The clincher? She also added these hashtags:
#iloveTopGear
#peace
Isn't she the most adorable FHM girl ever?
Well, Top Gear loves you, too, Paulene. Have fun with your new steed. And don't take up two parking slots again.
Photos from Paulene So's Facebook fan page