Round 1: Bahrain GP
With Australia still not entertaining visitors due to COVID-19, the 2021 Formula 1 season's opening race was moved from Melbourne to Bahrain, where preseason testing suggested that Mercedes' long-running dominance at the front could be under threat. But we'd been down that road several times before, hadn't we?
Max Verstappen qualified on pole by a comfortable margin of four tenths, but the race itself was a much closer contest as Red Bull and Mercedes engaged in a tense tactical battle. With fresher tires in the closing stages, Verstappen swept past Lewis Hamilton for the lead, but was forced to hand the position back having completed the move off-track. With nothing left in the rubber for a fresh attack, that's how it finished. And so began one of the closest F1 title fights in history...
Hamilton – 25 points
Verstappen – 18 points
Round 2: Emilia Romagna Grand Prix
A welcome return to Imola for the second year running saw Hamilton edge a tight qualifying session in which a messy Q3 put Verstappen only third on the grid, behind his main rival and teammate Sergio Perez. Clearly, it didn't phase the Dutchman: a blinding start saw him barge his way into the lead at the first corner, forcing Hamilton over the sausage curbs and leaving him with damage for the rest of the grand prix.
First and second is where they finished, but it could've been so different. Midway through the race, Hamilton slid into the gravel and broke his front wing, and only a fortuitous red flag (remember that crash between George Russel and Valtteri Bottas?) prevented him from being lapped. At the restart, Verstappen very nearly spun out as he backed up the pack behind the safety car, needing cat-like reactions to cling onto the lead. But cling on he did, as Hamilton recovered to second.
Hamilton – 44 points
Verstappen – 43 points
Round 3: Portuguese Grand Prix
Another COVID-induced addition to the calendar, F1 returned to Portimao in 2021 hoping to emulate the excitement of the previous year's race. It didn't disappoint: Hamilton couldn't get past teammate and polesitter Valtteri Bottas at the start, and things got worse for the Brit as Verstappen got by him with a brave move on lap seven.
It didn't last, though. Four laps later Hamilton regained the position from the Dutchman down the main straight, and a short while later, he'd caught and passed Bottas, too. The Finn's job thereafter was to hang on to second place, but Verstappen pounced after the final round of pit stops to demote Bottas to third.
Hamilton – 69 points
Verstappen – 61 points
Round 4: Spanish Grand Prix
Only four-hundredths of a second split Hamilton and Verstappen in qualifying, and their front-row lockout brought yet more fireworks at the start as Verstappen bullied his way past Hamilton under braking for the first corner. It was hard but fair racing, and the Dutchman's refusal to yield—ever—was starting to look like a recurring theme...
Having lost the lead of the race, Mercedes set about playing the long game, eventually bringing Hamilton in for a second set of fresh tires and forcing Red Bull to commit to a one-stop. The gamble worked and Hamilton dispatched Verstappen with six laps to go, making it three wins out of four.
Hamilton – 94 points
Verstappen – 80 points
Round 5: Monaco Grand Prix
Monaco has always been something of a bogey circuit for Mercedes (yes, even though the team has won it several times) as its high-downforce, low-speed nature has never fully suited the philosophy of the defending champions' recent cars. So extreme is the layout that it brought the Ferraris into play in 2021, and out of nowhere, it was Charles Leclerc who qualified on pole as Verstappen and Hamilton could only manage second and seventh between them.
Verstappen and several others didn't get the chance to improve in Q3 as Leclerc—having already posted the fastest time—crashed heavily, ending the session. But slamming into the barriers caused hidden damage that meant the Monegasque driver didn't get as far as the formation lap, leaving Verstappen to romp to victory and the championship lead on race day.
Hamilton, meanwhile, had a torrid afternoon, with a poor Mercedes strategy seeing him lose positions to Sergio Perez and Aston Martin's Sebastian Vettel. At least he could walk home afterwards.
Hamilton – 101 points
Verstappen – 105 points
Round 6: Azerbaijan Grand Prix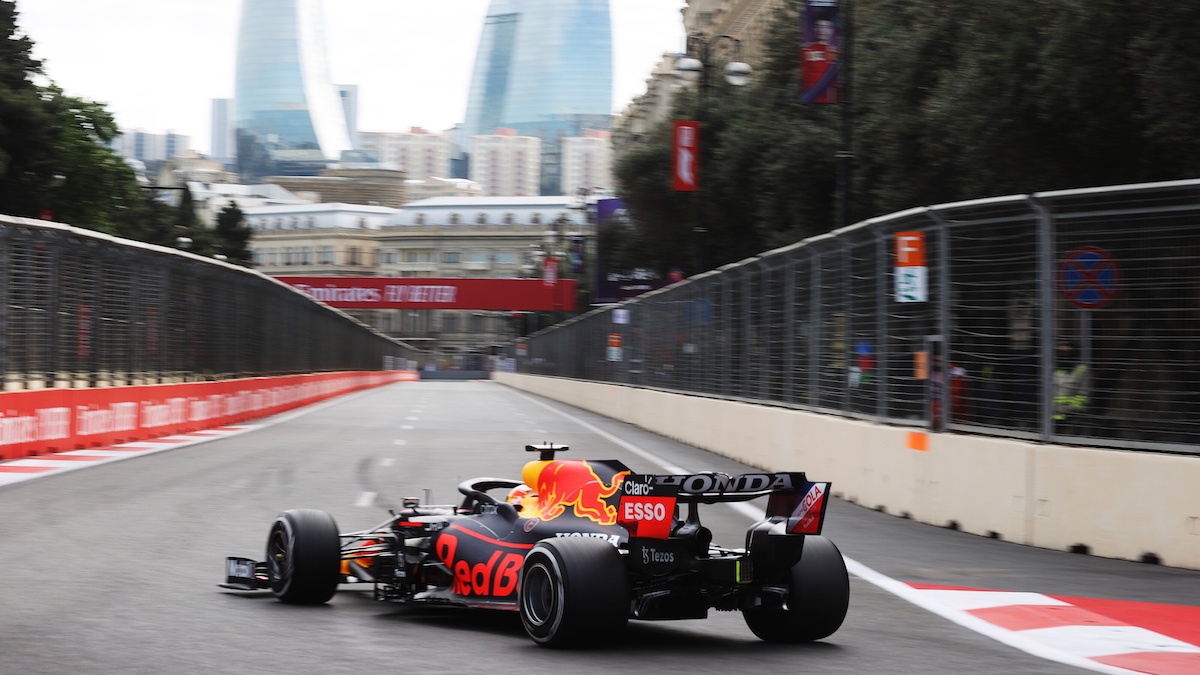 Baku's street circuit always seems to deliver drama, and 2021 was no exception as Leclerc somehow made it two poles on the bounce in a car that had no real right to be there. Unfortunately, the Ferrari's lack of race pace was quickly made clear after the lights went out as Hamilton and the Red Bulls pulled away, before it became obvious that the latter pair had the legs on Mercedes as well.
Verstappen and Perez were comfortably running first and second with five laps to go, when Verstappen's front right tire inexplicably blew out on the main straight. It looked like the championship would swing back in Hamilton's favor, but when the seven-time champ dived for the lead at the restart, he accidentally flicked a switch that ruined his brake bias, forcing him off and out of the points. Mark Webber's screech on UK commentary has become the stuff of legend.
Hamilton – 101 points
Verstappen – 105 points
Round 7: French Grand Prix
The French GP at Paul Ricard has been soporific at best in recent years, but with the two title protagonists going wheel to wheel once again, this edition of the race was actually pretty compelling. This time, it was Hamilton's turn to snatch the lead away from polesitter Verstappen on lap one, making the latter the hunter on a more aggressive two-stop strategy.
That gave Verstappen a huge pace advantage in the final stint, and after munching his way through the gap, he made the decisive move on the penultimate lap. Magnifique.
Hamilton – 119 points
Verstappen – 131 points
Round 8: Styrian Grand Prix
The first of two races at the Red Bull Ring in Austria, the Styrian GP followed the form book as Verstappen qualified on pole before leading the race from start to finish. Mercedes and Hamilton had no answer to the Dutchman and Red Bull's speed at the team's home grand prix, although they managed to keep both cars ahead of Sergio Perez come the checkered flag. A botched pit stop for the Mexican driver didn't help matters.
Hamilton – 138 points
Verstappen – 156 points
Round 9: Austrian Grand Prix
"Insanity is doing the same thing over and over again, but expecting different results," said someone who wasn't Albert Einstein, according to Google. Anyway, same track, same conditions, same outcome: Verstappen put his car on pole again for the third race in a row and duly drove off into the distance. Hamilton, however, could only manage fourth on the grid, and although he was running second at one stage, he picked up damage during the race, eventually ceding positions to Bottas and McLaren's Lando Norris.
Hamilton – 150 points
Verstappen – 182 points
Round 10: British Grand Prix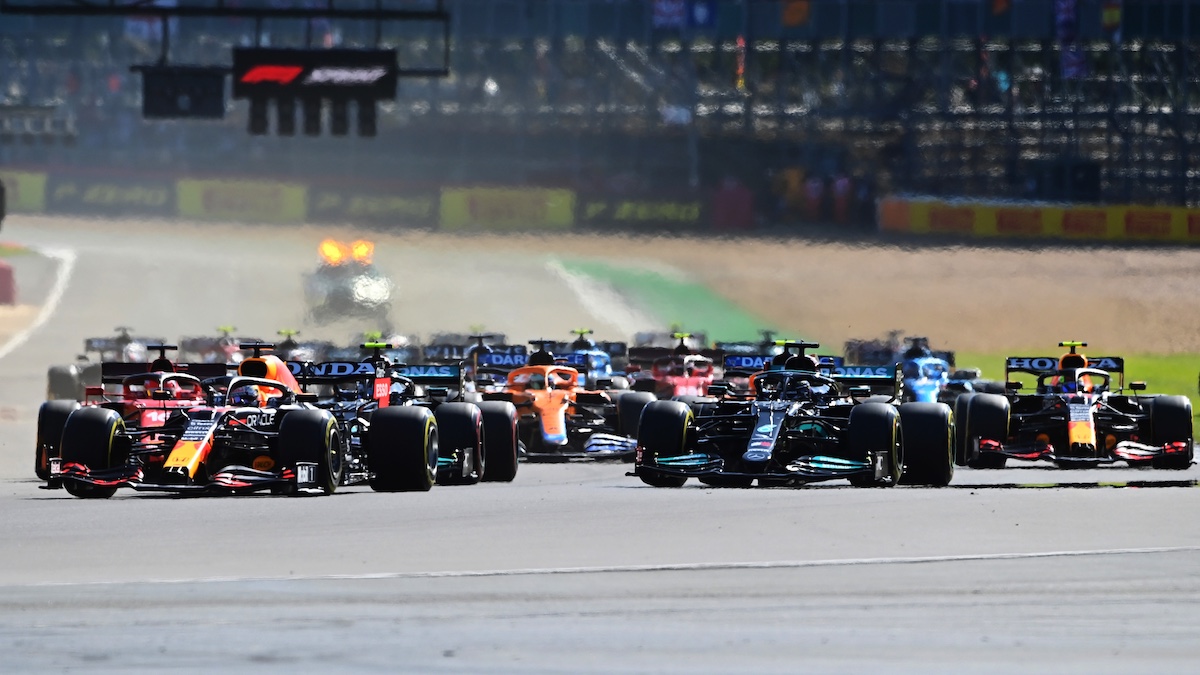 On the back of five straight Red Bull wins, Mercedes badly needed a result at Silverstone, and although things started well enough with Hamilton fastest in a Friday afternoon qualifying session, Verstappen hit back the next day with victory in the inaugural 'sprint qualifying,' earning him three championship points and the 'official' pole position for the grand prix.
Knowing he needed to get ahead at the start to stand any chance of victory, Hamilton came out all guns blazing as Verstappen defended aggressively through the first few corners. The unstoppable force had finally met the immovable object, and with both drivers refusing to yield, they collided at Copse, with Verstappen spearing off into the tire wall and faced with a trip to hospital.
The stewards decided Hamilton carried most of the blame and handed him a 10-second penalty, but in front of his home crowd, the Briton rallied back to claim an unbelievable victory. The war of words that followed between the teams was deeply unpleasant, and relations between Mercedes and Red Bull never really recovered.
Hamilton – 177 points
Verstappen – 185 points
Round 11:  Hungarian Grand Prix
If someone scripted the 2021 Hungary race and pitched it to a Hollywood director, it would be laughed out of the room for being stupidly implausible. But it really did happen. Mercedes locked out the front row with Verstappen in third, but a poor start for Bottas followed by a lock-up in wet conditions saw the championship leader punted off with huge floor damage as half the grid came to blows.
The race was red-flagged, but as the field went back out for its formation lap, the track was rapidly drying out: Everyone bar Hamilton pitted for slicks, leaving us with the bizarre sight of just one car lining up on the grid. A lap later, Hamilton was last having pitted to ditch his intermediates, leaving him faced with the mother of all recovery drives on a track where overtaking is famously quite hard.
We all know what happened next. Alpine's Esteban Ocon held on at the front for an incredible first career F1 win, and he had teammate Fernando Alonso to thank as the Spaniard held up Hamilton's charge just long enough to protect Ocon's lead. Lewis made it all the way back up to third by the final lap, but was later promoted to second as Vettel was disqualified for not having enough fuel left in his car post-race.
To his credit, Verstappen still picked up two points for finishing ninth, despite the lap-one damage leaving him massively short of downforce.
Hamilton – 195 points
Verstappen – 187 points
Round 12: Belgian Grand Prix
Another record-breaking race, this time for all the wrong reasons. Qualifying was unforgettable as treacherous weather made Spa almost undriveable, and allowed George Russell to showcase his talent in the unfancied (by which we mean 'really quite terrible') Williams, sticking it second on the grid just a couple of tenths shy of Verstappen on pole and mere hundredths faster than Hamilton behind.
The jumbled grid looked epic for Sunday, but the weather got even worse and the start time was delayed several times over. Eventually, everyone went out behind the safety car but trying to get the race going proved hopeless, so a result was declared based on qualifying order and half-points were dished out to the top 10.
This was controversial, partly because it meant points were awarded for no racing whatsoever, but mostly because the two-lap 'race' meant fans couldn't get their tickets refunded. Boo! Hiss!
Hamilton – 202.5 points
Verstappen – 199.5 points
Round 13: Dutch Grand Prix
If you thought the British fans were mad for Hamilton, the reception given to Verstappen at Zandvoort was something else. The country's passion for the Red Bull driver is the sole reason the race made it back onto the F1 calendar after an absence of 36 years, and Max was roared on by a wall of orange-clad supporters at the newly renovated circuit. F1 should have more banked corners.
To the delight of the home crowd, Verstappen dominated the weekend, qualifying on pole then outpacing Hamilton throughout the grand prix. The scenes when he took the checkered flag—as orange smoke billowed over the circuit—were truly extraordinary.
Hamilton – 221.5 points
Verstappen – 224.5 points
Round 14: Italian Grand Prix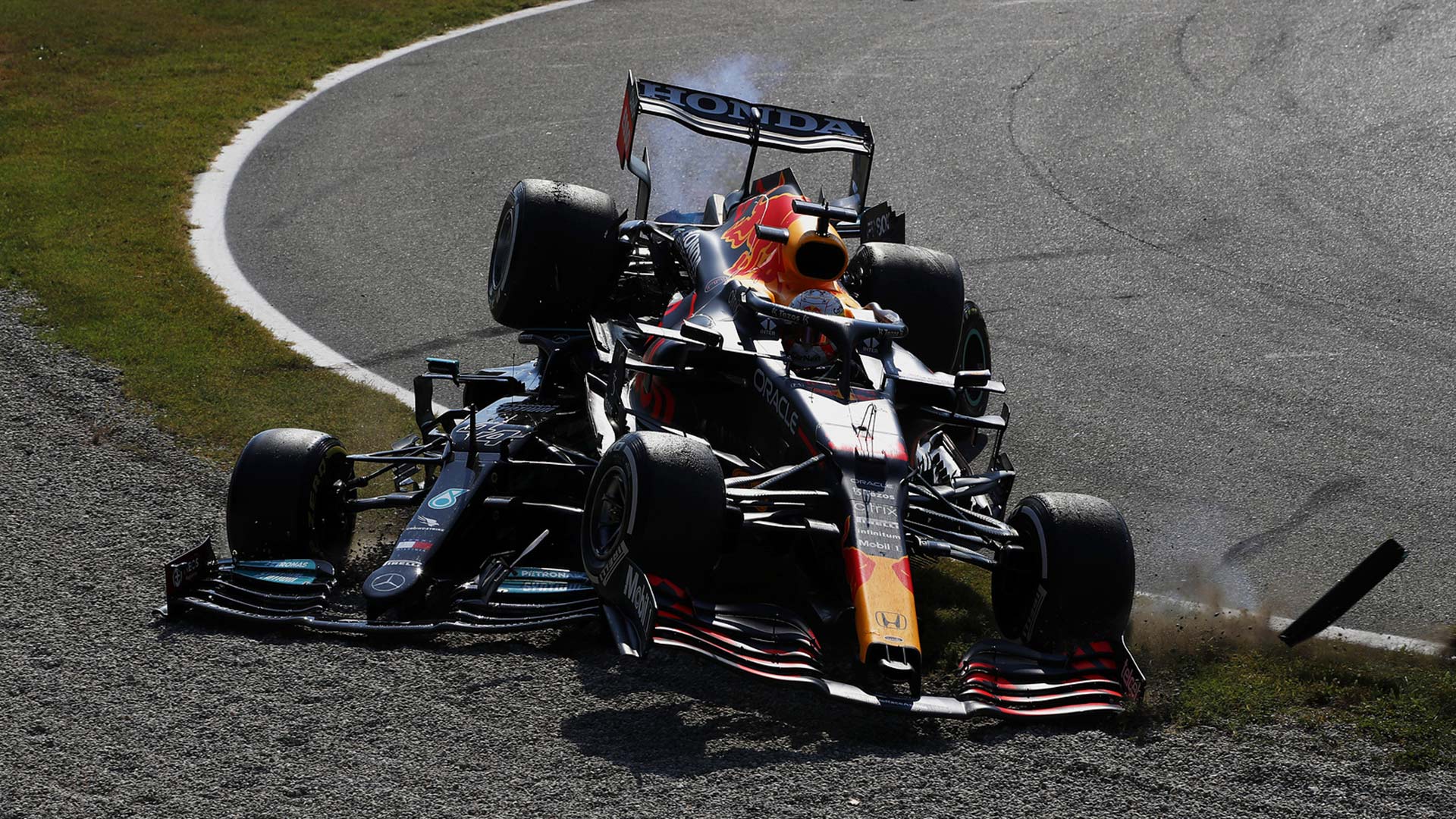 Monza hosted the second 'sprint qualifying' session of the season, and Mercedes was perfectly placed after normal qualifying with a front-row lockout ahead of Verstappen in third. But the Dutchman got the jump on Hamilton at the start, shuffling Lewis down to fifth, which is where he stayed.
A penalty for Bottas promoted Verstappen to pole on race day, but the Dutchman was caught out at the start by Daniel Ricciardo, who drove like a man possessed and promptly took McLaren back to the top step of the podium for the first time in nine long years.
So what happened to Hamilton and Verstappen? Slow pit stops for each put them on a collision course near half-distance, and then they, er, collided. Verstappen went for an ambitious move around the outside of turn one, but a sausage curb pitched him onto the top of Hamilton's car and that was that for the pair of them.
Hamilton – 221.5 points
Verstappen – 226.5 points
Round 15: Russian Grand Prix
Verstappen was deemed to be at fault for the collision in Italy, and as such he was slapped with a three-place grid penalty for the race in Sochi. But in the end, he started from the back of the grid, with Red Bull deciding to change his engine.
So plain sailing for Lewis? Not a chance. Another wet qualifying session shook up the order and saw Lando Norris take his maiden F1 pole for McLaren ahead of Ferrari's Carlos Sainz and—again remarkably—the Williams of George Russell, who at this stage was confirmed as Hamilton's teammate for 2022.
Hamilton was cautious at the start and dropped to seventh, but by the final laps of the race, he was locked in a battle with Norris for the win. The younger Brit looked like he had the pace to hold on for victory, but a late rain shower forced them into a decision on tires: Hamilton (eventually) pitted for inters as Norris stayed out, but the rain got worse and Lewis took his 100th career F1 win. Norris? He spun off and finished seventh, while Verstappen read the weather perfectly to convert a likely seventh place into a stunning P2. Not a bad recovery drive, that.
Hamilton – 246.5 points
Verstappen – 244.5 points
Round 16: Turkish Grand Prix
Istanbul stepped in to host a wild grand prix in 2020, and it did so again in 2021 in place of the Japanese GP. COVID, eh? And so, to mark what would've been Honda's final home race as an F1 engine supplier, Red Bull donned a special white livery to pay tribute to its partner. Nice touch.
This time, it was Hamilton's turn to take an engine penalty, dropping him 10 places after setting the fastest time in quali. That left Valtteri Bottas out in front to defend from Verstappen, and credit where credit's due, that's exactly what he did, comfortably keeping the Red Bull driver at bay in yet another soggy grand prix.
What of Hamilton's recovery? He was up to fourth briefly, but then (unwisely, as it turns out) ignored his team's calls to pit for fresh tires at the optimum time, eventually finishing fifth behind Perez and Leclerc.
Hamilton – 256.5 points
Verstappen – 262.5 points
Round 17: US Grand Prix
Everyone thought that the Circuit of the Americas would firmly favor Mercedes, but it was Verstappen who set the pace in qualifying, shading Hamilton by two-tenths.
Not that starting second is historically a bad thing at COTA: Turn one has given the advantage to the car on the inside several times over the years, and Hamilton used that to his advantage by diving for the lead on the opening lap.
Red Bull then stopped Verstappen early in response, meaning the championship leader had track position over Lewis—but older tires—in the final part of the race. Verstappen brilliantly judged his pace to keep the charging Mercedes at bay, taking the win by little more than a second when the checkered flag was flown. Textbook stuff.
Hamilton – 275.5 points
Verstappen – 287.5 points
Round 18: Mexican Grand Prix
The most one-sided grand prix of the year? The race results don't show it, but the Red Bull—as it often is at high-altitude circuits—was untouchable in Mexico. Or at least it looked that way until Mercedes locked out the front row out of nowhere. Hmm.
In truth, Red Bull had a poor qualifying session, but Verstappen righted that wrong immediately on race day as he surged into the lead at the first corner, just as Bottas was being spun round by Ricciardo. Verstappen was unchallenged for the rest of the afternoon, while Bottas was embarrassingly forced to pit not once, but twice at the end of the race to steal the point for the fastest lap back off Red Bull.
Hamilton, unable to take the fight to Verstappen, had a job on his hands to keep Perez behind him, and in the end, the Mexican had to settle for third at his home grand prix. Still, at least he got to stand on the podium in front of his own crowd. A bucket-list moment, for sure.
Hamilton – 293.5 points
Verstappen – 312.5 points
Round 19: Sao Paulo Grand Prix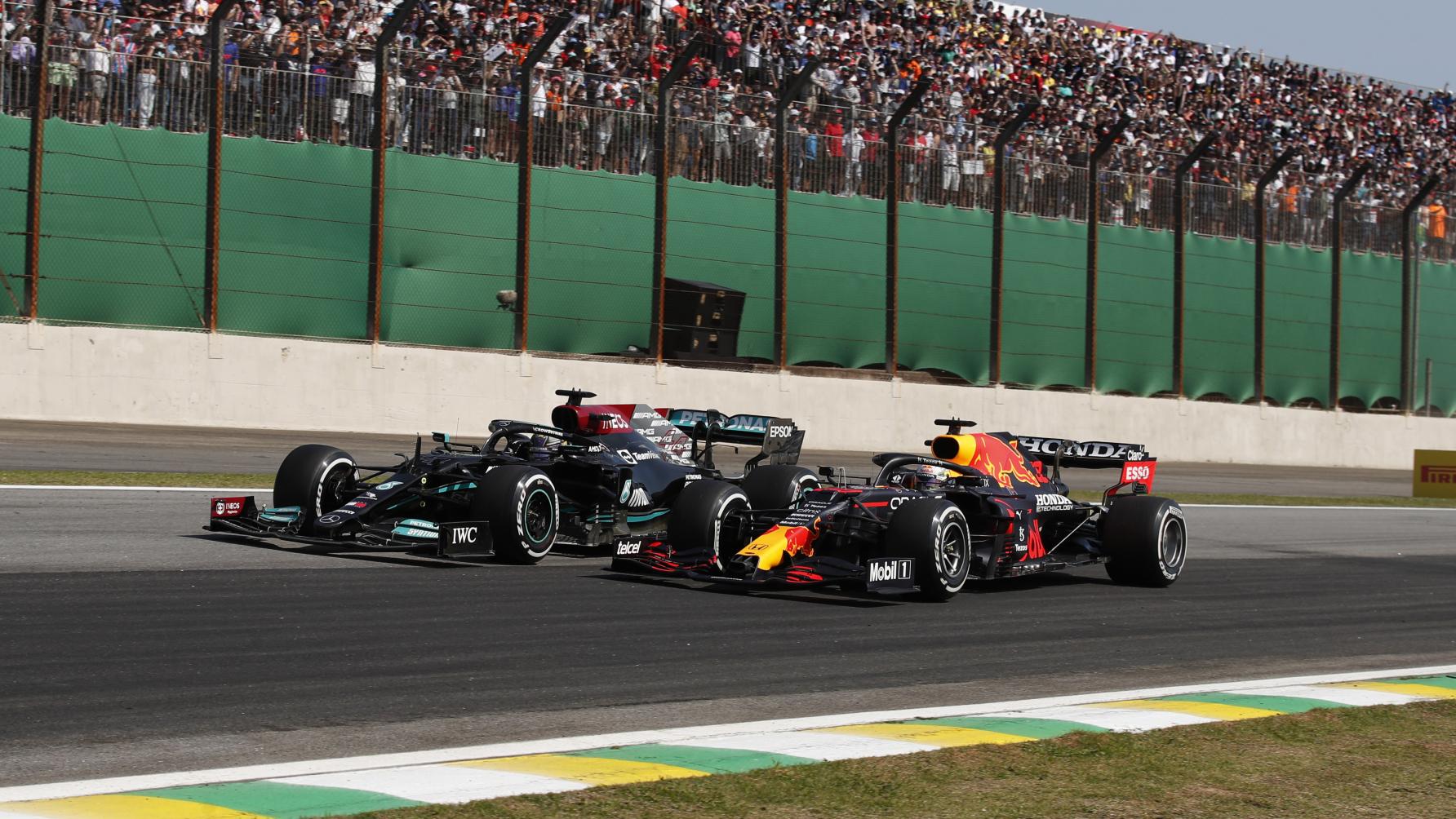 Was this remarkable grand prix the decisive twist in the title fight? With a 19-point lead, a win in Brazil would mean Verstappen could finish second to Hamilton in the remaining races and still claim the championship, but the battle looked done after qualifying when Red Bull—suspecting Mercedes was running an illegal rear wing—got the FIA to investigate. Investigate they did, and while the design of the wing was approved, a small defect was found that meant the DRS on Hamilton's car was opening 0.2mm too far. The result? Disqualification, while Verstappen was fined €50,000 for touching his rival's wing in parc ferme. It's a long story...
That would normally be enough drama for one weekend, but Sao Paulo was hosting the third and final sprint qualifying of the season, from which Hamilton had to start at the back of the grid. Amazingly, he recovered to fifth place in just 24 laps, while teammate Bottas wrestled the win off Verstappen and grabbed pole for the grand prix.
So what happened next? Hamilton took yet another penalty for an engine change, dropping him back to 10th place, but in one of the great drives of modern times, he picked off the cars ahead one by one until only Verstappen stood between him and victory.
The tussle that followed kick-started a heated debate about what fair racing actually looks like: Hamilton got a run on Max down into turn four, but the Red Bull driver braked late and missed the corner, forcing Hamilton off as well. Was that allowed? Yes, it was, according to the stewards, but it mattered not a few laps later as the Mercedes driver made the move stick down Reta Oposta. And breathe.
Hamilton – 318.5 points
Verstappen – 332.5 points
Round 20: Qatar Grand Prix
Momentum had shifted very much toward Mercedes when the teams arrived at Losail International Circuit for the inaugural Qatar GP, a point underlined by Hamilton storming to pole by four-tenths of a second. Verstappen, meanwhile, was given a penalty for not slowing down under yellow flags, and although he started seventh on the grid, he'd recovered the positions he'd lost by lap five.
That was the race done as far as the championship was concerned, although we did get to see Alonso back on the podium for the first time in seven years after an incredible drive for Alpine. Forty years old, still got it.
Hamilton – 343.5 points
Verstappen – 351.5 points
Round 21: Saudi Arabian Grand Prix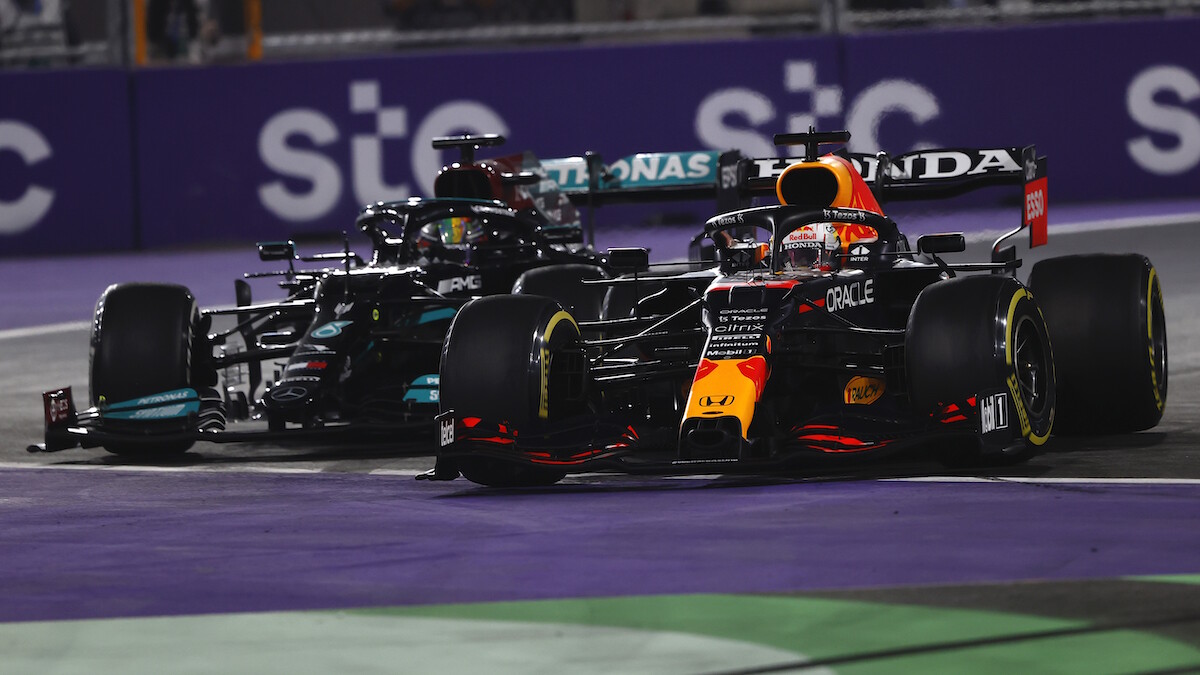 The craziest grand prix of the season? Top Gear certainly thought so. The scary-looking, high-speed street circuit promised carnage, and that's exactly what we got. It's impossible to summarize exactly what happened in detail without typing for a very, very long time, but here goes...
Verstappen looked on course for pole but crashed in the final corner, gifting it to Hamilton. He and Bottas held onto their one-two at the start and then pitted for fresh tires during an early safety-car period, but when the race was red-flagged, it gave the lead to Verstappen, who got new tires during the stoppage. Lewis got the jump on Max at the restart, but the Dutchman went deep, cut the track, blocked his rival, and earned himself a penalty.
Or he would've done, but there was another red flag straight away. Cue extraordinary scenes on the team radio as the race director negotiated with Red Bull to see Verstappen demoted behind Hamilton—who had also lost a place to Ocon in the melee—rather than be referred to the stewards.
Red Bull agreed to line up in P3 and Verstappen judged the second restart to perfection, lunging into first with a late move on the brakes into turn one, catching both Hamilton and Ocon off guard. Lewis soon got past the Frenchman, setting up a titanic battle for the win.
And boy, was it controversial. Hamilton eventually got into Verstappen's slipstream, but as he plunged around the outside into the first corner, the championship leader ran wide and forced the Mercedes driver off in near-identical defensive move to the one he'd pulled in Brazil. This time, the stewards did intervene, telling Red Bull to hand the place back.
Could it be that simple? Of course not. Verstappen slowed down to let Hamilton past, but did so approaching the DRS detection zone, knowing he'd get the chance to retake the lead if Hamilton crossed it first. Realizing this, Hamilton backed off, too, and in his frustration Verstappen hit the brakes, very nearly taking them both out (and earning him a retrospective time penalty after the race).
Much confusion and disbelief followed, but when the dust settled, Hamilton finally found a way past with seven laps to go. And in taking the bonus point for securing the fastest lap, Hamilton tied the championship standings with one round of the longest F1 season in history to go.
It really is winner takes all in Abu Dhabi. If they do a Senna-Prost and both crash out, Verstappen will be crowned champion on account of winning nine races to Hamilton's eight this season.
The 2021 Abu Dhabi Grand Prix kicks off on Sunday, December 12, at 9pm Manila time. Bring. It. On.
Hamilton – 369.5 points
Verstappen – 369.5points
NOTE: This article first appeared on TopGear.com. Minor edits have been made.