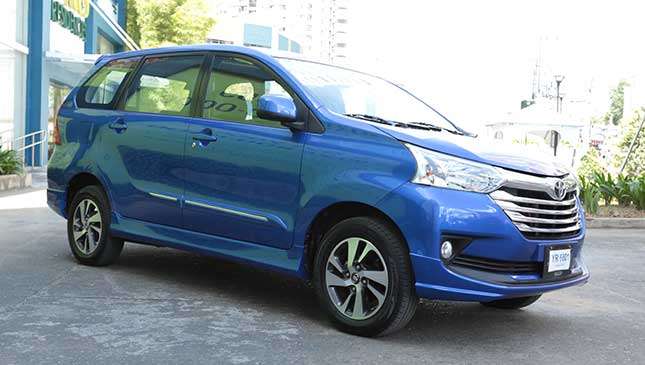 Last year, Toyota Motor Philippines sold 15,463 Avanzas from its many showrooms and dealerships. The figure isn't as impressive as the Fortuner's 39,680 units, but it's still worth noting when you consider that the Avanza outsold the Hilux and the Corolla Altis. As far as small MPVs go, Toyota's contender remains king.
Now on its second generation, what does the Avanza have to offer? The MPV continues to sell well thanks to its affordability and practicality. It has seating capacity for seven people (though the base J variant only seats five).
Following its facelift in 2015, the exterior now has a larger chrome grille, plus redesigned halogen headlamps, and a new bumper. Underneath, your options include 15- or 14-inch alloys and 14-inch steel. The sporty Veloz variant has added bits like a blacked-out grille, sporty bumpers, and an all-black interior.
Continue reading below ↓
Recommended Videos
The top variants get a 6.2-inch touchscreen infotainment display with a built-in navigation system and Bluetooth connectivity. Every variant except the base gets four speakers. Features like manual air-con and seatbelt warning for the front seats come standard. Powertrain options include 1.5- and 1.3-liter dual VVT-is with 103hp/136Nm and 95hp/121Nm respectively. Transmission choices are a four-speed automatic and a five-speed with a clutch pedal.
Despite its small stature, the Avanza can seat seven average-sized people in relative comfort, with some room to spare for cargo. Ride comfort is adequate, while fuel efficiency clocks in at around 7.5km/L on city roads. Prices start at P721,000 for the base five-seater 1.3 J, up to P1,065,000 for the Veloz. In the future, it'd be great if Toyota could provide a more efficient automatic and a bit more power to the package.
Will the Avanza maintain its sales momentum this year? It's tough to say, especially since its biggest threat is within its own ranks. The Rush is slated to arrive later this year, and with seven seats and similar specs to the Avanza, the much-hyped newcomer could overlap in customers' eyes. Do you guys think this will be the case? Let us know what you think below.