So, Toyota Motor Philippines (TMP) has finally launched the all-new Corolla Altis, and this time around, the long-running compact sedan is available locally as a hybrid.
What does this mean for our market? Well, depending on how many kilometers per liter this thing averages in traffic (TMP has yet to reveal its own estimates), it could be a real game changer thanks to its P1,580,000 price tag—that's very affordable for a hybrid in our country. For comparison, TMP is selling the Prius and the Prius C for P2,289,000 and P1,907,000, respectively.
There's definitely potential here and we're eagerly waiting to get our hands on a test unit to see what kind of fuel efficiency the Corolla Altis Hybrid has to offer. For now, though, we'll settle for a short test drive around Bonifacio Global City on the day of the vehicle's launch. Below are our first impressions.
Continue reading below ↓
Recommended Videos
What's this hybrid packing under the hood? Well, it runs on a 1.8-liter four-cylinder DOHC gasoline engine and an electric motor that, combined, produce a total of 121hp at 5,200rpm and 142Nm of torque at 3,600rpm. This might be 200cc above the non-hybrid version's 1.6-liter unit, but the output of both engines are pretty similar as the latter does 121hp at 6,000rpm and 153Nm at 5,200rpm. The hybrid's fuel tank (43 liters) is also smaller compared with those of the conventionally powered variants (50 liters).
Now, when the vehicle's battery is sufficiently charged, it should run mainly on 'EV Mode' at low speeds, with conventional gasoline power kicking in as the car gets faster.
Unfortunately, the battery isn't charged when we hop into the vehicle (blame BGC traffic for this, as the setup charges via the car's engine and regenerative braking). We do get to experience EV Mode for short periods of time despite this.
The shift from gasoline power to electric propulsion is marked by a dull mechanical hum, followed by quietness and minimal vibration—a sensation those of you who have driven electric vehicles and hybrids will probably be familiar with. There's also a small green indicator light on the instrument cluster that lets you know when the vehicle is in EV Mode.
Driving-wise, light steering and excellent visibility leave us thinking that this will fit right in here in the city. The car also feels relatively quick off the line. The lower maximum torque of the hybrid engine probably helps. We'll need to spend a longer time behind the wheel for further driving impressions, though, as we spent most of the test drive stuck in traffic.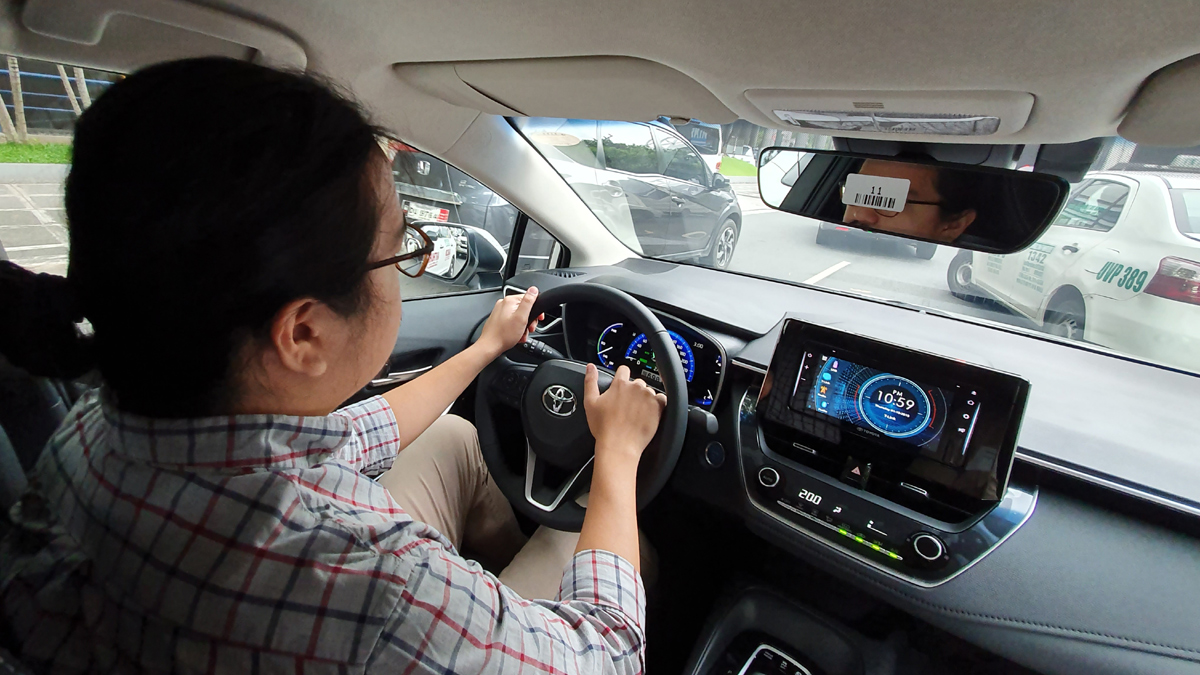 Cabin insulation is also very good, and most of the soft-touch materials scattered throughout the interior are pretty nice. Headroom is also excellent. One gripe so far—and it's the same one I have with most vehicles currently in TMP's local lineup—is that the archaic touchscreen infotainment system and the black plastic trim surrounding it just seem off, especially in a top-of-the-line variant like the hybrid we're driving. But we're just nitpicking at this point.
Finally, the hybrid variant is the only one in the entire Corolla Altis range that gets Toyota Safety Sense features like automatic high beams, lane-departure alert, dynamic radar cruise control, and lane tracing assist. It's something to consider if you plan on checking out the model.
We'll have a more detailed review—as well as actual fuel-economy figures—of the Toyota Corolla Altis 1.8 V Hybrid CVT once we're finally able to secure a test unit. So, how many kilometers per liter do you think this thing is capable of?