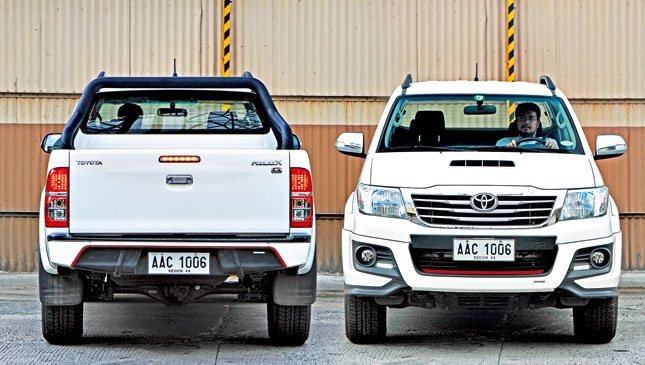 History
Launched in 2005 under the 'Innovative International Multi-purpose Vehicle' program, the Toyota Hilux shared many of its underpinnings and mechanical attributes with the Innova MPV and the Fortuner SUV. This allowed Toyota to offer a fully modern pickup with fuel-efficient direct-injection diesels at a very competitive price point. A perennial best-seller, the Hilux kept itself current with constant facelifts, as well as a minor mechanical change that gave us the 142hp 2.5-liter variant featured here. But just how does the Hilux stack up against the competition?
Value and costs
With over a decade of trucks to choose from, there's an IMV Hilux for almost any budget. The 4x2 units like this will cost you anywhere from P600,000 to P1 million, depending on the model year.
Continue reading below ↓
Recommended Videos
The 4x4 is, naturally, more expensive. You can get gasoline variants for closer to P500,000, if you don't mind paying extra for gas! If you're looking for a 3.0-liter 4x4, expect to pay P150,000 to P200,000 more over a 4x2 G in similar condition. Whatever variant, 'Toyota Tax' commands a P50,000 premium versus comparable secondhand units from other manufacturers, so good negotiation skills are a must when buying.
Maintenance is fairly straightforward. It is advisable to change your fuel filter regularly. EGR (exhaust gas recirculation) blanking is always a good idea, especially if you drive in traffic a lot. Parts are, of course, easily available and competitively priced.
Exterior and interior
The Hilux has undergone a number of facelifts—mostly trim and grille changes—in the 10 years it has been on market. This last one brought forward a more comprehensive revamp, the sharp looks echoing the futuristic-looking previous-gen Camry. The TRD kit shown here dials the machismo up with attractive gunmetal alloy wheels, a roll bar, and some fairly striking red highlights. The interior is roomy and comfortable, though starting to show its age. The dash and the instrument cluster seem dated, and the lack of an eco-meter is a crime in this day and age. But everything still feels tight, despite the mileage on this unit. One thing to check on higher-mileage units is undue wear on seat foam and fabric, or scuffs on silver trim. Otherwise, there aren't many problem points here.
Engine
The 2.7-liter gasoline engine is powerful and a doodle to maintain, but fuel economy leaves much to be desired. The older 2.5-liter diesel feels asthmatic compared to newer direct-injection motors, though fuel economy is pretty good. The new variable-nozzle-equipped 2.5-liter is perhaps the best engine in the Hilux lineup, feeling just as punchy as the 3.0 in stop-and-go traffic, while still delivering good economy when paired to the five-speed manual. The notchy shift lever requires a bit of rev-matching to ease into gear, but the clutch thankfully doesn't require thighs of steel.
While early IMV diesels had some high-pressure pump issues, D-4D powertrains are relatively problem-free. These issues seem associated with contaminated fuel more than anything else, and there are now many D-4Ds with more than 200,000km and no issues at all. All that's needed is to change the fuel filter every 10,000km or so. Still, it's always best to test-drive prospective buys to check for hard starting, smoke, and uneven power delivery.
Driving impressions
Hiluxes are often chided for poor ride quality, but this is relative. The 4x4 variants are indeed stiff, but 4x2s are more pliable. Post-2011 trucks are more comfortable, thanks to some rear-seat cushion resculpting, but they're still pretty lumpy over washboard roads. The trade-off for this is excellent agility...at least within the modest limits of the Dueler HT tires. Quick direction changes don't unsettle the Hilux, and the rear rarely threatens to break loose, unlike in some trucks we could mention. Sure, the steering is numb and the brakes are spongy, but the punchy 2.5-liter and smooth moves make this a better hustler than your common Japanese pickup. The only real issue is the lack of a limited-slip differential, but if you really want traction, best get the 4x4 instead.
Verdict
Despite losing its sales stranglehold to the all-new Ford Ranger, the Hilux is still a force to be reckoned with on the secondhand market. Its trademark ruggedness and reliability command a price premium over its competitors, and make it a relatively safe purchase for a modern diesel. Better yet, the sheer number of used Hiluxes out there means there's bound to be one that fits your taste and budget.
Price new: P1,100,000
Price now: P700,000
Engine: 2.5-liter turbodiesel I4
Gearbox: 5-speed manual
Power: 142hp @ 3,400rpm (2.5 VNT)
Torque: 343Nm @ 1,600rpm (2.5 VNT)
Fuel economy: 6-8km/L (city) 12-16km/L (highway)

Rivals: Mitsubishi Strada, Nissan Frontier Navara, Ford Ranger
On sale: 2005-2015
Best resource: www.toyotanation.com
Parts: Brakes: P1,650 (front pads / set); Front Shock: P2,600 (per pc./original); Oil Filter: P360 (original) Air Filter: P1,000 (original) *Prices indicative of range
Top contact: Toyota Motor Philippines
Quick fact: Hiluxes are a familiar sight on the battlefield. As troop carriers and fire support in many global hotspots, it is the automotive equivalent of the AK47.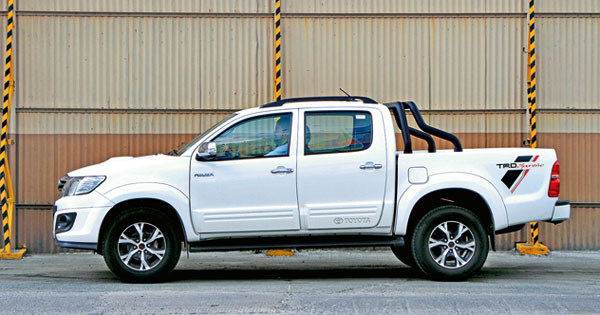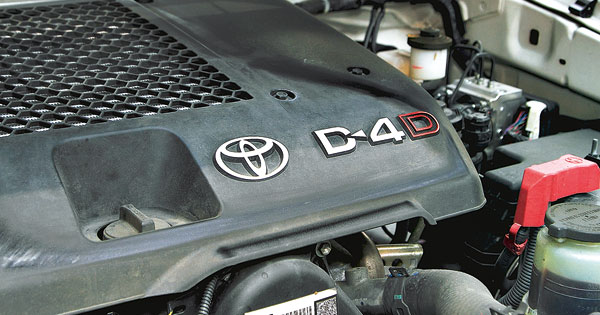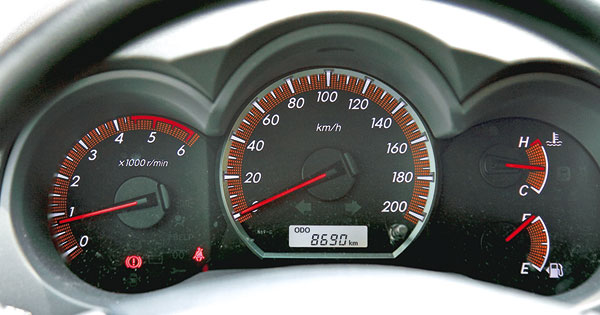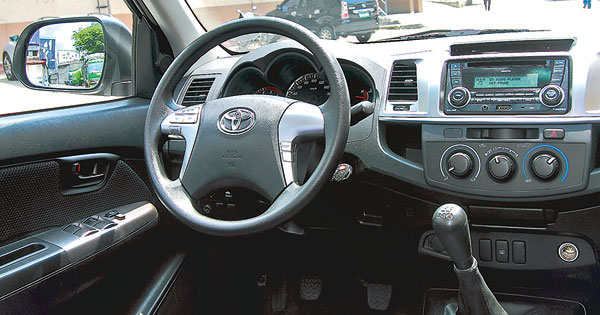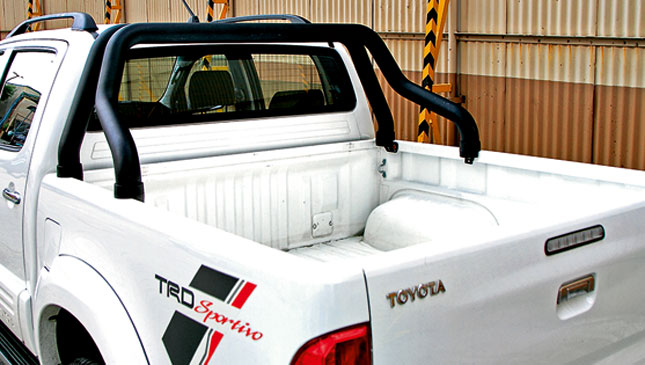 Note: This article first appeared in Top Gear PH's September 2015 issue.