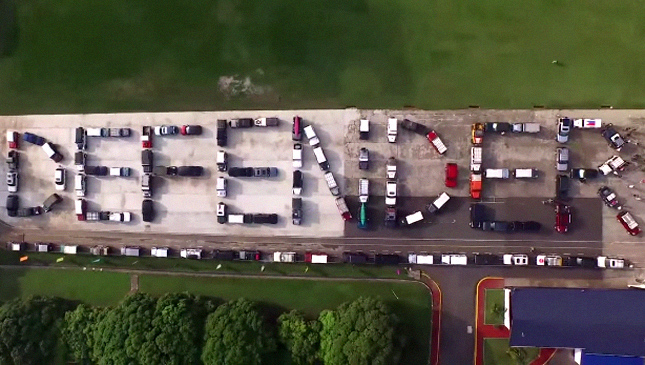 Goodbyes are always tough, because it's never easy letting go of someone (or something) you love. In the case of the Land Rover Club of the Philippines, it was difficult saying goodbye to the soon-to-be-phased-out Defender. When it was announced that production of the vehicle would cease at the end of the year, these guys knew that they just had to do something extra special for their beloved ride.
Land Rover fanatics from all across the Philippines gathered at the Bonifacio naval grounds for an epic display of car-loving goodness, as well as to raise awareness and funds for the Marines Wounded Warriors Fund, in a fitting tribute to both the legendary off-road vehicle and the defenders of this nation. Dozens of Land Rover vehicles worked as a single, cohesive unit to spell out the word "DEFENDER" in grand fashion, eclipsing a similar stunt previously performed by the Volkswagen Club of the Philippines.
ADVERTISEMENT - CONTINUE READING BELOW ↓
Land Rover Club of the Philippines president Robby Consunji--who is also our off-road editor and legal columnist--took this event as an opportunity to challenge other car clubs to do the same. Unfortunately for other car clubs, it's going to be nearly impossible to top this feat. Watch the video below to see the scale of the tribute.
ADVERTISEMENT - CONTINUE READING BELOW ↓
Recommended Videos
If you're viewing this on a mobile device and can't see the video, please click here.
[