Narrow at the front and bulbous at the rear, with swept-back handlebars resembling the antennae of a wasp—una vespa. These design elements are essential to the DNA of the Vespa scooter.
They are as distinctive now as they were in the '40s, when the Vespa scooter (then a Piaggio) first went into production as the brainchild of industrialist Enrico Piaggio and aeronautical engineer Corradino D'Ascanio.
After WWII, Italy was a bombsite. Piaggio wanted a practical and affordable motorcycle that could easily navigate through this terrain, and D'Ascanio was put to the task of creating one. The latter's hatred of motorcycles was well-documented: He thought of them as dirty, inelegant, messy to operate, and hard to repair. Inspired by aviation, his scooter design included a rear engine enclosed by large panels of sheet metal, a step-through frame that allowed women wearing skirts to ride the two-wheeler, and a tall front steering cowling that deflected wind, dirt, and water away from the rider.
Many companies in Europe and Asia have since adopted this unique design, but none have succeeded in usurping Vespa's place as a cultural icon.
We talked to Piaggio Vietnam's chairman and general director Gianluca Fiume, who was here for the launch of the special Vespa Notte edition, to find out what makes Vespas so appealing and why Asia is a booming market for the Italian company.
For him, the allure of Vespa for customers is not what the brand does—build premium Italian scooters—but why it does what it does. "We want to engage with people who are in compliance...with our belief, which is 'I want to distinguish myself by riding an icon product,'" said Fiume. He added, "Our why is always the same: to be iconic, to have a love for elegance, beauty, and all the other things we share [with customers]."
ADVERTISEMENT - CONTINUE READING BELOW ↓
Eleven years ago, Piaggio again set itself apart from the competition when it chose Vietnam as its Asian hub. The country is now Piaggio's number-one market for Vespas in the region, trailed by Thailand and Indonesia.
"Rarely do you find an international company that locates their hub in Vietnam," Fiume observed. "We did that for several reasons, [like] the ecosystem Vietnam has. Vietnam is a bigger market than the Philippines at the moment. The Vietnamese perceive and feel and interpret our brands fantastically. And not only from an emotional point of view, but also from a technical-feature point of view. They are very sophisticated."
This is why Piaggio continues to develop its operations in Vietnam. To date, it has two plants in the country (one for engines and another for vehicles), as well as an R&D center (the first in Asia of only six worldwide).
Fiume admitted that our country still has a lot of ground to cover, but that "nobody is against the fact that the Philippines could arrive at the actual Vietnamese performance level, because from an economic point of view, the trend is the same." He noted, too, that "Filipinos are very much in line to welcome and properly perceive the DNA that our brands have."
The Italian general director also highlighted the gender disparity in Vespa's Vietnamese and Philippine markets. In Vietnam, women make up 75-80% of the brand's customers. Conversely, the Philippine environment is extremely male, making up 90% of the customers.
ADVERTISEMENT - CONTINUE READING BELOW ↓
Recommended Videos
Piaggio makes it no secret that its target buyer for the Vespa is male and middle-aged (35-40 in Asia) with high spending power. What it sees as a pleasant anomaly—especially with the Asian launch of the Vespa Notte—is that while most interested buyers are male, "we got on board a lot of females as well."
"Why? Because at the end of the day, Vespa Notte and Vespa are a kind of ecosystem that welcomes everybody," Fiume explained. "Whether you are female or male, the most important thing is [how] you connect yourself with our why."
He added: "The female taste here in Asia Pacific is a little sportier than in Europe. For us, it's an opportunity and also a strength."
As part of its strategy in Asia for 2019, Piaggio wants to engage customers via digital platforms, perhaps to more adequately reach out to a younger, social media-savvy generation. At the same time, it wants to maintain a spotless reputation for Vespa. It does this here in the country with the help of its local partner and importer, MotoItalia Philippines.
Company president Willy Tee Ten believes Piaggio and MotoItalia are making good on these goals despite having a rocky start some years ago. "(We sold) over 800 units last year," he said. He attributed this strong performance to the fact that MotoItalia "values quality, service, and name"—a mindset closely aligned with Piaggio's busines strategy.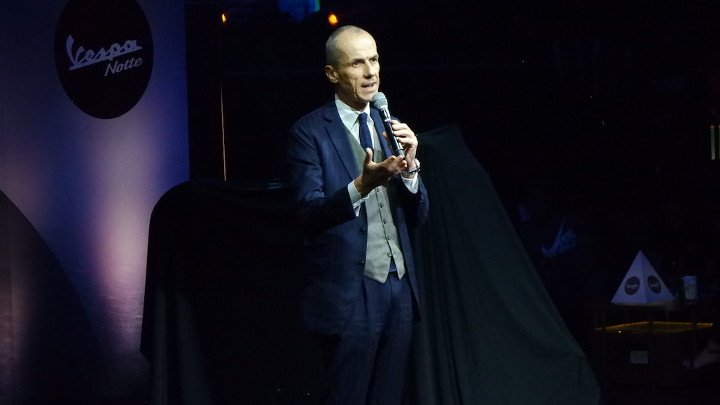 ADVERTISEMENT - CONTINUE READING BELOW ↓