Sound the new Ferrari alarm, we've got another one.
The fifth new model from Maranello this year—F8 Tributo, F8 Tributo Spider, 812 GTS, SF90 Stradale… and now Roma, designed to muscle in on the Aston Martin Vantage and Mercedes-Benz AMG GT's patch.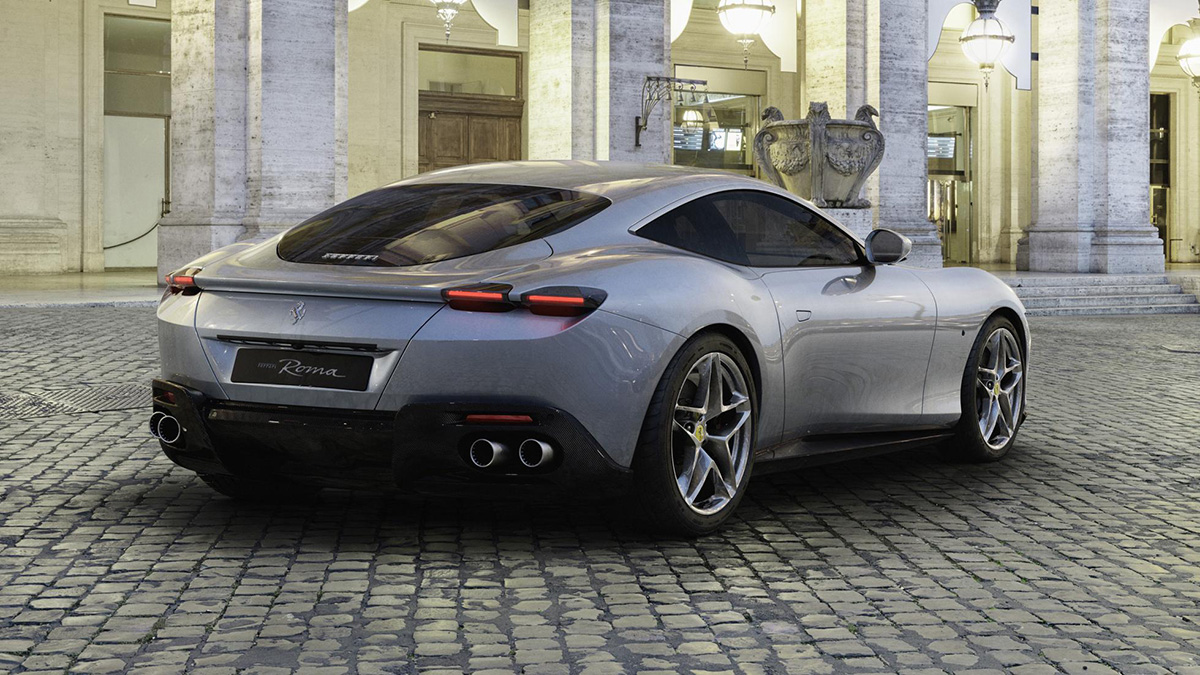 Details incoming, but first let's place it in Ferrari's sprawling V8 range. GTC4 Lusso T is the big front-engined V8 Grand Tourer, Portofino is the front-engined V8 convertible, F8 Tributo and hybrid SF90 Stradale have the hardcore mid-engine V8 market covered and Roma is something new—a front-engined V8 coupe, a bit faster and more dynamic than Portofino, that plugs a sizeable gap in the lineup.
Ferrari tends to use separate platforms for separate model lines, but the Roma's basis is the Portofino—same wheelbase, same 3.9-liter twin-turbo V8 engine, but with a few crucial changes. The engine has been juiced up by 19hp to 611hp at 7,500rpm, it uses the new eight-speed DCT gearbox from the SF90 Stradale, and the interior is entirely new. Ferrari is calling the Roma a 2+, rather than a 2+2, and with only the pictures here on hand it's unclear exactly what that means—optional rear seats is our best guess. Clarification as soon as we have it.
ADVERTISEMENT - CONTINUE READING BELOW ↓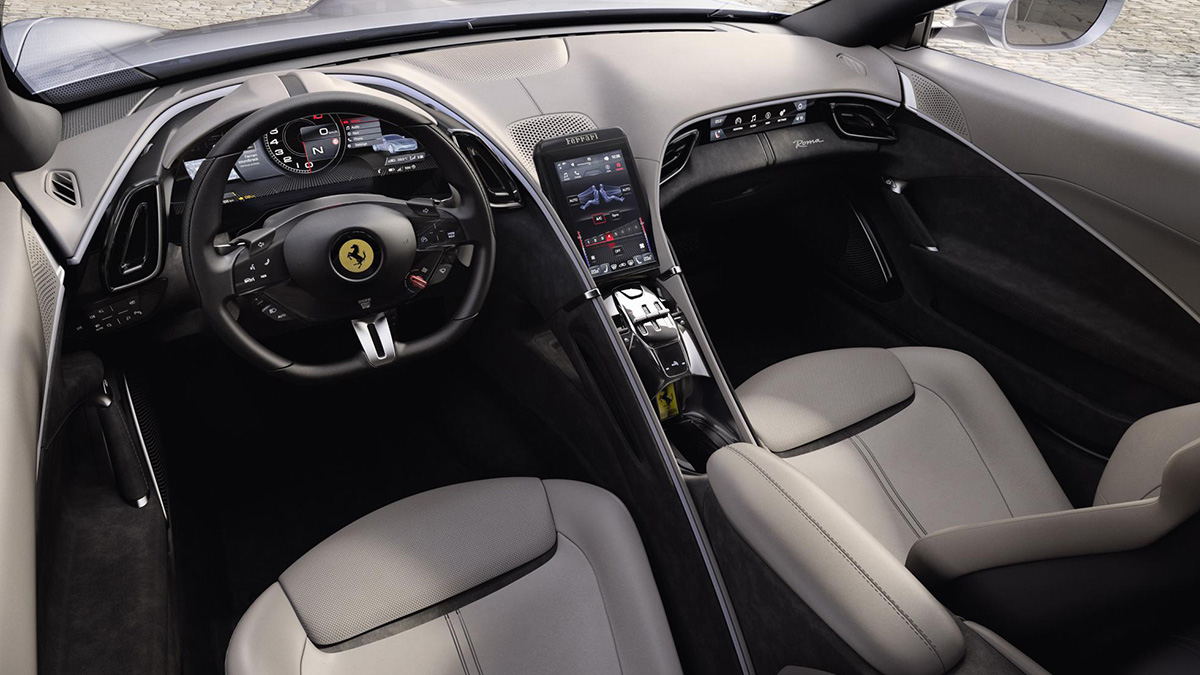 Performance is enhanced over the Portofino, partly down to the extra grunt, partly down to weight loss—at 1,472kg dry, it weighs 73kg less than its open-top sister car. So, 0-100kph in 3.4 seconds is a tenth faster than the Portofino and two tenths faster than the 503hp Vantage, 0-200kph in 9.3 seconds is comfortably faster than both and a top speed of around 320kph is plenty for anyone that lives in the real world.
In terms of size, it's a few millimeters longer, wider and lower than Portofino, a full 191mm longer than a Vantage and 83mm shorter than a DB11. But, like the Vantage, it bulges like a tense muscle, but at the same time brings some minimalist elegance back. Stunning, isn't it?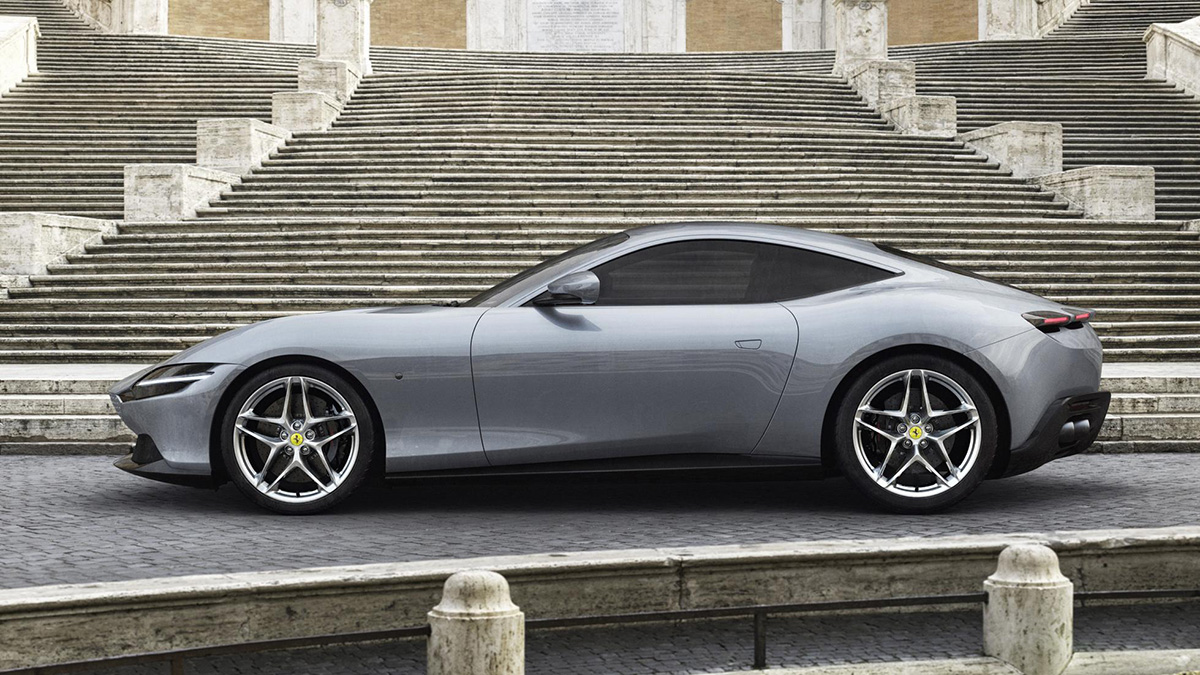 Similarities to James Bond's DB10 are undeniable, and there's more than a hint of the screenless Monza in the headlights, front wings, and forward-leaning grille, but it's the simplicity of the surfacing that needs celebrating. Ferrari references the 250 GT Lusso from the early Sixties, but we see a throwback to the 456, a car that's also echoed in the rounded rear end, twin taillights and quad exhausts.
And then we get to the interior. Details are scant, so you can take a good look at the picture and draw your own conclusions, but the simplicity of the outside is continued indoors. The spine of it all is a towering center console that separates driver and passenger off into individual cockpit-style spaces—traditionally a designer's way of saying this car's built for speed before comfort.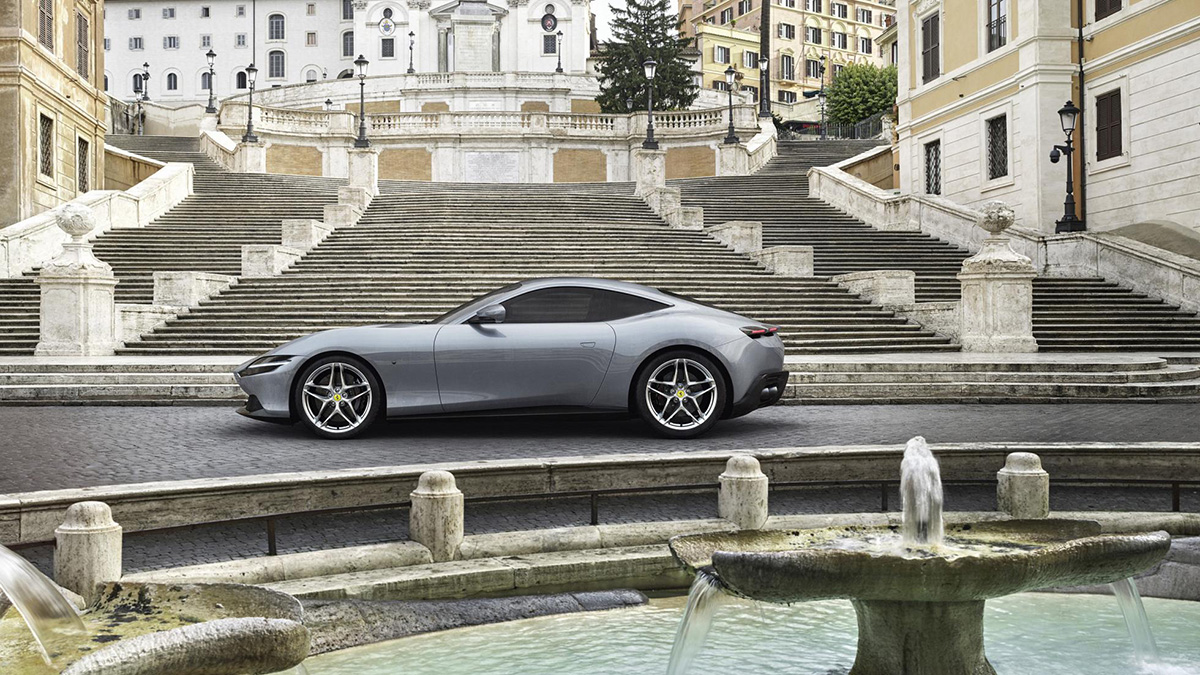 You get Ferrari's usual button-heavy steering wheel, including Manettino dials and now touchpads for your thumbs like the SF90. There's a digital instrument cluster, a portrait-orientated central screen, another info screen ahead of the passenger, a cup holder, a gear selector pretending to be an open-gate manual… and that's about it. Modern, pared-back, works for us.
ADVERTISEMENT - CONTINUE READING BELOW ↓
No price yet, or on-sale date, we'll bring you those when we have them, but note that a Portofino starts at around £165,000 (over P10.7 million), and you get a complicated hard-top folding roof mechanism thrown in for that. A few grand more for the Roma, justified by the extra hp, makes sense. That'd be around £45,000 (P2.9 million) more than a basic Vantage, but £40,000 (P2.6 million) less than an optionless F8 Tributo.
So it might be the new 'baby' Ferrari, but the Roma is still quite a senior car. Over to you internet, this or a Vantage, an AMG GT, or a Porsche 911 Turbo?
NOTE: This article first appeared on TopGear.com. Minor edits have been made.