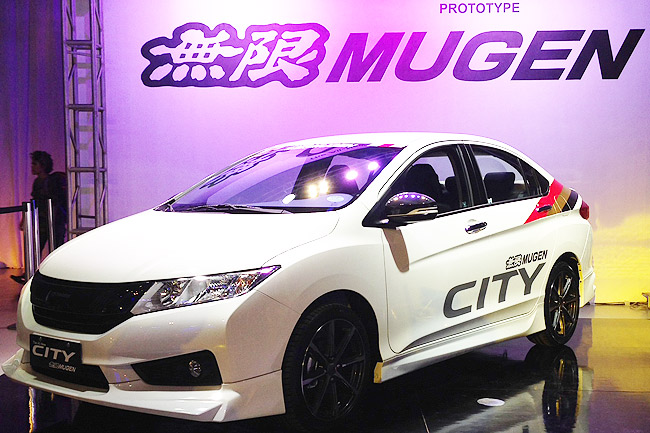 Within its price range, the Honda City is arguably the best subcompact sedan on the market today. We drove City units going up and down Tagaytay, to attend the media sneak peek for the Brio and the Brio Amaze. The smooth and comfortable drive of our transports reminded us of how good the City is during long trips. Which is why we're excited about something we recently learned regarding the Japanese carmaker's bestseller.
Some of you may have noticed that Honda has been aggressive with bodykits lately. Its new releases have been sporting versions kitted with Modulo, and even the more expensive Mugen accessories. This is reportedly a result of the direction laid out by Honda Cars Philippines' top brass--led by Honda Cars Philippines president Toshio Kuwahara.
To make a long-winded introduction short, we heard that the Mugen edition of the City is coming this year. No date was given for the introduction, although now that the Brio and the Brio Amaze have been made public, a Mugen-edition City would be a great surprise at next month's Philippine International Motor Show.
ADVERTISEMENT - CONTINUE READING BELOW ↓
This isn't the first time HCPI has released a City with Mugen kit. Toward the end of the previous-generation model's production, a limited run of 20 City units were fitted with Mugen parts.
We already saw a City with a Mugen kit during the subcompact's launch last April. At that time, we were told it was only a design study, and the word "prototype" printed on the stage confirmed that. But this time, the City Mugen is apparently real.
Now, while we trust our source, a lot of things can still happen. Model launches get pushed back, or even moved ahead of schedule. Nothing is final until we get an invite from Honda's Traffic Stoppers, detailing the date and time of the launch. Don't worry, we'll keep you updated. We're just as excited as you are.
Photo by Dinzo Tabamo
ADVERTISEMENT - CONTINUE READING BELOW ↓
Recommended Videos