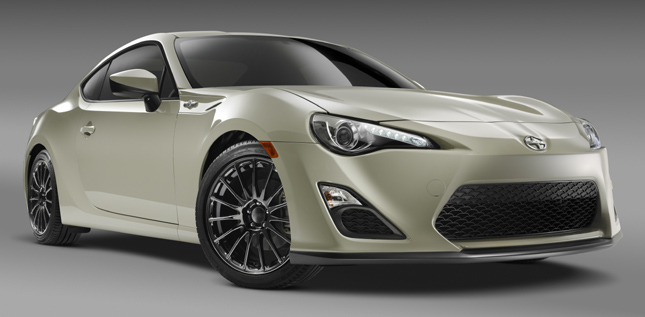 The Toyota 86 has managed to make a name for itself as an affordable sports car that provides drivers with loads of fun behind the wheel, despite only being out in the auto scene for a few years. Its initial success was so unprecedented that people had to wait eagerly in line for months before having an 86 of their own. And we can't blame them. It's an awesome car. But what if we told you that Toyota wants to position its sports car as a luxury offering as well?
This is what the Japanese carmaker is looking to achieve with the Scion FR-S Release Series 2.0--a more lavish take on everyone's beloved 86. For those who aren't aware, Scion is Toyota's more youth-oriented brand in the North American market.
The vehicle's premium nature is evident via its leather- and Alcantara-lined cabin. The color scheme is likewise a reflection of this, with black and caramel being the main shades of the heated seats and the steering wheel. Even the car's parking brake, shift knob, door trims and knee pads are covered in these hues. The interior also features caramel accent stitching, while the dashboard is embossed with the "Release Series" badging, complete with the car's number in limited-production sequence.
Continue reading below ↓
Recommended Videos
The classy interior is matched by an equally sporty body. The subtle changes include a bodykit with a discreet front lip and rear decklid spoiler, along with forged 17-inch alloy wheels. The special series comes in a distinctive Lunar Storm paint job. Finally, all these cosmetic tweaks are backed by smart features like push-button start, HID headlamps with daytime running lights, and dual-zone automatic climate control.
Oh, and remember that numbered sequence we mentioned? That's to let the world know which among the 1,000 exclusive units you've purchased. How cool is that?
While Scion may not be in our local landscape (yet), maybe Toyota Motor Philippines can offer a special edition of the already desirable 86? It would definitely increase this car's "I want one" factor.