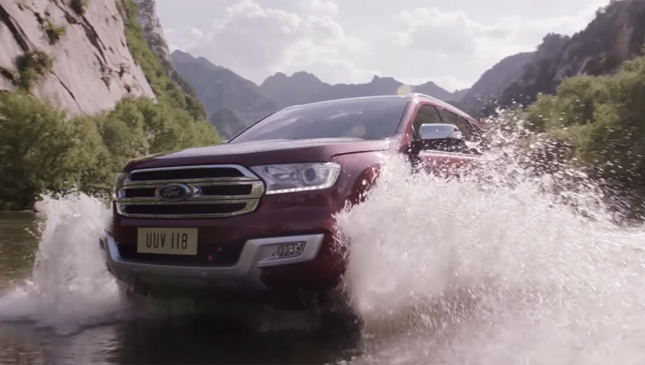 Things are about to get ugly on Philippine roads--and no, we're not talking about corrupt traffic officers or motoring Armageddon. The all-new Ford Everest, the Toyota Fortuner and the Mitsubishi Montero Sport are all set to slug it out in the coming months. And while the latter two have yet to launch in our country, competition between the three vehicles has been at fever pitch. The three manufacturers have been pulling out the big guns, figuratively speaking--but Ford's new Everest video might just seal the deal for anyone looking to own a new SUV sooner rather than later.
The short 25-second video shows the Everest charging through a river bed and maneuvering up a steep hillside. There's also a beautiful aerial shot of the SUV racing along a lush, scenic cliff side. The Everest gets wet, it gets dirty, and it's beautiful. If that's not enough to get you excited, Ford has an inventory of Everest videos on their Asia Pacific YouTube channel.
To be fair, neither Toyota nor Mitsubishi has come up with anything much in our market promotions-wise, but they now definitely have their work cut out for them because the new Everest video is badass.
Watch the video below for yourself and tell us what you think. Toyota and Mitsubishi, all eyes are on you. Do you think the two Japanese carmakers can top this?
Continue reading below ↓
Recommended Videos
If you're viewing this on a mobile device and can't see the video, please click here.