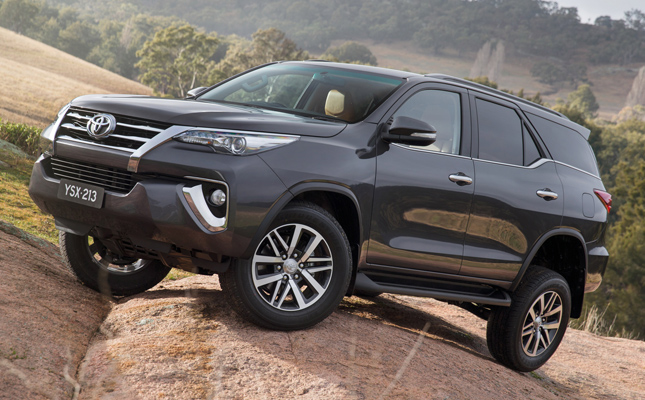 The Toyota Fortuner should now be reclassified as an "AUV," which stands for "aspirational utility vehicle." It might be the first car model that people both aspired to and were actually able to buy. When it was first launched in our market a decade ago, people waited for up to 10 months to purchase one. It was, and still is, handsome, powerful, tall and stately. And it could seat seven people, perfect for our clannish tendencies.
When details about the second-generation Fortuner began to seep out over the past week, people eagerly clicked on our stories with fervor. Netizens either found the new Toyota SUV handsome, or proclaimed it to be ugly because they had just bought the outgoing model. Well, prepare to be excited again, because now the Fortuner has been officially launched.
As our first batch of photos have shown, the new Fortuner is a stunning vehicle. It's almost Lexus-like, with the narrow profiles of its headlights and taillights. The beltline rises up in a stylish way to emphasize the height of the new Toyota, which, as the photos here show, can confidently ford streams. Overall it's a good-looking new model that, we feel, is worth the usual 10-year product cycle for this vehicle type.
Continue reading below ↓
Recommended Videos
Under the hood is the all-new 2.8-liter four-cylinder common-rail turbodiesel engine. No longer a laggard against its peers in the midsize diesel SUV segment, this powerplant generates 174hp and 450Nm. In the Australian market, one of the first markets to see this anticipated model, a six-speed manual is available, although the engine paired to this gearbox has a slightly lower 420Nm torque output.
And here's something to look forward to, according to official manufacturer figures: The fuel consumption of the manual-transmission 4x4 variant is 12.5km/L. This kind of power and efficiency can be attributed to the compact high-efficiency variable-geometry turbocharger developed internally by Toyota. It has a new turbine impeller that provides instant acceleration and maximum torque over a wide range of engine speeds.
Are you excited for the all-new Fortuner? We know we are. As of now, only the Hilux's launch schedule is known, and that's by the end of this month. But with the clamor for the Fortuner at fever pitch now, we expect Toyota Motor Philippines to bring in this cash cow as soon as it possibly can.
It's an exciting time to be in the market for a midsize SUV. The new Mitsubishi Montero Sport and the Ford Everest are also coming before the year ends. But right now, the world is the Fortuner's again.