Thanks to the Leaf, Nissan has enabled people around the world to drive more than 14.8 billion 'clean-air' kilometers over the popular EV's first decade of existence.
But the Japanese carmaker has its eyes set on bigger goals though, and it's further proof that the company is keen on working toward a greener and sustainable future. In its latest announcement, Nissan has revealed that it plans to achieve carbon neutrality by 2050.
To reach this objective, Nissan aims to completely electrify its lineup in key regions by early 2030. This means that in the next decade, only electric Nissans will be available in markets such as the US, Europe, China, and Japan.
Contributing to a carbon neutral society
"We're determined to help create a carbon neutral society and accelerate the global effort against climate change," says Nissan CEO Makoto Uchida. "Our offering in electrified vehicles will continue to expand around the world, and this will make a major contribution to Nissan becoming carbon neutral. We will continue to drive innovation that enriches people's lives as we pursue a sustainable future for all."
Nissan has shared that it also plans to develop its e-Power engines further to enhance energy efficiency and come up with manufacturing process innovations to increase productivity in vehicle assembly. It also expects more increased collaboration with the energy sector as it strives to support the decarbonization of power grids across globe.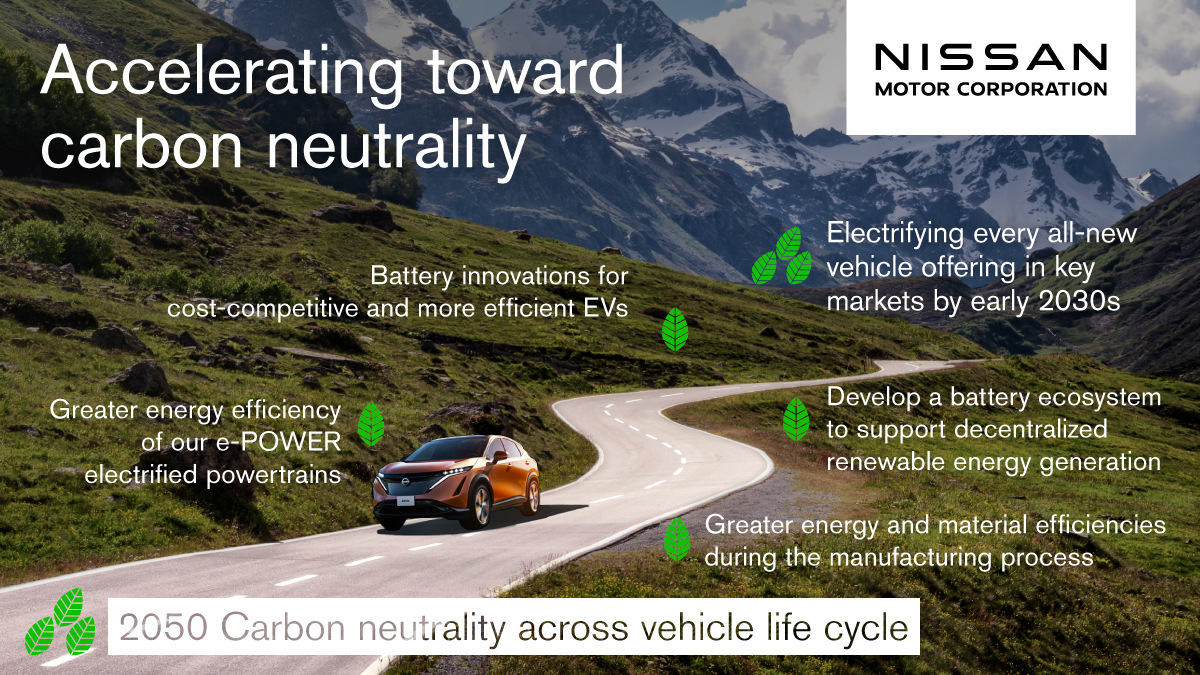 ADVERTISEMENT - CONTINUE READING BELOW ↓
The company's statement further reads: "Nissan believes the automotive industry can be a driving force in meeting global environmental and climate needs through a commitment to innovation and impact reduction by collaborating with authorities and partners worldwide. When combined with the expansion of renewable energy and charging infrastructure, vehicle electrification and sustainable operations can help accelerate the arrival of a carbon-neutral future."
ADVERTISEMENT - CONTINUE READING BELOW ↓
Recommended Videos