J.D. Power has released its Philippine after-sales customer satisfaction rankings for 2019, and this year, Mazda finds itself on top.
The Japanese car manufacturer ranked first with a total score of 824. Mazda is followed by Nissan in second with 814 points, and Hyundai in third with 811 points. According to the study, Mazda was found to have performed well in the following categories: service initiation, service facility, vehicle pickup, and service quality.
Rounding out the top five car manufacturers this year are Honda (810 points) and Kia (807 points) in fourth and fifth place, respectively. Check out the full rankings in the image below: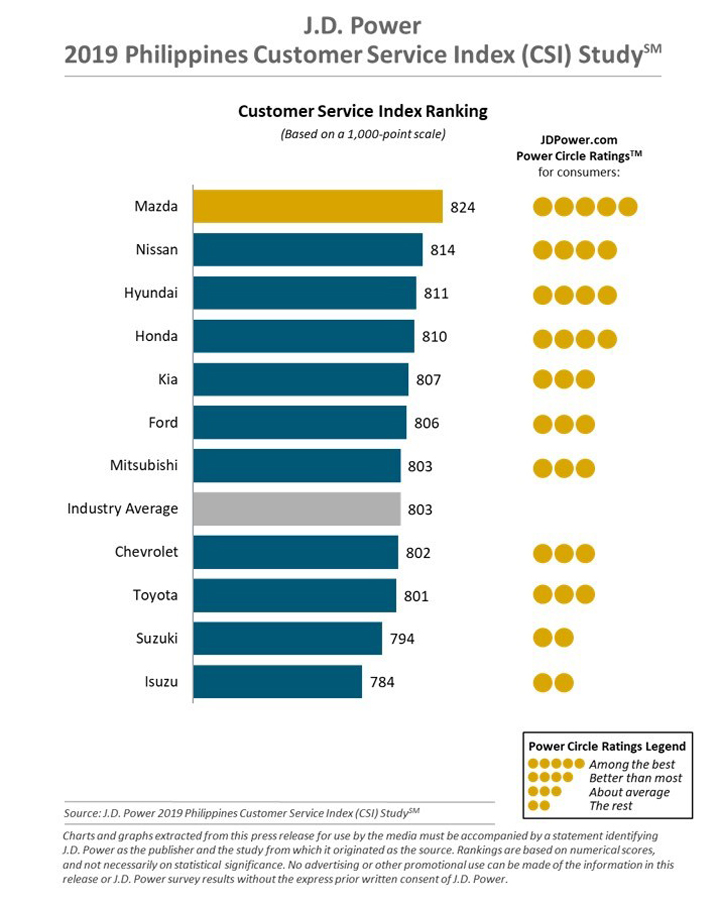 ADVERTISEMENT - CONTINUE READING BELOW ↓
This year's customer service index study is based on responses from 2,384 new-vehicle owners who bought cars from January 2016 to April 2018, and took their vehicle for service to an authorized dealer or service center between January 2018 and April 2019.
The study also found that overall customer waiting time has increased versus in 2018, with 35% of respondents saying they waited over 30 minutes before handing over their car for servicing—that's an 11% increase from 2018.
The service process was also found to have slowed down, with 69% of customers saying it took three hours or more. Also, 72% of customers said paperwork processing took over 10 minutes when they picked up their cars, leading to less satisfaction.
"This situation is not new to the industry. The time spent by customers to drop off a vehicle for service is a key contributor toward their overall satisfaction," Sigfred Doloroso, J.D. Power Philippine country manager said in a statement.
ADVERTISEMENT - CONTINUE READING BELOW ↓
Recommended Videos
"However, this is an issue that can be mitigated through the efficient use of a proper appointment system. Dealers need to actively encourage the scheduling of appointments and ensure they consistently deliver not only a more personalized service to after-sales customers, but also a faster turnaround from drop-off to pickup."
Do you agree with the study's findings? Let us know in the comments.