Very simply, this is a Mercedes-Benz pure-electric SUV with portal axles. A baby electric Unimog. Sort of. The idea isn't actually that complicated: Take the pure-electric EQC and drop it on some terrain-friendly portal axles, make light work of anything off-road within range. A portal axle or gearset, for those of us with less engineering in our lives, is basically a suspension setup that allows the driveshafts to be offset above the centerline of a traditional axle, via the use of a small set of geared hubs.
The main benefit being that you get lots more useful ground clearance—especially because the diff is squirreled up out of the way—and a significant gear reduction thanks to the extra gears in the hubs themselves. Not much use in a road car, very useful in something more dedicated to having to drive over or through things. Weirdly, you'd often find them in low-floor buses, but fitted the other way up.
ADVERTISEMENT - CONTINUE READING BELOW ↓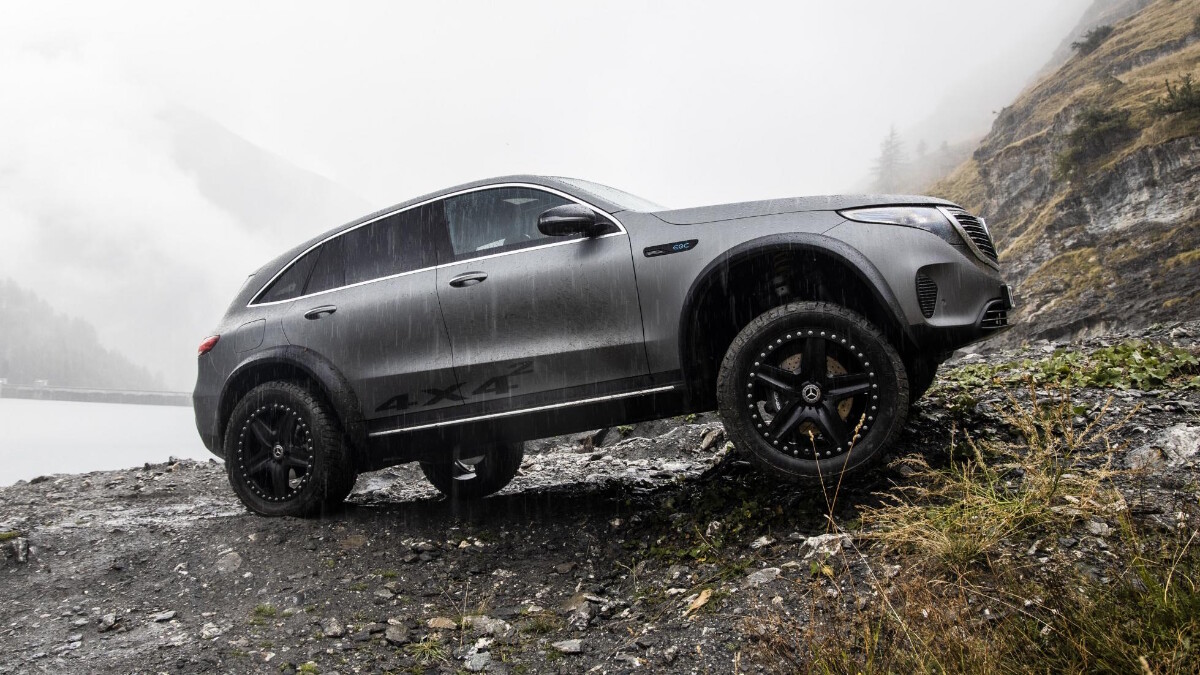 Anyway, dropped gearsets aren't—in theory—that hard to fit. There are bolt-on variants available for most applications. Mercedes-Benz, on the other hand, made its own, did a proper job with the EQC 4x4², and created a kind of mini electric monster truck. Except better.
ADVERTISEMENT - CONTINUE READING BELOW ↓
Recommended Videos
Why? Because this feels like an actual production car rather than just a lash-up. Created by a cross-departmental team of Merc skunkworks enthusiasts centered on an absolutely terrific chap called Jürgen Eberle, the EQC 4x4² rides twice as high as a production EQC and 58mm higher than a G-Class, has approach/departure and breakover angles to die for as well as wheel-arch flares that make it look harder than a granite worktop. Slap on some 285/50 R20 wheels and tires, and you've got a vehicle that can potter about silently off-road pretty much anywhere it wants to.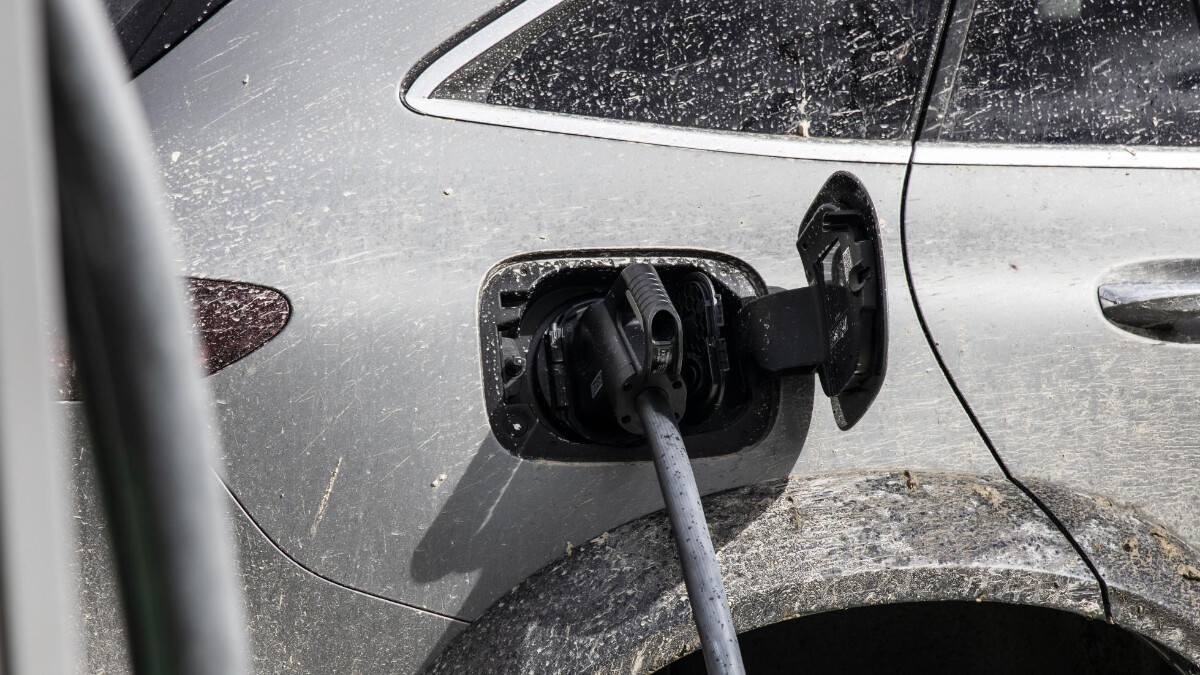 ADVERTISEMENT - CONTINUE READING BELOW ↓
Other than that, it's an EQC. There's an 80kWh battery good for over 320km of range (even set up like this), over 400hp instantly available, and unmissable looks. And as well as being relatively practical—the electronics have been tweaked to make best use of the hardware in Off-Road+ mode, so it feels like a production vehicle—there are some fun bits.
For instance, the engineers have messed with the EQC's advanced vehicle alert system (AVAS) that makes noise to alert passersby. Now, it uses the headlamp housings as amplifiers for a more suitable sonic signature—it's more grumbly—but the best bit is that when you unlock it, it growls. No kidding, it actually makes a faintly startling growling noise. Which is going to put the absolute wind up your pets every morning, if nothing else.
On the road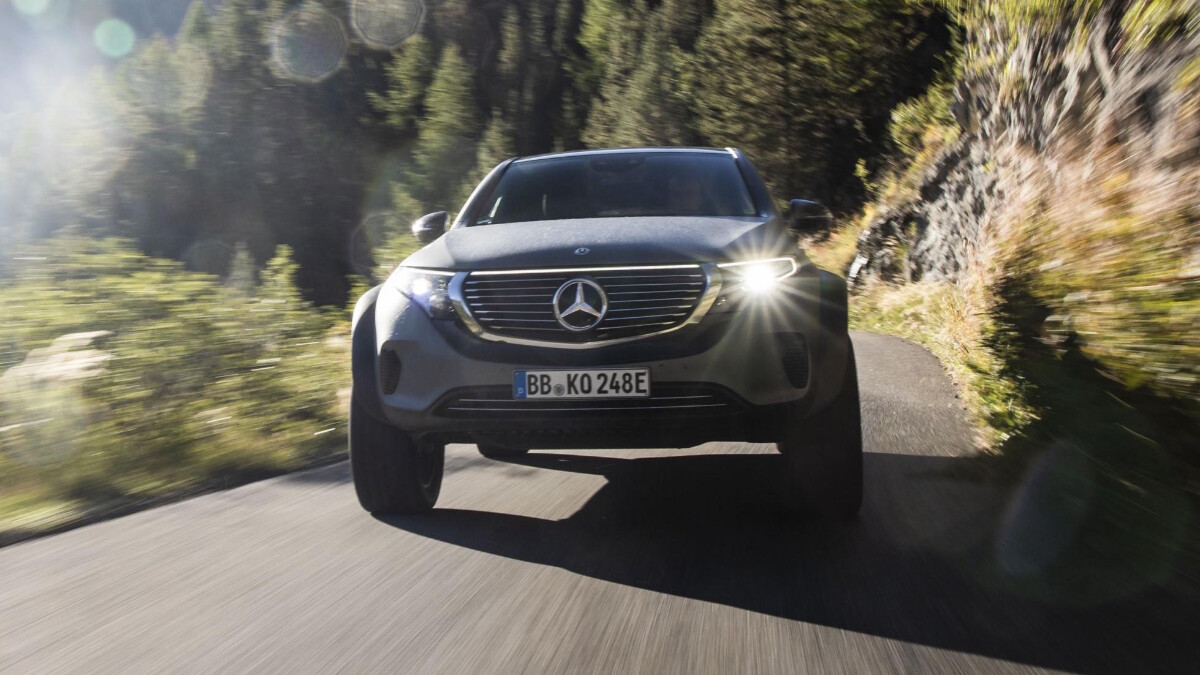 ADVERTISEMENT - CONTINUE READING BELOW ↓
This is where the EQC 4x4² really scores—because it's actually very good to drive. It's a bit of a high-rise go-kart on the road, and apart from some intrusion whine from the gearing in the axles and rumble from the tires, there's still that calmness that comes with an EV drivetrain.
Now, the standard EQC does an excellent job of isolation, using the front motor for efficiency and the rear for performance as well as various double-bubble rubber isolations of moving parts, and the Squared only loses out in the obvious additions. It's got plenty of grip, way more body control than it should have given the ride height, and is actually an absolute doddle to drive, as long as you don't want to squeeze through too many tight gateways where the wheel-arch flares become something of an invisible liability. Mind you, where you expect the car to be lumbering...it just isn't. It even has a genuinely surprising turning circle thanks to a four-link axle—a bit of a surprise all-round.
ADVERTISEMENT - CONTINUE READING BELOW ↓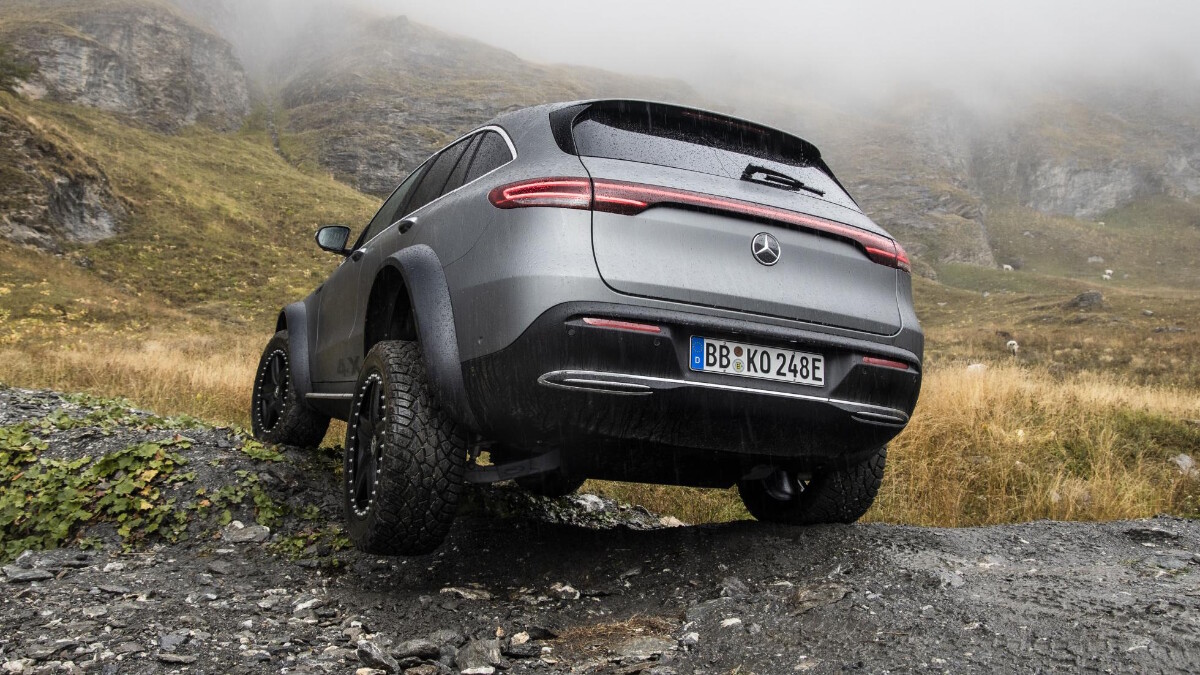 It's also pretty imperious off-road. Obviously, an electric vehicle is perfect for anything away from tarmac (range anxiety aside)—instant torque that can be metered out in the tiniest of digital increments, silent and confident. You can hear when wheels slip, and use the car's extraordinary creeping ability to very gently work your way through obstacles. Manipulation of the car's electronics give you limited-slip effects, and the precise nature of the delivery means that you don't spin wheels or chew up trails. It's low-impact on byways.
ADVERTISEMENT - CONTINUE READING BELOW ↓
We took the car on a mini-adventure on one of the highest unpaved roads in Europe, and on everything from shale to snow to mud, it crept its way forward without flinching. Admittedly, it sacrifices axle articulation for some of that on-road ability, but with the faux-limited-slip diff effects and generous clearances afforded by the hubs, you just get used to dangling a wheel or two and keep moving forward. It doesn't get stuck. And yes, I did try.
On the inside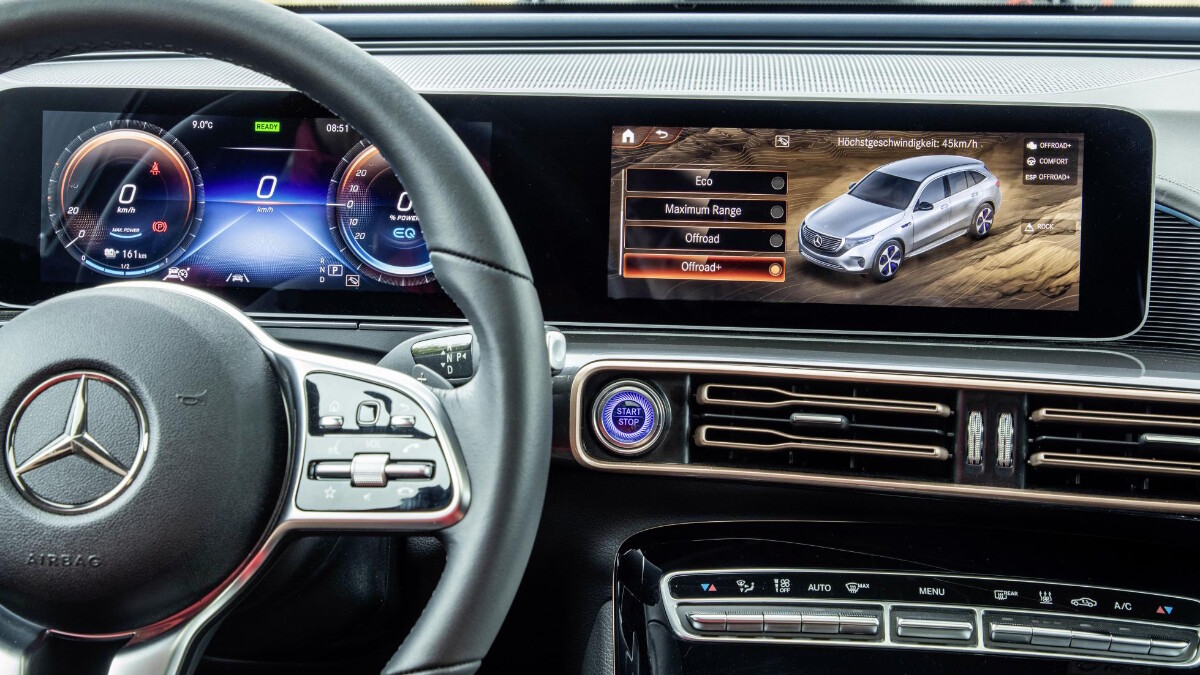 ADVERTISEMENT - CONTINUE READING BELOW ↓
Inside, the EQC 4x4² is 'just' an EQC with some extra off-road programs. So, that means luxurious modern Benz. A big block of Mercedes screen up front, all the usual comforts and build quality. The EQC has never been a boundary-pusher in terms of EV design, and that remains true of the Squared, though there are plenty of toys to play with.
It all works, too—from parking sensors to cameras. One of the interesting things is that you can make the brake regen, accessed from the steering wheel paddles, act as a hill descent control, performing a nice sideline in charging the battery. In fact, knocking about at slow speeds off-road acts a little like being in urban traffic (where EVs are traditionally more efficient), meaning that the WLTP range gets a useful extension.
Other than that, it's a snug, compact-SUV space with a decent-enough cargo area and slightly gloomy rear seats. There's not much to differentiate it from a stock EQC, apart from the fact that you're a foot further up in the air than usual. And just to be clear, if you've been rolling around in mud and you don't take care getting out, you'll smear everything decorating the side steps up the back of your legs as you descend from the cabin. A small but important bit of advice, I feel.
ADVERTISEMENT - CONTINUE READING BELOW ↓
Final thoughts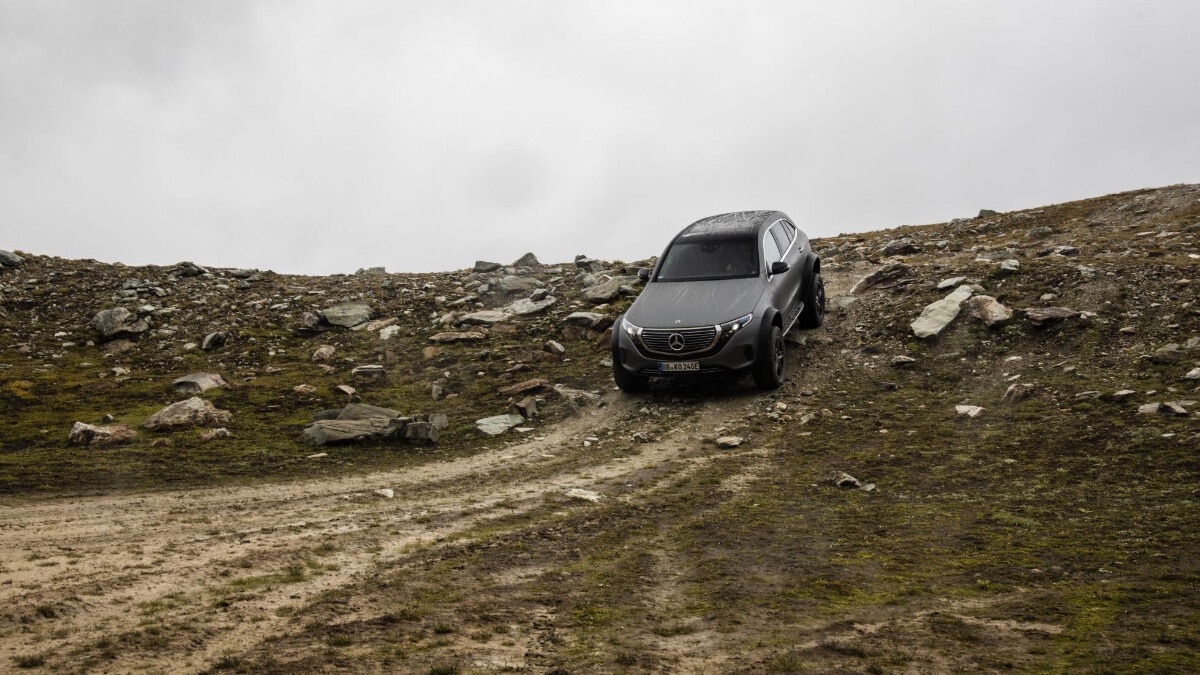 Quite the simple verdict on the ownership prospect: You can't. The EQC 4x4² is—at the moment—not a production vehicle. Top Gear has it on good authority that if there were sufficient interest, a small production cycle would be eminently possible, however. In fact, the 'prototype' is brilliantly finished and—apart from a few NVH and minor noise issues—could be used as a daily-driven car. Okay, so it's a bit silly and you'd need a bit of space to actually use it, but it's eminently more appropriate than the endless G63s seen kicking around Kensington. It charges in exactly the same way as the standard car, has all the same creature comforts, and is otherwise spot-on.
ADVERTISEMENT - CONTINUE READING BELOW ↓
The only issue is really where it would suit most. It's exceptionally good at rock crawls and mud plugging, but dune bashing would require a bit more squish in the suspension than the EQC 4x4² currently has. And as for the issue of charging when out in the wild, very few people actually 'overland' their adventure vehicles—it's more of a fun day out kind of thing. At which this would excel. It's also got a towbar for a trailer and an optional roof rack for an inflatable dinghy and roof tent. Though if you're serious about going off-grid, you might want to make that trailer a three-phase generator, or a serious stack of photovoltaics...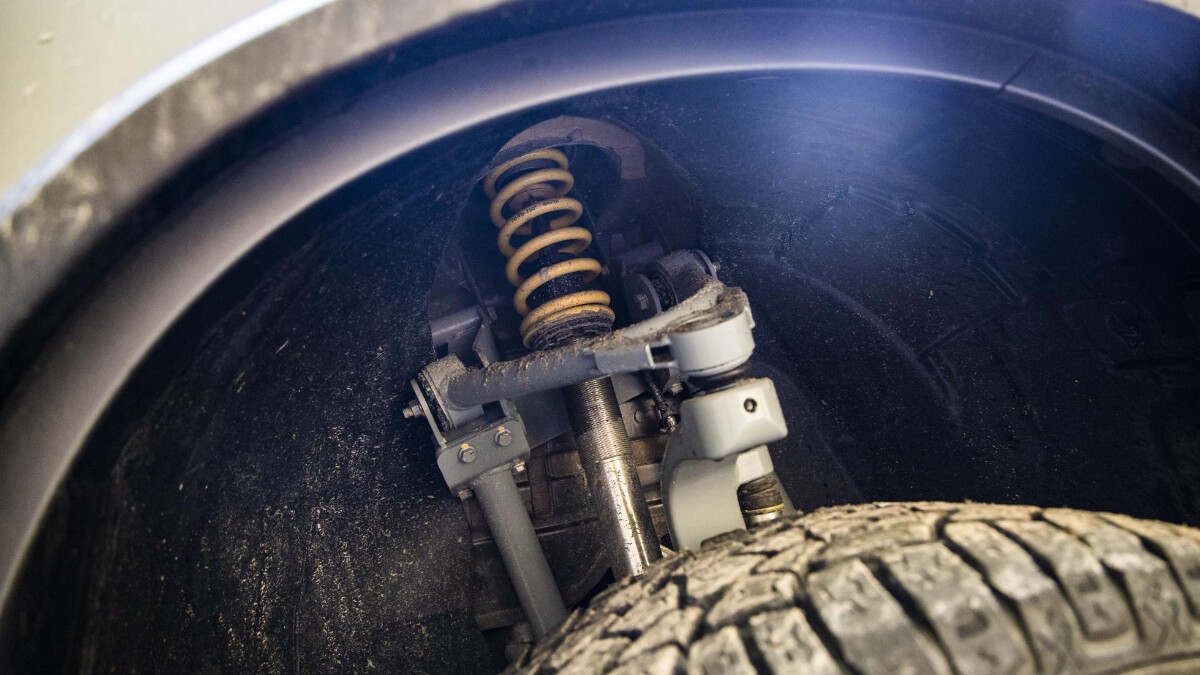 ADVERTISEMENT - CONTINUE READING BELOW ↓
Realistic facts and figures would be hard to come by, but it'll cost a little bit more to run than a standard EQC, won't get attacked for tax and will be as reliable—fewer moving parts than an ICE car, for a start. Plus, the limited—possible—availability will mean that if Benz did put this into a small series production, it'd probably hold its value as an oddity, if nothing else. It'd be one hell of a city car, I tell you that.
It's a gloriously daft project that nevertheless highlights exactly how useful an electric drivetrain is off-road. Neatly and thoughtfully engineered by people with an excellent sense of humor, the EQC 4x4² actually does everything you'd expect, and a fair bit more. It won't ever be more than a wonderful weirdo even if it does make it into production, but it's no less brilliant for that. Keep an eye out here for the feature where we take it on a proper little adventure.
ADVERTISEMENT - CONTINUE READING BELOW ↓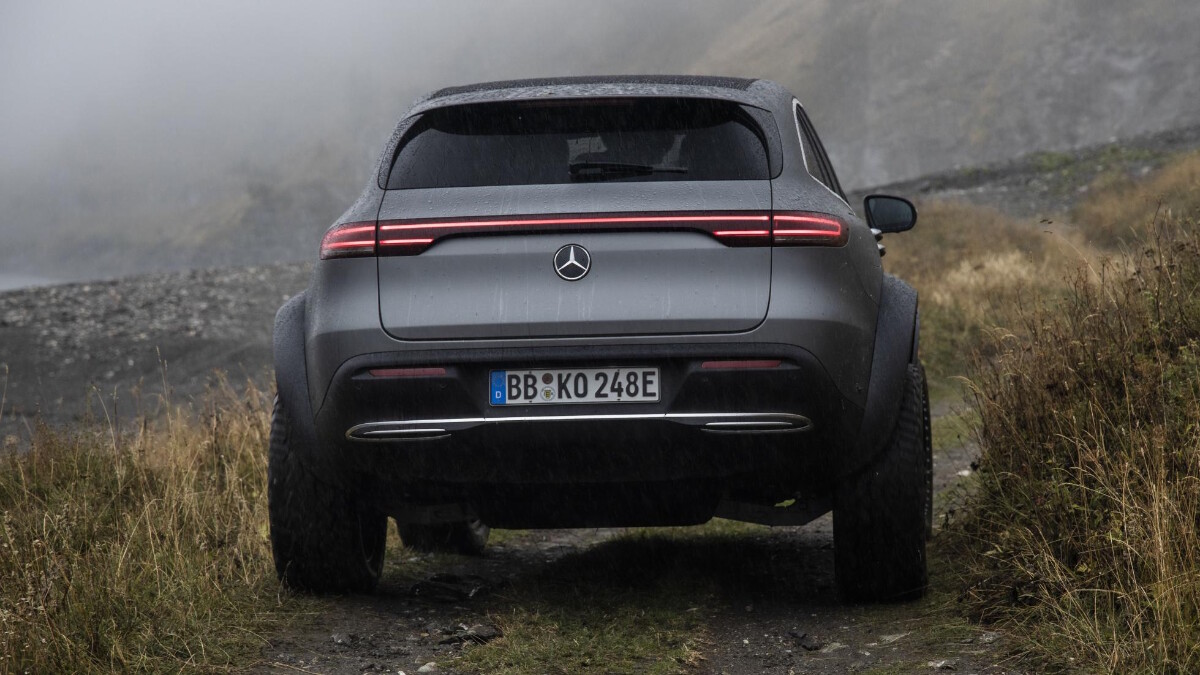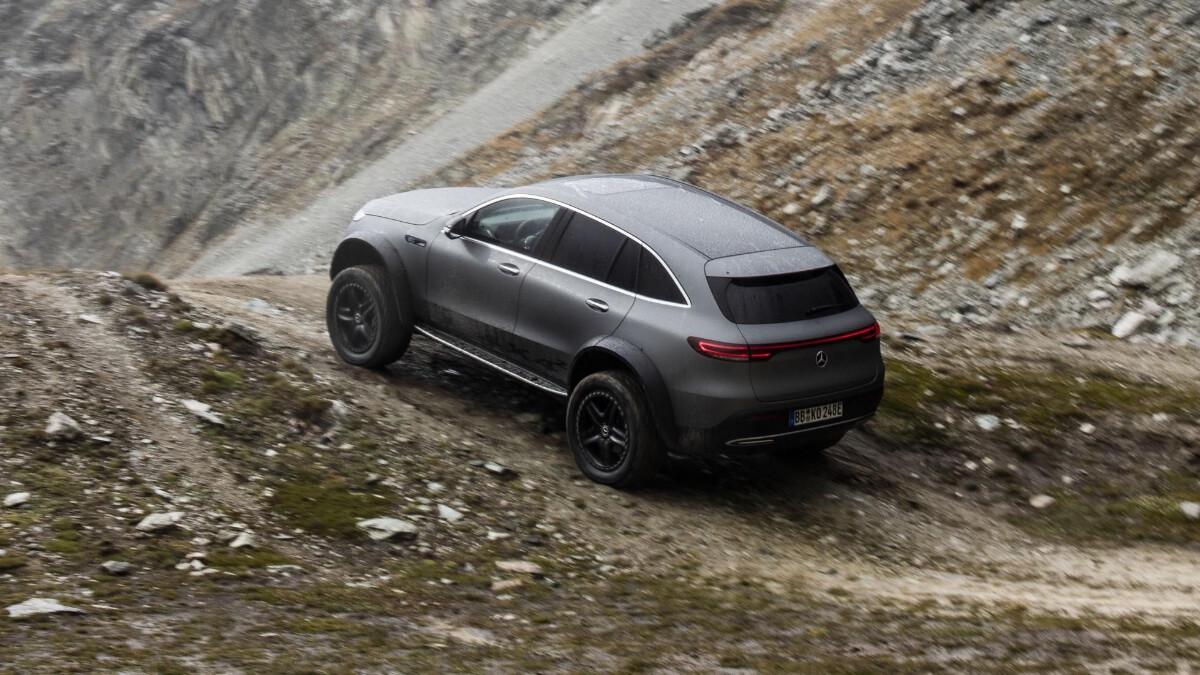 ADVERTISEMENT - CONTINUE READING BELOW ↓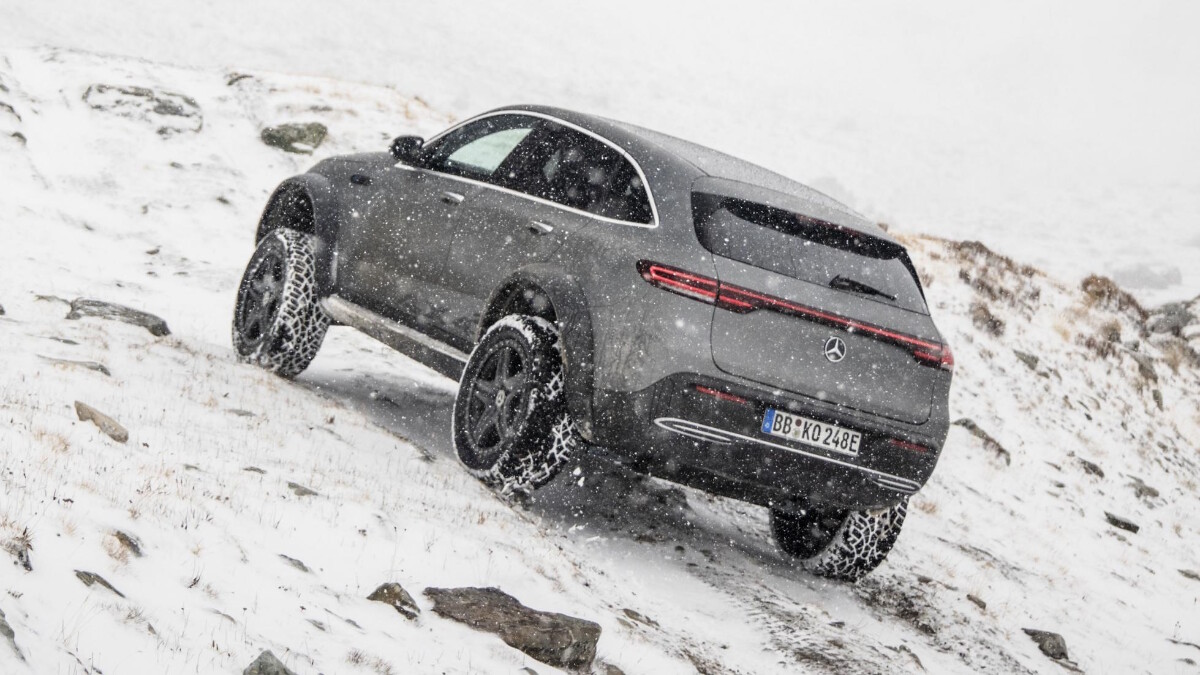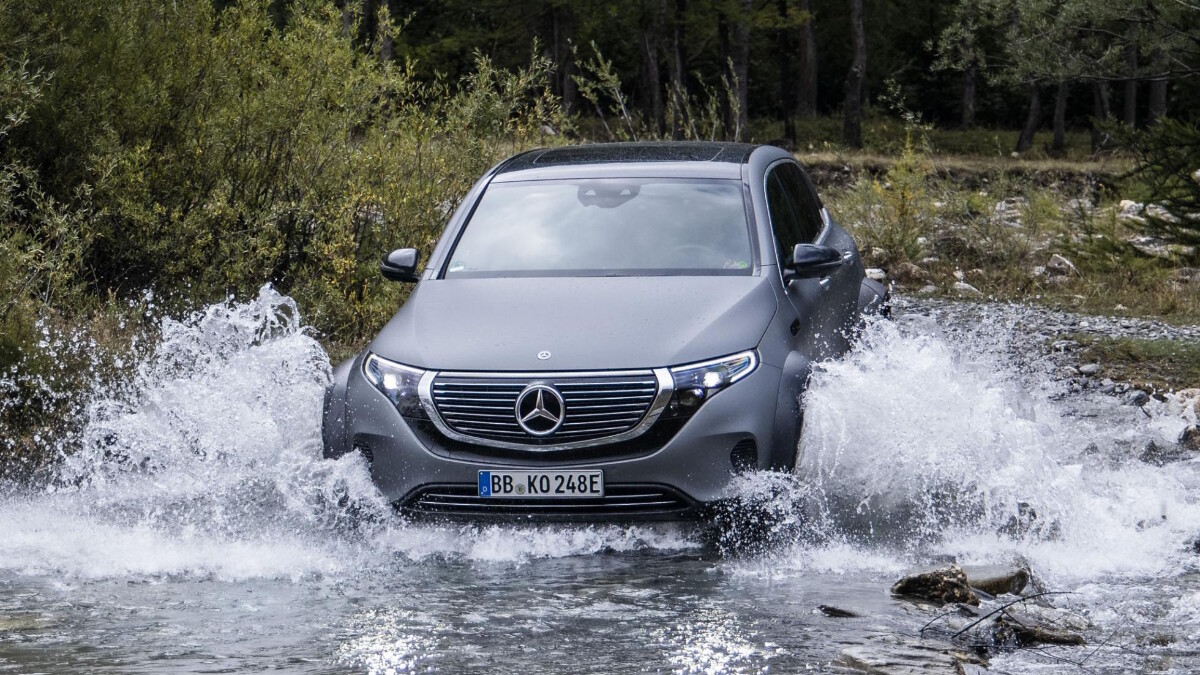 ADVERTISEMENT - CONTINUE READING BELOW ↓
NOTE: This article first appeared on TopGear.com. Minor edits have been made.