This is Porsche's first all-electric car, previewed by the Mission E concept way back in 2015. A car we're expecting to re-write the rule book on what an EV is capable of. A torch-bearer for the future of the performance car. No pressure.
Let's get a couple of things out the way first. Despite Porsche's titanic engineering efforts in moving electric car tech forwards—and as I shall attempt to explain, it has—the Taycan is still an electric car. In 2019 that means it still comes with limitations—namely range (450km for the Turbo if you drive like a learner), charging time (5 to 80% in 22.5 minutes if you can find one of the 140-odd DC chargers in Europe capable of delivering 270KW) and weight (2.3 tons).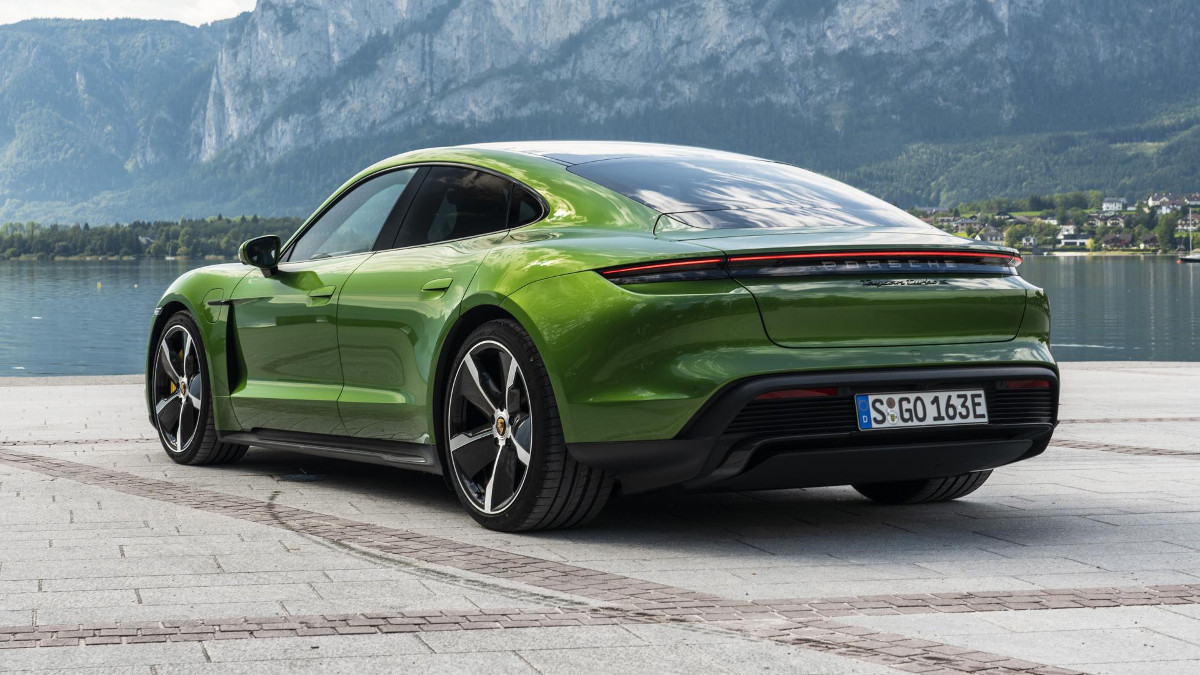 Stefan Weckbach, the man tasked with delivering the Taycan, predicts that in five to seven years solid-state batteries will come on stream and allow you to have a Taycan with the same power output and range as this one, but 400kg lighter. For now, the Taycan is at the very pointy end of what's possible.
ADVERTISEMENT - CONTINUE READING BELOW ↓
It's also not as fast 0-100kph, doesn't go as far on a charge and costs more than a Tesla Model S P100D. Thank you Teslerati for pointing that out once every 14 seconds since the Taycan was revealed, but numbers aren't everything. Weckbach insists that while he's driven every EV on the market, the only benchmark that mattered was making it drive as much like a 911 as possible. Aim for the moon and all that. So, starting from a very blank piece of paper in mid-2014, this is what Porsche has come up with.
Based on a new 'J1' platform, it slings a 93.4kWh lithium-ion battery between the two axles, each with a motor attached, four-wheel steering, suspension loosely related to the Panamera and a rear-mounted two-speed gearbox allowing the Taycan to reach its accelerative potential from take-off, but boost efficiency once you're up and running.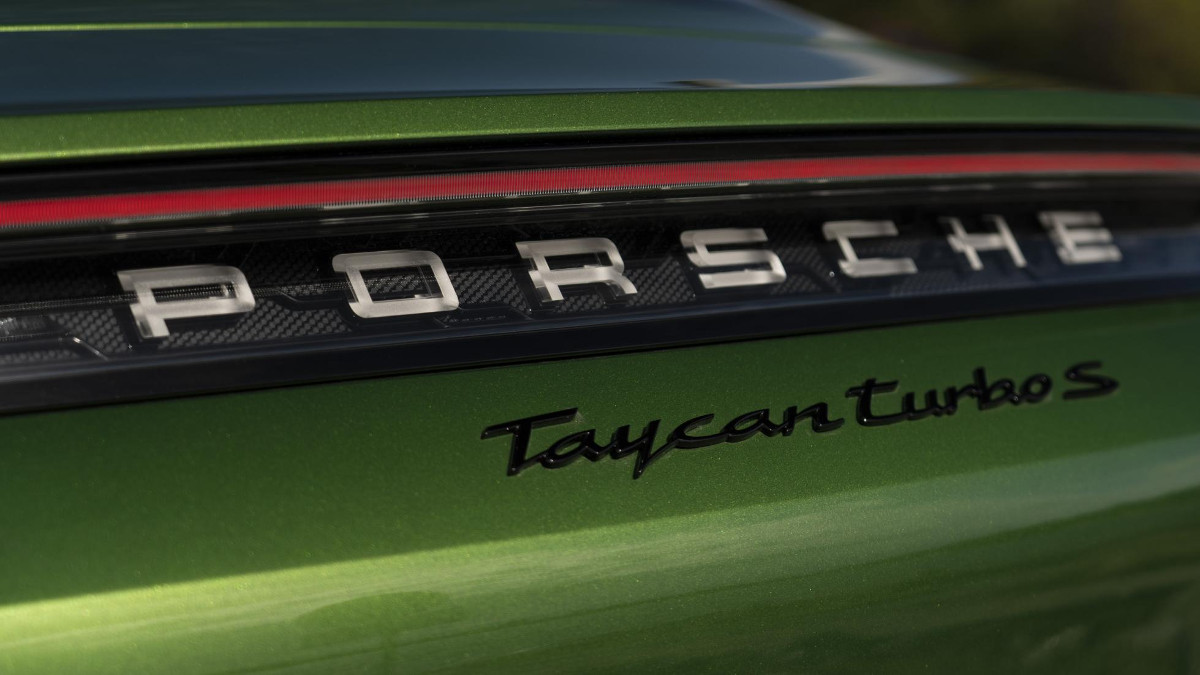 ADVERTISEMENT - CONTINUE READING BELOW ↓
Recommended Videos
Atop this skateboard chassis is draped a four-door, four-seat body—narrow of canopy, wide of hip—designed to fill the white space beneath the larger Panamera and Panamera Sport Turismo. It's a handsome shape—more stretched 911 than shrunken Panamera. You can dress up to the point of invisibility with dark blue paint and silver wheels, or shout quite loudly with five-spokers framed by a body-colored rim (inspired by Mission E concept), or 21-inch 'fan' wheels in carbon or body color… or gold. But don't take my word for it, proceed to the configurator forthwith and kiss goodbye to productivity for the day.
Just one more thing: Porsche's decision to use the Turbo badge on an EV. Since it first arrived on the 911 in 1974, Turbo has become a sub-brand, denoting the fastest models in every model-line. Porsche didn't want its EV to get any special treatment. That's also why it's called Taycan—a typical Porsche name—rather than Mission E.
On the road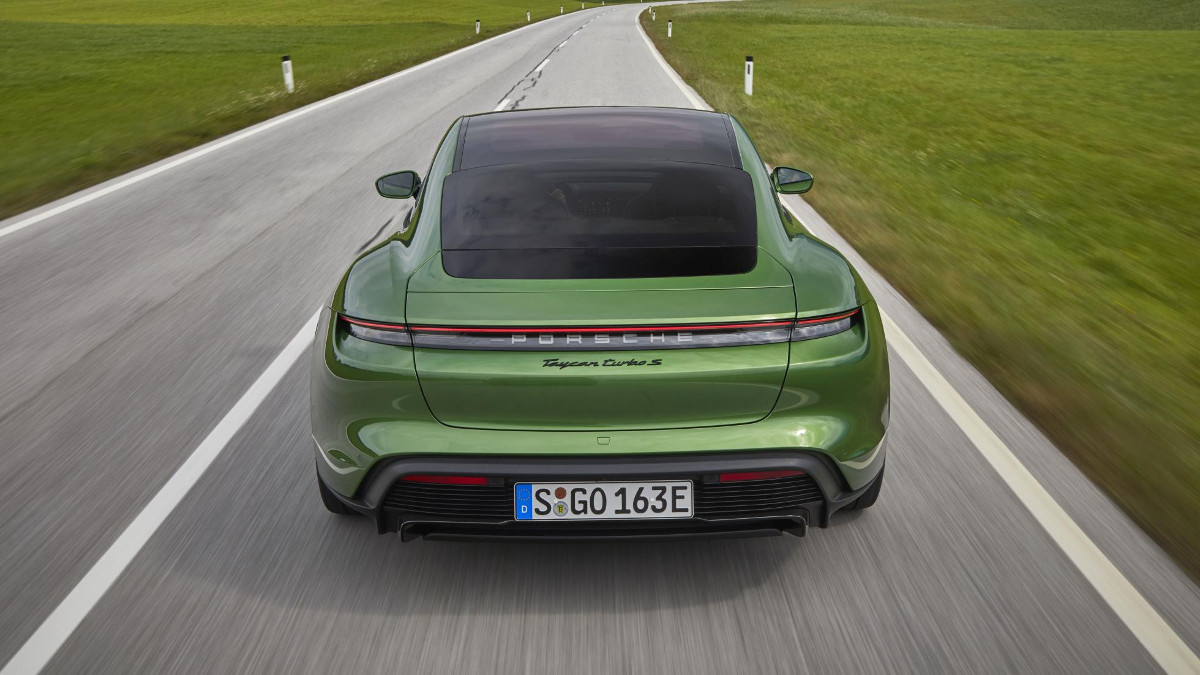 ADVERTISEMENT - CONTINUE READING BELOW ↓
Two versions are available initially—the £115,858 Turbo (P7.4 million) and £138,826 Turbo S (P8.85 million), with less powerful versions following before the end of the year, and a jacked-up Sport Turismo variant in late 2020. Turbo means 616hp (and up to 671hp and 849Nm in overboost, only available during launch control), 0-100kph in 3.2s and 450km range. Turbo S adds a larger front inverter for 616hp in normal running (750hp and 1,048Nm in overboost), 0-100kph in 2.8s, a 10.8s quarter mile, carbon-ceramic brakes and wider tires as standard and a range of 409km. I drove both and yes, you'll want the Turbo S more, but in 99% of road-based situations the Turbo is every bit as quick.
Locate the toggle selector behind the wheel, flick into D and the car hums gently, just enough to let you know it's alive. Squeeze the throttle and off-you-ooze, along with a noise I can only replicate by making the sound 'OOOOOOOOOOO' with my lips pursed so they emit a faint whistle at the same time. Try it. Maybe not in public. Want to crank up the synthetic soundscape? Turn on the 'Porsche Electric Sport Sound.' You will for a week, then probably get bored of it. Around town it's effortless, silent, comfortable and doesn't feel as wide as it looks—a joy, in other words, even when the traffic and speed cameras conspire against you.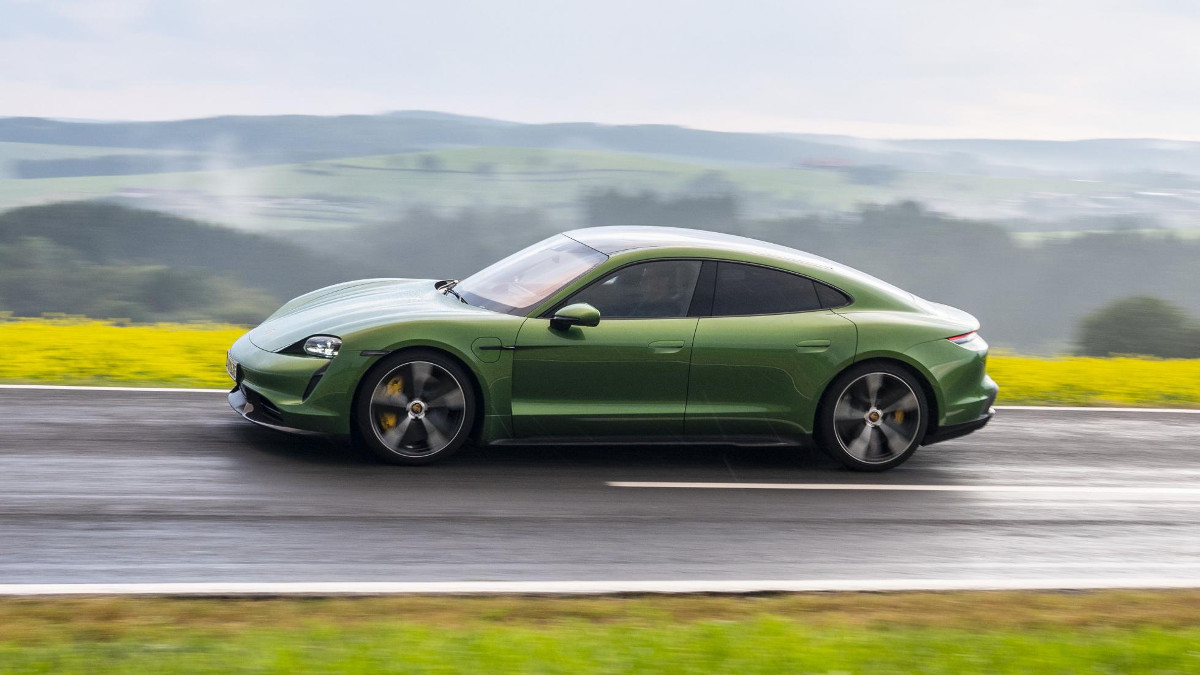 I'm in the Turbo S, first opportunity to floor it from a standstill and 'weeeeeeeeeeeee!'—that's the car, not me—but a momentarily concern that I may have dealt myself a whiplash. The initial kick is violent, borderline unpleasant, and it simply doesn't relent. Keep it pinned and you notice a change of tone—the gearbox changing up—at 70kph, with gentler throttle inputs it'll switch earlier. So speed is well and truly covered, as much grunt as any Porsche I can remember driving, more than you could reasonably need.
The steering is spot-on, not massively detailed in its feedback, but not overly caffeinated either and with a sense that your hands have a direct connection to the front wheels. Body roll is all but absent at sane speeds, remarkable given how supple the air suspension is in everything but Sport+ mode, even on 21s. You can of course sense the weight—the momentum that needs shedding or shifting direction, the way the suspension hits its stops on big compressions—but both the low center of gravity (lower than a 911) and drop-kick acceleration the nanosecond you need it do a great job of masking the worst. It feels heavy, but not 2.3 tons.
ADVERTISEMENT - CONTINUE READING BELOW ↓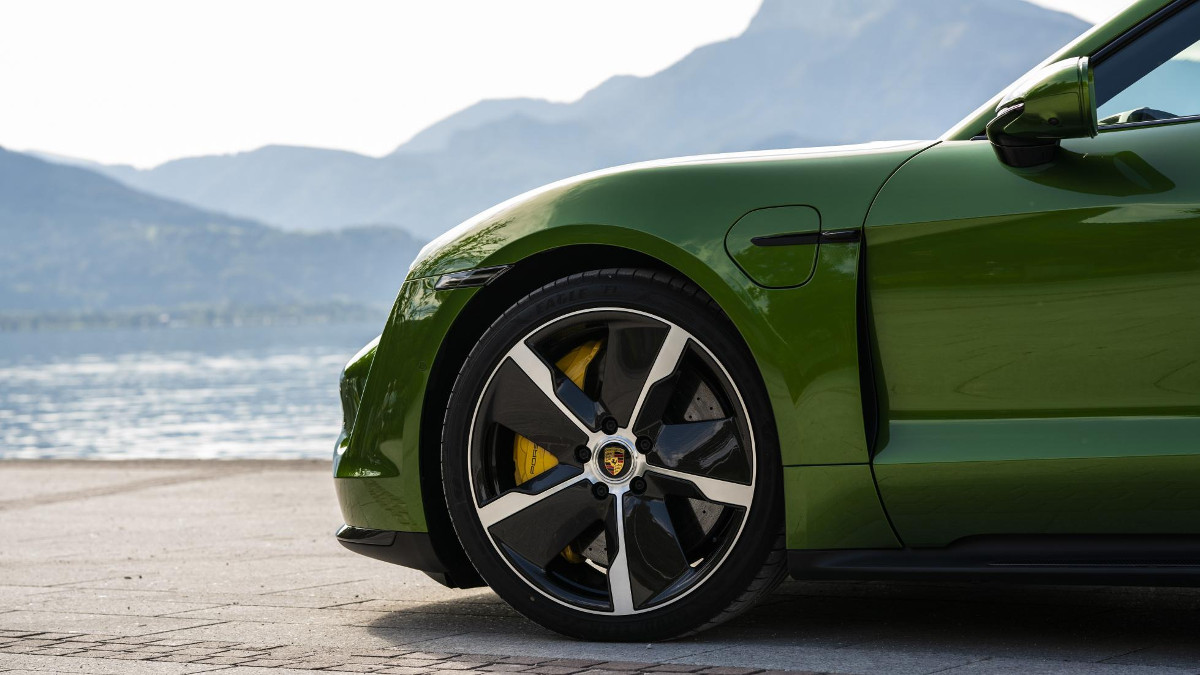 Part of that credit goes to the brakes. Mostly, when you apply them what your leg feels is synthesized, pads don't meet discs until you really stomp on the pedal. The regen system can feed a massive 265kW back into the battery, so only calls on mechanical friction when you exceed that. Programming even a semi-natural feel must have been a headache and a half, but they've done it. In fact, Porsche reckons 90% of the time all your braking will be by regen and you'll be blissfully unaware—which is why the standard cast-iron brake discs on the Turbo have a tungsten-carbide coating—to stop them from rusting out of neglect.
Pouring it down a Swedish B-road, I'll admit, I miss pulling paddles. It's part of finding your rhythm down a fast road: two yanks and a bit of brake, turn-in, feed the throttle back in, change up, change up, repeat. Without it you find yourself arriving at bends faster than you think and, assuming you're not halfway up a tree by this point, slamming the throttle earlier than you'd normally dare. Traction is mightily impressive, but overall there's less for the driver to do.
On the inside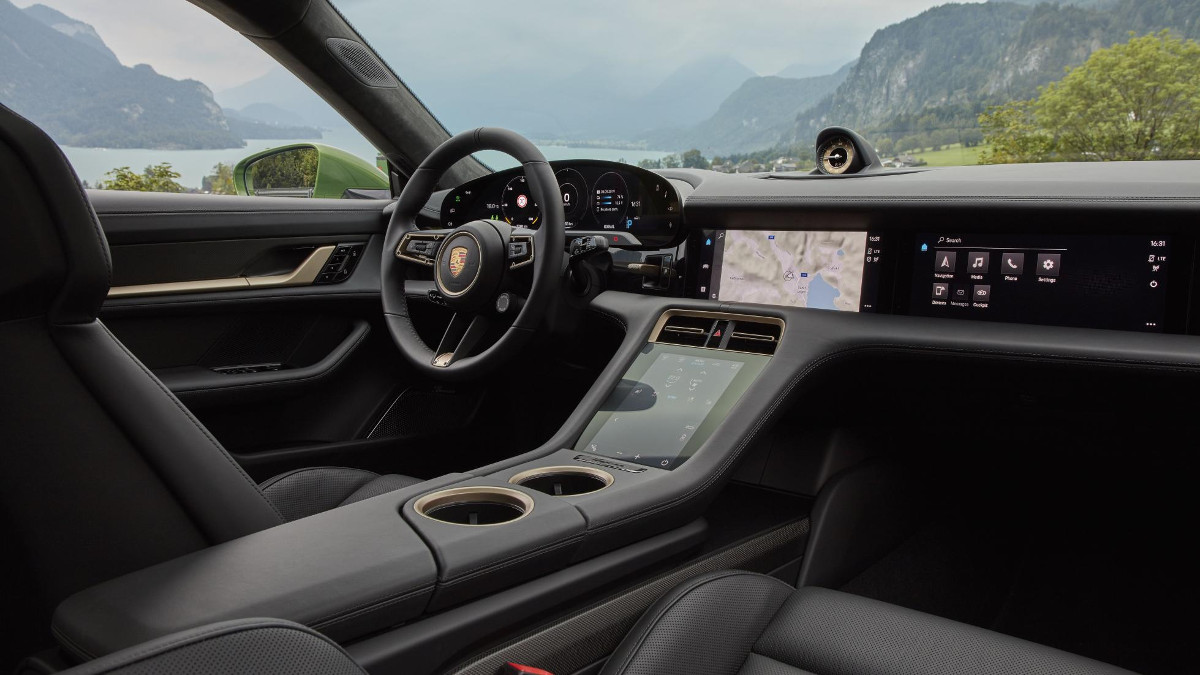 Pull the handle, drop into the seat… good job. The driving position is near-as-damn-it 911, but the environment is all-new. The center console locks you in but floats leaving space beneath and the only physical buttons are on the wheel and doors. In here, the screen is king—a sculptural, curved one behind the wheel, a standard rectangular 10.9-inch one in the middle of the dash, an I-Pace style portrait one where your right hand rests, and an utterly pointless (but fortunately optional) one above the glovebox in front of the passenger. The same passenger who is perfectly capable of moving their hand three inches to the left and using the central screen to mess with your music or plug something into the satnav.
ADVERTISEMENT - CONTINUE READING BELOW ↓
Next to a Model S, the gimmick count is low, but that passenger screen is unnecessary, as are the directional air vents controlled deep in a sub menu on the main screen. What's wrong with manually pointing the vanes? But there's familiarity, too. Your driving modes—Range, Normal, Sport and Sport+—are controlled via a dial on the steering wheel, and although all the interfaces and graphics are unique to the Taycan, anyone that's driven a Porsche will be at ease within the hour.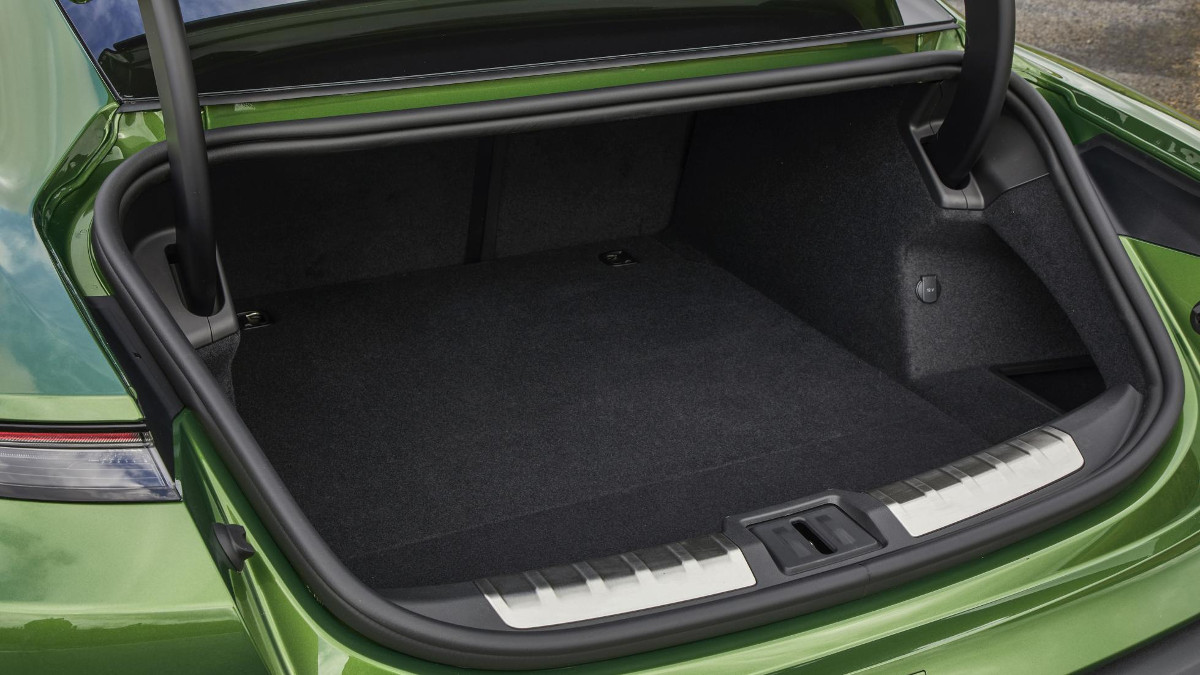 The trunk is as big as a Golf's (366 liters) and there's a small frunk too (81 liters), and while you can squeeze a six-footer in the back, the rear seats are more suited to kids or vertically challenged motoring journalists. Porsche has, however thoughtfully carved a space for your feet into the battery under the floor—something they call the 'foot garage.' Unusually, go for the panoramic roof, and there's actually more headroom in the back.
Range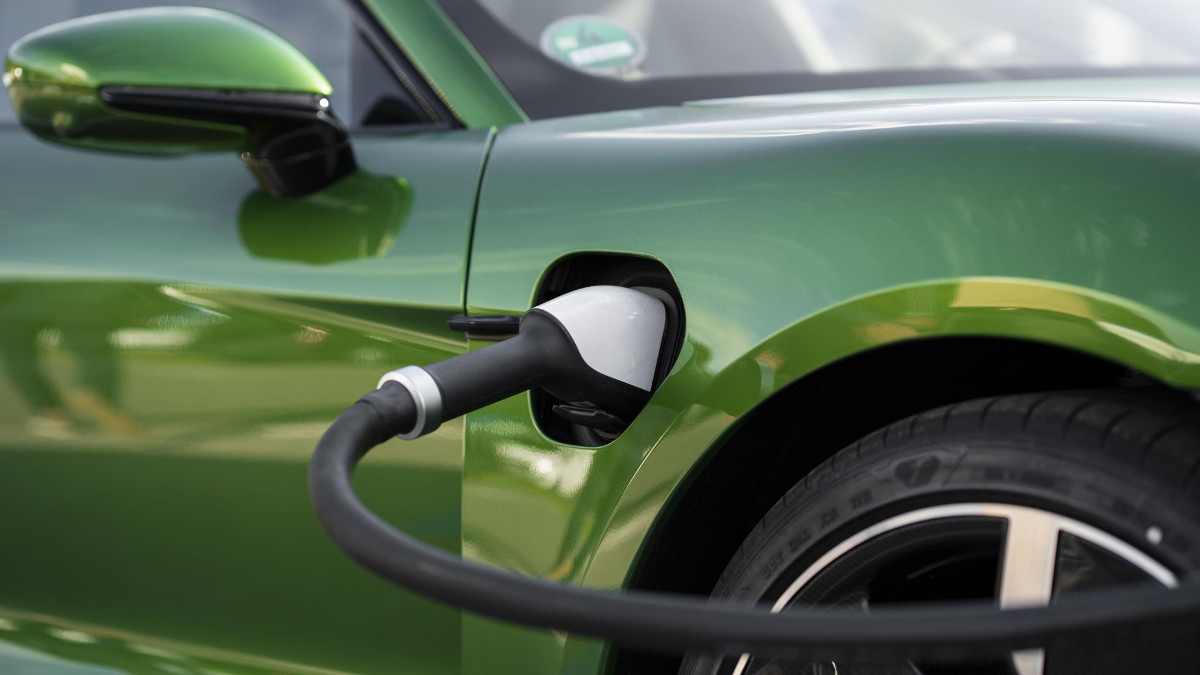 What separates the Taycan from what's gone before is its 800V architecture—double the norm. Higher voltage means lower current; lower current means less heat in the batteries, motors and electronics, repeatable performance, faster charging and a thinner, lighter wiring loom that can snake around other components more easily for tighter packaging. Circles don't get more virtuous. It was an expensive decision, says Porsche, but once every other manufacturer cottons on, prices for 800V components should tumble.
Just a note on consumption. During our day with the Taycan, we averaged 24kWh/100km driving without a consideration for economy. A/C and stereo on, stomping on the throttle when the road allowed, stomping on the brakes safely now and then—all in the name of thorough road-testing. You need to hit 20.8kwh/100km to achieve the 450km WLTP claim in the Turbo. So without trying to eke out range, I was on course for 386km on a 'tank'… not bad.
ADVERTISEMENT - CONTINUE READING BELOW ↓
Final thoughts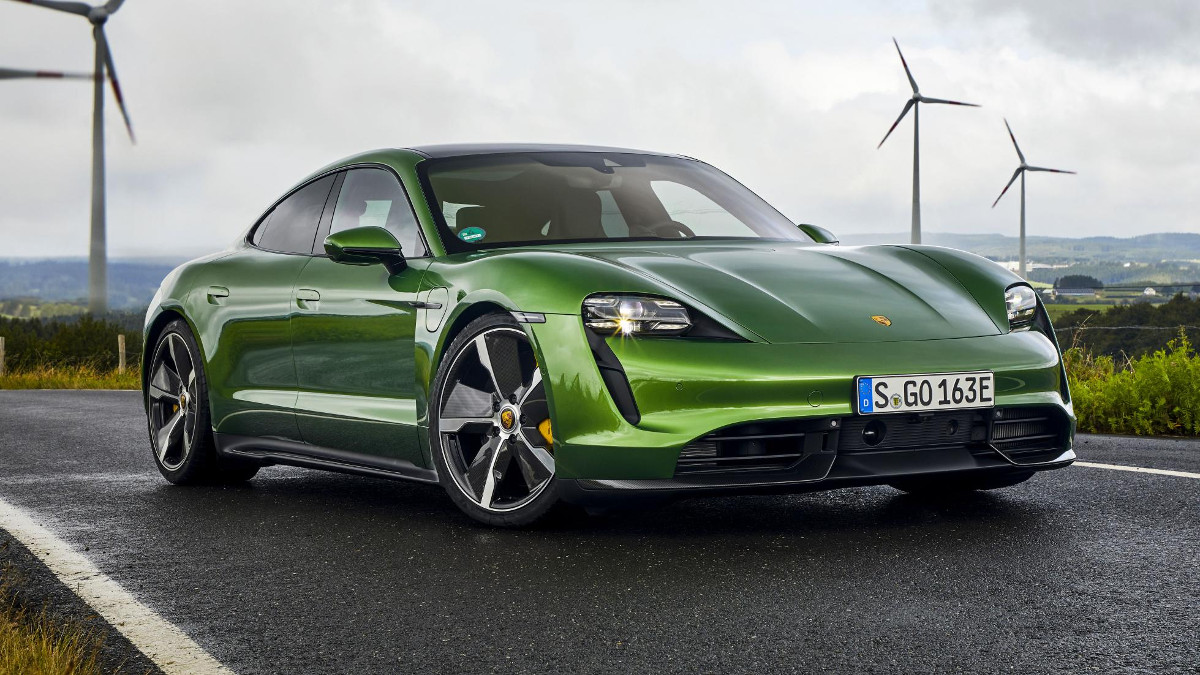 To be honest we need a track and a big pile of spare tires to fully explore what awaits on and beyond the limit, but the Taycan can absolutely entertain on the right road and is a delight to cruise in—a GT with the heart of a sports car. More important, it's a proper Porsche that just happens to run on electricity.
Truly, this is great news for anyone that loves fast cars. Electric cars are coming whether we like it or not and the performance/range/handling balance is only going to improve from here. Porsche isn't being shy about embracing electricity—a Taycan Cross Turismo arrives in late 2020, followed by an electric Macan, all-electric replacements for the Boxster and Cayman, and electric versions of Cayenne and Panamera. In that order.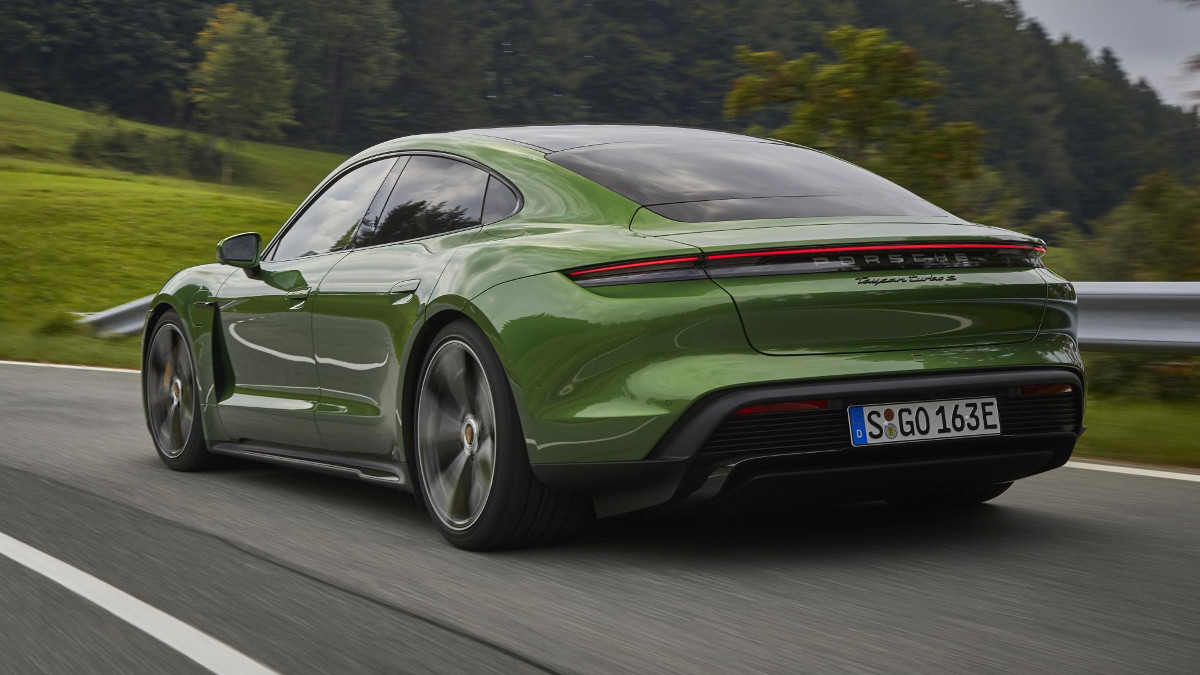 One note from us. Porsche, please do everything you can to keep the 911 petrol-powered, the rest can go electric, no problem, but just imagine still being able to buy a new petrol-fueled 911 in 20 years time… it's the beating heart of the brand and it'll feel as unique and daring as the Taycan does now.
Big question, then. Is the Taycan better than a P100D? To drive around corners, undoubtedly, but Tesla is busy at work on a new triple-motor 'Plaid' set up with more power and performance, and has the Taycan's 7m 42s Nurburgring lap time in its sights. Rest assured, we're aiming to settle this argument as soon as we can.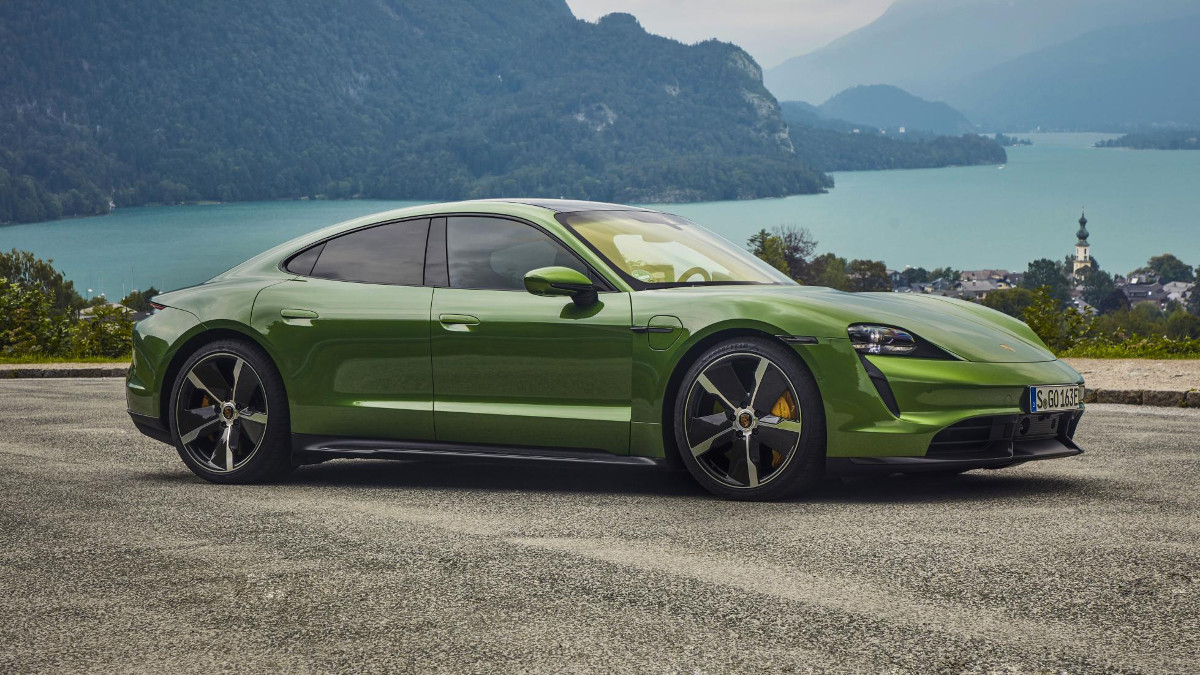 ADVERTISEMENT - CONTINUE READING BELOW ↓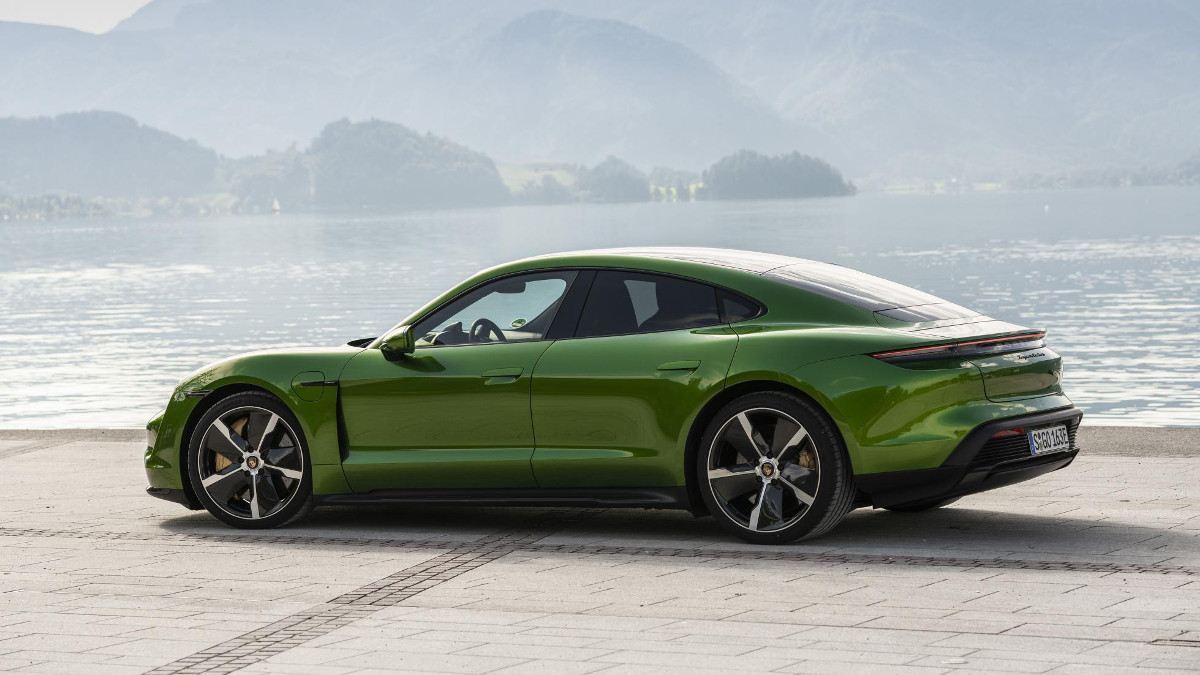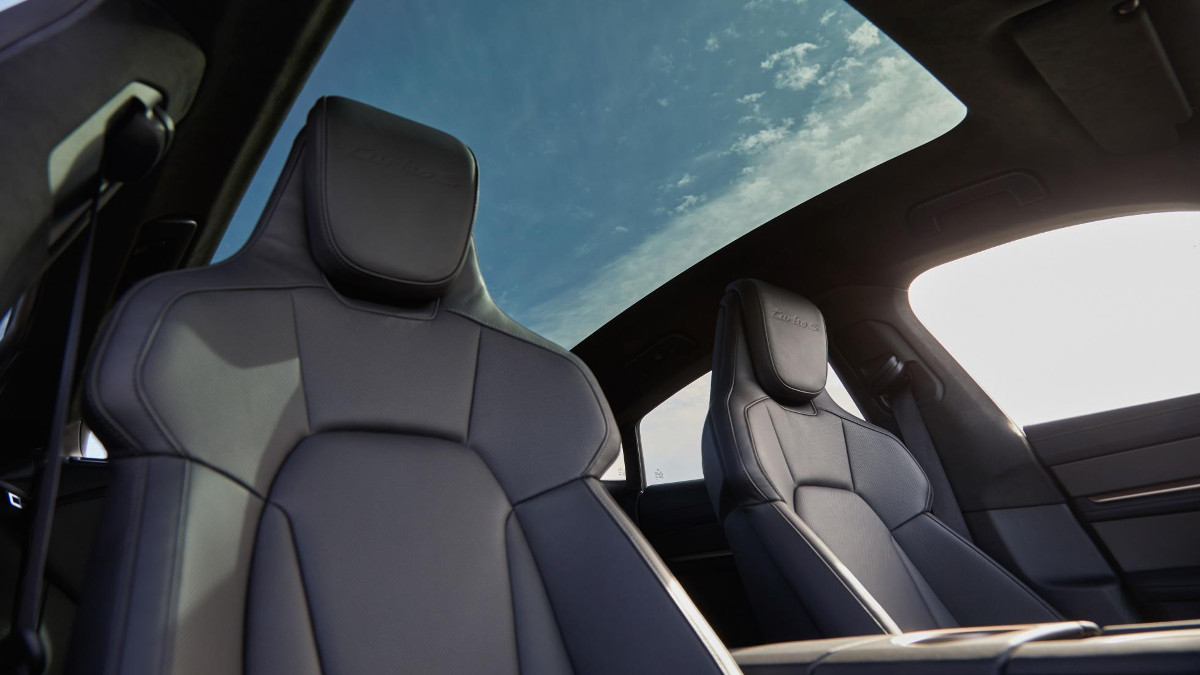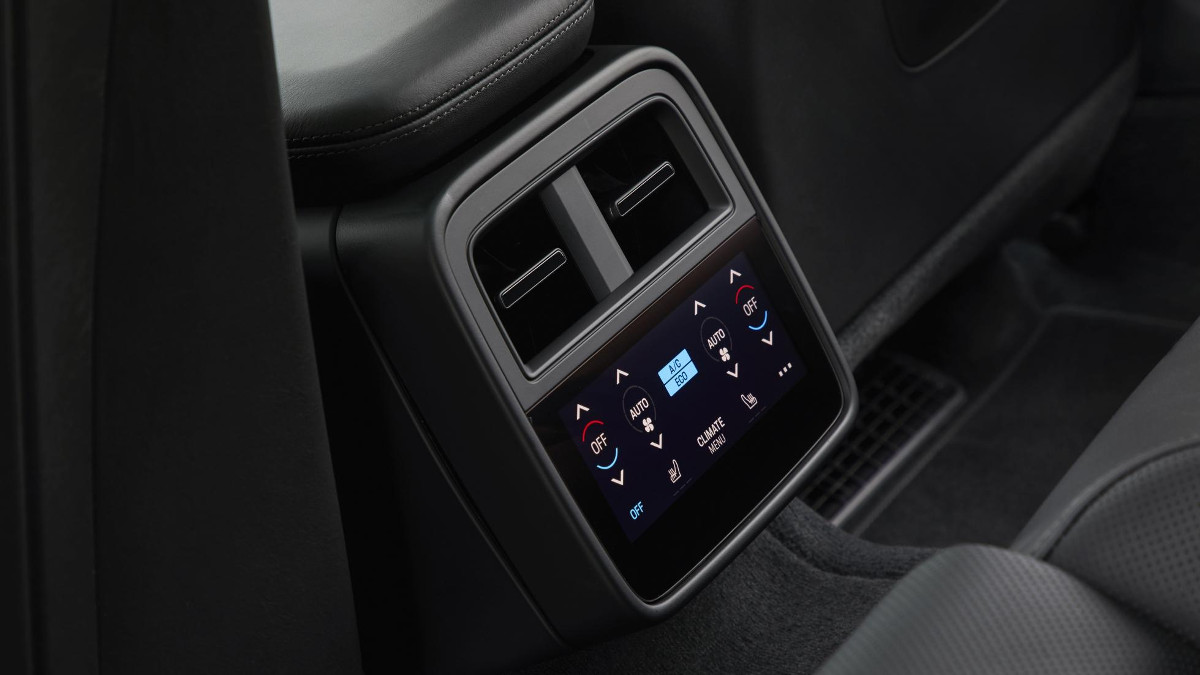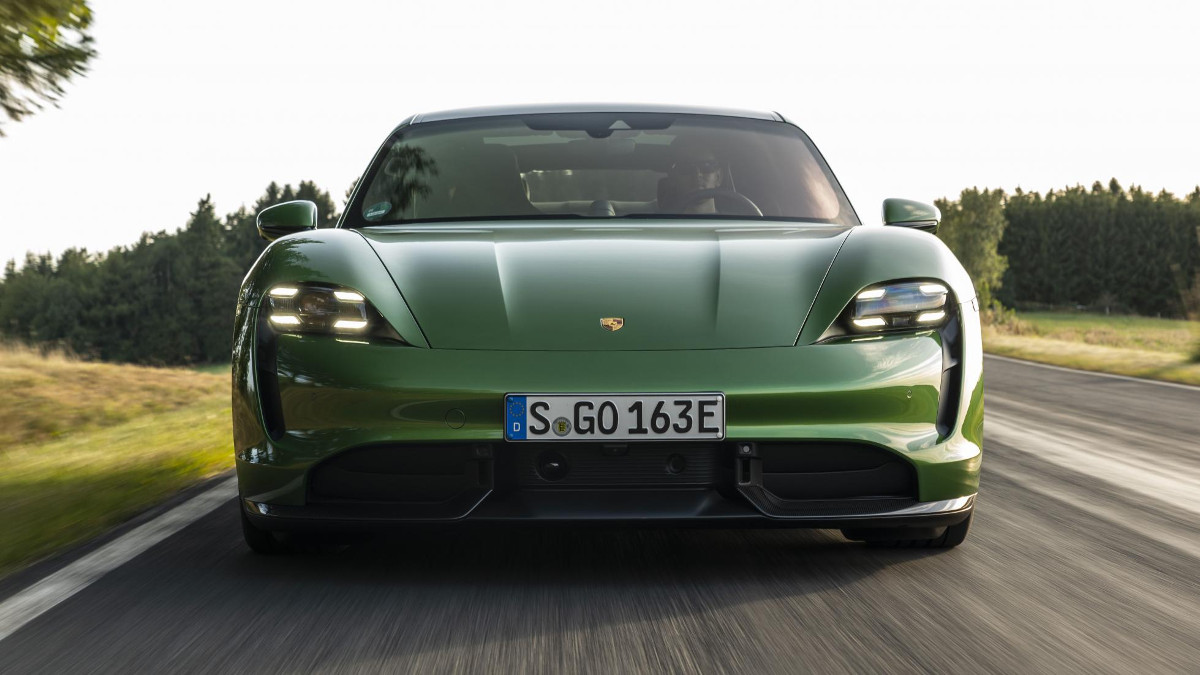 ADVERTISEMENT - CONTINUE READING BELOW ↓
NOTE: This article first appeared on TopGear.com. Minor edits have been made.