In the late '90s when Jordan (the model, not the beautiful Arabian land) and Habbo Hotel were a thing, the public's perception of a fast hatchback was quite different to what it is today. Back then, making a small car fast came with a whiff of something else. Drunk off crusty issues of Max Power and lava-lamp juice, hatchbacks around the land were infused with bigger wheels, crazy bodywork, and big power. Skyrocketing insurance premiums killed the genre for its youthful target audience, but it opened the door for OEMs to increase the scope of what a hot hatch could be and who bought them.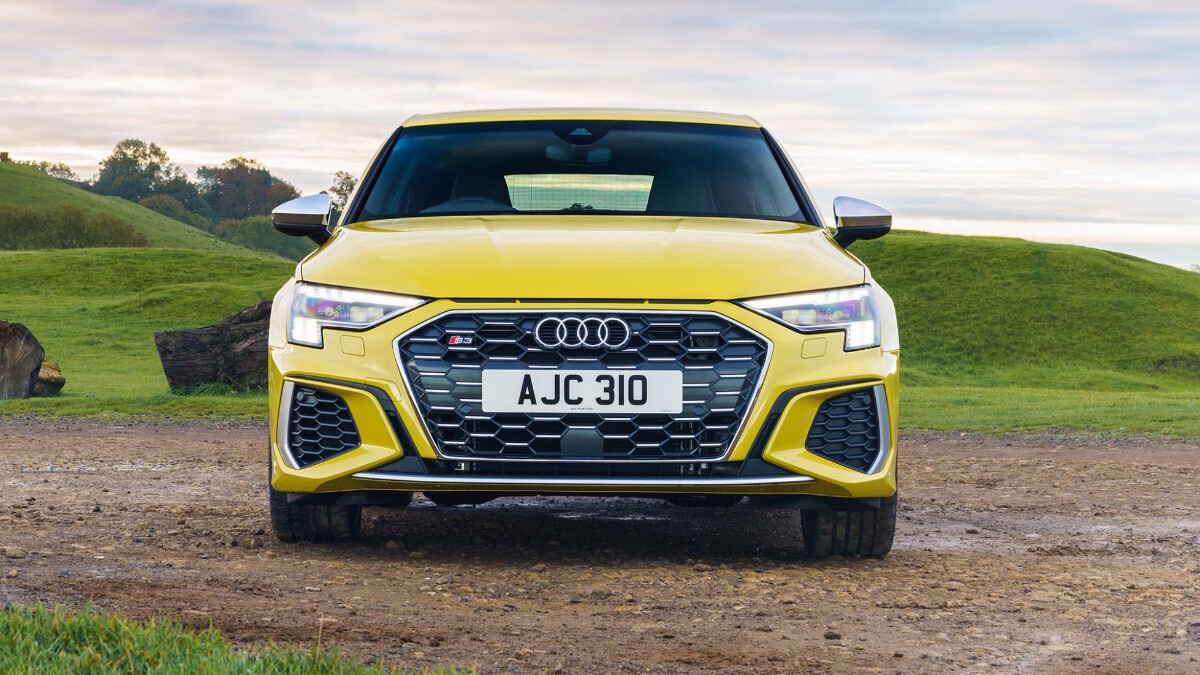 Continue reading below ↓
Recommended Videos
Right on cue, Audi swept in with something different. A new thing. A premium hot hatch: the S3. It approached the performance hatch from a classier, more mature angle. Big spoilers were replaced with restrained styling, and outright performance made way for the less crash-y world of all-wheel drive. Imola Yellow paint option aside, it was a wallflower after decades of wild hatches, and surely one to angle the genre at older, more affluent buyers.
Now, it's back in sharper-looking fourth-generation guise. And so is the option of yellow paint, this time a less striking 'Python Yellow,' but yellow all the same. What hasn't changed is the ethos and concept: a liveable swift small car that people aspire to own. However, this isn't the groundbreaker of its great, great grandfather. Because since then, the world has caught up and there's a load of fast, expensive hot hatches to choose from. In the years that have followed—the last decade, in particular—the rivals have come thick and fast. Some from within the VW Group walls (the Golf R), and others from Audi's arch-rivals, most recently in the shape of the Mercedes-AMG A35 and the newly all-wheel-drive BMW M135i. All have circa 300hp being pushed through a paddle-shift gearbox to all four wheels. Like the S3's recipe or not, everyone's copying it.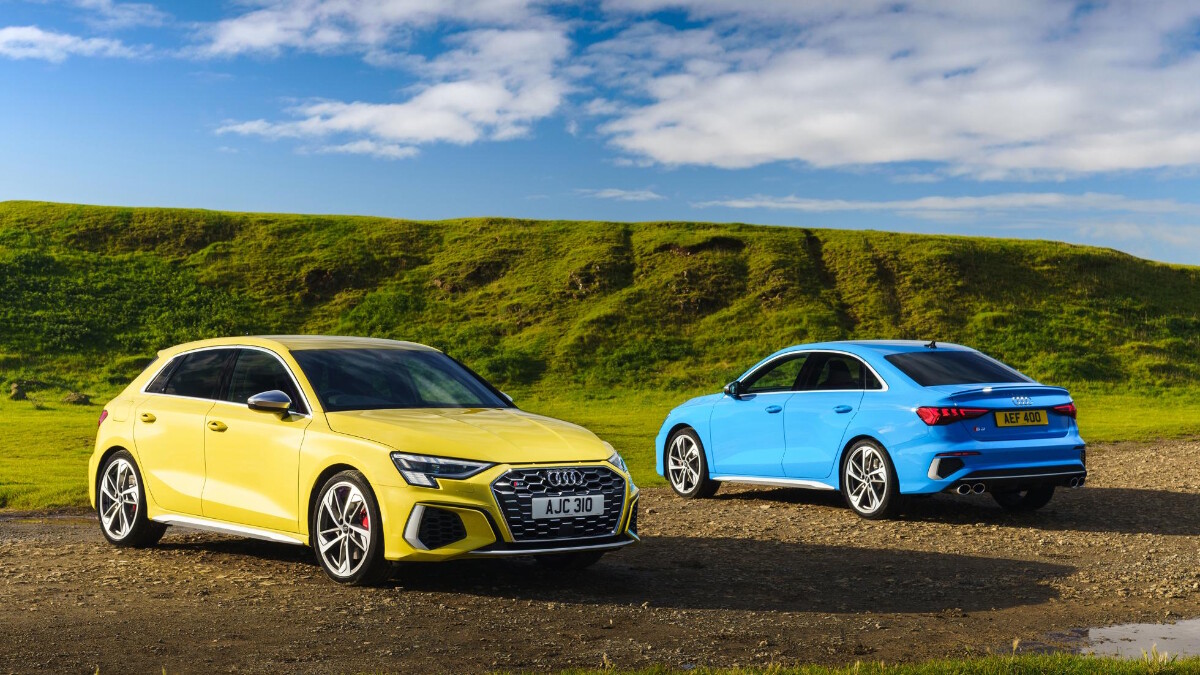 And the new one doesn't mix things up. At all, really. It uses the same platform, engine, and gearbox as its predecessor. So, it's the incredibly familiar 2.0-liter turbocharged EA888 powerplant that's had 10hp squeezed out of it to take things to 306hp. Torque has increased, too, now 400Nm. This is all fed through the familiar surefooted Quattro four-wheel drive system and a seven-speed dual-clutch automatic. For you enthusiasts that like three pedals and a stick, it's bad news as there's no manual available. Time for you to check out the Honda Civic Type R review if that's your bag.
Ultimately, the performance is nothing new, 0-100kph in 4.8sec and electronically limited to 250kph—the same as the last car. Which, like this one, was available as a five-door Sportback—the proper hot-hatch version—but also a four-door sedan. Because that's a thing nowadays that very much wasn't when Jordan and Habbo Hotel were relevant. The economy has been upped, though, with Audi claiming 16.7km/L and CO2 emissions of 178g/km. But that's not the only thing to have gone up—the price has, too, with the new S3 priced from £37,900 (P2.4 million) in the UK. And things can quickly go north from there when you start ticking boxes, which should help the resale value.
On the road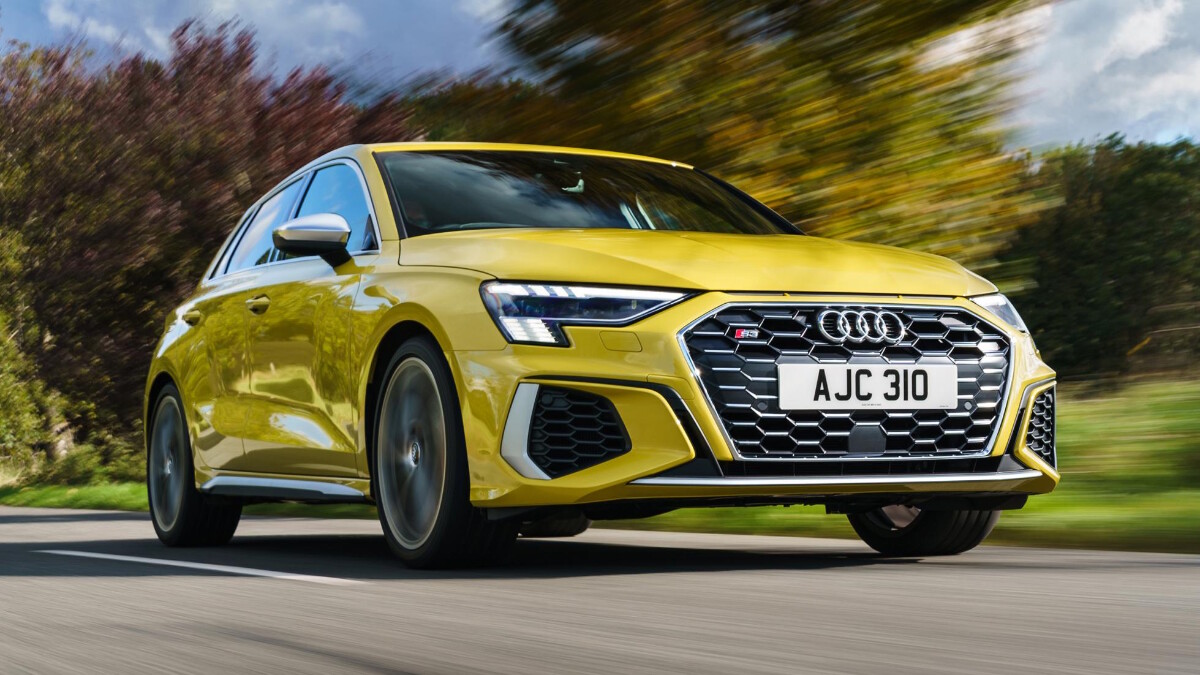 As the S3's competition has increased, so has the bandwidth of how a four-wheel-drive hot hatch should drive. And luckily, that's this Audi's strong suit: Being the supremely sensible and competent one in all conditions. Indeed, as Audi's European S-badged range goes almost entirely diesel-only, here's one of the last cars standing to use the traditional fuel of performance cars. But while it presumably means 'Sport,' there's always a suspicion the S badge on Audis actually means 'safe.' That's certainly how it feels here: It's a hot hatch that holds a certain decorum, one that's not flamboyant in noise or balance, one which puts classiness at the very top of its to-do list. 
Given there are only minor changes alongside revised suspension and steering settings, it'll probably be no surprise that the new S3 drives furiously similar to the outgoing car. As ever, you can fiddle with the driver configuration settings to your heart's content to mold its character around yours. Beyond Comfort, Normal, and Sport modes for the steering, engine response, suspension, and exhaust noise, you can concoct your own arrangement under the Individual mode. Light steering, soft suspension, and the snarliest engine is typically the way to go on rural roads.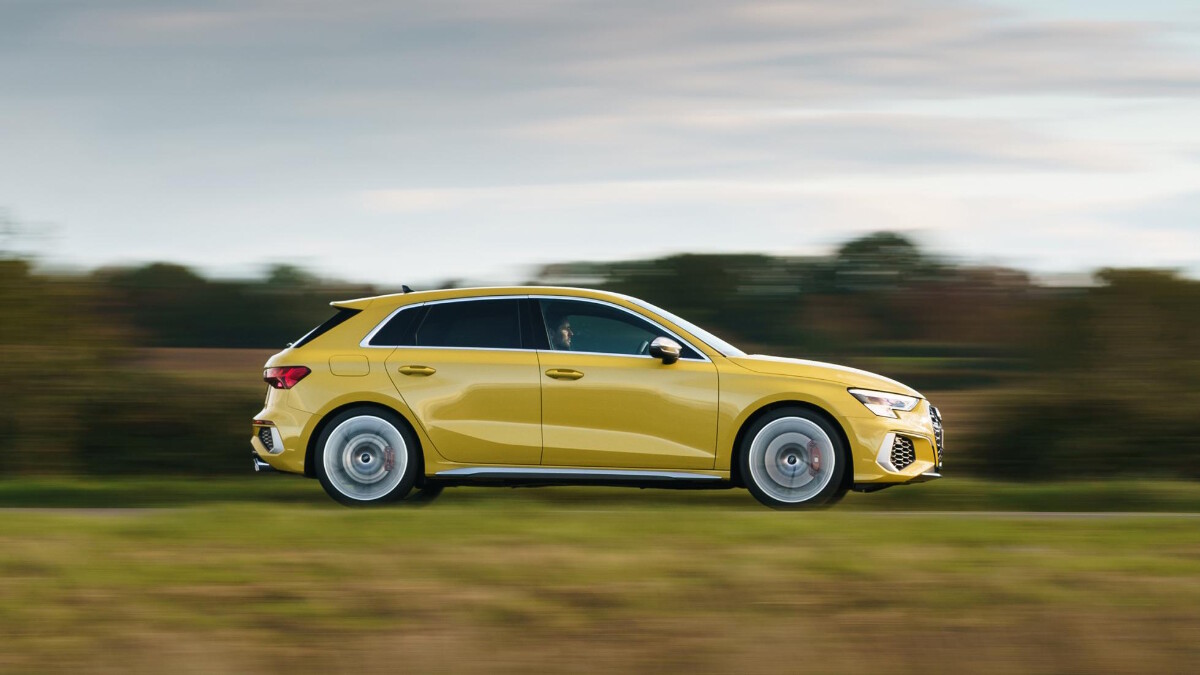 The S3 just makes things easy. Want to pop down the shops? No problem—Comfort, a soggy throttle, and forgivable ride it is for you. Want to go a bit quicker? Wind it up into Sport, nudge the gear lever so it spruces up, and quicker it will go. Want to be entertained? Well, that's where you have to work a bit harder. See, Audi's magicians have an awful knack at making speed eerily effortless. Numbers whizz up on the dash, but the car still feels simple to drive. This is largely due to light, mostly numb steering and a four-wheel-drive system that shuffles the power around to keep you the right way up. But when primed to be active, the engine, gearbox, and four-wheel drive system work in unison to offer bags of grip to inspire confidence.
As do the brakes. Don't get us wrong—it's less boisterous than the Quattro setup than you'll find in the burlier RS3, and its sense of humor is buried very deeply. But it's there, right in the dark heart of the S3's soul and only accessed by loosened stability control and either damp ground or a fair lack of imagination. That's why only a small percentile of owners will ever find it. But they won't care, because the S3 is so good at doing the day-to-day.
But this is a golden age for hot hatches, and thus there's plenty of room for the S3 to behave the way it does. Those seeking bigger thrills and more slapstick handling can find them—in a flipping Hyundai, even, such is the rich form of this particular corner of the market. The S3 invented a sub-genre and is arguably still bossing it if the too-firm Mercedes-AMG A35 and the slightly treacherous-feeling BMW M135i are anything to go by (its rear-drive USP is gone and we're still not quite over it, if you can't tell).
As it's a middling state of tune compared to RS brethren, thankfully the new S3 also doesn't suffer from the near-dangerous lag and wonky emissions gearbox calibration that its siblings like the RSQ3 do. This makes it smoother and not feeling like it's gasping when pulling out of junctions before giving you all its turbo oomph. Naturally, as it's the sportier car, the new S3 rides 15mm lower than the regular A3 on its standard passive suspension setup. This is great for stance, but the ride can get choppy on broken roads. It does give that faux feeling of sportiness—which buyers seem to like. However, you can option adaptive dampers on high-spec cars, or get them thrown in for 'free' on the top-spec Vorsprung package which has everything thrown at it.
On the inside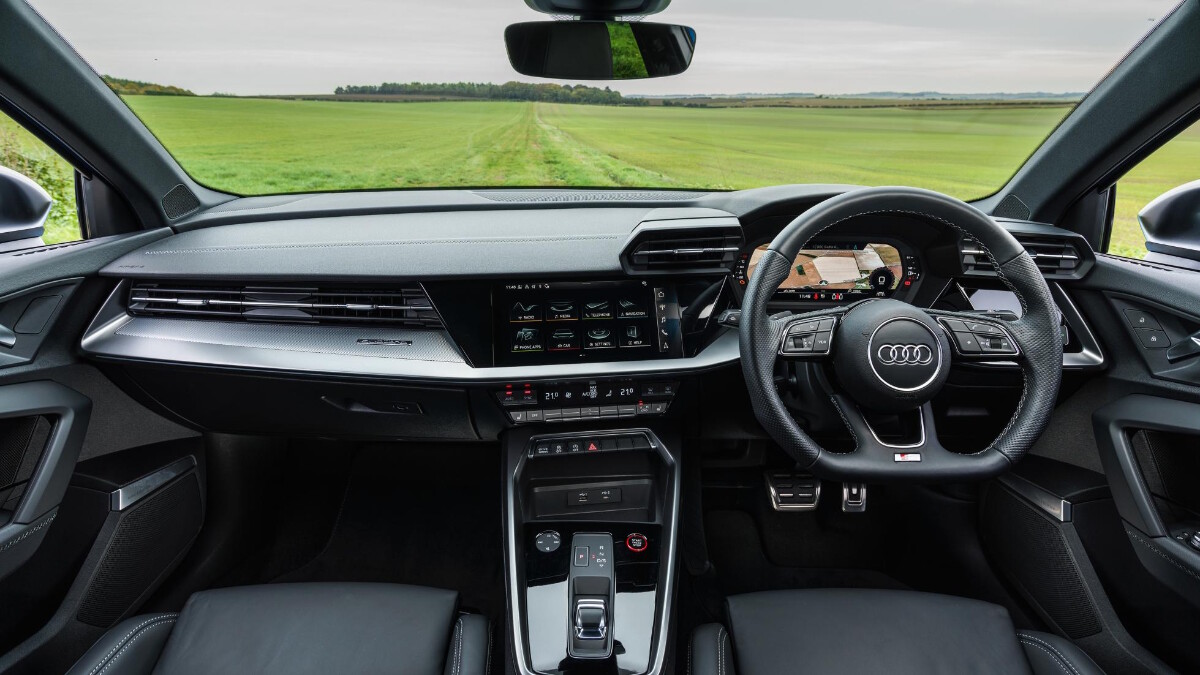 Inside, the S3 is falling a bit behind the competition. Yes, it's got all the bits people want to see nowadays, but the designers may have gotten lost in the sauce of what they think buyers want at the detriment of losing cabin personality. If a car cabin can have a personality.
The previous S3's interior was an ode to perforation and knurling, with diverts and pregnancies happening on everything from the gearshifter to the mirror adjusters. These were finished with fine materials above the competition, that led to an interior that was close to faultless. But now that the screens don't pop out of the dash and there are no keys that need turning in an actual ignition, there's lots of space. Designers say this lets the cabin breathe, but it can also lead to a feeling of emptiness. Especially as there's been an increase in hard plastics. And you naturally touch more things nowadays because buttons don't exist to distract your attention, so you notice these things more.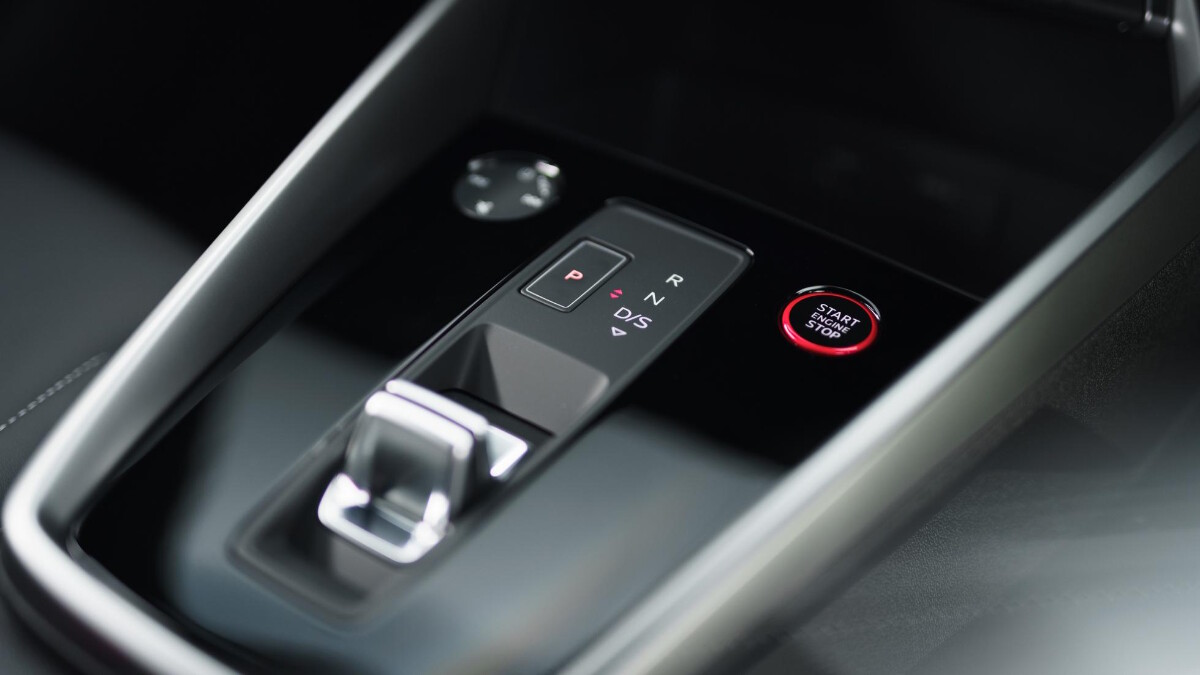 There are plenty of ways to jazz your interior up, with carbon inlays to make you look sportier than you are. Just like the sport seats. They're all wing-backed and seemingly containing a thousand stitches. But don't hug you as tight as appearances suggest and—crucially—it simply won't ratchet down anywhere near low enough for a supposed performance car. Hot hatches often suffer this issue to some degree, but just about everything launched in the last five years is better than this.
And the competition has caught up. Admittedly, the infotainment is well-displayed thanks to a 10.1-inch central display allied to a 10.25-inch digital instrument panel or full-size 12.3-inch Virtual Cockpit Plus system if you stump up the cost for the Vorsprung model, but competitors like the Merc have more life about them. They ask more questions and make you feel a bit more special.
Final thoughts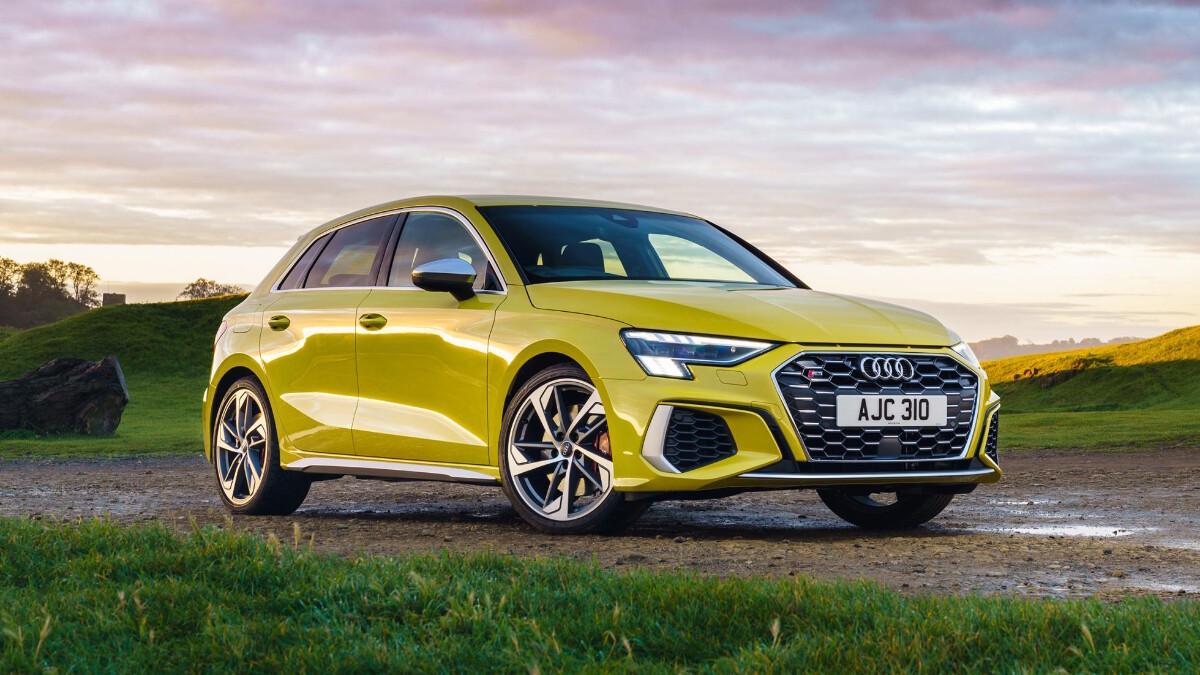 The original Audi S3 arrived right at the end of a decade when impending doom was seemingly on the horizon. Nothing has changed in the last 20 years then. But the S3 has. This latest may not make the jumps the first one did, but it's safe to say the car's place in the world has stayed resolutely solid. It's the hot hatch for those who want classiness rather than clownishness. It's the low-hanging fruit of the hot-hatch world for people who want things to be accessible, easy, and for the masses.
It remains an enviable object inside and out and worryingly effortlessly quick. But now with the added bonus of delivering a decent fuel economy without much thought...and yes, as you might predict, that all means it's the teensiest bit boring, as well. As a car to set your alarm early for on a day off, it doesn't really cut it. As a car to live with all year round, though, it's pretty hard to fault.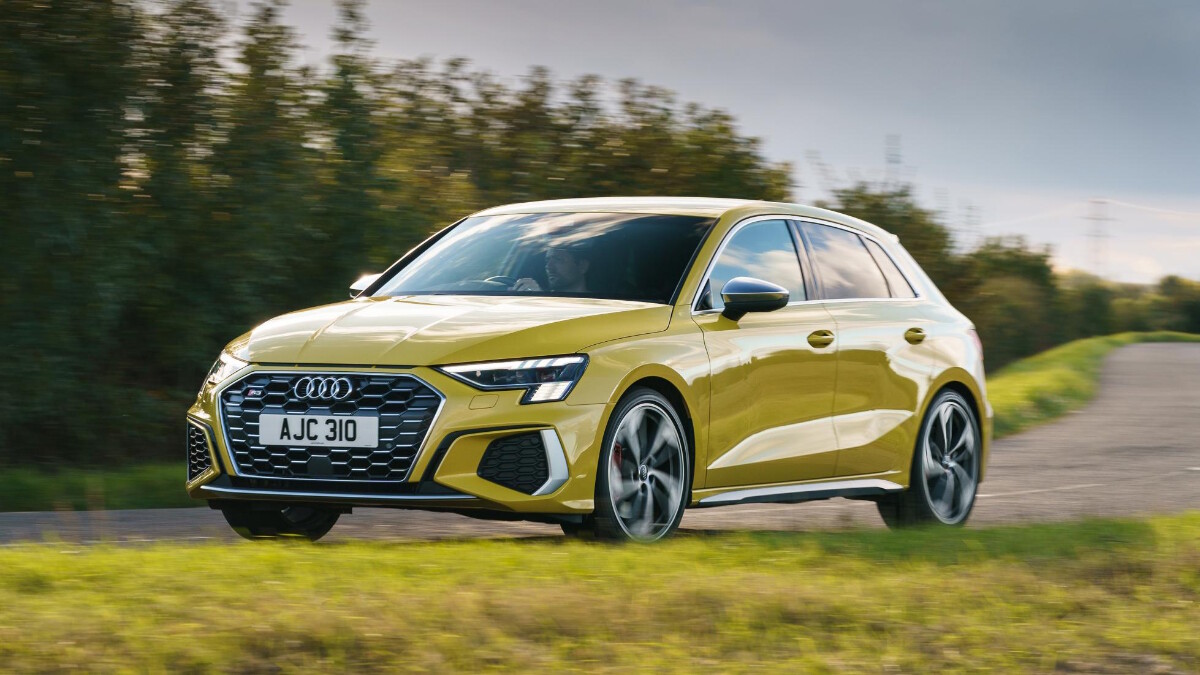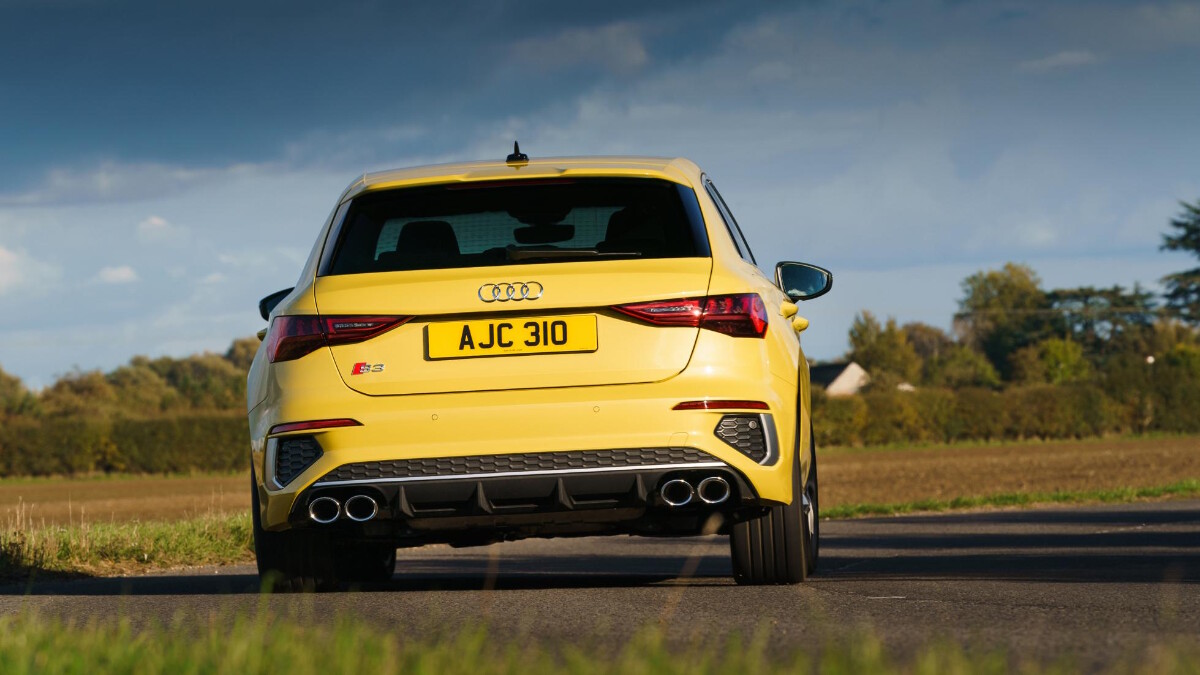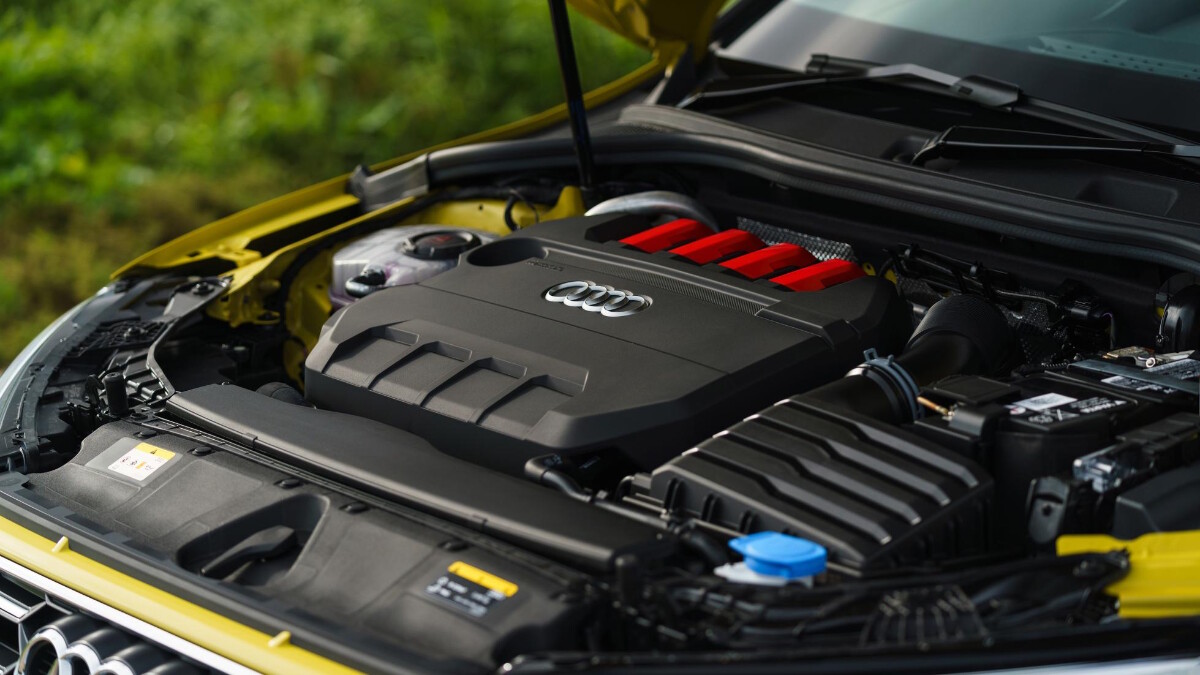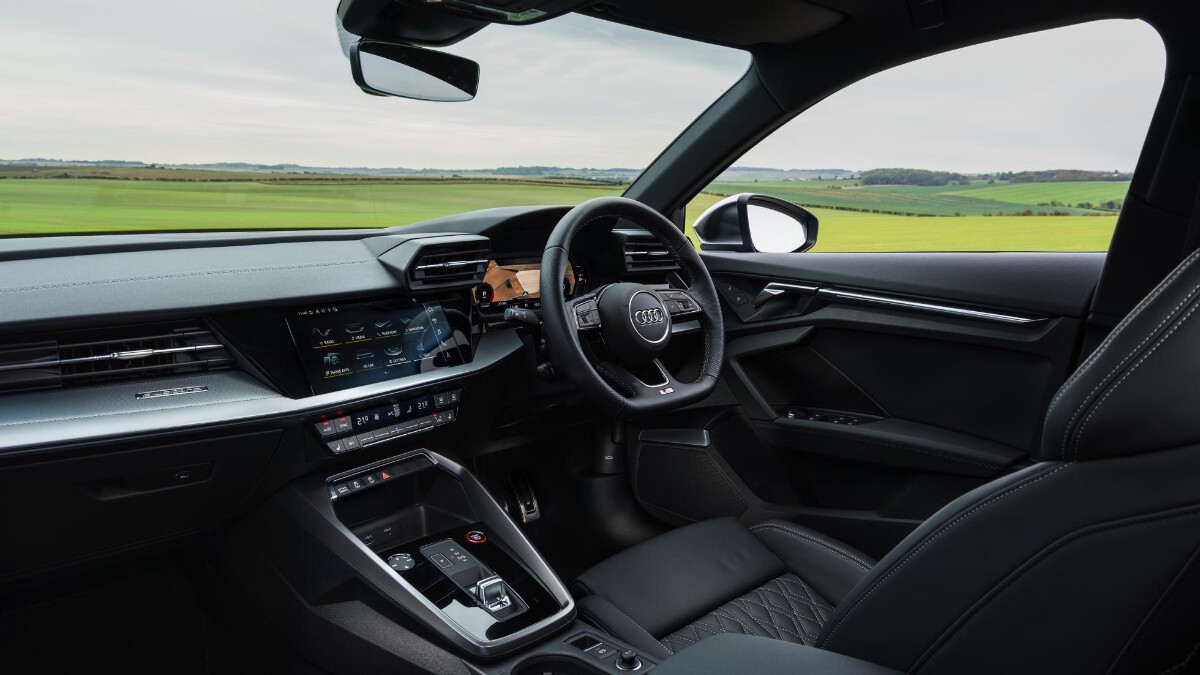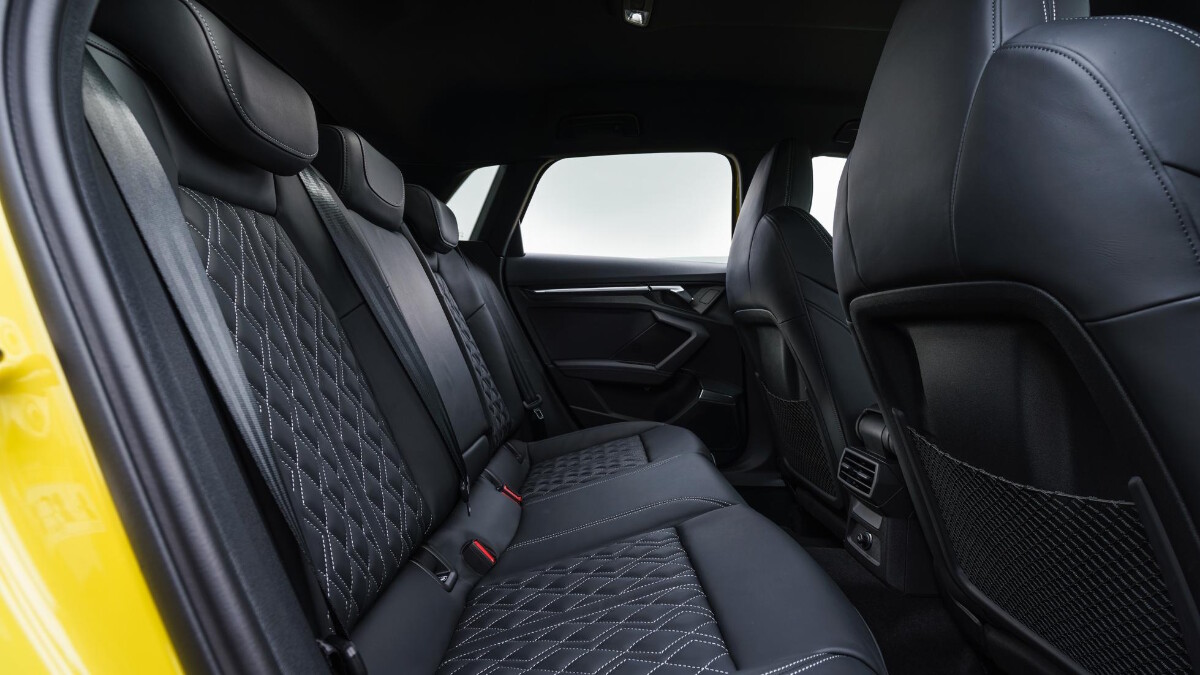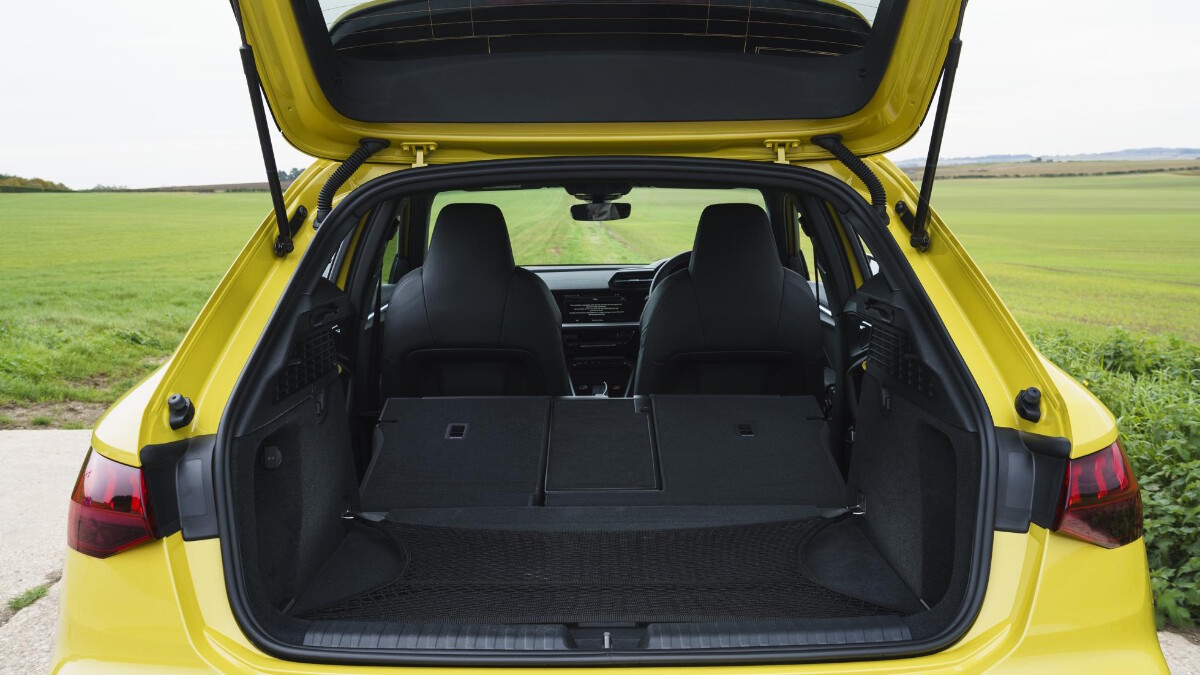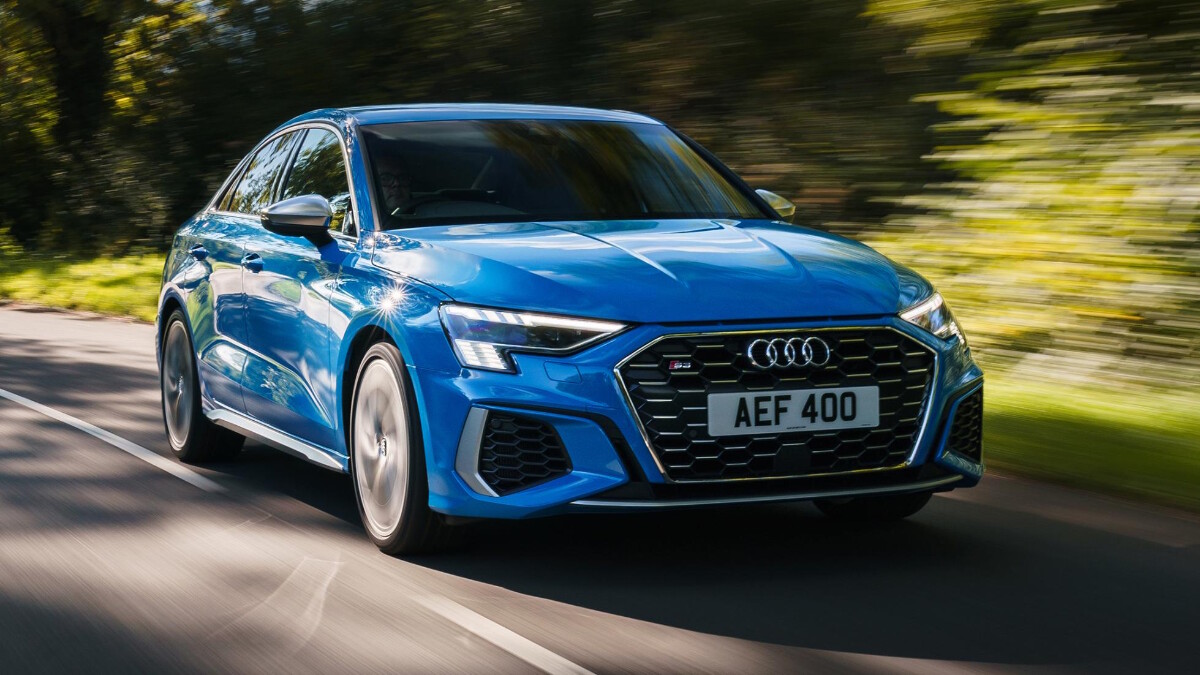 NOTE: This article first appeared on TopGear.com. Minor edits have been made.