Here's a fact for you: No car is faster than its headlights. The science is simple. It doesn't matter how fast your car is—if you've got a pair of tealights guiding you, you're not going to be traveling very quickly as you can't see where you're going. Unless you're especially brave/stupid or have some military-spec night-vision goggles in your glovebox, that is. If you do have the latter, you may want to delete your Internet history.
In any case, when the sun goes to bed and day turns to night, there is a way to brighten up the world: light bars. We love a good light bar here at Top Gear. So we were delighted to see that Lamborghini has peppered its potty new off-road Huracan Sterrato, pictured above, with a big light bar and two LED spots. Excuse us while we doff our caps.
The Sterrato is what happens when you want to ramp up the madness of the Huracan. It's an off-road supercar with the well-known sonorous 5.2-liter naturally aspirated V10, jacked-up suspension, protective bodywork and light bars. Given it's got 630hp, you can probably go chuffing quickly in the dark in this thing because of said light bars.
Continue reading below ↓
Recommended Videos
But this excellent addition to Lambo's lineup has got us up for an adventure. And reminded us of some other spectacular cars that wear LED tiaras to light up the night. So scroll down and tell us your favorite below.
1) Rezvani Tank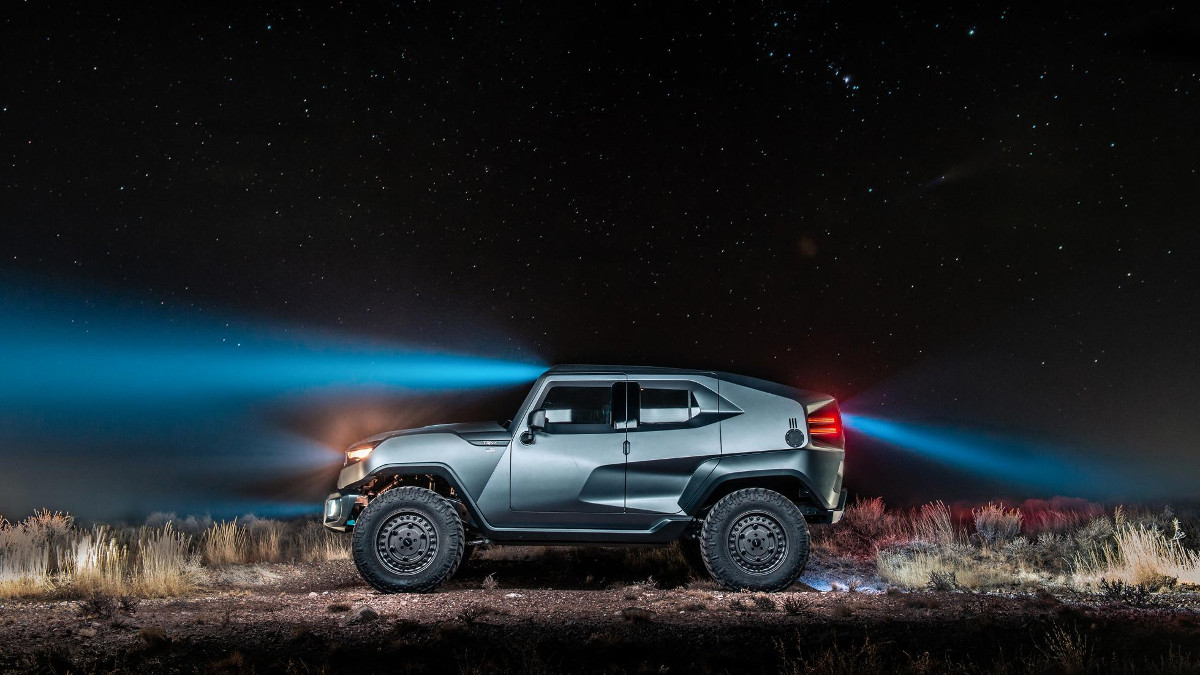 This is a Rezvani Tank, something described by its maker as a 'tactical urban vehicle' and an antidote to the increasingly samey SUV segment. Its designer aimed to make a modern-day successor to the Hummer, and for sheer in-your-face impact, he's doubtless achieved it.
The Tank comes in three flavors, starting at $165,000 (about P8.57 million). That buys you a standard version with a 285hp 3.6-liter V6 driving all four wheels. Spend another $100,000 (P5.2 million) or so and you can upgrade to either the Tank X—which uses the 707hp 6.2-liter V8 from a Dodge Hellcat—or the Tank Military Edition.
That has a milder, 500hp V8 but a wealth of bulletproof and bombproof tech—as well as an outlandishly silly smokescreen function—to protect you from the apocalypse, and a retina-searing light bar. Which, as we found out, was perfect while hunting for aliens. You can read about that here.
2) McLaren 570S
McLaren doesn't just build cars—it's also an entertainment company. Think of it as four-wheeled party planners. See, if you're rich enough, buying one of its supercars doesn't just mean you can flop out a McLaren key fob at the pub, it also means you're eligible to participate in one of Woking's curated automotive experiences. This can take the form of a track day at Spa, a proper GT3 race, or, if you like the cold, its Arctic Experience in freezing Finland. Each winter, a bunch of 570S units wear a tow rope thong (to tug you out when you inevitably dive bumper-first into a snowbank), spiked tires, and light bars to hit the ice and skid around a frozen lake. Don't you think a light bar should be a stock option on all 570s? We do.
3) Hennessey VelociRaptor
This is not just a yellow Ford F-150 with a light bar. First, it has been upgraded by Ford itself to create the Raptor, adding a considerably wider track than standard (now 6ft 1in between the wheels at either end), Baja-spec Fox Racing long-travel suspension, and a couple of upgrades to the 6.2-liter V8 to produce 411hp. It's one of the most sought-after trucks in the US, a potent combination of power, presence, utility, and the ability to lollop across a desert at 150kph without prolapsing a transmission.
But this Raptor is even more special. It's old Top Gear alumni fettled by Hennessey Performance from Texas, sporting a nice Whipple supercharger, extra-large fuel injectors, and a smidgen of extra intercooling. What you get, therefore, is a Raptor with no less than 623hp and 849Nm. And it's called the VelociRaptor. Which immediately gives it the kind of macho cachet only usually achieved by a long career as a hirsute backwoods lumberjack. It's also got a brilliant light bar. But it's also completely self-aware and happy to be a caricature. Which makes it utterly brilliant.
4) Ariel Nomad
The Nomad takes the lessons learned from the Atom and heads in an entirely different direction. A more off-roady direction. One where a spirit of adventure (and a set of roof-mounted spotlights) is necessary. So one day, we had the idea of driving the Ariel Nomad to the top of a mountain. An adventure not only for the Nomad, but also one that would test the mettle of the Land Rover Discovery, which we'd get to tow it there and act as support car/survival cell. The mountain of choice was Mont Ventoux. In the perilous conditions, we figured a light bar was a must. On reflection, a mountain bike wasn't, but we took it along, anyway. And a flag, just in case we conquered the mountain. You can see if we did in the video below:
5) Mercedes-Benz G-Class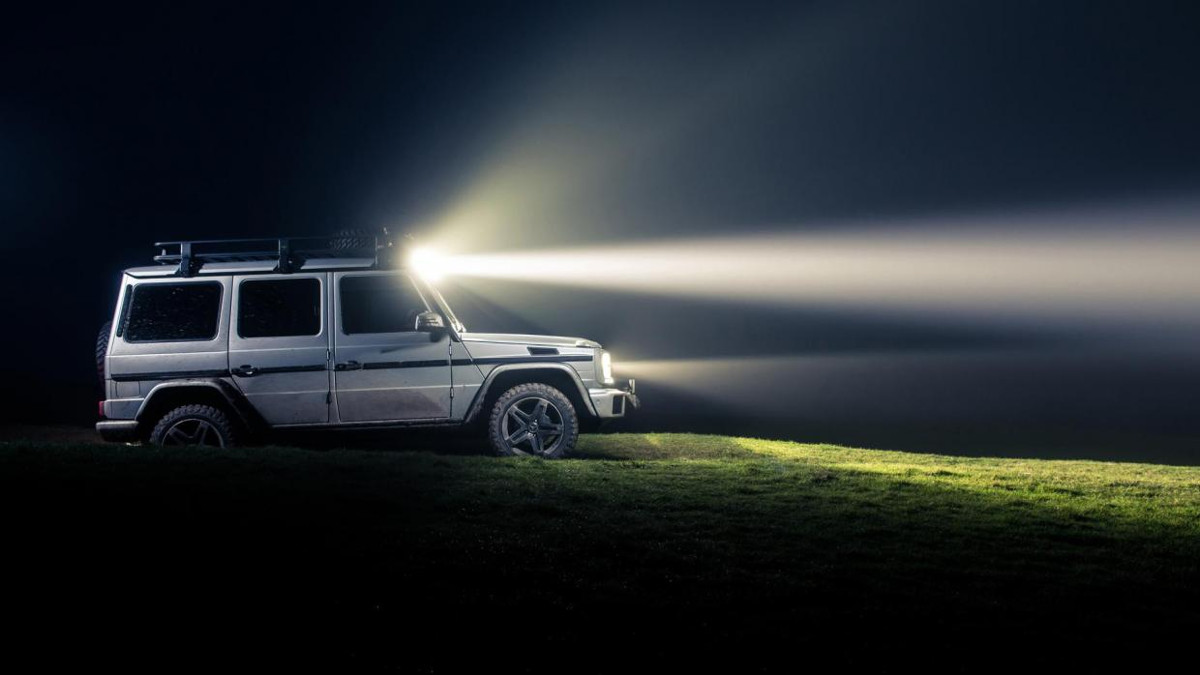 It's hard to put your finger on why the Mercedes-Benz G-Class (or G-Wagen if, like us, you're still stuck in Benzo's late-'90s nomenclature) has such a strong magnetic attraction to a wide-reaching demographic of people.
The archaic box-on-wheels is loved equally by kids, oligarchs, sheikhs, rappers, farmers...hell, even the Kardashians. Oh, and us car enthusiasts who find utilitarian charm and classless park-anywhere ability as virtuous enough reason to file it under the 'good car' banner. Plus, you can bolt lots of things to it. Yes, there's potential for a V12, posh leather, and a banging stereo, but you can also bolt a winch on the front. Great if you need to winch yourself back up onto a byway if you fall off it...or do some unexpected clothes drying.
Then there's potential for a giant light bar. Great for seeing where you're going...or if you need to light an entire football pitch.
6) Project Swarm
A Mitsubishi L200 does not come with a light bar as standard. Let alone enough light bars bright enough to illuminate the Singapore GP. But it also does not come with an old plane wing full of drones. This is what happens when you look into a Top Gear journalist's brain. Specifically, the brain of Tom Ford.
"We decided to build an adventure truck from the solid and utilitarian base of a Mitsubishi L200. What came out the other side, thanks to a team of very clever, creative, and obligingly cooperative people, I christened Project Swarm. A kind of European take on a pre-runner desert racer, but which also carried a survival-style moped, and had an aeroplane wing mounted on the back as a hangar for drones. It also got a PPC external roll cage, 35-inch tires and Speedline wheels, military-spec SuperPro suspension, rear-mounted spares, Dakar-style Cobra seats, an on-board compressor, a winch, a wide-arch treatment, and enough Lazerlamps LED lighting to temporarily blind West Africa."
Read about what happened when we took it to Namibia here.
7) Plasan Yago
Cheaper and easier to run than a full-on armored vehicle. Perfect for the school run and equipped with a light bar. And gun. Ladies and gents, say hello to the Yago. Built by composite and armor specialists Plasan (the people that made the carbon bits for the Viper ACR, the Corvette C7 Stingray, and the Ford GT500KR), this "ultra-light tactical armored vehicle" is based on an Arctic Cat Wildcat 4 1000, so it's not very big. It's got a 95hp 1.0-liter V-twin and an auto 'box with selectable two- or four-wheel drive, as well as an electric front diff lock and decent ground clearance and axle travel, so it can clamber about with impunity.
8) Mercedes-Benz E-Class All Terrain
We're all fans of slightly jacked-up big wagons. But when we had to take the Mercedes-Benz E-Class All-Terrain to a bear-infested Estonian forest, we thought we'd go full-on belts and braces. Now, a standard All-Terrain comes with lights, but not enough lights. So we decided to pay slight homage to the Red Sow race car by fitting four 180mm PIAA LED race spots on the rack in the same pattern as the bumper-mounted versions on that car. They would illuminate most of the forest. The worklights mounted around the car covered the last 20%.
To see how we got in with the bears, click here.
NOTE: This article first appeared on TopGear.com. Minor edits have been made.