What's this, the Veyron's grandad?
Volkswagen bought the Bugatti brand back in 1998 and quickly set about fretting what to do with it. Italdesign helped with the EB118 concept in 1998, and Volkswagen quickly took things on a step by commissioning this four-door coupe, the EB218, for the Geneva International Motor Show in 1999. The Veyron wasn't to appear until 2005, but here we can see the beginnings of a new look for the French firm's cars.
What did the maker of the Golf hatch want with Bugatti?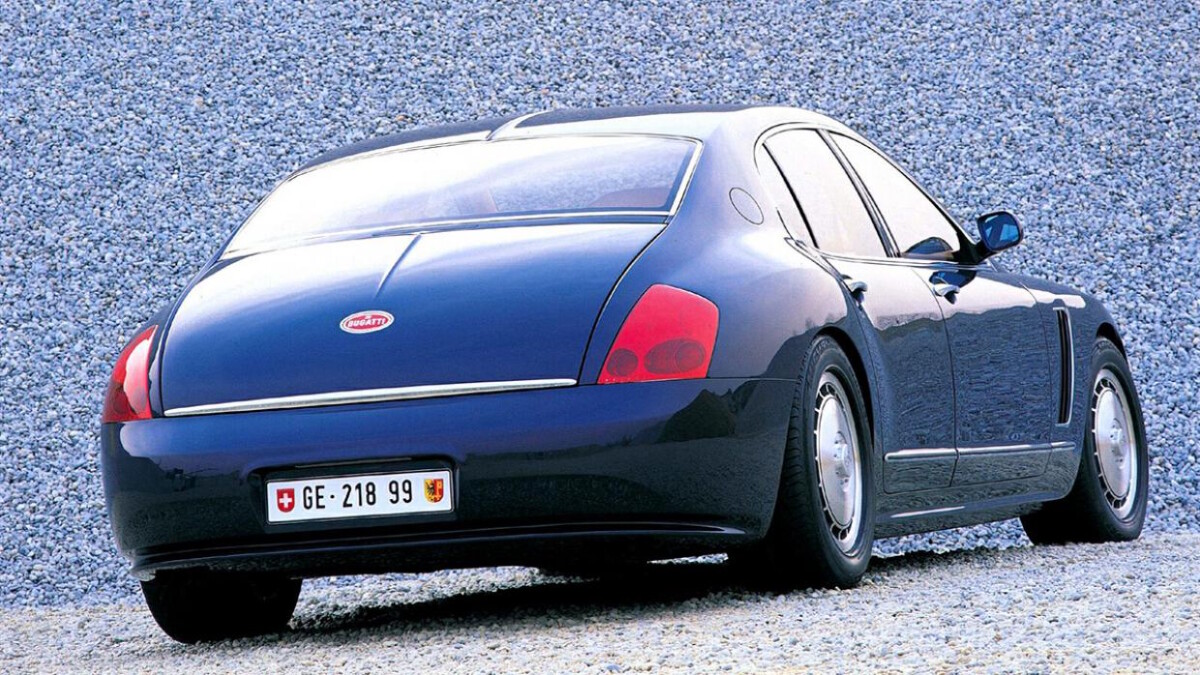 Volkswagen went on an absolute bender in 1998, snapping up Bentley and Lamborghini as well as Bugatti. It was led at the time by chairman Ferdinand Piëch, a details-obsessed engineer and member of the Porsche family who had a vision for making Volkswagen the largest carmaker in the world. He wanted to cover all bases, and Bugatti was intended to be the halo at the top of this Christmas tree of brands.
ADVERTISEMENT - CONTINUE READING BELOW ↓
What's under the massive hood?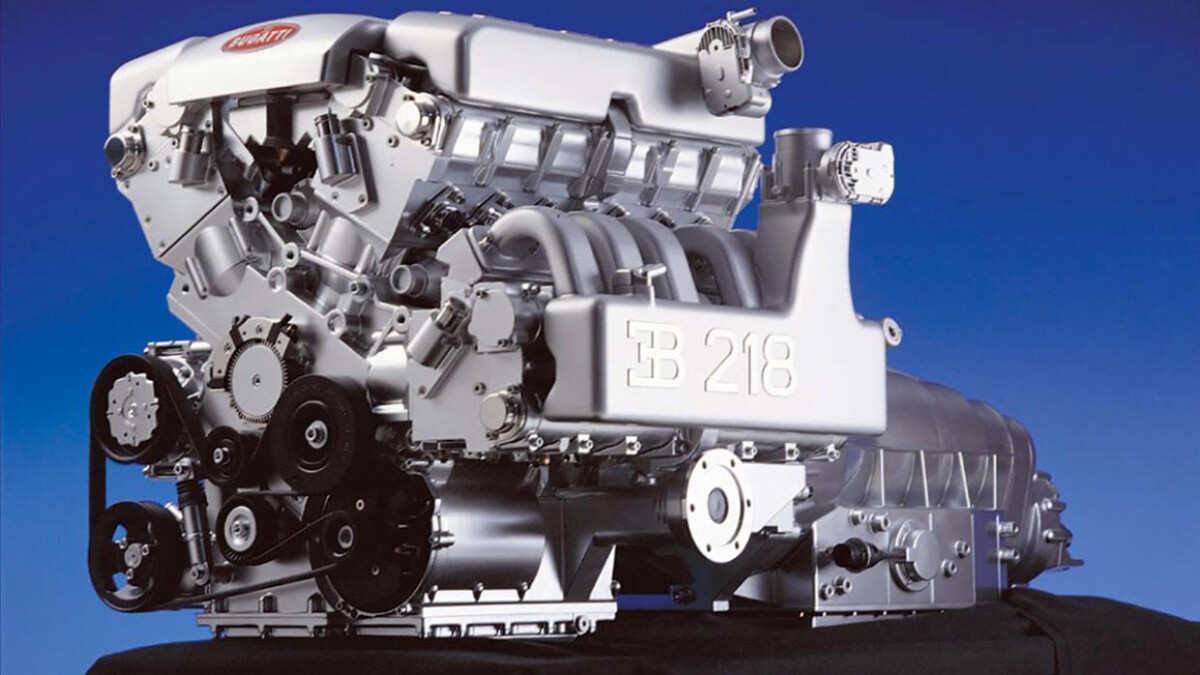 Volkswagen had only owned the brand a year, but things were escalating quickly in the engine department—under its capacious hood, the EB218 concept had an 18-cylinder engine, an oddball W formation made up of three banks of six cylinders. It was more of a V18 unit, actually, with one bank of cylinders just sort of tagged on the side. Some of the numbers are astonishing, though—the DOHC engine had four valves per cylinder, making 72 valves in total.
The 6,255cc of engine capacity produced 547hp and would have got the car to 100kph in around 4.5sec and on to an electronically limited 250kph top speed.
Any particularly nice touches on the EB218?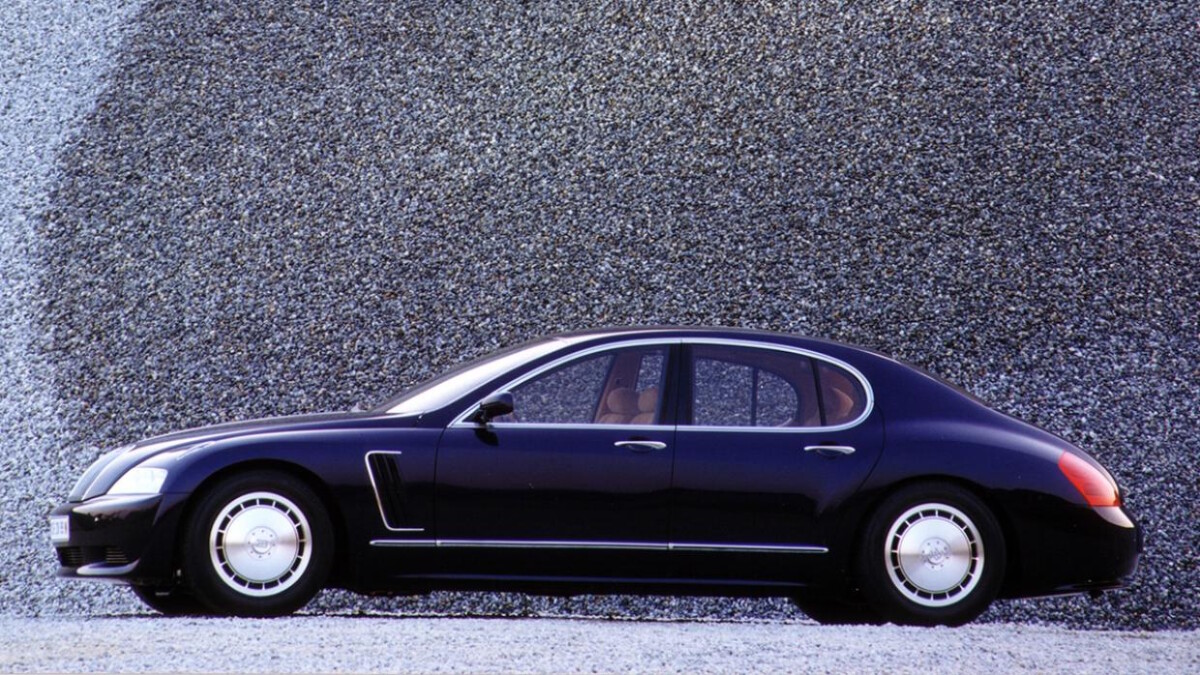 ADVERTISEMENT - CONTINUE READING BELOW ↓
Recommended Videos
The 18-inch alloys are a delight to behold—and made from magnesium, no less. If you happen to be quite young, an 18-inch wheel was quite big back in 1999—kids nowadays junk the stock 18-inchers as a matter of course for being too titchy. Permanent four-wheel drive and multilink suspension would have made for a tidy drive, no doubt, and aluminum spaceframe tech kept the weight down to a manageable 2,200kg or so. Even the styling of the car was a soothing balm for many after the more divisive looks of the EB118 concept car—this four-door sedan was a bit more production ready, if VW was up for it.
What's the interior like?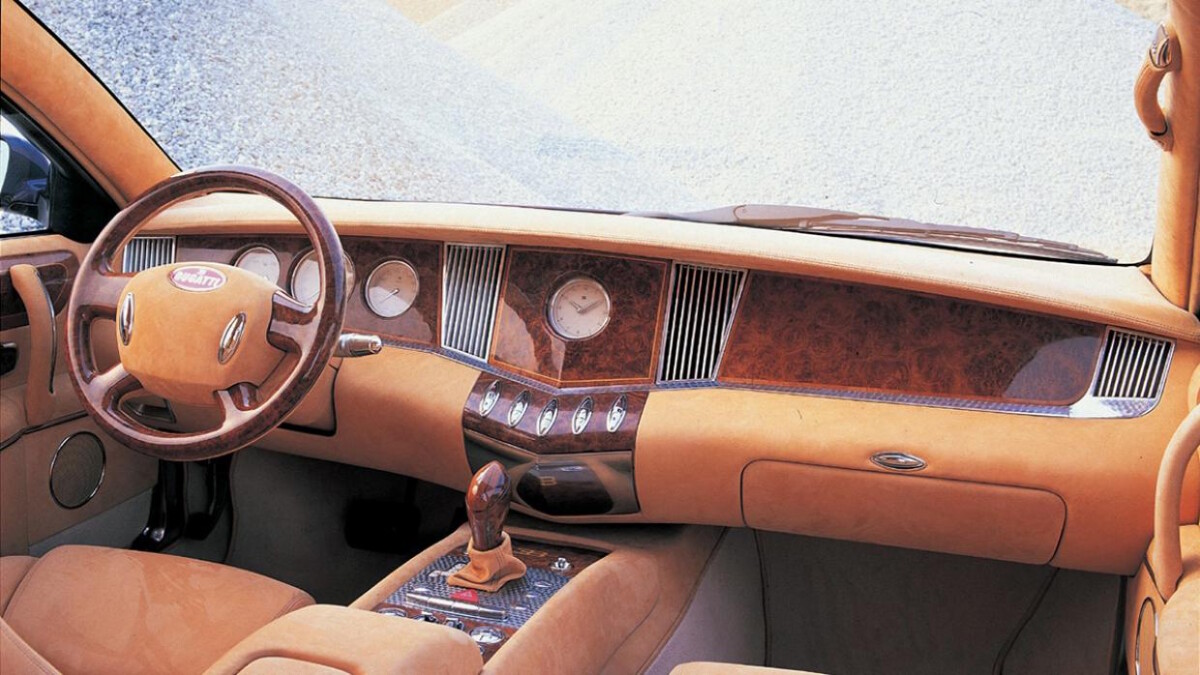 It's beautiful inside the EB218—like a soft play area for the children of billionaires. Every surface has some level of squish, and what isn't plush or stuffed is covered in walnut and shiny metal. It's a very classical interior design, with nothing to offend the sensibilities—just four seats, plenty of luxury, and generous headrests for when you can't hold your own head up because of all the accelerating you've been doing.
ADVERTISEMENT - CONTINUE READING BELOW ↓
Why didn't the EB218 go into production?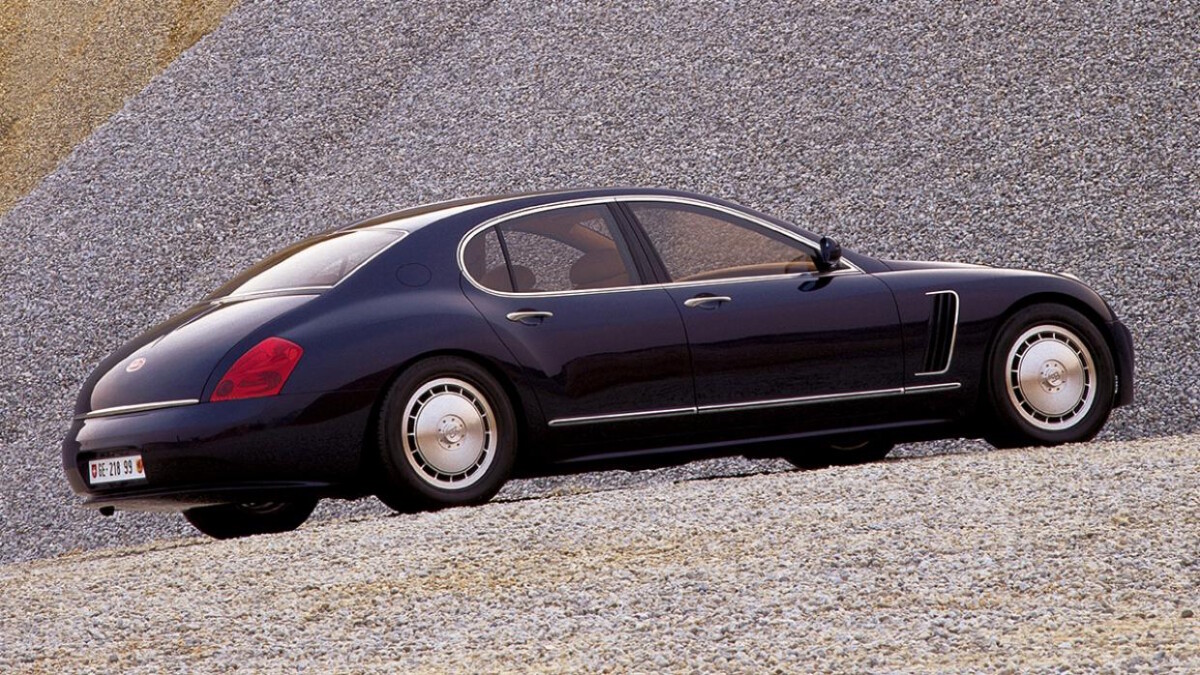 With hindsight, knowing that the Veyron was the car to launch the Bugatti brand into hyperspace, you can understand why something a bit more traditional wasn't the way to go at first. But if you do quite fancy an EB218, you can sort of buy one (and really rather cheaply) as long as you're not particularly wedded to the prestige badge on the front.
Mere months after revealing the EB218 concept at the Geneva show, Volkswagen unveiled its Concept D in Frankfurt, and it was a study that would go on to become the Phaeton limousine. The Phaeton memorably offered the option of a 6.0-liter W12—no 18-cylinder unit, of course, but enough to get you comfortably through a round of Top Trumps.
What happened next with Bugatti?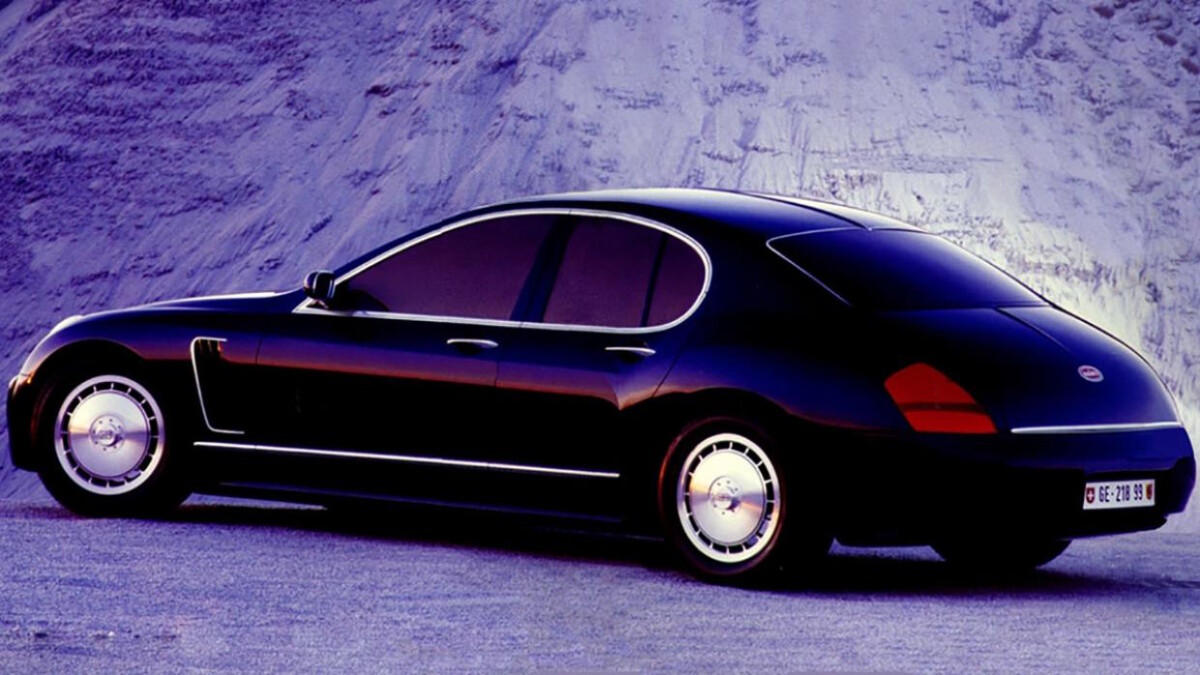 Of course, the ultimate answer to Volkswagen's question of 'what should we do with Bugatti' was glue a few massive engines together and throw turbos at the resulting monster until it exploded with fury and speed, climbing up buildings in downtown New York and swatting planes out of the sky. The Veyron redefined our impression of speed, but that's really as far as the company has gone, the Chiron successor to the Veyron merely expanding on an established format. Still wondrous and exotic, but perhaps a little familiar at the same time.
Will Bugatti ever make a sumptuous sedan?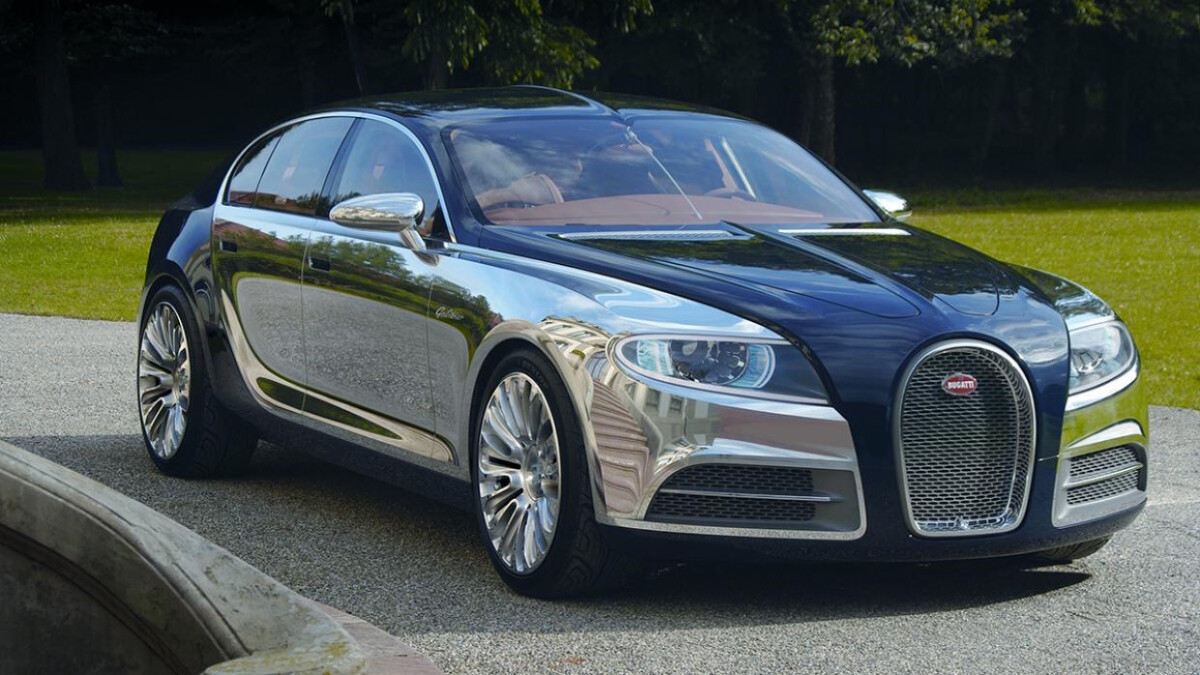 ADVERTISEMENT - CONTINUE READING BELOW ↓
It must surely be on the cards, right? Although given the company was rumored to have lost literally millions of euro on every Veyron sold, the business case probably has to be a bit tighter these days. Maybe we'll need to reach those sunlit uplands before anyone can sign off on a touring Bugatti. Subsequent concepts such as the delightfully shiny 16C Galibier have hinted in that general direction, though. Who knows—maybe we'll see a Bugatti SUV first.
NOTE: This article first appeared on TopGear.com. Minor edits have been made.