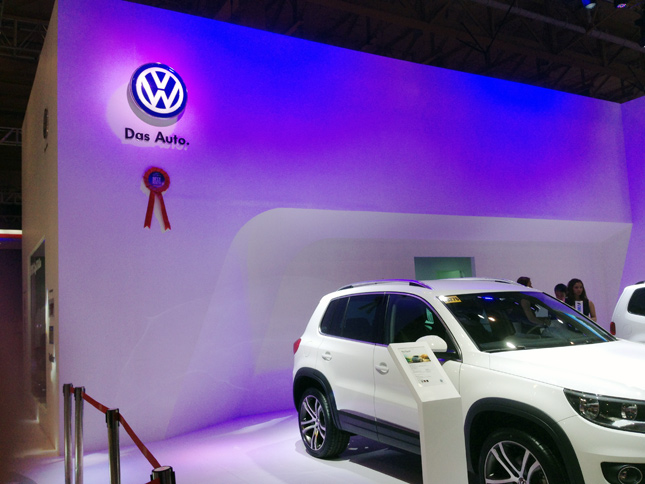 At the recent 2015 Manila International Auto Show, Volkswagen Philippines occupied just 460sqm of the main exhibition floor. That space was easily dwarfed by the booths of Mazda (1,000sqm), Ford (750sqm), Subaru (690sqm) and even Tata (500sqm).
But VW's corner was decidedly the best one. I remember telling colleagues: "It looks as though you're at the Frankfurt Motor Show."
The judges for the best booth contest apparently agreed with me, because they gave the "Best Booth" award to Volkswagen--the second straight year VW won the accolade. How did the carmaker do it?
Simple: By not compromising and ensuring that the Volkswagen brand would be represented the best way possible.
Some car companies are content just having some presence at a motor show. They erect show stands halfheartedly, throwing in a booth babe here and there to spice things up--often to the detriment of the brand. But what VW showed at the last MIAS is that there should be no cutting corners when it comes to brand management. It's either you're in or you're out. Either you give it your all or you give nothing at all.
"The head office really insisted that we put up the best booth possible," Volkswagen Philippines marketing boss Arnel Doria told us. "They wouldn't accept anything less."
Continue reading below ↓
Recommended Videos
Indeed, employees from the German carmaker's regional office in China flew in just to oversee the construction of the booth. Even that sleek, illuminated VW logo was ordered from an overseas fabricator.
That is not to say that the other booths sucked. Of course not. Those of Mazda, Ford and Subaru were impressive. Those of BMW, Mini and Chevrolet were elegantly put together. It's just that Volkswagen pushed the envelope a little further.
To maximize the usable space, VW added a second floor where they received and fed special guests. And mind you, it wasn't a token lounge where people could rest their aching feet. The space was tastefully designed and assembled--it wouldn't be out of place in an actual European car showroom.
And then, of course, there was the "child safety corner" for Volkswagen Philippines' Child Safety Initiative program. Here, they taught small kids the most basic of road-safety lessons in a fun, playful environment.
Not a patch of carpet was wasted at the VW booth, in other words.
Was it worth it? Did Volkswagen ultimately get what it spent on the world-class booth?
Yes, I believe so. I don't know how many cars VW sold at the event, but I can guarantee you that the prestige and overall classiness that the car-buying public now associates with the brand because of that standout booth will go a long way in keeping it in most people's consciousness. That brand sparkle might be the crucial factor that tips the scales come car-shopping time. That's because even the automotive business is a game of perception.
Do not scrimp when your brand is involved. You will reap the dividends later. And I'm not talking about motor-show ribbons and trophies.
Photos by Vernon B. Sarne