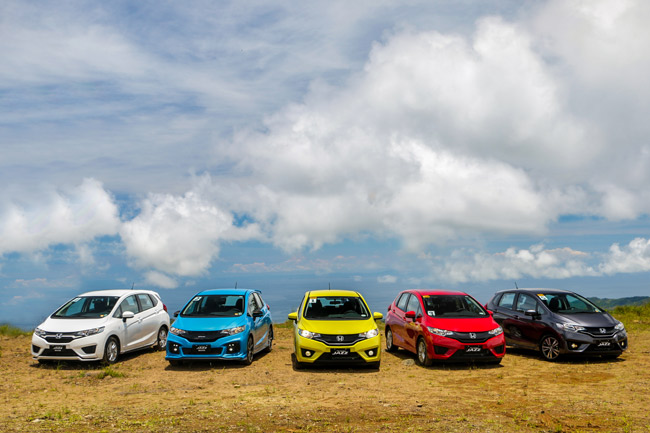 It has been Honda Cars Philippines' tradition to hold driving events for each new car it launches. This year, it was done for the Accord and the City, and last month it was supposed to be the Jazz's turn. But typhoon Glenda happened, and what was supposed to be a long drive became a safety driving exercise.
Last week, HCPI finished what it had set out to do with the Jazz, and that was to highlight its driving dynamics with an out-of-town driving event. Using Honda Jazz V (CVT) and VX+ variants, members of the motoring media would drive to Infanta, Quezon, which is the easternmost part of Luzon, have lunch there, then drive back to Manila.
Our takeoff point was the new Marco Polo hotel in Ortigas, and we were assigned a Rally Red Jazz V variant with our columnist Aris Ilagan, and Ron de los Reyes of Auto Review. In the five-car convoy, we were car number three, with one Yellow Pearl and one Vivid Sky Blue Jazz--both VX+ variants--in front of us.
From Marco Polo, we drove down Ortigas Avenue to C5, passed the Libis area, went straight along Marcos Highway, and on to Tanay. This was familiar territory to Top Gear because we like using the picturesque backgrounds of this province for our shoots. However, past Camp Capinpin in Rizal, the roads became unfamiliar.
Continue reading below ↓
Recommended Videos
If we knew how awesome this path was, we would have driven here more often. Event organizer and racing driver Georges Ramirez outdid himself this time. The roads from Camp Capinpin all the way to Infanta are a series of twisty roads, hairpins and elevation changes.
Turns were taken behind the wheel, and we were lucky to drive during the last leg, where the twistiest portions were located. It was on this marvelous road where the Jazz became one of our favorite cars. The Honda hatchback turned very eagerly, responding to steering wheel input quickly. It allowed us to take corners with confidence, trusting in the Jazz's balanced chassis.
The Jazz was so stable, in fact, that even when the 15-inch tires lost grip, and the hatchback began to slide (remember four full-size adults were inside), the car still felt composed. We were a little envious of the Vivid Sky Blue VX+ variant in front of us, however. It had more grip courtesy of 16-inch rollers, and with Mugen kit it just looked so desirable.
The Jazz was so good that its little weaknesses were exposed--little niggles detracting from the positive driving experience. We wish the steering wheel in this Jazz V variant were a bit meatier, for a more involved motoring feel. And the lively 1.5-liter VTEC engine would have been able to use more of its 118hp output if the car had paddle shifters (only the VX and VX+ variants have paddles). That said, there was still enough power from the Honda four-pot to maintain 100kph speeds effortlessly.
Overall, the driving event was successful in displaying the Jazz's fun side. The V variant we tested was entertaining to drive, and an absolute bargain at P808,000. But seeing how well the VX+ variants performed, with their thicker tires and their electronic stability systems, their P140,000 premium doesn't seem like a bad deal.
Whichever car you own, be sure to take it to Infanta. The drive is bucket-list-worthy.
Photos by Jama Ramos