This is the second step in Porsche's electric strategy. We've had the Taycan—this is its crossover cousin, the Cross Turismo. Think Audi Allroad and you're spot-on. In due course, there'll be a Sport Turismo along with the same wagon-y features, but without the extra ground clearance and body cladding.
Mechanically, the Cross Turismo is largely identical to the Taycan: same 93.4kWh battery slung underneath and powering the same motors with the same power outputs across the same four-strong model range (4, 4S, Turbo, Turbo S), and even the same suspension (double-wishbone front, multilink rear) with adaptive air springs and four-wheel steering (not as standard on all models, as Porsche knows how to upsell customers all too well). The raw changes are limited to new wheel mounts, strut supports, and a revised self-leveling system.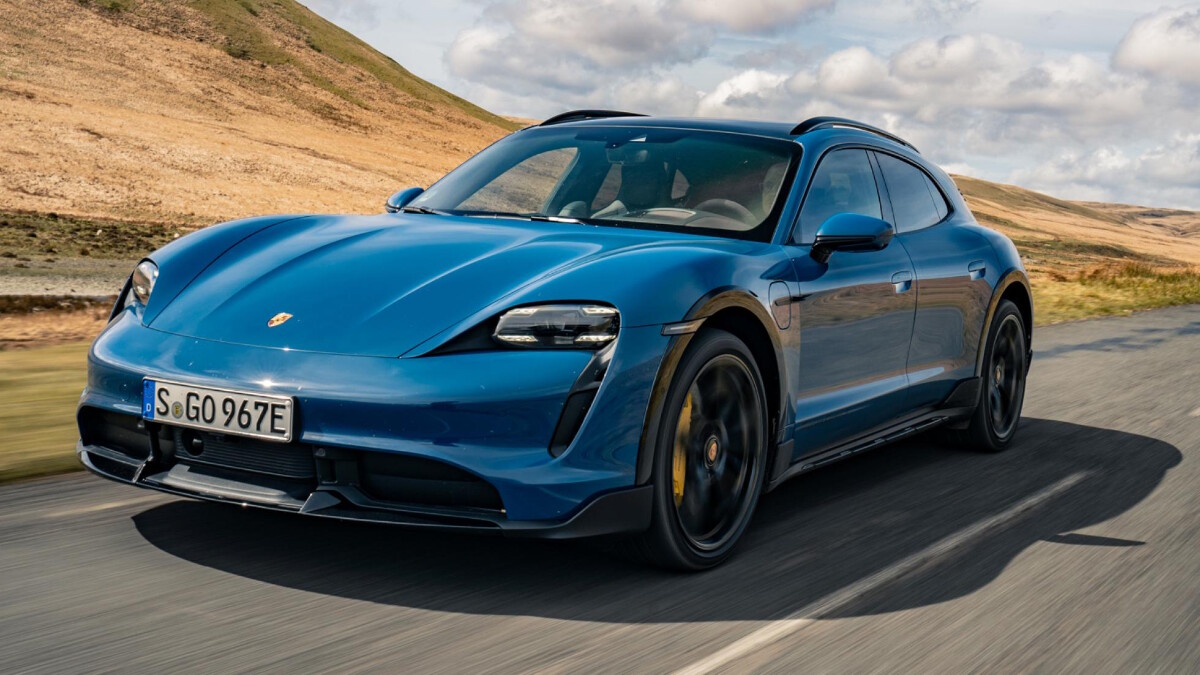 ADVERTISEMENT - CONTINUE READING BELOW ↓
ADVERTISEMENT - CONTINUE READING BELOW ↓
Recommended Videos
Plus the bigger cargo area. In terms of raw capacity, its 405-liter load bay is not in the same league as an E-Class wagon (640 liters), but it does give the Cross Turismo added versatility over the regular Taycan even though the overall length is only up by 11mm. The rear seats get no more legroom, but the impression of space is boosted hugely by an extra 36mm of headroom.
Weight has only increased by 25kg, but a 2,320kg wagon is still very weighty, no matter how low-slung it may look (at 1,409mm tall, it's lower than a BMW M3). The three-chamber air suspension fitted to the higher-ranking Cross Turismos lifts the body by up to 30mm, and Porsche has thoughtfully added a Gravel mode that also adapts torque distribution and throttle response—and, in their words, gives the Cross Turismo "increased Bad Road Capabilities." The capitals are theirs, so they must mean it. You can also spec a £1,161 (P78,270) Off-Road Design Package that gives you those little flicks fore and aft of each wheel to protect from stone impacts and the like.
ADVERTISEMENT - CONTINUE READING BELOW ↓
At £79,340 (P5.35 million), the entry-level Cross Turismo is priced nearly £10,000 (P675,000) above the basic Taycan, but from there on, the price gaps narrow as the equipment levels align more closely. The 4S Cross Turismo is £88,000 (P5.93 million), the Turbo is £117,000 (P7.89 million), and the Turbo S is £140,000 (P9.44 million). The power figures read as follows: 470hp, 563hp, 671hp, and 751hp, but note these are only available in Launch mode. In regular driving, it develops around 80hp less depending on the variant—in fact, both Turbo and Turbo S develop the same 625hp.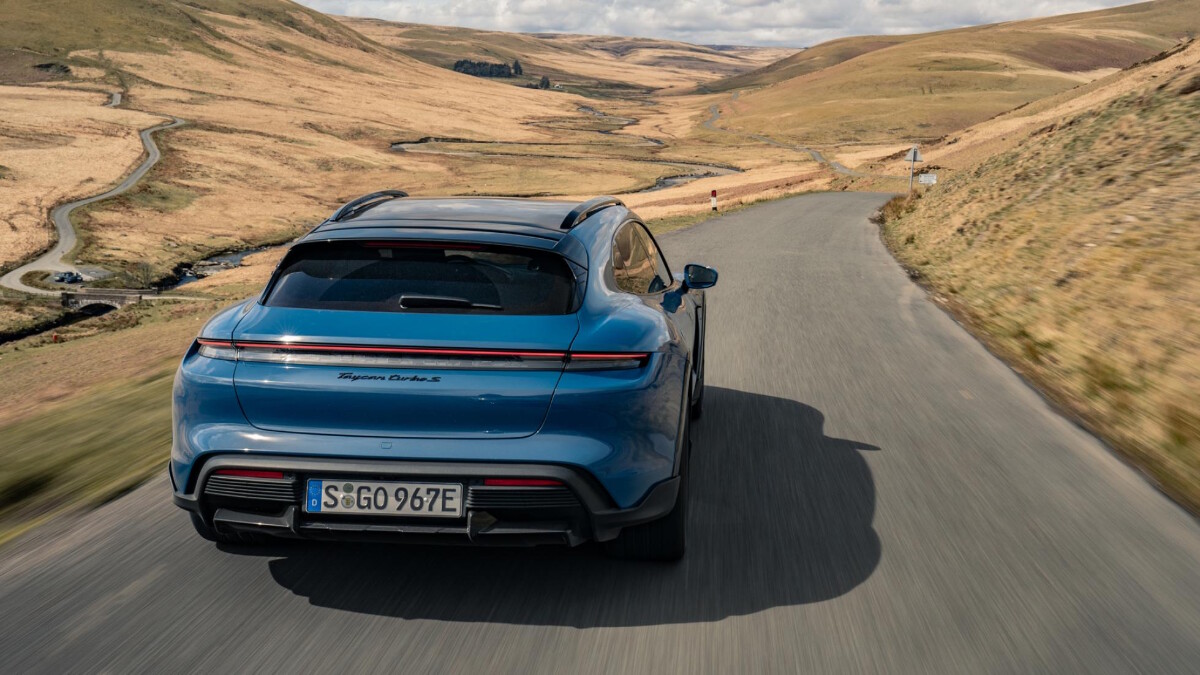 ADVERTISEMENT - CONTINUE READING BELOW ↓
None is slow. Nil-to-100kph times sit in a range between 2.9sec and 5.1sec. The question of range itself? The Turbo S is the least efficient at a claimed 387km from the 83.7kWh usable portion of its battery—about 4km from each kilowatt of charge.
The rivals it competes against are not other electric cars nearly so much as other fast wagons. In terms of handling, reward, versatility, comfort, price, and ethos, the Cross Turismo is much more aligned to the Audi RS6 and the Mercedes-AMG E63 than to anything electrically powered at the moment. You could argue—and we would—that its closest rival comes from within: the Panamera Sport Turismo.
It's fair to assume that given the Audi e-tron GT is built on the same bespoke EV platform as the Taycan, it'll be making similarly extensive use of it in due course. Until then, this occupies a unique position in the market. And occupies it very convincingly indeed.
ADVERTISEMENT - CONTINUE READING BELOW ↓
On the road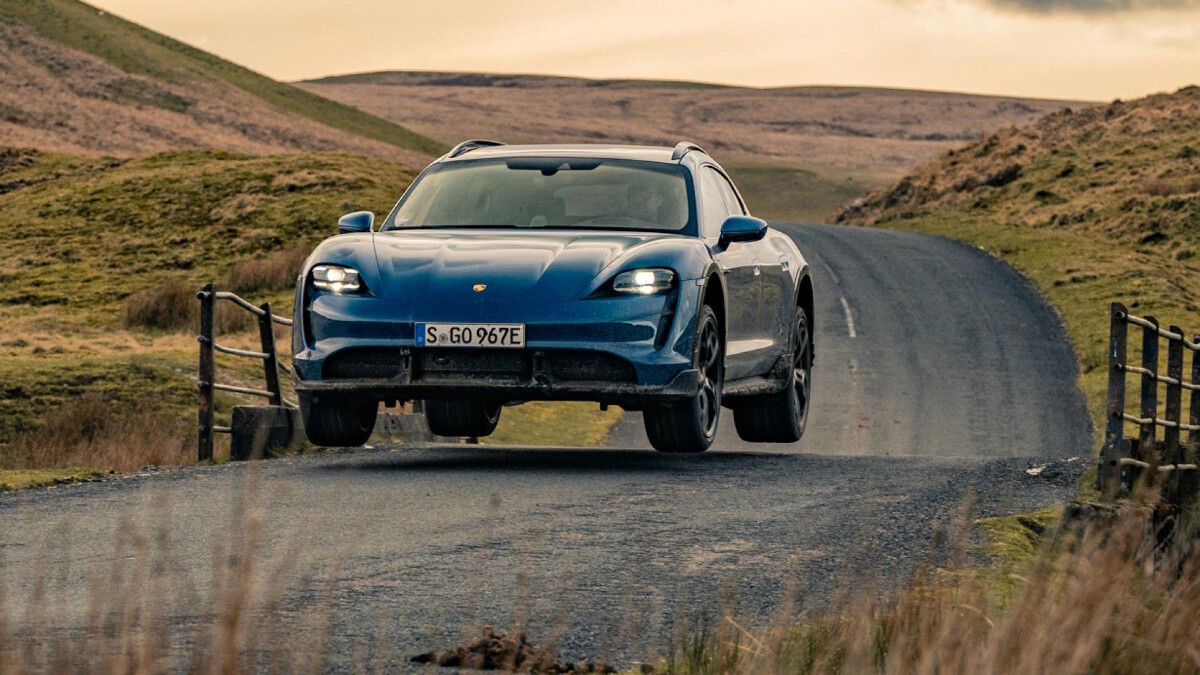 It's the Cross Turismo's fitness for purpose that defines it. The standard Taycan is a fraction crisper and sharper around corners, but because Porsche wanted that car to show it could behave like a 'real' sports car, it also reminds you of what you miss from a conventional sports car—the noise and the thrashing mechanicals. This, with a more family-oriented, outdoorsy remit, treads more gently, has a broader horizon, and so works even better at the job it sets out to do.
ADVERTISEMENT - CONTINUE READING BELOW ↓
Let's start with comfort. It rides beautifully. Beyond beautifully. Like a Rolls-Royce or a Bentley, the Cross Turismo is unafraid of its weight in its softer modes. The springs sigh with the roads; you get float, sag and cushioning over crests, and unruffled movement from the suspension. This is the most important and, in many ways, impressive aspect of the car. The standard Taycan always feels taut. This one knows how to relax. Silence comes not only from the motors, but from everywhere. Noise, vibration, and harshness have been banished. With the single exception of tire noise, the Cross Turismo is remarkable for its comfort.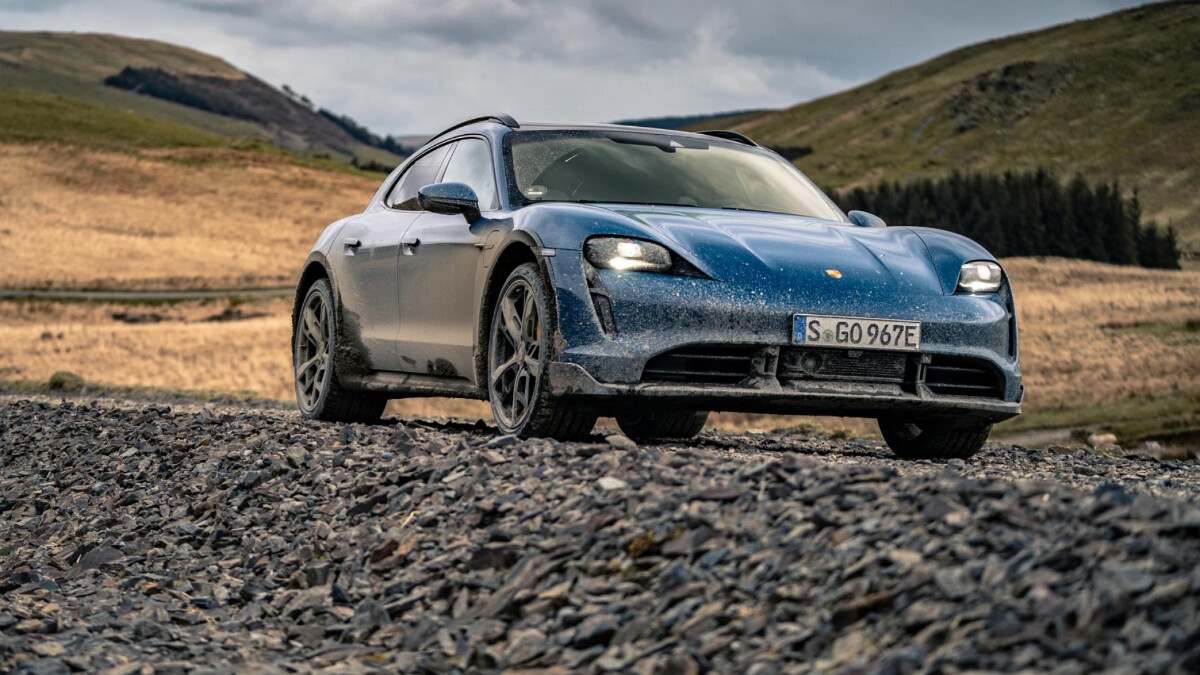 ADVERTISEMENT - CONTINUE READING BELOW ↓
Occasionally, if the road starts to buck and churn, the axles can lever against each other in a similar way to older 911s, but you can cure that by ramping up to a stiffer suspension setting (there's really not much comfort penalty). And even if you don't, the way the body maintains or recovers control is so smooth, you never lose confidence in it.
It's one of those cars that sweeps along effortlessly, carrying speed easily, lightly, and deftly—the sort of speed that leaves passengers clueless as to how quickly they're traveling. There's no heave around corners and, most remarkably of all, no tension in it. I literally can't think of another car that blends speed and comfort as well as this, another car that you could load four people into and drive so rapidly yet serenely. It's a world away from the stomping Mercedes-AMG E63, way ahead of even an Audi RS6 or Porsche's own Panamera.
ADVERTISEMENT - CONTINUE READING BELOW ↓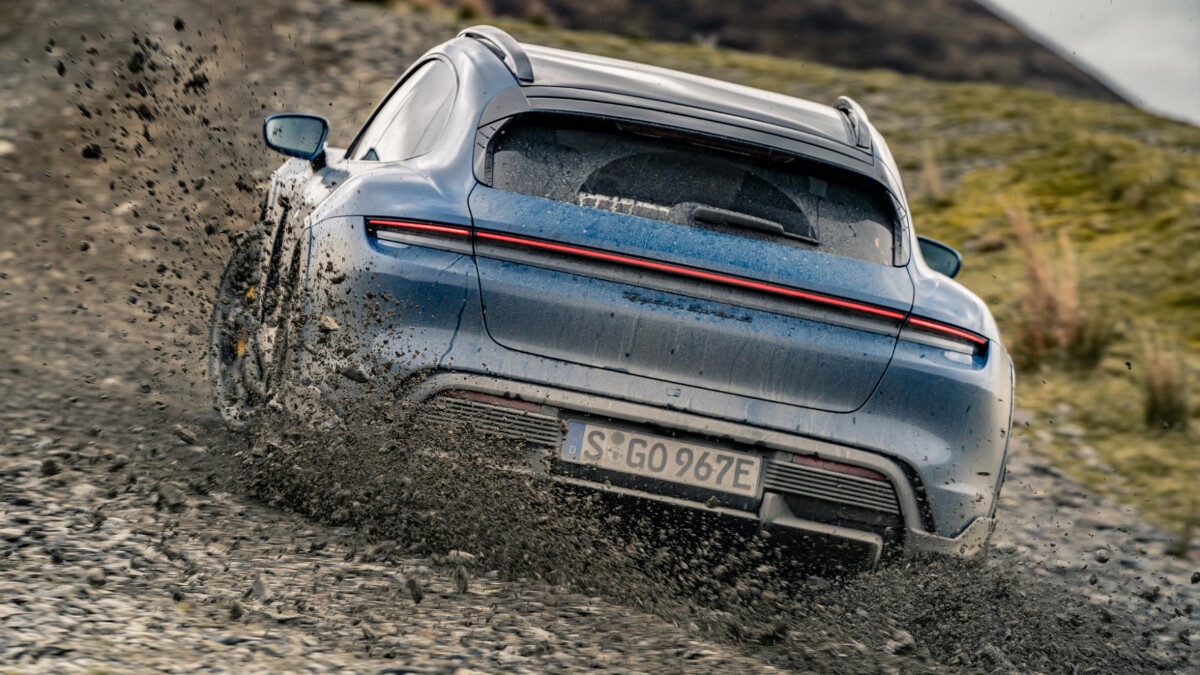 Does it matter that it lacks their rousing V8s? Less and less. Porsche's propulsion sound is no replacement, but it's engaging enough, while the real highlight the gasoline has no answer to is the prompt, precise, perfectly proportionate throttle response. Drama, that's what's lacking. But do you really want that from a car with the Cross Turismo's remit?
ADVERTISEMENT - CONTINUE READING BELOW ↓
Don't mistake lack of drama for lack of reward, though. There is something beguilingly engaging about this car's steering and the way it goes down a road. Firm up the suspension and that float disappears. In its place, you get quicker control—but still no tension or harshness. Having used its considerable weight in its favor, it now seems to have performed the trick of making it disappear. Push the Taycan four-door hard and grip will give out eventually and you'll get a sudden lurch that, although instantly controlled, reminds you of the weight involved and how hard the car is working. Here, that boundary is blurred more successfully. In short, it's a wonderfully fluent car on any road for any type of driving.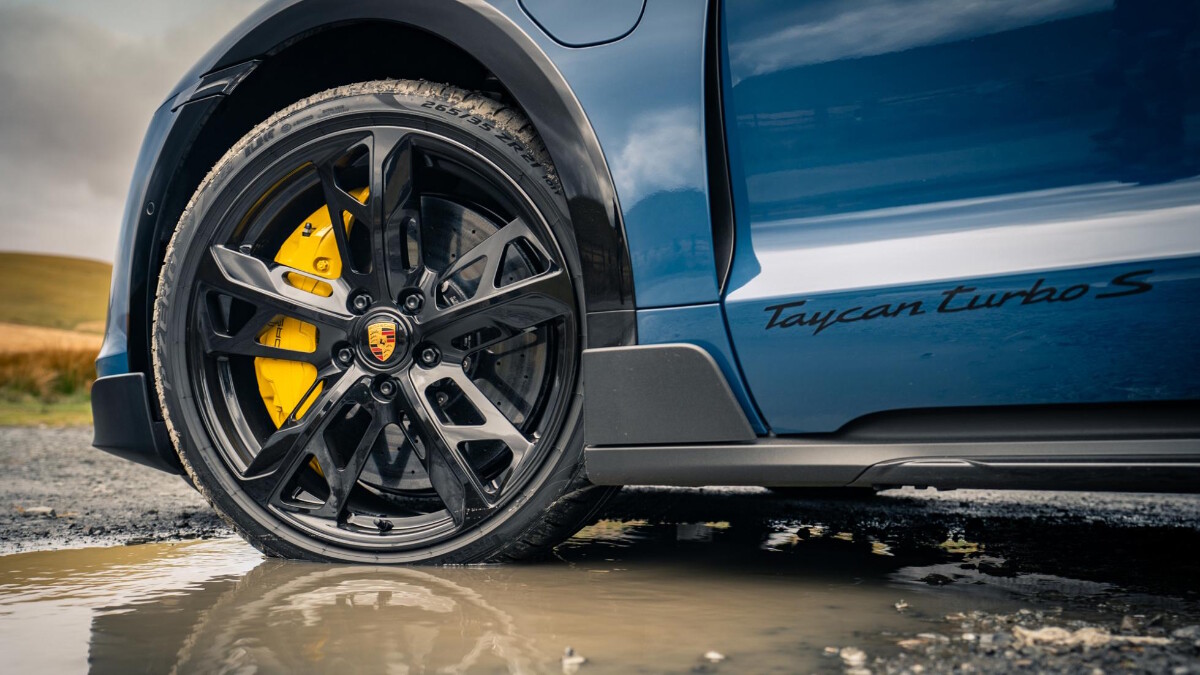 ADVERTISEMENT - CONTINUE READING BELOW ↓
Two flies in the soup, one easily managed, the other less so. The acceleration in the Turbo S can be distressing. The kind that has passengers gulping and gurning while making sudden uncontrolled grabs for handles. Better, more in keeping, to ease into that powerband. You do not need your Cross Turismo with 751hp and a 2.9sec 0-100kph time. The sweet spot is lower down the range—the 483hp (563hp with Launch overboost) 4S Cross Turismo, capable of 0-100kph in 4.1sec, looks a very happy balance.
The Turbo S is fitted with unnecessarily bonkers brakes, too—giant 420mm ceramic composite discs grabbed by 10-piston calipers. It bucks the trend for electric cars having oil-tanker stopping distances, that's for sure, and when they get warm, they can bite instantly and hard, which is slightly at odds with the rest of the driving experience. But to do that, you have to actually use them, and for 90% of the time you won't be—up to 0.39g the braking is all done through the electric motors. You do have to use the pedal because Porsche doesn't believe in heavy regen. Even switched on, the system doesn't slow the car much when you lift off.
ADVERTISEMENT - CONTINUE READING BELOW ↓
On the inside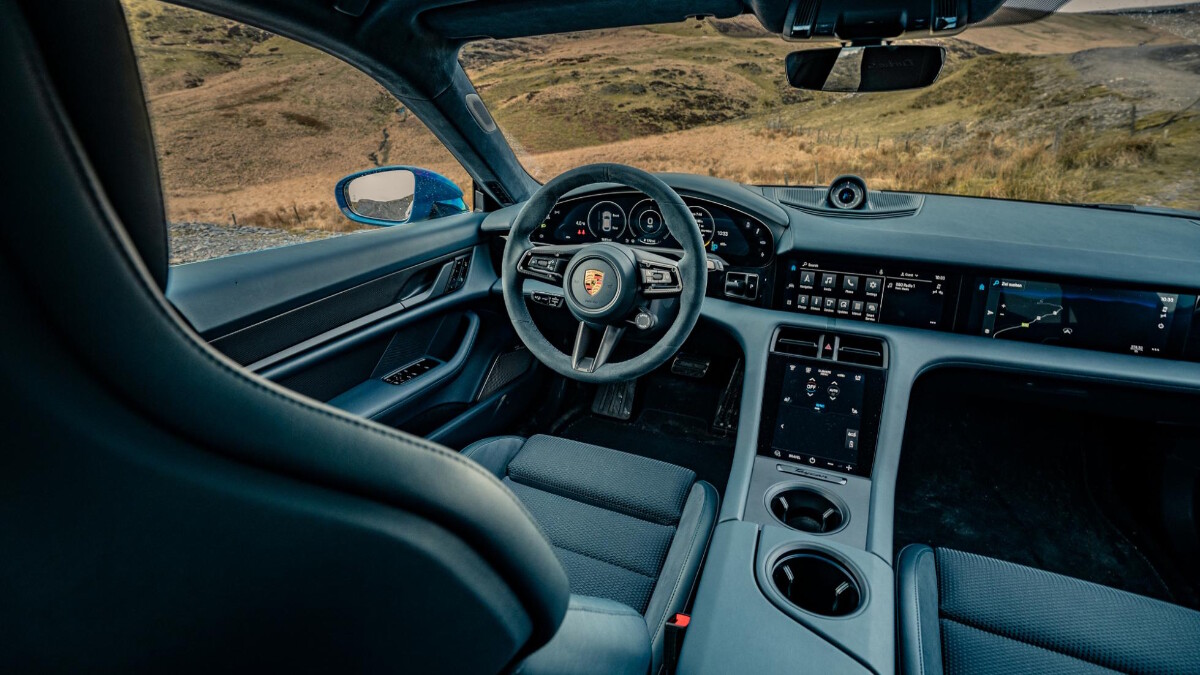 We simply cannot fault the driving position, the seats, the quality, or the layout up front. It's beautiful. Ideally, you need an extra elbow joint to access things in the center bin while driving, as that's too far back, but aside from that bit of nitpicking, the Cross Turismo's cabin is attractive, well-constructed, and easy to use—yes, even the screens and the menus—and that seems to be an increasingly rare commodity these days. The images here show a car with some options. You might have spotted the screen in front of the passenger—that's a £725 (P48,900) option. You probably won't have spotted that this is a leather-free cabin. All the rage right now.
ADVERTISEMENT - CONTINUE READING BELOW ↓
The steering wheel is smaller and thinner-rimmed than you might have expected (and clad here in alcantara-like Race-tex), and although you sit low, the view out is decent. Not as commanding as an SUV's because, as already mentioned, the Cross Turismo is a low-slung car, no taller than a conventional wagon. The rear view is a bit more pinched, too.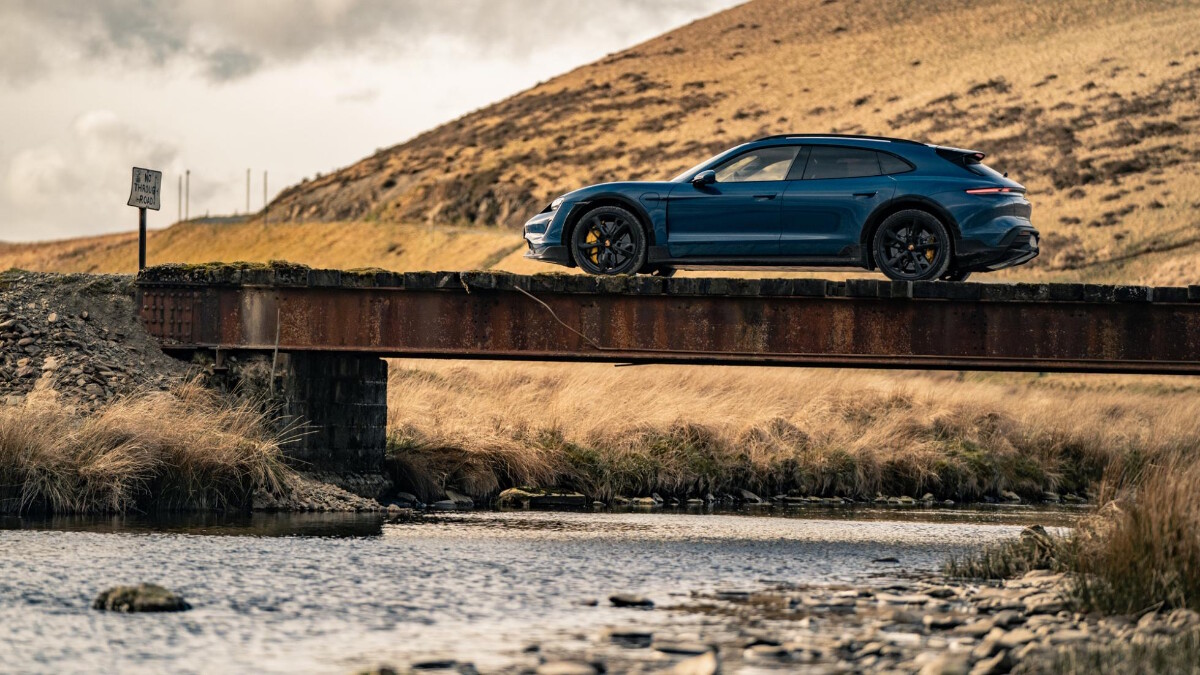 ADVERTISEMENT - CONTINUE READING BELOW ↓
We need to talk practicality. If you want this car, you'll make it cope. The 405-liter cargo area is deep, but lipped and narrow when you look at the width of the arches that border it on either side. The tailgate's slope and load height mean it's not that dog-friendly, too. Don't forget that there's another 84 liters of storage space under the nose that can handle much more than just your charge cables, but if you do trek off with kids, pets, and many bags, you're going to need a roof box. And that's not good for range. Max volume with the seats folded is 1,171 liters.
There's 36mm of extra headroom over the Taycan for passengers and that makes a world of difference, doubling the sense of space even though there's no more legroom. You can choose between 4+1 and five-seat layouts. The former has more shapely outer chairs for £336 (P22,650). Give that option a miss on the tick sheet if you've got three kids.
ADVERTISEMENT - CONTINUE READING BELOW ↓
Final thoughts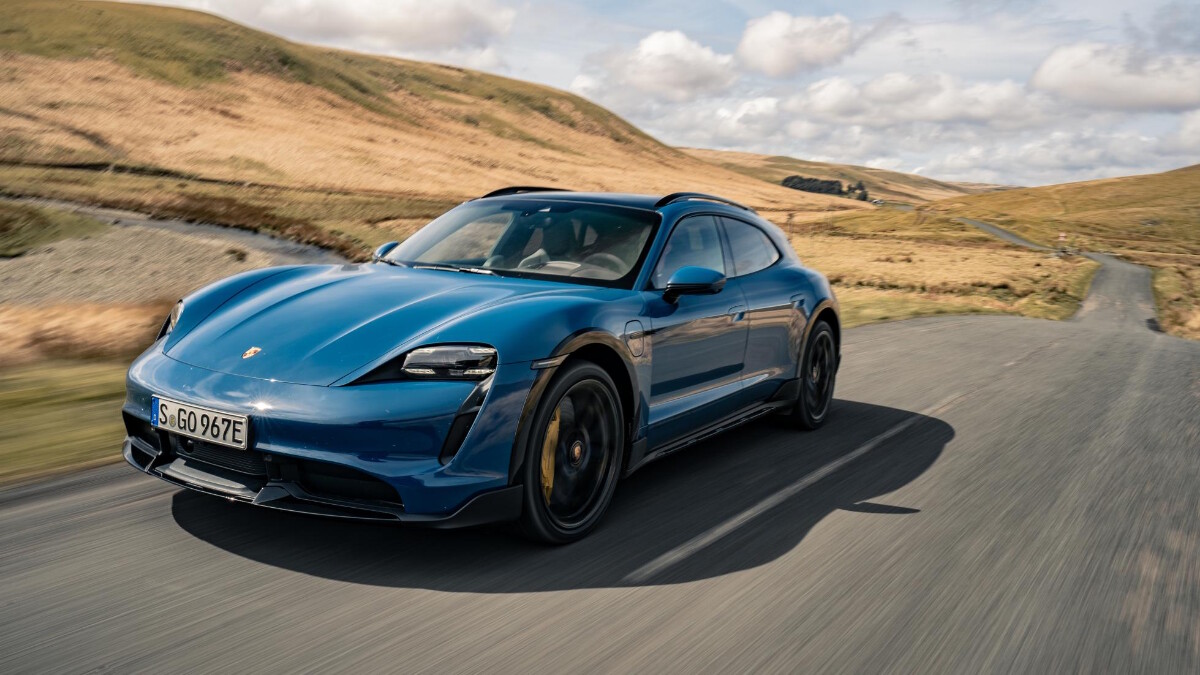 The Cross Turismo is the most complete fast wagon available today. Not the biggest or most practical by a long chalk, but in terms of its breadth of ability and fulfilling the role it sets out for itself, it's brilliant. We'd have it over an Audi RS6 or any Panamera. Only the rowdier E63 could possibly tempt us to the gasoline side.
ADVERTISEMENT - CONTINUE READING BELOW ↓
More than that, it's a better car than a regular Taycan—marginally blunter to drive, but moving away from a purer sporting focus serves the Cross Turismo well. Similar underneath they may be, but this is a different car in terms of outlook, ability, and ethos, and is further distanced from the four-door than we expected. Its comfort and dynamic range are dazzling, and it comes across as even more thoroughly developed and capable.
Porsche has moved the game on. Not cheap, but quite possibly the best electric car on sale today.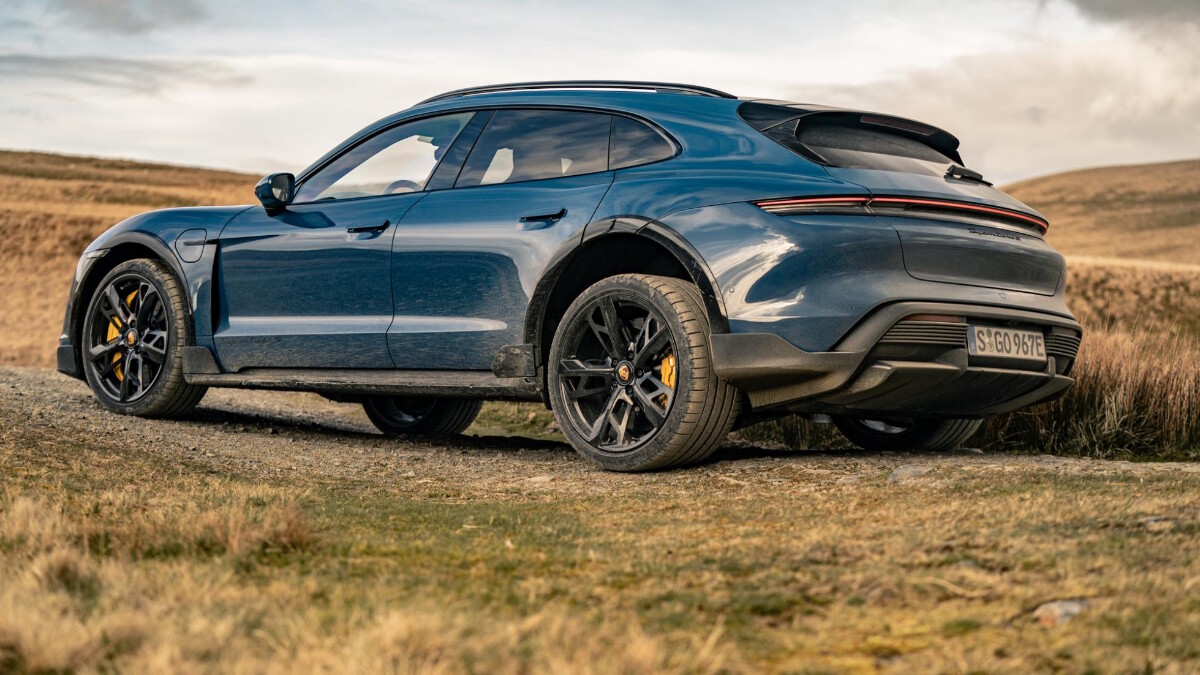 ADVERTISEMENT - CONTINUE READING BELOW ↓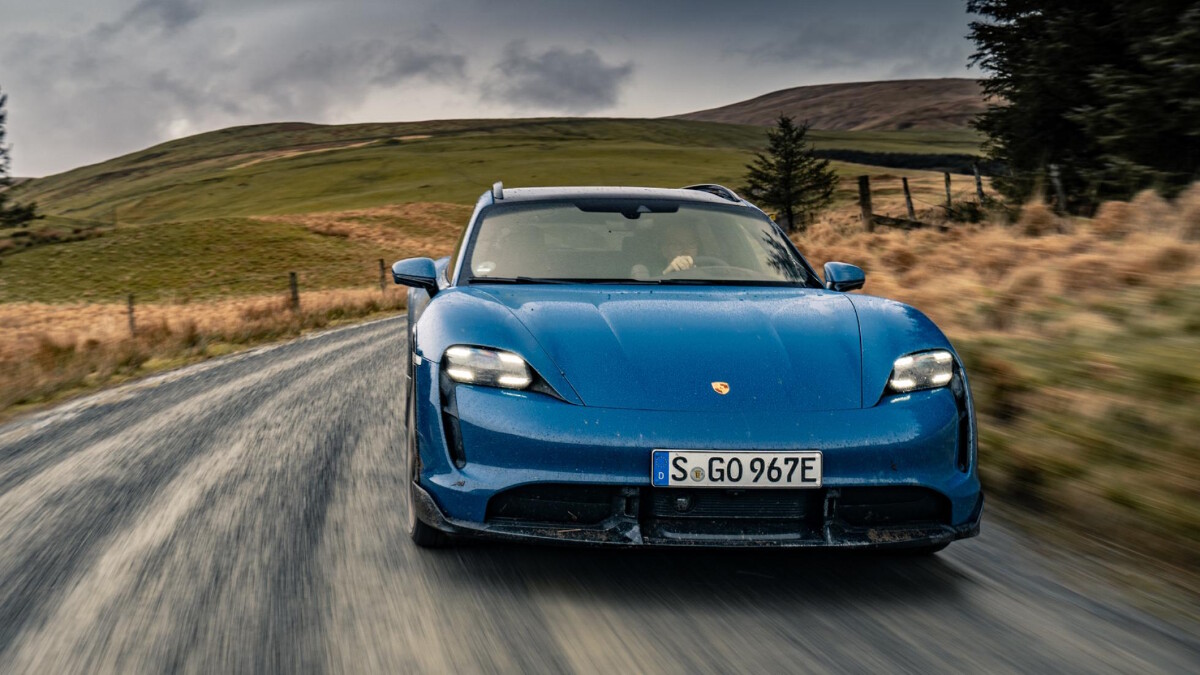 NOTE: This article first appeared on TopGear.com. Minor edits have been made.