Ford has consistently made contributions during this fight against COVID-19. It has helped by building all sorts of equipment, from face shields and protective gowns to ventilators. Now, the carmaker has come up with yet another way to protect frontliners: a 'heated software enhancement' that deactivates any remnants of the coronavirus inside cars—specifically in Police Interceptor utility vehicles.
The software solution is available on 2013-2019 Police Interceptor models in the US, Canada, and other countries across the globe. This technology 'bakes' the interior of the vehicle beyond 56 degrees Celsius for 15 minutes, which is supposedly long enough to disinfect the cabin. Ford says this temperature is "hotter than Death Valley on its hottest day."
The software works by automatically elevating the cabin temperature using the engine and the climate control system. The powertrain heats up as the fan settings operate on high, and once the optimal temperature is met, the software maintains it for 15 minutes.
ADVERTISEMENT - CONTINUE READING BELOW ↓
"First responders are on the front lines protecting all of us. They are exposed to the virus and are in dire need of protective measures," said Ford chief product development and purchasing officer Hau Thai-Tang. "We looked at what's in our arsenal and how we could step up to help. In this case, we've turned the vehicle's powertrain and heat control systems into a virus neutralizer."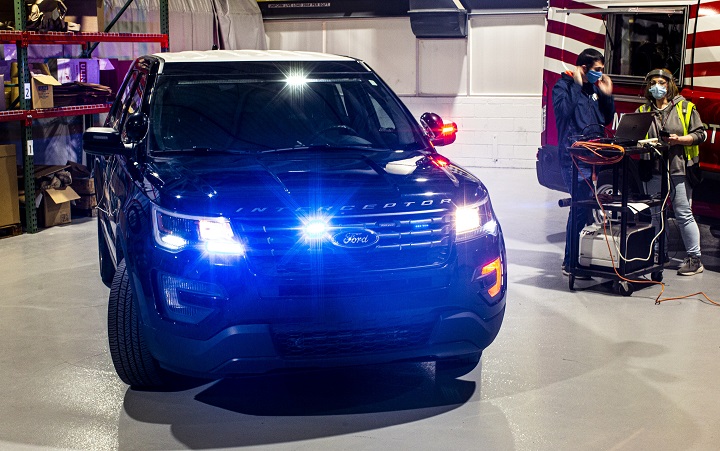 ADVERTISEMENT - CONTINUE READING BELOW ↓
Recommended Videos
Ford worked with Ohio State University to determine the proper temperature and duration needed in order for the software to be effective against the coronavirus. Said Jeff Jahnes and Jesse Kwiek of the university's Department of Microbiology laboratory: "Our studies with Ford Motor Company indicate that exposing coronaviruses to temperatures of 56 degrees Celsius, or 132.8 degrees Fahrenheit, for 15 minutes reduces the viral concentration by greater than 99% on interior surfaces and materials used inside Police Interceptor Utility vehicles."
"Officers can now use this self-cleaning mode as an extra layer of protection inside the vehicle in areas where manual cleaning is prone to be overlooked," said Ford police brand marketing manager Stephen Tyler. "This virus is an invisible enemy and we are proud to provide a solution to help the law enforcement community fight it."
Maybe this is a software other brands from other countries can adapt right now, don't you think?
ADVERTISEMENT - CONTINUE READING BELOW ↓
For more of our stories on the ongoing crisis, click here. For the latest news and updates on COVID-19, check out reportr.world/covid-19.