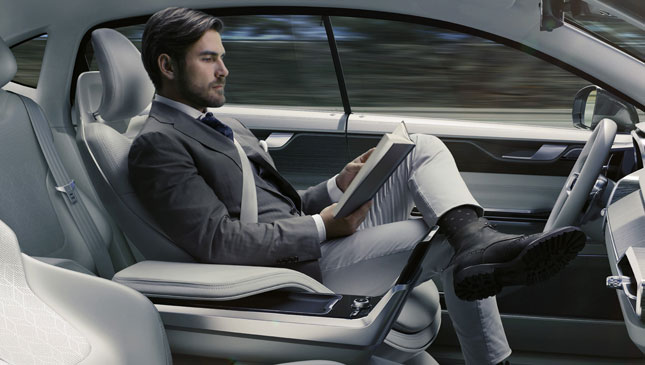 The concept of autonomous driving cars is nothing new. Audi, Tesla and Mercedes-Benz are just some of the carmakers that are developing systems that will make it possible to set one's vehicle to autopilot one day.
Volvo, however, wants to take this technology a step further by offering a cabin concept that will not only enable the car to drive for you, but likewise let you choose what to do when relinquishing control of the vehicle. Known as the Concept 26, this smart cockpit concept allows the person behind the wheel to choose between three modes: Drive, Create and Relax.
According to the Swedish automaker, these three modes are what most people do (or would choose to do) while in the car. The concept's name comes from the notion that it usually takes 26 minutes to get to one's workplace. (In our market, this would be called Concept 120, and that's on a regular day.)
During this time, one can choose to either drive or let the car take over, in order to spend those precious minutes more productively. By productively, we mean getting work done, checking one's e-mail, or taking important phone calls. Apart from this, the Relax mode lets one, well, take a quick snooze or watch a YouTube video.
Continue reading below ↓
Recommended Videos
To further heighten the experience, the dashboard, the steering wheel and the seat will change position and appearance to suit the appropriate mode. When set in Relax mode, for instance, the steering wheel will retract, the seat will recline, and a screen will appear where one can watch a movie. That same display can connect to the Internet for easy access to one's e-mail or social-media account.
For those who are worried that the car might crash into another vehicle, remember that Volvo has prioritized safety for several decades now, and that the proper safeguards are in place.
Volvo hopes to roll out autonomous driving technology by the year 2017. As for the Concept 26, it would really be cool if it found its way to Philippine-market Volvos one day--especially with our ever-worsening traffic.