This is a climb-down, a U-turn, a bit of an apology from Porsche, quite frankly. After four years of blindly insisting that the best possible engine for a 718 Cayman was a grunty turbocharged four-cylinder, the carmaker gave in and hooked up a slightly detuned version of the latest Cayman GT4's 4.0-liter flat-six for this £65,000 (P4.16 million) edition. There's not a turbo in sight.
Traditionally for Porsche, the range gets a bit confusing here. Because Porsche already did a 'GTS' version of the 718 Cayman, back in spring 2018. It cost just over £60,000 (P3.84 million), and its 2.5-liter turbo flat-four engine was turned up to 361hp. If you bought one of those...maybe sit this one out and find something else to read.
For this GTS, Porsche's GT4 transplant develops 394hp, down a mere 20hp from the big-winged range-topper. That means the GTS is just 0.1 sec slower from nil to 100kph, taking 4.5sec with the standard-fit six-speed manual gearbox.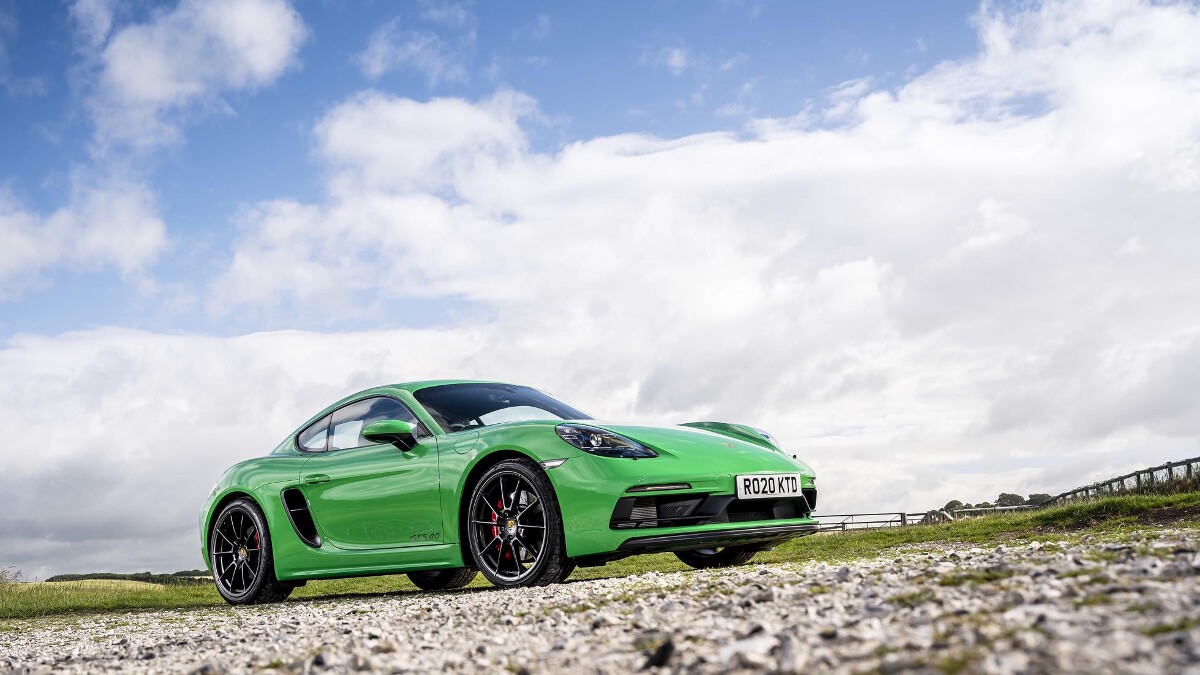 Continue reading below ↓
Recommended Videos
Besides the new engine, very little has changed—which is no bad thing. As per usual for a GTS, Porsche drops the ride height by 20mm, while the standard-fit adaptive dampers have a sportier state of mind. You get active engine mounts, the Sport Chrono pack (which adds a dashboard stopwatch and four driving modes, selected via a switch on the steering wheel), and a locking rear differential.
Visually, a GTS is less shouty than a GT4—you get some smoked light lenses and a black air intake, a set of 20-inch rims, and a new rear bumper. You're going to need to tell people you've bought the six-cylinder one—at least until you twist the ignition key. Inside, there's lashings of carbon fibre and suede trim, to give the GTS a racier ambience. But unlike the GT4, you still get proper door handles.
Prices start at a whisker under £65,000, which pitches the Cayman GTS far above the likes of the Alpina A110S and the BMW M2 Competition. But if you look at it as very nearly a GT4 for £10,000 (P640,360) less, or perhaps a better out-and-out sports car than a 911, then you could argue it's a bargain. Frankly, it's so good that we think you'll be able to make any excuse you need to justify the price. Sorry, Porsche-o-phobes: They've only gone and done it again.
On the road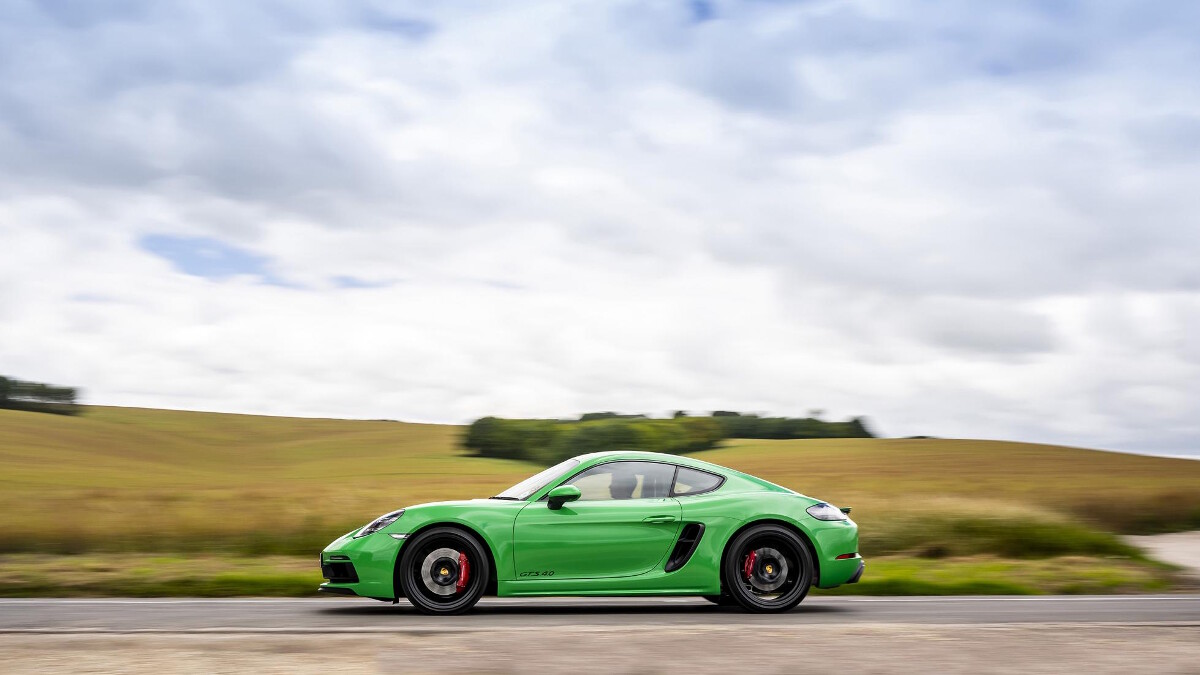 Obviously the engine's a peach. What's pleasantly surprising is you'd never guess this is a detuned, watered-down version of a hotter motor. In some cars, you sense the moment when the on-board computer interrupts the mechanics, and tells the engine to calm down and know its place. Not here. It pulls clean and true to a pretty orgasmic 7,800rpm redline.
If you've been in one of the turbo'd Caymans lately, suddenly having to concentrate and work for your performance might seem a bit alien. A tad inconvenient, even. The old 2.5-liter GTS dumped 420Nm in your lap at 2,100rpm. With the 4.0-liter GTS, you're hanging on until 5,500rpm for the same peak torque.
This engine has a totally different—better—character. Instead of mashing the throttle and waiting for the turbo to haul you out of (or into) jail, you have to roll up your sleeves and go looking for that urgency. And boy, is it worth it.
We forget how 'old-school' naturally aspirated engines sound interesting everywhere in the rev range, and at different throttle openings. Nerdy, I know, but stick with me.
A lot of modern fast cars only give their best Pavarotti when they're charging flat-out. This GTS chatters with intent at idle, chunters moodily at low revs, then builds from a mournful, barrel-chested growl to a baleful howl as the needle winds around to three o'clock. It sounds wonderful all the time. And you get plenty of that addictive note piped into the cabin, too, even with the sports exhaust turned off to keep the neighbors happy. At a cruise, it melts away politely.
Our test car featured the manual gearbox, and while it's a mechanical joy to operate, the same old Cayman bugbear of long gearing remains. Great for fuel economy, true, but the engine already switches off half a bank of cylinders to save gasoline, and it means getting up into the engine's stratosphere is a rarer treat than it should be. Why does a Cayman need to be able to break the national speed limit in second?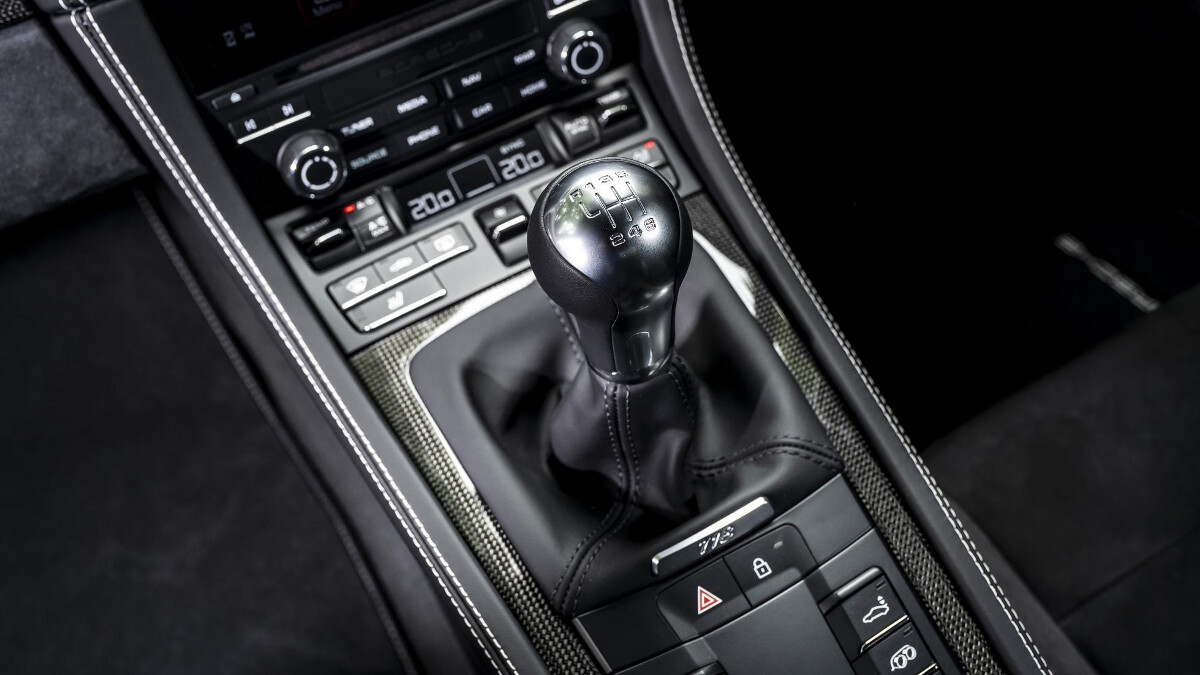 You can ramp up the engine response (and gearbox attitude, if you've spec'd the PDK auto) using the rotary selector on the steering wheel. The sporty damper setting is best left for racetracks—using it on cracked roads will cause the Cayman to lose its trademark flow and composure. Otherwise, this is a very comfortable sports car. You could easily use it every day, highway road noise being the Cayman's main vice.
At 1,405kg. the GTS is in fact 15kg lighter than a Cayman GT4. About as noticeable as the 20hp power deficit, really. This is a beautifully balanced car—you really sense it working all four tires equally hard. It gives you confidence, and while it's never uncouth unless massively provoked, it's got that rarest of qualities: fun factor at sensible speeds. You're never going to trouble this mighty, grippy chassis on the public highway, but you can revel in the perfectly weighted steering, the accurate turn-in, the way the car pivots around the seat of your pants, and the mega traction. Ultimately, it's very flattering, and who doesn't like the idea that they're a great driver?
The GTs just feels 'enough.' There are faster sports cars. There are sports cars that can corner harder and slide more easily and dazzle you with more modes and gimmicks. But after driving this, that'll all seem overblown.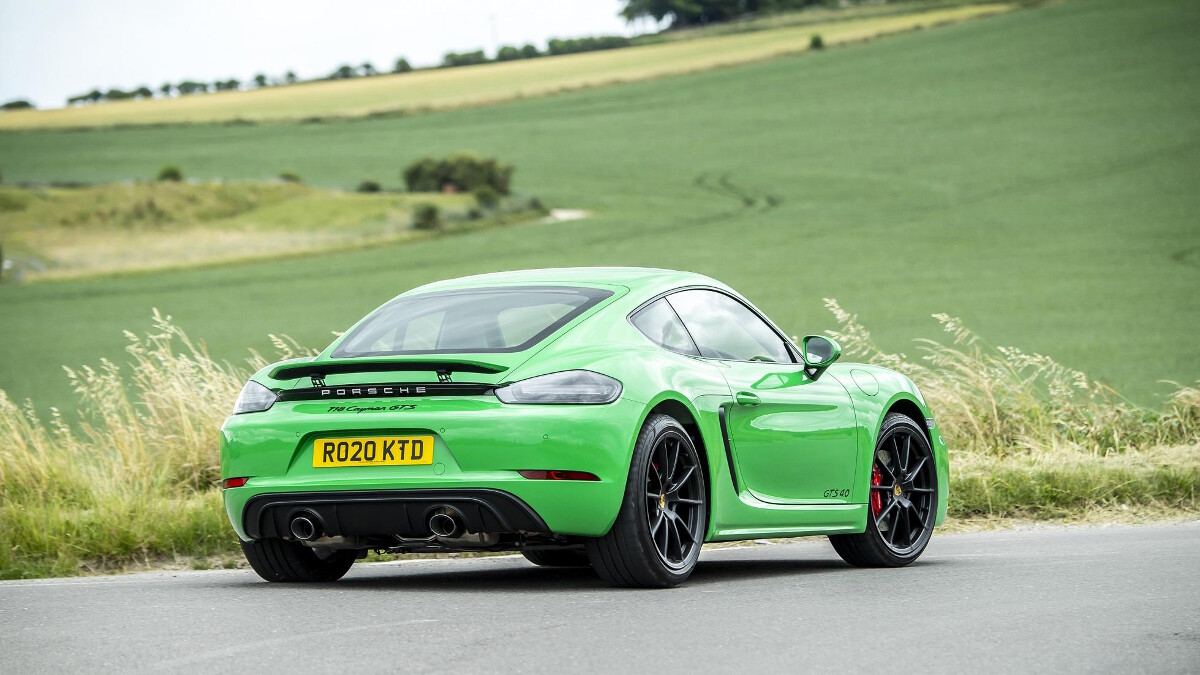 Porsche claims 11km/L, but in nearly a week of everyday use, including plenty of life-affirming trips to 7,500rpm and beyond, we averaged almost 11.9km/L. It might interest you to know that qw once ran a 718 Cayman 2.0-liter as a long-term test car. Over six months, it averaged 11.9-12.8km/L.
On a 320km highway road trip, the GTS sauntered without effort to an indicated 14.9km/L. Well, that long gearing has to count for something. Put it this way: Brim the generous 64-liter tank and you've got at least 720km of range to enjoy. There are very few family hot hatches that can manage such endurance—and very little that's also good for 400hp and 293kph flat-out.
On the inside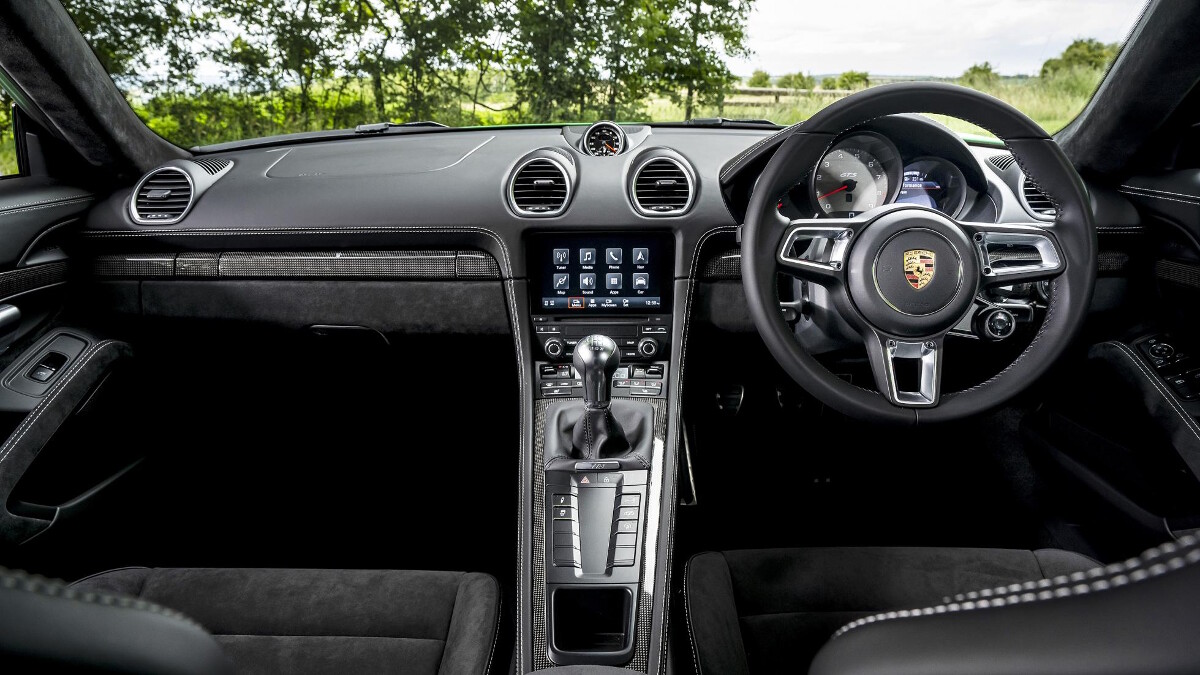 As you were. Nothing new to report inside the GTS—Porsche updated the Cayman's interior back in 2016 when it swerved to turbo engines and the '718' moniker. That overhaul brought rounded vents instead of squircles, a refreshed seven-inch PCM touchscreen including Apple CarPlay and Android Auto integration, and new steering wheels. The GTs gets the smaller option, sans buttons on its spokes. Maximum focus, you see.
It's a lovely place to be: high-quality materials, put together with great attention to detail. There's loads of oddment storage and—praise be—the old-school pop-out Porsche cupholders. The center console's multitude of buttons is looking dated now, and the fact that there are stacks of blanks—even in a GTS—still grates.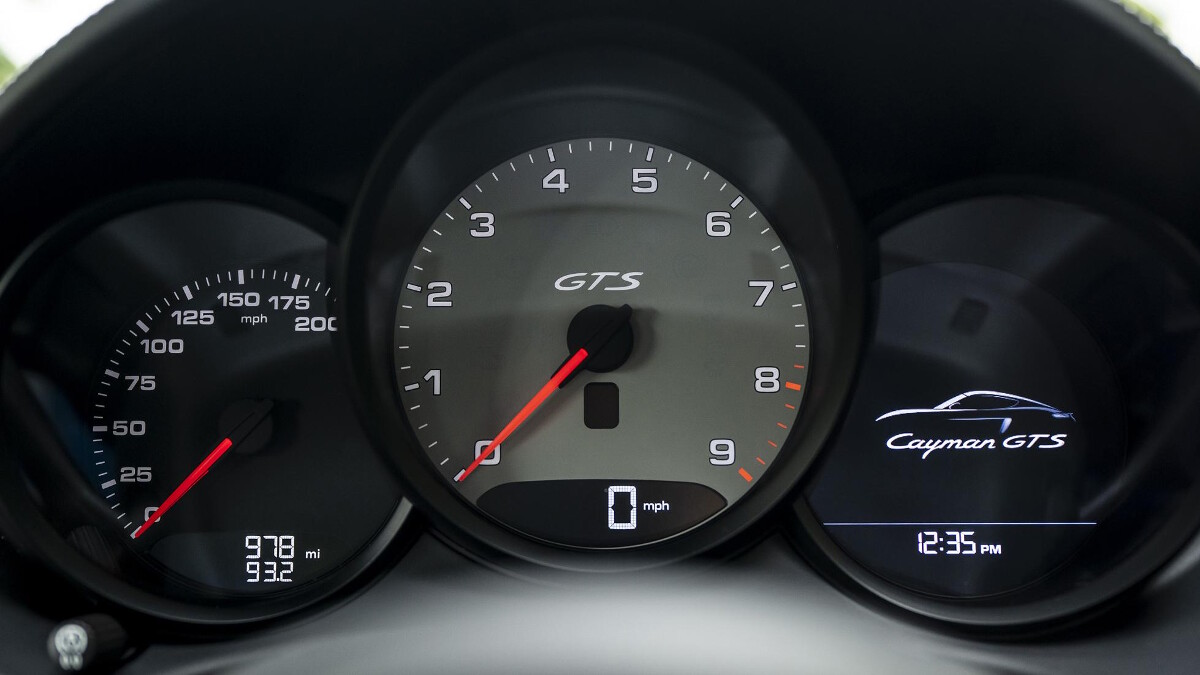 Having said that, prodding a tactile button to wake up the sports exhaust is more user-friendly than the touch-sensitive glossy consoles that Porsche is obsessed with of late. And after a weekend of heavy use, the Cayman's cockpit isn't a greasy smudgefest of fingerprints, either.
As ever, you sit between two generous cargo areas. The nose compartment is surprisingly deep, and there's a smaller cargo bay behind the engine, hidden beneath a useful parcel shelf. You can even stow extra bags onto top of the engine 'hump' if you're going on a long trip. Not great for rear visibility (the Cayman's all-around view is best-in-class), but a handy boon for practicality that no other two-seater can match.
This is why people think the Cayman is boring, you know. It's just pretty damn good at everything—even the sensible stuff.
Final thoughts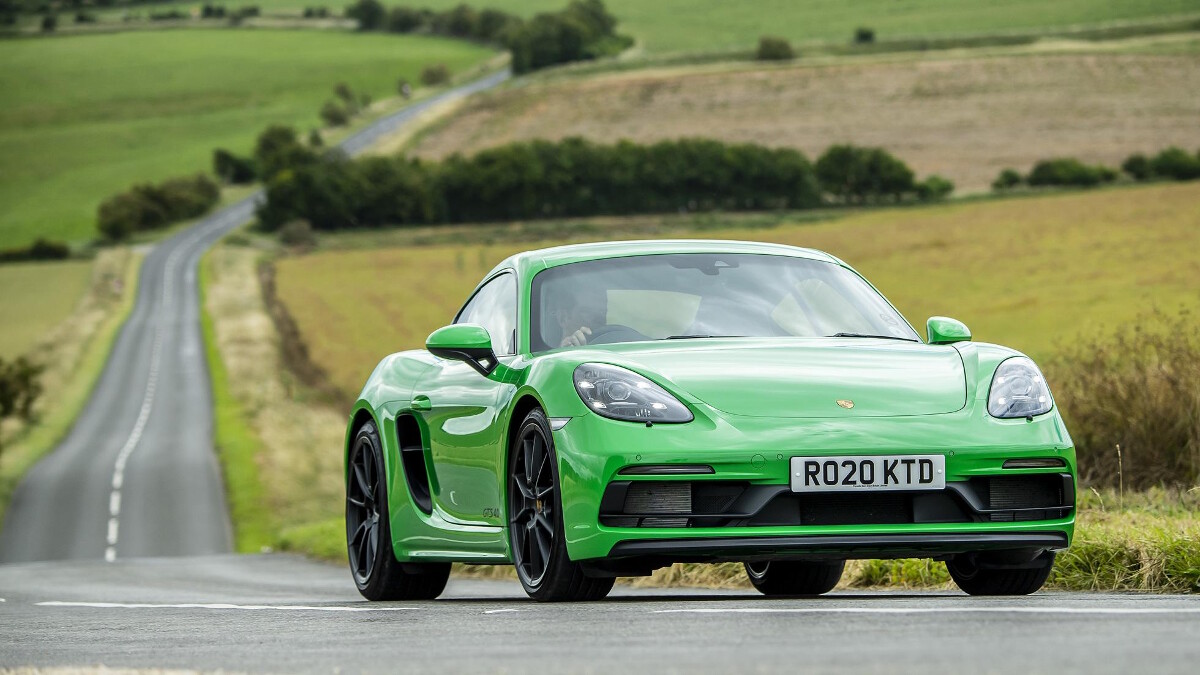 Can we finally lay to rest the tired old nonsense that people only buy Caymans because they can't afford 911s? The new 718 GTS blows that out of the water.
It's smaller than the current 911, it makes a better noise, it's more enjoyable at sensible road speeds, and so long as you don't need occasional child seats, it's pretty much as practical every day. This is arguably the best car Porsche builds right now—it feels like a bargain at £10,000 less than a Cayman GT4, because it certainly doesn't feel £10,000 slower, or £10,000 less special in the corners, or look £10,000 uglier.
The other four-pot Caymans will live on, and they still have their place. It's still a world-class chassis for the money. In China, where tax laws favor a 2.0-liter engine, it makes sense. But to drive this GTS is to love it, and to rediscover what we've been missing.
For the last few years, the sports-car choice has been between your head (choosing a 718 Cayman in spite of its dreary engine) and your heart (yearning for the less polished but refreshingly lithe Alpine A110). With the GTS, the Cayman climbs back to the top of the wish list. It just doesn't get much better that this.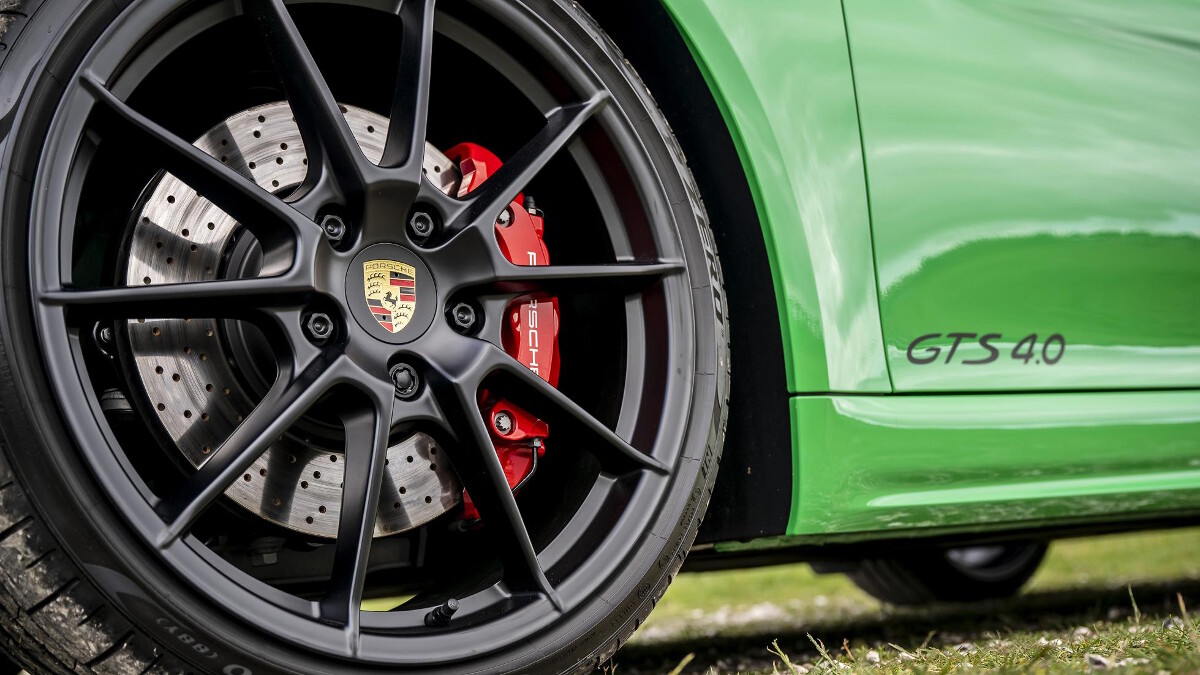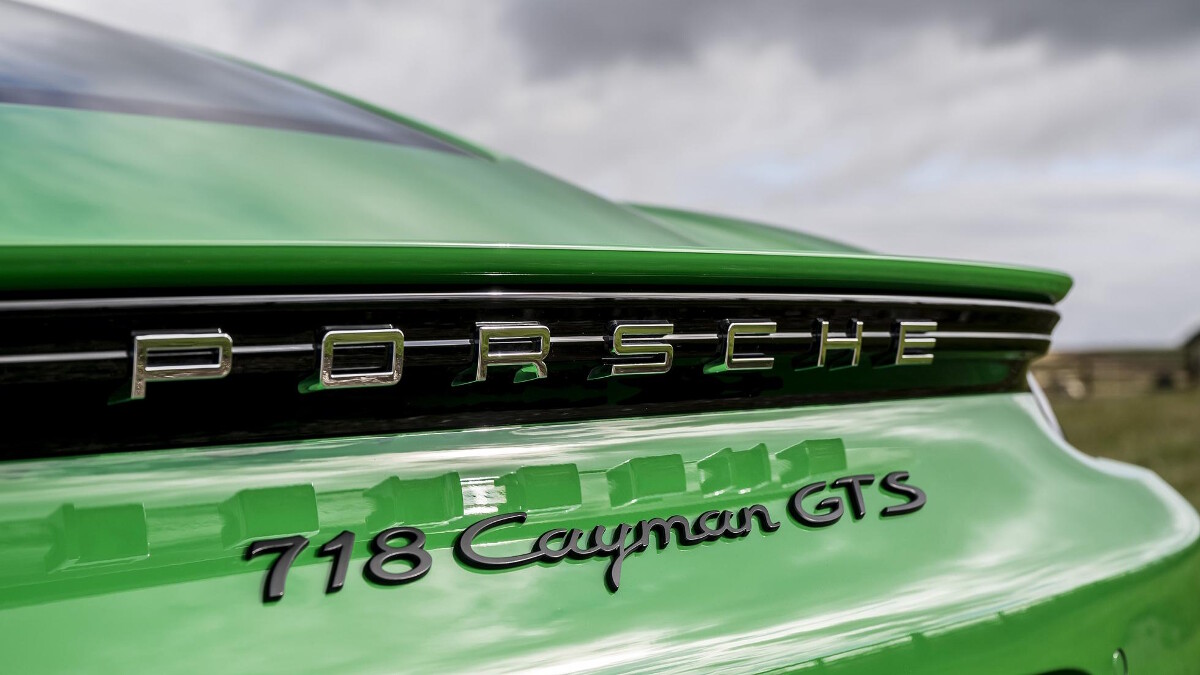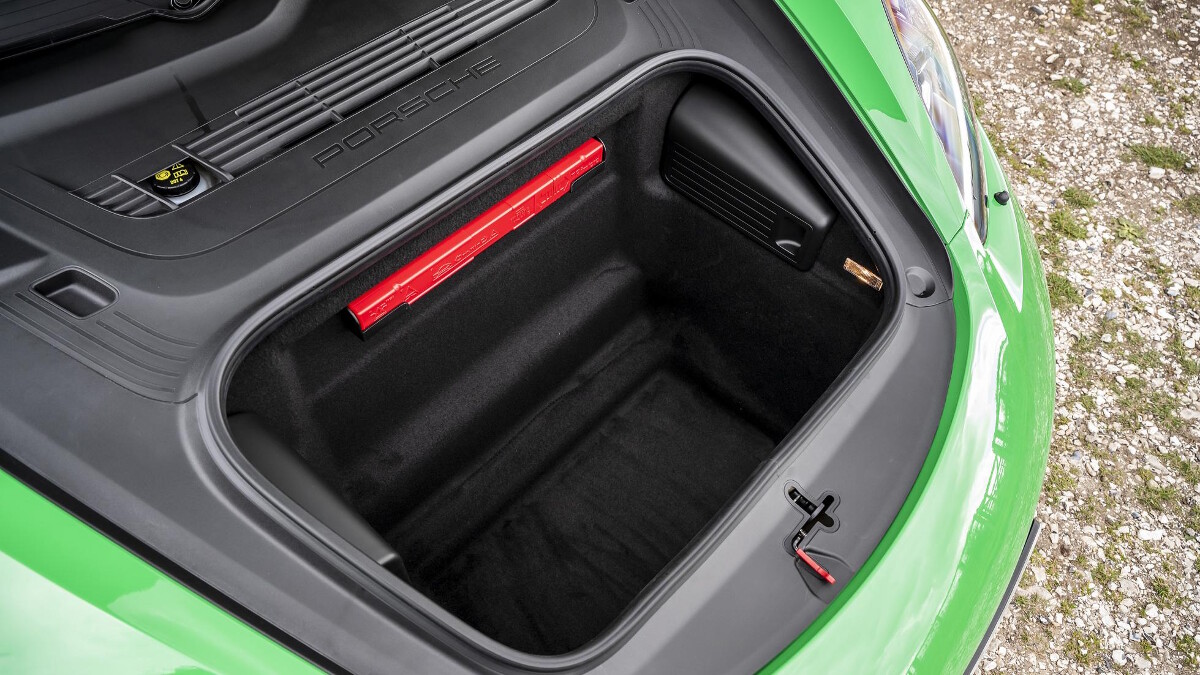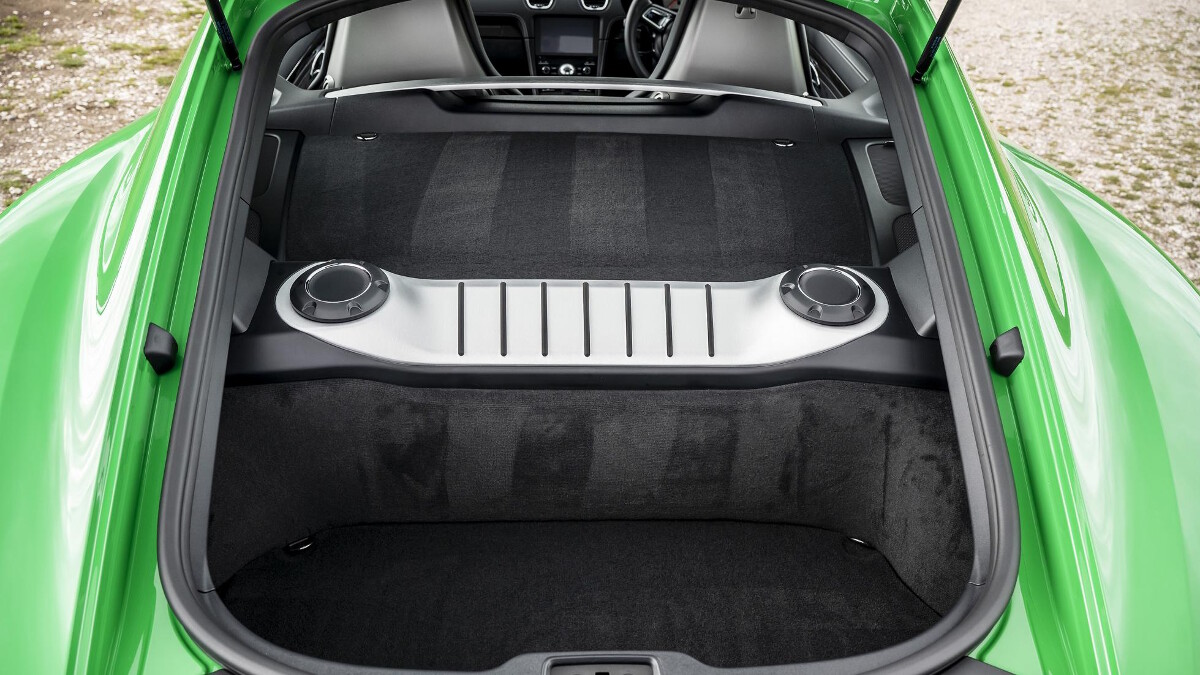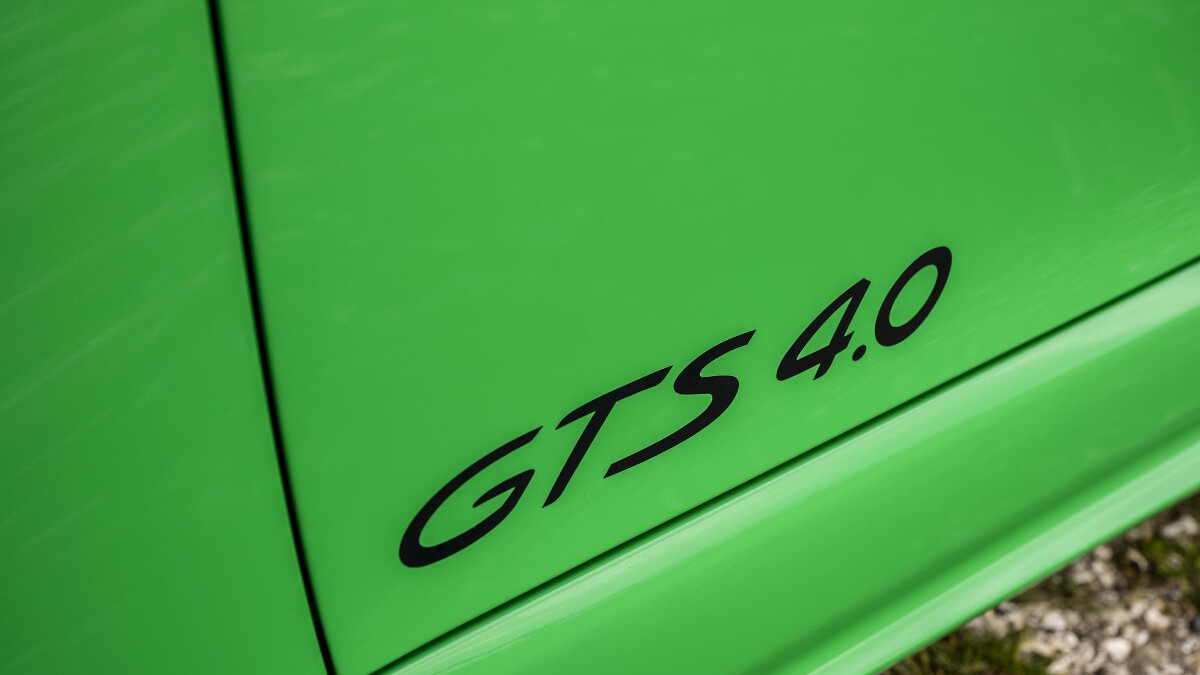 NOTE: This article first appeared on TopGear.com. Minor edits have been made.