Cast your mind back to March 2020, and you'll remember that there was rather a lot going on in the world. A deadly virus was sweeping the globe, and lockdowns, social distancing, and masks became part of everyday life. It was all a bit grim.
A footnote in all of this was the cancellation of the season-opening Australian GP, abandoned as fans were queuing at the gates of the track ahead of the first practice session in Melbourne. More races quickly followed suit, and for a time, it looked as though there'd be no Formula 1 at all for the whole of 2020. The teams agreed to shut down their factories, and that, it seemed, was that.
Not so. F1 knuckled down and, after plowing its know-how into some life-saving breathing aids for coronavirus patients—the teams worked out how they could carry on racing while limiting the risk of transmission as the sport traveled from country to country. A new makeshift calendar was drawn up and the season was salvaged. Albeit without fans, for the most part.
But what a season it turned out to be. F1 2020 was packed with drama and brilliant racing, and gave us all a welcome distraction from the harsh effects of You-Know-What-19. Here, we look back at the top 20 moments of the recently concluded F1 season. Got a favorite that sticks out in your mind? Keyboard warriors, assemble below.
1) Lando Norris' podium chase in Austria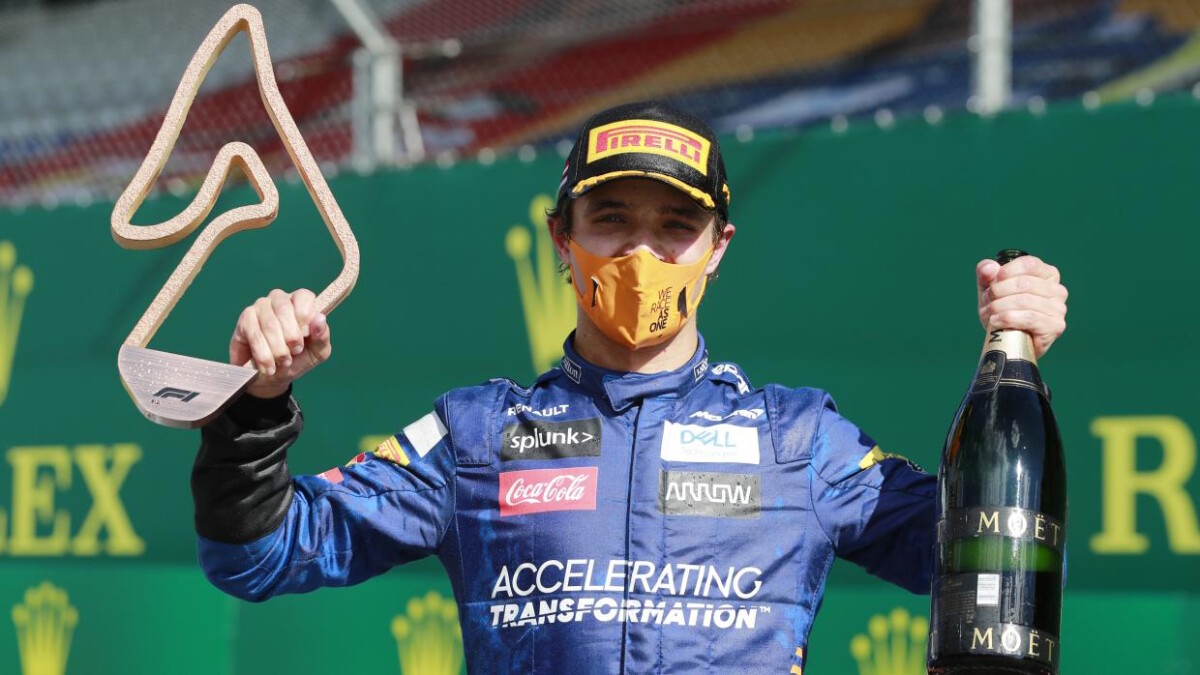 ADVERTISEMENT - CONTINUE READING BELOW ↓
The season finally got underway at the Red Bull Ring in July, and we were treated to the kind of spectacle that usually only happens when it pours with rain. Sebastian Vettel had a spin (what else is new), Kimi Raikkonen's front-right wheel fell off, and Alexander Albon was denied a podium again thanks to another tangle with Hamilton. It was gripping stuff.
But by far the best action came from Lando Norris in the final three laps of the race. The young McLaren driver bullied his way past the Racing Point of Sergio Perez on lap 69, before hunting down Lewis Hamilton, who'd been handed a five-second penalty for causing the collision with Albon.
Norris turned his engine up to 11, and set the fastest lap of the race on his way to overhauling the reigning champ for third place after penalties had been applied. Though he'd finished second on the road, Hamilton also lost out to Charles Leclerc, who'd somehow managed to keep up in his unfancied Ferrari. "Yeah, boy!" screamed Norris after he'd crossed the line. We think he was happy with his first F1 podium.
2) Lewis Hamilton wins a race on three wheels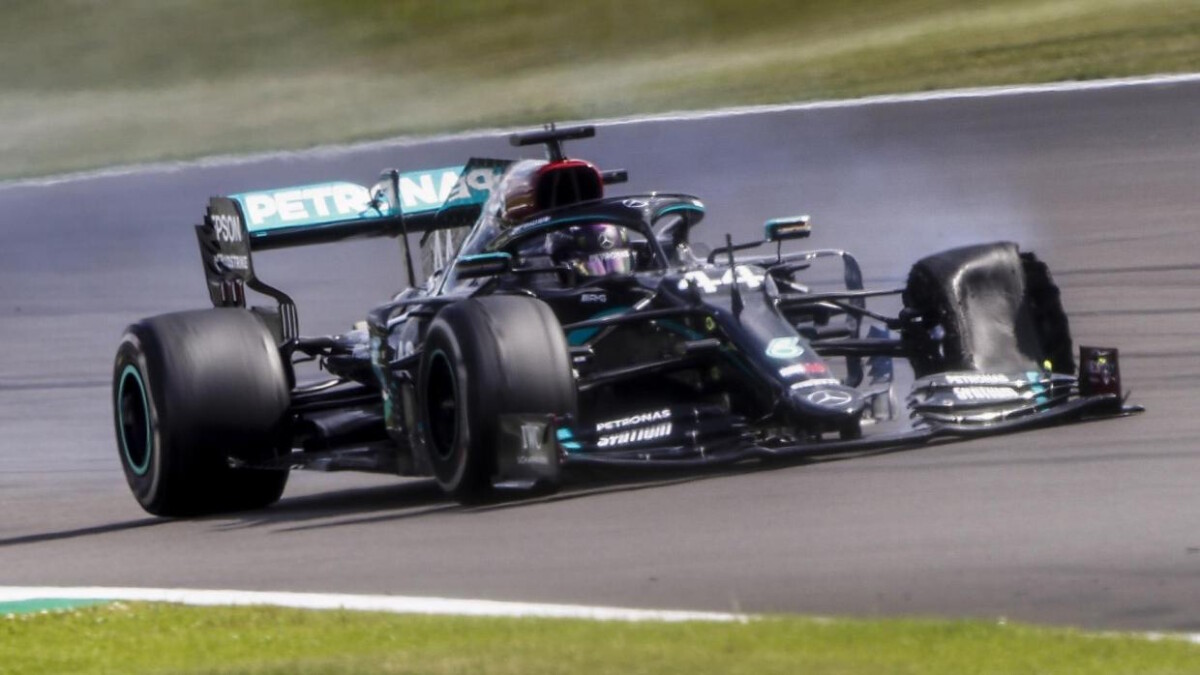 ADVERTISEMENT - CONTINUE READING BELOW ↓
Recommended Videos
The British GP was an eventful affair, with the race dominated by a number of tire failures throughout the field. Daniil Kvyat, Carlos Sainz, and Valtteri Bottas all suffered punctures, as the Pirelli rubber struggled to cope with the intense forces that are part and parcel of the Silverstone circuit.
While there'd been plenty of overtaking action in the middle of the pack, things had been going swimmingly for Hamilton, who'd led from pole. However, his front-left tire gave way in the dying moments of the race, forcing him to nurse his way around the final half a lap on only three wheels.
Crucially, Max Verstappen—who had inherited second after Bottas's puncture—had made an extra pit stop in order to go for the bonus point that comes with setting the fastest lap, and this gave Hamilton just enough of a gap to take the checkered flag and hang onto the win.
3) Nico Hülkenberg's cameos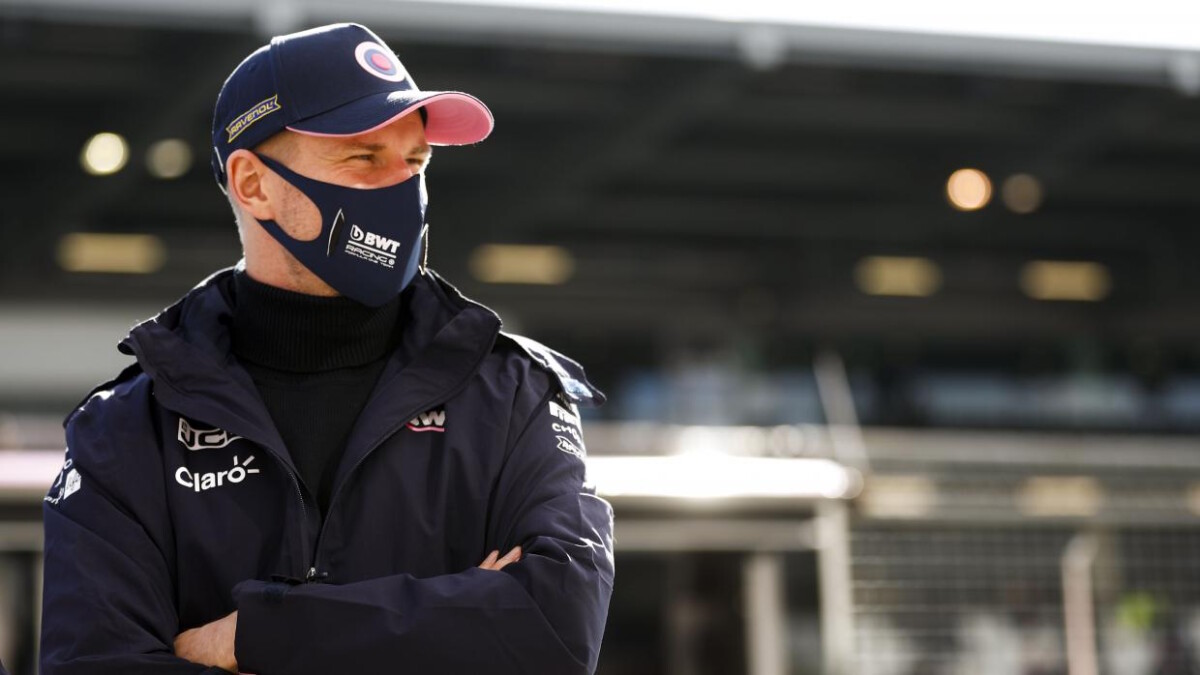 ADVERTISEMENT - CONTINUE READING BELOW ↓
Nico Hülkenberg—who famously holds the unwanted record for the most appearances in F1 without a podium finish—departed the sport at the end of 2019 after Renault decided to replace him with Esteban Ocon. While still in the frame for a full-time return in the future, it looked like opportunities to score that maiden top-three finish had completely dried up.
Fate had other ideas. Racing Point's Perez tested positive for COVID-19 on the eve of the British GP, ruling him out of two races and sparking a mad scramble for a replacement driver. With barely 24 hours' notice, Hülkenberg answered the call, sending fans into a frenzy at the prospect of him breaking that 177-race duck.
His first appearance didn't go well, qualifying 13th before a reliability issue prevented him from lining up on the grid. But his second outing a week later was much better, qualifying ahead of everyone bar Mercedes in a car he'd barely driven. He ran well in the race, too, although a late issue forced him to make an extra pit stop, which dropped him behind teammate Lance Stroll.
If you thought that was all a bit last-minute, think again. The Hulk was having coffee with a friend on the morning of qualifying for the Eifel GP when Racing Point rang again, asking if he could step in for Stroll, who'd also gone down with COVID-19. The German driver made the mad dash up the autobahn from Cologne to the Nürburgring, jumping into the car without a single practice session to dial himself in. As a result, he qualified last, but an outstanding drive in the race saw him climb from 20th to eighth.
The wait for a podium goes on, but surely we haven't seen the last of this supremely skilled driver?
4) Max Verstappen's 70th Anniversary GP win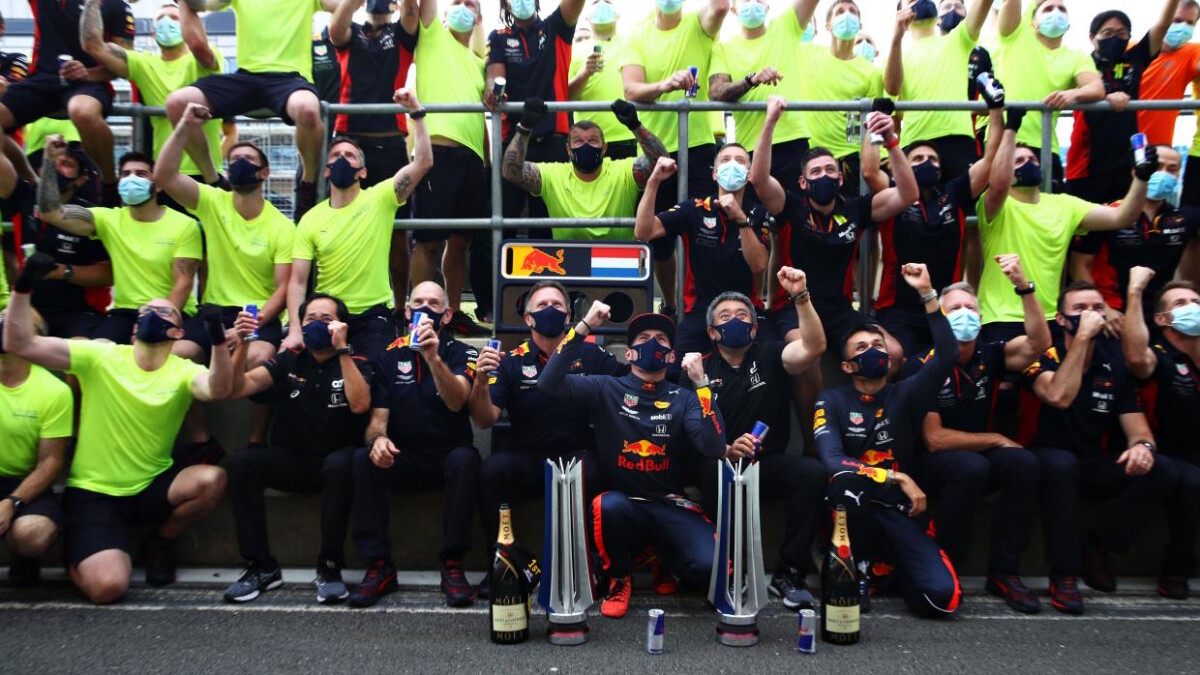 The second race at Silverstone of 2020 was branded as the 70th Anniversary GP, to commemorate 70 years of Formula 1 and mark its first championship race, also held at Silverstone way back when in 1950. Giuseppe Farina won that day in an Alfa Romeo, although there was to be no repeat this time as Alfa isn't the force it once was.
There was also time to reflect on the passing of Sir Stirling Moss, who died in April at the age of 90. Moss was widely regarded as the greatest driver never to win an F1 championship, although his heroics behind the wheel remain the stuff of legend.
ADVERTISEMENT - CONTINUE READING BELOW ↓
Luckily, we were treated to an epic race befitting of the great man. Verstappen came oh-so-close to stealing the British GP from under Hamilton's nose the week before, but this time, he dominated from the second row of the grid. Key to his pace was the tire-pressure changes introduced by Pirelli to combat the spectacular failures we'd seen the week before: Suddenly, Verstappen's Red Bull could handle the rubber better, and he hustled his way past polesitter Bottas on his way to his first win of the season.
5) Pierre Gasly wins at Monza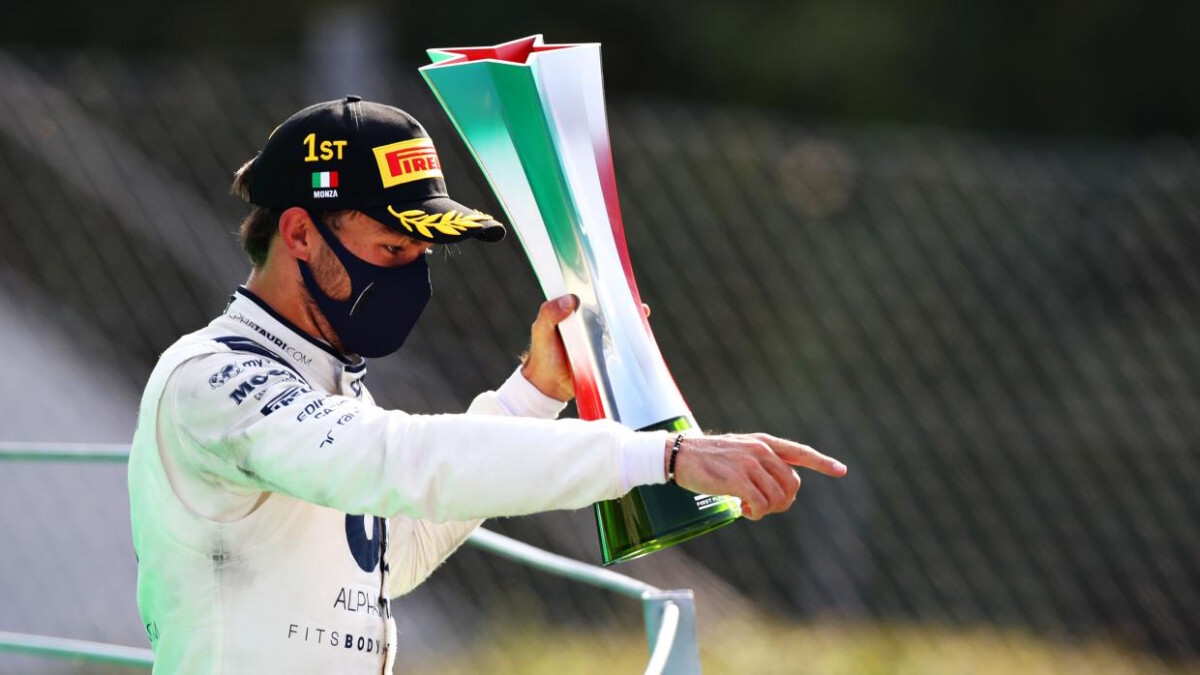 And it still doesn't quite compute. The Italian GP got off to a dramatic start when Bottas tumbled down the order on the opening lap, with the McLarens of Sainz and Norris leaping up to second and third, respectively. That was unusual enough, but it was nothing compared to what happened next.
Kevin Magnussen coasted to a halt on lap 18, forcing officials to send out the safety car so marshals could clear the stricken Haas safely. Race leader Hamilton responded by diving into the pits, but neither he nor his crew realized that the pit lane had in fact been closed moments earlier to protect the marshals on track. A 10-second stop-go penalty followed, blowing the race wide open.
It was Gasly who emerged from the chaos at the front, inheriting the lead on lap 29 and never looking back on his way to the checkered flag. The Alpha Tauri driver—who was demoted from Red Bull half way through 2019—proved his mettle by fending off intense pressure from Sainz in the closing stages, becoming the first Frenchman to win a grand prix since Olivier Panis at Monaco in 1996. Such was the scale of his achievement that the President of France rang to offer his congratulations after the race, but Gasly missed the call and had to ring him back later that evening. Sacre bleu!
6) Ferrari hits 1,000 F1 races at Mugello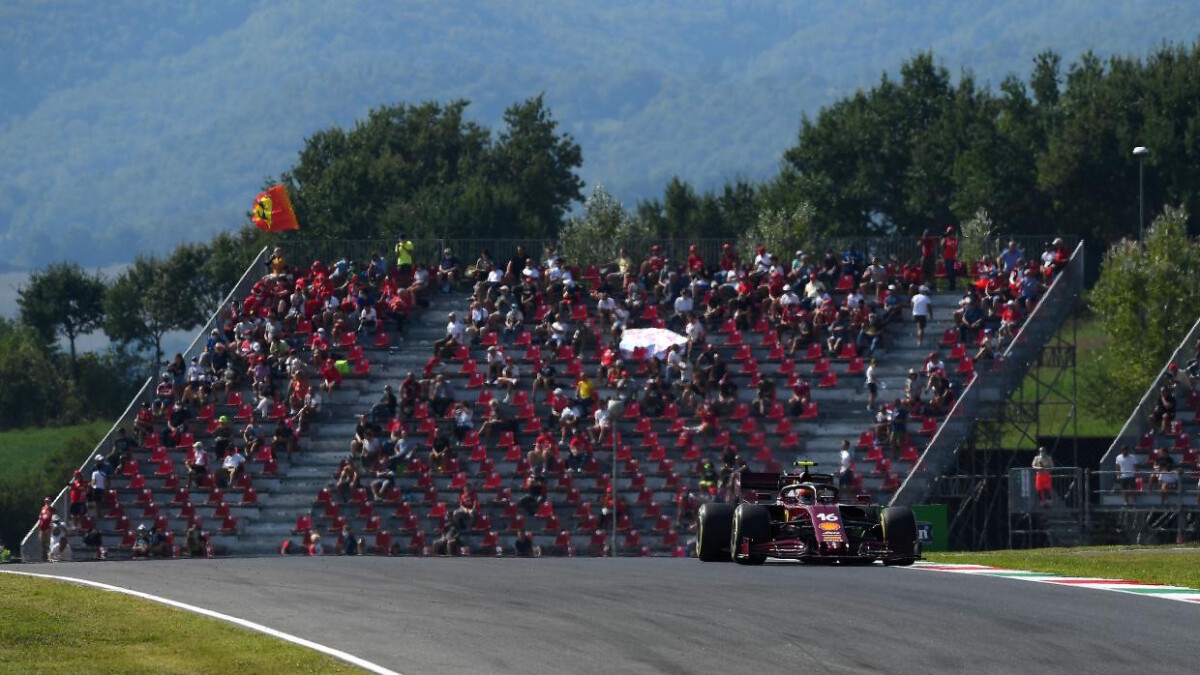 ADVERTISEMENT - CONTINUE READING BELOW ↓
The mixed-up calendar gave F1 a chance to mark a significant milestone for its most famous team. Ferrari had racked up 991 entries heading into 2020, and some clever planning ensured that its 1,000th grand prix could take place in its own backyard at Mugello, never before a host of an F1 race.
The event was a great success, with the old-school circuit providing an old-school spectacle of relentless high-speed corners and punishing gravel traps, all set against the backdrop of the Tuscan hills. Simply, simply lovely, as Verstappen might say.
As good as the race was for us, it wasn't so good for Ferrari. Its cars—donning a special livery for the occasion—could only manage eighth and 10th, despite Charles Leclerc's best efforts in qualifying. Too bad.
7) Alexander Albon finally gets his first podium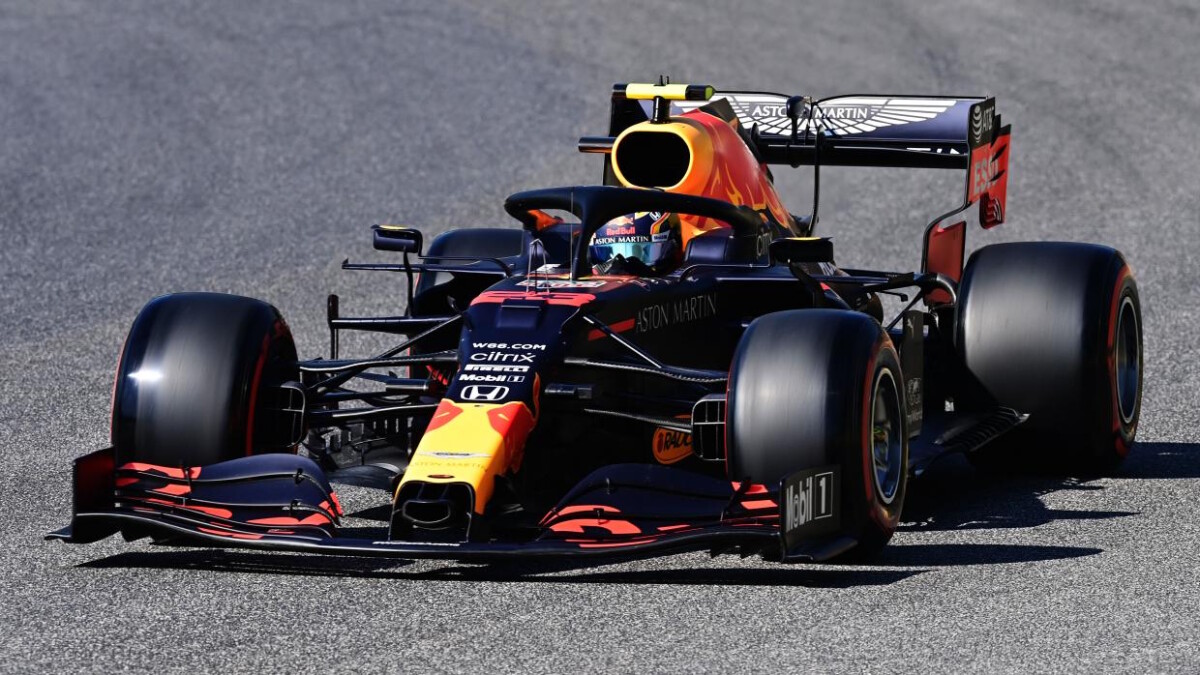 Virtually every single F1 fan had been willing Albon to get his maiden podium finish ever since his promotion to Red Bull in 2019, and the Thai driver looked set to do just that at the Brazilian GP later than year, only for Hamilton to spin him out of contention a lap and a half from the end. Albon was in prime position once more at the 2020 season opener in Austria, but again, a collision with Hamilton saw the dream snatched away.
After an underwhelming run of races in which he didn't look comfortable in the tricky Red Bull, Albon finally pounced at Mugello, pulling off a pair of outstanding moves to overtake Perez and Daniel Ricciardo on a charge up to third place.
8) Hamilton finds his voice on anti-racism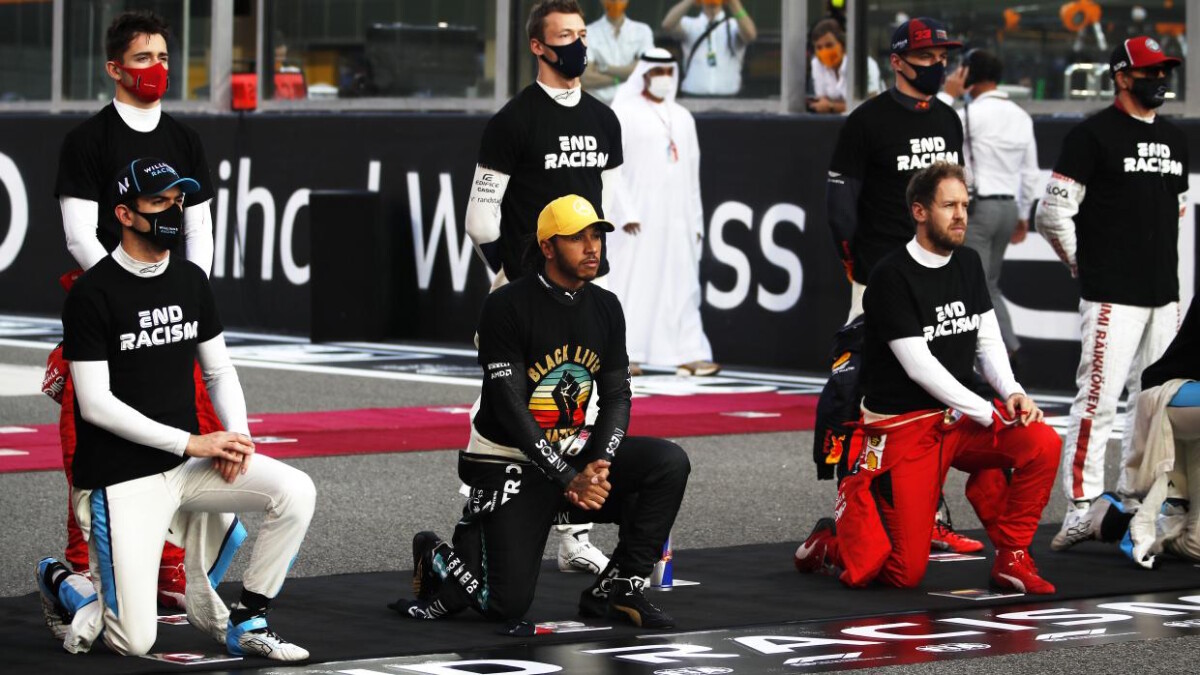 When the season got underway in the summer, the Black Lives Matter movement was at its peak, sparked by the death of American George Floyd at the hands of cops in Minnesota. The response around the world struck a chord with Hamilton—F1's only black driver in 70 years—whose own struggles with racism on the karting scene as a youngster are well-known.
ADVERTISEMENT - CONTINUE READING BELOW ↓
Hamilton was critical of his competitors for not being more vocal about the issue on social media, and his team responded by replacing their famous silver livery with a black paint job at the 11th hour in support of their main man. F1 also made room for an anti-racism demonstration ahead of every grand prix, in which most drivers chose to 'take the knee' throughout the season.
But Hamilton saw that he could do even more, taking to the podium at the Tuscan GP wearing a T-shirt condemning the death of Breonna Taylor, another victim of police brutality in the US. He also set up the Hamilton Commission, which will bring together experts to work out how to make motorsport a more diverse place.
Whatever your views on Hamilton as a driver, he clearly recognizes that there are more important things in life than racing.
9) Two teams announce they'll become much cooler next year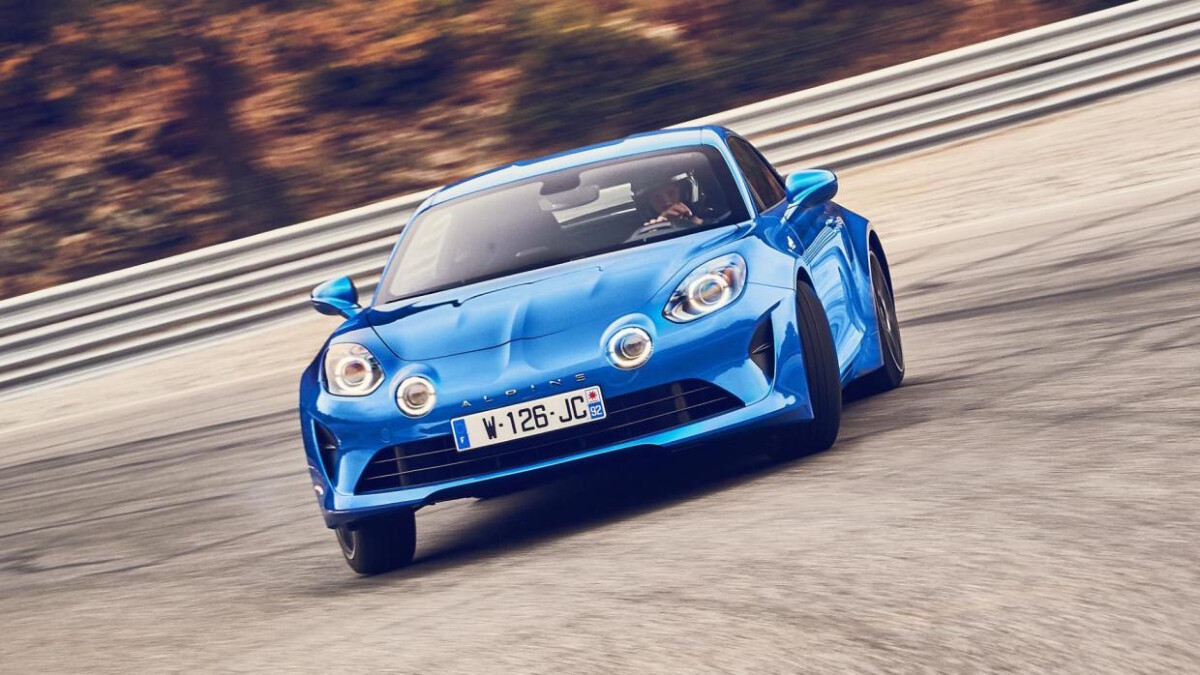 Former SEAT boss Luca de Meo became CEO of Renault in July, and immediately began reshaping a company that's in desperate need of a shake-up. And one of his first moves was to announce that the F1 team will be rebranded for 2021, with the Renault name making way for that of Alpine.
De Meo's bright idea is to turn Alpine into a "mini Ferrari," using F1 to promote the brand and help turn the tide of poor sales that has put the future of the sensational A110 into doubt. If it saves that car from the scrapheap, Top Gear is fully on board.
This comes after it was revealed earlier in the year that Racing Point will be rebranded as Aston Martin for 2021 following investment from Lawrence Stroll. The billionaire—father of Lance Stroll—became executive chairman of the British carmaker as part of the deal, and his plan to get the brand back onto a firm financial footing is centered around Aston Martin's involvement in F1.
Big picture aside, seeing Aston Martin and Alpine line up along with Ferrari, Alfa Romeo, McLaren, and Mercedes is going to be pretty sweet indeed.
10) Charles Leclerc crushes quali in Portimao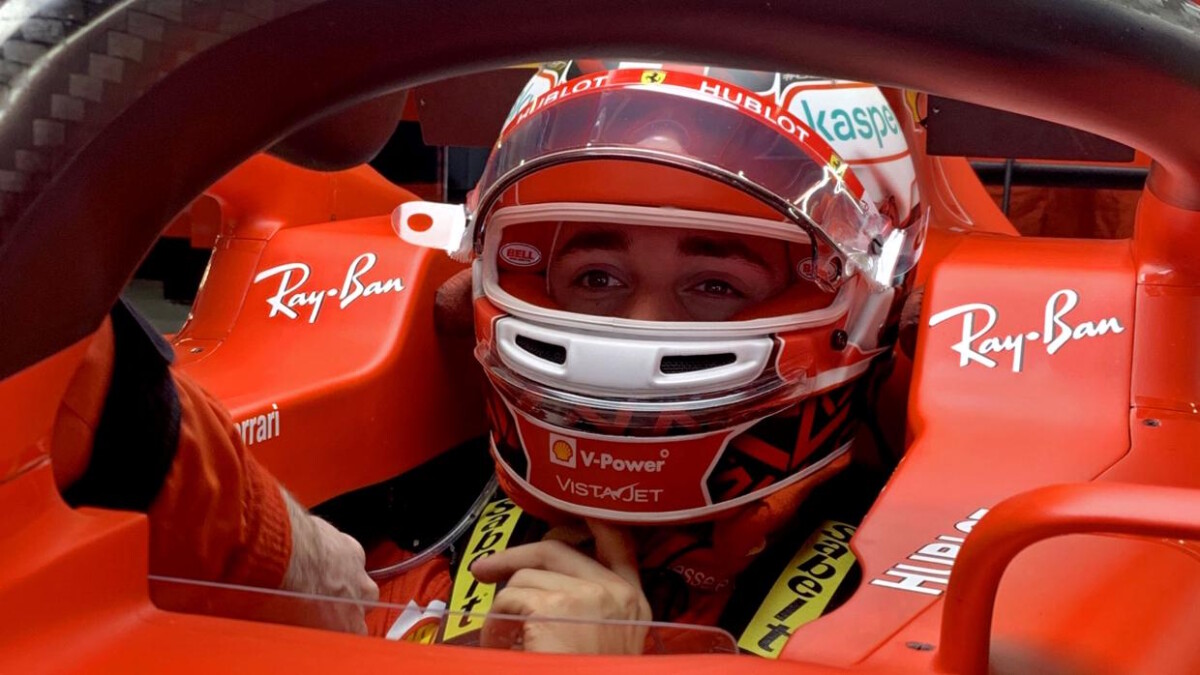 ADVERTISEMENT - CONTINUE READING BELOW ↓
Leclerc has had his work cut out this year, with Ferrari's SF1000 suffering from a lack of power and handling characteristics that even four-time champion Vettel couldn't get on top of. It's little wonder that the team finished sixth in the championship.
In spite of everything, the Monegasque driver still produced a number of incredible performances, somehow finishing on the podium twice in a car that definitely didn't deserve to be there. Chief among these drives was a sensational quali lap in Portimao that was virtually perfect, kissing every apex and carrying unbelievable speed around the undulating circuit.
The lap put him fourth on the grid—just four-tenths behind polesitter Hamilton—and a whole 11 places higher than his teammate. Go look it up on YouTube and thank us later.
11) Kimi Raikkonen's overtaking spree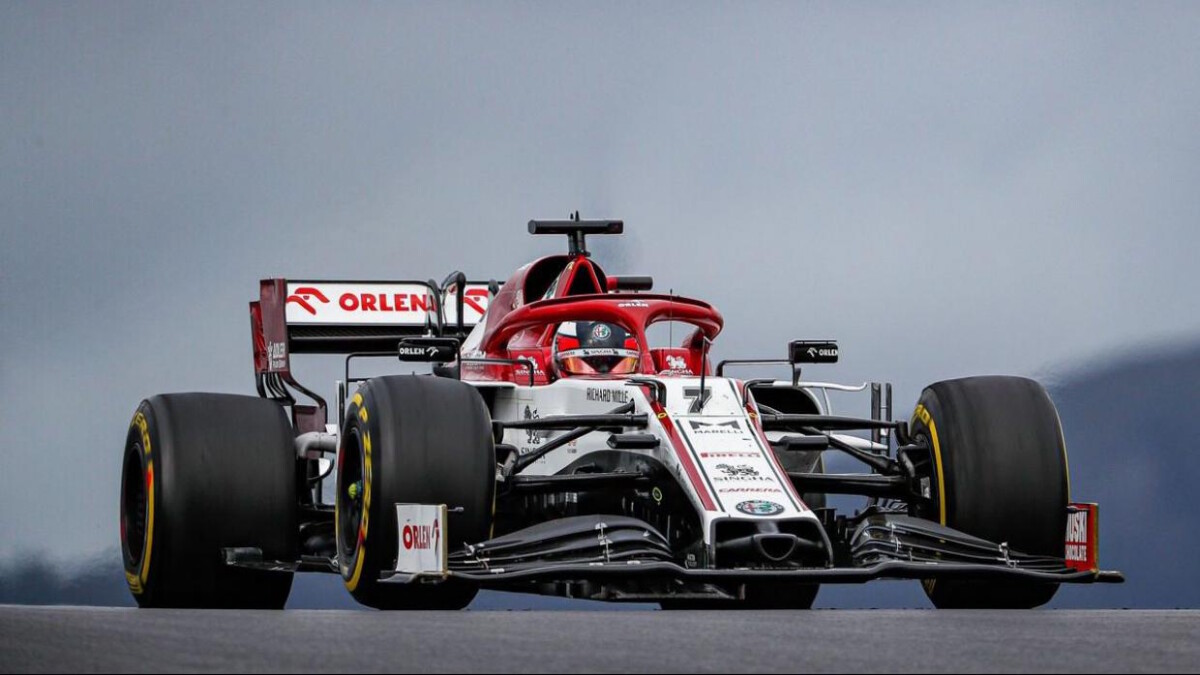 If it was Leclerc who starred in qualifying in Portugal, it was Raikkonen who stood out most of all in the race. Briefly, anyway. Starting P16 on the grid, the 41-year-old took advantage of the fact that everyone was struggling to get their tires up to temperature, executing an opening lap to rival the famous fifth-to-first that Ayrton Senna pulled off at Donington in 1993.
Briefly dropping a position off the line, the Finn soon began carving his way through the field, diving inside and outside of rivals to climb a remarkable 11 places in just 15 corners. Not bad for a man who's almost twice the age of some of F1's rookies.
Despite the start, Raikkonen's race pace dwindled and he eventually crossed the line in 11th, just missing out on points. F1 already gives a bonus point for setting the fastest lap—how about one for the most entertaining lap, too?
12) Hamilton overhauls Schumacher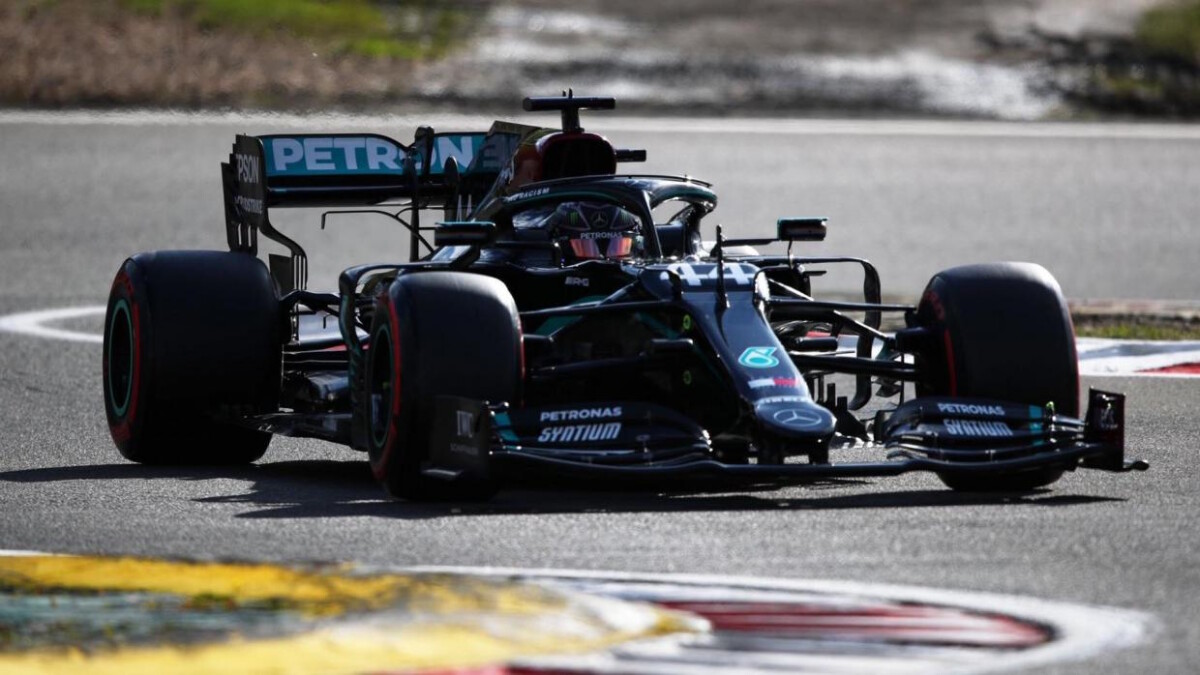 ADVERTISEMENT - CONTINUE READING BELOW ↓
There was a time when Michael Schumacher's record of 91 wins looked impossible to break, but season after season of Mercedes dominance and sheer, relentless brilliance from Hamilton put the Briton on the brink this year.
He missed his first chance to match the record at the Russian GP, but made no mistake two weeks later with an accomplished drive to victory #91 at the Eifel GP at the Nürburgring. There was a touching moment afterwards, too, as Schumacher's son Mick—who's set to race for Haas in 2021—presented Hamilton with one of his father's helmets to recognize the achievement. We're not crying, you're crying.
Hamilton went one better at the next race in Portugal, trouncing his teammate by nearly half a minute (a rare margin in a dry race these days) on his way to win #92. Further victories at Imola, Turkey, and Bahrain brought that tally up to 95, and he says he's far from finished. Gulp.
13) Daniel Ricciardo gets podium, wins tattoo bet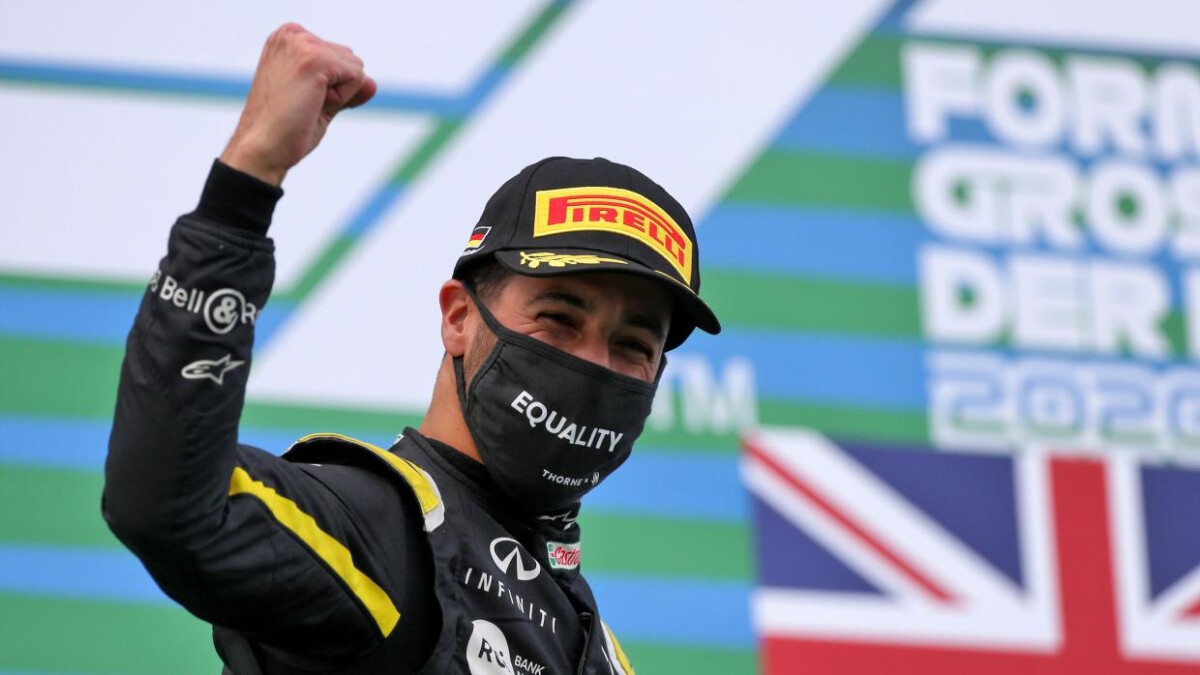 After Hamilton had taken the checkered flag at the Nürburgring, all eyes turned to Ricciardo, who hasn't featured at the front much in the two years since his switch from Red Bull to Renault. At the start of the season, the Aussie made a bet with team principal Cyril Abiteboul that he would finish on the podium this year, with the wager being a tattoo of his choosing.
Danny Ric had come agonizingly close three times already with fourth-place finishes at Silverstone, Spa, and Mugello, but that elusive podium finally arrived in Germany to the, er, delight of his boss.
According to the Australian, Abiteboul gets to choose the size and placement of the tattoo, but he has the only say over the design itself. It's got to be a honey badger, right?
14) The award for the best overtake goes to...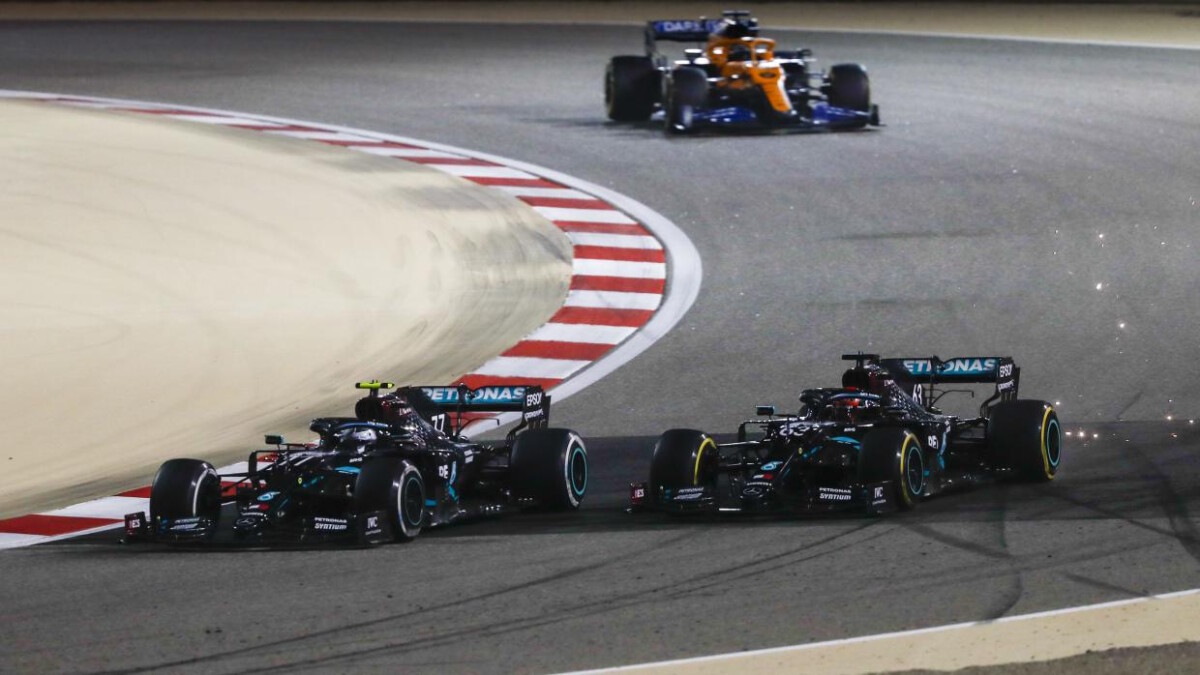 ADVERTISEMENT - CONTINUE READING BELOW ↓
F1 tends to get a bad wrap when it comes to overtaking, with purists claiming that the drag reduction system is too artificial, and that the tires can't be pushed hard enough. Plenty of the drivers agree.
But when you put 20 of the world's best racers on the same track, they're going to put on a show. And 2020 was no exception, with countless jaw-dropping moves over the course of the 17-race calendar. We haven't bothered to rank them here because, honestly, we don't need the aggro. But our nominees are:
Perez on Sainz, Styrian GP: the Mexican swept by on the outside of turn six, where few others could make such a move stick
Albon on Perez, Tuscan GP: a sneaky dive on the exit of turn three, setting up his maiden podium finish
Perez on Ocon, Portugese GP: wheel to wheel for almost half a lap, Perez eventually got his nose in front of the Renault on his charge from the back of the field
Leclerc on Magnussen, Emilia Romagna GP: a bold move on the outside of the turn six hairpin—something barely anyone else bothered to try, let alone pull off
Kvyat on Leclerc, Emilia Romagna GP: on fresh rubber, Kvyat gambled everything into turn nine and somehow kept the Alpha Tauri on the road, earning his best finish of the year
Russell on Bottas, Sakhir GP: again, it was tires that made the difference here, but to run your new teammate right to the limit on your debut and with a potential win at stake is as ballsy as it gets
Which was best? We'll leave that entirely up to you.
15) Lance Stroll on pole in Turkey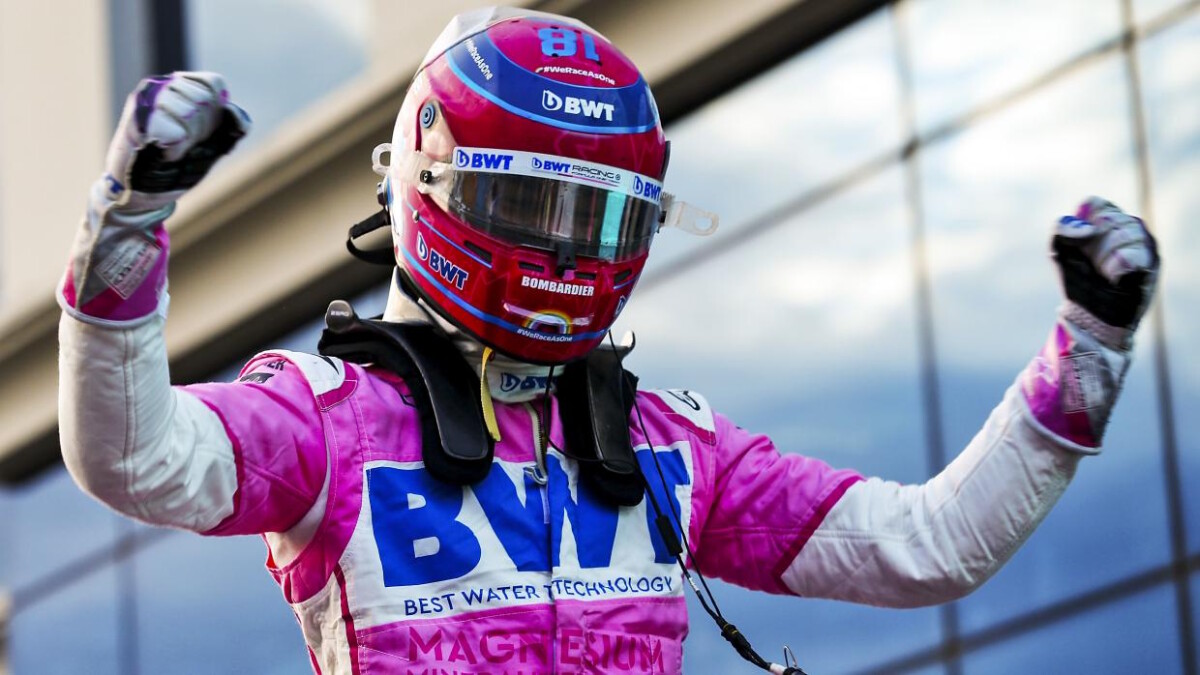 Stroll often gets it in the neck for being F1's foremost 'pay driver,', meaning someone whose presence on the grid can be explained by the size of their wallet rather than the depths of their driving talent. The impression isn't helped by the fact that Racing Point is part-owned by, er, Stroll's dad, and when someone had to make way for Vettel for 2021, it was F1's surprise podium expert Perez who got the chop. Hmm.
But sometimes, you have to give credit where credit is due, and Stroll earned a bucket load of it when he stuck his 'Pink Mercedes' on pole at the treacherously wet Turkish GP. In horrendous conditions and on a track that was already low on grip in the dry, Stroll held his nerve with a stupendous lap in Q3 that was nearly 5sec faster than Lewis Hamilton could manage. Yowzer.
ADVERTISEMENT - CONTINUE READING BELOW ↓
Stroll impressed again in the race, leading for 32 of the 58 laps before hitting trouble with a fresh set of intermediate tires. He eventually finished ninth.
16) Hamilton wins title #7 with a wet-weather masterclass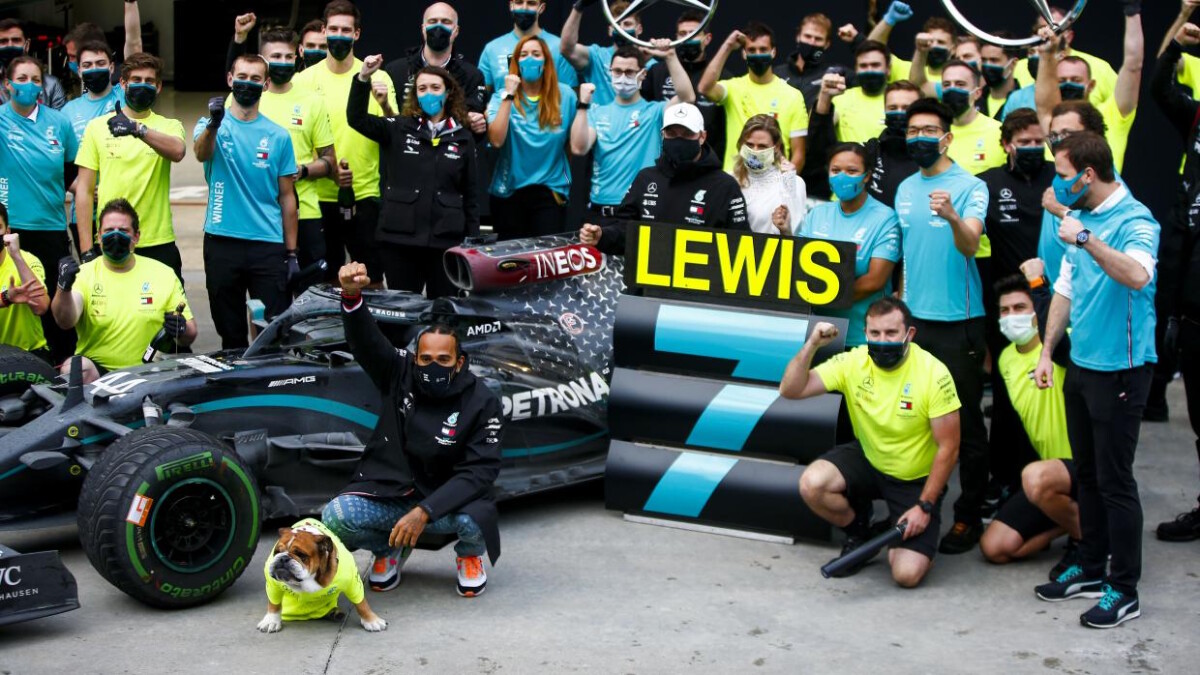 As Stroll's hopes faded in Turkey, Hamilton worked his magic once again to claim a stunning victory and secure his seventh world championship. Mercedes was actually having a terrible weekend until about halfway through the race, with the unique conditions making it almost impossible for to get the tires up to temperature. At one point, it looked like the Briton's Merc would be stuck behind Vettel's Ferrari all afternoon.
How they left Turkey with the win, only Hamilton's genius can explain. He pitted after only eight laps to swap his wet tires for intermediates, but somehow, he survived the next 50 without stopping again. By the time he parked up after the race, you could see his tires were in such bad shape that they'd basically become slicks. And he won, anyway. In the wet. By over 30 seconds. Having lapped his teammate. Who spun half a dozen times.
The victory saw him draw level with Schumacher's tally of seven world titles: How many more can he win?
17) George Russell almost wins (twice) on his Mercedes debut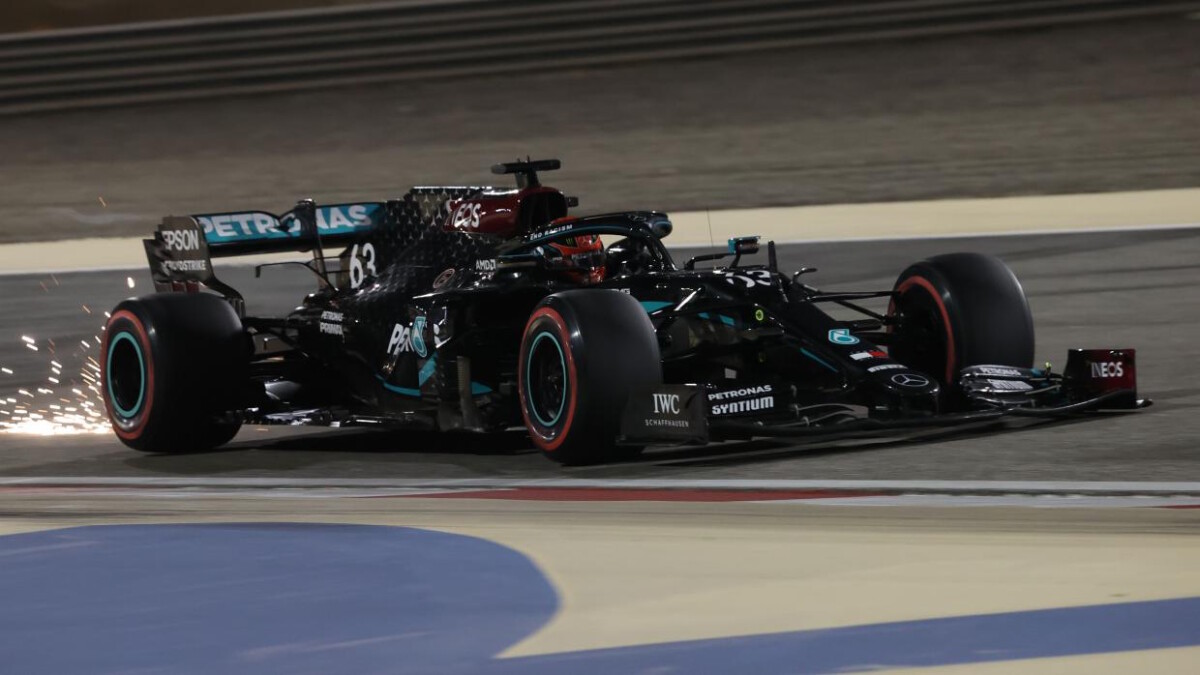 With both the drivers' and constructors' championships sewn up, it looked like the season was destined to fizzle out quietly. But there were more fireworks to come as it was announced that Hamilton had tested positive for COVID-19 the day after winning the Bahrain GP.
Who would fill in for the seven-time champ? Step up, George Russell, the Mercedes young driver who, despite not scoring a single point in almost two years with Williams, is regarded as future world-champion material by those in the know.
ADVERTISEMENT - CONTINUE READING BELOW ↓
His performance at the Sakhir GP emphatically showed us why. Everything was against him: Not only had he never driven the Merc before, he could barely squeeze into the seat, having to wear boots a size too small just to operate the pedals. And yet he still managed to put the car on the front row of the grid (just 0.026sec off pole), before wrestling the lead off Bottas down into turn one on race day and leaving the Finn in his dust.
At one point, he had an 8sec lead, but it wasn't meant to be. A mix-up in the pits forced him to stop again a lap later, dropping him to fifth behind the safety car with 24 laps to go. He still had the pace to win, but after dispatching three of the four cars up ahead, a puncture took him out of the running. "I'm absolutely gutted," he said afterwards. Same, George, same.
18) Sergio Perez gets his first win at the 190th attempt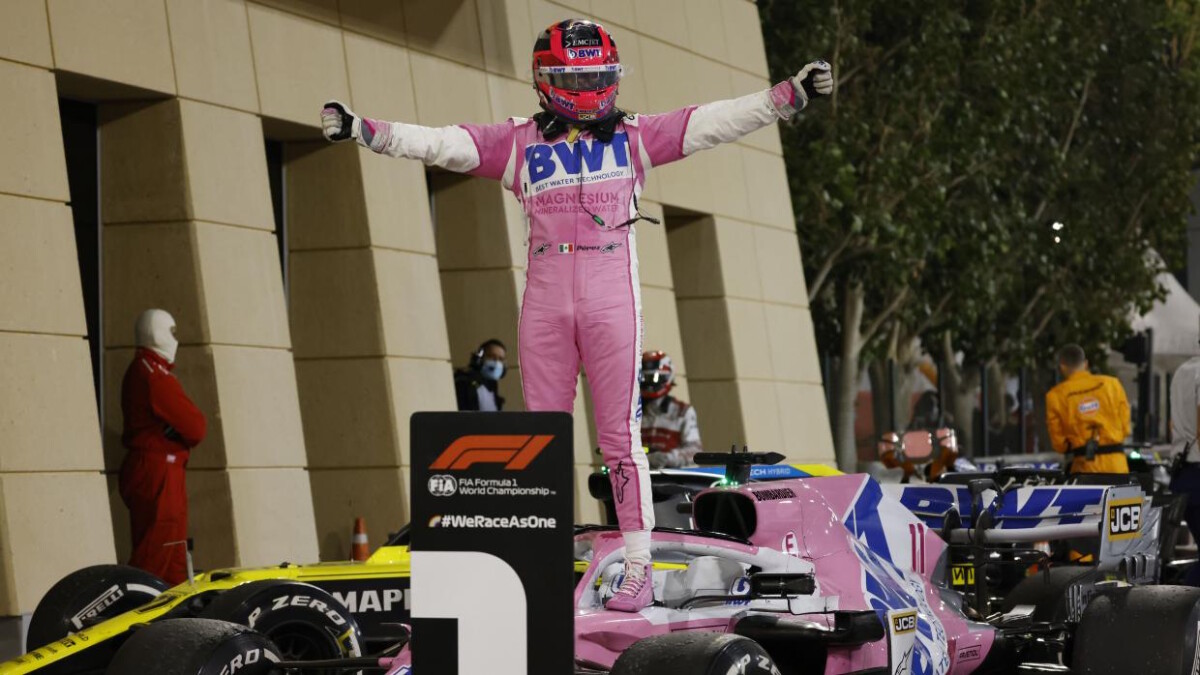 The silver lining of Russell's misfortune was that it gave us a different surprise winner, and who could begrudge Perez his first ever F1 win in what could yet prove to be his penultimate race?
The Mexican has had quite the year, missing two races after contracting COVID-19 and later discovering that—even though he had a contract for 2021—the team he helped rescue from financial Armageddon in 2018 was dumping him in favor of Vettel. Ouch.
Despite the turmoil, Perez had been a class act on track, scoring the vast majority of Racing Point's points and grabbing two podiums in three races heading into the Sakhir GP. It didn't look like he'd be repeating the trick after lap one, though, with Leclerc punting him into stone dead last after a mistake in turn four.
"A lot can happen in this race," said Perez's engineer on the team radio, and boy, was he right. Sergio drove like a man possessed as he picked off rivals one by one, climbing back up to third before Mercedes shot itself in the foot, decided that wasn't enough, and shot itself in the other foot for good measure. Perez cruised home 10sec clear of Ocon in second, setting a new record for the longest wait for an F1 win.
19) Sebastian Vettel's emotional Ferrari farewell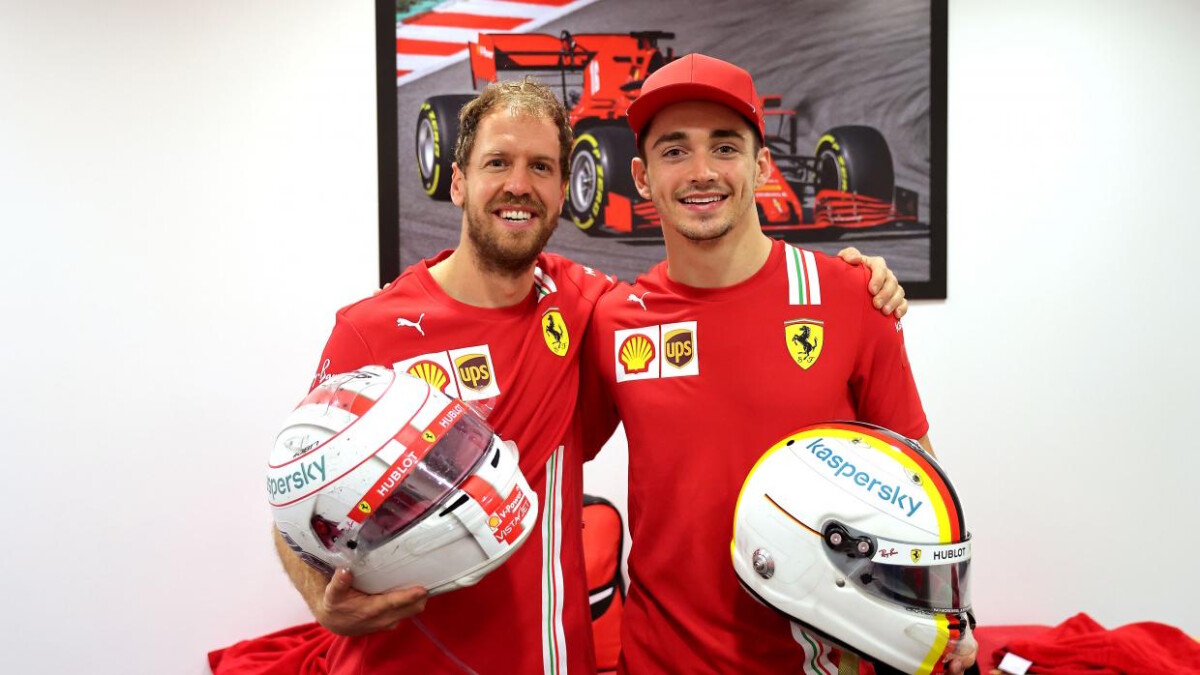 ADVERTISEMENT - CONTINUE READING BELOW ↓
Vettel departs Ferrari having, in his own words, "failed" in his quest to bring the world title back to Maranello. Even though he didn't achieve his main target, his six-year stint was a memorable one.
He doesn't always show it, but the German is a big softie at heart, and after crossing the line in his final outing for the team in Abu Dhabi, he paid tribute to the team with a sing-song over the radio. Not only had he gone to the trouble of adapting the lyrics of a popular Italian song, he'd even written them down on a piece of paper tucked into his glove before the race. Aww.
To cap it all off, he gave teammate Leclerc his helmet as a parting gift. A handwritten message on the lid reads: "To Charles, you are the most talented driver I came across in 15 years of F1. Don't waste it. But be sure whatever you do to be happy and smile. Thanks for everything!" What a man.
20) Romain Grosjean survives a horror crash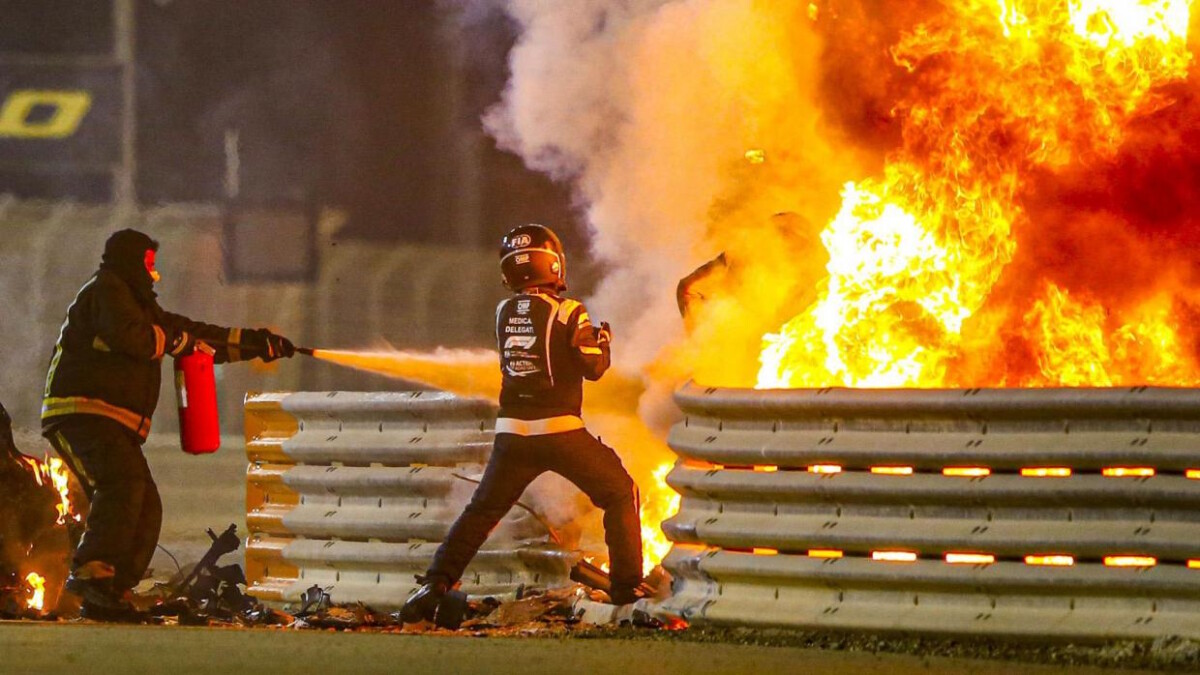 The Bahrain GP got off to a horrifying start as Grosjean tagged Kvyat on the opening lap, spinning the Frenchman into a metal barrier at 220kph. The force of the crash was so huge that it tore the Haas completely in half, instantly erupting into a huge fireball. The race was immediately red-flagged.
To everyone's immense relief, Grosjean managed to wriggle free from the wreckage, with his fire-retardant race suit and quick thinking from the marshals giving him just enough time to escape the blaze. He was trapped in the inferno for almost half a minute, but somehow only suffered minor burns to his hands and ankle. And all this was after the halo had taken the brunt of an impact that almost certainly would've been fatal had it not been there. Scary stuff.
Grosjean's account of the accident after his release from hospital was extraordinary. The Frenchman said there was a moment when he accepted that he was going to die, and that he only managed to fight his way out of the cockpit after thinking of his kids back at home.
The whole episode was a timely reminder of what every single driver—whatever their skill level—is putting on the line when they get behind the wheel of a Formula 1 car. And thanks to the sport's continuous push for better safety, Grosjean can walk away with the rest of his life ahead of him. Best news all year.
ADVERTISEMENT - CONTINUE READING BELOW ↓
NOTE: This article first appeared on TopGear.com. Minor edits have been made.