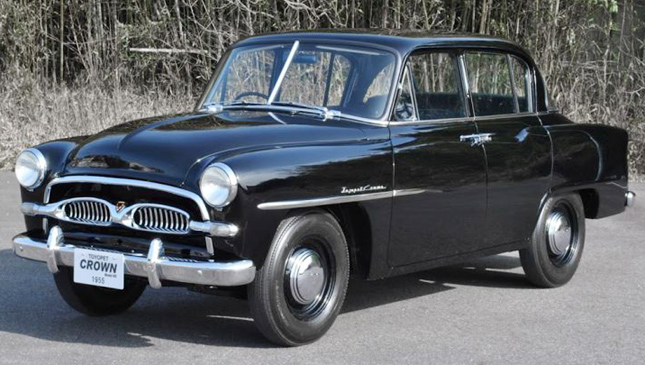 Pride is something that all Filipinos take to heart--we're brimming with it, sometimes to a fault. We take pride in our sports icons, and we're genuinely happy whenever we hear of a kababayan making it big abroad. We at Top Gear, however, are still dreaming of the day when our country can offer the world a Filipino-made car, one to give us a sense of self-importance motoring-wise. No, the jeepney doesn't count.
We have seen flashes of potential--brilliance even. We've shown we have the ingenuity and the drive; we just need the mindset. Looking around for inspiration, one can't help but look to the Toyota Crown as the automotive embodiment of a nation's perseverance and willpower. The Japanese carmaker's legendary vehicle is the longest-running model in the company's history. But more important, it was the first passenger car to be designed, developed, and built entirely in Japan.
Japan's automotive industry was a pile of smoldering rubble during the immediate aftermath of World War II. It had to be rebuilt from the ground up. But while some Japanese car manufacturers like Isuzu, Nissan and Hino turned to their western counterparts to produce foreign-licensed designs in an attempt to re-establish their presence, Toyota opted to stick to its own guns.
Continue reading below ↓
Recommended Videos
Toyota planned, produced and manufactured everything in-house--and it paid off big time. The first Crown was released in 1955, and it would go on to serve as a beacon of light for a recovering local automotive industry.
The Crown was an instant hit with Japan's upper class, as well as with taxi companies and government agencies. Its bulky yet curvy shape and design, brand-new suspension system, 1.5-liter engine mated to a three-speed transmission, and massive success locally made it the ideal choice for Toyota to break through into western markets. The Crown made its American debut around two years later in 1957.
The second-generation Crown would bring the model's success over to European markets, after a Danish car importer entered into a distribution agreement with Toyota in 1963. The vehicle boasted Japan's first automatic transmission with a torque converter (called the Toyoglide), a more modern design, as well as Toyota's new X-shape chassis frame. Keep in mind Toyota was producing all these innovations in-house. The Crown would be introduced to the British market in 1968.
By the time Toyota churned out the sixth-generation Crown in 1979, the model had up to 70 different variations. You could get the Crown as a four-door sedan, a two-door hardtop, a van...it was overwhelming. This was no longer the boxy automobile of old. Over the years, the Crown had developed an edgier, sleeker and longer design. The sixth-gen model was also Toyota's first turbocharged passenger car.
But alas, all good things do come to an end. Toyota decided to end production of the Crown for foreign markets in 1983, deciding to focus more on the development of the Camry. It's currently in its 14th generation in Japan, with a whopping six million units produced since its 1955 debut. It's safe to say that the Crown may have shaped the face of the country's auto industry, and may have even had a hand in molding Japan into the strong nation we know today.
It's a stretch, but we're looking forward to the day the Philippines introduces the world to its own Crown. Maybe one day, we'll have a car to stand alongside Manny Pacquiao as our export to the global community. What might the odds be of this ever happening?