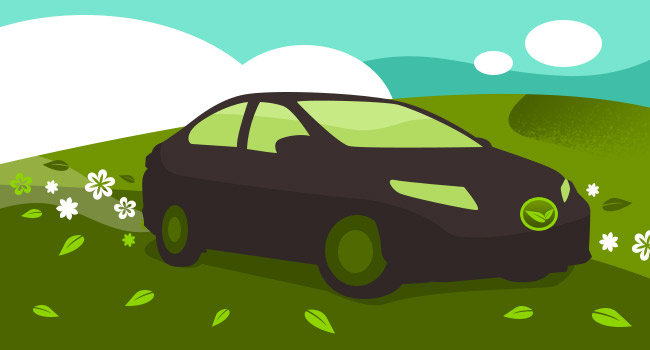 "Green" isn't just about high-flying fuel economy figures and impressive hybrid systems. It's also about the emissions caused by a car's manufacture as well as the useful life of the vehicle. With these in mind, here's our list of the 12 greenest cars in the country, in honor of our Green Issue this month.
Fuel economy figures given here are based on ideal conditions, but are achievable without "cheating." Suffice to say we're not publishing some of the more outlandish manufacturer claims in our market.
Drum roll, please...
Chevrolet Spin TCDi. While Tata uses the same 1.3-liter Fiat diesel, Chevrolet gets more use out of it, with seven seats motivated by an engine capable of 25km/L. That gives you an amazing 175+ passenger-kilometers per liter. Not even the most frugal scooters can match that!
Ford Explorer EcoBoost. It doesn't quite hit the same numbers as some of the others here, but given that the small 2.0-liter engine has 2.2 tons to haul around, that's understandable. The "downsized" EcoBoost motor makes it lighter and more economical than a V6. That it matches or exceeds the performance of its V6-powered competitors is simply a bonus.
ADVERTISEMENT - CONTINUE READING BELOW ↓
Honda City. Against diesels and mini cars, the CVT-equipped sedan's 20+km/L on the highway doesn't seem all that special, but it's still noteworthy. Its 10,000km maintenance intervals also reduce pollution in terms of used oil. Best of all, local manufacture means less emissions generated by car shipment. The fact that the local plant practices green manufacturing is just icing on the cake.
ADVERTISEMENT - CONTINUE READING BELOW ↓
Recommended Videos
Hyundai Accent CRDi. With the ability to play around the magic 30km/L mark, the Accent makes the list with a bang. The sedan version has very little in terms of excess frivolities or toys to break in the long run, to boot. Hyundai also makes the ultra-cheap and frugal Eon, but the Accent doesn't make you suffer as much for your greenness.
Isuzu Crosswind. In terms of emissions and economy, the Euro II mechanical injection motor in the Crosswind is far from being the best technology on this list. But when considering usable life cycle, there's little that lasts quite so long with so little in repairs. This is one of the most non-disposable cars on the market. Which is why this relatively crude truck is a favorite among mariners. For legitimate green credentials, however, you can convert it to run on used vegetable oil, something that you can't do with more modern diesels.
ADVERTISEMENT - CONTINUE READING BELOW ↓
Lexus GS450h. While Lexus has other hybrids, including the posh LS460h, sauntering around in traffic on full EV mode in a luxurious 345hp sports sedan is an experience like no other. And when you finally get out of the traffic and floor the pedal, all that gasoline you saved goes toward making wonderful noises as you explore the V6's 235kph potential (only applicable where legal, of course).
Mazda 6. While other Mazdas also get iStop, we feel it's best done on the midsize 6 sedan, which sees the biggest gain from using the system in traffic. Mazda's pollution-mitigating iStop system is smoother than those found on many more expensive cars. Beyond that, our 2013 Top Gear Car of the Year is also fun to drive. Talk about having your cake and eating it, too.
Mitsubishi Mirage. There are many other mini cars on the market, but this one's still got the best combination of pace, space and economy. It's also the only one with a decent automatic option, with its frugal continuously variable transmission. The incredibly lightweight bodyshell provides impressive crash-test results and a bigger cabin than most, which allows it to trump the Alto in the passenger-kilometer-per-liter category.
ADVERTISEMENT - CONTINUE READING BELOW ↓
Peugeot 3008. While there are other diesels on this list capable of the same highway numbers as this 1.6-liter crossover, the 3008's unique automated manual transmission and integrated start-stop system make it a much greener proposition in city driving.
Suzuki Alto 800. There might be cheaper brand-new vehicles, but we'd hesitate to call them "cars." There are even cheaper secondhand cars, but a 10-year-old Toyota Corolla can't match the Alto for economy. At 13-15km/L in traffic and over 30km/L on the highway, the Alto emits far less carbon dioxide than many modern cars. There are other micro cars that are as frugal, but this simple, featherweight 720kg baby uses less resources and causes less emissions in its manufacture.
Toyota Prius. Despite the controversial claims of conservative hack-job "studies," the Prius doesn't cause more pollution than a Hummer. This one is the grand-daddy of all green cars, and its powerful battery pack allows it to achieve 15-20km/L in traffic where even diesels fear to tread. We're hoping against hope for the alternative-fuel vehicle law to finally come into effect, if only to bring the price down to more realistic levels.
ADVERTISEMENT - CONTINUE READING BELOW ↓
Volkswagen Jetta. This premium-feeling diesel sedan may not have the most impressive power or toys, but in terms of fuel economy, it's head and shoulders above its competitors, capable of nearly 30km/L on the highway, thanks to its economy-tuned 2.0-liter engine. While it may lack the high-rpm fireworks of other diesels, it makes up for it with its incredible range and flexibility.
Did we miss anything? Let us know what other locally available vehicles you think should be on this list.
Artwork by Lloyd de Guzman