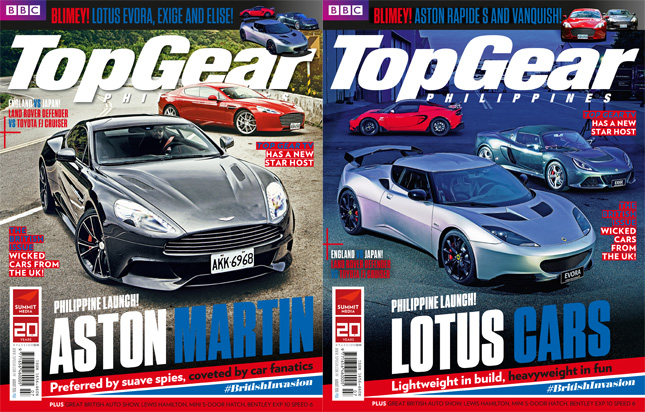 If somebody had told us even just as recently as five years ago that there would be as many British car brands in the Philippines as the Japanese in 2015, we would have definitely laughed. Not only because our market remains a predominantly Japanese domain (Toyota alone owns 35-40% of the market, depending on which association's sales report you are reading), but more so because, well, British marques are not really mass-market.
With Jaguar and Land Rover being the longest-tenured UK car makes on our shores, it's easy to see how these brands won't be at the top of the average Pinoy car buyer's short list.
But then it has happened: This year, there are now a total of nine British automotive brands in our country. In 2015, Aston Martin, Lotus and MG join the previous six (Jaguar, Land Rover, Mini, Rolls-Royce, Bentley and Morgan). This tally equals that of the popular brands from Japan (Honda, Isuzu, Lexus, Mazda, Mitsubishi, Nissan, Subaru, Suzuki and Toyota). And if some car-crazy Filipino billionaire decides to bring in McLaren, British marques will officially outnumber the Nippon ones. Insane, right?
And so, to celebrate this milestone, we have come out with a special British Issue for this month of August, featuring exclusive cover stories on Aston Martin and Lotus. Aston Martin Manila flew our team to Taiwan for the test drive and photo shoot, while Lotus Cars Manila generously lent us its small fleet for a pictorial session at a hangar here in Manila.
Continue reading below ↓
Recommended Videos
As such, our British Issue features nothing but UK-brand automobiles. And there are two really nice stories on the Top Gear TV show: one on new host Chris Evans, and another on the history of the world-famous television series. Top Gear, lest you forget, is proudly Brit--owned, in fact, by the British Broadcasting Corporation (BBC).
The double-cover issue is now available at your favorite magazine stores, or you may download the digital version at the Summit Newsstand. Grab a copy for just P150 and join us in honoring another British invasion.