Sometimes, a new car comes along, with some radical new technology or concept, that turns the automotive industry completely upside down, creating new movements, market segments, or trends. These are not those cars. These are cars so ahead of their time that it took the market years—decades, even—to catch up. These cars weren't necessarily unloved. But each represents a trend that didn't quite take off. Read on to find out why.
1) 1900s Woods Electric Vehicle
While the first cars sold in the Philippines arrived in 1902, the first cars to actually drive on Philippine streets were a number of Woods electrics that arrived with the US Army Signal Corps. These open buggies were not very quick, making little more horsepower than a modern electric scooter and carrying nearly a ton of heavy batteries. They were so well ahead of their time that they came here before there was much in the way of paved roads to drive on, or sockets to plug the cars into. It's only now, nearly 120 years later, that electric cars are starting to make a comeback in the Philippines.
2. 1978 VW Trakbayan
Continue reading below ↓
Recommended Videos
Under the Marcos era Progressive Car Manufacturing Program (PCMP), various proposals were put forward for what would eventually morph into the ubiquitous AUV, or Asian utility vehicle. Volkswagen's entry, under DMG Motors, was the Trakbayan, based on the VW EA489. While it eventually lost out to more traditional front-engine, rear-drive entries from Ford and the Japanese, the innovative, space-saving front-wheel-drive under-cab layout was something we would not see again until the 1998 MB100.
3. 1978 Mitsubishi Mirage
In an era of solid-axle rear-wheel-drive Japanese economy cars, the Mirage offered an independent coil-sprung suspension, rack-and-pinion steering, front-wheel drive, and eight—yes, eight—gears. The space freed up by the compact drivetrain and suspension made the Mirage deceptively roomy for its size. Mounting the gearbox underneath the 1.2-liter engine left space for an extra final drive. A second gear lever could switch between the regular 'Economy' or the underdriven 'Power' drive gear. Granted, you could still use only four gears in either mode, but it was still cool.
Local buyers wouldn't see such a sophisticated transmission in a small car again until the 2004 Honda Jazz introduced the fuel-saving continuously variable transmission. Now, many small cars—the Mirage's successor included—feature CVTs.
4. 1979 Isuzu Gemini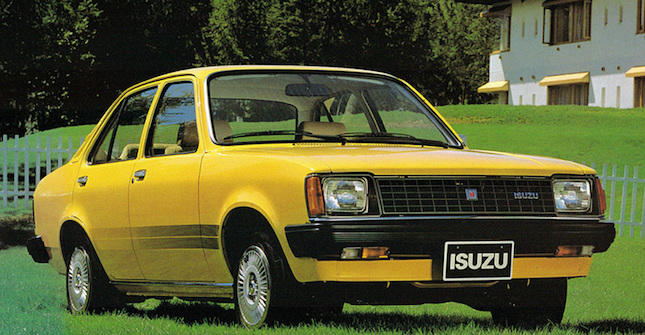 There's a good reason we have so many cars here from this era. The '70s oil crisis forced automakers to get creative, finding innovative—though not always successful—ways to get around high fuel prices While the Opel-based Gemini was fairly traditional, its fuel-saving trump card was the frugal 1.8-liter 4FB1 diesel engine, the predecessor to the 4J series that would eventually power many Isuzu trucks.
Taxi fleets were so enthralled with the Gemini, they would field them well into the '90s, by which point they were mostly rusty smoke-belching rolling coffins. While other mass manufacturers flirted with diesel sedans after the Gemini's demise, it was only with the launch of the Hyundai Accent CRDi in 2006 that diesel taxis would finally go mainstream again.
5. 1983 Ford Telstar
By 1983, the transition to front-wheel drive was in full swing. Based on the Mazda Capella, the Telstar was available with gutsy 1.8-liter engines and a choice of Ghia sedan or TX5 hatchback body styles. But this isn't why it's here. Rather, what set the Telstar apart was the high-tech LED instrument panel—hello, Knight Rider!—and motorized aircon vents. Futuristic stuff for the time.
Sadly, by the '90s, everyone had reverted back to regular old analog gauges, and the moving A/C vents never caught on, only available on the Telstar's successor, the Mazda 626. While LED instrumentation is finally making its comeback, nobody has yet sought to resurrect the motorized A/C vent. Pity.
6. 1992 Toyota Camry (widebody XV10)
This is one of the few cars on the list that didn't really sell all that well. Despite the Toyota badge, the Camry was expensive to buy and expensive to maintain. Yet the sheer depth of engineering that went into it, inspired by the recently launched Lexus brand, was mind-boggling. Hydraulic cooling fans, triple-sealed doors, asphalt insulation sandwiched between steel panels (rather than exposed sheets as on many cars), liquid-filled engine mounts for the sophisticated 2.2-liter 5S-FE engine, meticulously crafted interiors with minor buttons and controls designed to last decades—these made the Camry both very refined and unbelievably durable.
Later models would offer more luxury for relatively less money, and would come to dominate the local midsize-sedan market. But none would ever again soar as high the 1992 Camry.
7. 1999 Honda HR-V
Back in the '90s, it seemed like Honda could do no wrong. Cars like the CR-V, the Accord, and the Civic SiR were among the most desirable around. Even the Honda City, based on old Civic technology, drew in buyers thanks to its VTEC allure. The Accord, recently facelifted, stood out in a crowded midsize market, while the CR-V was, hands-down, the best-selling crossover-SUV in the country, with little serious competition.
And then there was the HR-V, an attractive, futuristic car-crossover-crossover featuring Civic engines and CR-V all-wheel drive. But it was too small for SUV buyers and too expensive for sedan buyers, and it would take another decade for the small-crossover formula to catch on. By which time Honda would be forced to develop an entirely new HR-V with no relation to the original.
8. 2002 Isuzu Trooper (facelift)
Nowadays, we take high-pressure direct-injection diesel engines for granted, but they were still a novelty when Isuzu launched the upgraded Trooper with the potent 160hp 3.0-liter 4JX1 diesel engine. Whereas more modern direct-injection systems use powerful fuel pumps to achieve the high pressures needed for direct diesel injection, Isuzu borrowed a technology from Caterpillar that used high-pressure oil to push on a plunger inside the injector, which then pressurized the low-pressure diesel fuel and squirted it out the injector. So, instead of a fully enclosed high-pressure fuel system, you had a high-pressure oil system moving around the engine, separated from the fuel and coolant by gaskets and o-rings. O-rings that tended to fail due to the high pressure and heat, allowing oil, fuel, and coolant to mix—a nasty situation that cost big bucks to fix.
Thankfully, the 4JJ1 diesel engine that would debut in the D-Max and the Alterra just a few years later has proven much more reliable. So much so that it's still in production now, some 14 years later.
What other cars do you think came out too far ahead of their time?