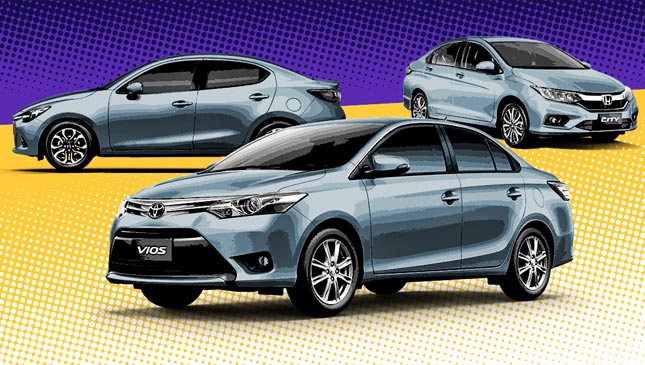 Hello, sir Botchi! I am currently planning to surprise my parents on their wedding anniversary this year by buying them a new subcompact car. Last year, they sold their 2007 Honda City 1.5 VTEC MT for a brand-new Nissan Navara 4x4 AT, which they use mainly for our family business. Aside from the Navara, they also have a Chevrolet Trailblazer and a Peugeot 5008, both of which are automatics.
ADVERTISEMENT - CONTINUE READING BELOW ↓
While they love the new pickup and appreciate how much utility it provides for our family business, they really miss our old City because of how fun it was to drive and they have no manual-transmission car left. They still enjoy driving stick despite their advanced age and often borrow my own Volkswagen Polo MT on weekends, which is also quite fun to drive.
I initially plan to surprise them with a new Honda City, but I'm considering other brands, too. I'm also looking at the Mazda 2 and the Toyota Vios. I would appreciate it very much if you would recommend other subcompact cars (other than the City) that are also fun to drive yet comfortable enough to be used for daily driving in Metro Manila.
The car should have at least a 1.5-liter displacement (or at least have performance figures similar to a typical 1.5-liter engine) and should strictly have a manual transmission. My price limit is around P800,000-P900,000.
ADVERTISEMENT - CONTINUE READING BELOW ↓
Recommended Videos
Thank you so much for your time and have a very pleasant day!
Cheryl G.
Hi, Cheryl! I'm very happy to hear that you plan to surprise your parents with a new car for their wedding anniversary.
Off the top of my head, I'd recommend a Honda Jazz. If your parents loved their City, the Jazz should be equally appealing and just as enjoyable to drive. Thankfully, a 1.5 V manual transmission variant is available, so this is perfect! There is also a manual transmission variant for the City, which is also just as good to drive. But for me (at least), it isn't as versatile as the Jazz's hatchback profile and interior.
The Mazda 2 is a great choice, but it's a tad cramped inside. Your folks might have a bit of difficulty getting in and out of it, but it's a fun and fuel-efficient car that's very athletic on tight, winding roads. Plus, the 2 is easy to park!
ADVERTISEMENT - CONTINUE READING BELOW ↓
The Toyota Vios is a safe choice, but I'd say, why not check out the Toyota Yaris? It's a little more stylish than the Vios, but pretty much the same everywhere else. It has a manual transmission, and you won't be mistaken for a taxi.
If your parents want a small sedan, I would think the roomiest sedan in this segment is the Nissan Almera. Also available in MT, this sedan has back seats with oodles of space. It is pretty fuel-efficient, and it doesn't feel as gutless as some of the other small cars in the market.
If you're willing to stretch your budget a bit more, a base-model Nissan Juke might also be in your cards. I recommend a Juke because the tall ride height makes getting in and out easier, yet it's not too high like a full-size SUV such that getting in is difficult for the elderly. Unfortunately, it only comes with an automatic, but it sure is fun to drive on winding roads when left in Sport mode.
ADVERTISEMENT - CONTINUE READING BELOW ↓
Whatever you decide on, just make sure you get to try all of them. Drive them if you can, and also inquire about the cost of servicing and maintenance.
Mazda's Yojin 3 Total Care service program, which is a free three-year PMS, is great. But after that, I noticed that regular PMS servicing for the brand is a bit expensive. Honda's servicing and maintenance costs have gone down over the years to better compete with the other Japanese brands. I haven't owned a recent model Nissan in years so I can't comment about the PMS cost.
Good luck, and happy car shopping. Congratulations to your folks!
Botchi Santos
Consumer Editor