Take one quick look down onto the street from your office window and it's clear: The midsize SUV is without a doubt one of the hottest-selling segments in the Philippines. Fact.
Big and muscular, packing a third row, and available with a turbodiesel engine for propulsion, vehicles like the Toyota Fortuner, the Mitsubishi Montero Sport, the Ford Everest, the Isuzu MU-X, the Chevrolet Trailblazer, and the Nissan Terra are sure sellers in 2019.
These SUVs aren't just practical choices. At this point, these nameplates are status symbols.
With all this in mind, we've compiled all our impressions of the current crop of Philippine midsize SUVs. Each item on this list contains excerpts from each SUV's respective full review—just click the header above each photo to be redirected. So, have a look and tell us which car you'd buy (or have already bought) in the comments.
2019 Toyota Fortuner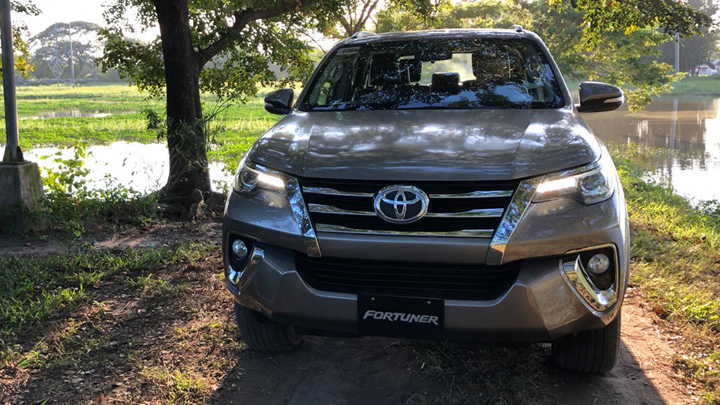 Continue reading below ↓
Recommended Videos
"The Fortuner's top-spec 2.8-liter turbodiesel is a marvel of modern propulsion. Once you hit 2,000rpm, most of the 450Nm of torque will be handed to you, and you had better hold on to the leather-and-wood steering wheel firmly. It's safe to say this is all the power you will ever need for everyday motoring, with a dollop of extra grunt thrown in for highway overtaking.
"A fair warning to those who are eyeing the 2.4-liter Fortuner: As with audiophile equipment, they say you shouldn't test above your budget. Don't try the 2.8-liter Fortuner because the power will spoil you, and you won't want to go back to anything smaller under the hood.
"Paired with the six-speed automatic gearbox, the powerplant carries this midsize SUV's weight around town easily. There's almost imperceptible throttle delay, and it's easy to predict how the powertrain will react to your input after just a day behind the wheel."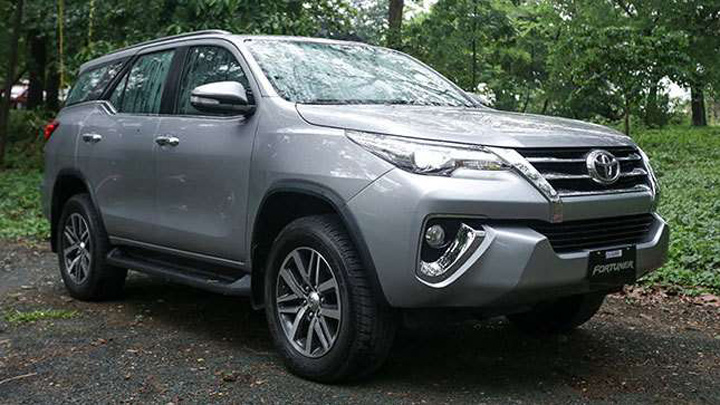 "This particular unit, a 4x2 V AT, runs on a 2.4-liter diesel engine capable of 147hp and 400Nm. It's down on power compared to some of its competition, but instances when its output underwhelmed were relatively few and far between. With that out of the way, it offers smooth performance and acceleration, reaching legal limits fairly quickly.
"If situations call for a little more oomph than usual, the V variant comes equipped with a Power Mode, which, while not exactly significant, offers a noticeable uptick in performance and provides drivers with a livelier driving experience. It comes with Eco mode, too. We managed 11.2km/L in mixed city/highway and Power/Eco Mode driving. Not bad at all considering we ran into heavy traffic on the North Luzon Expressway."
2019 Ford Everest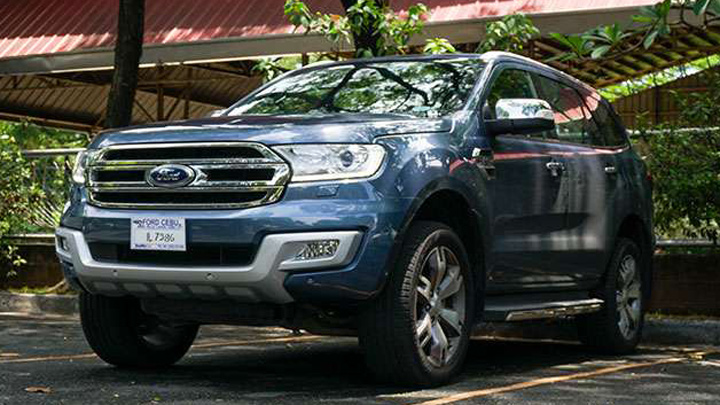 "Don't let its size and build deceive you—this thing can be pretty quick. With 158hp and 385Nm, the Everest's 2.2-liter turbodiesel engine does its job admirably, offering smooth acceleration, good throttle response, and impressive torque. Overtaking on the highway and climbing our way up to Tagaytay was a cinch.
"Shifting duties are handled by a fluid six-speed automatic transmission. Not once did its output or performance feel lacking during our week with the unit, and we averaged 8km/L in mixed city and highway driving."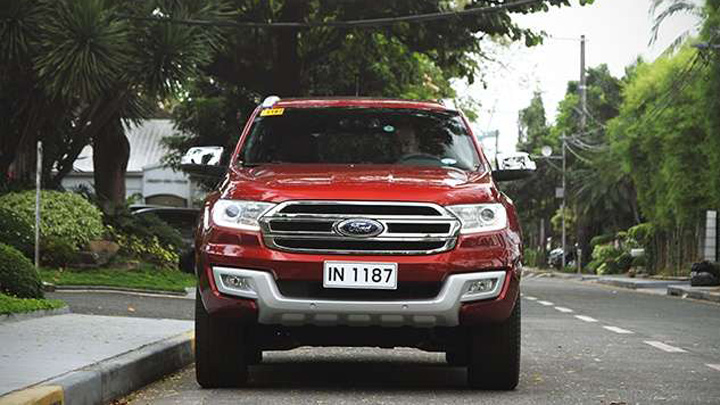 "On the road, this SUV proves its performance can live up to its macho stance. Under the expansive hood is a five-cylinder turbodiesel that churns out 197hp and 470Nm. These figures are among the best in its segment—only bested by the other midsize American SUV in this category, the Chevrolet Trailblazer, and just by a small margin.
"It's a little thirsty, though. I usually get 6-7km/L in the city and about 10-12km/L on the highway.
"Behind the wheel, you won't feel its power right away. In fact, now that I've driven the Holy Trinity of the Everest, the Montero Sport and the Toyota Fortuner, I noticed that all of them seem hesitant to give you all their turbocharged muscle at the onset. It's as if they were all avoiding any sudden and unintentional…movements. But once it gets going, the Everest feels more nimble than its large size would suggest."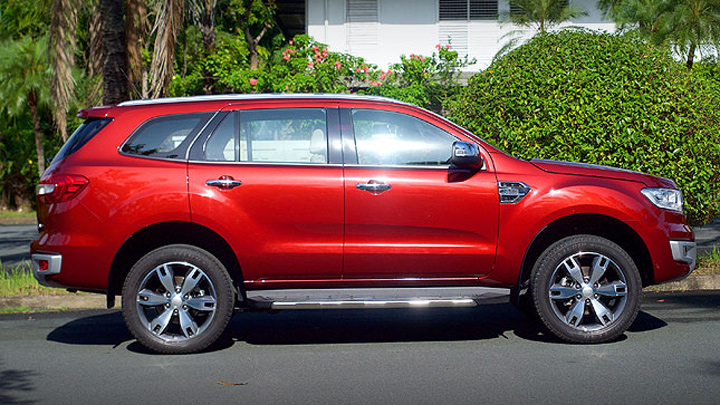 "Power never feels lacking, and the torque from the 3.2-liter five-cylinder turbodiesel is powerful for any situation. Well-mated to a six-speed automatic transmission, the 197hp and 470Nm engine produces power on demand with no turbo lag or hesitation. The Everest actually feels nimble due to the torque, and it makes short work of any overtaking maneuvers you ask of it.
"In our time with the SUV, we averaged 6.94km/L in mostly city driving with the occasional highway jaunt. It's a respectable number, given the immense torque available to the driver and the terrible traffic during the holiday season."
2019 Mitsubishi Montero Sport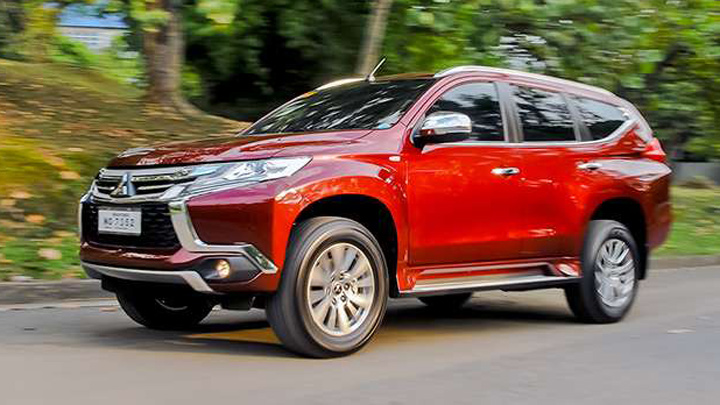 "This may be the cheapest variant, but it doesn't feel like you're being shortchanged because there's one engine across the range—the new 4N15 2.4-liter turbodiesel that delivers 178hp and 430Nm. The clutch is deep (a Mitsubishi trait) and firm, with throws that are close toward each gear. Combine that with hydraulic steering and the tightest turning radius in this class, and you have a sport-ute that emphasizes driving enjoyment.
"Grunt is linear until the 4,000rpm redline, making it a breeze to overtake tricycles and other slow vehicles during out-of-town drives. Our test drive yields about 9km/L around the city and 12.7km/L on the highway with four passengers on board and the cargo area filled with belongings and produce from the market."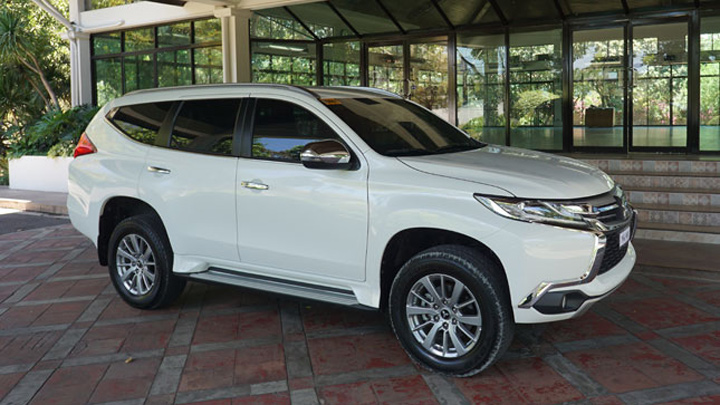 "The Mitsubishi Montero Sport's journey as a product hasn't been smooth as of late. Persecuted by ignorance, the new model has to work extra hard to prove that it's the comfortable, stylish, and sporty SUV it was designed to be. Those who still believe in the brand will be rewarded by a handsome vehicle that will turn heads and ferry its passengers comfortably.
"So don't listen to naysayers and online trolls. If you're drawn to the new Montero Sport, drop by the nearest Mitsubishi showroom and give it a try. If you find out that it's for you, you will feel a sense of satisfaction every time you approach it in the morning—and after it brings you safely home at night."
2019 Isuzu MU-X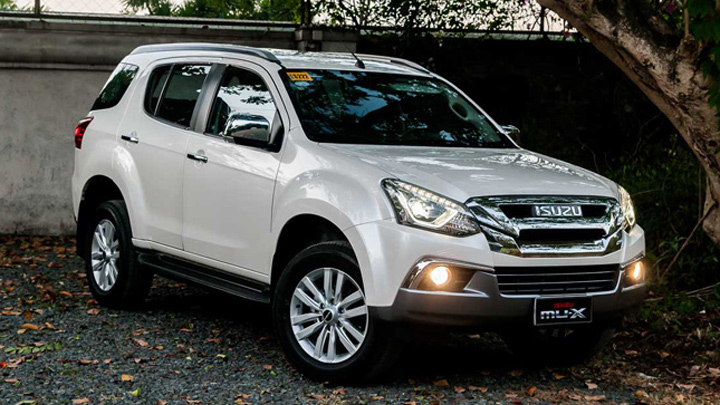 "Just 26hp and 30Nm of torque down from the top-of-the-line 3.0-liter LS-A 4x2 AT, this is more than just a practical, cheaper proposition. It actually makes more sense if you do your driving in the city than out of it.
"Yes, you get more power and speed from the 3.0-liter variant, but it really isn't by much. And the only times you'll ever really notice the difference is: a) if you have both and switch trucks on a daily basis; and, b) you're head to head with one on the highway, with a full load. Both scenarios wouldn't be impossible, but are quite improbable."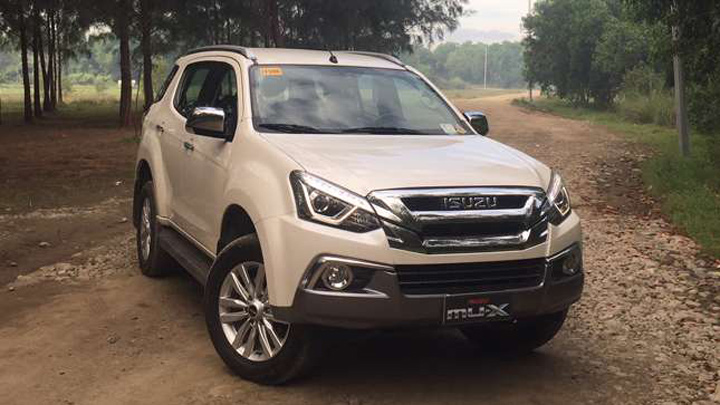 "Though the mill isn't exactly new, it's been modified from Euro 2 to Euro 4 standards to adhere to stricter government emissions regulations. Power is satisfying when you push the accelerator. And as you go further up the power band, it is evident that the 3.0-liter turbocharged diesel engine has evolved into a smoother operator showcasing 175hp and 380Nm—a mild gain from the outgoing model.
"Figures may not be class-leading, but this SUV shines when tested on the road. It hit around 18km/L on the highway hovering around 90kph, while normal city driving gave 9km/L. Acceleration from 0-100kph was at nine seconds, which is impressive considering the Isuzu's size!"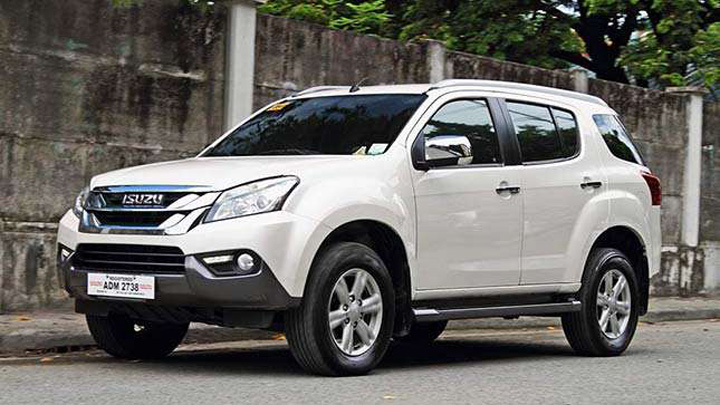 "When it comes to versatility and flexibility, the MU-X's cabin truly impresses. Third-row seats fold flat, and even if they don't completely rest flush into the cabin floor, they hardly take up any vertical space when folded down. The middle row folds and tumbles forward, adding even more room for taller items. Depending on cargo and passengers, you can work out what interior layout works best.
"The only real drawback to the MU-X is the acres of plastic used on the dashboard and interior door panels. It's a bit of a throwback because the competition has really stepped up the game when it comes to modern-day design updates. Still, the MU-X delivers where it counts. All of the seats are swathed in classy black leather (as is the three-spoke tiller). The killer feature has to be the ceiling-mounted 10-inch LCD screen. Pop in a movie via the USB port in the glovebox and your rear passengers will be entertained for hours. It's a great way to while away traffic while sitting in Metro Manila gridlock. Plus, it can be operated using a remote."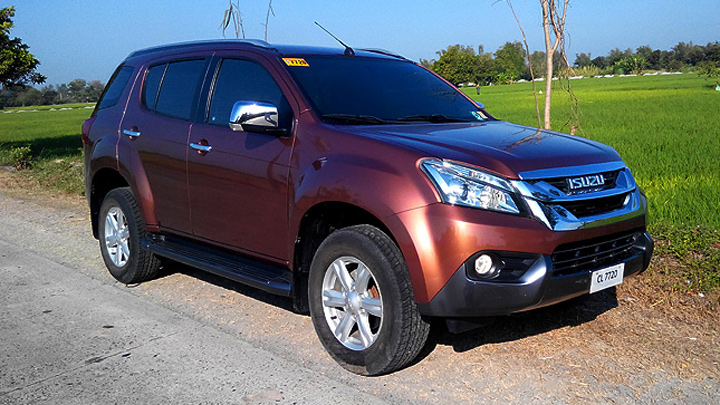 "The 2.5-liter engine of the MU-X is unmistakably a diesel, with the familiar clatter greeting you upon start-up. Once you get going, though, it quiets down so much that, even with the audio system turned off while you're driving on the asphalt sections of the MacArthur Highway, you can barely hear the engine over the usual road noise.
"In the one week we had the MU-X and drove it all over Metro Manila and to Tarlac through NLEX, SCTEX, and TPLEX, we were able to get a combined 10.8k/L out of it. Not bad for a 4x4 SUV. Its five-speed semi-automatic transmission also shifts smoothly when left on its own. In manual mode, shift shock is negligible."
2019 Nissan Terra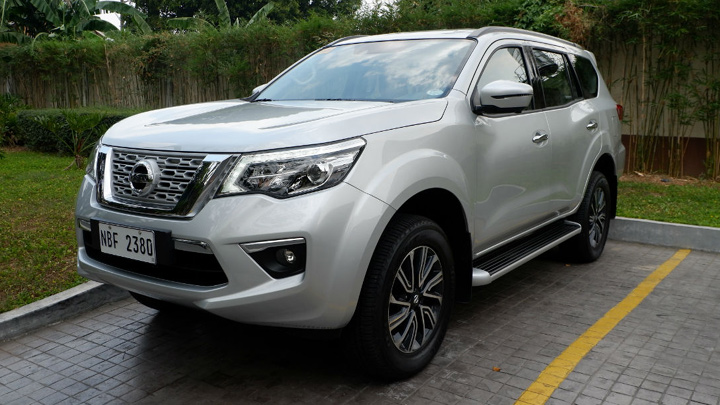 "It seems that each midsize SUV has its niche in our market. The Fortuner is marketed for its premium feel. Mitsubishi doesn't hide the fact that the Montero Sport's design is unique. Isuzu boasts about its engines and their fuel economy. The Terra's unique selling point? It could very well be its handling.
"Unlike other SUVs where the steering feels too light for the vehicle's size, the Terra's has a healthy weight to it that adjusts minimally with increasing speed. It almost feels a bit old school in a sense. Granted, it can feel a bit too heavy at times when you're cruising at low speeds. Through corners, the vehicle remains stable, exhibiting less body roll than you'd expect. We drove it through the twisties of Rizal, and it proved to be quite nimble for its size."
2019 Chevrolet Trailblazer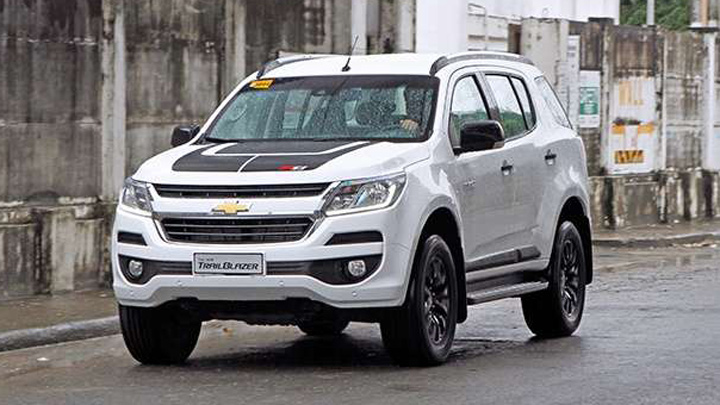 "The biggest dissonance, however, seems to be that the natural habitat of sport-utes is not the concrete jungle. Sure, they (sort of) prevent you from getting bullied by other rude motorists in the big, bad city. A case for the tall ride height can even be made, taking into consideration all the crazy flooding that happens down here.
"But take an SUV out to the mountains or the countryside, and it makes more sense. Extra horses allow you to safely overtake slow vehicles puttering along country roads. A torquey engine gives you enough grunt to tackle inclines with ease and confidence. The elevated right is especially useful when you get to where the roads aren't paved.
"And when the badge on that SUV says 'Trailblazer,' getting out of the cramped urban is the most legitimate way for the vehicle to live up to its name. Open up the 2.8-liter Duramax engine, and let its 200 horses loose on the open road and let it push its 500Nm up the hills. Hitch a trailer to the Chevy; it can handle up to three tons. Cross some rivers; you've got 800mm of water-wading capability."